Easily made with frozen spinach, smooth cream cheese, flavorful spices and a blend of decadent cheeses, this Creamed Spinach recipe is pure comfort food! It is an irresistible side dish that serves as the perfect accompaniment to any weeknight or holiday dinner! If you love green veggies like these, definitely try this Creamed Corn, Spinach Gratin, Green Bean Casserole, Collard Greens, Mustard Greens and Braised Cabbage, too!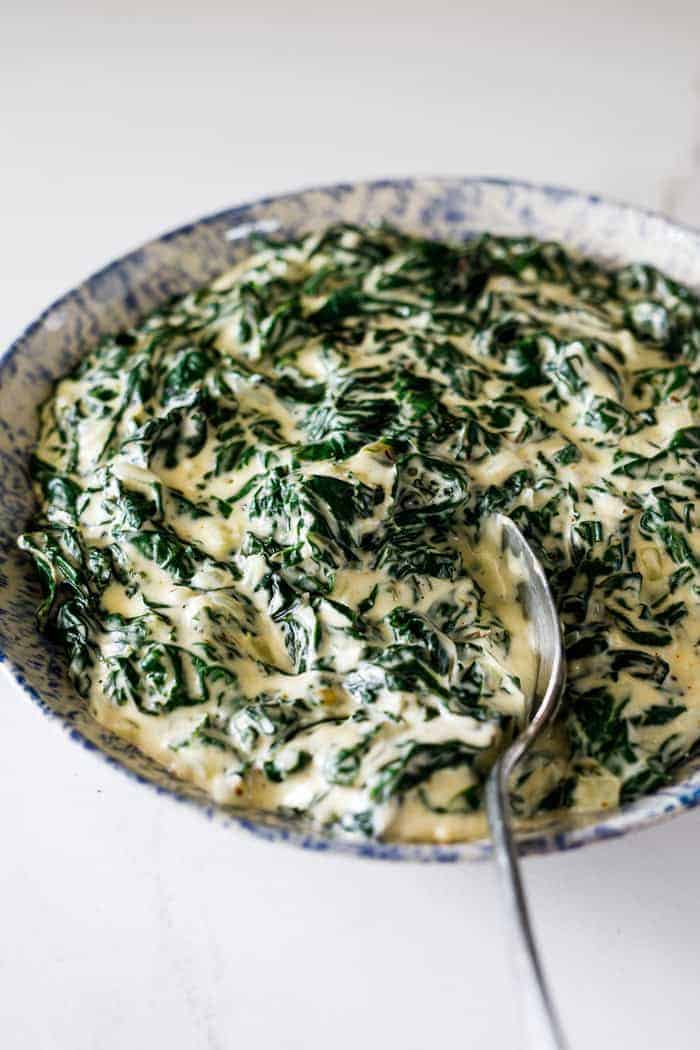 Growing up, I always had the impression that special occasions called for steak. Whether it was a birthday or anniversary there always seemed to be a juicy, tender steak to celebrate the occasion. Steakhouses were rarely visited but my father's grill was always hot and ready. He'd grill whatever cut was on sale that weekend while he hummed. Such a lovely memory.
Our steaks were always served with a table full of sides: sweet potato biscuits, glazed carrots, homemade rolls and creamed spinach. Those steak dinners were filled with laughter, love and more delicious food than imaginable.
Creamed Spinach is, and has always been, my absolute favorite side dish. It's creamy, decadent, cheesy and maybe, even a little healthy? Regardless, I couldn't imagine a steak dinner without it. So I'm declaring today a celebration! What do you say we get these greens goin'?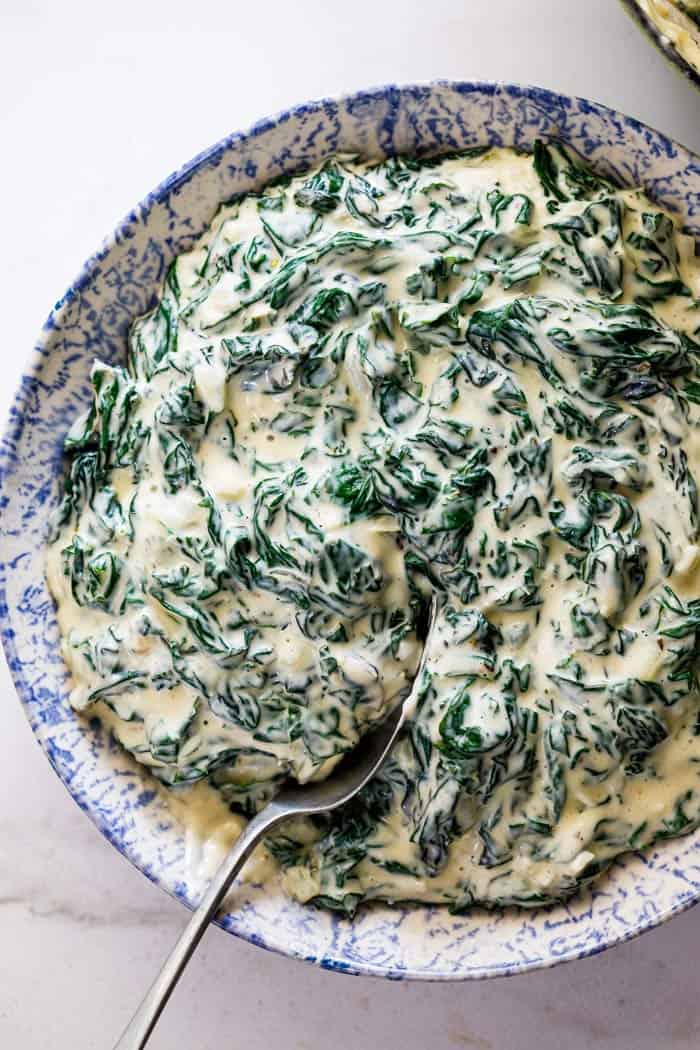 WHAT IS CREAMED SPINACH?
I'm sure that plenty of folks have seen a bowl of creamed spinach on the table and thought "what the heck is that?". You might think it's just a bunch of spinach and heavy cream thrown together but, it's much better than that.
A Creamed Spinach recipe is a mixture of wilted spinach, sauteed onion and garlic and parmesan cheese that's been swirled into a silky white sauce. The result of this recipe is a cheesy, green-filled concoction that proves to be more delicious than you thought possible.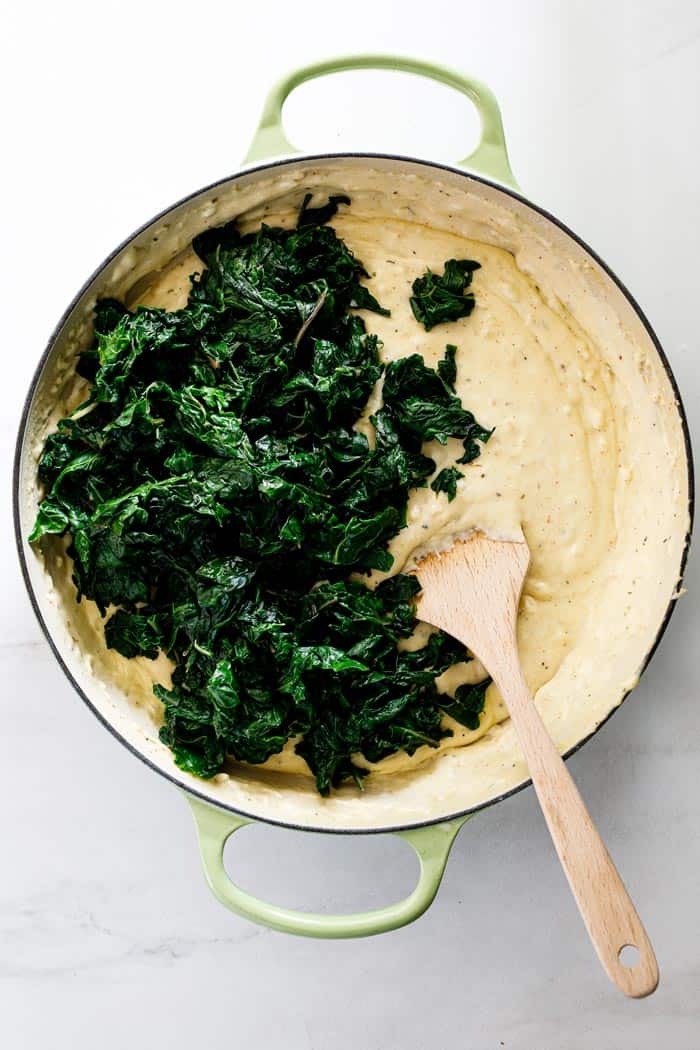 HOW TO MAKE CREAMED SPINACH
Creamed Spinach is a simple, easy-to-make dish that comes together quickly and with minimal fuss. From start to finish, this dish only takes about 20 minutes! This means more time for dinner rolls and basting roast chickens.
Here's what you'll need:
Frozen Spinach
A lot of people would disagree with the use of frozen spinach but, I'm a huge fan. Vegetables are frozen at their peak freshness which, not only means that it's healthier but also means it tastes better. Using frozen spinach shortens cooking time and makes for a cheaper dish.
Half & Half
Half & Half is made by combining equal parts cream and whole milk; it's thinner and lower in fat than heavy cream. Adding half & half layers in sweetness and a creamy texture without over-thickening the sauce.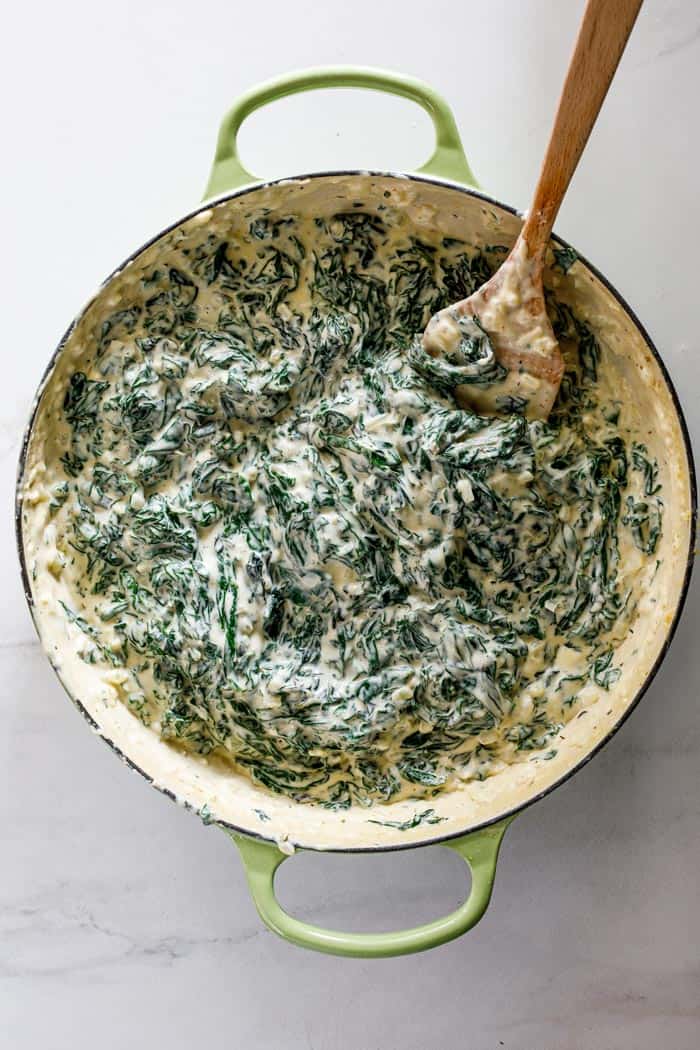 Cream Cheese
Cream cheese is sweet, tangy and satisfyingly thick. Its addition makes for a smooth sauce filled with flavor.
Nutmeg
Seems strange, huh? I like to create balance in all of my recipes; this means layering flavor and creating dimension. Nutmeg is slightly sweet but mostly very warm. Just a pinch goes a long way in making this dish phenomenal.
Parmesan & Italian Blend Cheese
A lot of recipes will only call for parmesan but, who doesn't want more cheese? Italian blends consist of parmigiano-reggiano, pecorino-romano, mozzarella and sometimes, provolone. I find that using an Italian blend balances out the saltiness from the parmesan (and creates that cheesy-pull).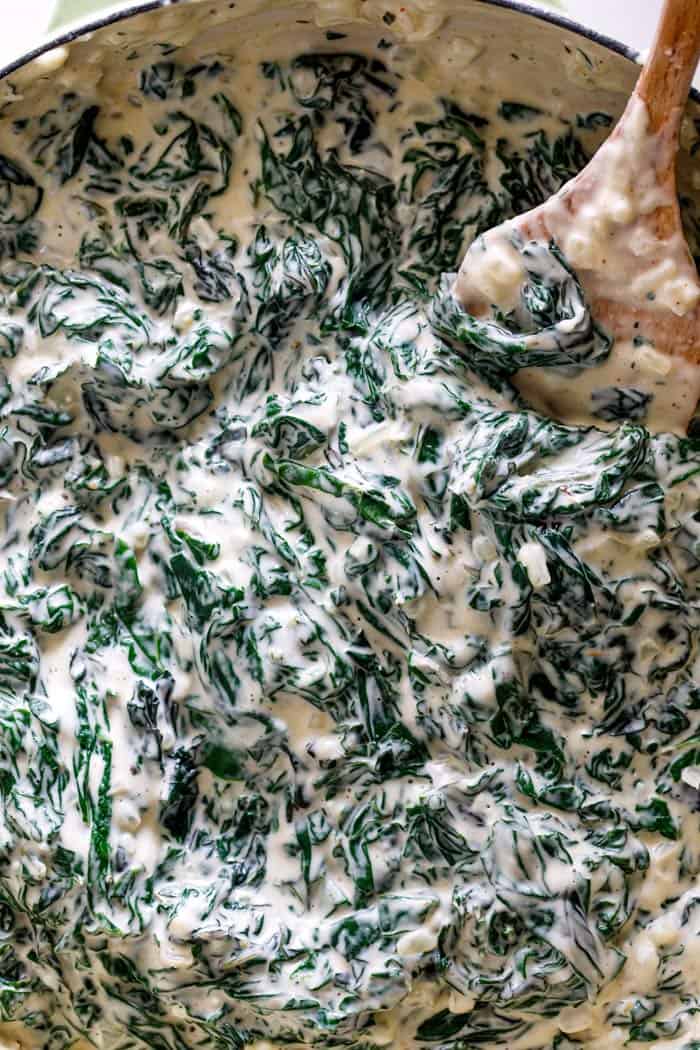 WHAT DO I SERVE WITH IT?
Give me a spoon and a bowl full of this Creamed Spinach and I've got dinner. Seriously, I could finish the whole thing. But, if I feel like serving up variety I like to keep it classic.
Creamed Spinach serves as the perfect accompaniment to a simple steak or a roast chicken. I love to throw in some roasted potatoes for good measure.
BONUS TIP: Don't be afraid to get creative! Creamed spinach can also be stuffed in pasta shells, added to a funky grilled cheese or used as a chicken breast filling.
GRANDBABY CAKES' BEST VEGETABLE SIDE DISHES
Sides are what make a good meal great! This week, take a little time to serve up your dinner with a couple extras. You won't regret it.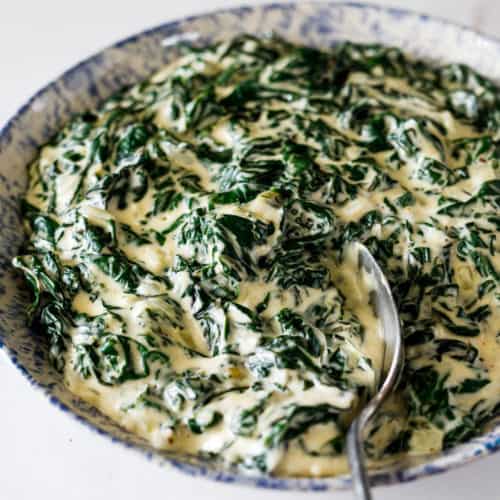 Creamed Spinach Recipe
Easily made with frozen spinach, smooth cream cheese, flavorful spices and a blend of decadent cheeses, this Creamed Spinach recipe is pure comfort food!  It is an irresistible side dish that serves as the perfect accompaniment to any weeknight or holiday dinner! 
Print
Pin
Rate
Ingredients
20

oz

frozen chopped spinach

3

tbsp

salted butter

3

tbsp

finely chopped onion

3

tbsp

minced garlic

3

tbsp

all purpose flour

1 1/2

cup

half and half

1

tsp

onion powder

1

tsp

Italian seasoning

3/4

tsp

garlic powder

1/4

tsp

nutmeg

a pinch of cayenne

optional

4

oz

cream cheese

room temperature (half an 8 oz package)

1/3

cup

shredded parmesan cheese

1/4

cup

shredded Italian blend cheese

Salt and pepper to taste
Instructions
Begin by working with the thawed spinach. Use fresh paper towels to squeeze out all of the excess water until they are as dry as possible.

Next add butter to a large pan over medium heat.

Once heated add onion and saute until tender (about 3-4 minutes). Then add garlic and saute for about 30 seconds.

Stir in flour and cook for about a minute.it will become a thick paste.

Whisk in half and half in then add onion powder, Italian seasoning, garlic powder, nutmeg and cayenne. Stir in cream cheese and parmesan and Italian blend cheese and allow it to completely dissolve into the cream.

Finally add in the spinach and stir into the cream sauce. Season with salt and pepper to taste and continue stirring for about 3-4 minutes until spinach is heated through and one with the sauce. Taste one last time, do final seasoning and serve.
Nutrition
Calories:
286
kcal
|
Carbohydrates:
13
g
|
Protein:
11
g
|
Fat:
23
g
|
Saturated Fat:
13
g
|
Cholesterol:
64
mg
|
Sodium:
301
mg
|
Potassium:
462
mg
|
Fiber:
3
g
|
Sugar:
2
g
|
Vitamin A:
11774
IU
|
Vitamin C:
7
mg
|
Calcium:
289
mg
|
Iron:
2
mg