This is the PERFECT Southern Succotash Recipe! Just what is Succotash? Learn how to make this Southern comfort food staple side dish filled with fresh okra, diced tomatoes, corn and flavorful bacon and so much deliciousness.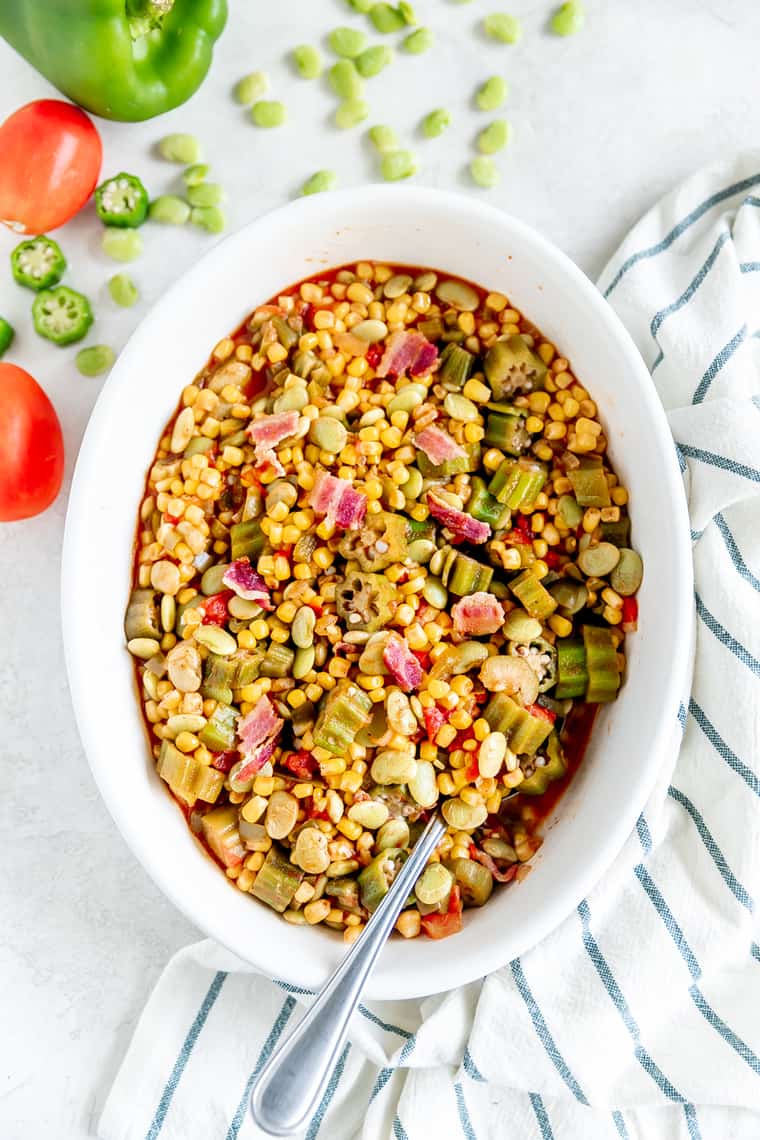 The Perks and Highlights of the Best Succotash
Cuisine Inspiration: Southern Comfort
Primary Cooking Method: Sautéing
Dietary Info: Gluten-Free, Vegetarian Option Available
Key Flavor: Savory and Fresh
Skill Level: Easy Peasy
Sweet Highlights:
Colorful Medley: Dive into a vibrant mix of corn, lima beans, and tomatoes that bring a burst of colors and nutrients to your plate.
A Pinch of Southern Charm: Experience the warmth and heartiness that's signature to Southern cuisine.
Quick and Easy: In no time, you'll whip up this dish, making it perfect for weeknight dinners.
Versatile Veggies: Feel free to throw in your favorites or whatever's in season.
Flavor Explosion: The combination of fresh herbs and a good ol' buttery base takes these veggies from simple to simply irresistible.
What is succotash?
Succotash, a savory combination of corn and beans, is a southern staple dish with a long history. Seventeenth century Native Americans introduced "msickquatash" to struggling colonial immigrants who then put their own spin on it.
From the Northeast to the deepest of the South, there are hundreds of amazing variations of this Succotash recipe. From zucchini, bell peppers and green tomatoes to cranberry beans and sweet corn kernels, the possibilities are endless.
While its roots aren't inherently Southern, Succotash can be found not only on most restaurant menus but on the kitchen tables of families all across the South. The additions of okra, diced tomatoes, fried onions and roasted corn add the flavors of the South that are both comforting and familiar.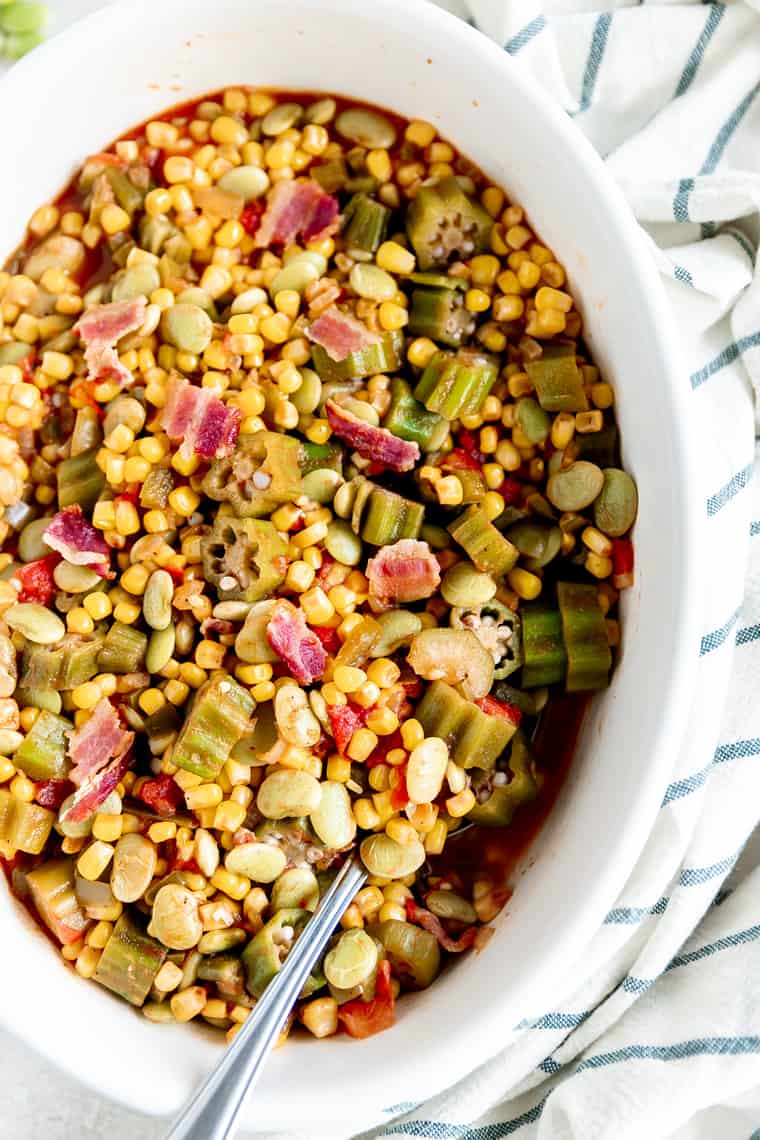 Succotash is a simple dish thats celebrated best during the garden season in the South; the beautiful colors and fresh flavors are just perfect. But that doesn't mean this dish can't be replicated in your home any time of the year!
Ingredients
Corn Succotash or just succotash for short starts with key vegetable ingredients making it the best melting pot of your favorite Southern sides. The key ingredients in corn succotash are:
Lima Beans
Corn
Tomato
Okra
The combination of these ingredients creates a variety of textures and flavors. By adding additional essences from bacon, onion and green pepper, you really punch up the flavor even more.
How to Make Succotash Recipe
The most incredible part about succotash is its versatility; almost any ingredient can be added to create an individualistic dish! Have a favorite summer vegetable? An herb that you love the fragrance of? Throw it in and make it your own! This particular recipe comes from the Sweetie Pie's Cookbook. If you watch the OWN network, I am sure you are familiar with the matriarch and her incredible soul food restaurants.
For this succotash, start your dish by rendering the fat of your choice: pork belly or bacon are preferred. Either one can add incredible flavor and texture to your dish. If you have any of my brown sugar baked bacon, save the fat and some of it for this as well for additional flavor notes.
Once your fat has produced a sufficient amount of drippings, add your onions and peppers. Cook on medium-high for 2-3 minutes until tender to add more flavor.
Next you'll want to add your beans, corn, tomatoes, seasonings, herbs and any other special touches that will help make it your very own. Cook for about 5 minutes or until all the ingredients are tender and fragrant.
Vegetarian Tip
In this particular recipe, I love the wonderful flavor of bacon but you can omit this if you would like to make this recipe vegetarian or vegan. Also just use water instead of the stock.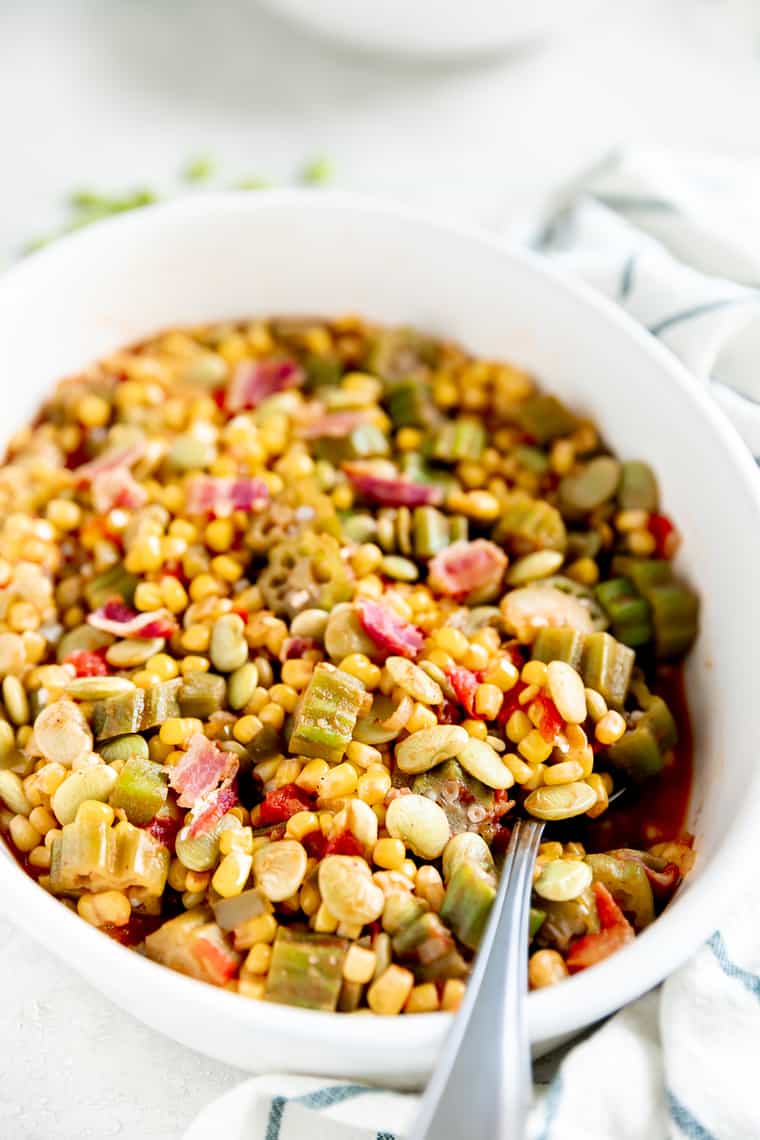 Finally, add in butter! This will add the creaminess and richness that we all look for when grabbing our go-to southern comfort food. Honestly I would add butter to everything if I could. It makes everything so much better.
Storage and Reheating
Storing:
Let it cool, then store in an airtight container in the fridge, consuming within 3-4 days.
Reheating:
For best results, reheat on the stovetop with a splash of water, stirring until warm.
Alternatively, use the microwave, covering the dish and heating in short bursts, stirring in between.
How To Serve
Succotash can be enjoyed as a side dish or become the centerpiece to any meal. Spoon it over rice, throw a grilled catfish fillet over it or serve it in bowl with a side of hot-buttered Mexican cornbread. No matter the variation or presentation its a hearty and budget friendly dish that is sure to impress!
Consider these main dishes to serve your Succotash recipe with:
If you love other summer corn recipes, check out my Mexican grilled corn and this Shrimp and Corn Chowder recipe and these Stuffed Lettuce Rolls.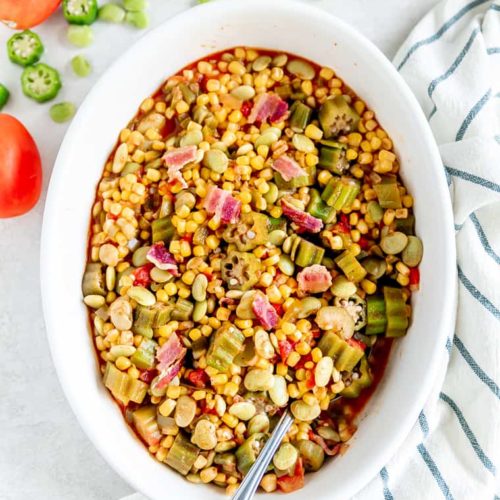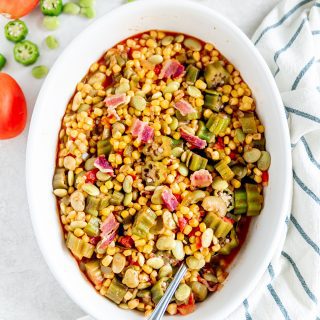 Succotash
This is the PERFECT Southern Succotash Recipe! Fresh okra, diced tomatoes, corn, flavorful bacon and so much deliciousness. 
Print
Pin
Rate
Ingredients
3

strips bacon

chopped

1

small onion

minced

1

green pepper

cored, seeded and minced

1

cup

frozen lima beans

2

cups

fresh or frozen corn nibblets

thawed and drained if frozen

1

small tomato

cored and chopped

1

teaspoon

sugar

1

teaspoon

salt

1

teaspoon

ground black pepper

1/2

cup

tomato sauce

1/2

cup

water or chicken stock

1

young okra

stem ends trimmed and sliced 1/4 inch thick to equal 1 cup
Instructions
Heat a medium saucepan over medium heat, add the bacon pieces, and cook until crisp, 3 to 4 minutes, then remove them from the pan with a slotted spoon to a plate.

Add the onion and bell pepper to the fat in the pan and cook until vegetables begin to soften, 1 to 2 minutes. Lower heat to medium low and stir in the lima beans, corn, tomato, sugar, salt and pepper.

Add the tomato sauce and water, bring to the simmer, cover, and simmer for 15 minutes. Add the okra and simmer for 10 minutes more or until the okra is fork tender but not mushy. Remove from the heat, cover and allow to sit for 10 minutes before serving.
Video
Notes
Storing Succotash:
Let it cool, then store in an airtight container in the fridge, consuming within 3-4 days.
Reheating Succotash:
For best results, reheat on the stovetop with a splash of water, stirring until warm.
Alternatively, use the microwave, covering the dish and heating in short bursts, stirring in between.
Remember: Only reheat what you need to maintain the best texture and flavor. Enjoy!
Nutrition
Calories:
231
kcal
|
Carbohydrates:
34
g
|
Protein:
9
g
|
Fat:
8
g
|
Saturated Fat:
2
g
|
Cholesterol:
10
mg
|
Sodium:
878
mg
|
Potassium:
652
mg
|
Fiber:
6
g
|
Sugar:
8
g
|
Vitamin A:
780
IU
|
Vitamin C:
39.9
mg
|
Calcium:
31
mg
|
Iron:
1.9
mg