Garlicky Green Bean Casserole is a simple yet delicious holiday side dish made in one skillet in under an hour. Loaded with earthy mushrooms, tender green beans, sharp cheese, and crispy panko breading, this recipe is super satisfying and so tasty!
By Leidi Rodriguez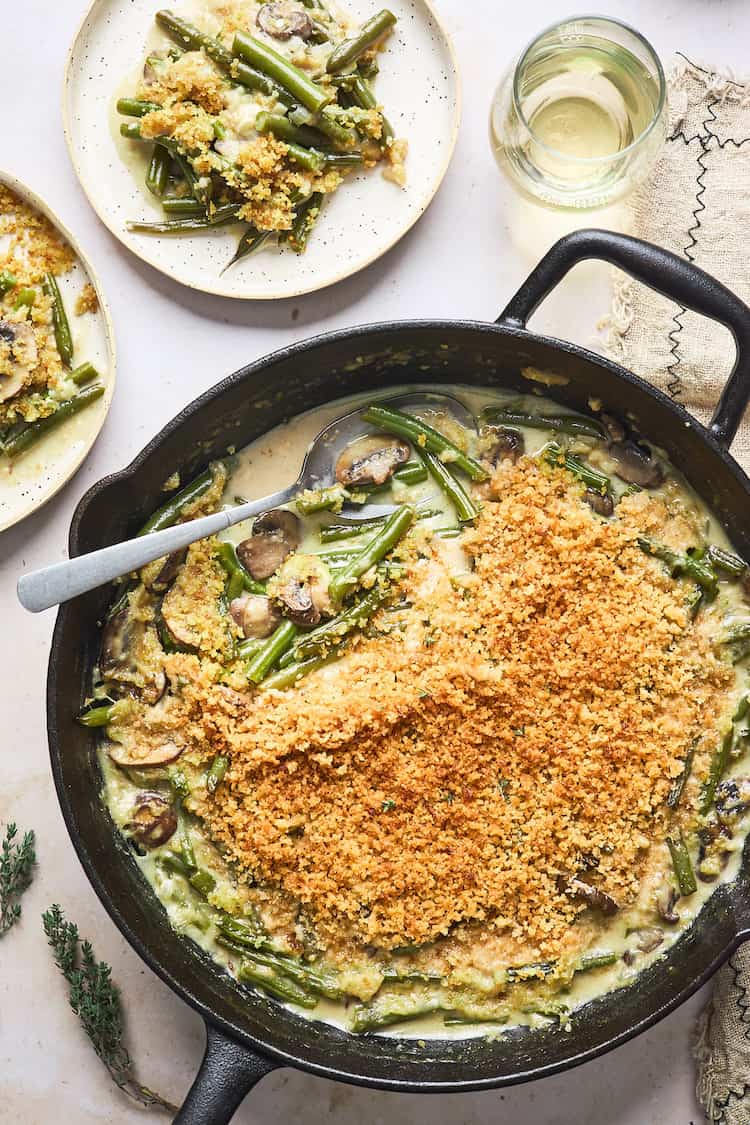 Well hello and happy holidays! Can you guys believe we're already here? I mean, where exactly did this year go? I'm not too sure but I am grateful to be approaching another holiday season.
With Thanksgiving right around the corner, I'm loading up on all the classic recipes. I just can't wait to be sitting around the table with my family again! If there's one thing we love to do together, it's eat.
Today's recipe is a highly-requested family favorite: Garlicky Green Bean Casserole! It's creamy, crunchy, salty, sweet, nutty, and pairs perfectly with just about everything else on the holiday table.
If you've never had a green bean casserole before, you're in for a treat. If you have, get ready to kick your old recipe to the curb!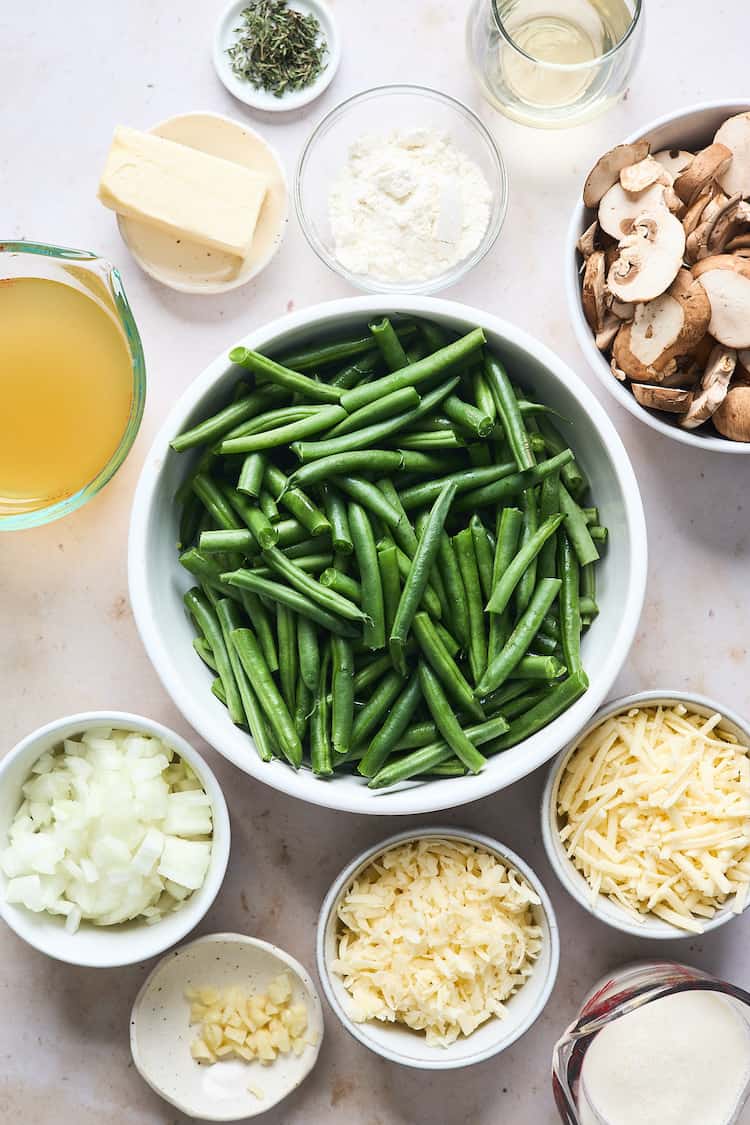 Ingredients
There's a reason why this dish has been around for as long as it has; it's simple, it's decadent, and it's dang delicious!
Here's what' you'll need to make it:
Unsalted Butter- Salted or unsalted works. If you'd like to use olive oil, that'll do just fine too!
Yellow or Sweet Onion- Both are slightly acidic and aromatic, choose whichever you'd like. I use sweet onion most of the time for the added layer of floral sweetness.
Baby Bella Mushrooms- Mushrooms add a nutty, earthiness to this casserole. If you're not a mushroom fan, they can be omitted but I'd highly recommend trying the recipe as is first. Just about any kind of mushroom will work here.
Garlic- This recipe is not shy on the garlic! So if you're not a fan, you're out of luck!
Thyme- Try using rosemary, oregano, or marjoram for a unique twist. Dried thyme can also be used, just be sure to adjust the measurement accordingly. The rule of thumb is one teaspoon of dried herbs for one tablespoon of fresh herbs.
All Purpose Flour- Flour is used to absorb moisture and thicken the base sauce.
White Wine- A dry white wine like chardonnay or Sauvignon blanc will work best. If you'd like to omit the alcohol, replace it with more chicken stock or broth.
Chicken Stock or Broth- Both stock and broth add an incredible amount of rich flavor. If you'd like to keep this recipe vegetarian, go ahead and use vegetable broth instead.
Green Beans- I prefer to use fresh, crunchy green beans for this recipe. But, if that is not available to you, the frozen variety will also yield a great result. Just be sure to properly defrost, drain, and dry the beans before cooking.
White Cheddar- I love the sharp bite of white cheddar; it pairs so perfectly with the crisp sweetness of the wine. Feel free to use any of your favorite cheeses. I love the idea of a smoky Gouda or a salty blue cheese!
Gruyere- Gruyere is a rich, creamy, nutty, and sweet cheese. I seriously can't rave about it enough! Fontina, jarlsberg, and emmental are all great replacements.
Heavy Cream- what's a holiday recipe without a little extra indulgence? Once the cheese melts and marries with the cream, there's no stopping this casserole.
Garlicky Panko Crumbs- Garlicky panko crumbs is something I keep around in my kitchen all of the time! It makes for a great topping to any baked pasta, cheesy casserole, or roasted veggie. That extra buttery crunch takes any dish up well over a few notches.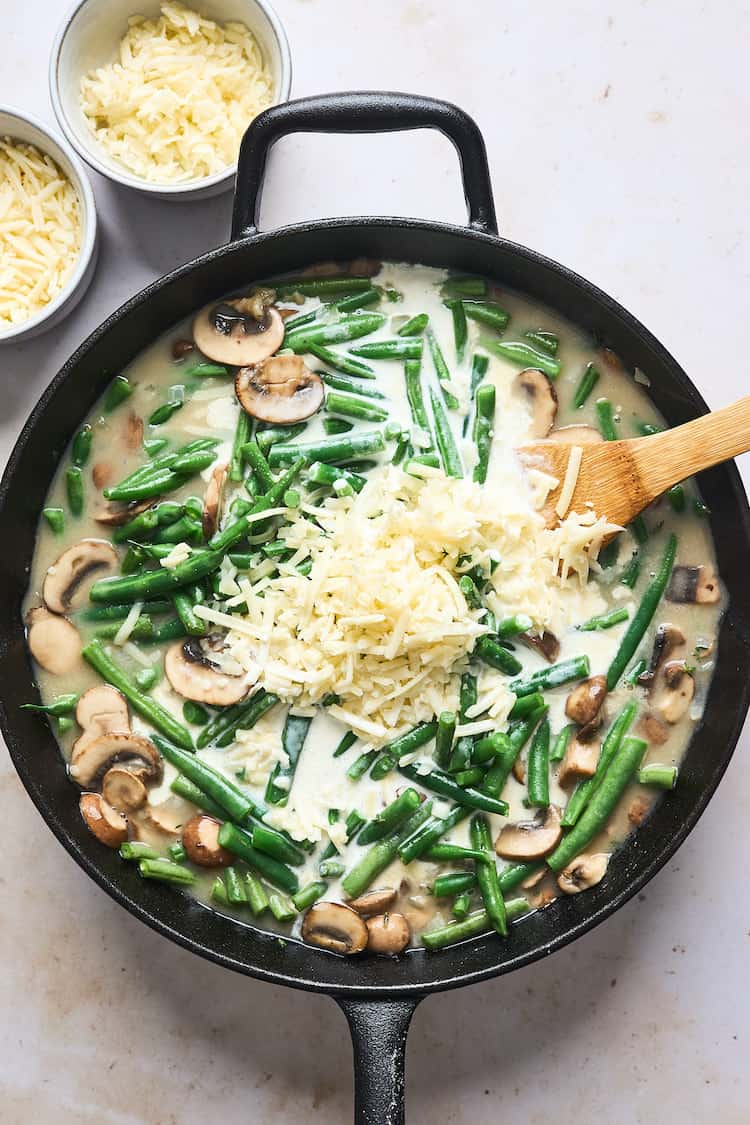 How to Make Green Bean Casserole
Prepare the ingredients

before starting anything else! That means washing and trimming the green beans, shredding cheese, chopping onions, mushrooms, and thyme, and measuring out liquids. The better you're prepared, the easier this dish is to pull together.

Cook the sauce

in a large nonstick (I used cast iron) skillet. Start by sauteing the mushrooms and onions, then add in the aromatics: garlic and thyme. Once everything is tender and fragrant, carefully pour in the white wine. Be sure to scrape all the flavorful bits off the bottom of the pan! Finally, add in the chicken broth and cook the liquid down for about 5 minutes.

Add the green beans once the liquid has reduced by about ¼-⅓ cup. Carefully toss around the beans to evenly coat them in sauce. Only cook the beans until they are bright green and crisp-tender!
Mix in the cheese and cream

after you've removed the skillet from the heat. Be sure to reserve a cup of cheese for the topping! That is what makes this green bean casserole super special!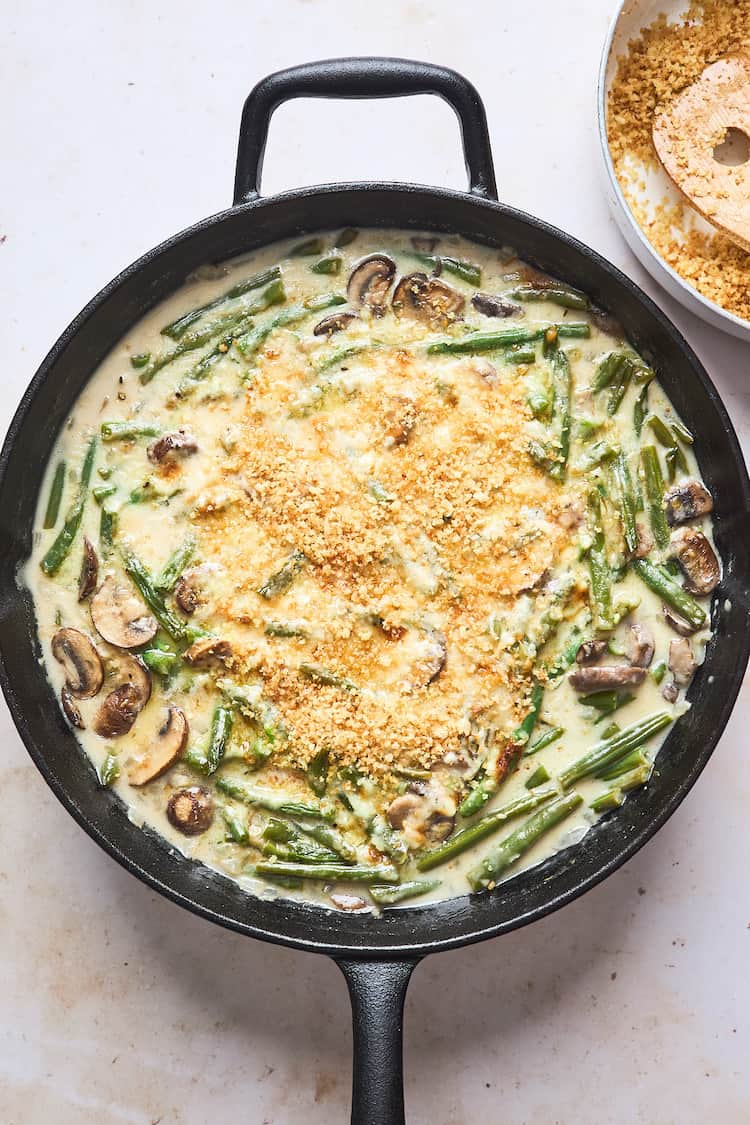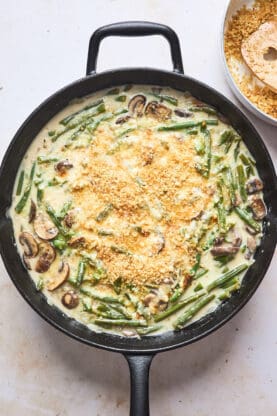 Top with remaining cheese and bake

for 20 minutes before opening the oven up and sprinkling on the garlicky breadcrumbs, which should have been prepared during that first bake. Bake for another 10 minutes after topping, or until golden-brown and bubbly. Serve this green bean casserole while hot and ready!

Can It Be Prepared Ahead of Time?
Absolutely! This recipe can be made up to 48 hours ahead of time. To do so, prepare the casserole as directed but do not bake. Allow the pan (and its contents) to cool just a little before covering with foil and refrigerating. Keep the garlicky breadcrumbs in a separate zip-top bag or airtight container.
Once ready to cook, remove the green bean casserole from the fridge and let it sit out for about 30 minutes. Bake as directed, remembering to sprinkle on the breadcrumbs in the last 10 minutes.
NOTE: If your casserole is very chilled, it might take an extra 10 minutes or so to get it super hot and bubbly.
How Long Does Green Bean Casserole Keep?
Creamy green bean casserole will last for about 4 days in the refrigerator. Since this recipe contains dairy, a crunchy topping, and green beans that have been cooked twice, I would not recommend freezing.
To store, either cover the top of the dish with foil or scoop the leftover casserole into an airtight container.
Reheating Instructions
You can reheat green bean casserole in an oven, on a stovetop, or in a microwave. I'd recommend using the oven for more even heat and maximum creamy, cheesy goodness!
Here are instructions for each method:
OVEN
Preheat the oven to 350°F. Place the leftover casserole in an oven-safe dish, then cover with aluminum foil. Heat for 20 minutes, remove the foil, and continue to reheat for 10 more minutes or until heated through. Take it out from the oven and let it rest for a few minutes before serving.
STOVETOP
Remove your green bean casserole from the fridge and let it rest for 20 minutes. Add a little butter or olive oil to a nonstick frying pan. Heat the pan over medium- low heat. Place the green bean casserole in the pan, then cover and reheat. Stir every few minutes, continuing until heated through.
MICROWAVE
Place your green bean casserole in a microwave-safe container or dish. Cover it with plastic wrap, but leave it partially open to release steam. Heat in 30-60-second intervals at medium heat, stirring intermittently. Continue the intervals until heated through.
What to Serve With
This recipe is great for a big Sunday Supper or a holiday spread. Pair with sides like Sweet Potato Casserole, Creamed Spinach and Collard Greens for a delicious and well rounded spread of goodness.
Grandbaby Cakes Best Holiday Sides
Here at GBC, there's no shortage of delicious holiday recipes. Pair this cheesy, crunchy, garlicky green bean casserole with a few of the recipes featured below!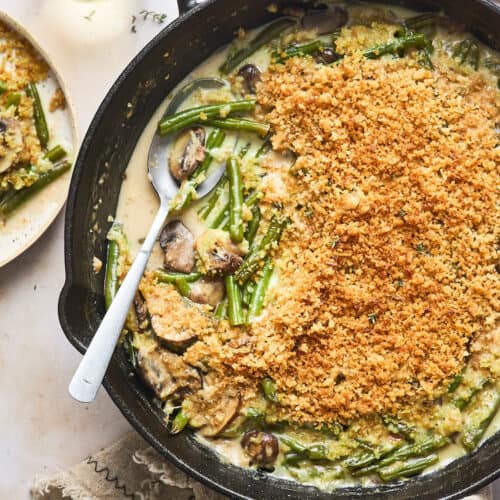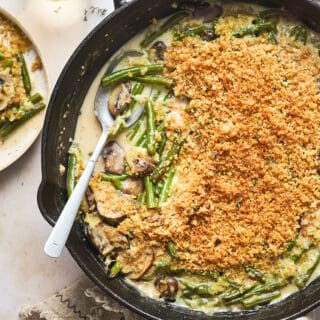 Green Bean Casserole
This Garlicky Green Bean Casserole is loaded with earthy mushrooms, tender green beans, sharp cheese, and crispy panko breading. Perfect for the holiday season!
Print
Pin
Rate
Ingredients
For the Grean Bean Filling
3

tbsp

unsalted butter

1/2

medium sized yellow or sweet onion

diced

8

oz

baby bella mushrooms

sliced

3

garlic cloves

minced

1

tbsp

fresh thyme leaves

chopped

3

tbsp

all purpose floour

1/2

cup

dry white wine

2

cups

chicken stock

or broth

1 1/2

lbs

fresh or frozen green beans

trimmed and halved

1

cup

shredded sharp white cheddar

1

cup

shredded gruyere

1/2

cup

heavy whipping cream

kosher salt and freshly ground black pepper

to taste
For the Garlicky Panko Topping
4

tbsp

unsalted butter

4

garlic cloves

slightly smashed

1 1/4

cup

panko breadcrumbs
Instructions
For the Green Bean Filling
Preheat the oven to 350 degrees F.

Melt the butter in a large oven-proof skillet over medium-high heat. Add the onions and mushrooms and cook, stirring occasionally, until the mushrooms are tender and browned, about 5-6 minutes.

Stir in the garlic, thyme, and flour. Cook, stirring often, until fragrant, about 1-2 minutes.

Pour in the white wine and stir, scraping any browned bits from the bottom of the pan. Allow the alcohol to cook off and slightly reduce, about 2-3 minutes.

Stir in the chicken broth, bring to a boil, reduce the heat, and simmer for about 5 minutes.

Carefully add in the green beans and cook until crisp-tender, about 6-8 minutes. Use a pair of tongs to gently mix the beans as they cook.

Remove the skillet from the heat. Stir in ½ cup of sharp white cheddar, ½ cup gruyere, and the heavy cream. Season with salt and pepper to taste.

Top the casserole with the remaining cheese and place it in the oven. Bake for 20 minutes.

While you wait for the casserole to cook, prepare the garlicky panko topping.

After 20 minutes, open up the oven and top the casserole with the garlicky panko crumbs. Close up the oven and allow the casserole to continue baking for an additional 10 minutes minutes.

Allow to cool for 5 minutes, then serve immediately.
For the Panko Crumb Topping
Cook butter and garlic in a small nonstick skillet over medium heat, swirling pan often, until foaming subsides and garlic is fragrant, about 3-4 minutes.

Add panko and stir to coat evenly. Cook, stirring frequently, until panko is golden brown, about 4 minutes

Season with salt, transfer to a plate, and let cool.

Discard the garlic and set aside.
Notes
NOTE 1: If using frozen green beans, make sure to properly defrost and drain them first.
NOTE 2: White wine is optional. For an alcohol free recipe, replace the wine with more chicken broth or stock.
Nutrition
Calories:
353
kcal
|
Carbohydrates:
21
g
|
Protein:
14
g
|
Fat:
23
g
|
Saturated Fat:
14
g
|
Polyunsaturated Fat:
1
g
|
Monounsaturated Fat:
7
g
|
Trans Fat:
1
g
|
Cholesterol:
70
mg
|
Sodium:
312
mg
|
Potassium:
464
mg
|
Fiber:
3
g
|
Sugar:
5
g
|
Vitamin A:
1341
IU
|
Vitamin C:
13
mg
|
Calcium:
305
mg
|
Iron:
2
mg