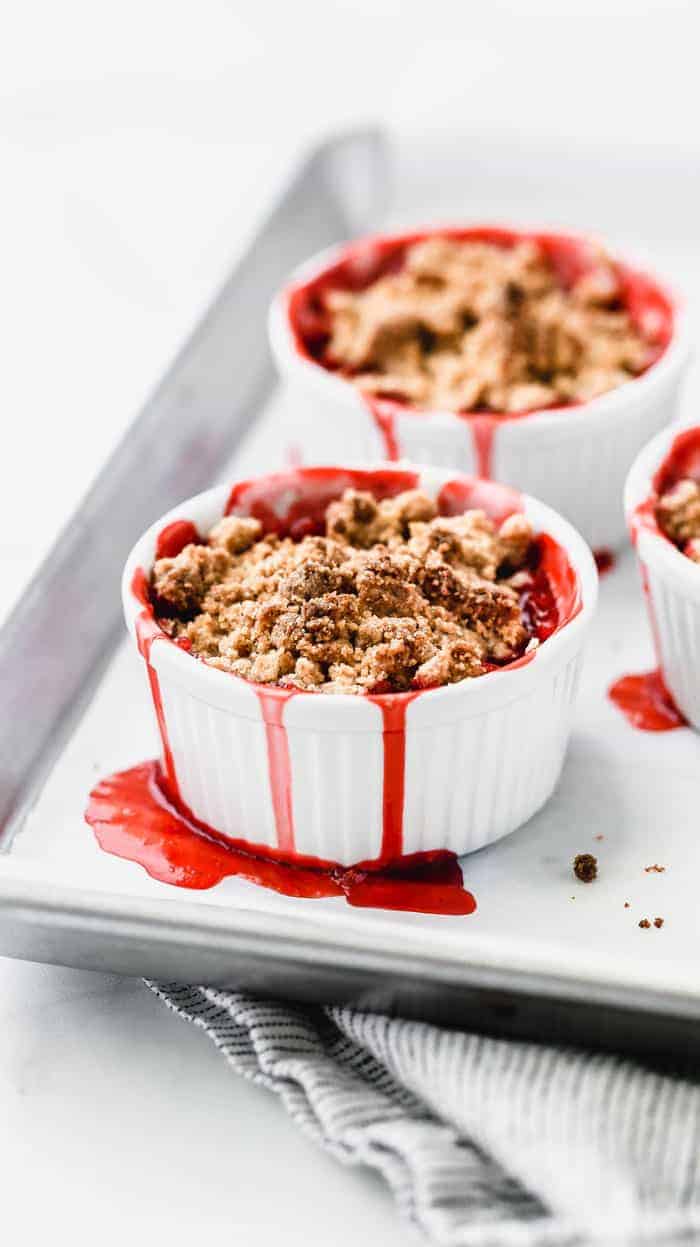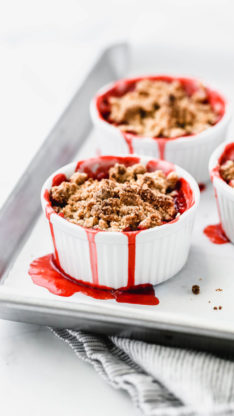 NATURALLY SWEET FRUIT DESSERTS
Some of the best desserts that we ever consume are comprised of naturally (with a little enhancement) sweet fruit with some version of a crumble topping. We're talking peach cobblers, cherry crisps, brown bettys and so much more. They are the epitome of spring and summer baking because they can be made quickly with almost any piece of in season fruit. In my house, the perfect fruit crumble is a staple dessert. Crumble is a wildly simple fruit recipe topped with a crisp, buttery crumb topping. With each bite the fruit dances on your tongue for a moment and then melts beautifully. The crumbs add a crunchy, salty and slightly sweet element that ties the entire dish together. It couldn't be more perfect.
Today, I'm sharing with you my current favorite crumble recipe that features one of the most delicious fruits Summer has to offer: strawberries. They're that perfect sticky sweet, leave your fingertips pink and scented treat that I crave as soon as the weather warms up. Or sometimes just when I need a reminder that there are sunnier days to come.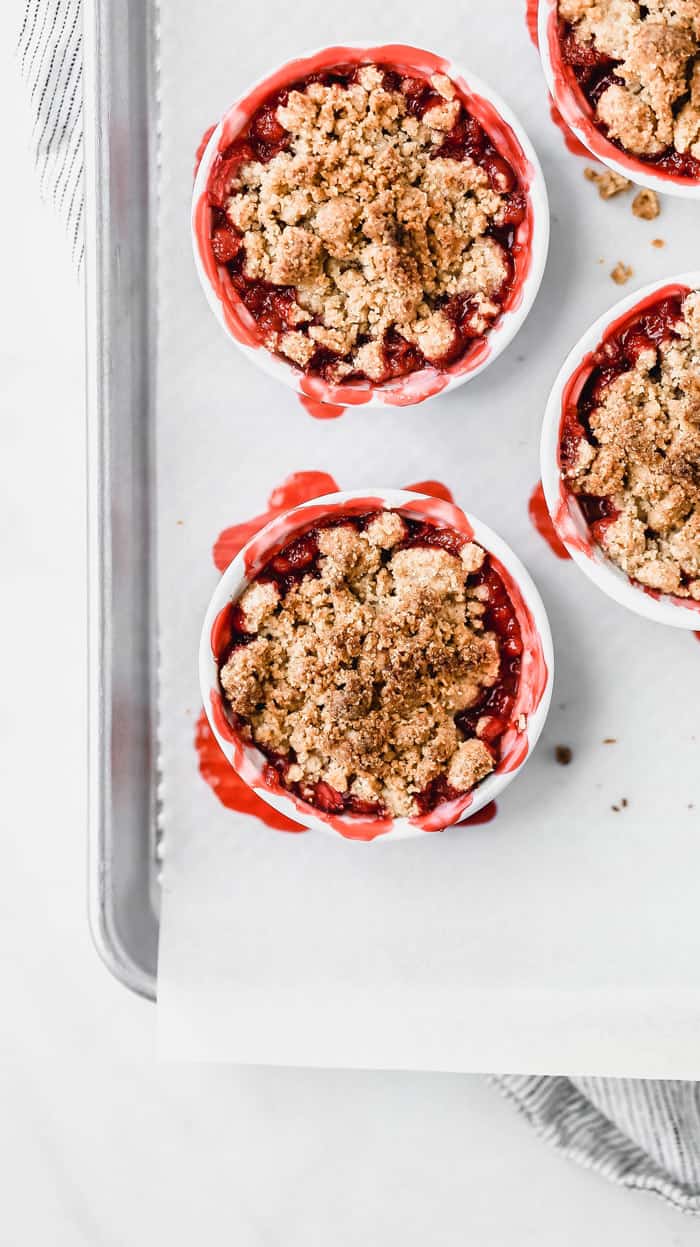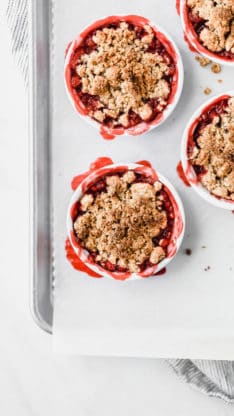 INDIVIDUAL STRAWBERRY CRUMBLES
My individual strawberry crumbles are here to brighten my mood. I've been annoyed with the spring weather lately in Chicago. Day after day, I am confronted with consistent 40 degree weather in late April followed by one random day of 70 degree weather, and I'm a little frustrated. On one hand, I want to use fresh spring berries and start on some sorbets and other frozen recipes to ready me for summer. On the other hand, I am constantly still putting on a heavier jacket and drinking hot tea to stay warm. I needed to find a recipe to go well with my "in between" Winter/Spring confusion.
This is where my individual strawberry crumbles enter. My husband just loves crumbles so I knew there would be absolutely no leftovers lingering in the kitchen ready to tempt me away from my healthy eating kick. His midnight snacks are my saving grace. Even if I were to indulge a bit, having the individual portions helps to keep me in check. Or at least just a tad more mindful of the three ramekins of crumble I've just consumed. Oops.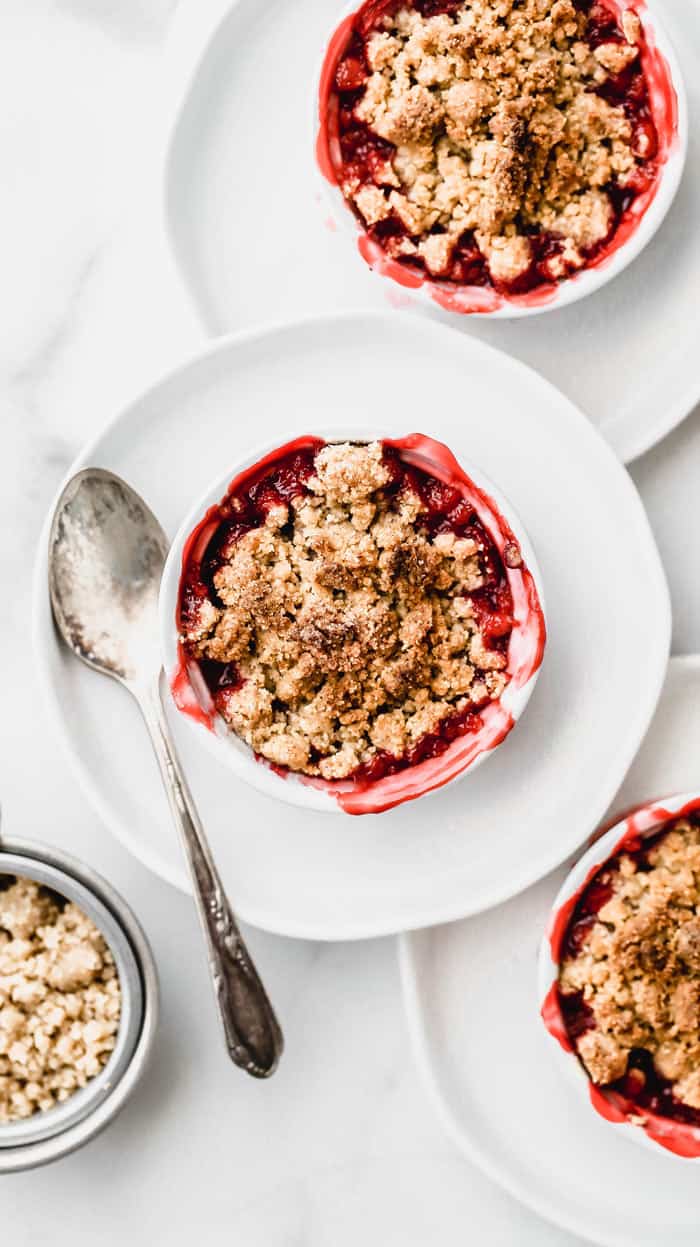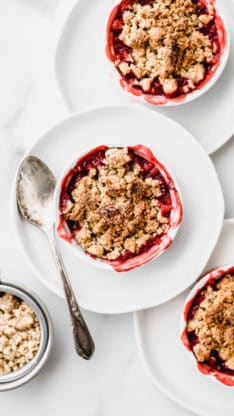 BAKING SPARKS MY CREATIVITY
Believe it or not, I threw this recipe together off my instincts and it turned out perfectly. Following, adapting and creating recipes is what my job is all about. I love taking old recipes and spinning them on their heads or trying out a colleague's newest brownies and sharing the experience with you. But I have the most fun when I can just step into the kitchen, throw on an apron and run with the wind. The kitchen is where I allow my imagination to go wild and my creativity to be inspired by what I have on hand. The outcomes are usually (maybe not always) incredible.
WHY MAKE THIS STRAWBERRY CRUMBLE RECIPE
This recipe is the best of both worlds for my "in between" winter/spring weather issues. It was warming and comforting like a winter dessert but it was bright and filled with gorgeous spring strawberries. It's also one of the quickest and easiest recipes that you or I will ever make.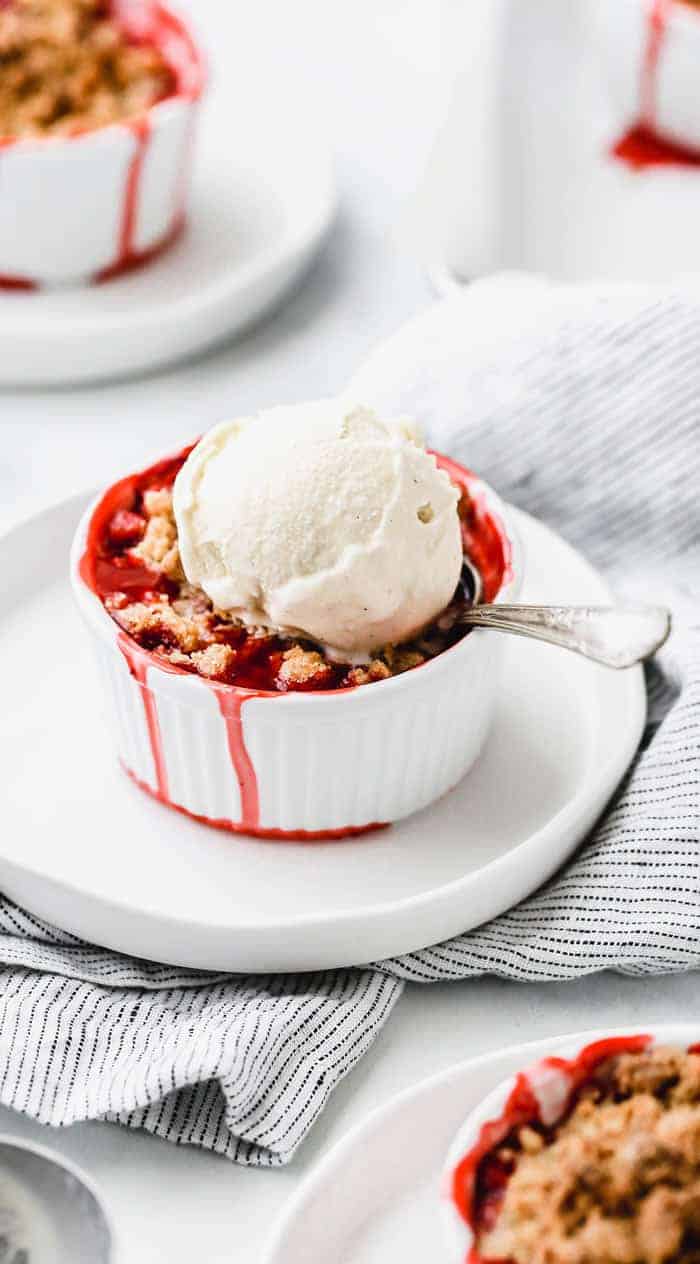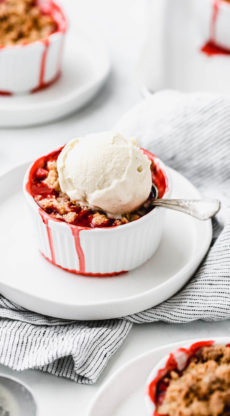 HOW TO MAKE INDIVIDUAL STRAWBERRY CRUMBLES
First, you toss together your strawberries, orange or lemon juice, granulated sugar, salt, vanilla extract and cornstarch. Together they create a strawberry filling to be reckoned with. In just a short amount of time the mixture thickens and the citrus draws out the bright flavors within the strawberry.
While you wait for those plump strawberries to be ready, the crumble is awaiting its preparation. So you grab a bowl, whisk your dry ingredients together and add that gorgeous melted butter until your left with nuggets of buttery goodness.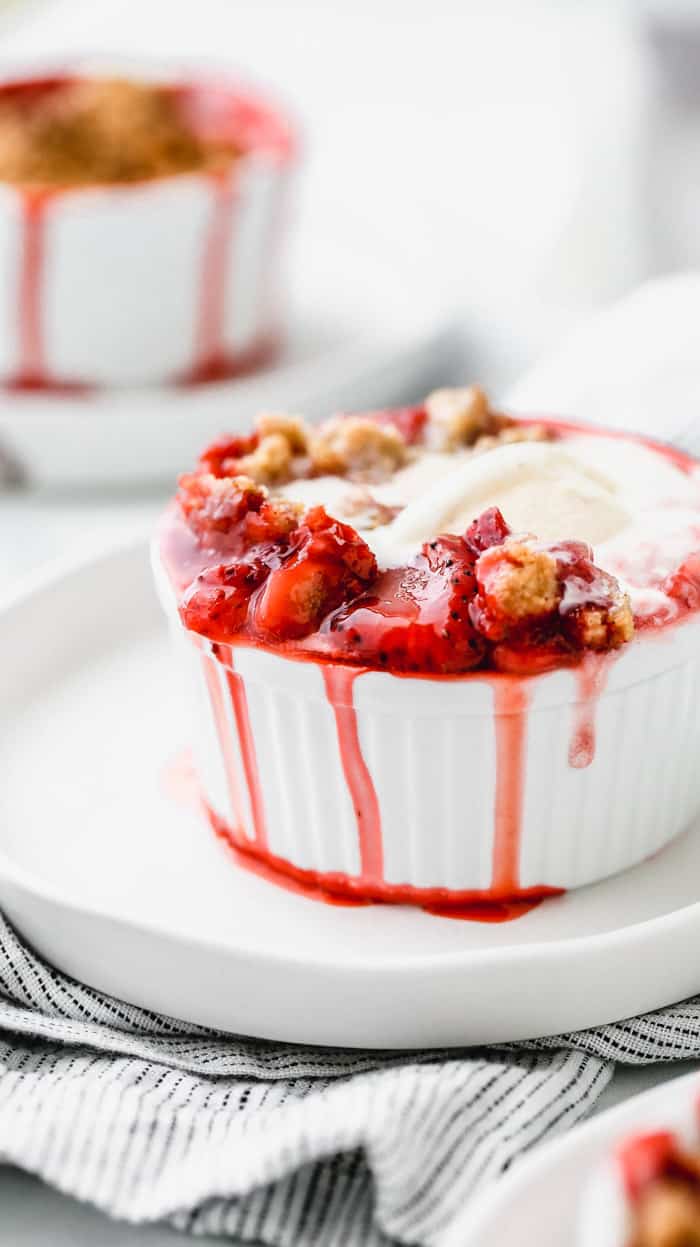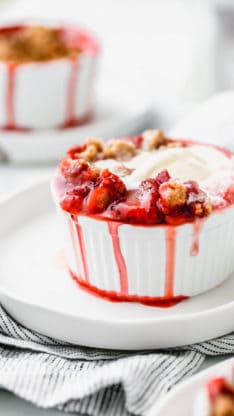 Finally, grab those ramekins and fill them to the brim with that tangy, sugary and slightly acidic filling. Then spoon your crumbs on top and pop them into the oven to ooze and gooze all over until they're ready. Allow them to cool, or don't. I have no patience. But most importantly, never forget that wonderfully creamy, cool scoop of vanilla ice cream on top. Wow, I think I'm drooling right now.
From beginning to end this recipe is not only bursting with flavor but it's a simple reminder of all the things I'm looking forward to. These strawberry crumbles has got me so excited for the wonderful weather I am sure (definitely praying) is coming soon!
CRUMBLE RECIPES
If you like these individual strawberry crumbles, then you might also enjoy some of my other crumble recipes.
BLUEBERRY CRUMBLE ICE CREAM
*Did you make this recipe? Please give it a star rating and leave comments below!*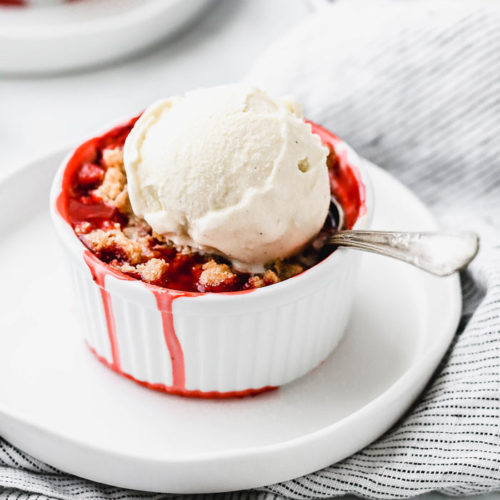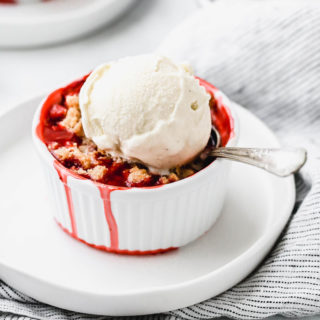 Ingredients
2

cups

strawberries

washed, hulled and sliced

1

tablespoon

orange juice or lemon juice

1/4- 1/2

cup

granulated sugar

check sweetness of strawberries to determine best amount

Sprinkle of salt

1

teaspoon

pure vanilla extract

1

tablespoon

cornstarch

1/4

cup

melted salted butter

1/3

cup

brown sugar

1

teaspoon

granulated sugar

1/2

teaspoon

cinnamon

2/3

cup

all-purpose flour
Instructions
Preheat oven to 375 degrees.

For the strawberry mixture, toss together strawberries, orange or lemon juice, granulated sugar, salt, vanilla extract and cornstarch in a medium bowl. Set aside.

While strawberries sit and thicken, assemble the crumble. Add brown sugar, granulated sugar, cinnamon and flour to a small to medium sized bowl.

Whisk ingredients together.

Slowly add in melted butter and stir in to combine until crumbs develop.

Add strawberry mixture to ramekins (I used 2 ounce sized ramekins).

Spoon crumbs over the tops of the strawberries.

Bake crumbles for 30 minutes. You can serve your crumbles warm or cold but my favorite way is warm with a nice scoop of vanilla ice cream. Enjoy!
Nutrition
Calories:
576
kcal
|
Carbohydrates:
107
g
|
Protein:
3
g
|
Fat:
15
g
|
Saturated Fat:
9
g
|
Cholesterol:
40
mg
|
Sodium:
144
mg
|
Potassium:
209
mg
|
Fiber:
2
g
|
Sugar:
80
g
|
Vitamin A:
475
IU
|
Vitamin C:
59.3
mg
|
Calcium:
44
mg
|
Iron:
1.9
mg