This
Perfect Southern Easy Coconut Cake recipe
has layers of tender, moist coconut hinted cake and irresistible pillowy meringue inspired frosting. If you want to amp up the flavor even more, check out my
Pineapple Coconut Cake
recipe or this Toasted Coconut Pie.
There is something so beautiful about a classic, yet simple coconut cake recipe. It begins with a moist, tender vanilla cake recipe separated into layers. Once cooled, a lovingly spread coconut frosting is smoothed over any bare spots. With a few handfuls of shredded coconut spread over top, we've got a tasty, texturally pleasant cake with a heck of a lot of flavor.
This cake is fragrant, tropical and sweet: perfect in my opinion. So, let's get our aprons on, this Easy Coconut Cake is just waiting to serve up deliciousness on your dining table!
SWEETS: A COLLECTION OF SOUL FOOD DESSERTS AND MEMORIES
Today's featured recipe was created by none other than cookbook author Patti Pinner. Patti's book, Sweets: A collection of Soul Food Desserts and Memories, is a staple in my kitchen. Seriously, if you've seen the state of my copy, you'd agree it has seen better days.
I'm very excited to have finally connected with Patti, just in time for Black History Month! This week, I will be featuring two of her recipes, one being this coconut cake and the other being her sweet potato pie. Both are outstanding.
Patti's book is one filled with the classic soul food recipes we were all raised with. The flavors are bold and familiar, yet somehow new and exhilarating. Each recipe is a work of art and innovation. If you don't have a copy on your shelf, it's time to change that.
I'd like to thank Patti Pinner not only for a deliciously decadent cake recipe, but for her beautifully written words. My wish is that you are all just as inspired by her sentiments as I was.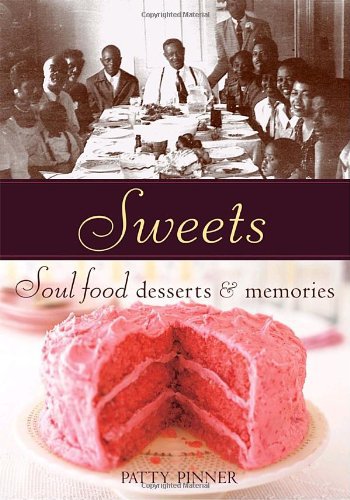 HOW TO MAKE AN EASY COCONUT CAKE
There is a special, irreplaceable if you will, place in my heart dedicated to Coconut Cake. I'm in love with the nutty, toasted and fresh flavors of coconut. Combined with a well-made vanilla-based cake, there is a tropically stunning dessert to be had.
Wondering what makes it so good? Here's what makes the magic happen:
Sweetened Flaked Coconut
Sweetened coconut flakes are the dried, grated meat of the coconut that have been sweetened. Flakes come in wider, flatter pieces as opposed to the larger, thicker shredded coconut options.
Using flaked coconut means a well-incorporated cake that is less likely to cause coconut to get caught in your teeth. Not pleasant. The added sweetness brings out more coconut flavor and makes for a tastier cake.
Cake Flour
Cake flour is lower in protein and very finely ground; it produces cakes with a finer, softer texture. A simple switch-up in flour makes for a softer, airer cake.
Milk
The protein in milk helps to build a strong batter capable of withstanding the baking process. It also adds fat and sugar that both sweeten and add moisture to the cake.
Light Corn Syrup
Light corn syrup adds a delicately sweet flavor while also lending a more toasted coloration to the cake.
Thank you again for sharing this beautiful Easy Coconut Cake Recipe Ms. Patty Pinner!
Photos courtesy of Sheri Giblin Photography
Coconut Cake Recipe by Patty Pinner
An Easy Coconut Cake Recipe from Sweets Cookbook author Patty Pinner. A moist, delicious and classic coconut cake recipe filled with love.
Print
Pin
Rate
Ingredients
1

cup

unsalted butter, softened

2 sticks

2

cups

granulated sugar

4

large

eggs

separated

3

cups

cake flour

sifted

2

teaspoons

baking powder

1/4

teaspoon

salt

1

cup

milk

1

cup

sweetened flaked coconut

2

teaspoons

vanilla extract

2

cups

granulated sugar

1/4

cup

light corn syrup

1

cup

boiling water

3

large

egg whites

1

teaspoon

vanilla extract

2

cups

sweetened flaked coconut

for garnish
Instructions
Preheat the oven to 350 degrees. Grease and lightly flour three 9-inch round cake pans. Set them aside.

To make the cake, in a large mixing bowl cream the butter and sugar thoroughly until

light and creamy.

Add the egg yolks one at time, beating well after each addition.

In a large bowl, sift together the flour, baking powder and salt.

Add the flour mixture to the butter and sugar mixture, alternating with the milk, beating after each addition. Stir in the coconut and vanilla extract.

In another bowl, beat the egg whites until they form stiff peaks.

Fold them into the cake batter. Divide the batter evenly into the prepared cake pans.

Bake for 30 minutes, or until a toothpick inserted into the middle of each layer comes out clean. Transfer the pans from the oven to wire racks.

Allow to cool in their pans for 10 minutes, then unmold them onto the wire racks to cool completely.

To make the frosting, in a large saucepan, combine the sugar, corn syrup and boiling water.

Bring to a boil over medium-low heat, and cook until the mixture spins thread and reaches 242 degrees on a candy thermometer.

In a large bowl, beat the egg whites until they form stiff peaks.

Pour the sugar and syrup mixture over the egg whites, beating constantly.

Add the vanilla extract, then cool the frosting until firm enough to spread.

Transfer one cake layer to a serving platter; spread 1/3 of the coconut frosting on top. Sprinkle coconut on top.

Top with another cake layer and spread with the second third of the frosting. Sprinkle more coconut on top.

Top with the remaining cake layer, then spread the remaining frosting on the top and sides of the cake.

Sprinkle with the remaining coconut, pressing gently into the frosting if you want to.
Notes
Miss Essie Brazil's Three-Layer Coconut Cake
Recipe courtesy of Patty Pinner's Cookbook Sweets: A Collection of Soul Food Desserts and Memories
Nutrition
Calories:
801
kcal
|
Carbohydrates:
128
g
|
Protein:
9
g
|
Fat:
28
g
|
Saturated Fat:
19
g
|
Cholesterol:
125
mg
|
Sodium:
197
mg
|
Potassium:
291
mg
|
Fiber:
3
g
|
Sugar:
97
g
|
Vitamin A:
715
IU
|
Calcium:
87
mg
|
Iron:
1.2
mg