This moist and fluffy, melt in your mouth White Cake Recipe is the go-to cake recipe you've been searching for! Whether you wrap this tender, airy White Cake in smooth American buttercream or whipped meringue you're destined for an irresistible bite you'll keep coming back for!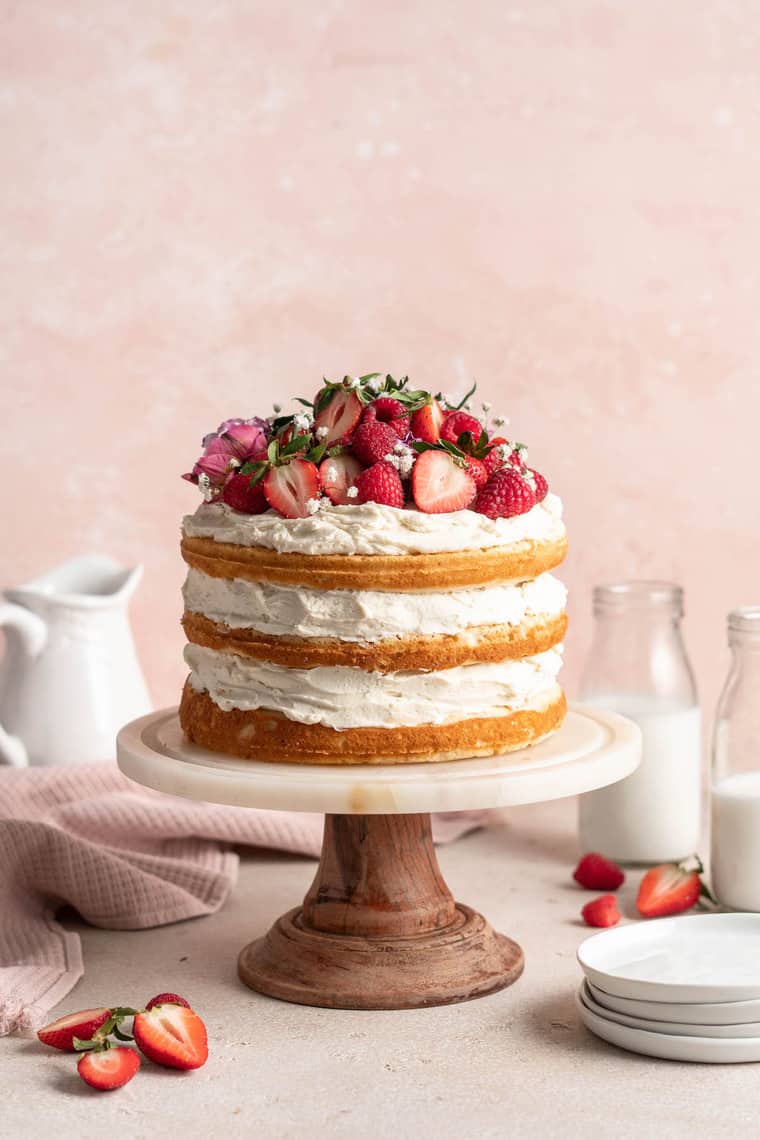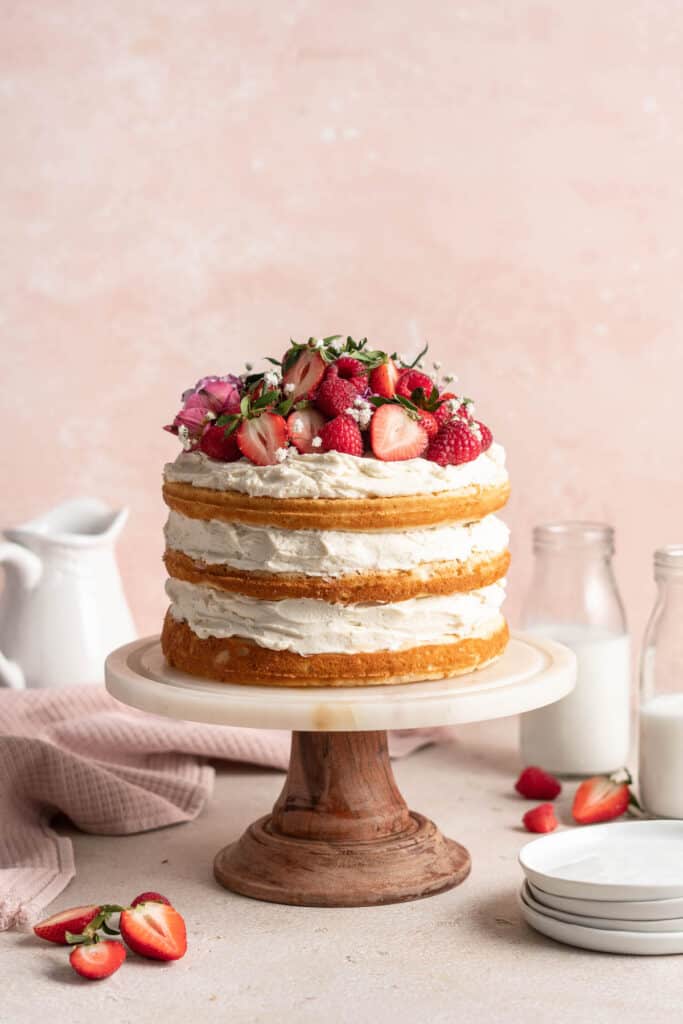 Alright y'all, I'm coming in hot today with a brand new cake recipe you do not want to miss out on! White cake is a classic dessert I often ate in my childhood and still continue to crave regularly. Flavored, all dressed up, and decked out cakes can be exciting and delicious but there's something to be said about the simplicity of a White Cake.
When made correctly, a White Cake recipe is incredibly light, sweet, tender, and moist. It can also be coated in the frosting of your choice. It doesn't get any better than that!
Baking from scratch can be hard! But, my girl Kristin Hoffman aka Baker Bettie is here to save the day and boost your baking confidence. Kristin's latest release, Baker Bettie's Better Baking Book: Classic Baking Techniques and Recipes for Building Baking Confidence (Cake Decorating, Pastry Recipes, Baking Classes), dives into the science behind baking and provides foundational skills and tools helpful to both professionals and beginners alike.
Baker Bettie's Better Baking Book is not only a collection of delicious and innovative recipes but it also serves as a guide to measurements, techniques, and the step-by-step processes that make for the perfect bakes.
Perks and Highlights
Cuisine Inspiration: American
Primary Cooking Method: Baking
Dietary Info: Vegetarian (contains eggs and dairy)
Key Flavor: Sweet, Light, and Buttery
Skill Level: Intermediate
Special Perks:
Blank Canvas Beauty: This white cake is your culinary canvas, ready to pair with any flavor, frosting, or fruit. It's the versatile foundation for a masterpiece, no art degree required!
Light as Air: Forget dense or dry disasters. This recipe yields a cake with a soft, tender crumb that might just float away if you're not careful. It's like biting into a delicious cloud!
Buttercream's BFF: Whether you're a frosting fanatic or a ganache guru, this cake pairs perfectly with a myriad of toppings. But it's the classic combo with buttercream that really takes the cake (pun intended).
Celebration Central: From birthdays to weddings, or just celebrating Tuesday, this cake fits the bill. It's a go-to crowd-pleaser that screams, "Something special is happening!"
Simple Sophistication: Don't let the elegant appearance fool you; the process is straightforward, making this a gem for both newbies and seasoned bakers. It's like wearing a designer gown that's secretly pajama-comfortable!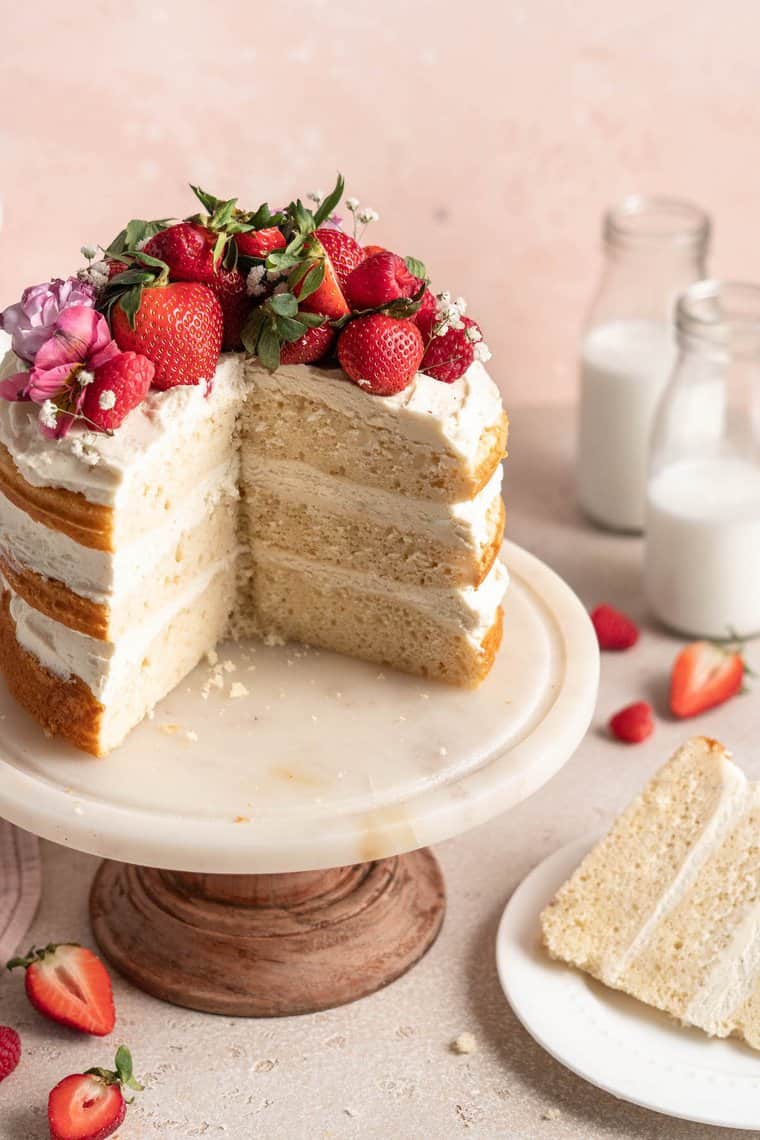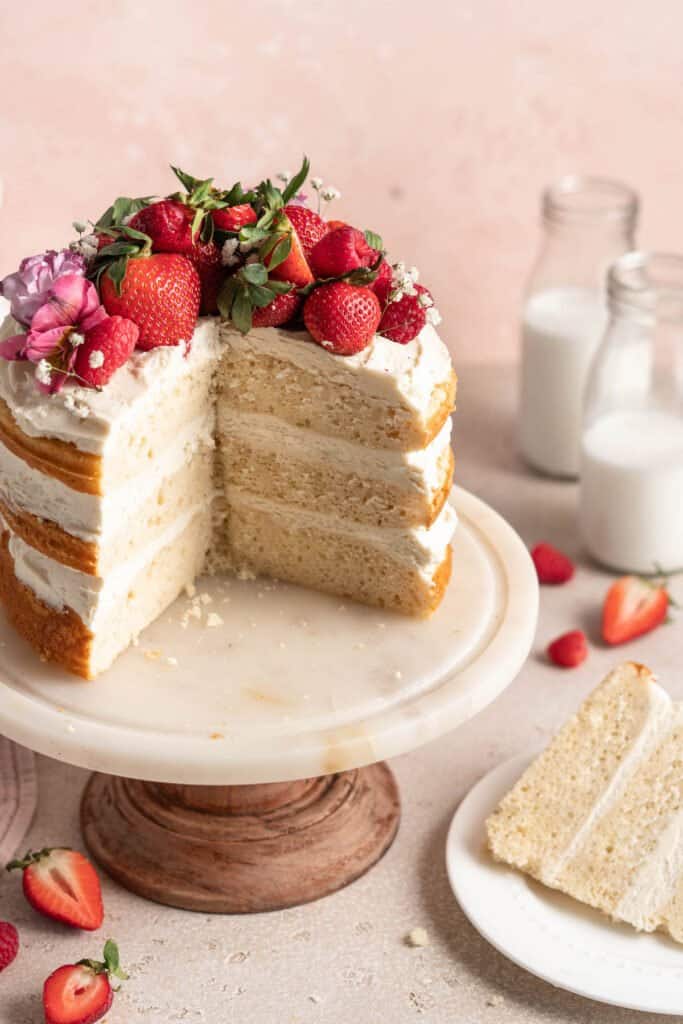 White Cake Vs. Vanilla Cake
Most of the yellow color in a vanilla cake is derived from the egg yolks, which impart great moisture, lots of flavor, and a tender yellow crumb. To achieve that perfect snowy-white cake recipe, the egg yolks are removed and more egg whites are added.
But, egg yolks do offer additional fat that makes for a moister cake so that needs to be accounted for as well. Adding sour cream and more butter does the trick! The texture is really light and fluffy but not like my Sour Cream Pound Cake or Cream Cheese Pound Cakes that are a bit more dense in texture.
How to Make White Cake
SIFT THE DRY INGREDIENTS-

with most other white cake recipes, sifting isn't super necessary but not today. To achieve an airy, moist texture, you'll need to sift the flour, baking powder, and baking soda. Whisk in the salt by hand and set aside.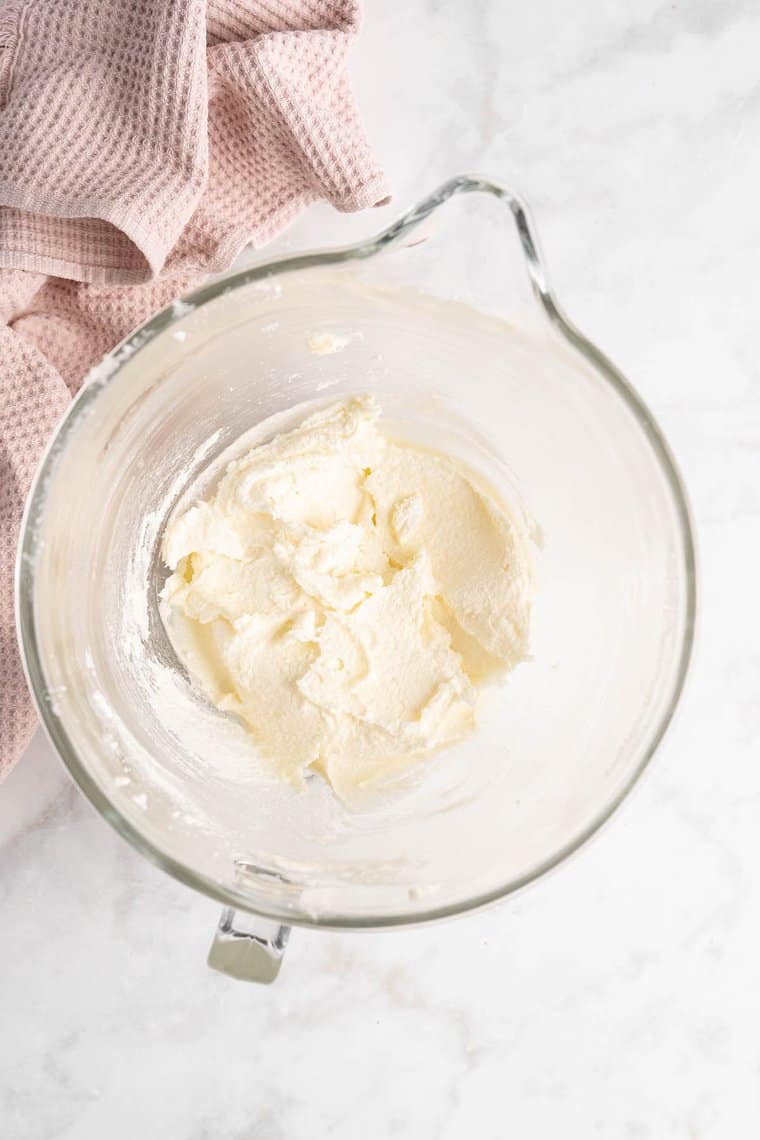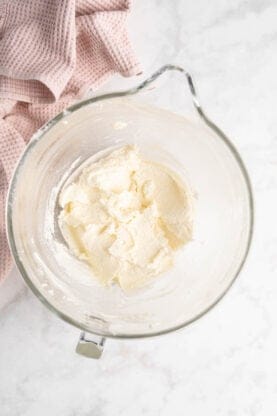 CREAM THE BUTTER, SUGAR, AND EGG WHITES-

some white cake recipes call for whipping the egg whites into a meringue, then carefully folding them into the batter. But, my girl Kristin swears by the creaming method and I've gotta admit that I think it works better. By creaming the butter and sugar until light and airy, then adding in the extracts and egg whites, you'll get the perfect balance of cake that is moist and fluffy.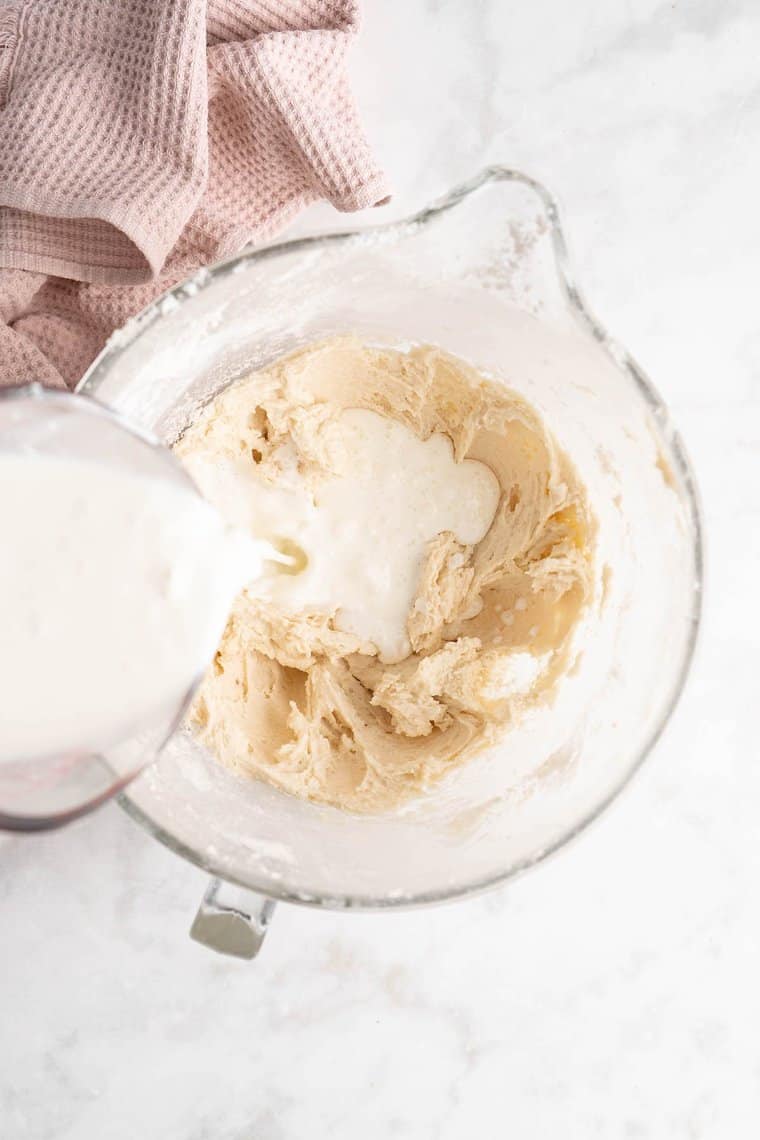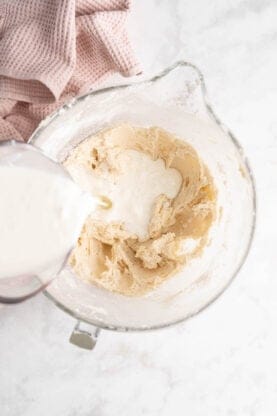 ALTERNATE ADDING DRY AND WET INGREDIENTS-

unless you want a dense cake, be sure to add the wet and dry ingredients in two separate increments. Allow the additions to fully incorporate before adding more. Scraping the sides of the mixer bowl in between is also a good idea. Mix just until everything is fully combined.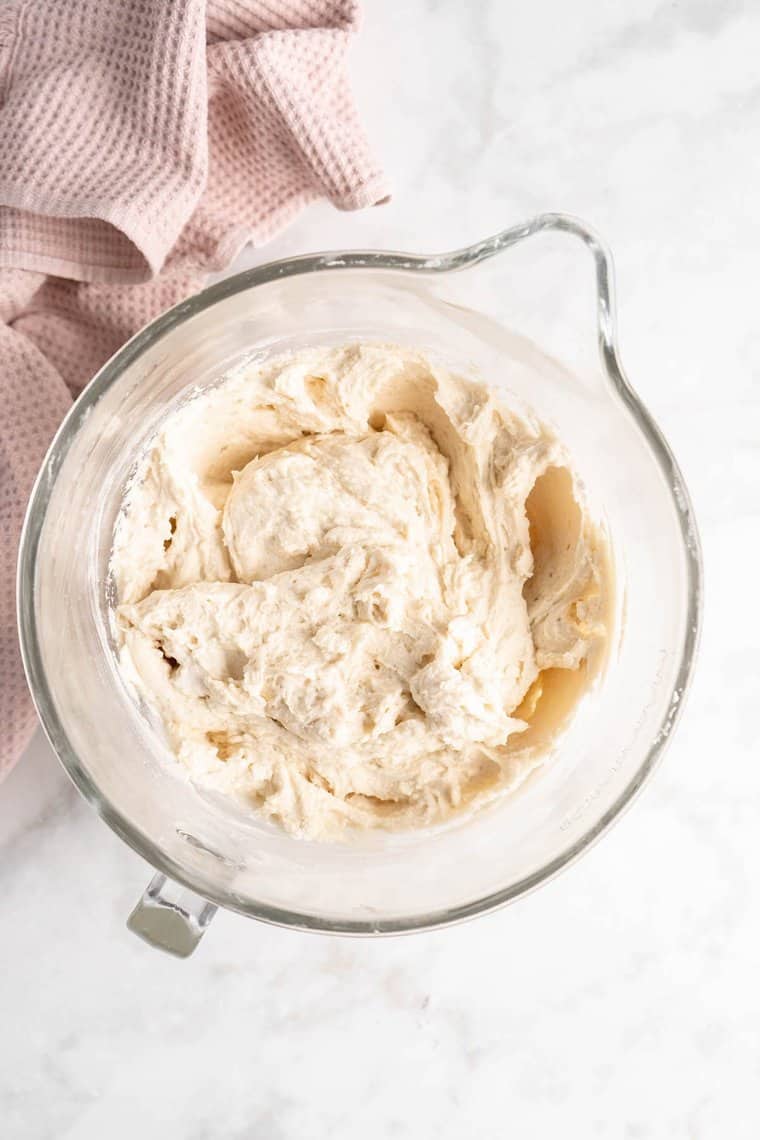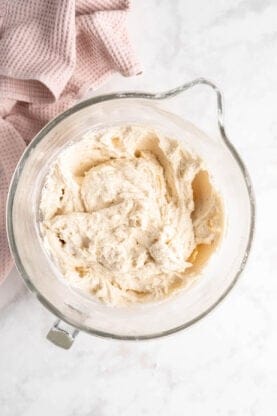 TRANSFER INTO PREPARED PANS-

this recipe can be made in two 8-9" layer pans, one large sheet pan, cupcake tins, or a Bundt pan.

See instructions for varying baking times.

But, no matter what you choose to use, be sure to properly grease and lightly flour the pan. I'd even recommend a lining of parchment paper or cupcake liners for extra security.

BAKE, CHILL, AND FROST-

bake the cake according to instructions and allow your cakes to completely cool. Pick your poison when it comes to frosting, then eat and be merry y'all!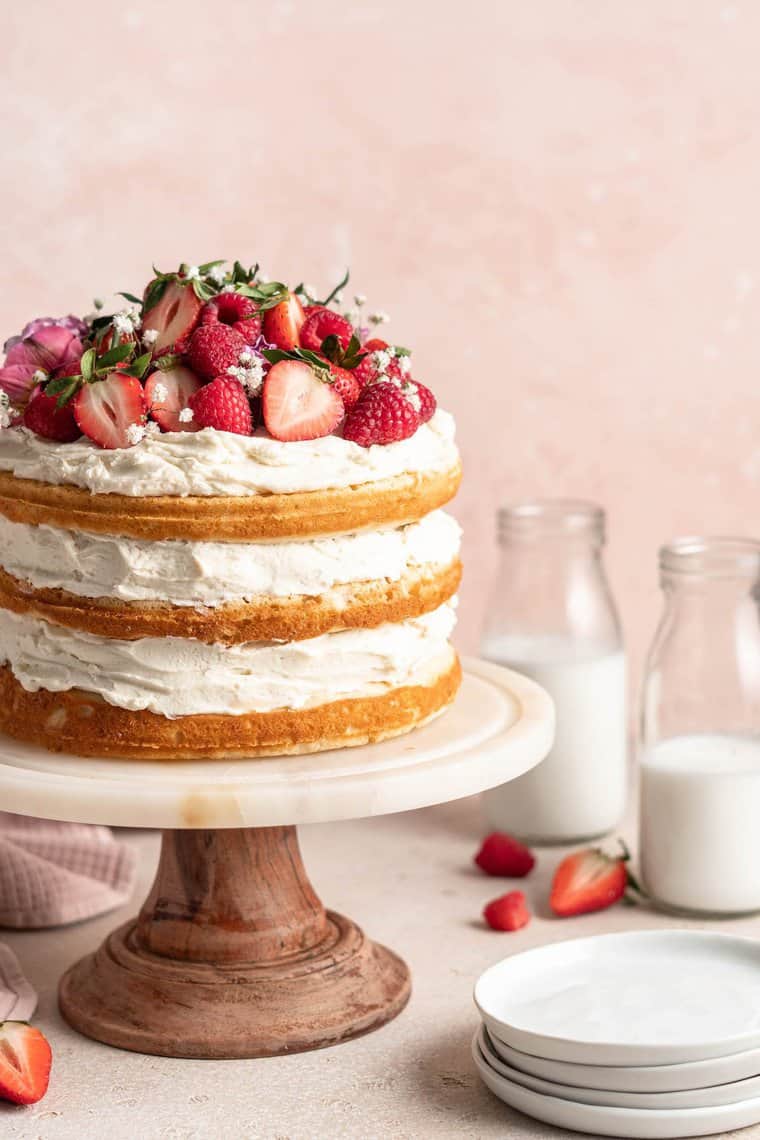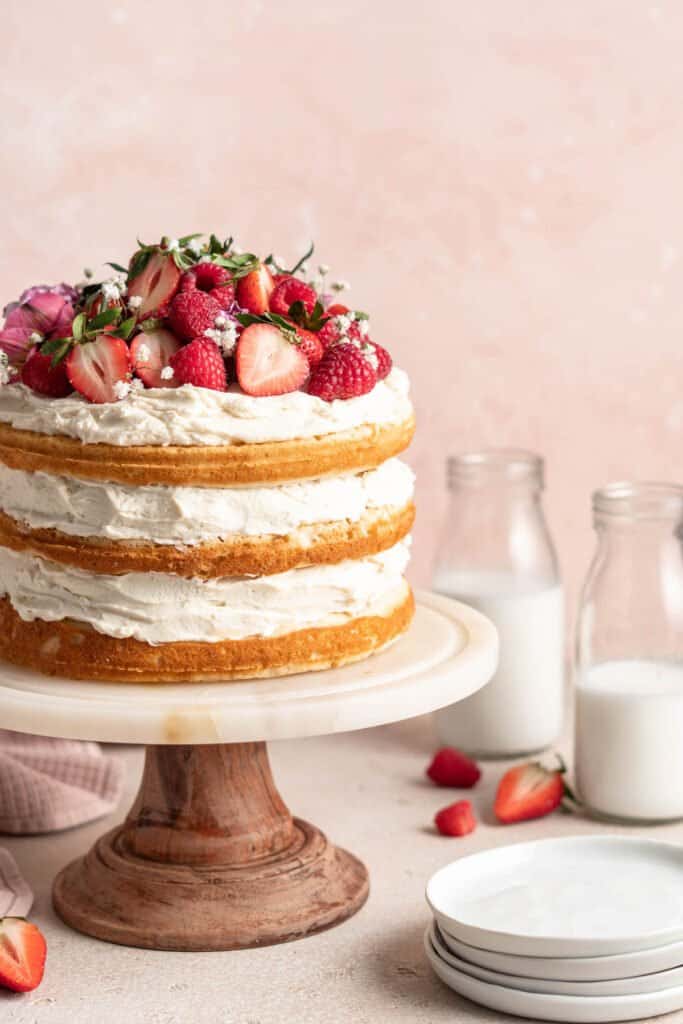 What Kind of Frosting is Best for White Cake?
The best part of a white cake recipe is that it serves as the perfect blank canvas for just about any frosting, meringue, or ganache. Coat your light, fluffy layers in your favorite topping and let me know what you used in the comments!
If you're in the market for a new favorite recipe, here are a few of GBC's best to get you started:

Leftover Cake Storage
A frosted White Cake will last 4-5 days at room temperature. Just be sure to either use a cake cover or an overturned bowl to protect the cake.
If you prefer refrigeration or freezing, tightly wrap the cake in plastic wrap and aluminum foil. In the fridge, the cake will last 3-4 days. In the freezer, 3 months.
Best Layer Cake Recipes
White, yellow, red, or blue, cake is cake! After you've enjoyed a couple slices of this classic confection, give a few more of GBC's most flavorful (and sometimes colorful) cakes a try: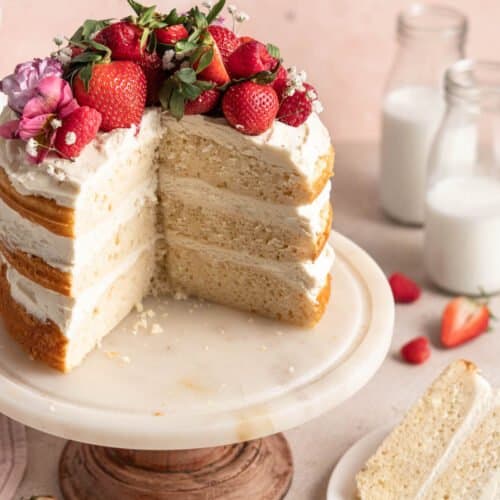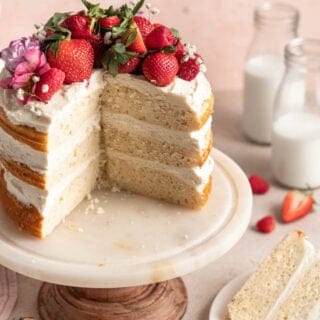 White Cake Recipe
This moist and fluffy, melt in your mouth white cake is the go-to cake recipe you've been searching for!
Print
Pin
Rate
Servings:
3
8 inch layer cakes
Ingredients
3

cups

cake flour

345 grams

2

tsp

baking powder

7 grams

1/2

tsp

baking soda

1/2

tsp

fine sea sal

2 grams

8

oz

unsalted butter, softened

226 grams/ 2 sticks

2

cups

granulated sugar

400 grams

2

tsp

vanilla extract

1

tsp

almond extract

2/3

cup

egg whites

about 5 large egg whites/ 160 grams

3/4

cup

sour cream

180 grams

3/4

cup

whole milk

170 grams
Instructions
At least 30 minutes before mixing, take the butter, eggs, milk and sour cream out of the refrigerator to come to room temperature. Separate the eggs. Measure out the rest of the ingredients.

Position the oven rack to the center position. Preheat the oven to 350°F/175°C. Prepare your baking pan(s) with non-stick spray and parchment paper or with paper liners if making cupcakes.
To make the cake
Sift together the cake flour, baking powder, and baking soda. Add the salt, whisk together, and set aside.

In the bowl of a stand mixer fitted with the paddle attachment, or in a large bowl with a hand mixer, combine the butter and sugar. Cream together on medium speed until very light and fluffy, about 5 minutes. Stop the mixer and scrape down the sides and bottom of the bowl halfway through mixing. The mixture should be very pale yellow after mixing.

With the mixer running on medium/low speed add the vanilla and almond extracts. Next, slowly add in the egg whites while the mixer continues running. Scrape down the sides of the bowl periodically as you slowly incorporate the egg whites.

Mix the milk and sour cream together. Alternate adding the dry ingredients into the bowl in three additions with the milk/sour cream mixture in two additions, starting and stopping with the dry ingredients. Mix on medium speed in between each addition until fully incorporated.

Transfer the batter into the prepared pan(s). Bake at 350°F/175°C. A sheet cake will take about 35-45 minutes. Layer cakes will take 22-26 minutes, and cupcakes will take 18-25 minutes. Pull out of the oven when the cake is firm but springs back when gently pressed in on the center, or when a cake tester comes out clean.

Cool the cakes in their pan completely on a cooling rack before turning out of the pan and frosting.

Store the cake covered in foil or plastic wrap at room temperature for up to 3 days.
Notes
A frosted White Cake will last 4-5 days at room temperature. Just be sure to either use a cake cover or an overturned bowl to protect the cake. 
If you prefer refrigeration or freezing, tightly wrap the cake in plastic wrap and aluminum foil. In the fridge, the cake will last 3-4 days. In the freezer, 3 months.
This recipe will also make a 9×13 inch sheet pan, 2 9 inch round cake pans, or 2 -12 cup muffin/cupcake tins
Cook time for sheet cake – 45 minutes/ 26 minutes for cake layers/ 25 minutes for cupcakes
Nutrition
Calories:
1700
kcal
|
Carbohydrates:
231
g
|
Protein:
25
g
|
Fat:
77
g
|
Saturated Fat:
47
g
|
Polyunsaturated Fat:
4
g
|
Monounsaturated Fat:
19
g
|
Trans Fat:
2
g
|
Cholesterol:
199
mg
|
Sodium:
747
mg
|
Potassium:
671
mg
|
Fiber:
3
g
|
Sugar:
139
g
|
Vitamin A:
2349
IU
|
Vitamin C:
1
mg
|
Calcium:
290
mg
|
Iron:
2
mg