Pizza Grilled Cheese celebrates the marriage of two perfect foods: grilled cheese sandwiches and pizza! Tons of spicy pepperoni, gooey cheese, and vibrant marinara sauce make this recipe an irresistible lunch or dinner!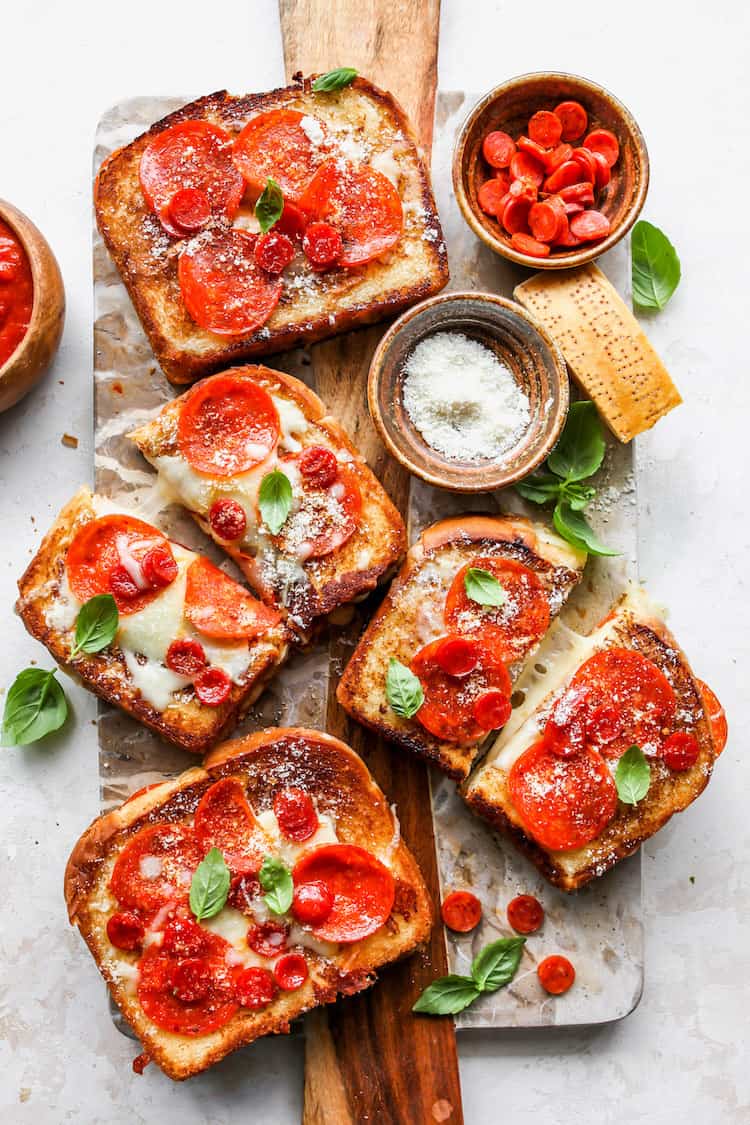 Like a coffee order, a grilled cheese recipe is very personal. There is simply no wrong way or wrong time of day to enjoy melted cheese sandwiched between buttery, golden-brown bread. If you prefer slightly burnt, not-so-melted triangles made after a bit too much to drink, that's your prerogative. If hunks of fancy Brie and onion jam on homemade bread float your boat, then so be it. No judgement here!
Personally, I love grilled cheese with a little extra personality! I just can't resist introducing my own flare to this American classic. Pizza Grilled Cheese is my Achilles heel, my junk food weakness! Filled with ooey-gooey mozzarella cheese, flavorful pepperoni, zesty basil, and loads of butter, this sandwich is the epitome of all my childhood dreams coming true.
Kids and adults alike love this recipe! So, get in the kitchen with your littles ones (or by your dang self!) and let's get to it.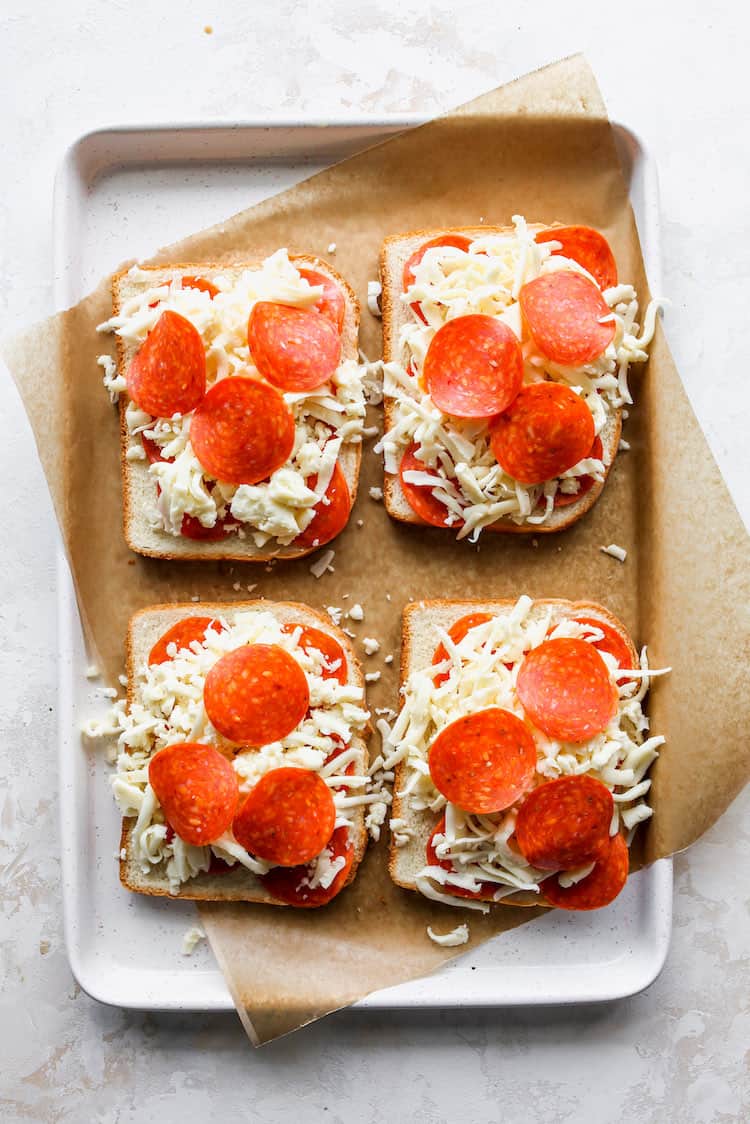 Pizza Grilled Cheese Ingredients
Bread- I love a grilled cheese made on two slices of Wonder Bread but you can totally use what you've got on hand.
Butter- Salted or unsalted butter both work, but I'd recommend using a spreadable tub butter for easier smothering.
Cheese- Name a cheese that melts better than mozzarella, I'll wait. If you feel like going a little crazy, add in some shredded provolone or fontina.
Pepperoni- Pile on as many pepperonis as you'd like! Just keep in mind that pepperoni releases lots of grease when cooked. Pepperoni can be replaced with italian sausage or omitted (to be made vegetarian).
Basil- Herbaceous and sweet, basil cuts through the heavy cheese and adds a delightful brightness.
Parmesan- Pizza should always be topped off with a heavy rain of salty, funky parmesan cheese. Shaved, shredded, or grated parm will work.
Pizza Sauce- My Homemade Pizza Sauce is flavorful, perfectly spiced, and begging to be served alongside this sandwich. Give it a try or use your favorite jarred sauce!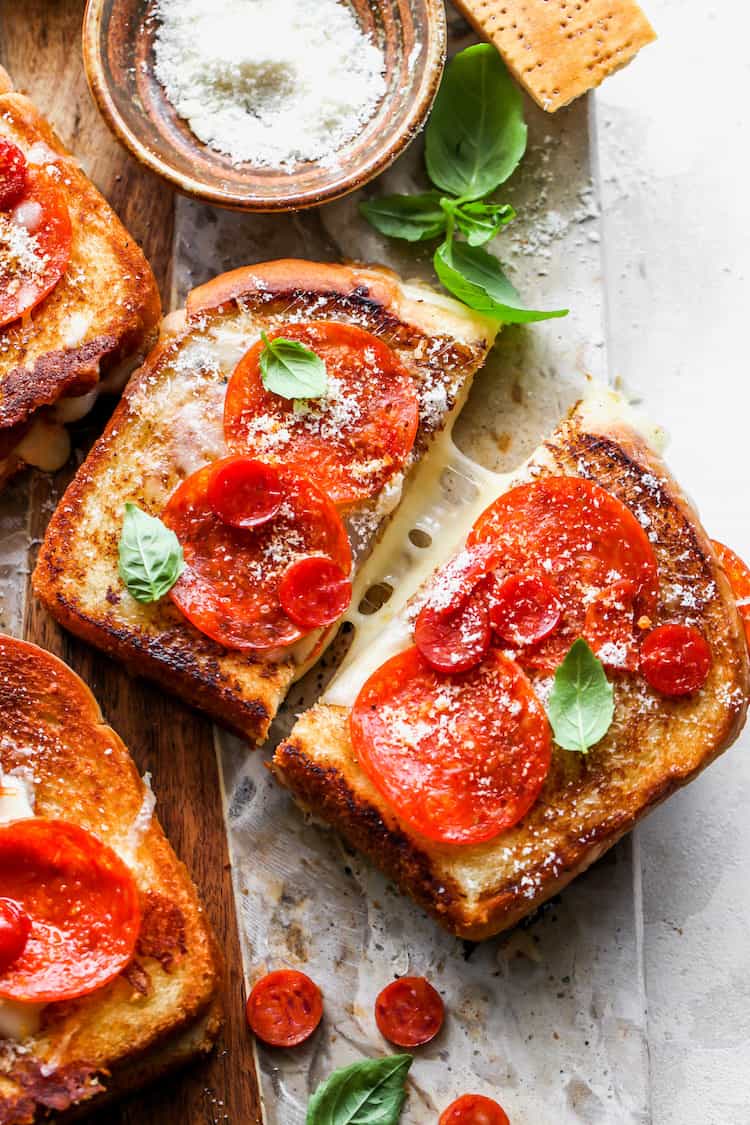 How to Make Pizza Grilled Cheese
Pizza Grilled Cheese sandwiches are pretty straightforward but that doesn't mean there isn't a little technique involved. So, I've compiled a few of my go-to, very professional grilled cheese making tips just for guys. You're welcome (haha)!
BE PATIENT-

Do not rush the process! You may be hungry and tired, but accept that it takes time to get the bread toasted and the cheese melted just right. Start with a cold pan, allowing it to heat up with the grilled cheese on it. This allows for the pan to heat up slowly, ensuring that heat is evenly distributed.
CHOOSE THE RIGHT BREAD-

Choose a bread with a tight crumb. This means no hole-ridden sourdough or ciabatta; they will cause the cheese to spill out to the bottom of the pan and burn.

SPREAD THAT BUTTER-

Spread a hefty amount of butter from edge to edge of that bread! Good coverage is the key to every bite being just as good as the last.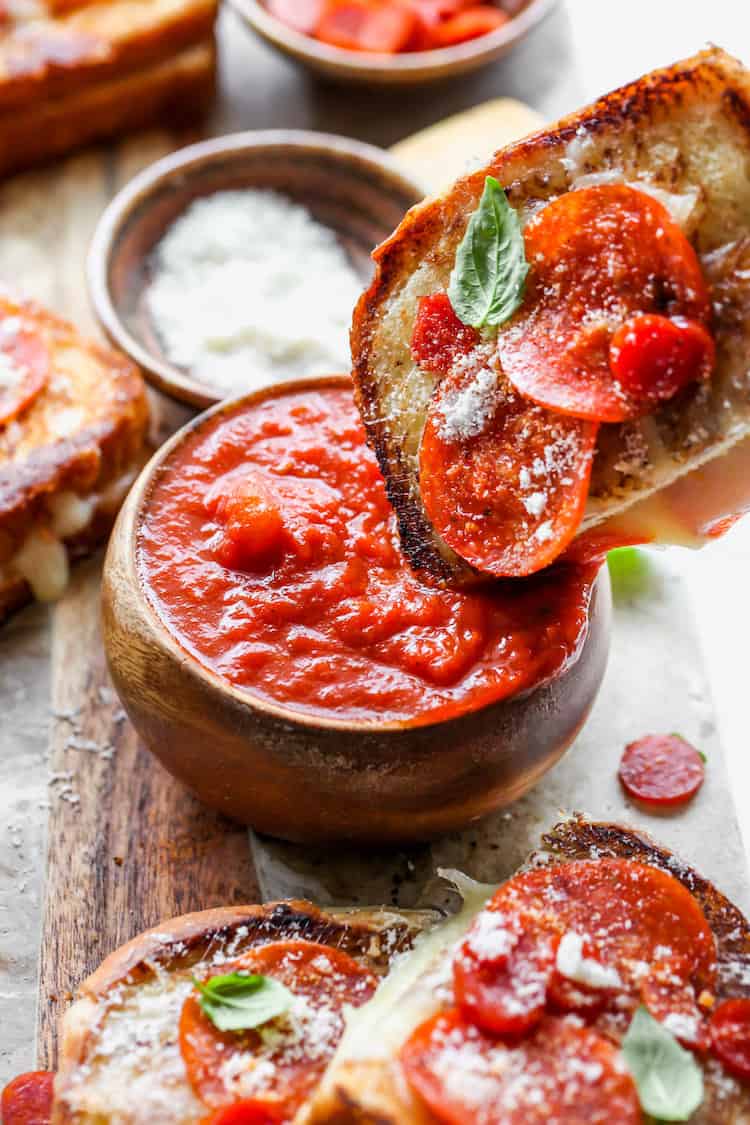 TIP: This recipe calls for broiling the sandwich for a few minutes. Be sure to preheat the oven well before cooking the grilled cheese. You want that oven to be HOT and ready!
Favorite Pizza Recipes
If you love this, you will also love this Garlic Herb Crust Pepperoni Pizza, Pizza Meatloaf, Meaty Pizza Roll recipe, Pizza Nachos and Sicilian Pizza,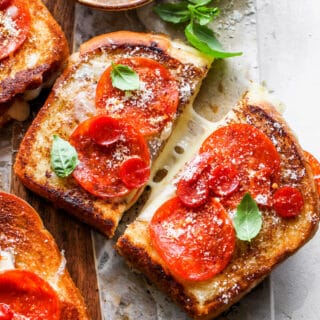 Pizza Grilled Cheese Sandwiches
Pizza Grilled Cheese merges two perfect foods: grilled cheeses and pizza! Tons of pepperoni, gooey cheese, and marinara sauce make this recipe addictive!
Print
Pin
Rate
Ingredients
White bread slices

Butter

room temperature

Tons of mozzarella cheese slices

Pepperoni slices

Basil

optional

Parmesan cheese

Pizza sauce

for serving and dipping
Instructions
Spread butter on just one side of two slices of bread.

Then flip over the buttered slices. Leave one slice to the side and top the other slice with tons of cheese then both slices together butter side up with cheese in between!

Heat up a griddle or frying pan then fry your grilled cheese on both sides until golden brown and cheese is melting.

Finally add another slice of mozz cheese to the top of the sandwich and top with pepperoni and basil and pop in the oven just until the top melts down then sprinkle with parmesan cheese and serve with additional pizza sauce!
Notes
TIP: This recipe calls for broiling the sandwich for a few minutes. Be sure to preheat the oven well before cooking the grilled cheese. You want that oven to be HOT and ready! 
Nutrition
Calories:
887
kcal
|
Carbohydrates:
27
g
|
Protein:
40
g
|
Fat:
68
g
|
Saturated Fat:
28
g
|
Polyunsaturated Fat:
6
g
|
Monounsaturated Fat:
28
g
|
Trans Fat:
2
g
|
Cholesterol:
157
mg
|
Sodium:
2406
mg
|
Potassium:
415
mg
|
Fiber:
1
g
|
Sugar:
3
g
|
Vitamin A:
406
IU
|
Calcium:
430
mg
|
Iron:
3
mg