Sensational Salted Caramel Lava Cakes with the most delicious oozing and melty salted caramel center that makes this the most decadent cakes you have had in years.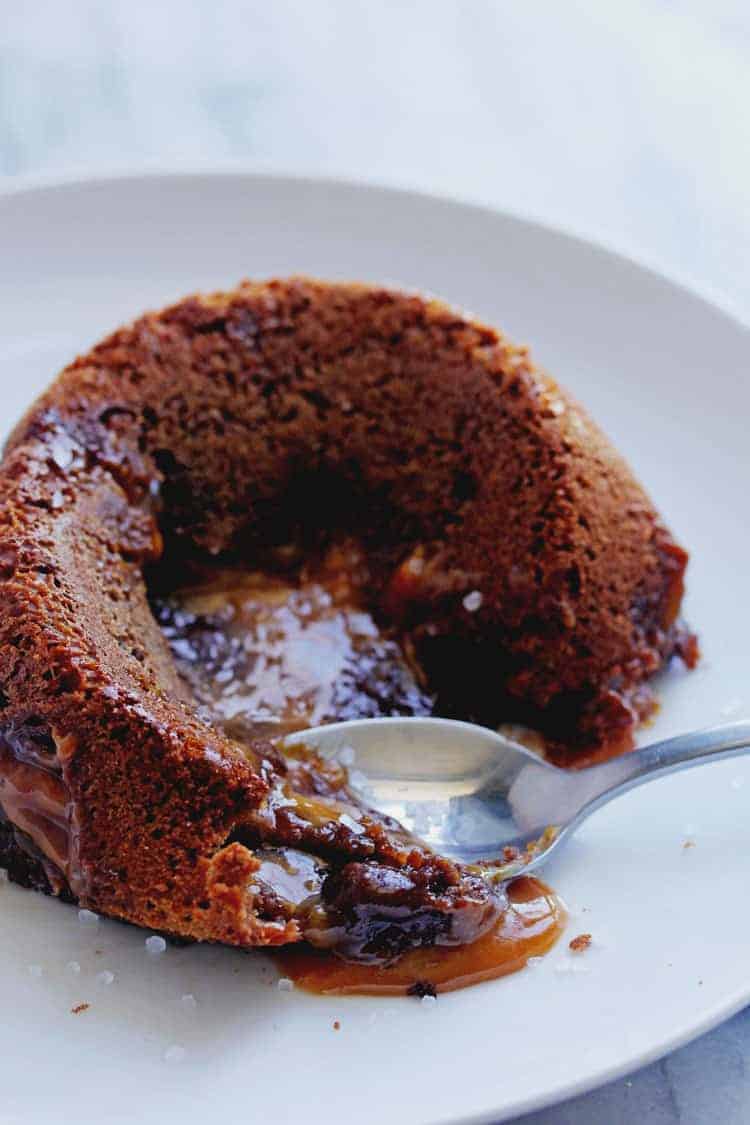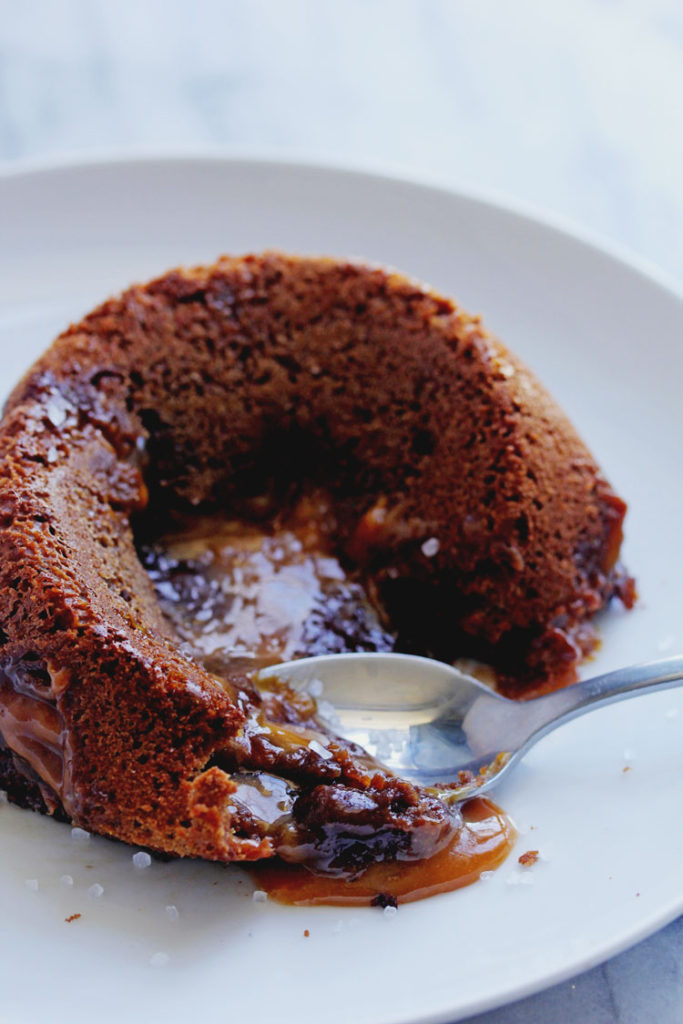 I'm not too sappy when it comes to this lovey dovey stuff. I have never been the one to commit to PDA (public displays of affection). I'm usually the one screaming "Get a room!" It's not because I'm uncomfortable with it; its just that I don't need to necessarily broadcast that I'm in love and blah blah blah, ya know? So why post this Salted Caramel Lava Cakes recipe which is clearly for Valentine's Day then?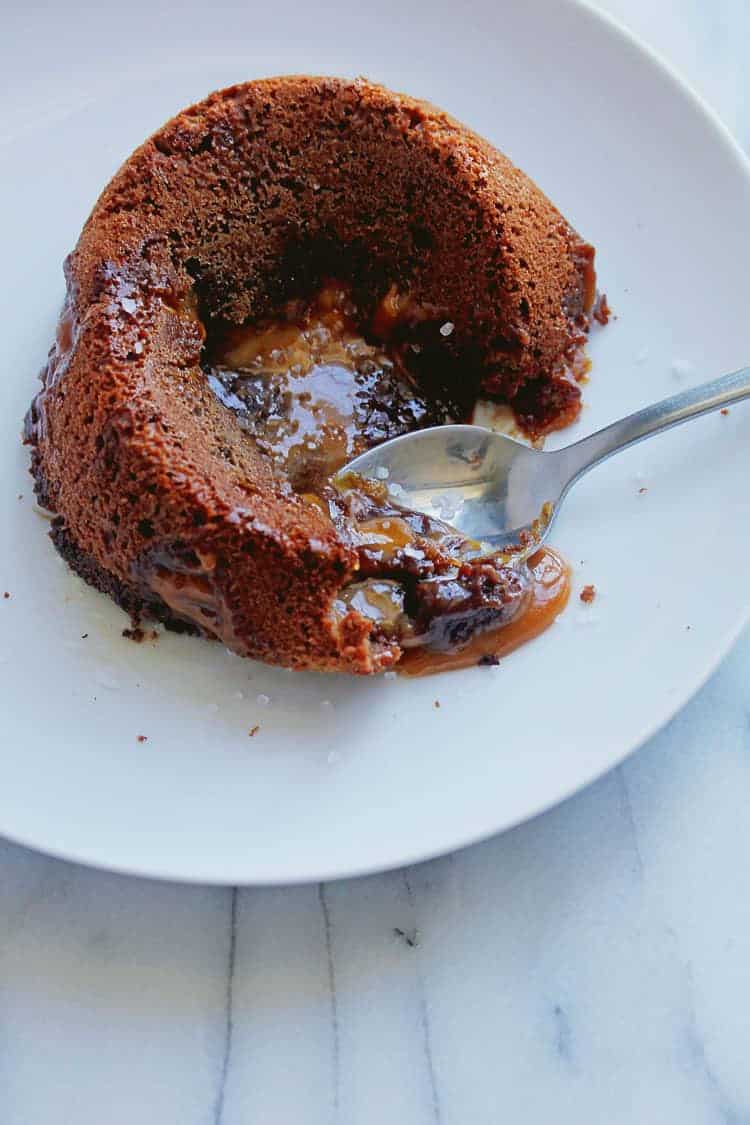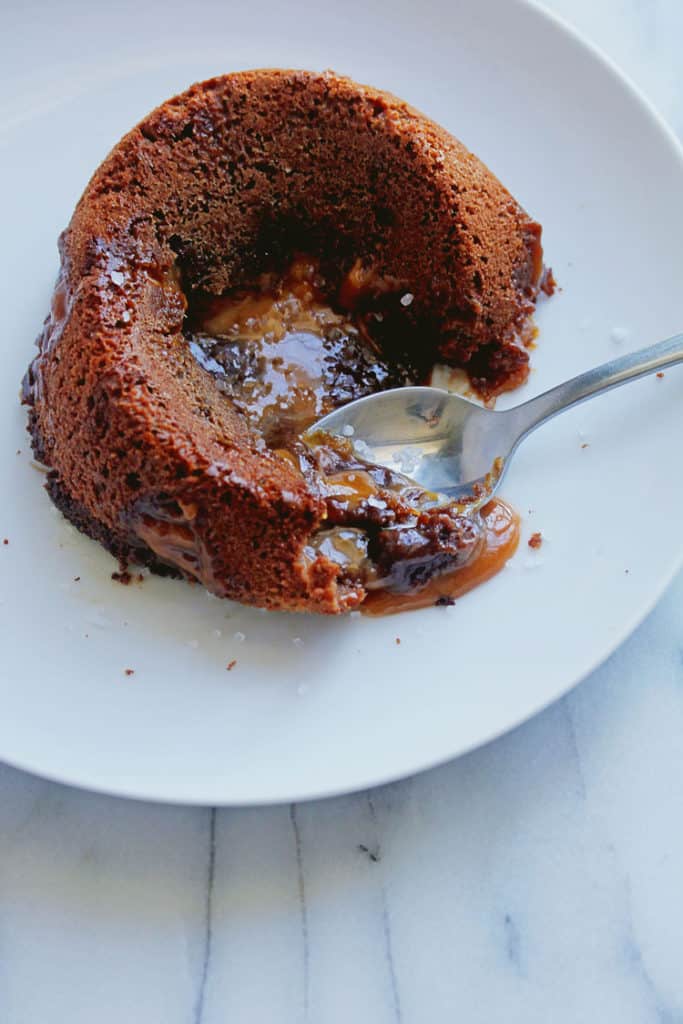 Well with the holiday approaching, I will say that while I'm mostly anti-Vday romance, I secretly welcome the things I outwardly reject the most like the bouquet of flowers, the sweet card from the hubby, the cuddly teddy bear from my parents (yes my rents get me Valentine's Day presents! I'm spoiled ok?) and all the Hallmark commercialism that comes with it, especially the dinner out followed by the decadent dessert. In fact, if I had to choose one thing to do on Valentine's Day it would be having the dinner and decadent dessert, and nothing says I love you more than one of these Salted Caramel Lava Cakes.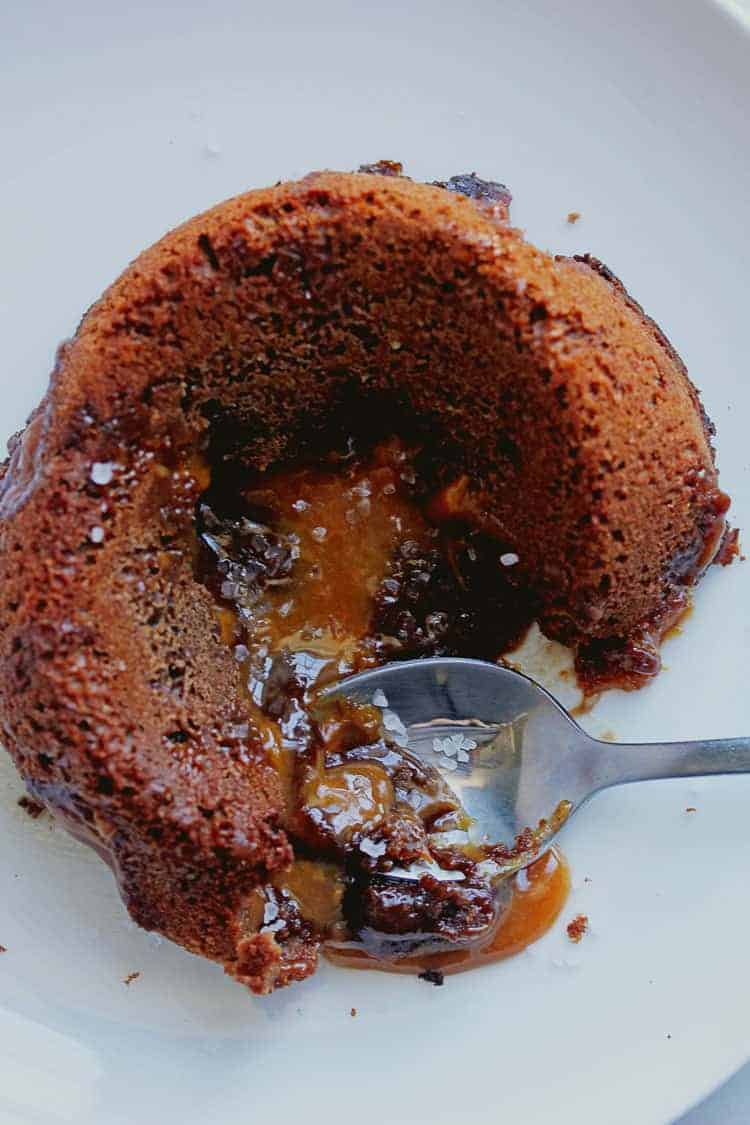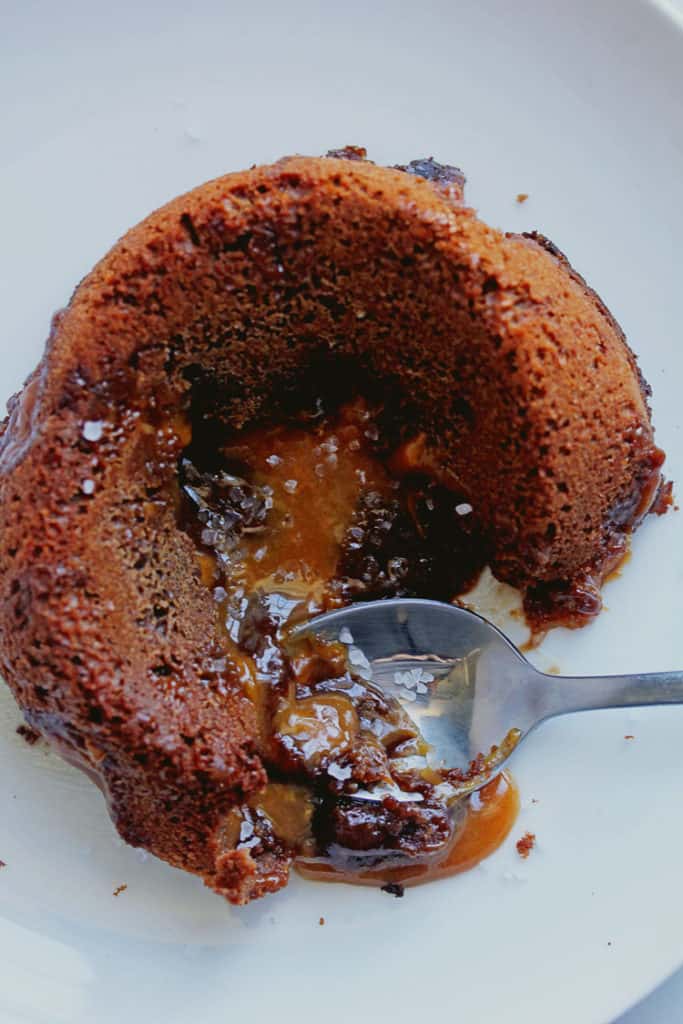 My Valentine's Day dessert of choice is usually anything chocolate, especially the molten or lava cake. I decided to make a treat that I would LOVE to make at home just in case we don't dine out this year. And so this deliciously chocolately treat was born. I am a big fan of traditional lava cakes served warm and fresh out of the oven. However something magical happens with you add caramel and sea salt to the center of them. The warm chocolate sauce co-mingles with the richness and sweetness of the caramel and becomes one big happy plate. If ever there were a Valentine's Day tradition that could light my fire and turn me on to this romantic hoopla, it would be these Salted Caramel Lava cakes.
I used these products for this recipe: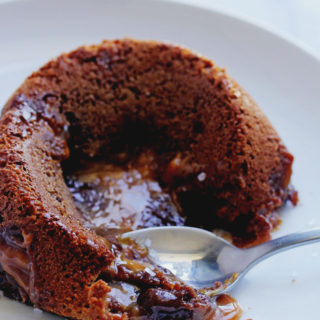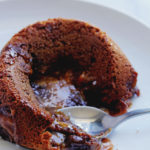 Salted Caramel Lava Cakes
Sensational Salted Caramel Lava Cakes with the most delicious oozing and melty salted caramel center that makes this the most decadent cakes you have had in years.
Keyword:
date night, easy recipes, holiday recipes
Ingredients
3

ounces

bittersweet chocolate

¾

stick

butter

¼

cup

all-purpose flour

¾

cup

confectioner's sugar

2

large

eggs

1

large

egg yolk

1½

teaspoon

pure vanilla extract

8

prepackaged caramel candies

unwrapped (make sure they are soft like the ones listed above)

Sea salt
Instructions
Preheat oven to 425 degrees.

Add chocolate and butter to a microwave safe medium sized bowl and heat in intervals of 20 seconds stirring after each heating until completely melted and smooth.

Next whisk in all-purpose flour and confectioner's sugar until batter is smooth.

Lastly, whisk in two eggs and egg yolk and vanilla extract until the batter is well blended.

Using 4 (6 ounce) ramekins that have been sprayed with non-stick spray, fill each ramekin half way with cake batter. Next add two unwrapped caramels into each ramekin then sprinkle with sea salt (about a 1/8-1/4 teaspoon per cake depending on how much salty flavor you want). Spoon remaining cake batter over each cake.

Bake cakes for 12-14 minutes then remove from oven.

Let cool for 2 minutes then take a knife and run along the inside of each ramekin to help release the cake.

Invert the cakes on individual plates. Dust with sea salt or powdered sugar and serve warm.
Nutrition Facts
Salted Caramel Lava Cakes
Amount Per Serving
Calories 521
Calories from Fat 270
% Daily Value*
Total Fat 30g 46%
Cholesterol 187mg 62%
Sodium 240mg 10%
Potassium 197mg 6%
Total Carbohydrates 55g 18%
Protein 7g 14%
* Percent Daily Values are based on a 2000 calorie diet.