Seafood Paella never tasted so good even when completely low carb and keto friendly! Made with smokey Cajun sausage, fire-roasted tomatoes, aromatic spices and delicate, sweet seafood, this paella is tasty beyond belief! If you love this, you will also love this Brazilian Fish Stew, Spanish Chicken and Rice OR Savannah Red Rice!
This post may contain affiliate links. Please read my disclosure policy.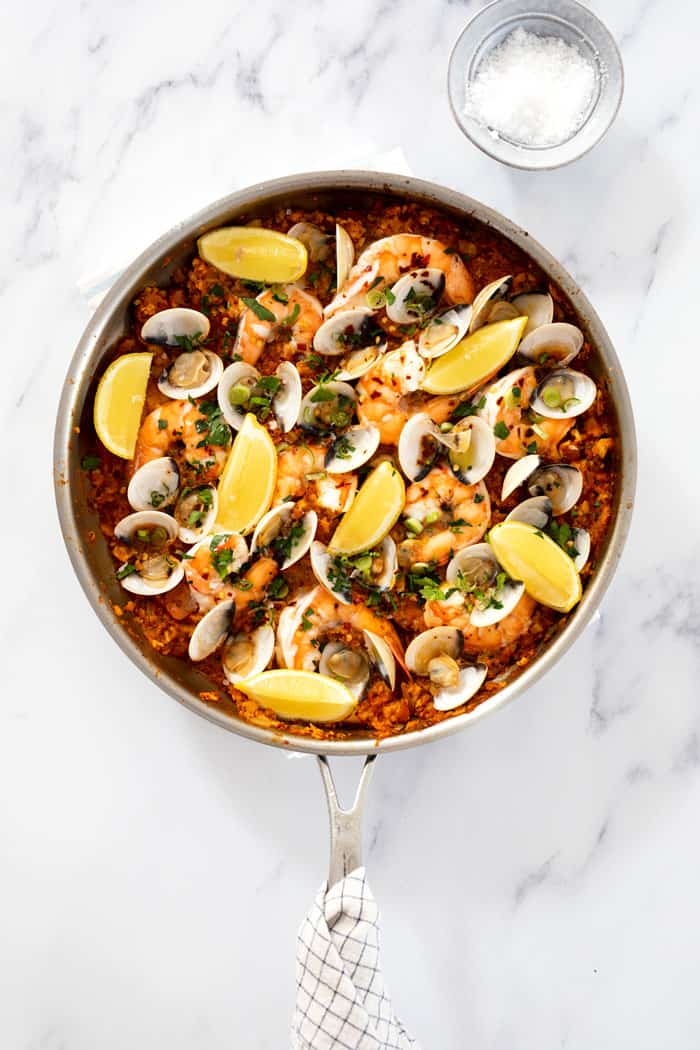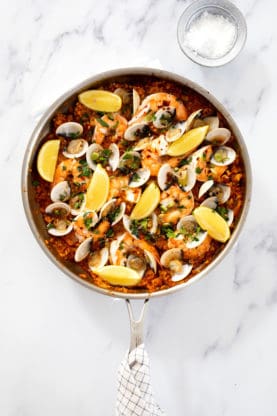 ¡Buenos días! ¡Bienvenido a la cocina de Grandbaby Cakes! Today, we're hopping on a one-way flight straight to Spain. Want to know the best part? You don't even have to leave your kitchen to get there. Instead, we're bringing the flavors of España to US!
I'm not gonna lie y'all, I've seriously missed traveling this year. To me, travel is both a stress-reliever and a source of pure joy. I absolutely love spending my days exploring foreign countries in search of new experiences and yummy food. Someday soon, I'll be able to have those moments again but, until then, I'll have to make due with what I got.
So, today I'm inviting you to join me on my latest adventure. Tie up your apron, turn up the flamenco music and let's make a Sizzling Seafood Paella!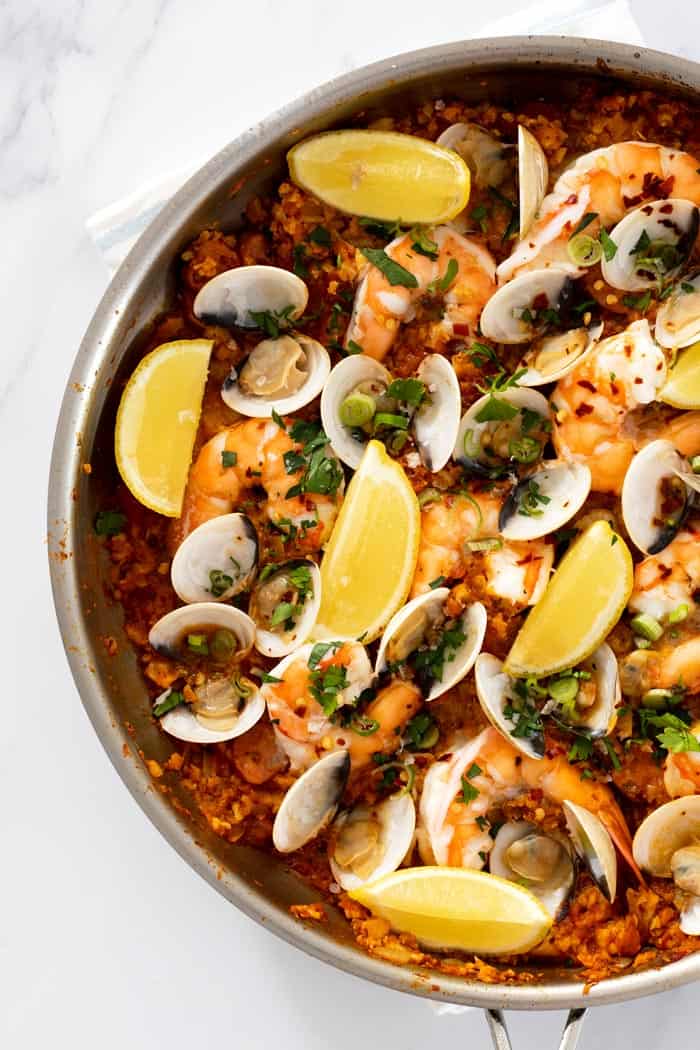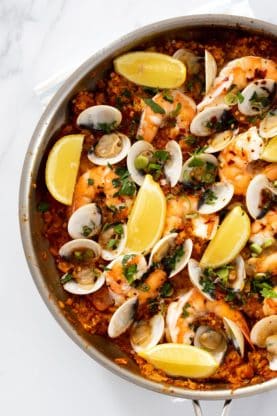 ONE POT KETO COOKING
Y'all, if you're not keeping up with Clean Foodie Cravings you're making a BIG mistake! Run by none other than my friend and fellow blogger Charlotte Smythe, CFC is not only a blog but a community rich in flavor and acceptance. Charlotte's passion for self-love in the form of healthy lifestyle changes is both admirable and inspiring. Her latest project, One Pot Keto Cooking is a downright treat. Full of high-fat, low-carb, easy-to-make and outstandingly delicious meals, this cookbook makes the keto diet accessible and fun.
Whether you follow the keto diet or not, I highly recommend that you order a copy immediately. You'll be cooking from this collection of recipes time and time again!
WHAT IS PAELLA?
Paella is almost synonymous with Spanish cuisine but what is this crazy popular dish, really? You might be surprised to find out that to most Spanish locals, paella isn't really Spanish at all! Most folks actually struggle to agree on what paella even is. What are the ingredients? Should the rice be red or yellow? What goes on top, meat or seafood or vegetables? Who knows!
Regardless, paella continues to be one of Spain's most popular rice dishes. The warm orangey-gold glow of the rice, the balance of warm spices and the juicy, succulent seafood make for a full plate of pure deliciousness.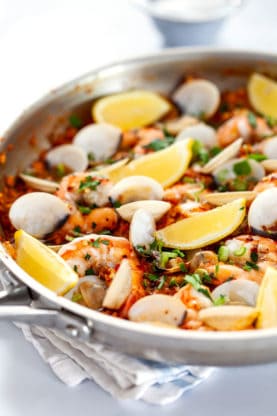 HOW TO MAKE A SEAFOOD PAELLA
If you've never made paella before, don't worry bout a thing! Charlotte's recipe makes this seemingly complex dish a breeze to make. In just under 30 minutes you can serve up a delectable dinner the whole family will love!
Here's what we'll need today:
Avocado Oil is slightly grassy with a very mild avocado flavor. It tastes more neutral then olive oil, especially once it's cooked. Avocados contain a large amount of heart-healthy fats and omega-9 fatty acids. If you don't have any on hand, grapeseed, EVOO or coconut oil will do.
No-Sugar Added Cajun Sausage adds spice, richness and smoky depth. Can't find any? Any no-sugar sausage, kielbasa or chorizo works.
Shallots are more delicate, softer and less abrasive than an onion. A sweet onion can be used in the place of the shallot, but I'd recommend sticking to the script with this one.
Garlic is aromatic and sharp; I'd suggest adding or subtracting the amount based on how "garlicky" you want the result to be.
Fire Roasted Tomatoes are, simply put, sweet tomatoes that have been roasted over an open flame, then diced and canned. Regular diced tomatoes will work as well but the added depth will definitely be missed.
Cauliflower Rice is being used in the place of regular rice in order to keep this recipe Keto compliant. Cauliflower is rather flavorless, which is a good thing! As it cooks, this rice will absorb any flavor added to it.
Turmeric not only adds a bit of nutritional value as an anti-inflammatory but also lends its coloration to this dish. We're looking for that classic orangey-red paella coloration people!
Italian Seasoning is typically a mixture of marjoram, basil, rosemary, thyme, oregano and sage. Just a teaspoon adds an incredible amount of flavor without having to bust out a million different spice jars.
Fish Sauce works as a flavor enhancer here. Because of its earthy, savory flavor field, fish sauce makes things like paella that much more complex and craveable.
Shrimp needs to be as fresh as possible! Look for plump, firm and glossy shrimp, free from shells, veins, gunk and funk.
Clams can be swapped out for mussels, if preferred. Either way, buy fresh shellfish! Hard shell clams should be tightly-closed; if you find that any are open when you get them home, gently tap the shells on the counter or flick them with your finger and wait a few seconds. If they're alive, they'll close up. Any clams that don't close, or that have chipped or cracked should be tossed out.
Unsalted Butter adds necessary fat and a slight sweetness.
Crushed Red Pepper Flakes layer in a bit of slightly fruity, spicy edge. I love mixing it up every now and then by using Aleppo Pepper or freshly minced dried red chiles.
Chopped Scallions, Lemon Juice and Lemon Wedges are used to dress up this dish and create the ultimate party dish. Citrus brightens our paella while scallions add an herby deliciousness.
DO I NEED ANY SPECIAL EQUIPMENT TO MAKE PAELLA?
Yes and no. This recipe can be made using any deep 12-inch skillet, but I'd highly recommend using a paella pan. A 14-16 inch pan will do the trick! I find that the large surface area allows for more of that delightfully crisp button to develop; the textural contrast is incredible.
Looking for a few recommendations? I got you! Check out a few of my recommendations below!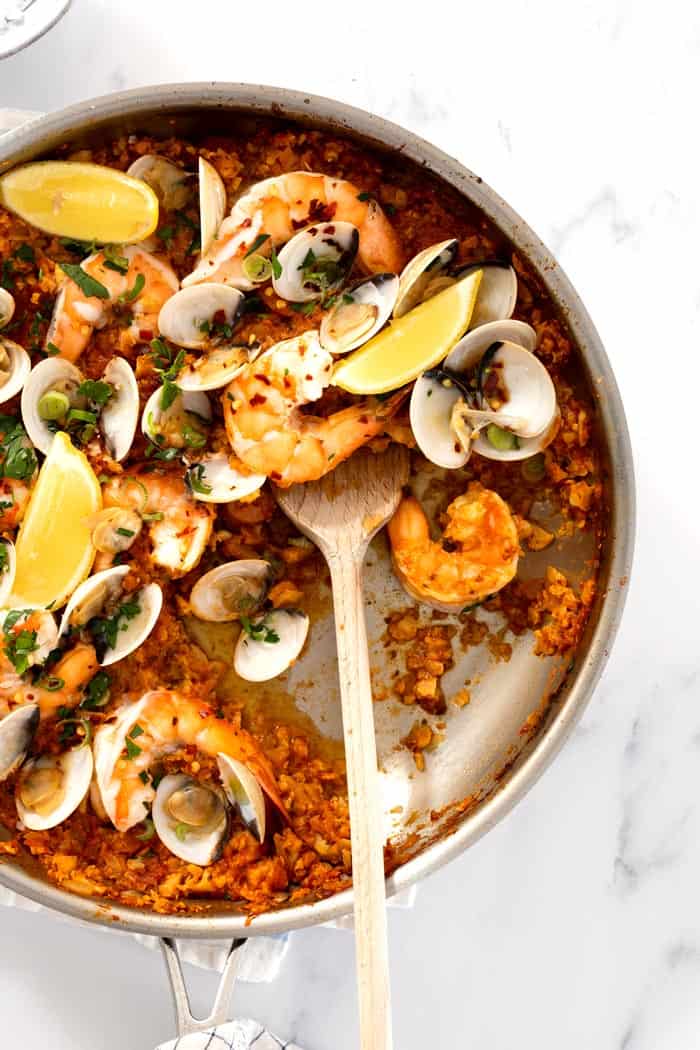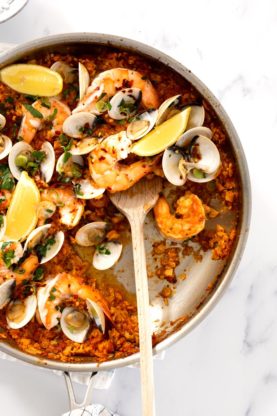 CAN LEFTOVER PAELLA BE STORED AND REHEATED?
Paella made with non-seafood foods, like chorizo or chicken, can be stored for several days, potentially up to a week. Unfortunately, because seafood goes bad so quickly, today's recipe will only keep for up to 24 hours. If you find yourself with leftovers, don't waste them! Store your decadent dinner in an airtight container and enjoy it for lunch or dinner the next day.
GRANDBABY CAKES' RAVIN' RICE RECIPES
For thousands of years, rice cultivation has been a part of just about every country and culture around the world. Anyone could travel the world and solely survive (even thrive) on these mighty little grains! Rice is a simple, inexpensive way to enjoy some of the best cuisine this world can offer.
Take a trip (or 3) with me to some of my FAVORITE places using the BEST of my rice recipes: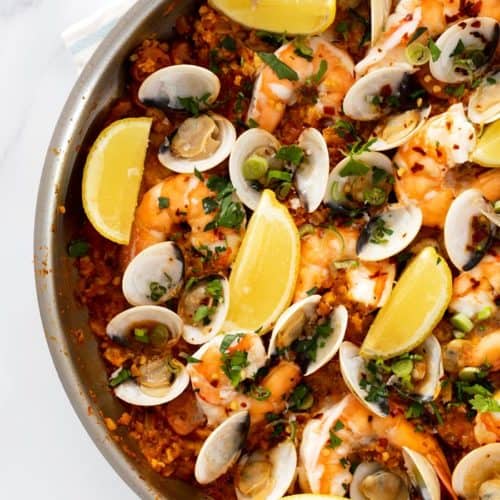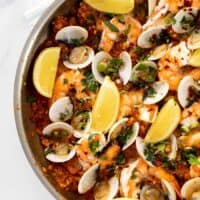 Seafood Paella
Made with smokey sausage, roasted tomatoes, aromatic spices, cauliflower rice and fresh seafood, this seafood paella is delicious and low carb and keto!
Print
Pin
Rate
Ingredients
2

tbsp

avocado oil

divided (30 ml)

4

oz

no sugar added Cajun sausage

sliced

1

shallot

finely chopped

2

garlic cloves

finely minced

14.05

oz

fire roasted diced tomatoes

1 can that's 14.05 oz

20

oz

frozen cauliflower rice

2 (10 oz) bags

1

tsp

ground turmeric

1

tsp

Italian seasoning

1/2

tsp

sea salt

1

tsp

fish sauce

1/2

lb

raw shrimp

peeled and deveined with tails on

1/2

lb

fresh clams

1

tbsp

melted unsalted butter

1/4

tsp

crushed red pepper flakes

Chopped scallions, lemon juice, and lemon wedges to serve
Instructions
Heat 1 tablespoon of avocado oil in a large paella pan or a deep 12 inch skillet over medium heat. Add the sausage and brown it for 2 to 3 minutes. Remove the sausage from the pan and set it aside.

Add the other tablespoon of avocado oil to the same pan and saute the shallot and garlic until the garlic is fragrant, about 1 minute. Pour the tomatoes into the pan and stir to lift all of the brown bits from the bottom of the pan.

Add the cauliflower rice, turmeric, italian seasoning, salt and fish sauce to the pan and toss until all the ingredients are well combined. Return the sausage to the pan and toss it with the rest of the ingredients.

Simmer the paella for 5 to 7 minutes, until most of the liquid from the cauliflower rice has evaporated. Add the shrimp and clams, tucking them into the cauliflower rice mixture. Drizzle the butter over the shrimp and clams and sprinkle the crushed red pepper flakes on top.

Cover the paella pan with aluminum foil and simmer until the shrimp is cooked through and the clams open, about 8 to 10 minutes.

Sprinkle the scallions over the top, squeeze some lemon juice over the seafood and serve immediately with lemon wedges.
Nutrition
Calories:
306
kcal
|
Carbohydrates:
14
g
|
Protein:
21
g
|
Fat:
19
g
|
Saturated Fat:
5
g
|
Cholesterol:
173
mg
|
Sodium:
1280
mg
|
Potassium:
573
mg
|
Fiber:
4
g
|
Sugar:
6
g
|
Vitamin A:
570
IU
|
Vitamin C:
73
mg
|
Calcium:
159
mg
|
Iron:
3
mg