Disclosure: This Jollof Rice post is a collaboration with AncestryDNA. I received compensation, but all opinions are my own. I am grateful for authentic partnerships like this.
Jollof Rice Recipe inspired by my AncestryDNA com Results – This is a true West African classic. Fragrant rice is steeped in rich ingredients like meat stock, garlic, onions, tomatoes, and spicy chilies adding an incredible depth of flavor.
Knowing where you come from is profoundly important. I didn't realize just how essential this concept was until I started delving into my family recipes for a living. Understanding not only the flavor profiles but also where those flavors and traditions originated has truly allowed me to gain better knowledge of my craft.
I remember a few years ago while researching my cookbook, I came across an old family photo of my great grandfather on my grandmother's (Big Mama's) side. I'd never seen him before in the flesh so it was pretty amazing to experience this glimpse into my past. I didn't know much about this man but big mama filled me in on some incredible details. The first thing I realized from the photo was he didn't have any legs. Apparently during those days in the Jim Crow South, my great grandfather was running away from some men and ended up having his legs removed in a terrible train accident.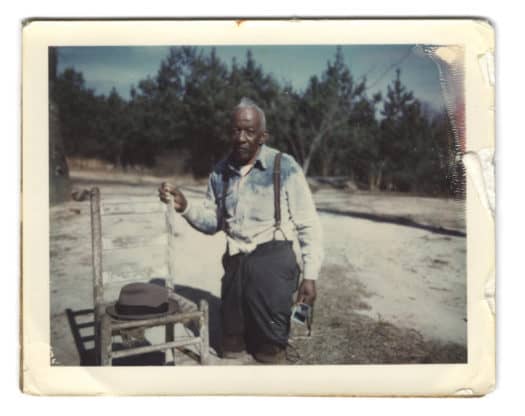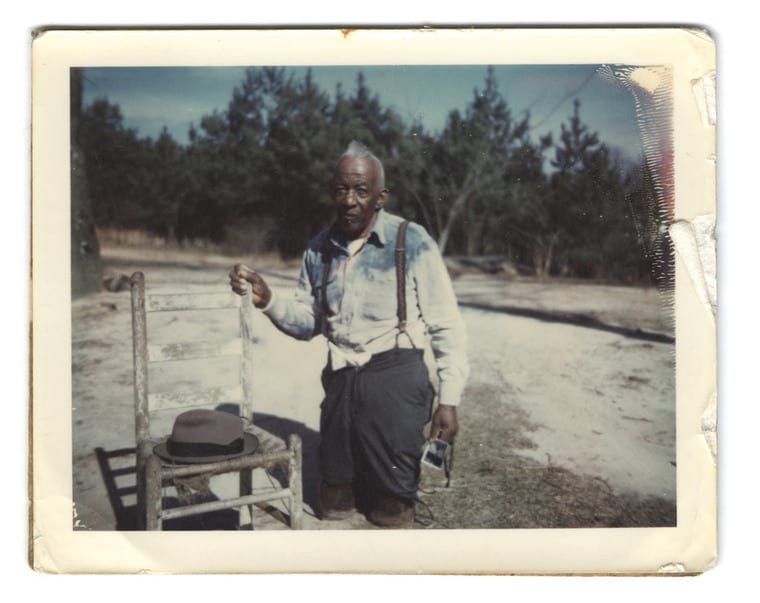 He continued to work every single day after that on his farm. The resilience of this story really moved me. Listening to my big mama tell this tale made me realize I wanted to know more about his parents and the family before them and so on. I was so intrigued that I ordered a DNA kit from AncestryDNA.
My AncestryDNA Com Results
Following my test, I encouraged a few more family members to order tests including my husband. The results were astonishing (especially my 9% Irish heritage – who knew?). Check out my test results below.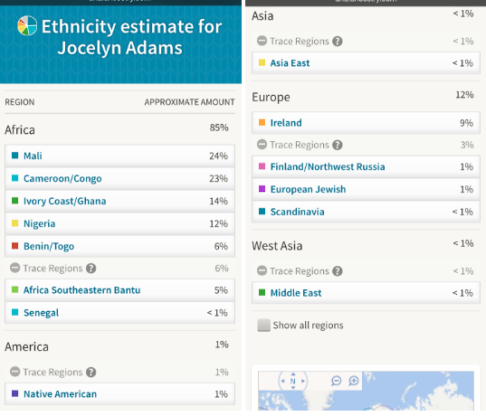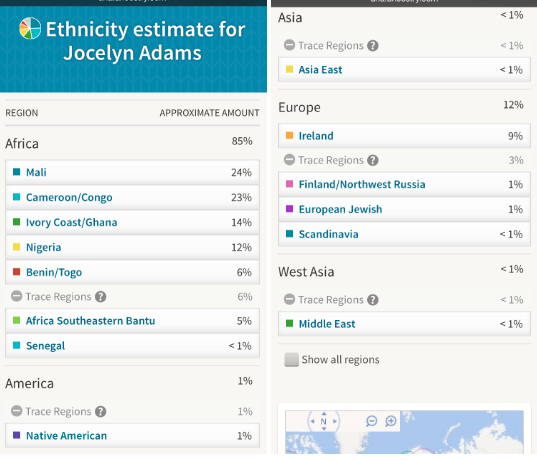 I, of course, knew my roots could be traced back to Africa but finding out more specifics about where on this gigantic continent my ancestors were located was amazing. Discovering that a large amount of my heritage existed in Mali, Congo, Ghana, and Nigeria was enlightening. I wanted to start making recipes that reflected this revelation and connected me to my roots. The AncestryDNA kit truly opened my eyes. This jollof rice recipe, which is a favorite of mine, seemed like a perfect one to start with.
What is Jollof Rice?
Jollof Rice is a delicacy that began in West Africa, but because of frequent cultural exchange amongst various regions, the recipe continues to spread far and wide. The base of it is a fragrant rice steeped in rich ingredients like garlic, onions, tomatoes, and spicy chilies. A meat stock is added for depth of flavor though you can use a vegetable based stock for a vegan version. Rich in both flavor and history, Jollof rice is considered pretty sacred amongst the African community so I knew I needed to give it great respect when trying to recreate a version for my website. I have had jollof rice with fried plantains, stewed goat, roast chicken and oxtails or short ribs, and it is absolutely perfect served that way. Each bite is magical. You can see why it has existed for many centuries.
Jollof comes from the language of the Wolof people, originally meaning "one pot". I learned in my research that apparently the Wolof people were a predominant race that operated a powerful empire between 1360 and 1549. Before their downfall, the Wolof succeeded in spreading their culture, including their beloved Jollof rice. Wolof people still exist in present-day Mali in West Africa where I had a large majority of African DNA results from. Today, Jollof rice is eaten all over West Africa in Mali, Ghana, Senegal, Nigeria, and Cameroon. Each grain of rice is laced with the heritage of wherever its prepared, and it's irresistible taste is relished all over Africa.
How to Make Jollof Rice
Because there are so many variations, this jollof rice recipe is probably a combination of a lot of different interpretations. There are ongoing debates across West Africa that argue which region prepares the best version of jollof rice. A few claim to own the Jollof throne, but no rivalry is bigger than between Nigeria and Ghana. They each offer a unique interpretation that is slightly different but both are sensational.
My jollof rice recipe is inspired by not only my personal background but by that of the many before me that stood over open fires and stoves stirring pots of jollof for their families, neighbors and friends.
The flavors truly come together perfectly in this one pot meal. It sort of reminded me of my Spanish Chicken and Rice as far as similar flavors. As you sauté the onions and garlic, the aroma fills your kitchen creating a base to build on. The added ginger and chili add in a zesty heat that will later play with the sweetness of the crushed tomatoes. Adding each spice deepens the flavor, making it warmer, smokier and brighter.
As the rice cooks, it begins to soak in the spice filled tomato broth becoming more tender. Once it is finished cooking, be sure to allow the dish to rest, giving it the time needed to not only cool down but also fully marry together each ingredient. By the end, each spoonful is packed with subtle spice and ready to be shared!
I truly enjoyed making this recipe and feeling connected to my past. Learning so much about my heritage from Ancestry inspired me to incorporate more of my rich background into my dishes. I hope this post inspires you to dig a little deeper into your own heritage to connect in a special way and learn about exactly where you come from. Make sure you grab an AncestryDNA kit from Ancestry here during their special Summer Sale for $59 for a limited time from August 10th, 2018 – August 20th 2018. (Excludes taxes and shipping). Though this is a wonderful deal, you can never put a price on learning more about who you are.
Disclosure: This Jollof Rice post is a collaboration with AncestryDNA. I received compensation, but all opinions are my own. I am grateful for authentic partnerships like this.
Jollof Rice Recipe
Jollof Rice Recipe inspired by my AncestryDNA Results - This is a true West African classic. Fragrant rice is steeped in rich ingredients like meat stock, garlic, onions, tomatoes, and spicy chilies adding an incredible depth of flavor.
Keyword:
african, dinner, rice, side dish
Ingredients
2

tbsp

extra virgin olive oil

1

cup

diced onions

2

tbsp

minced garlic

1

tsp

minced ginger

1/2-1

thinly sliced habanero pepper

depending on your preference for heat

1

cup

uncooked basmati rice

1 1/2

cups

chicken stock

1

can

crushed tomatoes

15 ounce

1

tsp

seasoned salt

1/2

tsp

curry powder

1/2

tsp

dried thyme

1/2

tsp

smoked paprika

1

fresh bay leaf

Chopped parsley and/or bay leaf for garnish
Instructions
Heat olive oil over medium heat in a large pot. Add onions to pot and saute until tender cooking roughly 5 minutes. Next add in minced garlic, ginger and chili and cook for about 30 seconds making sure not to burn the garlic.

Pour in rice and stir to combine with other ingredients allow rice to toast in pot for 2-3 minutes.

Next add chicken stock, crushed tomatoes, seasoned salt, smoked paprika, curry powder, thyme, paprika and bay leaf and stir together then bring to a boil.

Once it begins to bowl, reduce heat to low and cover pot with lid. Continue cooking rice for about 25-30 minutes or until all liquids evaporate and rice becomes more tender. Remove bay leaf.

Turn off heat and allow rice to rest for 10 minutes with lid on. Once rice is completely tender, make sure all ingredients are stirred together. Top with parsley and bay leaf for garnish and serve.
Recipe Video
Nutrition Facts
Jollof Rice Recipe
Amount Per Serving
Calories 213
Calories from Fat 45
% Daily Value*
Total Fat 5g 8%
Cholesterol 1mg 0%
Sodium 567mg 24%
Potassium 348mg 10%
Total Carbohydrates 35g 12%
Protein 5g 10%
* Percent Daily Values are based on a 2000 calorie diet.