Learn How to Make Beef Stew the right way! With tender beef tenderloin, vegetables and an unbelievably rich and savory sauce flavored with spices, herbs and sensational essences. Serve with Corn Muffins for a comforting meal. If you adore this Beef Stew Recipe, try my Mississippi Pot Roast, Classic Pot Roast , My Salisbury Steak Mealballs, My Chicken and Dumplings, and my Italian Pot Roast Recipe.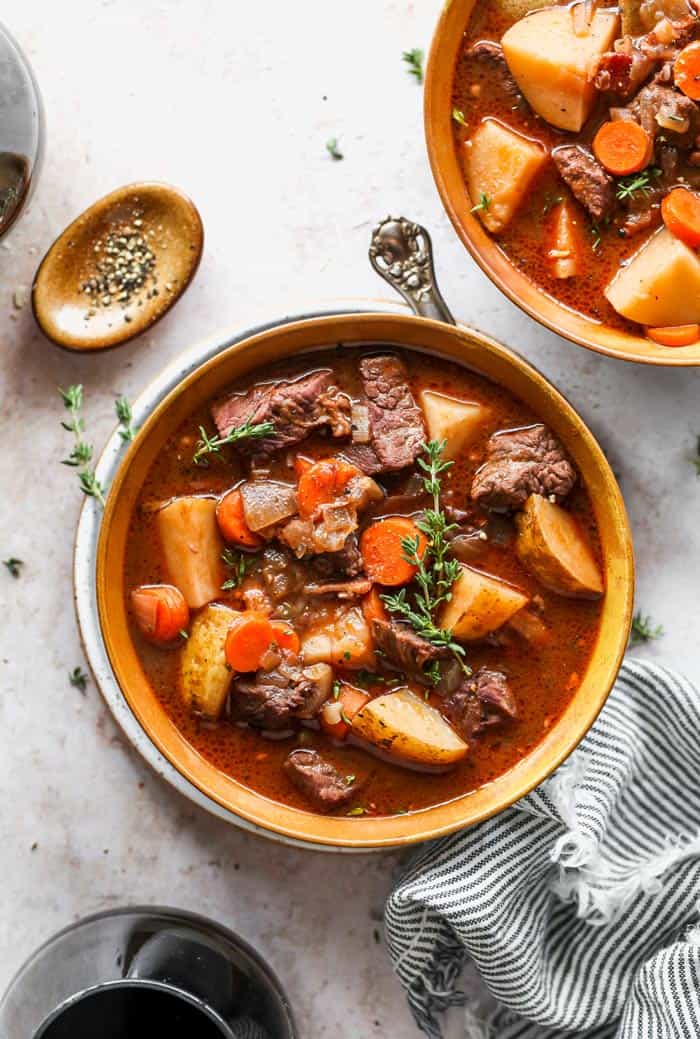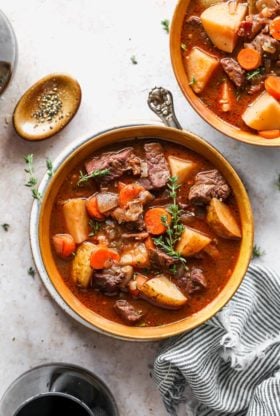 My favorite stew is truly a Classic Beef Stew recipe! I'm talking about that hearty, comforting stew that you fill a big bowl with and sit on the couch covered in a blanket while you eat. We're talking juicy beef tenderloin pieces, fresh and tender carrots and potatoes that melt in your mouth! There is nothing better to me.
This beef stew is the traditional recipe I have always dreamed of! I chose to use beef tenderloin pieces for this recipe; they were marbled with flavor and so tender that they melted after being braised for hours, the perfect base for a stew like this.
The depth of the red wine, beef stock and balsamic flavor are a perfect match for the tenderloin pieces. Also the well-bodied vegetables and additional bacon create the most hearty and well-seasoned stew that you can imagine.
You're going to want to keep this Classic Beef Stew recipe in rotation all Winter long!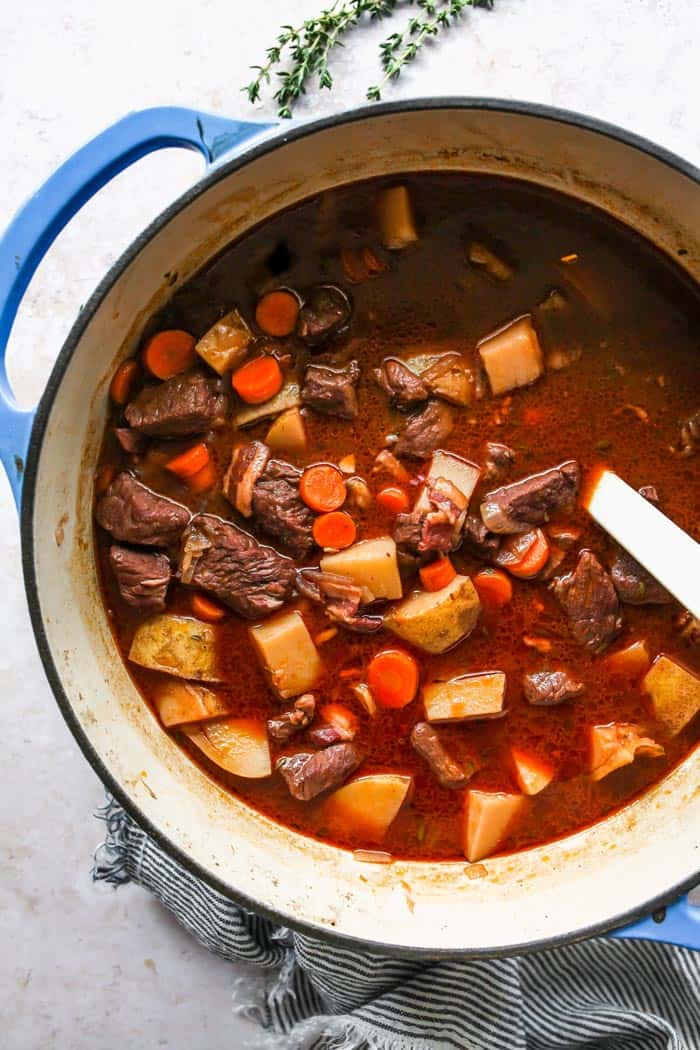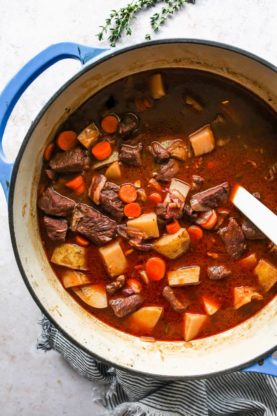 HOW TO MAKE THE BEEF STEW
This Beef Stew recipe has some incredibly rich and decadent ingredients which take the flavors over the top! In order to truly braise the meat in an incredibly well nuanced sauce, you will need some of the following ingredients:
Bacon– Bacon adds some smokiness that, when combined with the beef, is incredible.
Onion & Garlic– Aromatics like onion and garlic always heighten a dish, so they are truly necessary here!
Beef Stock– Beef stock is preferred here, but beef broth, vegetable stock (or broth) and chicken stock (or broth) are also great options.
Red Wine– Wine in cooking intensifies, enhances, and accents the flavor and aroma of food. The wine itself will evaporate while the stew is cooking, and only the flavor remains. I prefer using a Cabernet Sauvignon or Merlot but any red wine will work!
Tomato Paste– this full-bodied paste is used to thicken the stew and add depth. If you don't have any on hand, use 2-3 tablespoons of tomato puree or tomato sauce for every 1 tablespoon of paste. You might need to reduce the stew a bit more to accommodate the extra liquid.
Balsamic Vinegar– The sweet, tanginess of balsamic, paired with this traditional recipe, makes for something truly special and elegant. No balsamic? Mix together 1 tablespoon of red wine vinegar and ½ teaspoon of granulated sugar for every tablespoon of balsamic. Balsamic vinaigrette can also work!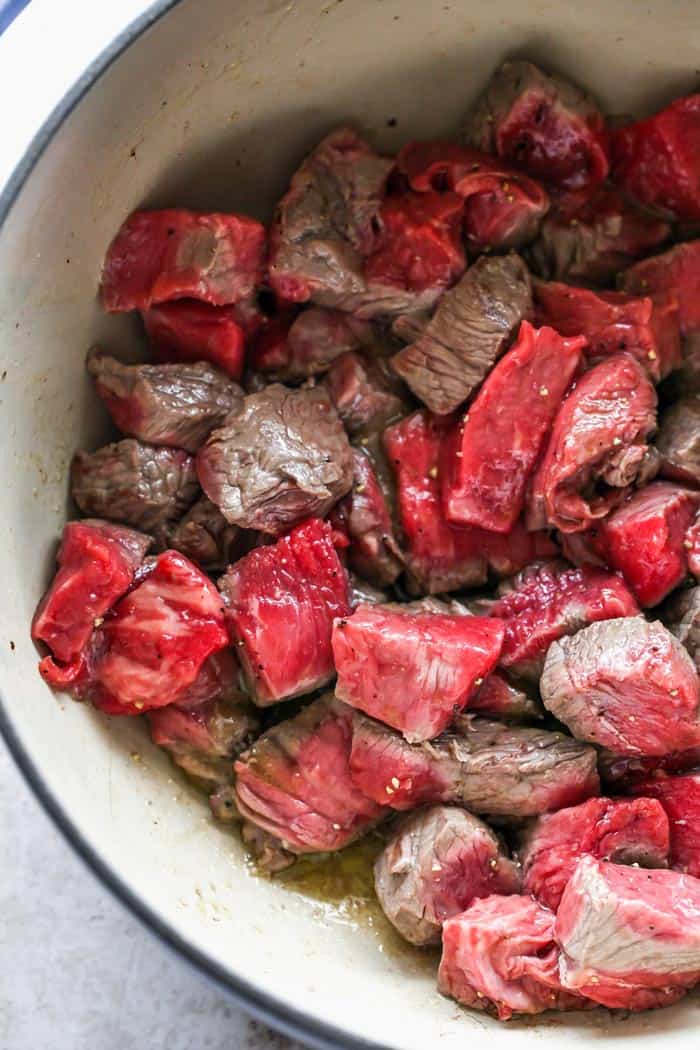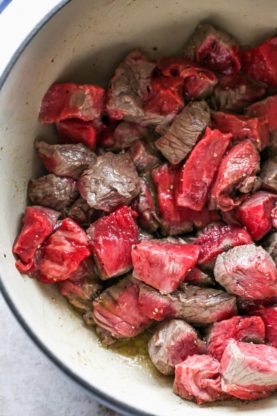 The combination of all of these ingredients creates the most sensational sauce you will ever taste! Thickened to perfection, and filled with so many sensational flavors, it is irresistible.
CAN YOU MAKE SLOW COOKER BEEF STEW – BEEF STEW CROCK POT?
Yes, you can easily make this Beef Stew in a crockpot, slow cooker or instant pot ! You will want to start by browning the beef tenderloins (either on HIGH or Saute setting). Once they are totally browned, add everything to your crock pot or slow cooker and cook for 8 hours.
Make this Classic Beef Stew Recipe along with my homemade garlic bread or Mexican cornbread on a lazy Sunday afternoon and just sit back while the intoxicating smell swells in your home!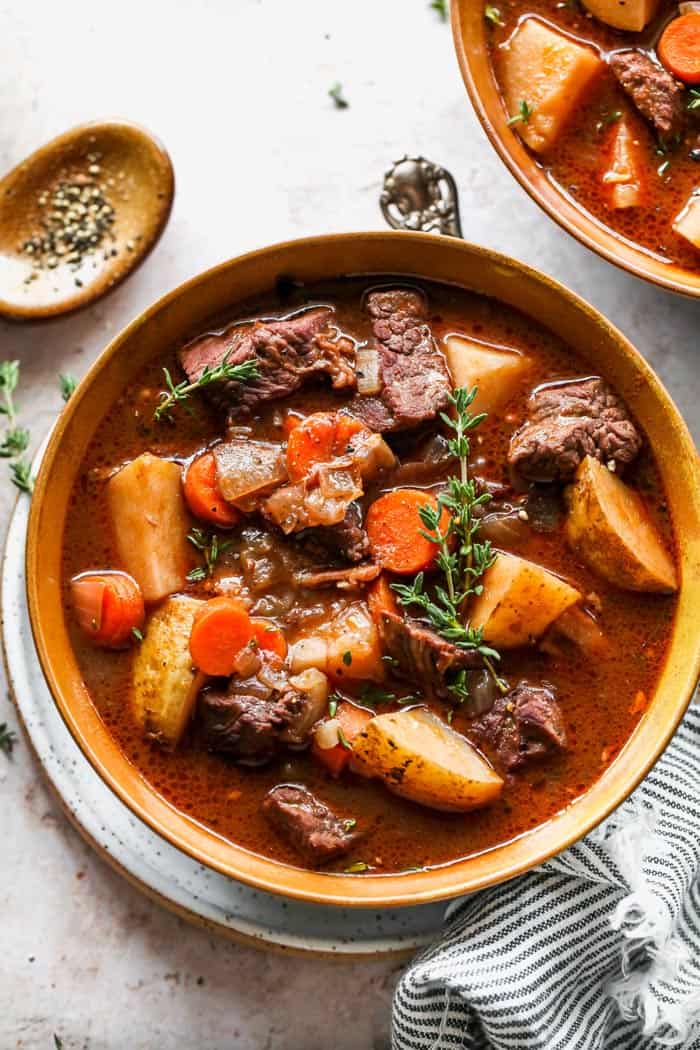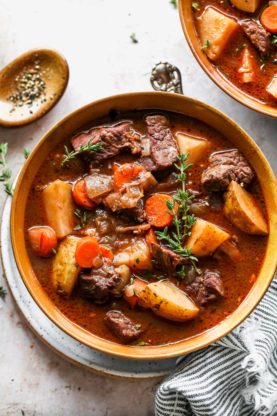 HOW TO STORE LEFTOVER BEEF STEW
When you make a pot of stew, you're guaranteed to have leftovers. There's just no way around it. Luckily, beef stew stores and reheats very well! You can easily put the extras away and save them for a rainy day, pulling them back out when you're ready. Store your beef stew in the fridge for a few days or put it away in the freezer to reheat later.
To refrigerate beef stew, let it cool completely, then place the stew in a sealing container (I use these whenever I store soup, they're perfect for freezing or refrigerating) or cover it tightly and place it in the fridge. You can store stew this way for 3-5 days.
To freeze leftover stew, pour it into a freezer bag or a plastic container that seals well. Stew can be stored in the freezer for up to 6 months. I highly recommend using a permanent marker to date your container.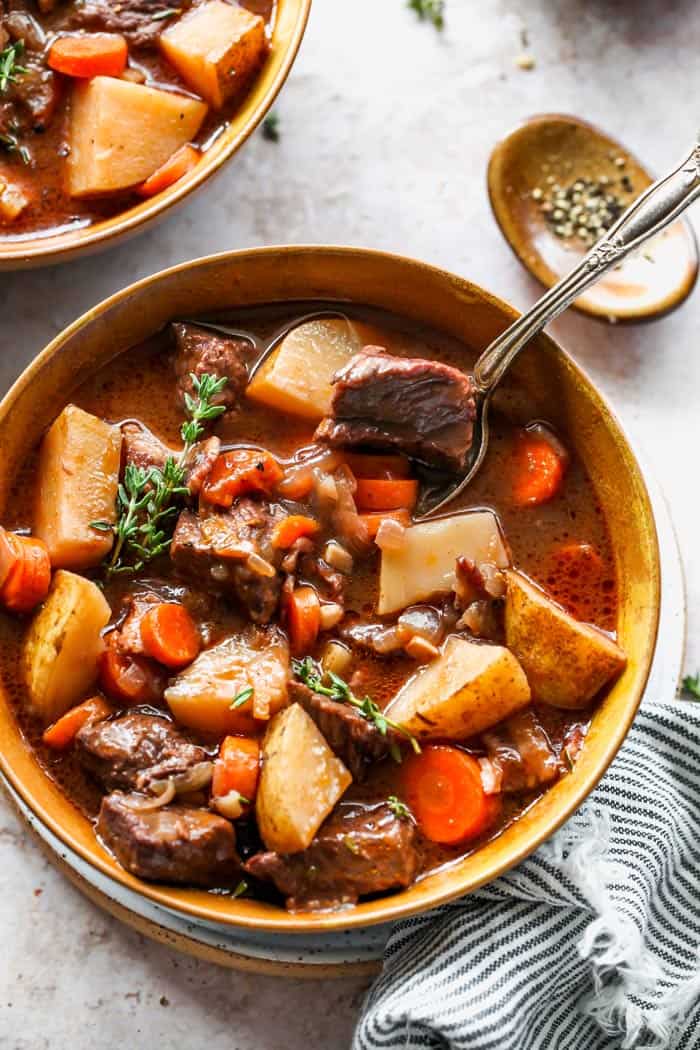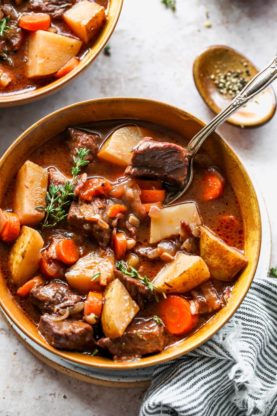 REHEATING LEFTOVER BEEF STEW
You've stored your stew away and now it's time to pull it out! Leftover Beef Stew makes a super convenient dinner, quick lunch or even a cold winter night snack. To ensure that your stew retains its optimum flavor and texture, follow the reheating guide below.
Microwave
Place your pre-portioned stew in a microwave-safe dish with a lid and reheat for 3 minutes. Stir the stew every 60 seconds. Stirring the stew will allow the stew to heat evenly rather than leaving areas over or undercooked.
Stovetop
In a small saucepan, simmer the stew over a low heat for 15-20 minutes. Stir often and be sure not to overcook. You may need to add some broth or water to allow appropriate moisture for your stew.
Crockpot
If you simply don't care to mess with the microwave or stove, place your stew in a crockpot. Set it on the low setting and make sure that there is plenty of moisture in your stew to prevent burning. Add water or broth if needed.
Warm the stew in the crockpot on low for 2-3 hours, stirring occasionally.
GRANDBABY CAKES' BEST STEWS AND SOUPS
Don't stop here! Keep warm and cozy up with a bowl of one of my FAVORITE soup or stews!
Check 'em out:
*Did you make this recipe? Please give it a star rating and leave comments below!*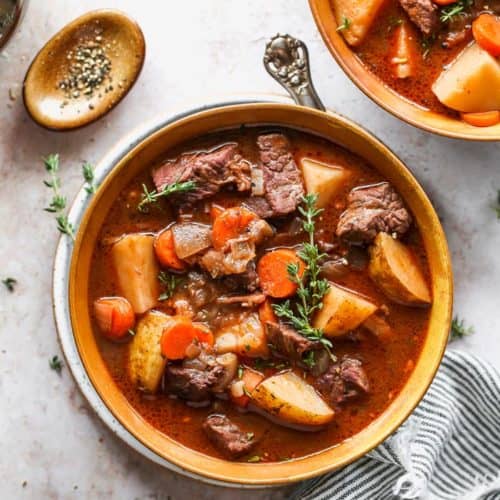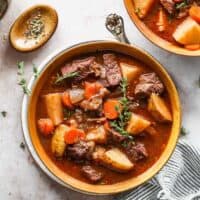 Beef Stew Recipe (How to Make Beef Stew)
Learn How to Make Beef Stew the right way! With tender beef tenderloin, vegetables and an unbelievably rich and savory sauce flavored with spices, herbs and sensational essences.
Print
Pin
Rate
Ingredients
3

tablespoons

olive oil

2

lbs

beef tenderloin pieces

Salt and pepper to taste

1

medium

onion

chopped

3

slices

bacon

cut into pieces

1 1/2

teaspoons

minced garlic

2

tablespoons

all-purpose flour

1

tablespoon

tomato paste

3 1/2

cups

beef stock

1

cup

red wine

3

tablespoons

balsamic vinegar

3

medium

potatoes

chopped

1 1/2

cup

chopped carrots

3

thyme sprigs

Fresh parsley for garnish
Instructions
Add oil to large pot over medium high heat. Next unwrap two packages of beef and add to hot pan. Liberally season with salt and pepper to taste.

Once beef is finished searing, remove from pan and place to the side.

Next add chopped onion and bacon to pan and brown.

Add garlic and only cook for 30 seconds.

Sprinkle in flour and stir together and cook for 2 minutes.

Stir in tomato paste then pour in beef stock, red wine and balsamic vinegar.

Next add potatoes, carrots and thyme sprigs and add back in beef and season with salt and pepper and bring to a boil.

Once boiling turn stew down to medium low, cover and continue to cook until thickened and ready for about 1 1/2 hours.
Notes
Though it is tempting to speed up the cooking process, don't do it!  Really allow the beef to tenderize and the sauce to develop incredible flavors while thickening.  This also tastes even better the next day.
Nutrition
Calories:
461
kcal
|
Carbohydrates:
8
g
|
Protein:
24
g
|
Fat:
33
g
|
Saturated Fat:
12
g
|
Cholesterol:
84
mg
|
Sodium:
353
mg
|
Potassium:
717
mg
|
Fiber:
1
g
|
Sugar:
3
g
|
Vitamin A:
4060
IU
|
Vitamin C:
3.6
mg
|
Calcium:
33
mg
|
Iron:
3.5
mg