How to Make a Chocolate Martini- Do you love the Godiva Chocolate Martini? Try this insanely decadent and rich Chocolate Martini recipe made into a mocktail (no alcohol-want the alcohol try this Sangria) with spice, cinnamon and indulgent chocolate chips. If you love delicious drinks like this, try this French Hot Chocolate, Sugar Cookie Martini, S'mores Iced Coffee, Salted Caramel Hot Cocoa, Peppermint Eggnog White Hot Cocoa and Skinny Chocolate Milkshake.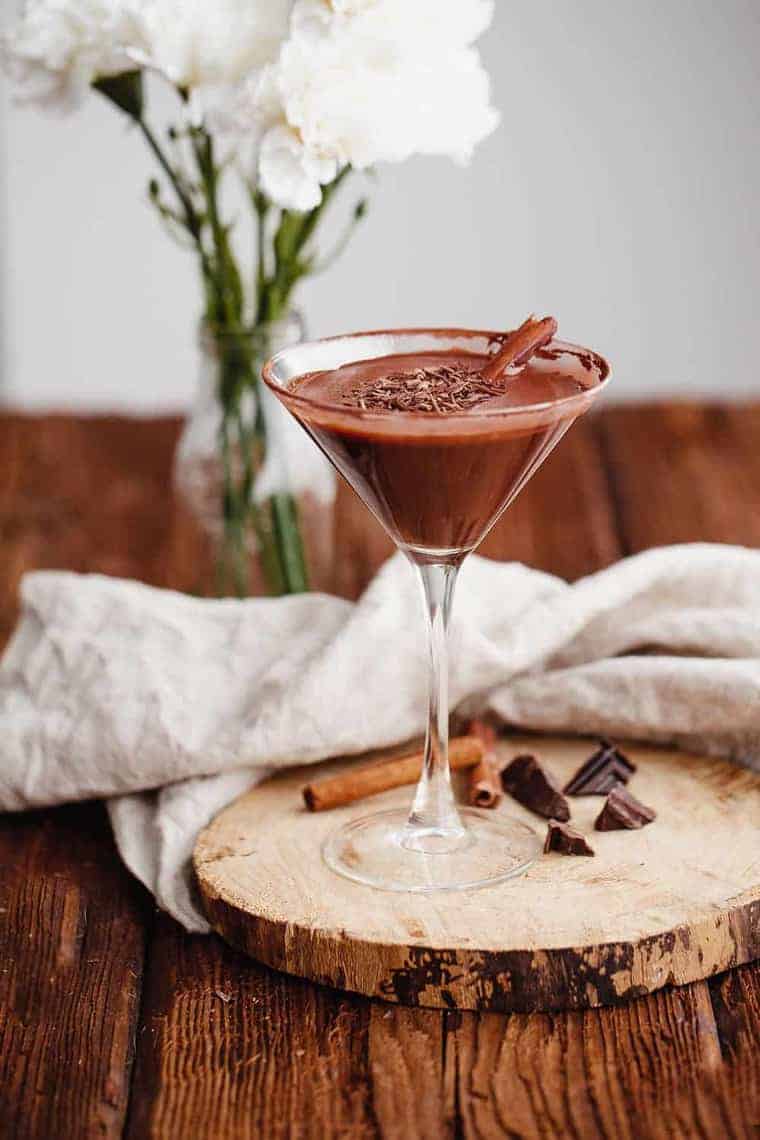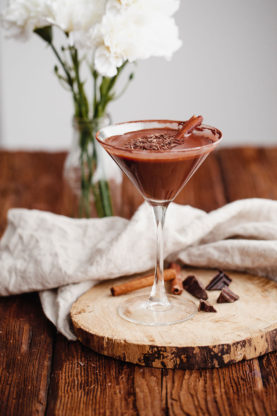 A Decadent Chocolate Martini Recipe
I haven't had an alcoholic drink in well over a year. I gave it up at the beginning of 2016 when my husband and I started the entire IVF process and haven't had a drink since. I'm not sure I miss it all that terribly since I was never a huge drinker to begin with.
However there are moments when I think a glass of wine would certainly do the trick, and then I realize that I'm not drinking. Sparkling apple cider will have to be my sub of choice.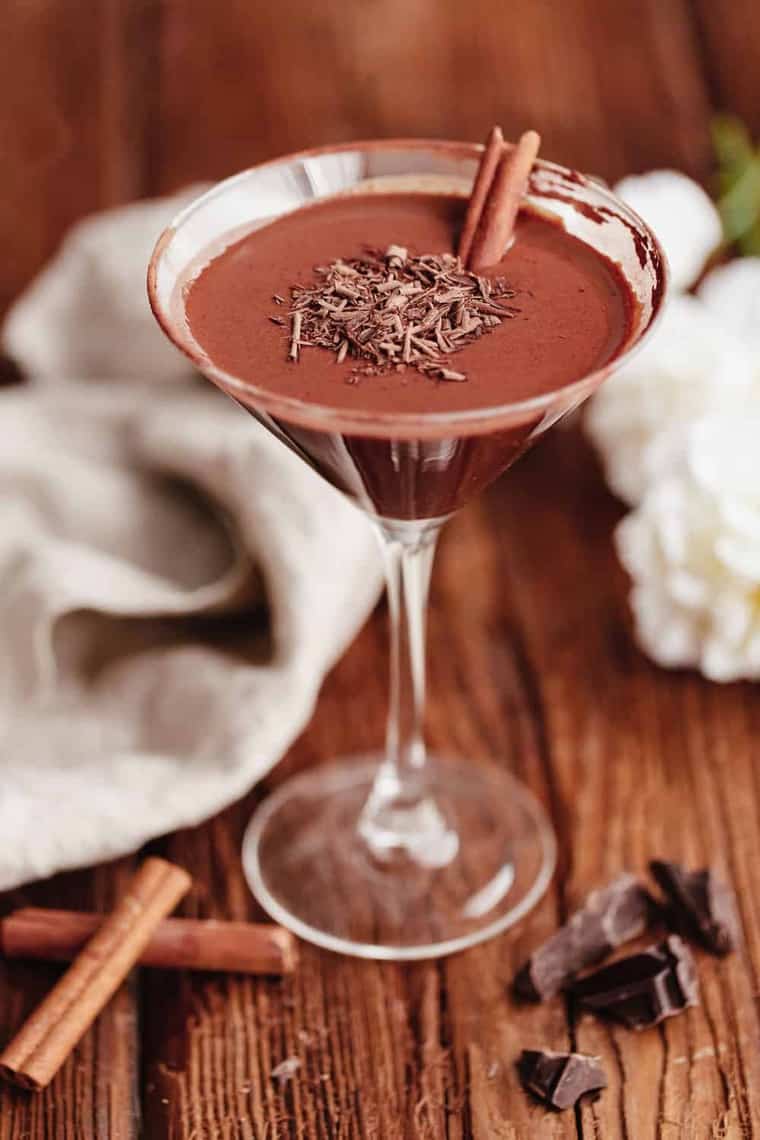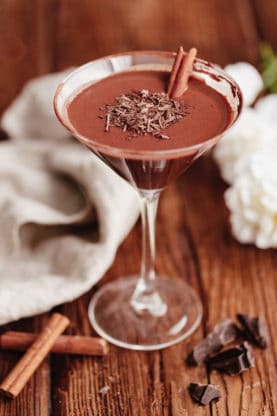 I never got too creative with my options for alcohol substitutions but I did order my fair share of mocktails when going out just to feel part of the crew. When my girl Nicole of the food blog Brown Sugar sent me a copy of her brand new book Baby Proof, I knew I was in store for something special.
This was the dream book for all of us preggers ladies looking to feel like normal adults every once and a while. She has some of the most creative recipes for mocktails in her book, and she has them divided by trimester along with some great pregnancy tips.
Plus Nicole is just a wonderful blogger, filled with so much passion and love for what she does. We started blogging around the same time, and I love how committed she is to making her brand a success. This book is a triumph, and I am so proud of her.
Chocolate Martini Ingredients
This mocktail is quite special because it is super indulgent and satisfying without the alcohol. Here are the ingredients that truly make it super special!
Semisweet Chocolate
Heavy Cream
Soy Milk
Chai Tea
Cinnamon Simple Syrup
Cayenne
Semisweet chocolate is one of my favorites to use in baking and dessert recipes. More generally, it contains at least 50% cocoa liquor, though the added sugar is usually less than 1/3 of the total content. A lot of people use semisweet and bittersweet chocolate interchangeably so feel free to substitute here if you want a deeper chocolate flavor since bittersweet chocolate has less sugar.
The heavy cream in this recipe is key in creating the thick buttery richness that makes this chocolate martini so irresistible! It almost gives it more of the consistency of a thinned milkshake which is heavenly.
Next is the addition of chai tea with soy milk. If you have never had a cup of Indian chai tea with soy milk, you are missing out. It is so smoothing and comforting. The combination is like a chai latte.
The cinnamon flavor elevates a simple syrup. This, along with cayenne pepper, creates a wonderful Mexican chocolate flavor. Cinnamon gives chocolate such a depth of flavor.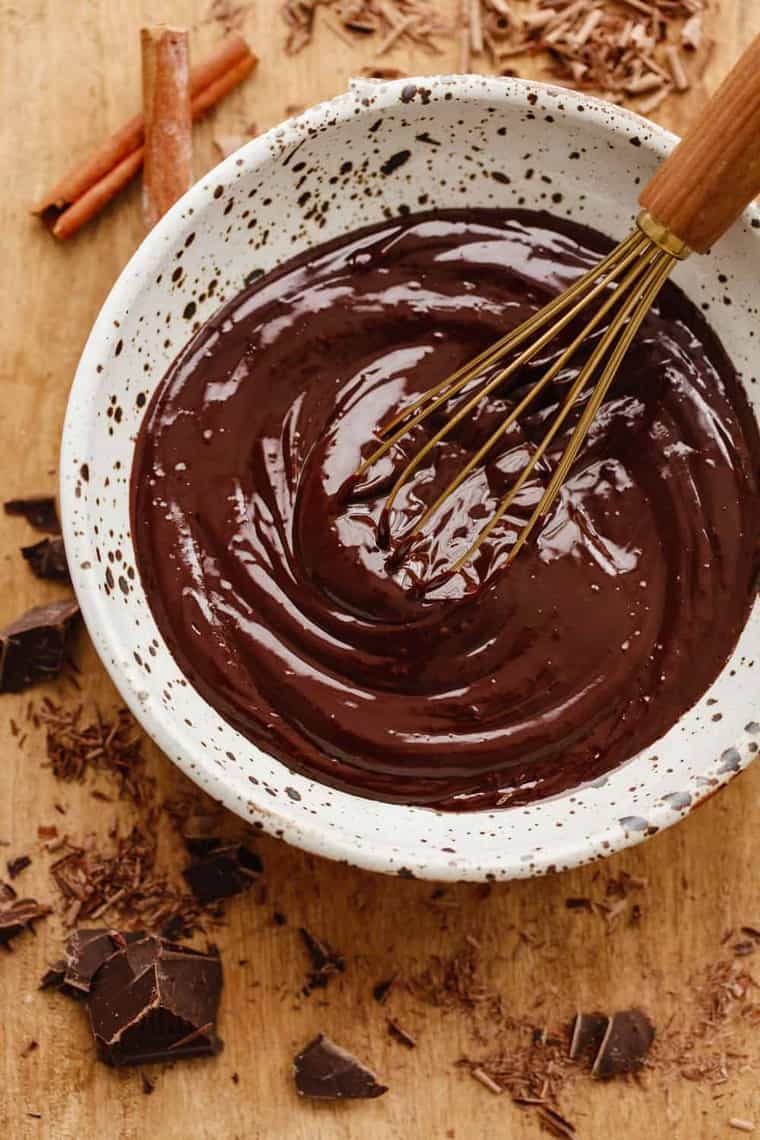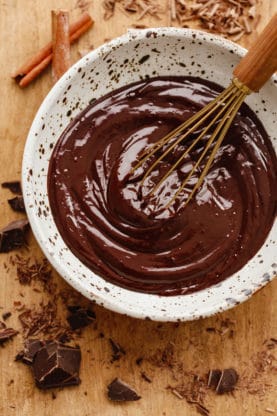 How to Make a Chocolate Martini
This Spicy Chocolate Martini recipe stood out to me because I always wanted to make one myself after trying the Godiva Chocolate Martini before. This recipe starts with semisweet chocolate chips and heavy cream together.
These ingredients are used to make ganache and are perfect in baking so I love this combo to start this recipe. You could also use this to begin a fantastic and decadent hot chocolate.
The use of soy milk is perfection for those who want to cut down on the dairy. I also am interested in trying this with coconut milk too.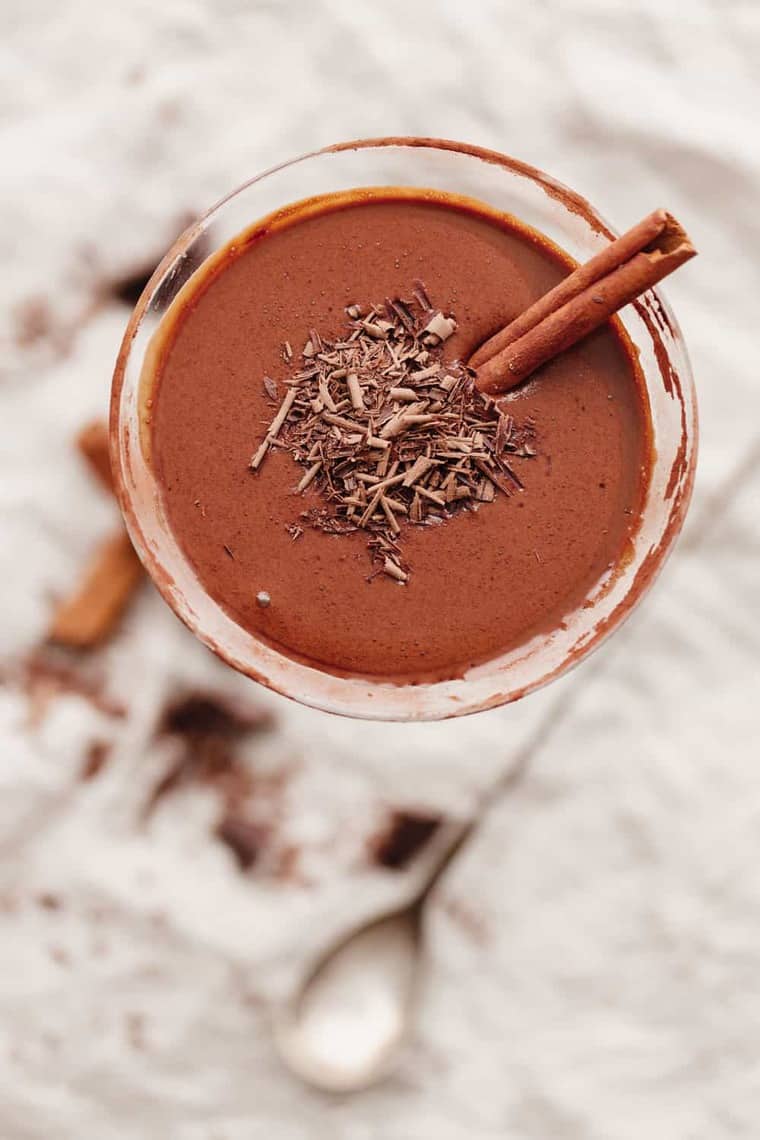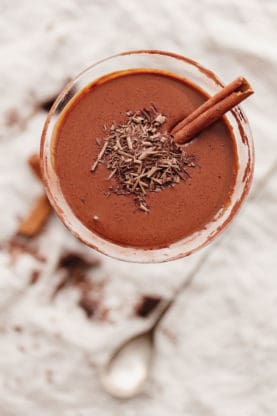 What gives this Chocolate Martini Recipe its Spicy Chocolate Flavor?
The chai tea is a lovely flavor note that adds a hint of uniqueness. Finally the cinnamon simple syrup and cayenne pepper adds that spiced kick that really heats this to a spicy chocolate finish.
It looks and feels sexy and is just what you need to get that decadent fix anytime you crave it. Whenever I'm feeling the itch, I will definitely be referring back to this chocolate martini.
Can You Add Alcohol To This Mocktail Chocolate Martini?
After I was pregnant, I couldn't wait to add additional alcohol. If you want to spike this recipe, try these ingredients:
Baileys Irish Cream
Chocolate Liqueur
Vanilla Vodka
Créme de Cocoa liqueur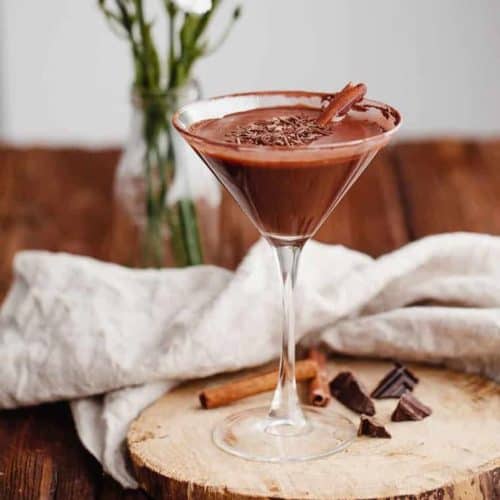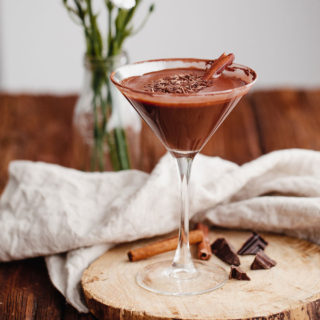 Chocolate Martini Recipe
Do you love the Godiva Chocolate Martini? Try this insanely decadent and rich Chocolate Martini recipe made into a mocktail (no alcohol) with spice, cinnamon and indulgent chocolate chips.
Print
Pin
Rate
Ingredients
1

cup

semisweet chocolate chips

½

cup

heavy cream

2

ounces

soy milk

3

ounces

heavily brewed chai tea

1

ounce

cinnamon simple syrup

Pinch

of cayenne pepper
Instructions
Place the chocolate chips in a heat safe bowl. Bring the heavy cream to a boil, in a separate small saucepan and pour on top of the chocolate chips. Use the rubber spatula to stir until smooth allow to cool.

Place the chocolate mixture, soy milk, brewed chai tea, the cinnamon simple syrup and the cayenne and cinnamon in a shaker. Shake vigorously for 1 minute. Pour into two martini glasses and serve.
Notes
Feel free to spike this recipe with alcohol suggestions like Baileys Irish Cream, Chocolate Liqueur, Vanilla Vodka and Creme de Cocoa liqueur.
Also if you want to omit spice, remove the cayenne pepper.
Nutrition
Calories:
777
kcal
|
Carbohydrates:
60
g
|
Protein:
7
g
|
Fat:
57
g
|
Saturated Fat:
33
g
|
Cholesterol:
86
mg
|
Sodium:
55
mg
|
Potassium:
594
mg
|
Fiber:
7
g
|
Sugar:
44
g
|
Vitamin A:
1030
IU
|
Vitamin C:
2.1
mg
|
Calcium:
134
mg
|
Iron:
6.3
mg