This cozy spiked drink is great for chilly fall nights or holiday season entertaining! Made with creamy butter, smoky molasses, warm spices, and toasty rum, this Homemade Hot Buttered Rum is a simple, yet decadent cocktail! Serve with whipped cream and extra ground spice. If you love this, you will love this Homemade Eggnog, French Hot Chocolate, and Spiced Apple Cider.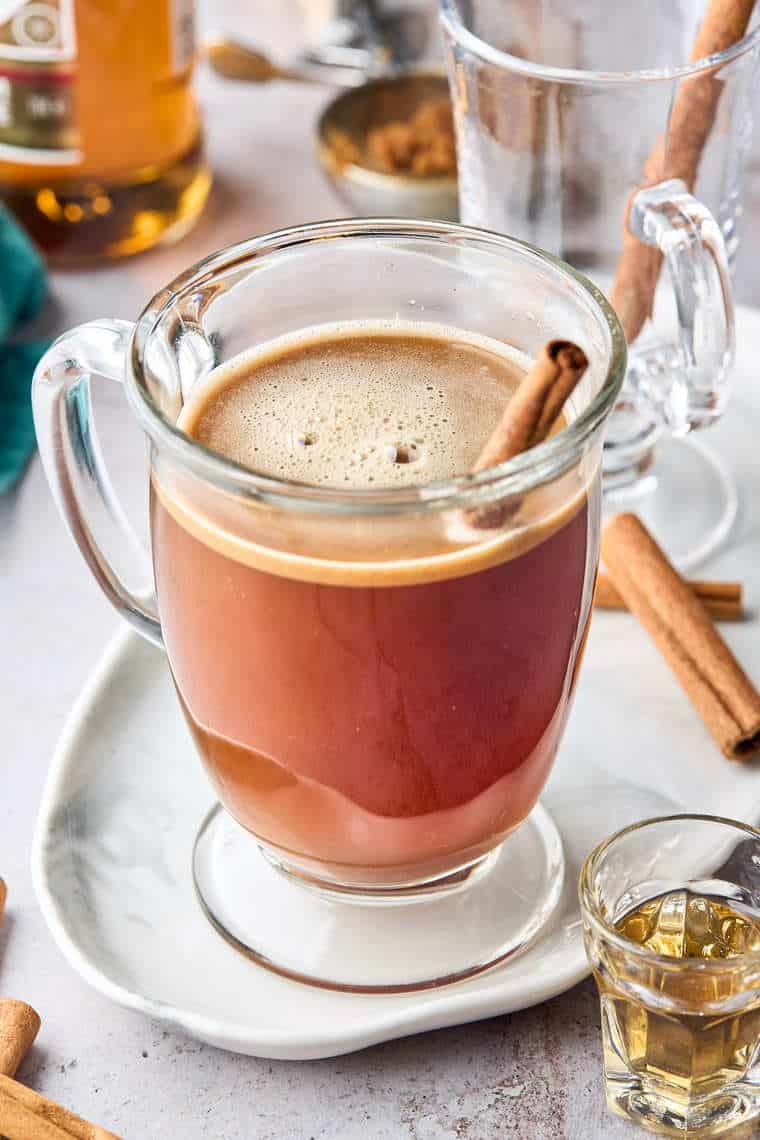 The holidays are truly my favorite time of the year! But, it doesn't quite feel like Christmas until I've cozied up on the couch with my hubby, thrown on a classic holiday playlist, and shared a mug or two of Hot Buttered Rum. It's basically butterbeer for grown ups!
Warm, boozy, and sweet, Hot Buttered Rum has been a cozy classic for over a hundred years (if not longer!). It can be made in small servings for individual treats or as large batches for holiday dinners or parties!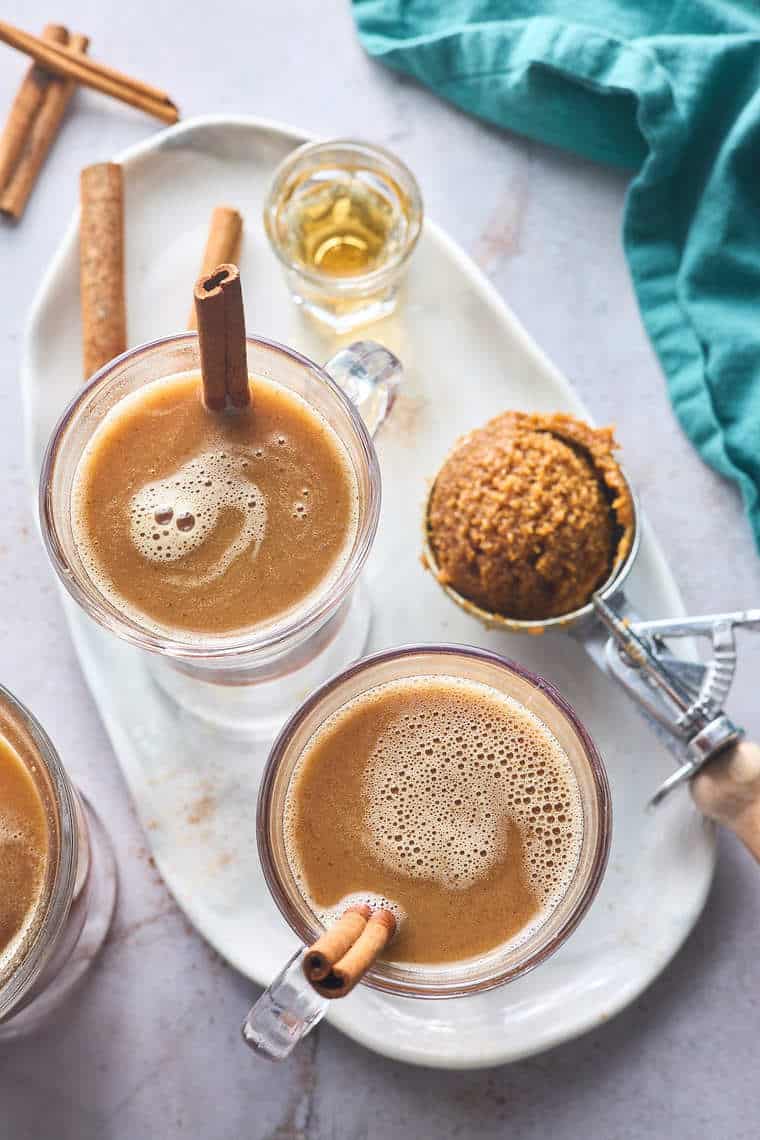 WHAT IS HOT BUTTERED RUM?
Hot Buttered Rum is a cocktail traditionally made with rum, hot water, sugar, butter, and spices. Different versions of the recipe might include ice cream or milk, and sometimes coconut oil or vegan margarine. There are even some folks who choose to replace the water with apple or pumpkin cider!
WHAT'S IN BUTTERED RUM?
The best part about this recipe is that you probably have all the ingredients you need! Just a few simple pantry staples are being used to make a cocktail batter you can keep tucked in the fridge all winter long.
Here's what you'll need to mix together:
BUTTER- you might be thinking, "butter and alcohol? I don't know about that.", but I'm gonna go ahead and need you to trust me on this one. Butter adds, well, butteriness and decadence like you wouldn't believe!
GRANULATED SUGAR- sugar is for sweetness. If you'd like to add a more caramel-like flavor, try subbing half the sugar for light or dark brown sugar.
MOLASSES- To make this recipe my own, I opted to add a classic southern ingredient: molasses. Warm, sweet, and somewhat smoky, molasses adds a robust and slightly bitter taste. This simple ingredient balances flavor and creates a uniquely flavored result.
GROUND CINNAMON, NUTMEG, & CLOVES- Each of these spices come together to warm you from the inside out! Feel free to get creative and use cardamom, allspice, or even black pepper instead.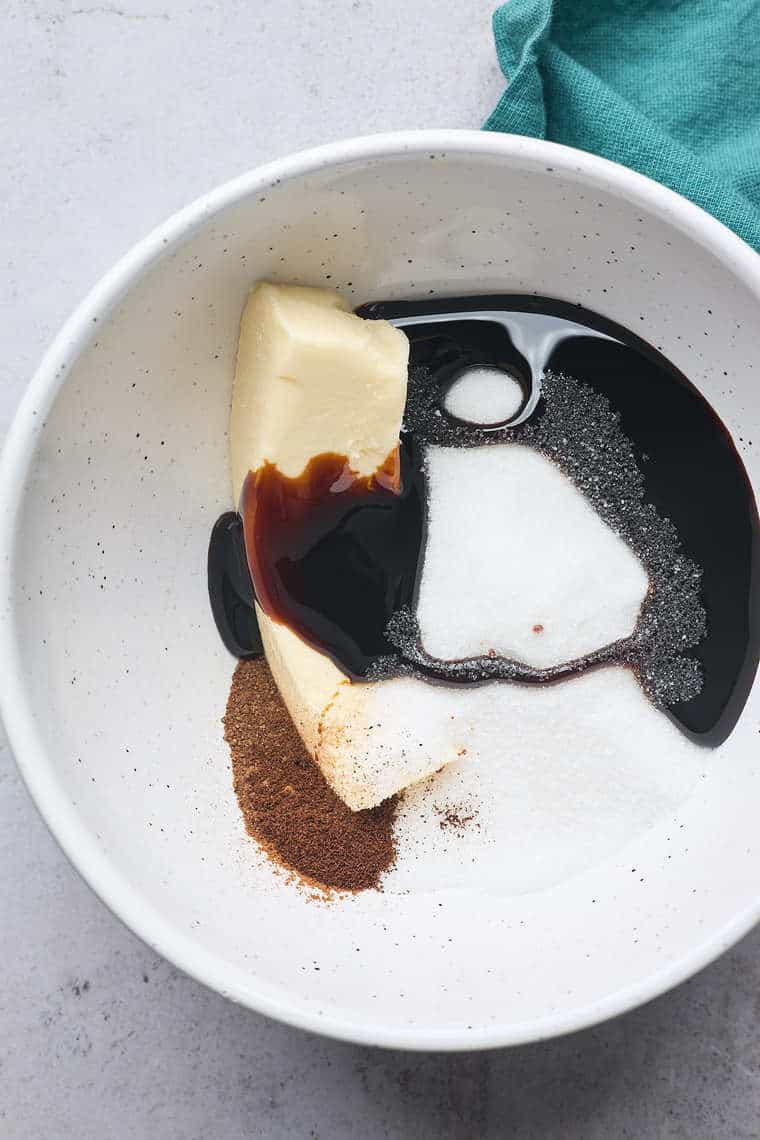 RUM- I'd recommend using a dark or spiced rum here. Spiced rum is typically a dark rum that has been flavored with caramel and other spices. Though I enjoy the flavorful addition, it can be hard to control spice using this rum. If you'd rather not bother with all that, a good quality dark rum will work just fine.
HOT WATER- Water just thins out the drink a bit, which is necessary to melt the butter and warm up the rum.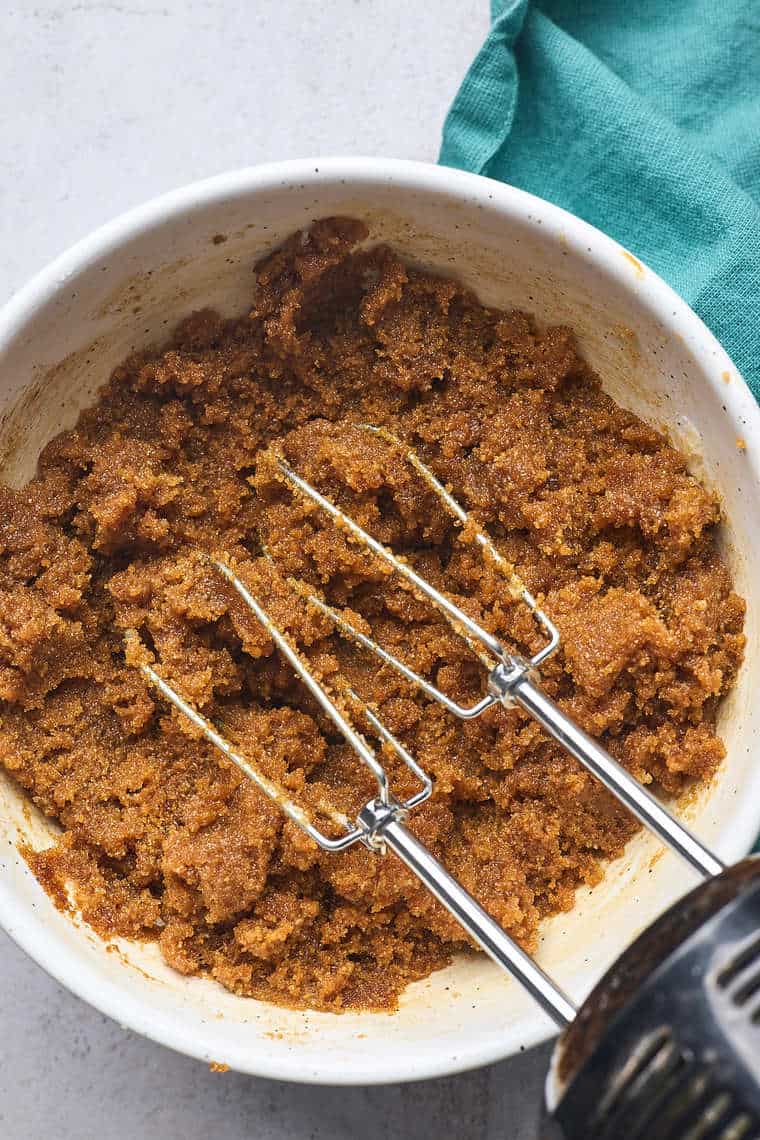 CAN I MAKE IT NON-ALCOHOLIC?
Yes! We love a recipe the whole family can enjoy! For a non-alcoholic version, just drop the rum, and keep everything else. You'll still have a deliciously festive and fun drink.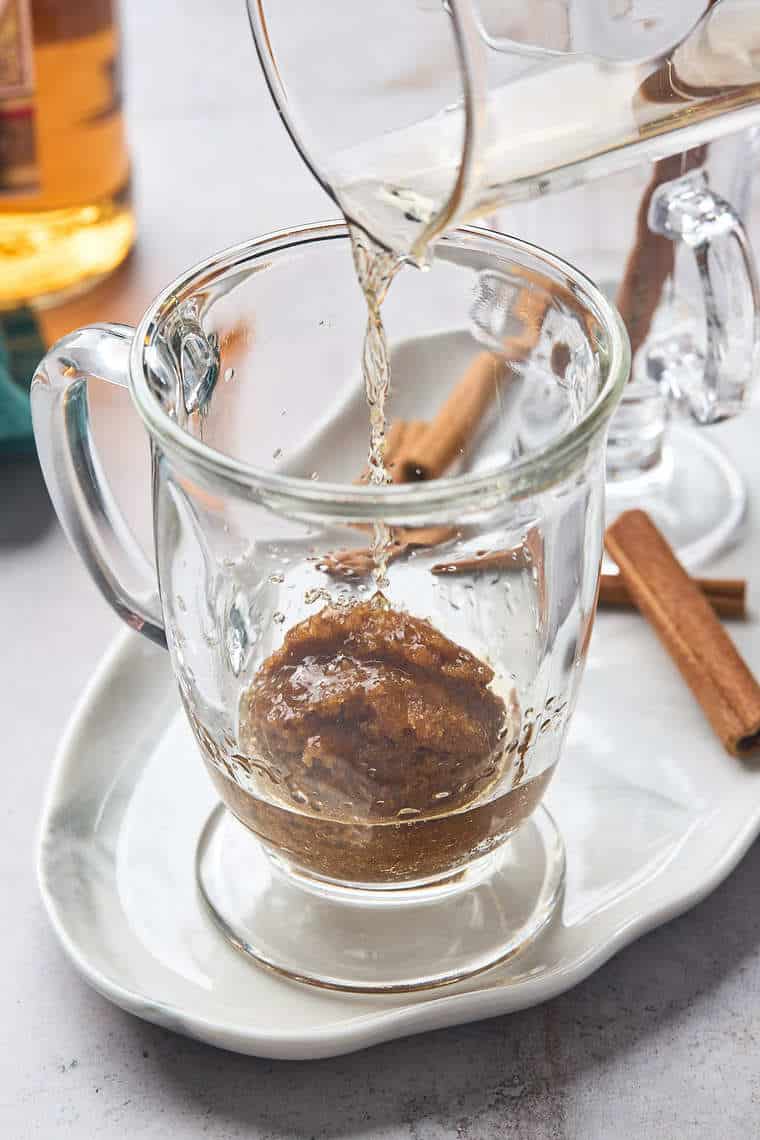 HOW CAN I MAKE A LARGE BATCH OF HOT BUTTERED RUM?
Y'all, this is such a great recipe for holiday entertaining! To make enough buttered rum for a big group, you'll need to bust out your trusty slow cooker.
From there, here's all you'll need to do:
Place all of the base ingredients in the slow cooker (or crock pot) and turn up the heat on high for an hour.

Add 3-6 cups of your choice of rum. I know, this sounds like a lot but it's mostly up to your discretion. This recipe serves 24 people, about an 8 ounce mug per person. Each serving should contain 1 ⅓- 2 ounces of rum. Adjust the measurement according to your own needs/taste.

Fill the remaining space in the crockpot with boiling water, then set the pot to warm.

Keep fresh whipped cream and ground nutmeg or cinnamon to the side of the pot. Serve glasses individually and top as desired!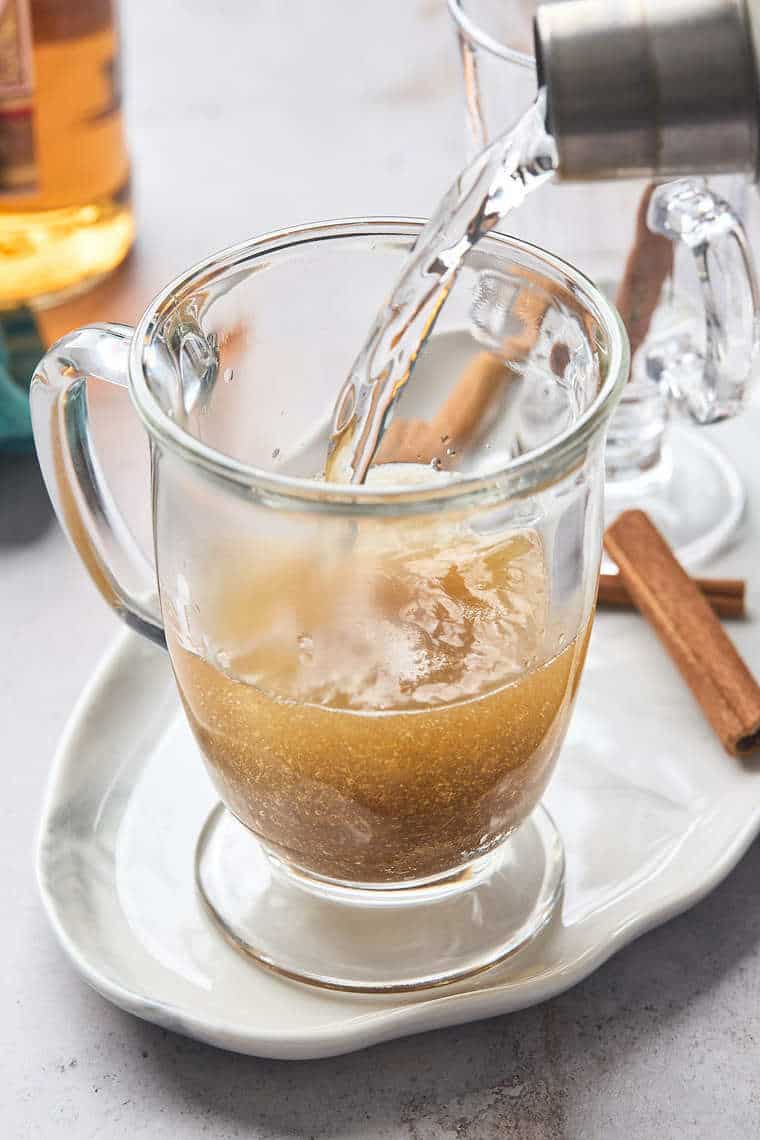 GRANDBABY CAKES' WARMEST WINTER SIPS
There's nothing like a warm drink on a cold winter night! Whether you like 'em spiced or sweet (or a little of both), GBC has got you covered.
What do you say we get cozy together and enjoy one of my FAVORITE holiday-inspired beverage recipes?
Check 'em out: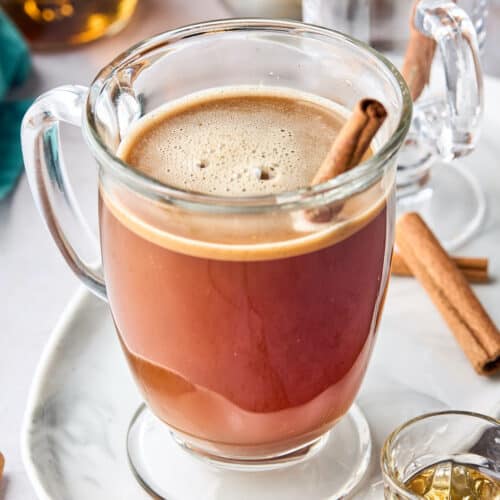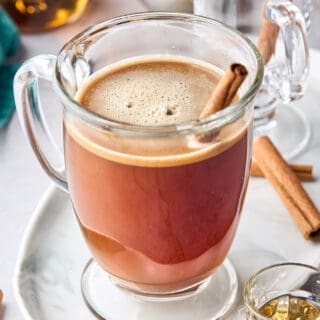 Hot Buttered Rum
Made with creamy butter, smoky molasses, warm spices, and toasty rum, this Homemade Hot Buttered Rum is a simple, yet decadent cocktail!
Print
Pin
Rate
Ingredients
1/3

cup

butter

1 2/3

cup

granulated sugar

1/3

cup

molasses

1/4

tsp

ground cinnamon

1/4

tsp

ground nutmeg

1/4

tsp

ground cloves

rum
Instructions
Beat together ingredients and keep refrigerated in a closed container until ready to serve.

To serve, add a tablespoon of refrigerated ingredients to a mug, add 1 1/3 oz of rum then fill with boiling water and stir.
Nutrition
Calories:
90
kcal
|
Carbohydrates:
17
g
|
Protein:
1
g
|
Fat:
3
g
|
Saturated Fat:
2
g
|
Polyunsaturated Fat:
1
g
|
Monounsaturated Fat:
1
g
|
Trans Fat:
1
g
|
Cholesterol:
7
mg
|
Sodium:
24
mg
|
Potassium:
70
mg
|
Fiber:
1
g
|
Sugar:
17
g
|
Vitamin A:
79
IU
|
Vitamin C:
1
mg
|
Calcium:
11
mg
|
Iron:
1
mg