This Delicious Ground Turkey Empanada Recipe will become your fave ground turkey recipes for go to snack or game day food! They are filled with flavor and the flakiest crust ever! If love these, you will also love these Guava Empanadas and Jamaican Beef Patties.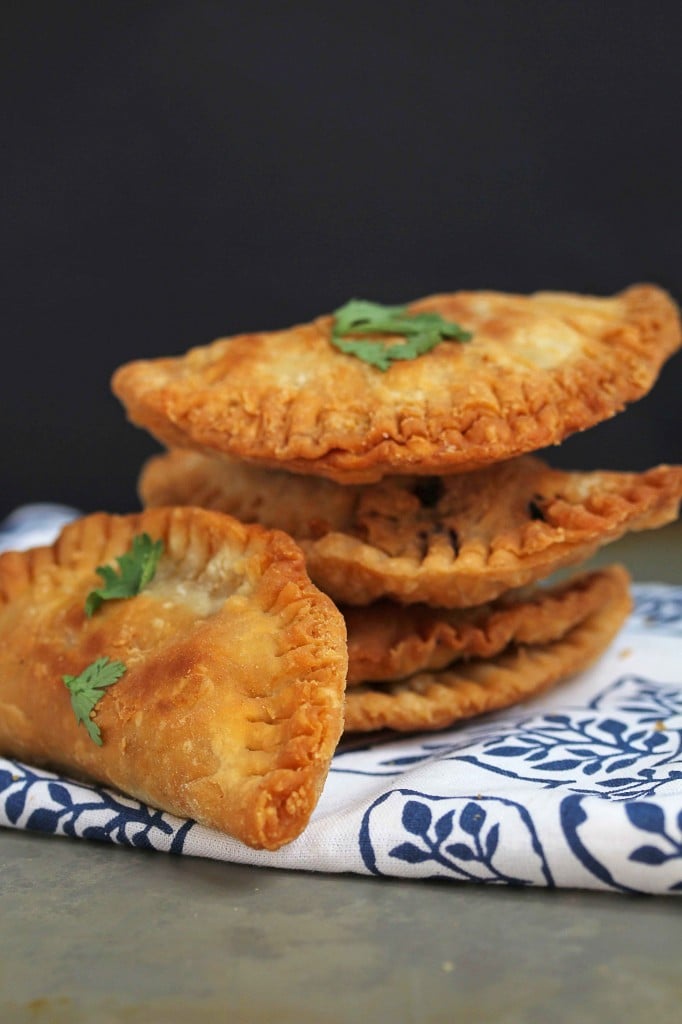 Why Ground Turkey Recipes?
For the last few weeks, I have been working on adding more ground turkey into my recipes because it is leaner and simply delicious. Recently I began craved empanadas. Seriously craved them! I decided to search high and low for a recipe that would just "work" because I never made them. I have ordered my fair share of empanadas at Mexican restaurants but making them was a different story. I am so glad I took the plunge and tried a great empanada recipe, and I am pleased to present it to you.
I decided to used ground turkey because I had a tone of it in my freezer, and I am always in search of great ground turkey recipes. Also, ground turkey is a leaner option than ground beef of pork. So, I figured I would kill two birds with one stone and create one of the best healthy ground turkey recipes on the net!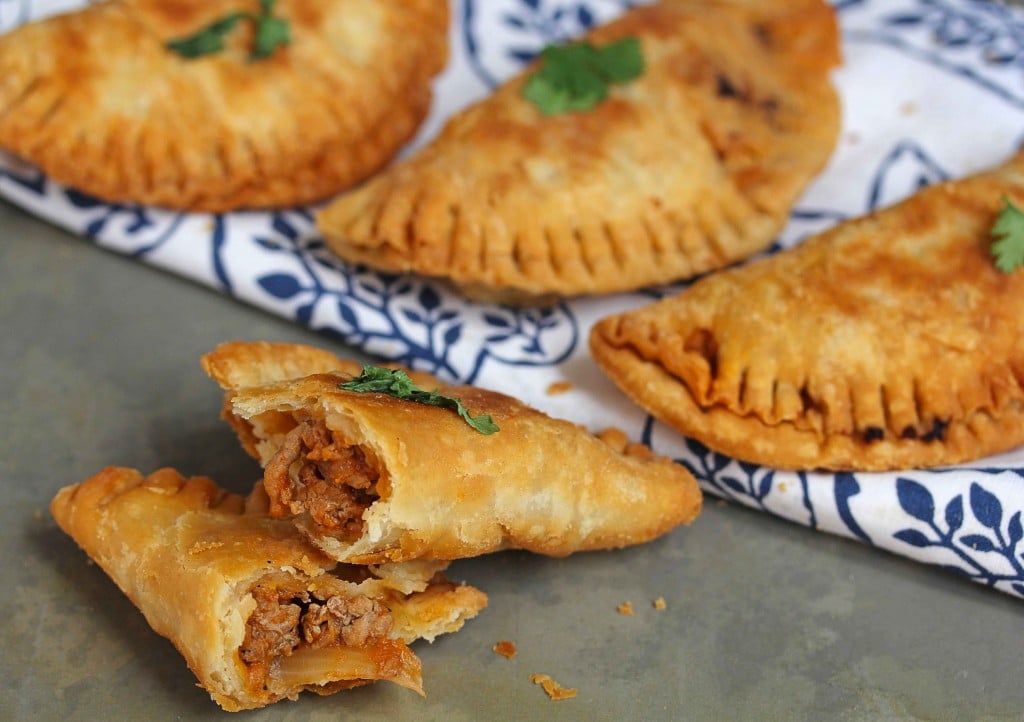 Secret to a Flaky Crust
When I first read the recipe for Beef Empanadas from Leite's Culinara, I knew I found a winner for adaptation. I know great pie dough when I see it so I knew this one was great since it is very similar to my homemade pie dough.
The vinegar in it is key to the flakiness, and I also add an egg yolk to mine to make it tender. I did however omit the sugar because I tend to dislike sweet pastry crust in savory dishes.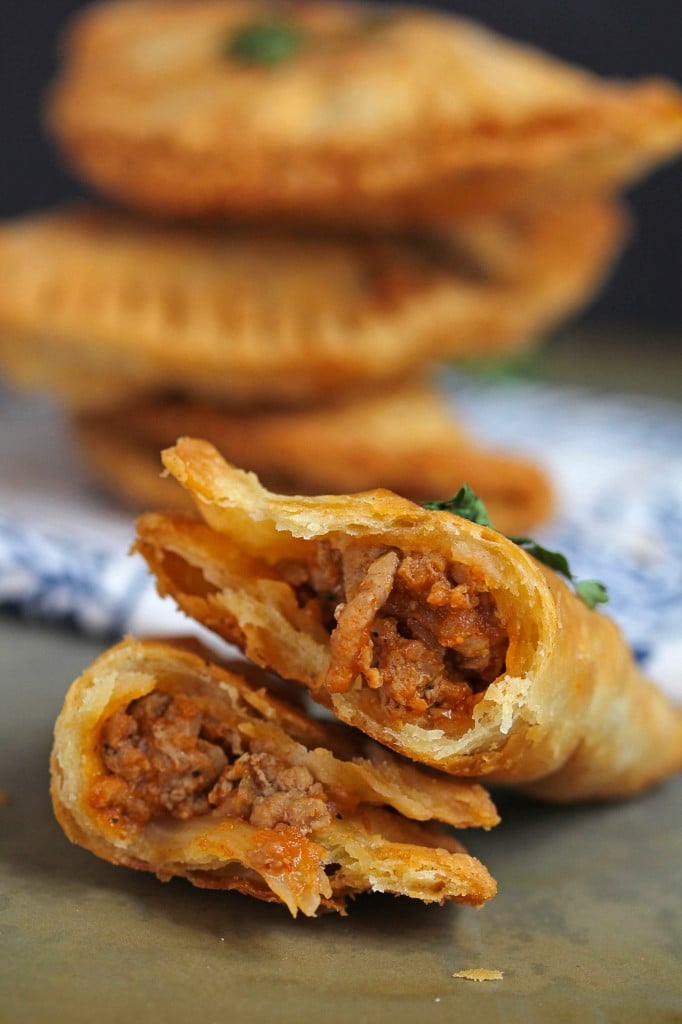 HOW TO MAKE GROUND TURKEY EMPANADAS
For the filling, I replaced the beef with ground turkey and jazzed up a few of the flavors. I also omitted the raisins and olives because I didn't have any on hand. I added a tiny bit of paprika as well to the filling to punch up the flavor just a bit.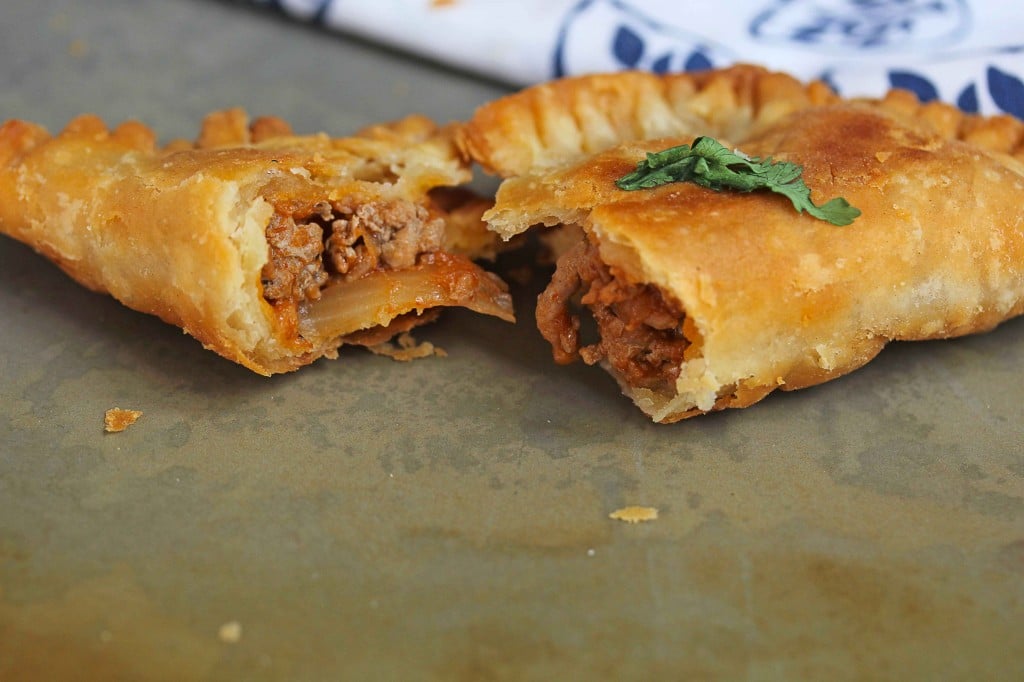 After rolling out the lovely dough and adding in the filling, I crimped the sides and fried them until golden brown. This Ground Turkey Empanada Recipe was so delicious. I really loved the flavor of the flaky crust paired with the amazing juicy filling.
Using the ground turkey was an awesome choice too. It lightened the recipe a little which is hard to do when you are deep frying pie dough. Thanks to this ground turkey empanada recipe, my empanada cravings have ceased, and I have a mainstay whenever they decide to re-surge.
If you like this recipe, check out some of my other turkey flavored recipes below!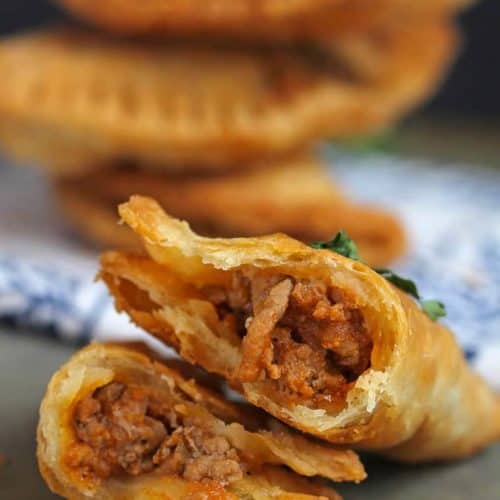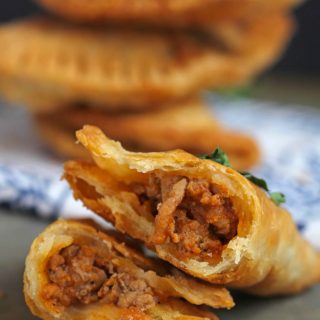 Ground Turkey Empanada Recipe
This Delicious Ground Turkey Empanada Recipe will become your fave go to snack or game day food! They are filled with flavor and the flakiest crust ever!
Print
Pin
Rate
Ingredients
For the dough:
2

cups

unbleached all-purpose flour

plus more for dusting

1

teaspoon

salt

4

ounces

unsalted butter, cold, cut into small pieces

1 stick

2

large

eggs

1

tablespoon

cold water

1

teaspoon

white vinegar
For the filling:
1

tablespoon

peanut, corn, or canola oil

1

small

yellow onion

chopped

1

clove

garlic

minced

1/2

pound

ground turkey

1/2

tablespoon

tomato paste

1/2

teaspoon

paprika

1/4

cup

homemade chicken stock or low-sodium chicken broth

Kosher salt and freshly ground black pepper to taste

Corn or canola oil for frying
Instructions
To make the dough:
Combine the flour and salt in your food processor and pulse a couple of times. Add butter and pulse until it resembles coarse meal.

Lightly beat the eggs with the water and vinegar. Add to flour crumbs and pulse until dough forms. Turn the dough onto a lightly floured work surface and gently knead for 2 minutes. Wrap the dough in plastic wrap and refrigerate for 1 hour.
To Make the filling:
In a large skillet, heat oil over medium heat. Add onion and garlic and cook until onion softens. Add ground turkey, crumble and cook until pink is gone. . Drain of grease. Stir in tomato paste then add stock or broth and paprika simmer until the liquid almost evaporated, about 3 minutes. Season to taste with salt and pepper. Remove from the heat and let cool.
Assemble the empanadas:
Roll the dough on a generously floured work surface until it's about 1/8 inch thick. Cut the dough into 3-inch rounds with a floured biscuit cutter or glass, stamping out as many rounds as possible. Roll out any dough scraps and cut out additional rounds if possible. Brush any excess flour from the dough rounds.

Working with 1 round at a time and keeping the rest covered with plastic wrap, spoon about 2 teaspoons filling on one side of the dough round. Fold the dough over to enclose the filling and crimp the edges with a fork to seal. Cover with plastic wrap while you form the remaining empanadas. [The filled, uncooked empanadas can be frozen on a baking sheet, and stored in an airtight plastic bag or container for up to a month. You'll need to bake the unthawed empanadas, rather than fry them, in a 350°F (176°C) oven for 20 to 25 minutes.]

Preheat the oven to 200°F (93°C). Pour enough oil into a deep-sided pot to reach a depth of about 1/2 inch and heat until it registers about 325°F (163°C) on a deep-fry or candy thermometer.

Fry the empanadas in small batches, turning them once, until browned and crisp, about 2 minutes per side. Transfer the empanadas to paper towels or a brown paper bag to drain for a few moments, and then transfer to a baking sheet. Place the fried empanadas in the oven to keep warm while you fry the remaining empanadas. Serve at once.
Nutrition
Calories:
288
kcal
|
Carbohydrates:
25
g
|
Protein:
11
g
|
Fat:
15
g
|
Saturated Fat:
8
g
|
Cholesterol:
92
mg
|
Sodium:
344
mg
|
Potassium:
165
mg
|
Fiber:
1
g
|
Vitamin A:
505
IU
|
Vitamin C:
1
mg
|
Calcium:
17
mg
|
Iron:
1.9
mg