The Ultimate Pub Bacon Cheddar Burger is here! Jazzed up with Cowboy Rub, thick cuts of peppered bacon, aged cheddar and crispy onion rings, your summer grill has never had it so good. If you love burgers, definitely try these Black Bean Burgers, Mango Jerk Salmon Burgers and the Best Latin Burger.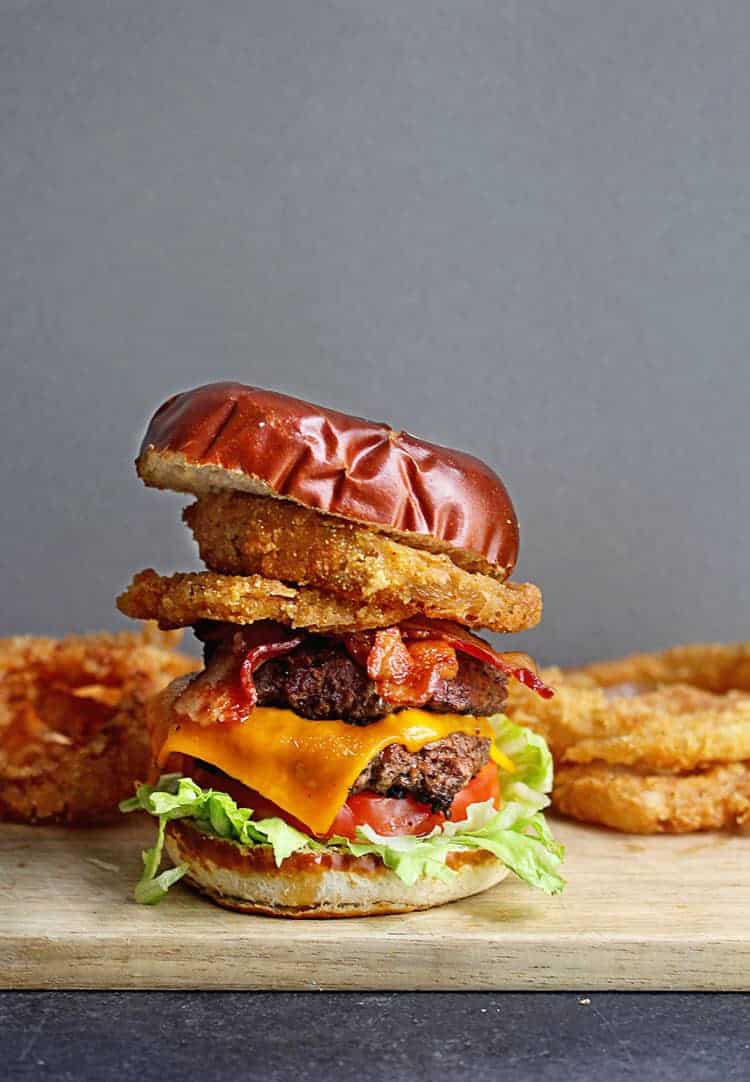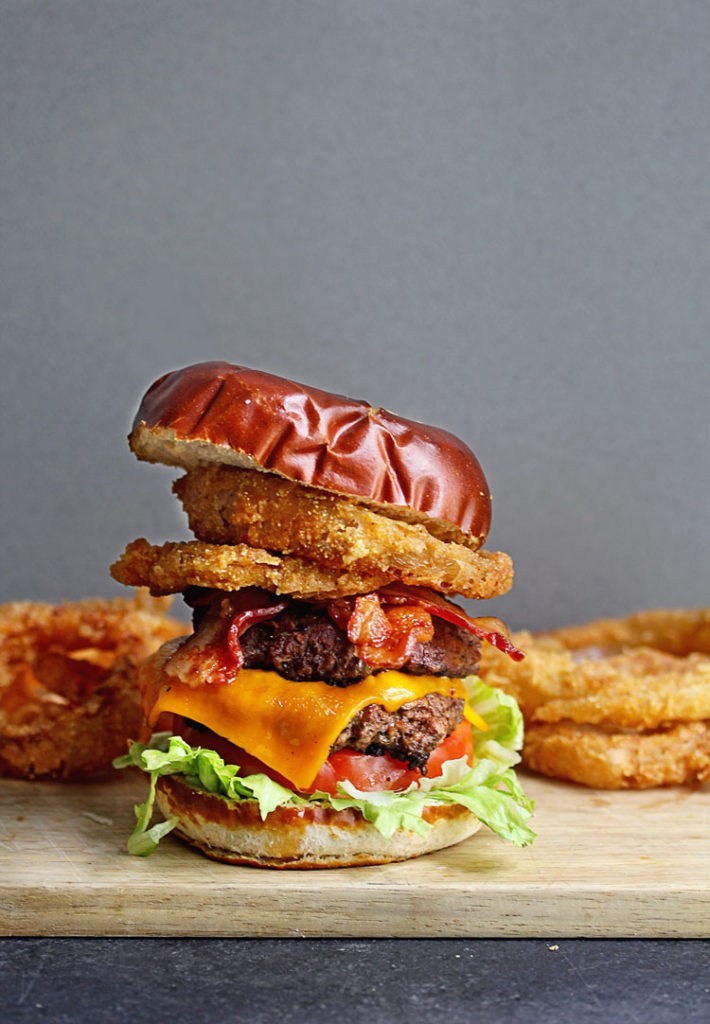 Grilling season is in the building and y'all, I can't contain my excitement! After surviving yet another Chicago winter, I couldn't be more ready for warm weather and Summer holidays. So, I've decided it's time to make a grilled masterpiece worthy of a celebration. Please welcome the Ultimate Bacon Cheddar Burger!
This is the burger of my dreams. It reminds me of the classic neighborhood pub burgers that I come back to time and time again. Made with a mix of ground beef and sirloin, its patty is juicy and flavorful while also featuring a slightly charred taste. The rest of this burger is built using high quality cheese, thick cuts of peppered bacon and delicious golden crisp onion rings on top of doughy, salty pretzel buns.
When it comes to this burger, all that's needed is one bite to make the experience unforgettable. Let's get grilling!
THE ULTIMATE BACON CHEDDAR BURGER
For this burger, totally bucked tradition and used McCormick Grill Mates Cowboy Rub. You might be thinking, "Why a spice rub on burgers instead of steak or ribs?" Well, let me tell you it amps up the flavor like nothing else and gives the burgers this insane caramelized crust on the outside! It is officially time to take your burgers to the next level, and using a spice rub is the way to do it.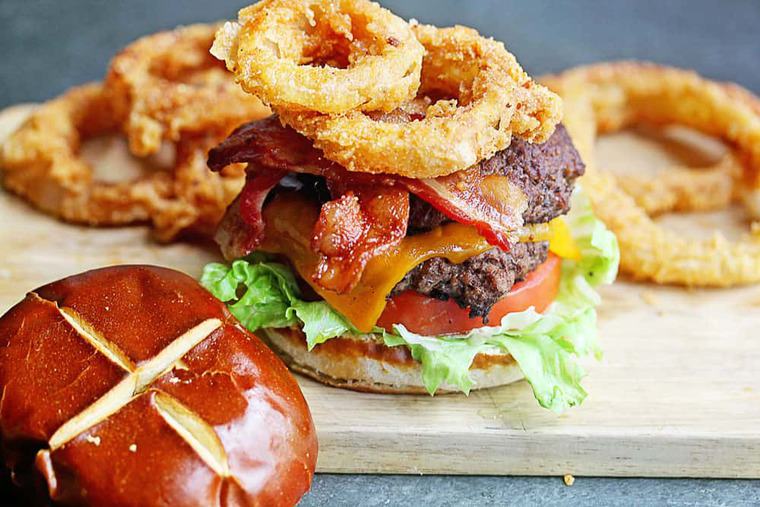 HOW TO PERFECTLY GRILL A BURGER
It has taken me quite some time (and a whole lot of practice) to be able to confidently grill up a burger. There are a hundred and one ways to grill a burger but, I find that it's more important to focus on what NOT to do.
By following these three simple rules you can guarantee a tender, juicy result.
Don't Over-Handle the Meat
Use gentle hands to create the meat mixture; avoid further mixing after the ingredients are well-combined. If you over-work the meat the resulting burger will be tough.
Flip the Burger Just Once
While on the grill, a burger only needs to be flipped once. To achieve medium-rare, cook for 3 minutes on each side. Add a minute to each side for the next level of doneness. Attempting to flip more than once will prevent the meat from cooking evenly and developing color.
Don't Flatten
No matter what, do not use the spatula to flatten the patty while cooking. Doing so will only release juices and dry out the burger.
If you're concerned about a domed top on your patty, simply use your thumb to imprint the middle of the meat before grilling. In one easy move you ensure an even, flat yet still juicy patty.
Voila! You now have the tools to be a grill master just like moi!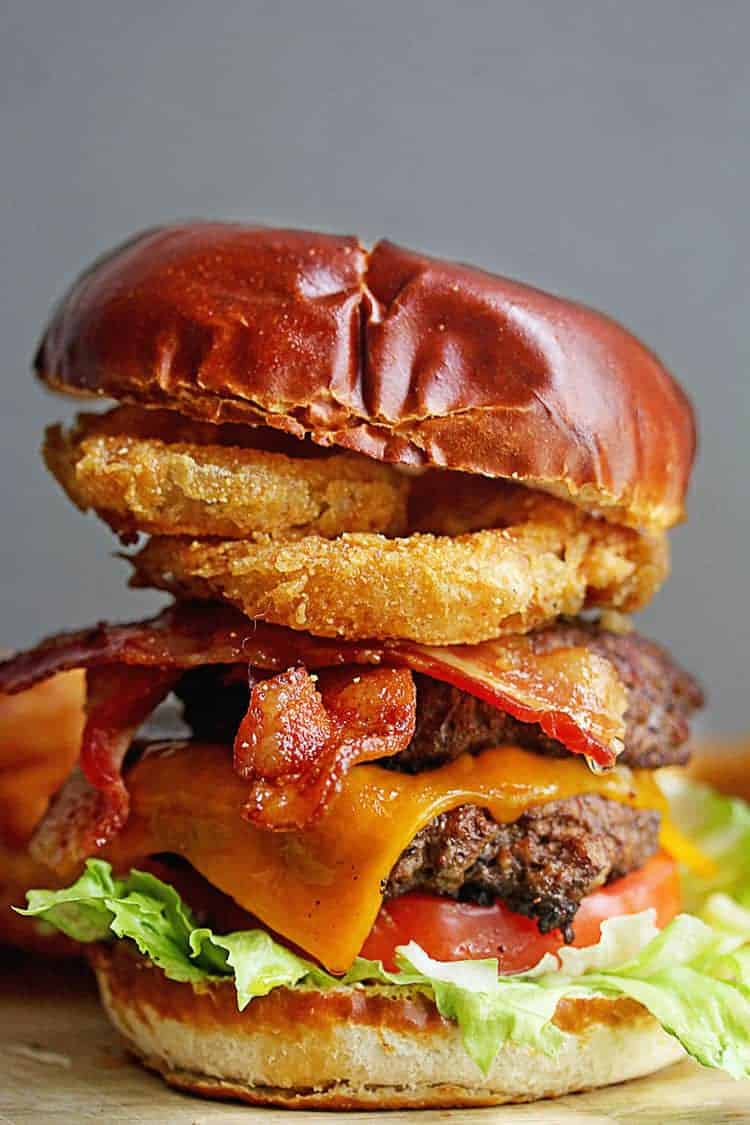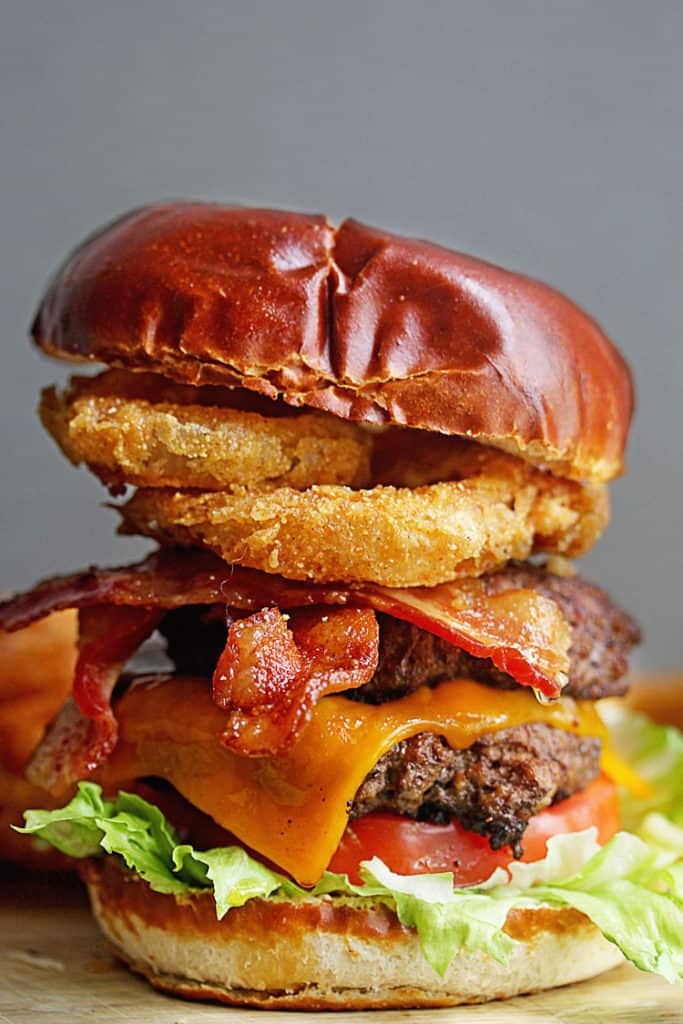 HOW TO BUILD A BACON CHEDDAR BURGER
Burgers are all about its layers! There's something so satisfying about stacking a burger high with all my cheesy, crispy, smokey and salty favorites. Not only is this burger delicious but it showcases my personality in such a fun way!
Here's what you'll need to make the magic happen:
Cowboy Rub
Cowboy Rub contains spices such as ground garlic, various peppers, coffee, cocoa powder and a hint of hickory smoke. Imagine all of that deliciousness in your burgers!
Aged-Cheddar Cheese
After grilling the patties to perfection, I added a slice of aged cheddar cheese to each patty. The flavor was so rich and smooth and melted like a dream. I strongly suggest getting a high quality cheese for this burger.
Peppered Bacon
For the bacon, I went with thick cut black pepper slices; the ground pepper adds a delightful bite. To evenly cook them, I put them in the oven instead of cooking them in a skillet. Once you start baking bacon, you never go back to stovetop my friends. It comes out evenly crisp throughout every single slice.
Onion Rings
I went for the win by topping the burgers with my favorite crispy fried onion rings. With a hint of cornmeal and a spicy note of paprika and cayenne, these are golden brown, crunchy and absolutely sensational. You can certainly skip the homemade route and just buy some frozen ones but if you have the time, I beg you go to the homemade route with my recipe.
This Ultimate Bacon Cheddar Burger recipe is now at the top of my list this grilling season, and I know it will be at the top of yours after you give it a try.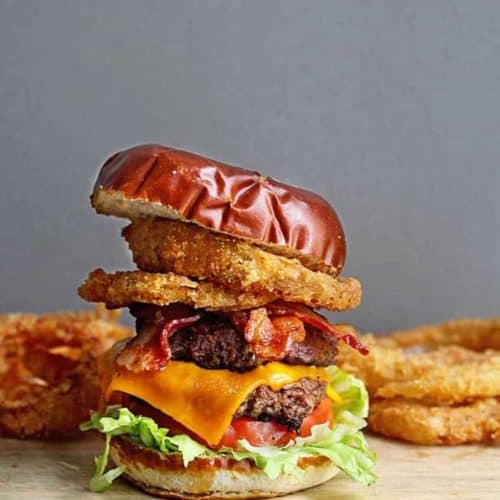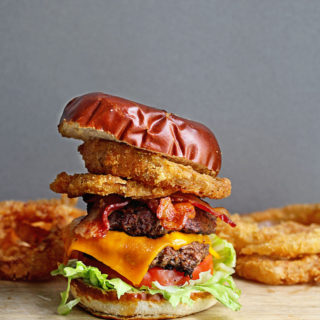 Ultimate Bacon Cheddar Burger
The Ultimate Pub Bacon Cheddar Burger is here! Jazzed up with McCormick Grill Mates Cowboy Rub, thick cuts of bacon, aged cheddar and crispy onion rings, your summer grill has never had it so good.
Print
Pin
Rate
Ingredients
8

slices

thick cut black pepper bacon

8

ground sirloin burger patties

McCormick Grill Mates Cowboy Rub

8

slices

aged cheddar cheese

4

toasted pretzel roll buns

Optional: Lettuce and tomato for garnish
Instructions
Preheat oven to 400 degrees and also preheat your grill to medium high heat.

On a parchment lined baking sheet, evenly lay bacon slices on the surface.

Bake bacon for 15-20 minutes until deep brown and evenly crispy. Remove from oven and pat bacon on paper towels to remove bacon fat. Break each slice in half.

Season all sides of patties with Cowboy Rub and pat into the surface of the meat.

Grill all burgers on both sides until reaching desired doneness.

Add a slice of cheese on each individual burger patty, allow to melt then remove patties from grill.

To assemble, (optional) place lettuce and tomato on each bun bottom.

Place two patties on top of lettuce and tomato then add four bacon halves to each burger.

Lastly add two onion rings on top of bacon and finish with top bun on each burger and serve.
Notes
Feel free to change the cheeses you use and even the type of bacon and onion rings.  Sauteed onions would work wonderfully with this recipe too!
Nutrition
Calories:
1012
kcal
|
Carbohydrates:
42
g
|
Protein:
56
g
|
Fat:
68
g
|
Saturated Fat:
31
g
|
Cholesterol:
202
mg
|
Sodium:
770
mg
|
Potassium:
1376
mg
|
Fiber:
7
g
|
Sugar:
18
g
|
Vitamin A:
575
IU
|
Vitamin C:
32.6
mg
|
Calcium:
521
mg
|
Iron:
5.8
mg