Pears, polenta, and almonds make a great team, and this cake might just be their greatest collaboration! Today's tender, fruity, and down right delicious Pear Polenta Almond Cake is a must-make recipe! If you love this easy cake, you will also love this Easy Cornmeal Cake, Simple Sweet Potato Pound Cake Loaf and Hot Milk Cake.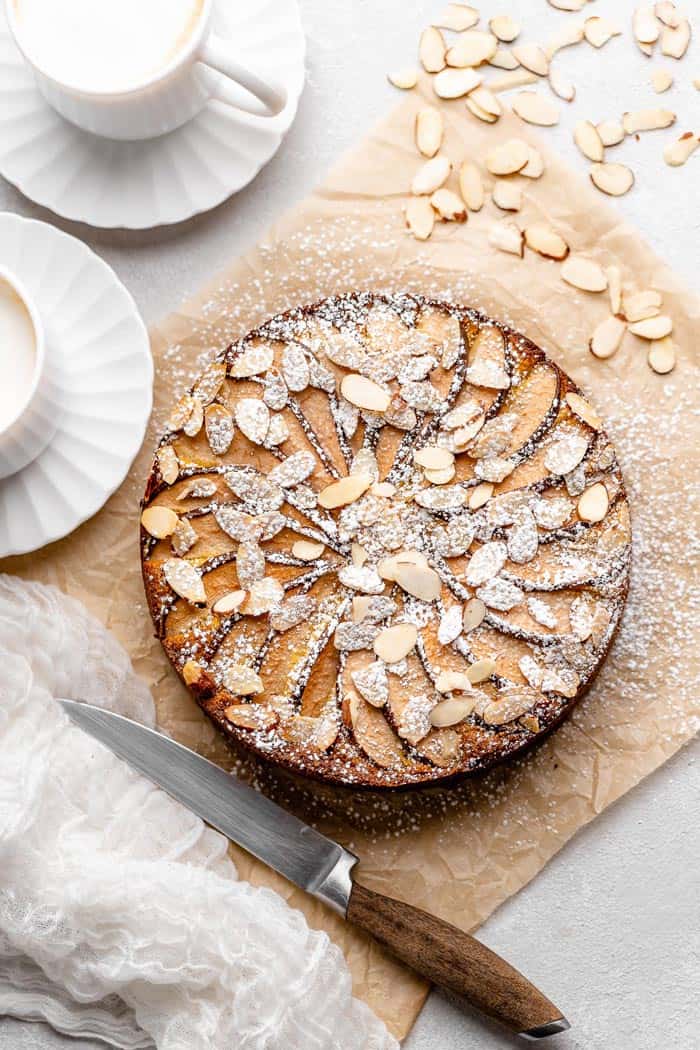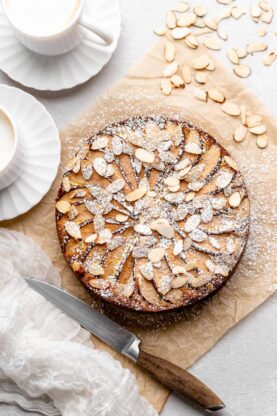 Every now and then, I come across a recipe that knocks me off my seat. I'm talking so good that I ate the crumbs and went to bed wishing there was more. And y'all, today's recipe is all that and some.
This Almond Cake with Pear and Polenta is understated yet extravagant, and its simple ingredients all stand out in their own way. Each bite of this dessert is delicate, buttery, and balanced. This is a great snacking cake served with tea or coffee!
If you're looking for a cake that celebrates the bright, sunny beginnings of Spring, stop right here because I've got something for ya.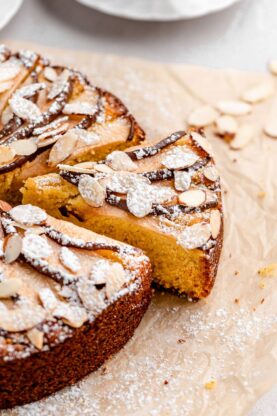 SIMPLY JULIA
Today's almond cake recipe is a masterpiece crafted by none other than New York Times best-selling cookbook author Julia Turshen. Julia's latest release, Simply Julia, features a collection of recipes that offers a healthier take on the easy, comforting food she's so well known for. Filled with over a hundred foolproof recipes, Simply Julia is an incredible tool for home cooks and bakers who want to rearrange their routine and introduce a variety of new flavors into their kitchens.
I've found myself reaching for this book night after night, excited to explore something new. Julia's endlessly satisfying recipes have already become a staple in my home. I can't wait to delve into more recipes, and I'm so thrilled that I get to share one today with y'all!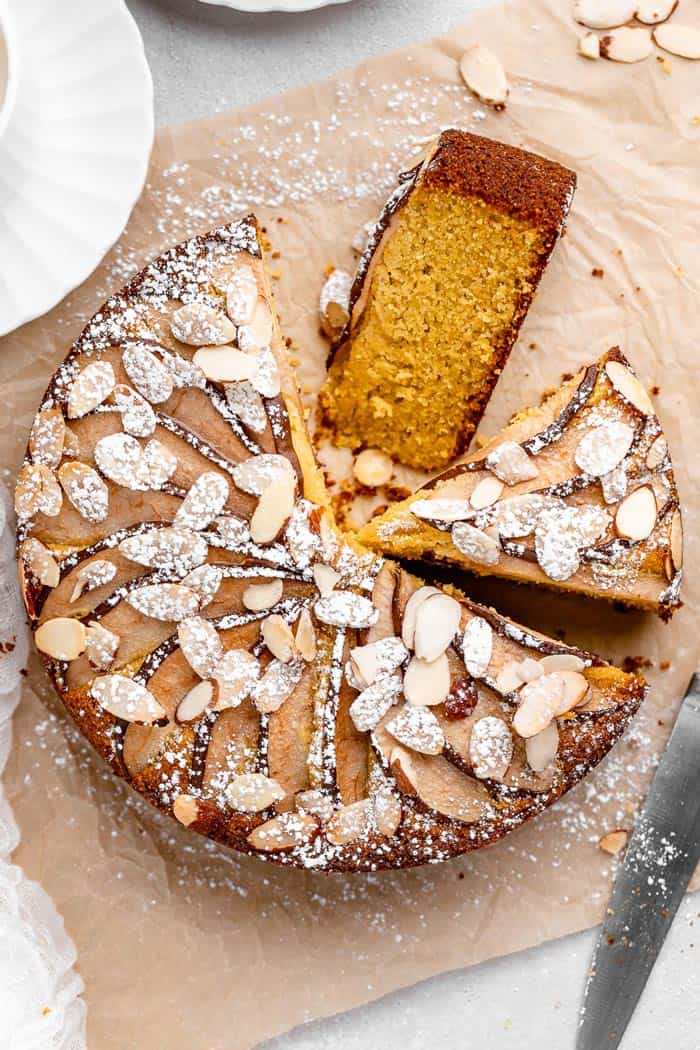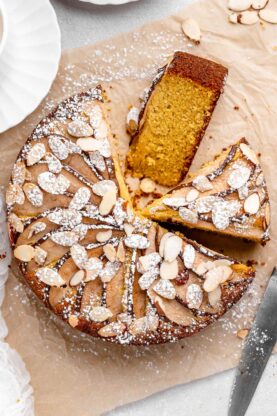 ALMOND CAKE INGREDIENTS
The best way to begin a recipe is by breaking it down. Whenever I set out to make something new, I make sure to read through the recipe and get to know my ingredients. The extra time spent is worth it! Trust me, give it a try.
Yellow Cornmeal flavors this cake and gives it a similar texture to that of cornbread. I recommend using a fine cornmeal for a more tender result.
Almond Flour adds subtle color and a toasty nut flavor to this cake.
Baking Powder is our leavener here. Make sure it's fresh and active!
Salt enhances flavor. Kosher salt is best.
Eggs create structure and add moisture.
Olive Oil is such a decadent addition to any baked good. Buttery, sweet, and smooth, olive oil adds a unique texture and flavor.
Pear Baby Food seems a bit strange, but it's surprisingly incredible. Juicy and sweet, pears add a subtle yet fruity flavor.
Almond Extract introduces a flavor that's hard to explain. It's similar to vanilla extract but a bit more earthy and potent.
Granulated Sugar sweetens the cake just slightly. Fruit does the rest of the work.
Fresh Pear not only adds a satisfying bite to the cake, but it also makes for a gorgeous presentation.
Blanched Sliced Almonds offer an exceptional texture and, again, a beautiful topping.
Powdered Sugar is just so fun to sprinkle on!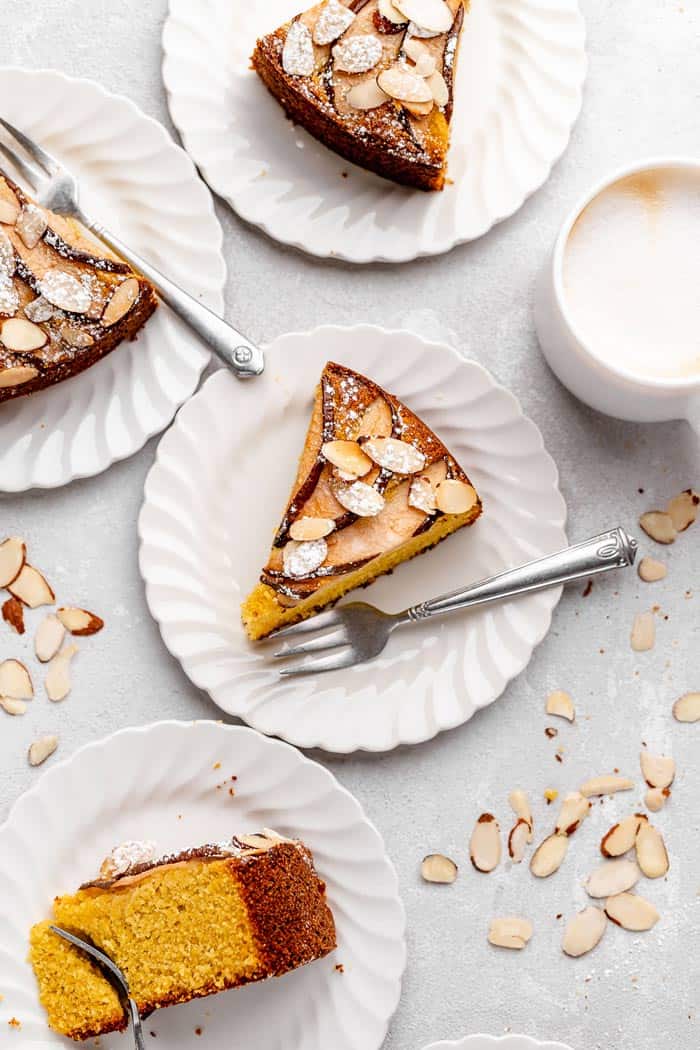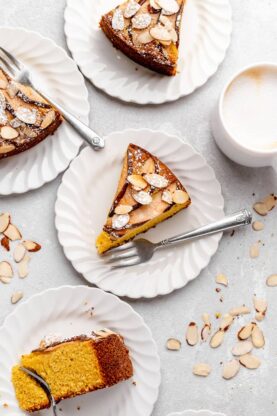 HOW TO MAKE A ALMOND PEAR POLENTA CAKE
Making a polenta cake or even an almond cake is as simple as greasing up a pan, stirring up a batter, and baking! Okay maybe there's one or two more steps in between, but honestly, this recipe is crazy easy to whip up.
Here are a few baker's tips to keep in mind as you go:
You do not want to overmix this batter, so be sure to only mix until combined. If you go past that, the batter will thicken and the cake will be tough.

Use room temperature eggs- they'll make for a more tender cake.

High-quality olive oil can make all the difference. Go with something light, floral, and buttery.

Be sure to use a fairly ripe pear. A riper pear will release more sugar and caramelize as it cooks.

Start checking the cake for doneness after about an hour. Use a toothpick and go between the pears.

Be patient and let the cake come to room temperature before serving. The flavor is better, the texture is more pleasant, and the fruit has time to set a bit.

STORAGE INSTRUCTIONS
This almond cake is super moist and doesn't dry out very quickly! If stored in an airtight container or tightly wrapped in plastic, polenta cake will keep for 3-4 days. The container should be stored in a cool place, or in the refrigerator. If you need to keep it in the fridge, be sure to remove it about 2 hours before serving, so it can come to room temperature.
GRANDBABY CAKES' LOVELY CAKES
Spring is the best baking season of the year! Take advantage with a few more fruity recipes: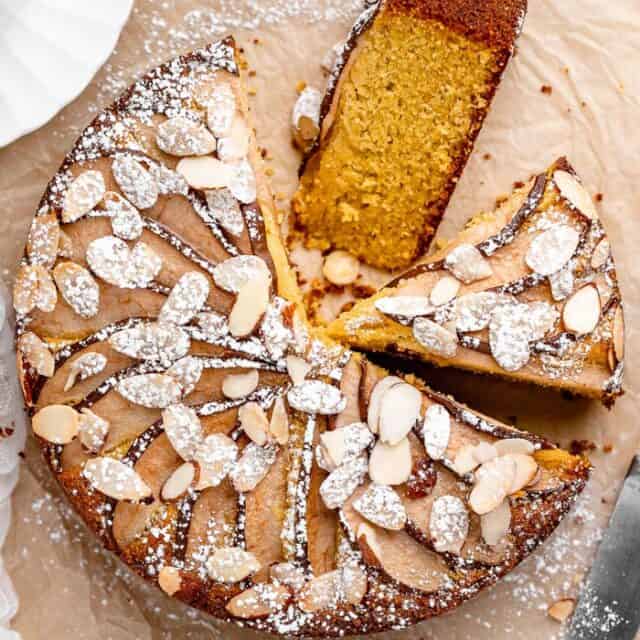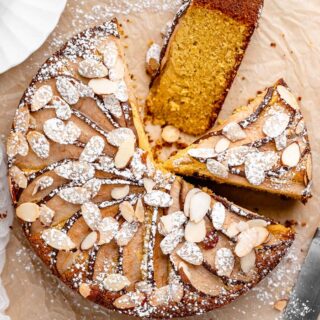 Pear Polenta Almond Cake
Pears, polenta, and almonds make a great combination in this one layer tender, moist and fruity polenta almond cake that's down right delicious and so easy!
Print
Pin
Rate
Ingredients
For the Cake
Cooking spray

my preference is olive oil spray but you can use whatever you have on hand

1 1/2

cup

[195 g] yellow cornmeal

1 1/2

cup

[165 g] almond flour

2

tsp

baking powder

1/2

tsp

salt

2

large eggs

3/4

cup

[180 ml] olive oil

8

oz

[113 g] pear baby food

in 2 (4 oz) jars

1/2

tsp

almond extract

or just 1/4 tsp if you just want a whisper

1/2

cup

[100 g] granulated sugar
For the Topping
1

large firm pear (any type)

cored and cut into 1/4 inch slices (no need to peel)

3

tbsp

blanched sliced almonds
Instructions
First preheat your oven to 350 degrees.

Spray an 8 inch cake pan with cooking spray and set it aside. To make the cake easier to remove later, cut a piece of parchment into a long strip measuring roughly 2 inches [5 cm] wide and 12 inches [30 cm] long. Press it on the bottom of the pan, coat it with a quick spritz of cooking spray, and let the excess stick up so once you pour the batter into the pan and bake it, you'll have two little handles to help you lift the cooled cake out later.

Next, make the cake batter. Place the cornmeal, almond flour, baking powder and salt in a medium bowl and whisk well to combine.

Place the eggs in another large bowl and whisk well. Whisk in the olive oil, pear baby food, almond extract and sugar.

Stir the dry mixture into the wet mixture and then transfer the batter to the prepared pan and use a spoon to spread it out so that it's in an even layer.

Then top the cake. Fan the pear slices on top of the batter in a nice pattern, but don't stress about it - it doesn't have to be perfect- just make sure the slices are in an even layer so that they bake evenly (it's okay if they overlap a bit).

Evenly sprinkle the sliced almonds on top.

And bake. Bake until exposed cake bits are dark golden brown and the whole thing looks delicious and a toothpick tests clean (poke in between the pear slices so it does't get soggy), about 1 hour and 10 minutes.

Let the cake cool to room temperature, preferably on a wire rack to speed up cooling, and then use those little parchment handles to lift it out and transfer it to a serving dish. Dust lightly with powdered sugar (if using), cut into wedges, and serve at room temperature. Seriously, wait for it to cool. It will crumble too much if you try to slice it while it's warm. Leftovers keep well wrapped in plastic at room temperature for up to a few days.
Notes
This almond cake is super moist and doesn't dry out very quickly! If stored in an airtight container or tightly wrapped in plastic, polenta cake will keep for 3-4 days. The container should be stored in a cool place, or in the refrigerator. If you need to keep it in the fridge, be sure to remove it about 2 hours before serving, so it can come to room temperature. 
Nutrition
Calories:
417
kcal
|
Carbohydrates:
37
g
|
Protein:
8
g
|
Fat:
28
g
|
Saturated Fat:
3
g
|
Trans Fat:
1
g
|
Cholesterol:
33
mg
|
Sodium:
132
mg
|
Potassium:
259
mg
|
Fiber:
6
g
|
Sugar:
14
g
|
Vitamin A:
3582
IU
|
Vitamin C:
2
mg
|
Calcium:
92
mg
|
Iron:
2
mg