A Southern potluck classic, Ambrosia Salad is a delightfully refreshing dessert or snack! This iconic fruit salad is made of pineapple chunks, mandarin slices, maraschino cherries, mini marshmallows, and lots of creamy cool whip!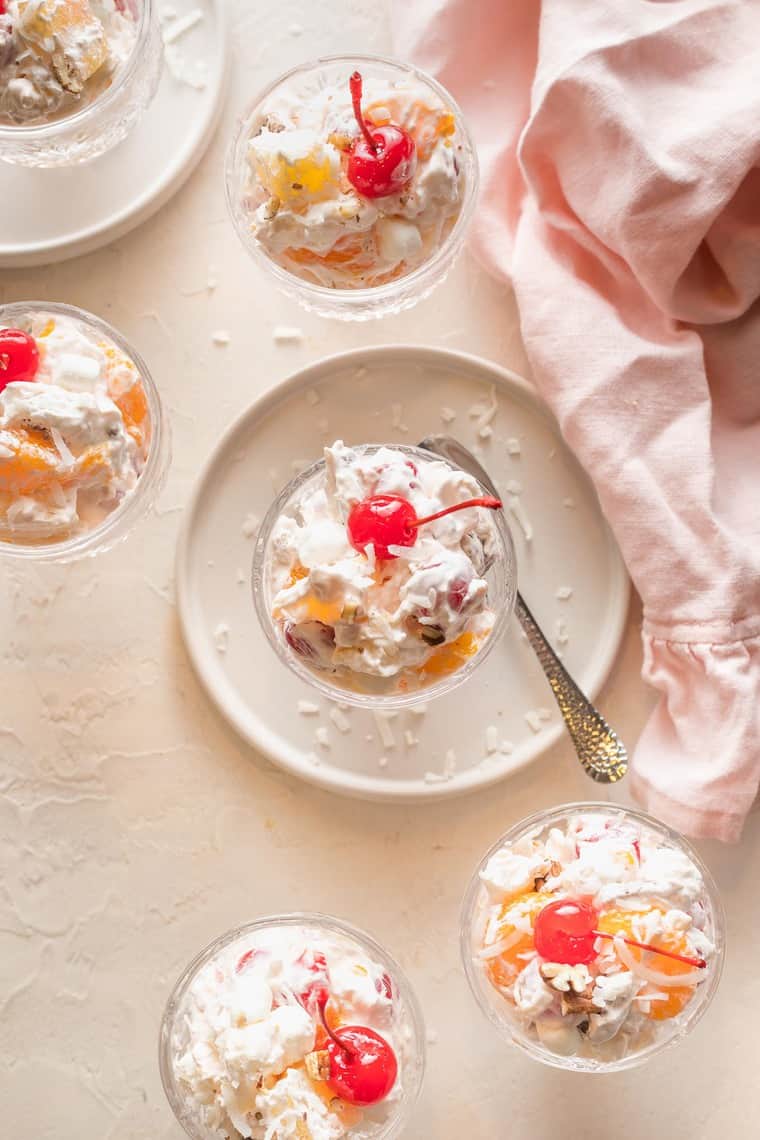 Ambrosia salad seemed to always be around when I was kid. It always seemed to pop at family gatherings or school drives and potlucks. I never quite understood it though. Why eat fruit salad mixed with marshmallows and whipped cream?
But then, I tried it for the first time and y'all I haven't looked back since. A spoonful of this stuff is like a sweet scoop of heavy.
The burst of acidic fruit juice, the chewy marshmallows, the creamy cool whip, and toasted coconut all come together to create something so uniquely delicious.
Don't knock it until you try it!
What Is Ambrosia Salad?
Ambrosia is basically a different version of fruit salad. Commonly found in the American South and Midwest.
Made with a mixture of fresh fruit and sweet, creamy ingredients, it's a sweet and refreshing treat that's perfect for any occasion. Whether you're looking for a summertime dessert or a sweet ending to a meal, southern ambrosia is sure to hit the spot.
The flavors are light and refreshing, with a balance of sweetness and fruitiness.
Perks & Highlights of This Ambrosia Salad
Cuisine Inspiration: Southern American
Primary Cooking Method: Mixing/Chilling
Dietary Info: Gluten-Free, Vegetarian
Key Flavor: Sweet, Creamy, and Fruity
Skill Level: Easy
Special Perks:
Quick and Simple: No cooking involved — just simple mixing, making it perfect for last-minute gatherings or sudden dessert cravings.
Versatile Fruit Choices: While there's a traditional set of fruits used in Ambrosia Salad, feel free to mix and match with what's seasonal and available.
Make-Ahead Friendly: This dish tastes even better when the flavors meld, so making it a few hours ahead or even the night before is perfect!
Kid-Friendly: With its sweet flavors and colorful appearance, it's a hit among the little ones, making it a family-friendly option for any occasion.
Light and Refreshing: Despite its creaminess, Ambrosia Salad feels light and refreshing, perfect as a palate cleanser or a sweet ending to a heavy meal.
Remember, the joy of Ambrosia Salad is in its simplicity and the quality of the ingredients, so choose fresh fruits and good-quality cream for the best results!
History
Fun fact: the word Ambrosia derives from Ancient Greek Mythology. Its meaning is a little obscure but, generally, it translates to food of the Gods or food that is pleasing to the senses.
It's hard to know where the original recipe comes from but it's said that the first ambrosia salad was made in Vermont in the late 1800's. How this creamy-fruity delight traveled across the US and into the homes of so many Americans I don't know!
But today ambrosia salad is a staple recipe in many Southern homes, including my own.
Ingredients
Homemade ambrosia salad is made with less than 10 ingredients. Nothing fancy or expensive either! Just easy to find stuff that you might just already have on hand! There are also some replacements you can make to customize this recipe and make it your own.
PINEAPPLE CHUNKS + MANDARIN SLICES

– the fruit in this recipe can be replaced with just about your fruit of your choice. Swap the mandarins for orange or grapefruit. Mix things up by adding kiwi, strawberry, mango, bananas, or grapes. Do you boo!

MARASCHINO CHERRIES-

fresh cherries can also be used here but maraschinos just have that childhood-like quality I love.

COOL WHIP-

I'm a little obsessed with cool whip's light and airy texture. Feel free to swap it with homemade whipped cream or even a coconut based whip for my dairy-free folk.

SOUR CREAM-

I know, this addition might seem a little strange but trust me sour cream adds a lovely tang to this recipe. You can omit it if you'd like or swap it with Greek yogurt!

MINI MARSHMALLOWS-

I may be grown but I'm not above a few sticky marshmallows but if it's not your cup of tea leave them out.

SHREDDED COCONUT-

coconut adds a nutty, toasted flavor to this fruit salad.

PECANS-

I've made ambrosia using walnuts instead and it was still delicious! That extra nutty crunch is everything. Nut allergy? Just leave it out.
How To Make Ambrosia Fruit Salad
Ambrosia Salad is super simple to make and comes together in just about 10 minutes! Of course, you'll need to chill it a bit but you know what they say y'all: the best things come to those who wait.
Here's how you make it: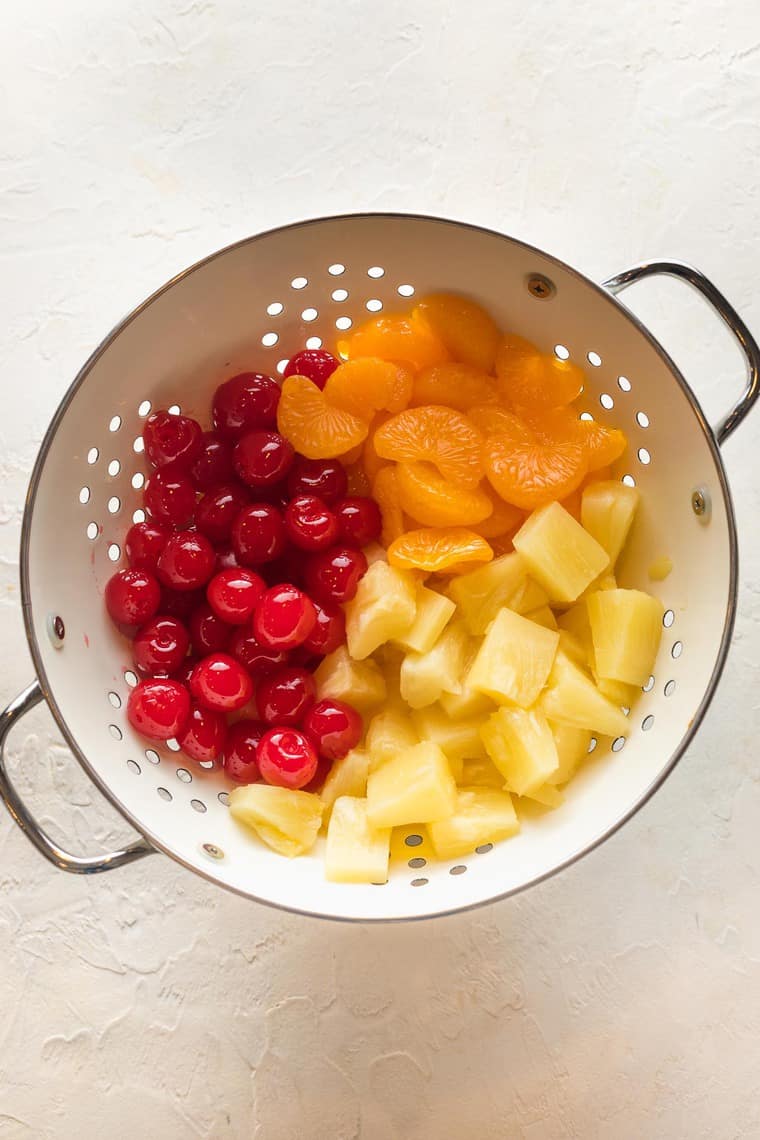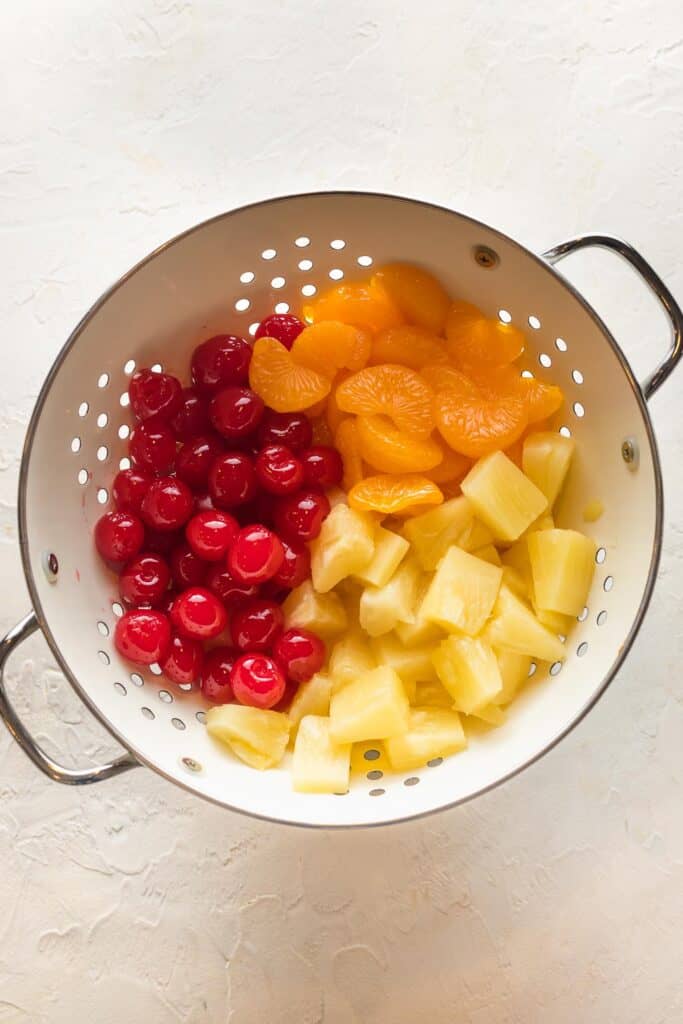 Drain the fruit.

Canned fruit sits in a syrupy liquid that you'll need to completely drain out. You can even pat the fruit dry with paper towels if you'd like. The extra liquid will prevent the cream mixture from sticking to the fruit.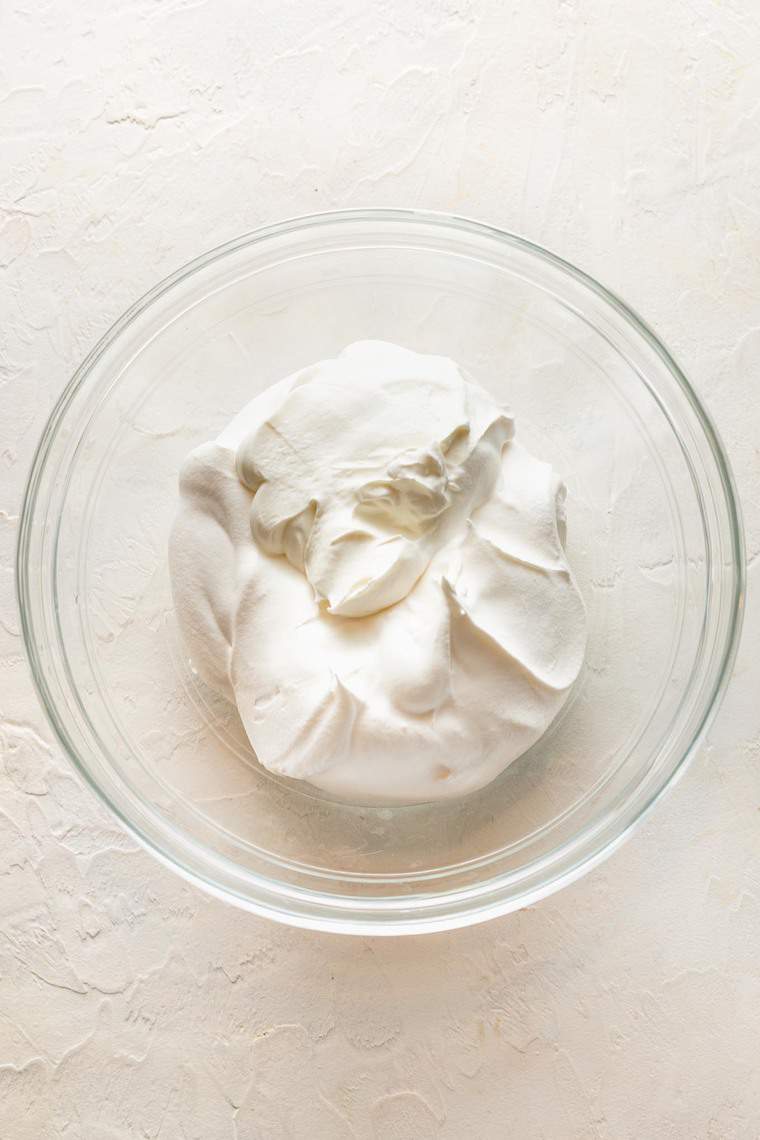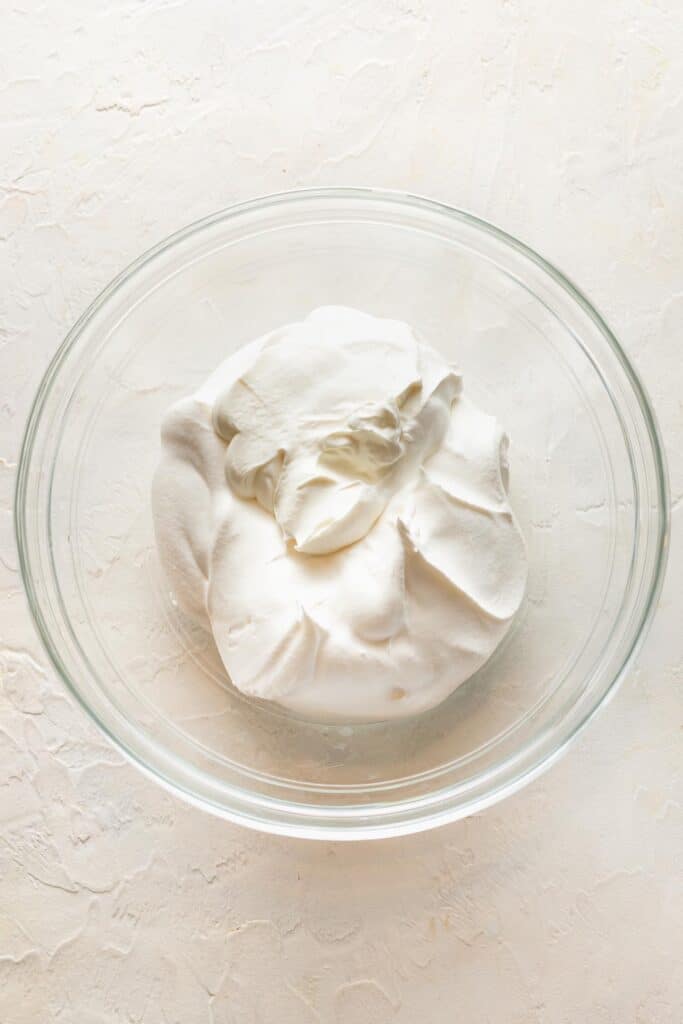 Fold together the sour cream and cool whip.

The fruit is best when mixed the least amount possible and if you add the whip and sour cream without combining first you'll have to mix more, resulting in a liquid-ey salad.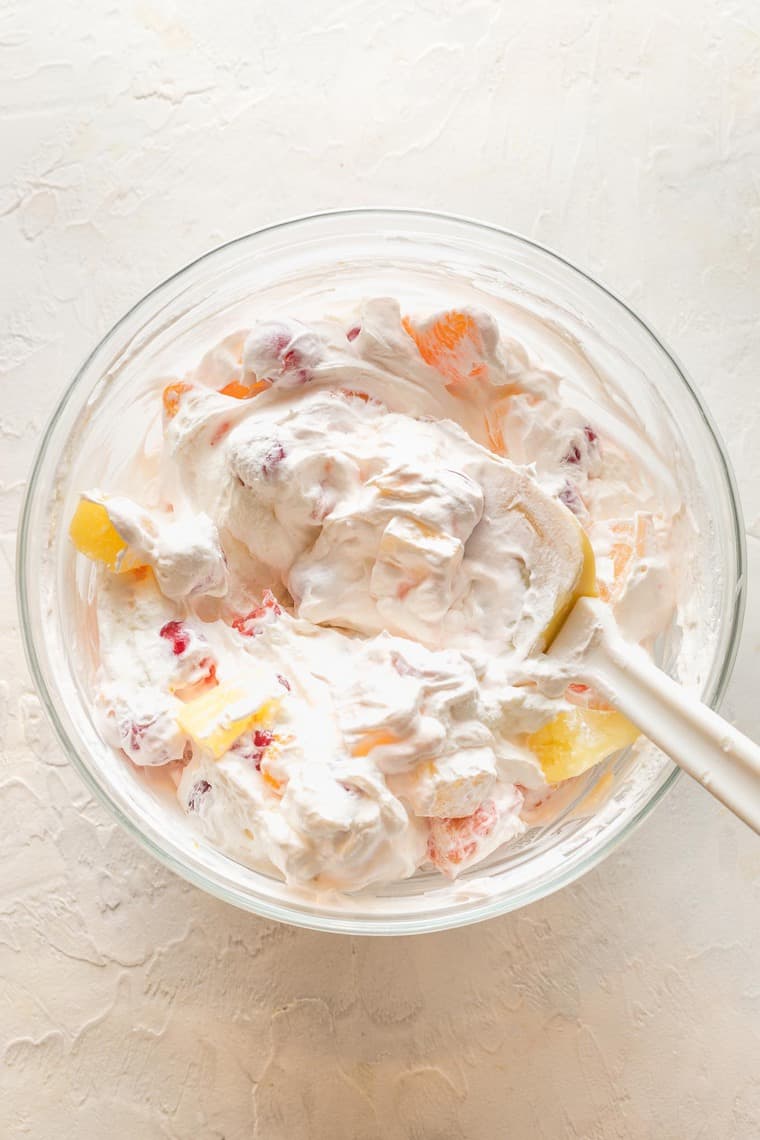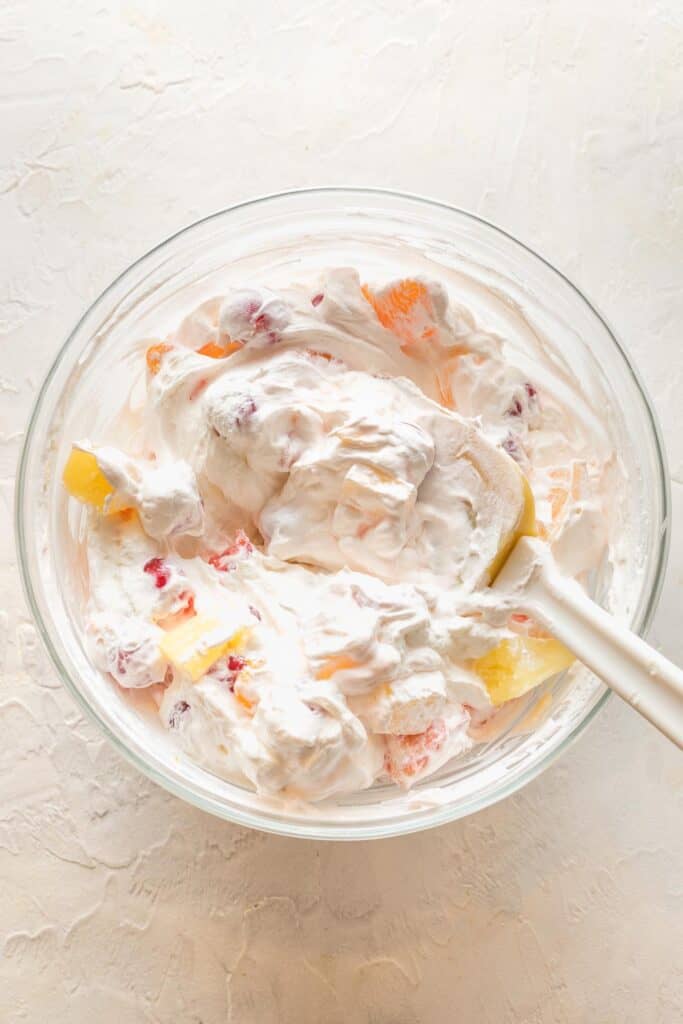 Add everything to the cream in increments.

To avoid knocking the air out of the whipped cream, add the ingredients in ⅓ increments. Basically you just add a little, then fold in and repeat until everything has come together.
SERVING TIP: reserve some maraschino cherries to garnish the top of your salad or serve on the side for those who like extra!
Vegetarian and Vegan Substitutions
For a vegetarian option, substitute the sour cream with a non-dairy alternative, such as coconut cream or almond milk yogurt.
For a vegan option, substitute the sweetened condensed milk with a non-dairy alternative, such as coconut condensed milk, and use a non-dairy sour cream alternative as well.
Using Fresh Fruit
If you'd prefer to use fresh fruit for this recipe you can totally do that! I love to do this in the Summer when fruit is especially sweet and fresh. Just be sure to pat dry the fruit to remove extra moisture.
Tips for Making Ambrosia
Ambrosia is such an easy dish to make, and here are some tips to really make yours the very best.
Use room temperature ingredients to avoid clumping and seizing.
Taste as you go and adjust the seasonings to your preference. A little extra coconut or cinnamon never hurt anyone.
Don't be afraid to get creative with your fruit choices! Try using a combination of your favorite fruits for a unique twist on the classic recipe.
Use fresh, ripe fruit for the best results.
Can You Make Ahead
Yes! Southern Ambrosia Salad can be made the day ahead before it's served. It's actually best to give the cream and fruit time to chill and commingle a bit.
How Long Does It Last?
Fresh ambrosia salad can be kept in the fridge up to 3 days. Just be sure to keep it in an airtight container! The liquids might separate and pool at the bottom but don't worry, it should still be ok.
To keep it from becoming too watery as it separates, it is best to store it in an airtight container.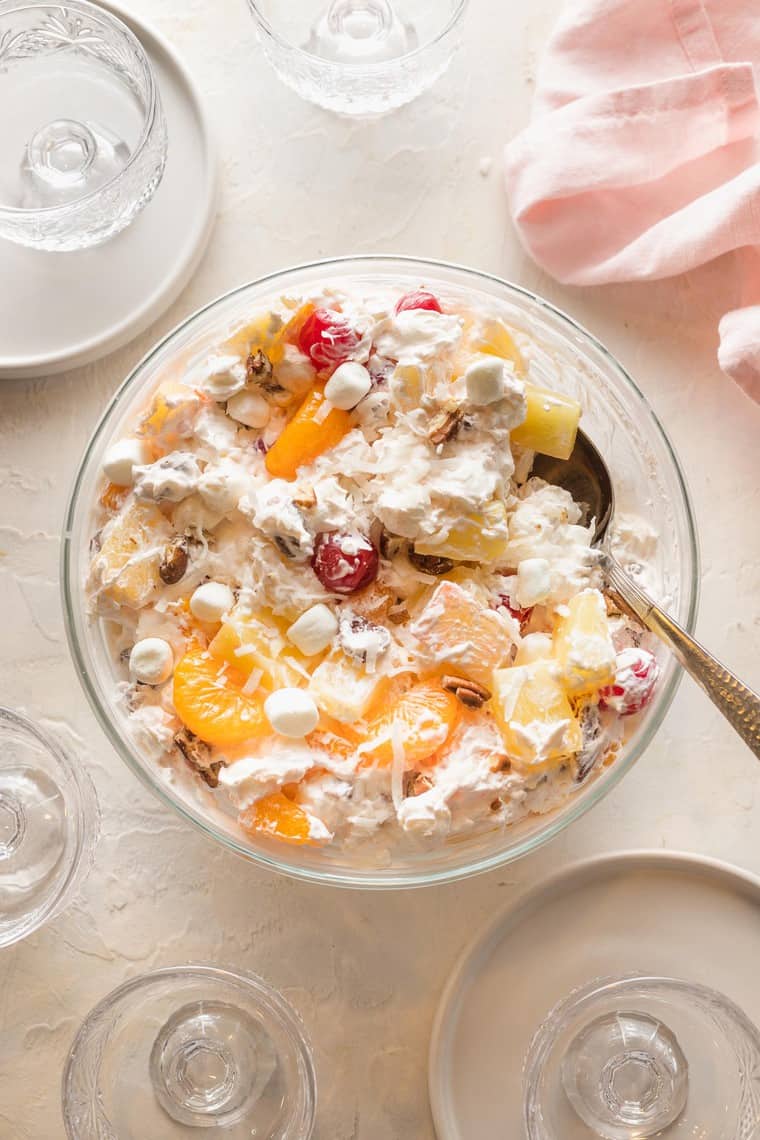 Can You Freeze It?
Honestly, I wouldn't. I find that whipped cream just doesn't retain its texture when thawed. Ambrosia salad is best served chilled and fresh.
Check Out These Salad Recipes on Grandbaby Cakes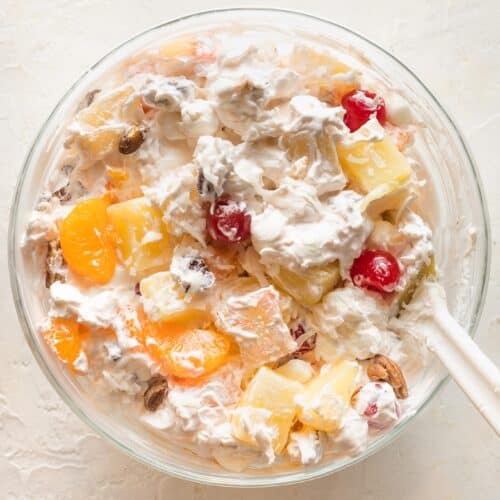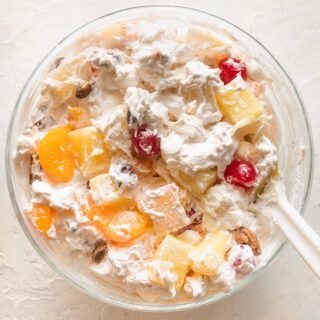 Ambrosia Salad
An Ambrosia Salad recipe is an Southern fruit salad made of pineapple, mandarin slices, maraschino cherries, marshmallows, and lots of creamy cool whip!
Print
Pin
Rate
Ingredients
20

oz

pineapple chunks

fully drained

15

oz

mandarin oranges

fully drained

1

cup

maraschino cherries

drained well

1

cup

cool whip topping

or homemade whipped cream

1/4

cup

sour cream

1

cup

mini marshmallows

1/2

cup

shredded coconut

1/2

cup

chopped pecans
Instructions
Thoroughly drain the pineapple chunks, mandarin oranges, and cherries removing as much liquid as possible.

In a large bowl, gently fold the whipped cream and sour cream together.

Slowly add the drained fruit, marshmallows, coconut, and pecans to the bowl, carefully folding in each addition.

Chill for at least an hour, then serve.
Notes
CAN YOU MAKE AMBROSIA SALAD A DAY AHEAD?
Yes! Southern Ambrosia Salad can be made the day ahead before it's served. It's actually best to give the cream and fruit time to chill and commingle a bit.
HOW LONG DOES AMBROSIA SALAD LAST?
Fresh ambrosia salad can be kept in the fridge for 3-5 days. Just be sure to keep it in an airtight container! The liquids might separate and pool at the bottom but don't worry, it should still be ok.
Nutrition
Calories:
324
kcal
|
Carbohydrates:
56
g
|
Protein:
3
g
|
Fat:
12
g
|
Saturated Fat:
4
g
|
Polyunsaturated Fat:
2
g
|
Monounsaturated Fat:
5
g
|
Cholesterol:
8
mg
|
Sodium:
42
mg
|
Potassium:
332
mg
|
Fiber:
5
g
|
Sugar:
47
g
|
Vitamin A:
634
IU
|
Vitamin C:
28
mg
|
Calcium:
94
mg
|
Iron:
1
mg