This Cobb Salad with Jerk Shrimp is LOADED with juicy shrimp, smoky bacon, tangy goat cheese, and all the best flavors of a Caribbean Summer! Each bite of this gorgeous recipe is chock-full of crisp greens and tangy Mango-Ginger Dressing! If you love this, you will also love my Vinegar Coleslaw, Ambrosia Salad, Creole Egg Salad and this Shrimp Caesar Salad!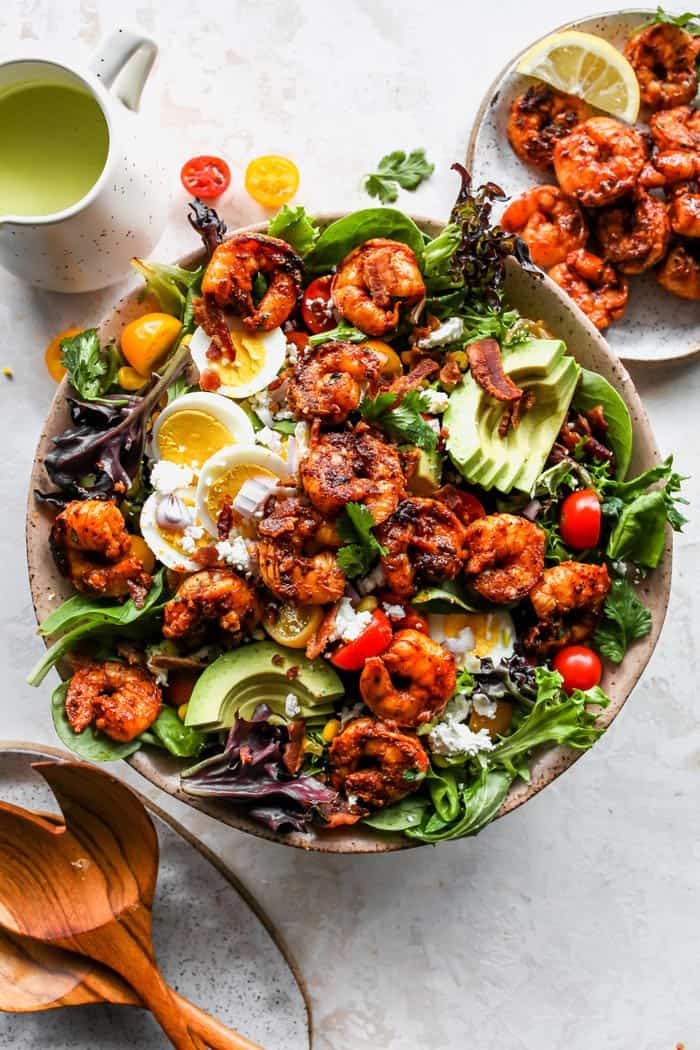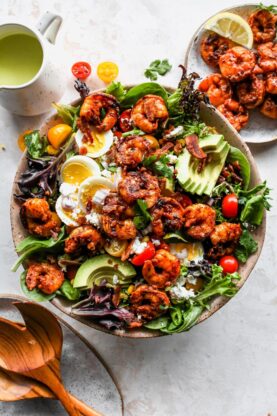 Y'all, the birds are chirping and the sun is high in the sky! I'm thrilled by the idea of hotter days and cold cocktails by the pool. After the year we've all had, we deserve a gorgeous summer and all the vitamin D our bodies can handle.
During the Summer months, I love a good salad. Instead of feeling weighed down by heavy food, I prefer to toss up some greens to stay light on my feet. But, as expected, I won't just eat any salad. I refuse to sacrifice flavor for nutrients! If anyone can bake their cake and eat it too, it's me.
Today's Jerk Cobb is a revolutionary, explosive salad that needs to be in your Summer lunch rotation. Crunchy, creamy, smoky, zesty, and just a touch sweet, this recipe gives that boring garden salad a run for its money.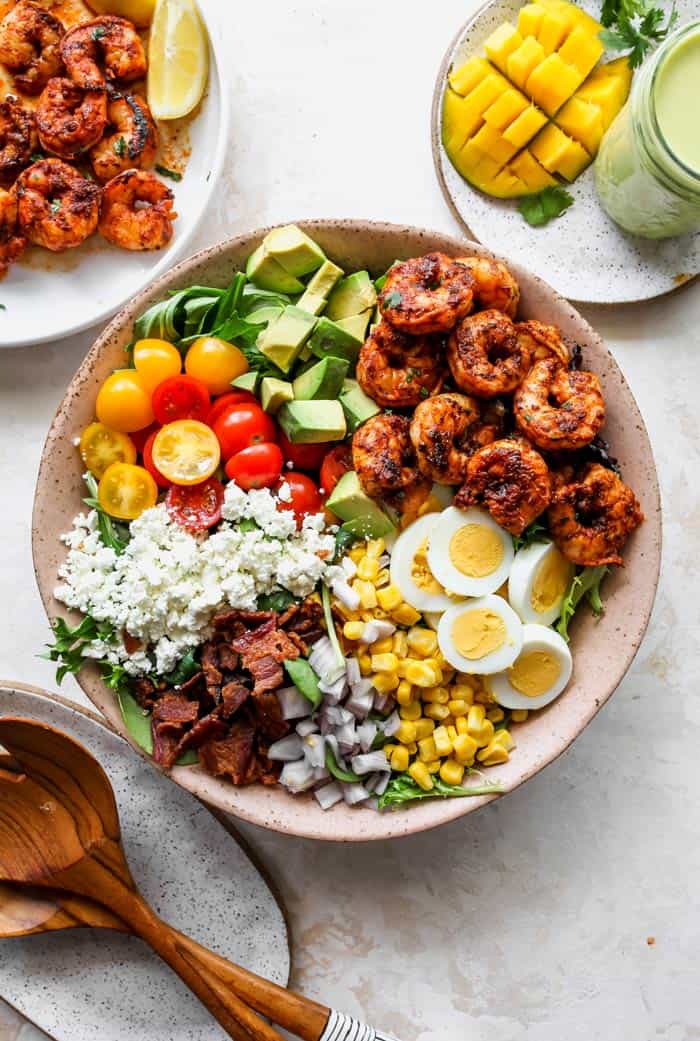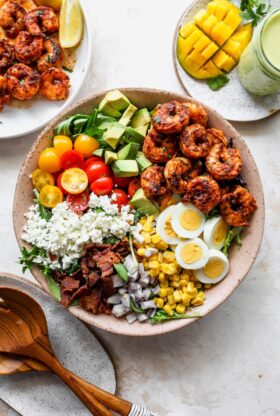 COBB SALAD INGREDIENTS
Tossing up a salad is like conducting a symphony: each instrument coming together to create a harmonious sound. As the conductor, you've gotta carefully choose your musicians and help them work together.
These are today's performers:
Bacon is the salty-smoky gift that just keeps on giving. Bite after bite is exploding with bits of this God-sent, crunchy goodness.
Shrimp takes on bold flavor with ease; it's tender texture makes for a light, pleasant bite.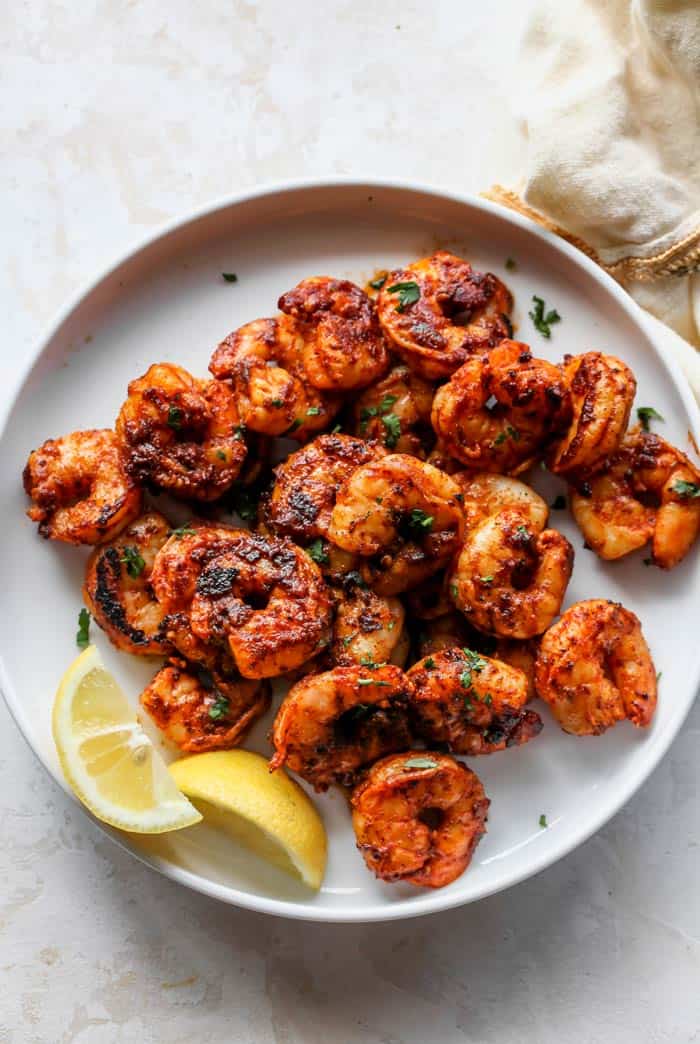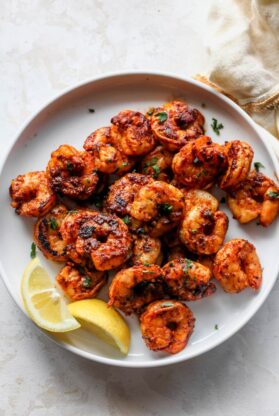 Jerk Seasoning is a specific blend of Carribean-inspired spices and dried herbs. The mixture is sweet, smoky, earthy and spicy.
Smoked Paprika adds a little extra sweet heat. Regular paprika will also do.
Lemon Zest cuts through the seasoning and brightens up the shrimp. Don't have a lemon? Try lime or orange zest instead.
Hard-Boiled Eggs offer extra protein, as well as an additional layer of texture.
Mixed Greens can be replaced with any leafy green of your choice. Microgreens, kale, spinach, or lettuce are all great options.
Avocado is slightly nutty and adds a smooth, creamy texture to the salad.
Cherry Tomatoes are juicy, colorful, and refreshing. If cherry tomatoes aren't available, use your preferred variety.
Yellow Corn Kernels add a pop of color and a subtly sweet crunch.
Shallots have a delicate and sweet flavor with a hint of sharpness. Red onion also works!
Goat Cheese Crumbles add a creamy tang that you didn't know you needed. Feta is a replacement option.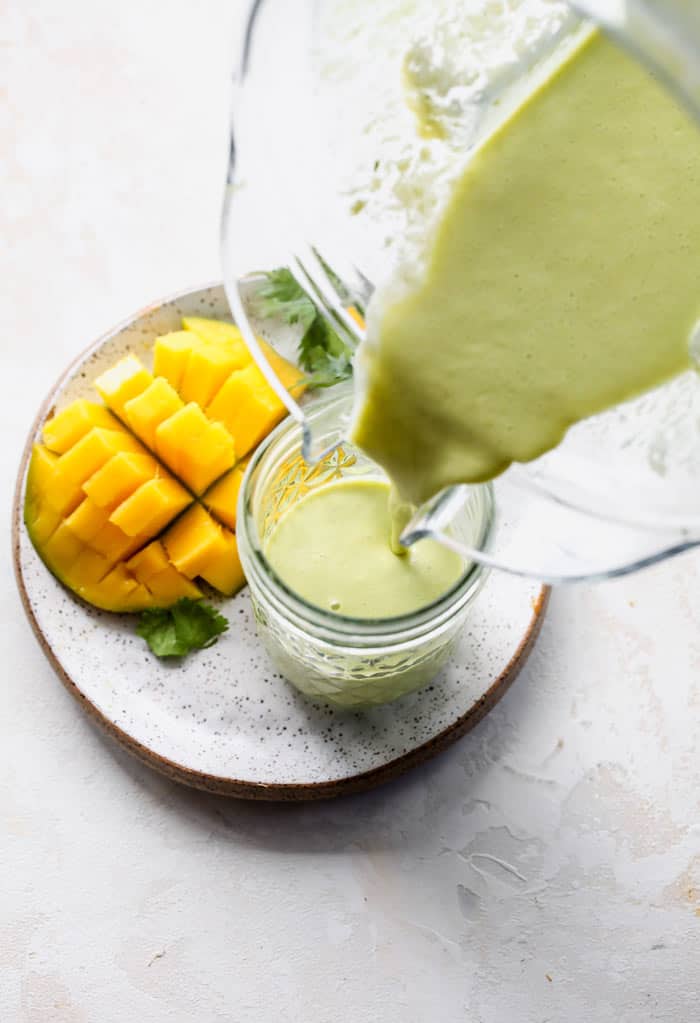 Mango-Ginger Dressing is made with sticky-sweet mango, zippy orange juice, spicy ginger, and fresh cilantro. This final layer of flavor is the icing on the cake! Delicate and savory, this dressing uplifts the entire salad.
HOW TO MAKE A COBB SALAD
Today's recipe is as easy as 1,2,3! We're talking simple ingredients, minimal effort, and a whole lot of flavor.
Cook the Hot Ingredients– Start with frying up the bacon, then use the grease to cook up the pre-marinated jerk shrimp. If you're not using pre-boiled eggs, this is also the time to prepare those as well.
Prep the Produce– Rinse the greens, slice the tomatoes, and dice the shallots.
Make the Homemade Dressing- In a blender, combine all the dressing ingredients, then blend until smooth. Set aside.
Toss and Serve– Get all of those ingredients in a big' ole bowl, drizzle in the desired amount of dressing, and toss to your heart's content. Enjoy!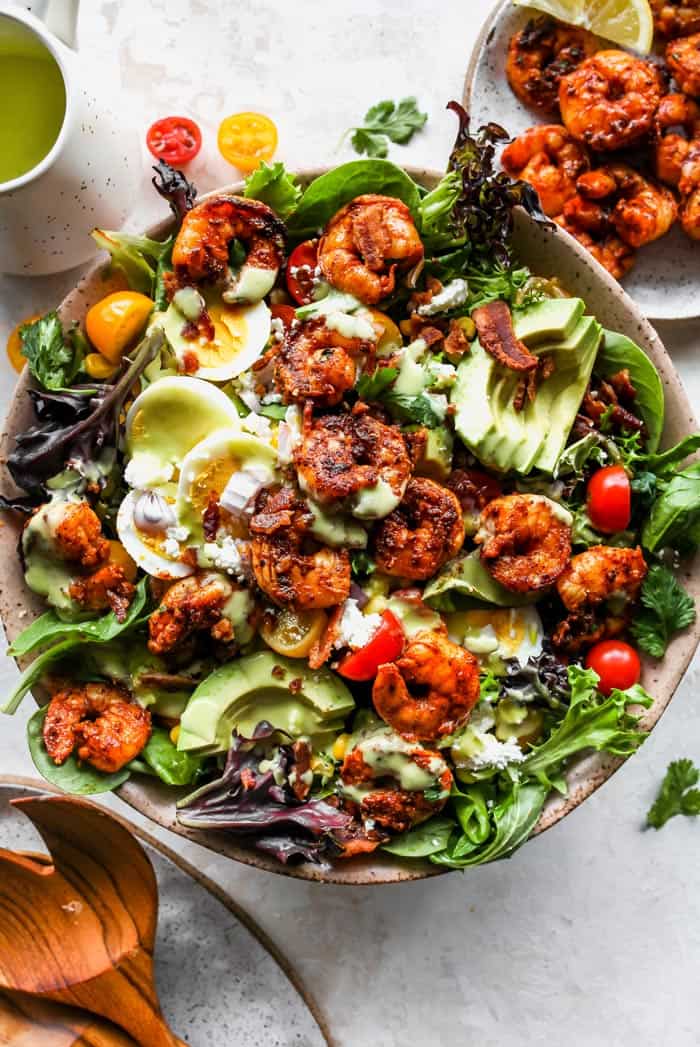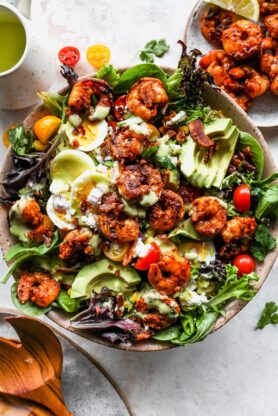 CAN I STORE ANY OF THE LEFTOVERS?
Once all of the ingredients (including the dressing) have been tossed together, this salad should be eaten immediately. The ingredients in this recipe are perishable and will begin to oxidize quickly. I wouldn't recommend keeping or consuming any leftovers.
Alternatively, the ingredients can be stored in separate containers, then tossed together whenever you'd like a salad! Jerk Cobb Salad makes for a great lunchtime meal prep option.
GRANDBABY CAKES' BEST SALAD RECIPES
PSA: Salads don't have to be boring folks! Gone are the bland, dry greens of the past. Say hello to crave-worthy salads like these instead: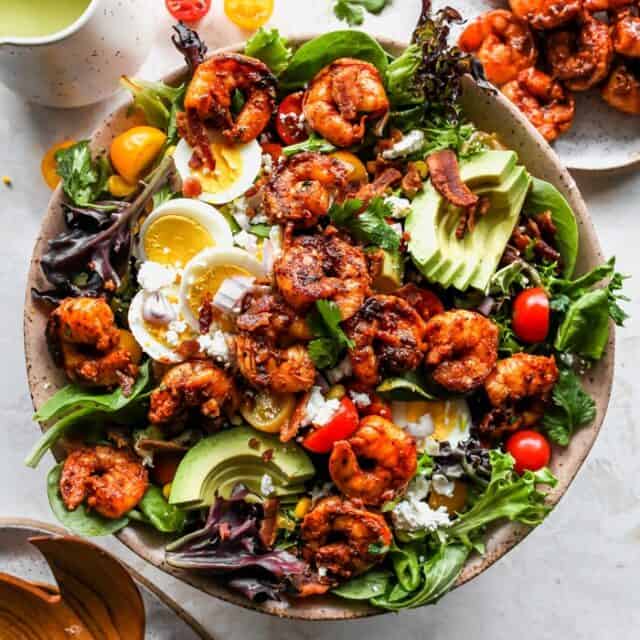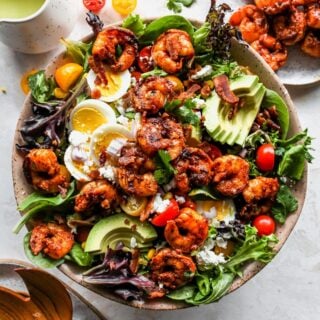 Jerk Shrimp Cobb Salad
This Jerk Cobb Salad is LOADED with juicy shrimp, smoky bacon, tangy goat cheese, and all the best flavors of a Caribbean Summer! Each bite of this gorgeous recipe is chock-full of crisp greens and tangy Mango-Ginger Dressing!
Print
Pin
Rate
Ingredients
For the Jerk Shrimp Topping
4

thick cut bacon slices

1

lb

shrimp

peeled and deveined

1

tbsp

olive oil

2

tbsp

jerk seasoning

2

tsp

smoked paprika

2

tsp

lemon zest

kosher salt and freshly ground pepper

to taste
For the Mango Ginger Dressing
1/2

cup

mango juice

or 1 mango, diced and pureed

1/4

cup

orange juice

2

tbsp

rice wine vinegar

2

tbsp

olive oil

2

tbsp

greek yogurt

1

tbsp

shallot

finely chopped

1

tbsp

cilantro

1

tsp

fresh grated ginger

1/2

tsp

kosher salt

1/2

tsp

black pepper
For the Cobb Salad
6

cup

mixed greens

up to 7 cups if you want more

2

small avocados

diced

4

hard boiled eggs

1

cup

cherry tomatoes

halved

1/4

cup

sweet yellow corn kernels

1/4

cup

shallot

diced

1/4

cup

goat cheese crumbles

optional
Instructions
For the Shrimp
Heat a cast-iron skillet to medium-high heat. Once hot, place the bacon in the pan and cook until deeply brown and crisp. Cool the bacon to room temperature on a paper towel-lined plate, set aside.

Prepare the shrimp by removing their tails, rinsing, and drying with a paper towel. In a small bowl, combine the shrimp, olive oil, jerk seasoning, smoked paprika, and lemon zest. Add a pinch of kosher salt and black pepper, then toss to coat. Cover the bowl and let the shrimp marinate for 10 minutes.

Bring the cast-iron skillet (with the bacon grease still in it) back to medium-high heat, then carefully toss in the shrimp. Be sure to spread out the shrimp a bit. Cook for 2 minutes on each side. Remove from heat and transfer the shrimp to a small heat-safe bowl. Set aside.
For the Salad Dressing
As you wait for the shrimp to cool down, make the dressing. In a blender, combine the mango juice (or purée), orange juice, rice wine vinegar, olive oil, yogurt, shallot, cilantro, and grated ginger. Blend until smooth, adding more yogurt if needed. Season to taste with salt and pepper, then transfer to a lidded jar and set aside.
For the Cobb Salad Assembly
Once all the components have been prepared, get out a large bowl. Arrange greens, avocado, hard-boiled eggs, cherry tomatoes, corn kernels, shallot, and goat cheese. Crumble the bacon into the bowl and add the cooked shrimp, then drizzle in dressing and serve.
Nutrition
Calories:
583
kcal
|
Carbohydrates:
26
g
|
Protein:
40
g
|
Fat:
38
g
|
Saturated Fat:
9
g
|
Polyunsaturated Fat:
5
g
|
Monounsaturated Fat:
22
g
|
Trans Fat:
0.02
g
|
Cholesterol:
384
mg
|
Sodium:
795
mg
|
Potassium:
1307
mg
|
Fiber:
10
g
|
Sugar:
10
g
|
Vitamin A:
3361
IU
|
Vitamin C:
48
mg
|
Calcium:
183
mg
|
Iron:
4
mg