This Shrimp Caesar Salad tosses fresh romaine lettuce with a creamy homemade and flavorful caesar dressing, shaved parmesan cheese, and juicy creole spiced shrimp! This is the best Caesar you've ever had! If you love this, you will also love my Jerk Shrimp Cobb Salad, Creole Shrimp Egg Salad, Harvest Fall Salad and Strawberry Spinach Salad!!
Thank you to Christy from Christy Irene for sharing this amazing recipe!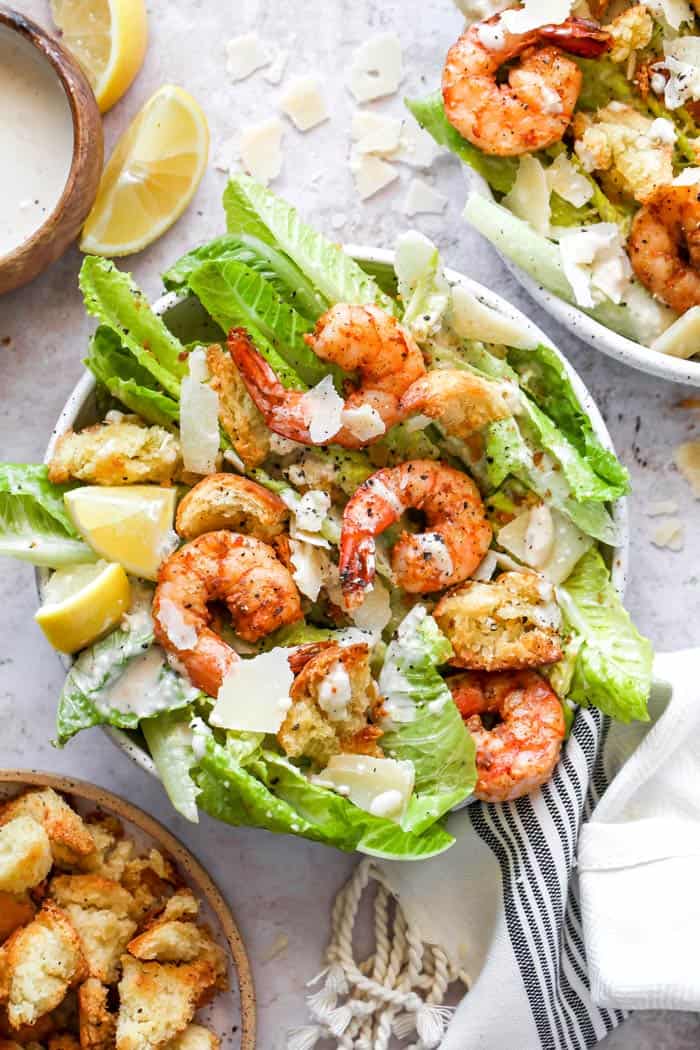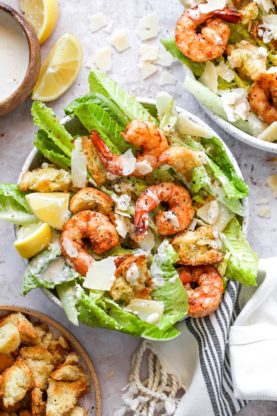 My name is Christy and I am the writer behind the blog, Christy Irene. My passion and creativity take flight in the world of food. This recipe for Shrimp Caesar Salad provides the quick and simple way to make this classic dish while preserving all of the flavor. It's amazing! The most incredible part is that you can create this well salad at home. Anytime is a great time to enjoy a well crafted salad. Whether it be for brunch, lunch, or even if you are feeling adventurous during your midnight snacking time, may you feel all of the joy that I do when entering into the kitchen.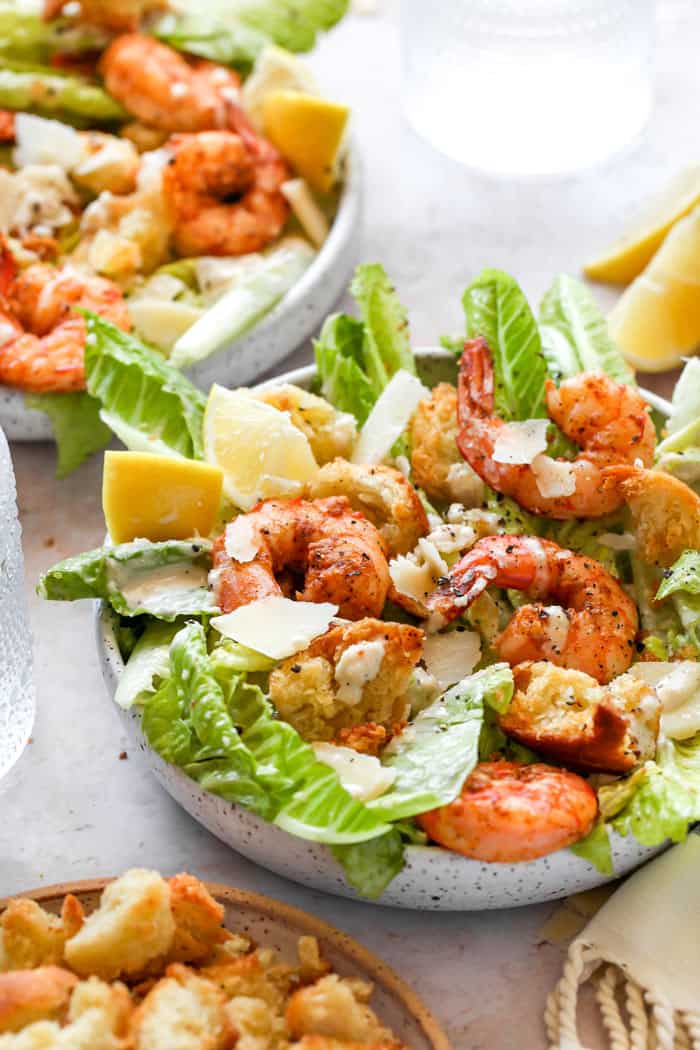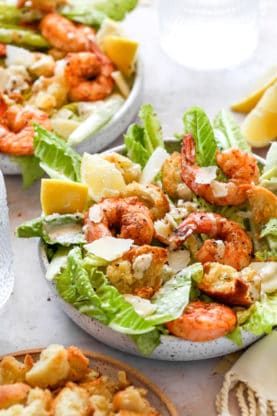 What Makes a Salad A Caesar Salad?
A caesar salad is very specific in what it consists of. The base of this salad is always romaine lettuce. Parmesan cheese and croutons traditionally adorn the top. More specifically what creates the majesticness of this dish is the dressing – the caesar dressing. A creamy blend of lemon juice, egg, olive oil, dijon mustard, anchovies, Worcestershire sauce, garlic, parmesan cheese, and black pepper deliver a tang and spice that is delightful to the palate. The recipe that I give switches the ingredients up a bit to keep the dressing easy and delicious. Instead of raw egg, I substitute mayonnaise which still keeps the integrity of this caesar dressing.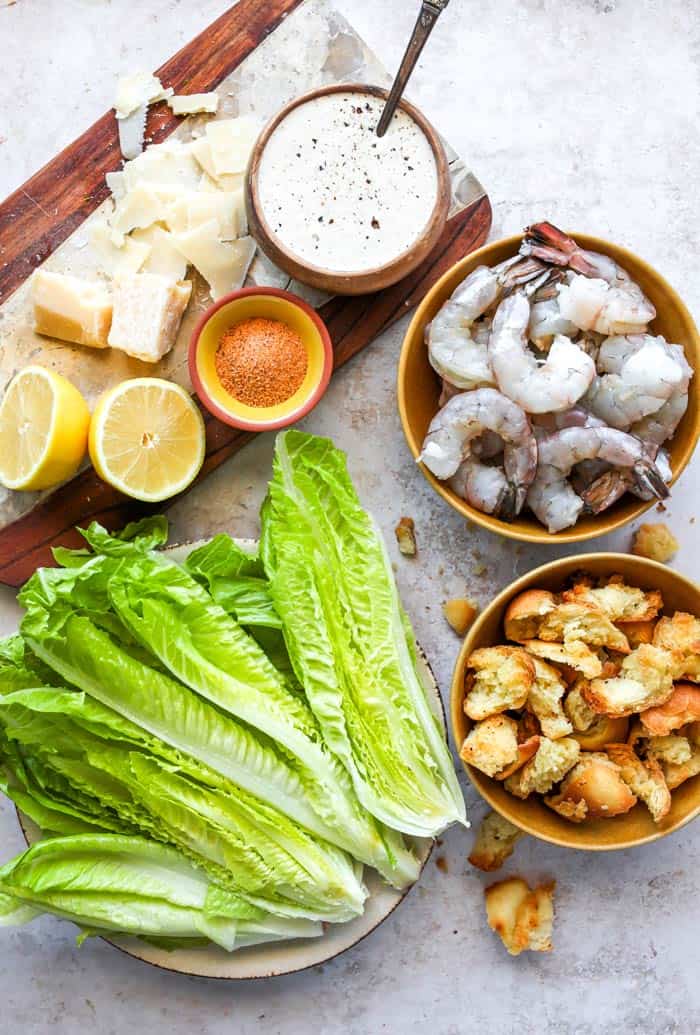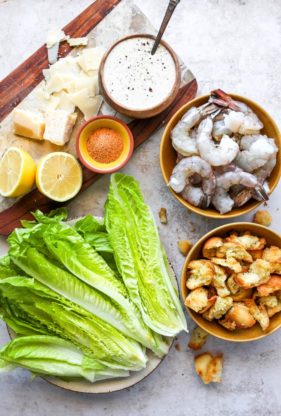 Tips for Making an Amazing Caesar Salad
Tip 1: Use only fresh ingredients.
Freshly grated Parmigiano Reggiano gives this salad the restaurant style quality that will amaze everyone who eats it, even yourself. Make sure to use crisp, romaine lettuce. This makes all the difference when crafting a salad you will want to make again and again.
Tip 2: Make homemade croutons.
You simply cannot have a caesar salad without the croutons. If you have time, why not make some at home. The recipe for this is simple: cut bread into cubes (the amount is up to you), drizzle with olive oil, sprinkle with salt and pepper, and bake on 375 ℉ for 15-20 minutes. Be sure to flip the croutons every 5 minutes to make sure all sides are browning evenly. Easy Peasy. If you are feeling really sassy, sprinkle the croutons with freshly grated Parmesan cheese as soon as they come out of the oven. Mmmmm…
Tip 3: Use a Food Processor or Blender.
Using these kitchen appliances ensures that the end result of your caesar dressing will be smooth and creamy. I love dumping all of the ingredients in my food processor, pulsing for approximately 20-30 seconds, and have a ready to go dressing that packs a nice punch of flavor.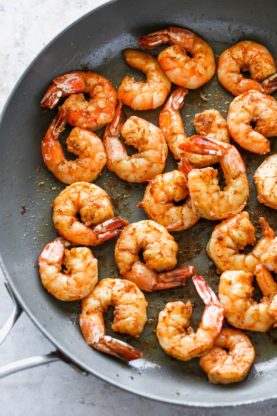 What Type of Shrimp Should I Use for this Salad?
This salad is definitely one of those grown and sexy salads that you make to impress. When selecting shrimp to cook, larger shrimp make for a nicer presentation and a wonderful, hearty bite. 16-20 shrimp are large and filling enough to make this salad a full meal.
FYI: 16-20 shrimp simply means that there are 16-20 pieces of shrimp in a 1 pound bag. U-15 shrimp mean that there are under 15 shrimp in a 1 pound bag. Pretty nice size shrimp!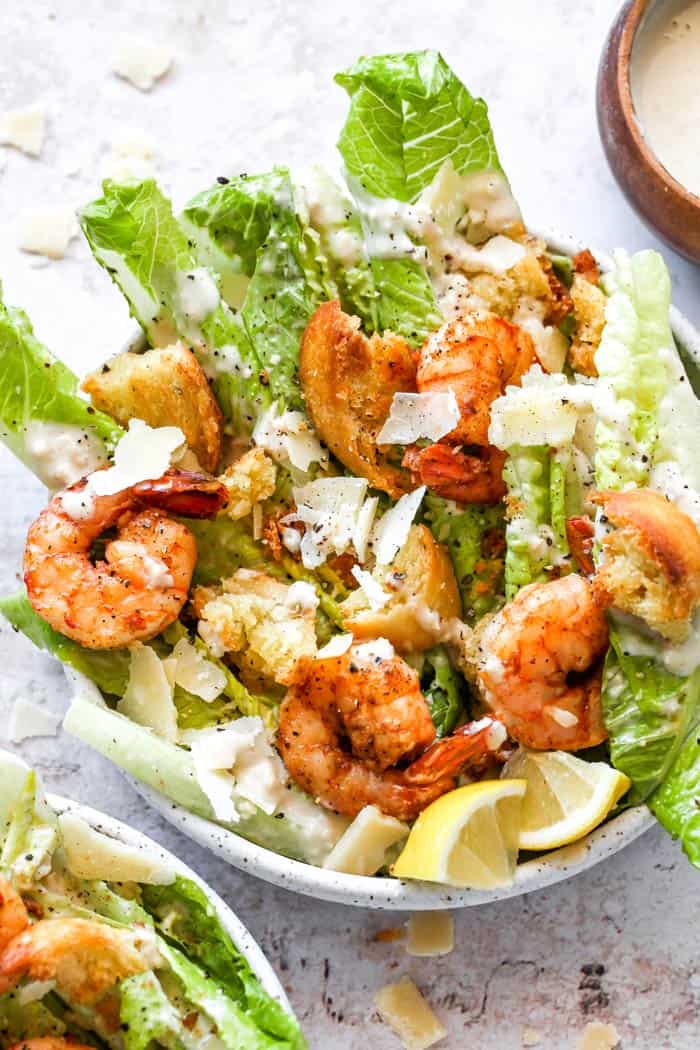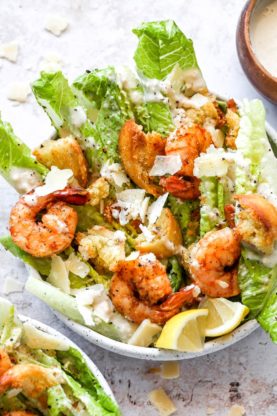 Other Ways to Elevate a Caesar Salad
Top with: cooked crumbled bacon, sliced avocado, grilled chicken, or blackened salmon
Used chopped kale instead of romaine lettuce
Add sliced cherry tomatoes and red onions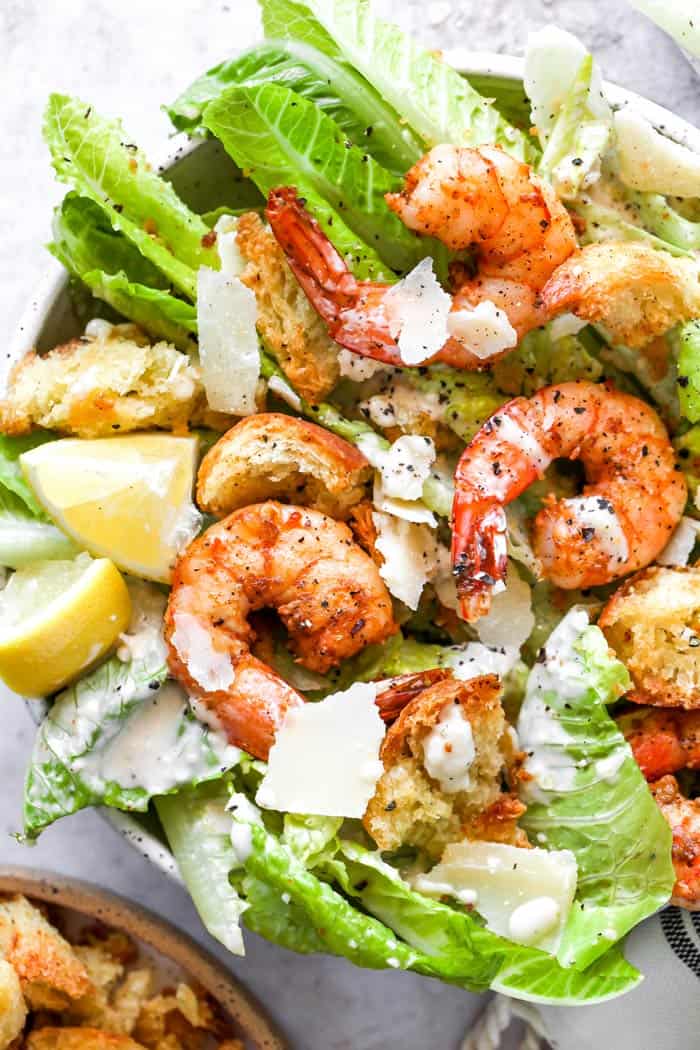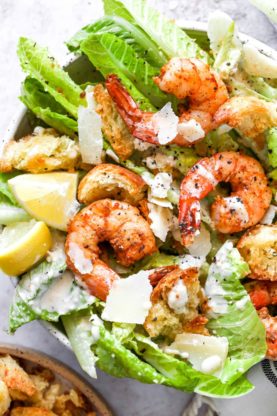 Wine to Pair with the Shrimp Caesar Salad
Dry white wines always pair well with shrimp and especially the lightness of the caesar salad. My favorite white wines to pair with this salad are the dry and crisp Sauvignon Blanc or Chardonnay. You will be very pleased with either one you choose.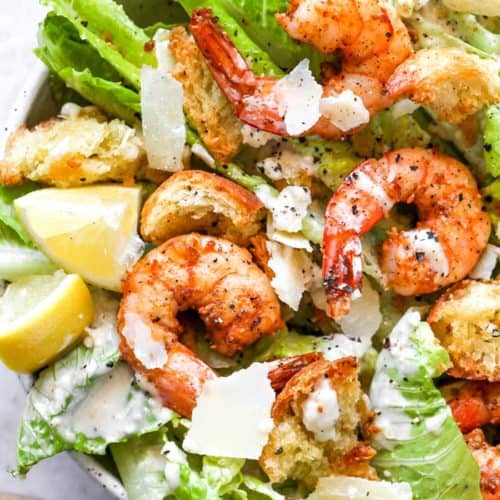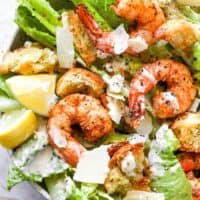 Shrimp Caesar Salad
This Shrimp Caesar Salad tosses fresh romaine lettuce with a creamy homemade and flavorful caesar dressing, shaved parmesan cheese, and juicy creole spiced shrimp! 
Print
Pin
Rate
Ingredients
For the Shrimp
1

lb

16/20 or U-15 shrimp

peeled and deveined

1/2

tbsp

creole seasoning

I used Tony Chachere

2

tbsp

grapeseed oil
For the Caesar Dressing
3/4

cup

mayonnaise

3

anchovy fillets

or 1 1/2 tsp anchovy paste

1

tsp

dijon mustard

1

tsp

worcheshire sauce

2

tbsp

fresh lemon juice

from 1 lemon

2

garlic cloves

crushed with a garlic press if you have one

1/2

cup

parmesan

freshly grated or broken up in chunks if using food processor

salt and pepper

to taste
For the Salad
1

romaine lettuce head

sliced vertically in 1 ½ inch slices

1/3

cup

shaved or grated parmesan cheese

Homemade Croutons

See below in notes for homemade croutons recipe
Instructions
Heat a medium sized skillet to medium heat and add oil. While the skillet is warming, sprinkle creole seasoning on the shrimp in a bowl and toss to fully coat.

Cook shrimp in the skillet for 2-3 minutes on each side until pink. Remove from the skillet and set aside.

In a food processor, add all of the ingredients for the caesar dressing and pulse for 20-30 seconds until smooth and well combined.

Arrange the salad leaves in a serving bowl and pour the caesar dressing on top. Toss the leaves with the dressing until all leaves are coated.

In this order: place the croutons on top of the salad, add the shrimp, and sprinkle with the remaining parmesan cheese.Assembling in the order allows for the croutons to absorb the flavor of the caesar dressing and shrimp. Serve and Enjoy.
Notes
How to Make Homemade Croutons: Cut bread into cubes (the amount is up to you), drizzle with olive oil, sprinkle with salt and pepper, and bake on 375 ℉ for 15-20 minutes. Be sure to flip the croutons every 5 minutes to make sure all sides are browning evenly. Easy Peasy. If you are feeling really sassy, sprinkle the croutons with freshly grated Parmesan cheese as soon as they come out of the oven. Mmmmm…
Nutrition
Calories:
2252
kcal
|
Carbohydrates:
14
g
|
Protein:
131
g
|
Fat:
184
g
|
Saturated Fat:
37
g
|
Cholesterol:
1284
mg
|
Sodium:
6040
mg
|
Potassium:
983
mg
|
Fiber:
2
g
|
Sugar:
7
g
|
Vitamin A:
7227
IU
|
Vitamin C:
40
mg
|
Calcium:
1718
mg
|
Iron:
14
mg