Simple, soft, and sensational, these Lemon Cupcakes are a lemon lovers' dream! Each of these tender cupcakes is fluffy, zingy, sweet, moist and coated in the sugary frosting of your choice!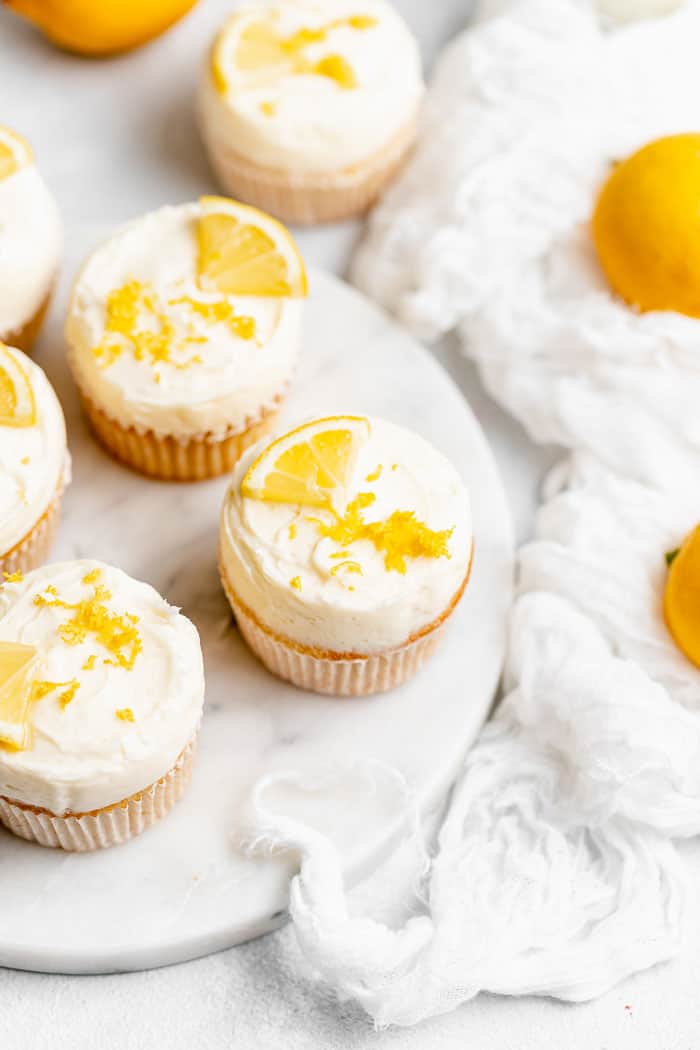 Y'all, it may not feel like it but Spring is just around the corner! This Winter has been one like never before. As most of you know, I relocated to Dallas, TX last year in the hopes of avoiding yet another brutal Chicago winter. Most of you also probably know that that plan didn't really work out! Texans weren't prepared for the heavy snow, power outages, and freezing temperatures that robbed us of our otherwise temperate season. My heart goes out to those who have endured these last few ferociously freezing months.
As the snow begins to melt and the temperatures regulate, I'm looking forward to Spring more than I have in a long time. I'm in need of Vitamin D and fresh air! With Spring comes flourishing trees, blooming flowers, and more delicious produce than I could ever imagine. Soon, the Farmer's markets will be in full swing and I just might be the first gal in line!
Once the food floodgates open, I'm making a beeline for the plump, vibrant citrus just waiting to be turned into juices, pies, and CUPCAKES! Lemon Cupcakes are one of my absolute favorite Spring recipes, and I'm so excited to share it with you today.
Bright, tender, flavorful, zesty, and melt-in-your-mouth good, these Lemon Cupcakes are the perfect way to celebrate Springtime! Let's welcome some sun people!
Perks and Highlights from the Best Lemon Cupcakes Recipe Ever
Cuisine Inspiration: Dessert Fantasia
Primary Cooking Method: Baking
Dietary Info: Vegetarian, Nut-Free
Key Flavor: Tangy Lemon Zestiness
Skill Level: Easy Peasy Lemon Squeezy
Special Perks:
Sunny Disposition: These cupcakes bring the sunshine, no matter the weather. Each bite is like a burst of summer, bright, zesty, and joy-inducing.
Baker-Friendly: No pastry chef degree? No problem! Simple steps, common ingredients, and clear instructions make this recipe a walk in the park, or should we say, a dance in the lemon grove.
Pucker-Up Buttercup: The natural tartness of lemon is so satisfying, and when coupled with the sweetness of a cupcake, it's a match made in citrus heaven. Perfect for those who prefer their sweets with a little sassy tang.
Crowning Glory: Not just any frosting will do for these golden beauties. They're paired with a luscious lemon-infused topping that's light, creamy, and the perfect foil for the tender crumb below.
Versatility is Key: Serve 'em up at your next summer BBQ, birthday bash, or Wednesday night dinner (because why not?). These lemony delights are sure to win hearts any day of the week!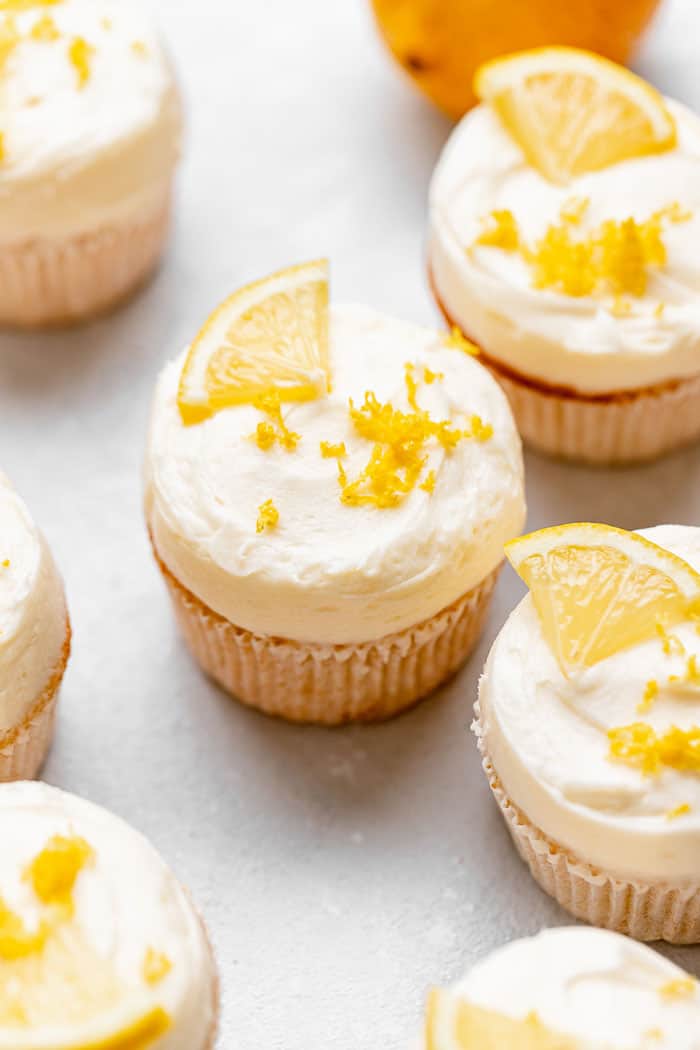 Ingredients
Lemon Cupcakes are incredibly simple but simple recipes call for important ingredient choices. To achieve well-balanced, tender, and flavorful cupcakes, we need to understand our ingredients and use them properly.
Here's what we're using today:
Vegetable Oil– Using vegetable oil in cake is known to give the moistest results. Vegetable oil remains liquid at room temperature, while butter turns solid. Using oil will yield a tender cake that falls apart in your mouth as you bite into it.
Unsalted Butter- When you cream butter and sugar together it creates an aerated mixture that provides lift before, during, and after baking.
Granulated Sugar- The fine crystals in granulated sugar don't cake together, which makes it easier to work with.
Eggs- Eggs add structure, leavening, and color to our cupcakes. It's the balance between eggs and flour that help provide the height and texture we're looking for.
All Purpose Flour- Flour is the base to our cake. For the best results, be sure to properly measure and sift it.
Baking Powder and Baking Soda- Both ingredients are chemical leavening agents that cause batters to rise when baked. If either of these ingredients is over a year old, I'd recommend testing their reactivity and replacing them if needed.
Salt– Salt enhances flavor and perks up the depth and complexity of all the other ingredients.
Sour Cream- Adding sour cream to cake gives more moisture and flavor. The acid in sour cream produces a very fine crumb because it tenderizes the gluten in the flour.
Whole Milk- The protein content, fat, sugar, and overall creaminess of whole milk is ideal for creating delicious, moist cakes.
Lemon Zest- Citrus zest contains a stronger, more concentrated flavor. The zest of one lemon should do!
Lemon Extract- I wanted these cupcakes to be fragrant and full of zippy flavor. Lemon extract adds that extra zing these cupcakes need.
Vanilla Extract- Vanilla also works as a flavor enhancer here! Without it, cakes and cookies tend to be bland.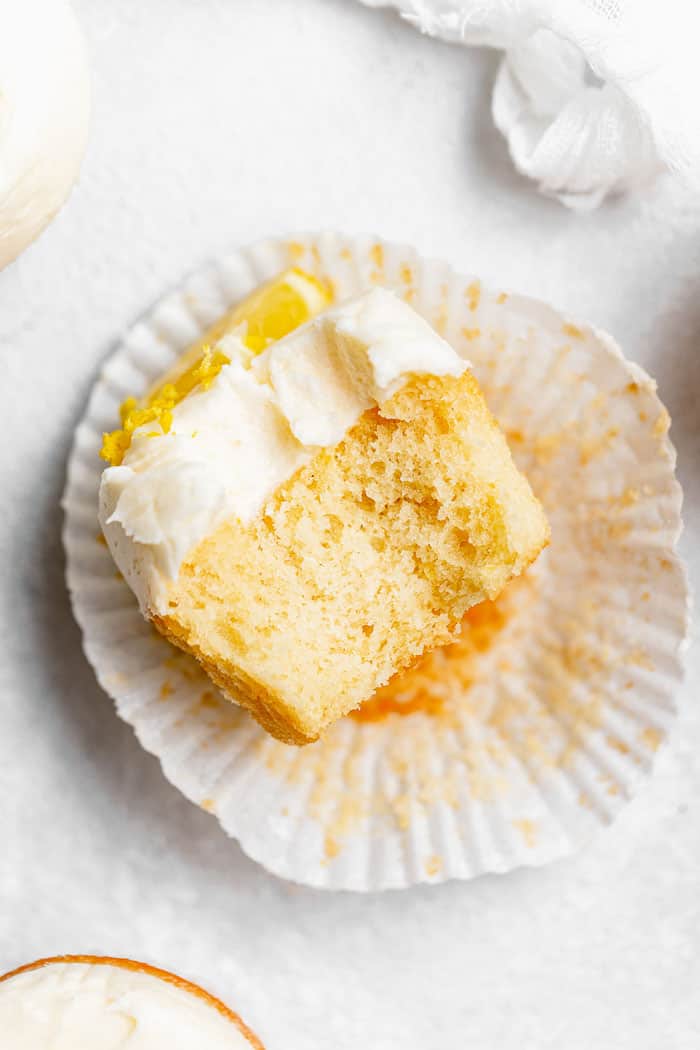 Tips for Cupcake Baking
These cupcakes couldn't be easier to make! Seriously, all you need is one bowl, a cupcake tin, and about 30 minutes.
To make it even simpler, here are a few of my BEST cupcake making tips:
Use High-Quality Cupcake Liners-

I used to rely on heavy greasing and a sprinkle of flour to prevent my cupcakes from sticking to the pan. But, I couldn't always trust that each and every one would come out clean! Even worse, cheap liners would stick to the side of my cupcakes and make for messy eating. Parchment paper liners or any high-quality liners labeled "grease-proof" will change the game. No stuck cupcakes here!

Fill the Cupcake Pans Appropriately-

Over-filling or under-filling the wells of a cupcake tin can both cause a slew of issues: undercooked cake, sinking, overflowing, and even "mushroom tops". My general rule? Fill the liners about ⅔ of the way (about 3 tablespoons). If the batter is thin, use a bowl with a spout and pour the batter in each cup. If it's thick, use a large spoon or small cookie scoop.

Only One Batch in the Oven-

This is a bit controversial but I stand by it. I suggest baking one batch at a time in the center of the oven. If you know that your oven has particular hot spots, make sure to rotate the pan halfway through baking.

Do the Bounce-Back Test-

yes, you can totally stick a toothpick in the center of a cupcake to determine its doneness. But, to save on time and toothpick money, I just do the bounce-back test! Gently press down on the cupcake. If the cake bounces back completely, they're done. If your finger left a dent, they need more time!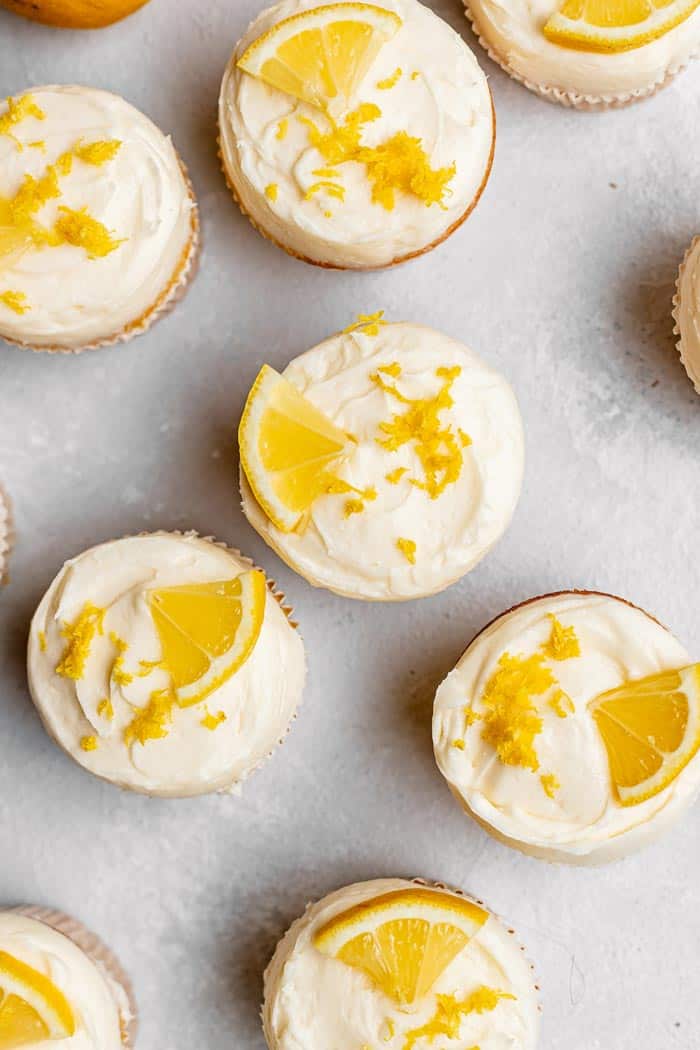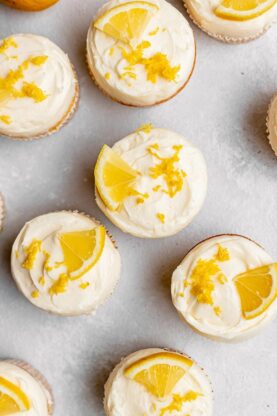 Which Type of Frosting is Best for Lemon Cupcakes?
You should view these Lemon Cupcakes as an open canvas: a base for your own personal masterpiece! Personally, I'm a HUGE fan of lemon cupcakes smothered in this homemade mojito frosting.
But if that's not your jam, try out one of these classics instead:
AMERICAN BUTTERCREAM: SWEET AND EASY
American Buttercream Frosting is the easiest to make out of all frosting recipes out there. If you are familiar with Swiss Meringue or Italian meringue frostings, you know they require more steps and preparation.
However, with American buttercream frosting recipes, butter and sugar get creamed to perfection and are the base of something incredible. Check out my American Buttercream post for useful tips, tricks, and a step-by-step guide!
SWISS BUTTERCREAM: SMOOTH, LIGHT, AND A LITTLE LESS SWEET
Swiss Meringue Buttercream is a frosting made by combining granulated sugar and egg whites, warming them together over a water bath, then whipping them until stiff. The result is an incredibly airy yet decadent topping used for cakes, cupcakes, macarons and so much more!
Though I love a classic, sugar laden spread, this buttercream is one I love to trot out when I'm looking to elevate a dessert! Follow my Swiss Meringue Buttercream recipe for the ultimate cupcake topping!
TIP: Add lemon zest and/or lemon juice! I am obsessed with lemon on lemon cupcakes. To infuse either of these options with citrusy goodness, add a teaspoon of lemon zest or juice (or both) to the mix. Keep adding until you've reached your desired flavor.
FILL WITH LEMON CURD
Don't just thinking about adding buttercream. You can also fill your cupcakes with my Homemade Lemon Curd. It adds such an unexpected surprise and flavor punch. Just fill a piping bag with the curd and add a round tip and gently press down into the top of the cupcake and release the curd inside.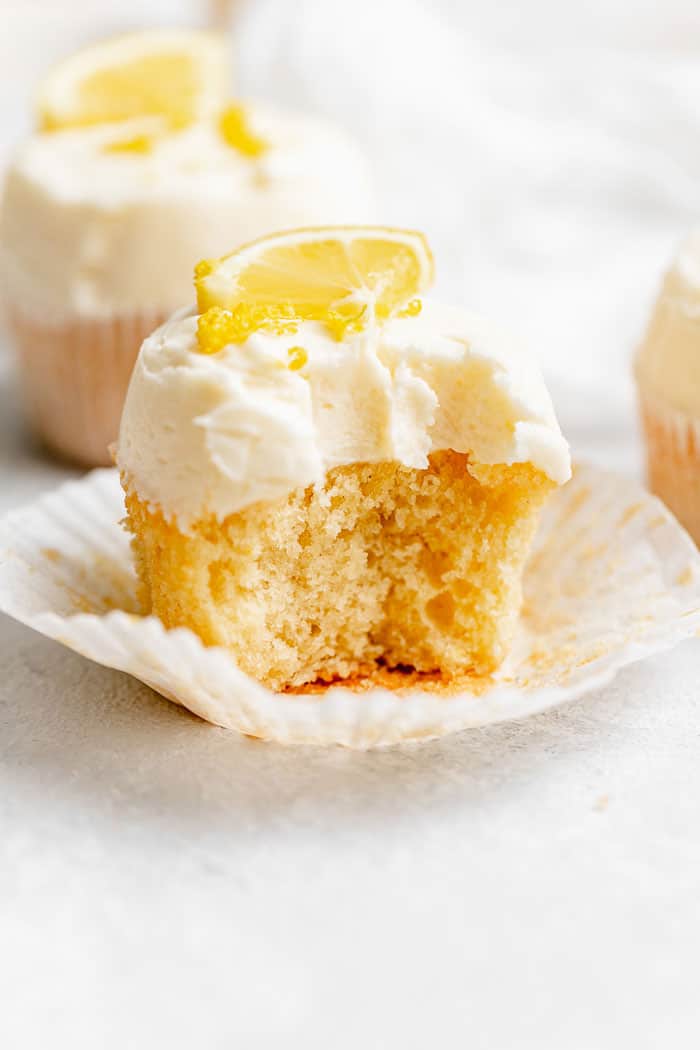 Storage
Lemon Cupcakes will keep overnight, if left covered. Use an overturned bowl or a cupcake keeper to ensure they're safe from dirt, bacteria, and whatever else is lurking around. You can refrigerate them for up to 3 days but they should come to room temperature again before serving. Butter based cakes need to warm up a bit.
If unfrosted, you can wrap and freeze these cupcakes for up to 2 months.
Best Cupcakes
Grandbaby Cakes is the best place to find unique, flavorful cupcakes by the dozen! After you've had a couple of these lemon cupcakes try out a few more of my absolute FAVORITES: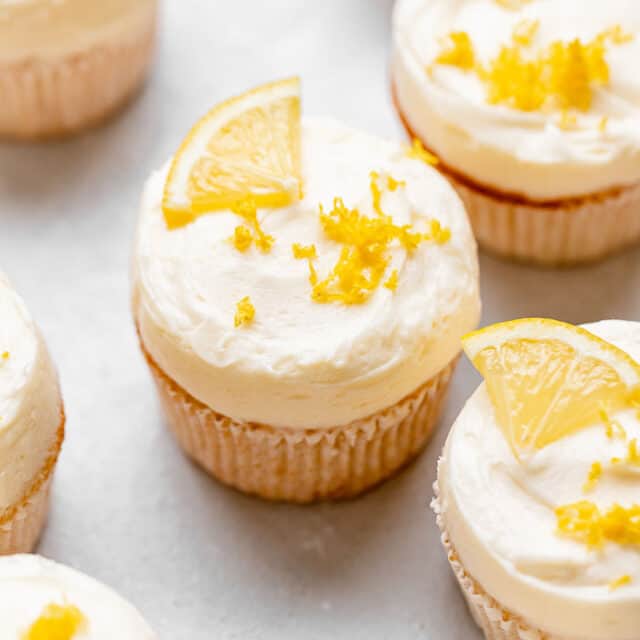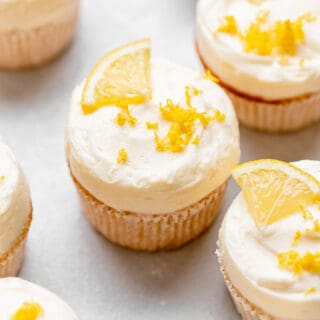 Perfect Lemon Cupcakes
These Lemon Cupcakes are tender cupcakes that are fluffy, zingy, sweet, moist and coated in the sugary frosting of your choice!
Print
Pin
Rate
Ingredients
For the Cake
2/3

cup

vegetable oil

1/3

cup

unsalted butter

room temperature

1 1/2

cups

granulated sugar

3

large eggs

2 3/4

cups

all purpose flour

sifted

1 1/2

tsp

baking powder

1

tsp

salt

1/2

tsp

baking soda

1 1/4

cup

sour cream

1/3

cup

whole milk

1

tbsp

fresh lemon zest

1 1/2

tsp

lemon extract

1

tsp

vanilla extract
Instructions
Start by preheating your oven to 325°F then place paper liners in 2 12-cup muffin pans. You will need 4 more so you can wait until a batch of cupcakes bake before lining with the remaining ones.

In your mixer bowl, add oil and butter and beat for 2 minutes on high speed. Slowly add in sugar and beat on high speed for an additional 4-5 minutes until very pale yellow and fluffy. Next, add eggs, one at a time, combining well after each addition and scraping down the sides as needed.

Turn your mixer down to its lowest speed, and slowly add flour into batter in two increments then add baking powder, salt and baking soda. Be careful not to over beat.

Lastly, add sour cream, milk, lemon zest, lemon and vanilla extracts, scrape down sides and mix until just combined and turn off mixer.

Evenly pour batter into prepared muffin pan liners filing three-quarters of the way full. Place the pan on a baking sheet and bake for 17 to 19 minutes or until completely set in the center. Let cool completely to room temperature before adding any frosting.
Notes
Lemon Cupcakes will keep overnight, if left covered. Use an overturned bowl or a cupcake keeper to ensure they're safe from dirt, bacteria, and whatever else is lurking around. You can refrigerate them for up to 3 days but they should come to room temperature again before serving. Butter based cakes need to warm up a bit. 
If unfrosted, you can wrap and freeze these cupcakes for up to 2 months. 
Nutrition
Calories:
519
kcal
|
Carbohydrates:
59
g
|
Protein:
4
g
|
Fat:
30
g
|
Saturated Fat:
20
g
|
Cholesterol:
87
mg
|
Sodium:
229
mg
|
Potassium:
113
mg
|
Fiber:
1
g
|
Sugar:
44
g
|
Vitamin A:
744
IU
|
Vitamin C:
1
mg
|
Calcium:
60
mg
|
Iron:
1
mg