This Cajun Shrimp Linguine is decadent and filled with juicy shrimp, flavorful cajun spice and a creamy cheesy sauce! It will become your favorite fast weeknight pasta meal. Prepped in just 30 minutes, you can have this incredible dish on the table for your family in no time! If you love this, you will love this Cacio E Pepe, Creamy Garlic Pasta with Scallops, Shrimp Scampi and Grits, Cajun Lobster Mac and Cheese, Easy Shrimp Scampi Pasta and Cajun Jambalaya Pasta!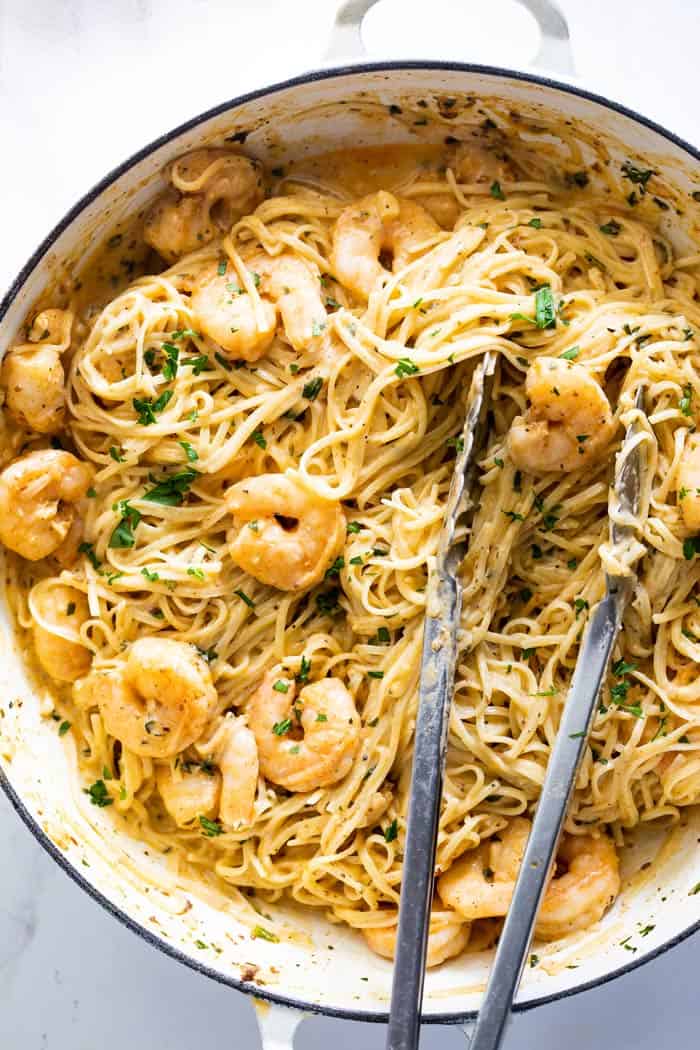 Perfect Cajun Shrimp Linguine On The Dinner Table In Minutes!
For those of you in warmer climates, let me tell you about my current condition. For the past few days, Chicago has been bitterly cold; I'm talking below freezing. It's the kind of cold that makes your toes go numb and bones go achey. Man, I cannot wait to get back to Dallas.
I'm making the most of my situation by pulling up my fuzzy socks and getting to work in the kitchen. Comfort food is beyond necessary: chili, mac, cookies and so much more. This week's obsession is this Cajun Shrimp Linguine; it's cheesy, smooth, spicy and full of tender, juicy shrimp. Have I pulled you in yet?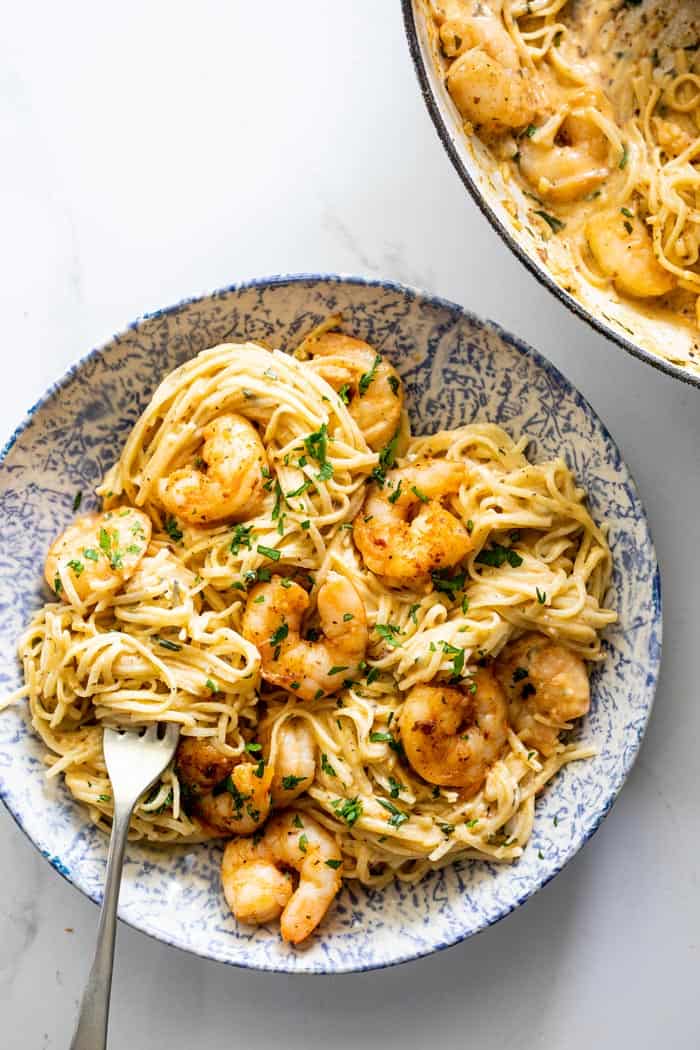 WHAT IS CAJUN SEASONING?
Take a minute to look in your spice drawer, I'll wait. Do you have Cajun seasoning in there? If the answer is no, you are doing something seriously wrong. I have a Cajun Spice Recipe here that you can keep stored in your pantry for whenever you are in a pinch!
Cajun Seasoning was born in Louisiana: the home of Cajun cooking. Similar to Jerk, this blend is made from a variety of spices to make a smoky, spicy and balanced seasoning. Just a few slings of the measuring spoons makes for a zesty, Southern-inspired jar of savory deliciousness.
Paprika
Cayenne
Salt
Black Pepper
White Pepper
Mustard Powder
Dried Thyme
Garlic Powder
All of these pantry-staple spices are the keys to a well-balanced and flavorful Cajun blend. There are many store-bought varieties available, but they tend to be heavy of the salt and lacking in heat. Instead, take 5 minutes to make this Cajun Seasoning Recipe, and create your newest pantry staple. You won't regret it!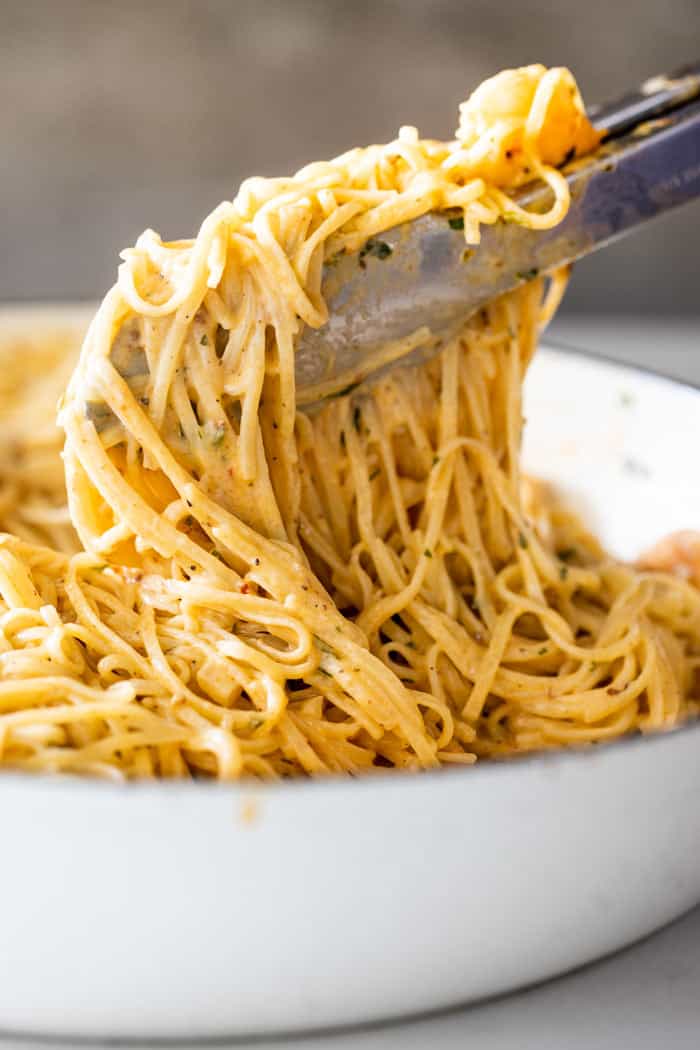 PASTA COOKING 101
We've all made our fair share of boxed pasta because let's be honest, it's so easy. Having made my fair share, I've nailed my pasta game. With just a few simple steps you can too be pasta Queen (or King).
Use a Large Pot
If possible, it's best to use an 8-quart stock pot. Just a little extra space helps to keep your pasta sticking and breaking.
Heavily Salt the Water
Don't be afraid of salt! I'd suggest using 2-3 tablespoons of coarse salt; sea-water salty means an incredible flavor boost.
Stir Frequently
Pasta has a nasty habit of clumping. Stir the pot at least 3-4 times while cooking to keep those strands swirling wild and free!
Test Before It's "Ready"
The packaging to your pasta of choice will have a suggested cooking time. But, you should keep in mind that it is "suggested". Test your pasta about 2 minutes before the given time by removing a strand from the water and chomping down.
Personally, I like my pasta to have a soft exterior with a slight springy bounce. If you have a different preference, go for it!
Finish off your pasta by draining, tossing into the sauce and serving piping hot. It's that simple!
HOW TO MAKE SHRIMP LINGUINE
There are few other things in my life that I love more than a bowl of creamy, decadent pasta. With this recipe, comfort food is taken to a whole new level. With the help of a few essential ingredients, you've got the makings for a new family favorite!
Seafood Stock
Most recipes use chicken or beef stock but, I absolutely love a full-bodied seafood stock. Its addition boosts flavor, accentuates the shrimp and makes for a stand-out dish.
Lemon Juice
The use of heavy cream in this recipe is delicious, but it can be a little overpowering. To counteract that, I added a bit of lemon juice. Just a few squeezes adds a brightness that lifts up the entire dish. Acidity is the perfect way to lighten up anything that's outwardly a bit heavy.
Parmesan Cheese
Parmesan is pungent, nutty, fruity and slightly bitter. I love how parmesan adds in a cheesy indulgence without being overwhelming or too heavy.
Basil
Similarly to the lemon juice, basil helps to lighten and brighten this pasta. Basil is sweet, fragrant and herby; it's perfect way to create another layer of flavor. Just a few sprigs lifts up the sauce like none other.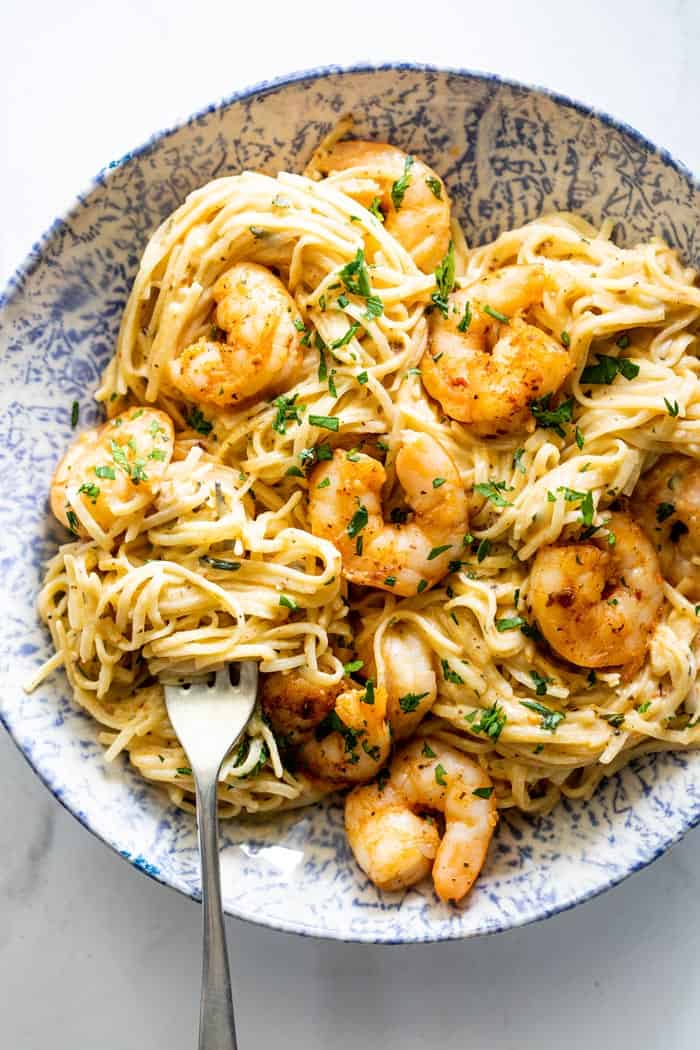 HOW TO STORE AND REHEAT SEAFOOD PASTA
If you have enough restraint to not eat every last bite of this recipe, I commend you. Leftovers are rare but more than welcome.
I prefer storing leftover shrimp linguine in lidded glass containers; they don't absorb smell or taste the way plastic might. Refrigerate your pasta within two hours of serving; seafood goes bad quickly. Once stored, your pasta will last 2-3 days.
When ready to reheat, place the pasta in a sauce pan and turn on a low heat. Watch carefully, stir often and add water if your sauce begins to dry out.
Avoid the microwave! Using a microwave will dry out the pasta and make for rubbery shrimp. Just don't do it.
More PASTA, PLEASE!
We all need that weeknight pasta dinner to get us through the week. Try out a few of Grandbaby Cakes' best pasta recipes and find your go-to!
HOMEMADE BUTTERNUT SQUASH RAVIOLI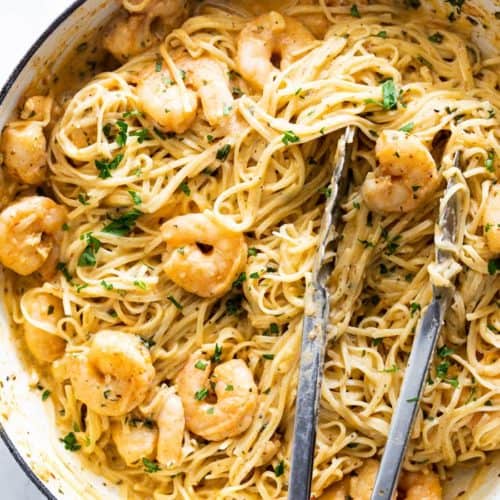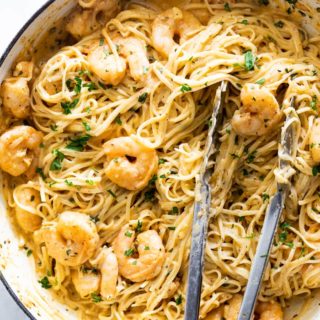 Cajun Shrimp Linguine
This Cajun Shrimp Linguine is decadent and filled with juicy shrimp, flavorful cajun spice and a creamy cheesy sauce! It will become your favorite fast weeknight pasta meal. Prepped in just 30 minutes, you can have this incredible dish on the table for your family in no time!
Print
Pin
Rate
Ingredients
2

tbsp

salted butter

1

tbsp

extra virgin olive oil

1

lb

shrimp

peeled and deveined

2 1/2

tsp

cajun seasoning

divided

1 1/2

tbsp

minced garlic

1/4

cup

seafood stock

or chicken or vegetable stock if you can't find it

1/3

cup

heavy whipping cream

2

tbsp

lemon juice

1/4

cup

freshly shredded Parmesan cheese

plus more for garnish

1/3

cup

fresh finely chopped parsley

plus more for garnish

1

tsp

fresh finely chopped basil

1/2

tsp

onion powder

black pepper

to taste

1/4

lb

angel hair pasta, cooked

up to 1/2 lb
Instructions
Add butter and olive oil to cast iron skillet over medium high heat.

While butter and oil heat, toss shrimp with 2 tsp of cajun seasoning making sure it is completely coated.

Add seasoned shrimp to cast iron skillet and cook for about 2 minutes on each side then remove shrimp from the pan and set aside.

Next add garlic and cook for just 2 minutes.

Then add seafood stock, heavy cream, lemon juice, parmesan cheese, parsley, basil, onion powder, remaining ½ teaspoon of cajun seasoning and black pepper to taste.

Bring to a boil and allow sauce to thicken for just a few minutes.

Once thickened, lower heat to medium low and then toss in small amounts of linguine tossing as you go along. Don't add too much pasta since you want there to be a fair amount of sauce and the pasta not to be dry then toss in the shrimp. (I only use about a ¼ of the package but use as much as you prefer).

To serve, add pasta to plates then sprinkle with additional parmesan, cajun seasoning and parsley for garnish and serve.
Notes
I only use about a ¼ of the pasta package but use as much as you prefer.  Just note that the more pasta you add to the sauce, the drier the dish will be.  I add in increments and stir to get to the amount I want without drying it out too much.
You can replace seafood stock with chicken stock or even vegetable stock if there is no seafood stock on hand.
Nutrition
Calories:
272
kcal
|
Carbohydrates:
16
g
|
Protein:
20
g
|
Fat:
14
g
|
Saturated Fat:
7
g
|
Cholesterol:
221
mg
|
Sodium:
729
mg
|
Potassium:
167
mg
|
Fiber:
1
g
|
Sugar:
1
g
|
Vitamin A:
1035
IU
|
Vitamin C:
10
mg
|
Calcium:
185
mg
|
Iron:
2
mg