This Authentic Cacio e Pepe recipe is easy to make and spectacularly creamy! Made with just 4 ingredients this humble roman dish is chock full of flavor!
I love a good 'ole cheesy pasta recipe. I'm talking about tender pasta coated in rich butter and drowning zesty cheese. Can't you picture swiping a thick hunk of bread through that leftover sauce already? I literally dream about it.
Cacio e Pepe is what comes to mind when I type that description. It's the simplest, most perfect pasta recipe there ever was! Thick, tender pasta meets smooth pecorino and freshly cracked pepper in this iconically delicious dish.
What is Cacio E Pepe?
Literally translated, cacio e pepe means "cheese and pepper" in Italian. Traditionally made with bucatini pasta (aka thick spaghetti), pecorino (or parmesan), and loads of freshly cracked black pepper, this famously cheesy pasta has been a staple in Roman cuisine for centuries.
These days, Cacio E Pepe is served all around the world! Peppery, creamy, and salty this classic recipe is basically a big bowl of buttery pasta heaven.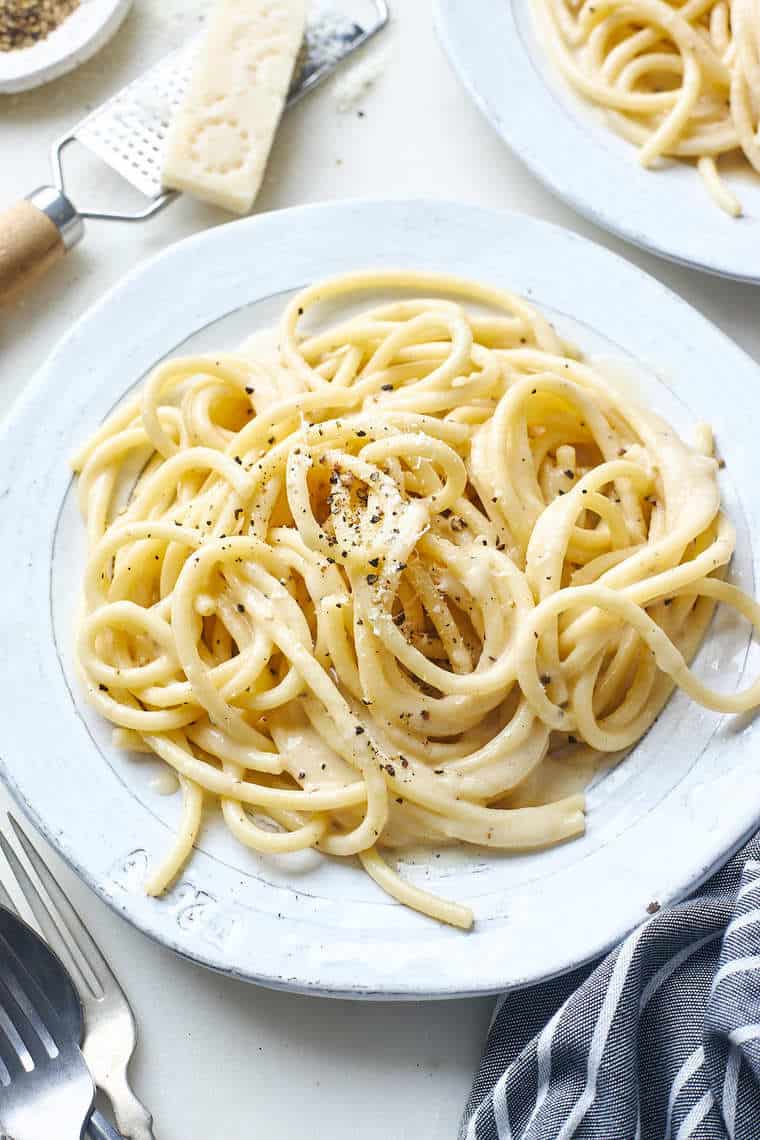 That Noodle Life: Soulful, Savory, Spicy, Slurpy
Brought to you by none other than the husband and wife team behind the extraordinary i am a food blog, today's cacio e pepe is a real treat. Stephanie and Mike Le have been running their award-winning travel and food blog since 2010. As a big fan, I was ecstatic to hear about steph and mike's latest release: That Noodle Life: Soulful, Savory, Spicy, Slurpy.
Full of 75 fun and comforting recipes that go way beyond spaghetti or ramen, the Le's newest catalog of comfort noodles is a must-have on your kitchen bookshelf!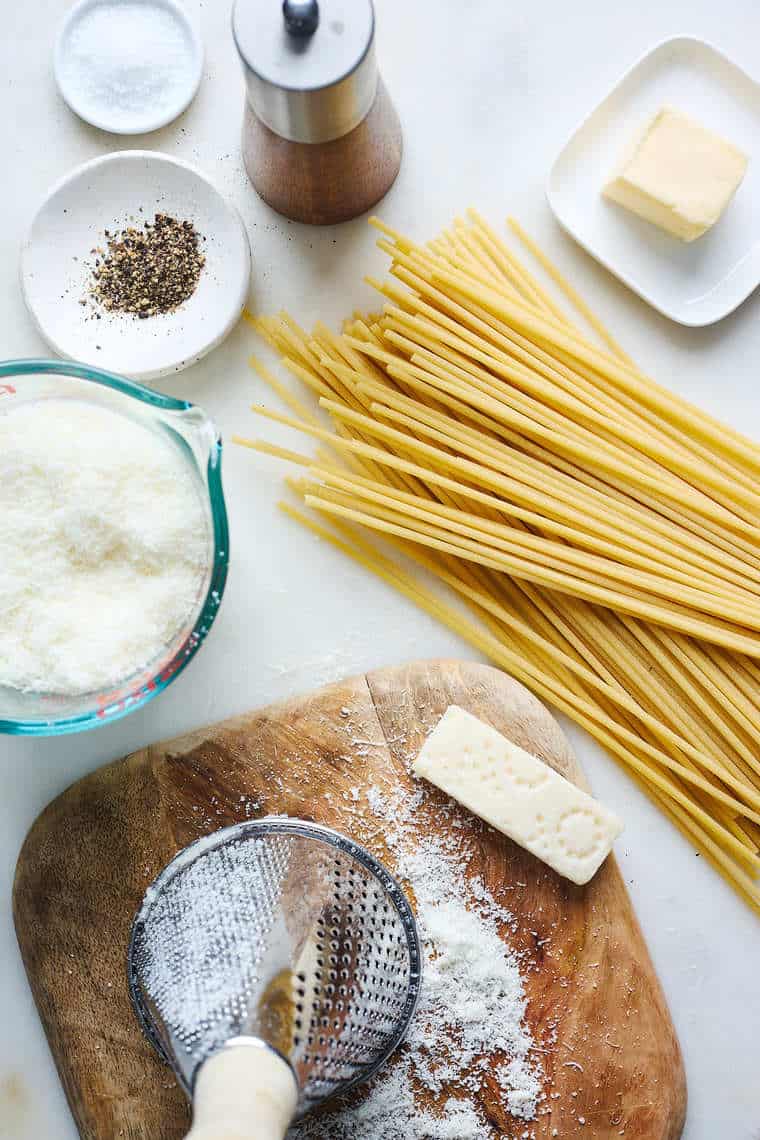 Ingredients
A dinner recipe with only 4 ingredients?! You'd think it was sorcery but I swear it's real!
Here's what you need:
BUCATINI PASTA is a thick, spaghetti-like pasta with a hole running through the center. In a pinch, you can replace it with spaghetti, spaghettoni (thicker spaghetti), or fettuccine.
UNSALTED BUTTER is best here because it helps to control the seasoning of the food. Using high-quality butter is highly recommended. A grass-fed variety from Iceland, New Zealand, Canada, or even a local producer will absolutely blow your mind.
BLACK PEPPER is piney, citrusy, and woodsy with lots of warm spice. You're welcome to add as much or as little as you'd like!
PECORINO ROMANO is made from sheep's cheese, which gives it a grassy and almost earthy flavor. Traditional parmesan is harder and nuttier. Both will produce some dang good pasta sauce.
How to Customize
There are so many ways to individualize this traditional cacio e pepe recipe! Make it your own and let me know how it went in the comments below.
Here are a few of GBC's suggestions;
ADD GARLIC: Saute a couple cloves of minced or grated garlic in the butter (along with the pepper) then proceed with the recipe.
ADD PROTEIN: To make this dish a bit heartier, add some grilled chicken, bacon, or shrimp.
SWAP FOR GLUTEN-FREE PASTA: use your favorite gluten-free pasta variety! It will of course affect flavor and texture but, hey, I'd rather live with some kind of pasta than without it.
ADD NUTS: Sometimes I like to add a bit of crunch to my pasta. Toasted pine nuts, walnuts, or almonds are all delicious when sprinkled or tossed into this recipe.
MAKE IT SPICY: Add a dash of red pepper flakes to give this dish a subtle kick!
TOSS IN SOME VEGGIES: Need a little more fiber in your diet? Add your favorite cooked veggies to this pasta! Peas, asparagus, spinach, and kale are all great options.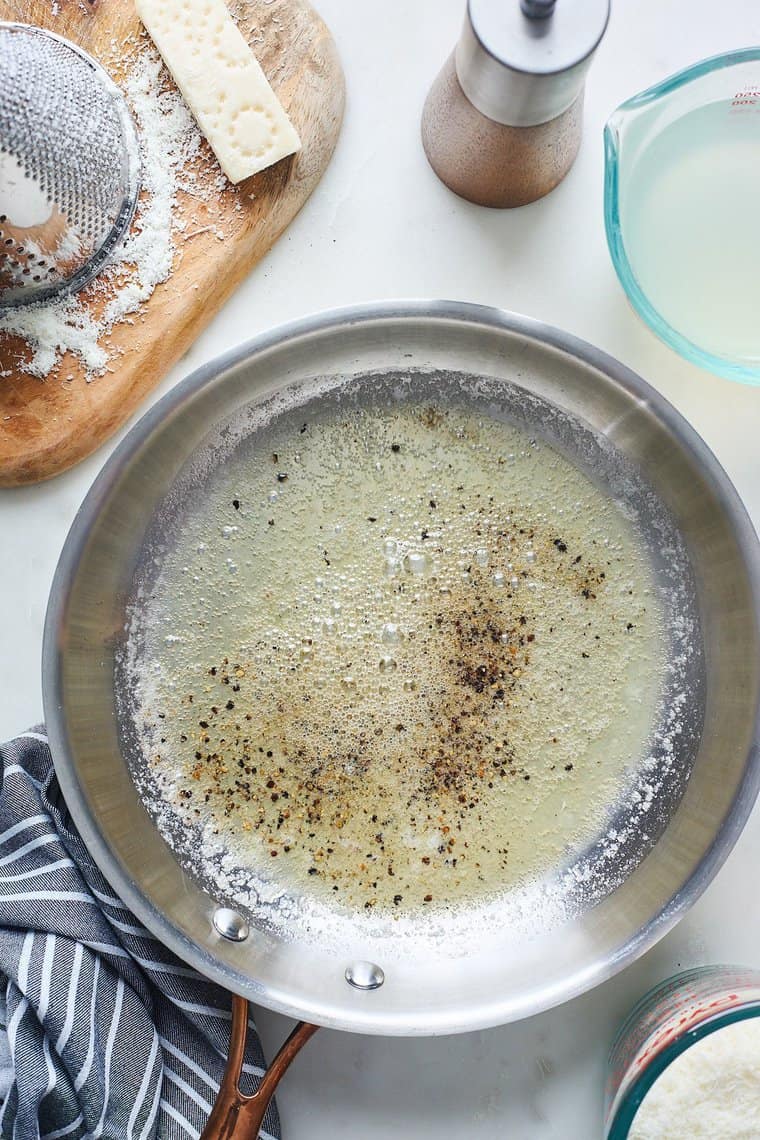 How To Make Cacio E Pepe At Home
Made in just about 30 minutes, Cacio E Pepe is one of the easiest pasta dishes to make. You'll just need a handful of ingredients, a boiling pot, and a large sauté pan.
I recommend reading through the recipe a few times beforehand so you don't have to concentrate on it much while you cook. These steps move quickly and time wasted rereading could make the difference between a perfectly cooked pasta and an overdone one.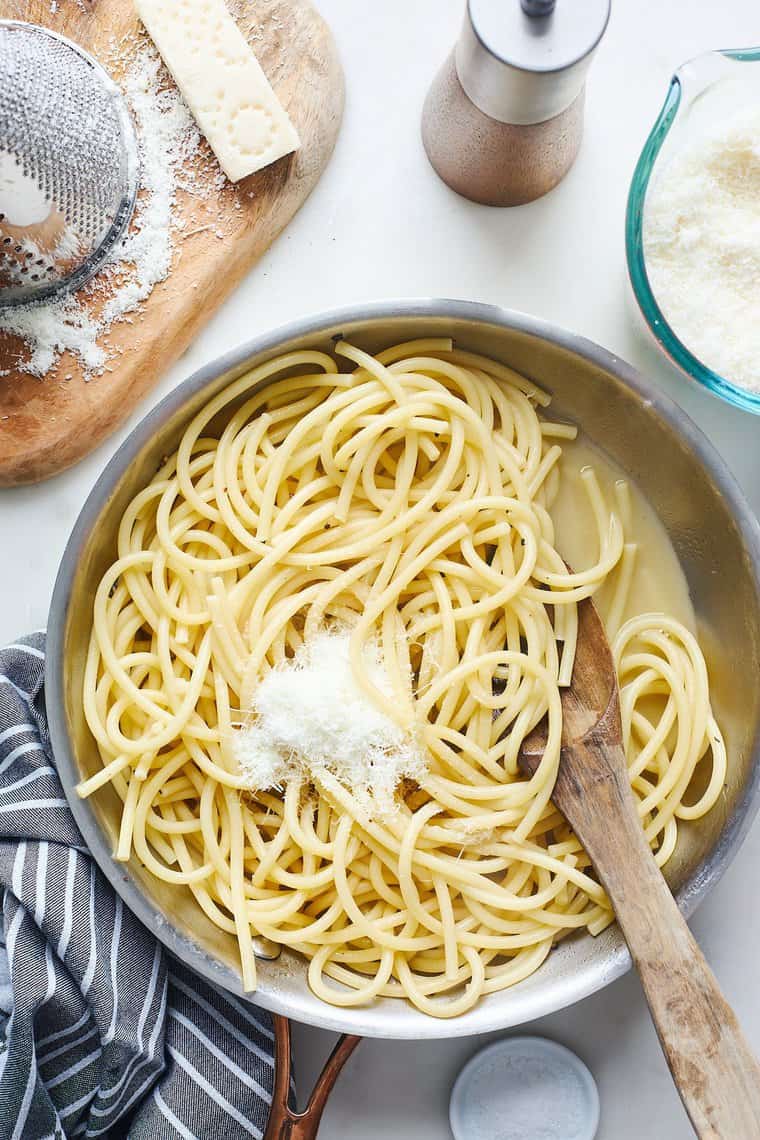 Recipe Tips
SALT THE WATER. Pasta water should taste like the ocean, which means you need a lot more salt than you think you do. I recommend using about 2 tablespoons of kosher salt per gallon (4 quarts) of water. Do not use iodized table salt, which is tongue-tinglingly salty and gives food a tinny, bitter taste.
DON'T OVERCOOK THE PASTA. Remember that the pasta is cooked twice in this recipe. If you over boil it, the end result will be mushy and unappetizing. Cook the pasta according to its directions until it is 3 minutes shy of al dente. Don't forget to reserve that salted water!
ADD THE PECORINO GRADUALLY. Do not dump in the parmesan all at once or you'll get one gloopy mess. Instead, sprinkle it in handfuls at a time and stir until creamy. If the sauce looks too thick, add a splash of pasta water to loosen it.
USE COARSE GRIND BLACK PEPPER. If possible, loosen the knob on your pepper grind to its most coarse setting. Freshly cracked pepper will bloom over low heat, releasing aromatic oils and flavoring the pasta beautifully.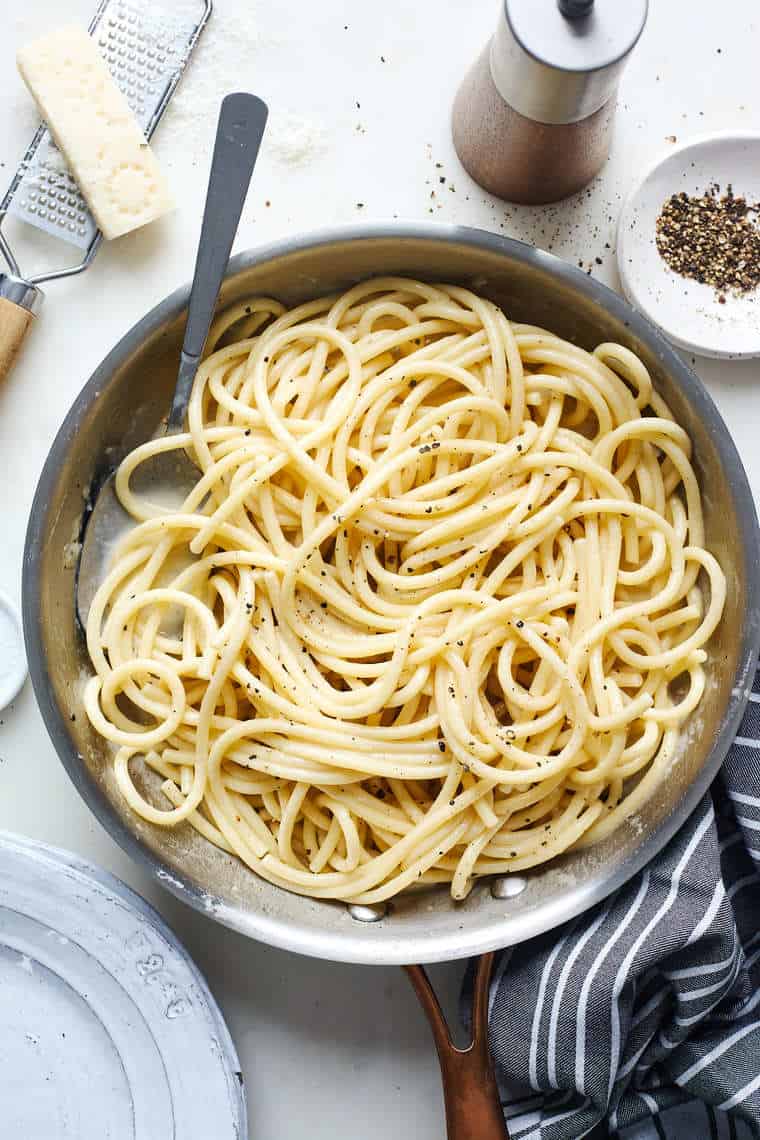 Can You Reheat It?
While cacio e pepe is best eaten immediately, leftovers can be stored in an airtight container for up to 3 days. The sauce will thicken in the fridge. You can reheat the pasta with a splash of water in a non-stick pan set over medium heat. Carefully mix the pasta as it reheats for a few minutes.
More of Grandbaby Cakes' Best Pasta Recipes
At GBC pasta is always on the menu! After you've tried this one, sample a few more of my FAVORITE carb-loaded recipes: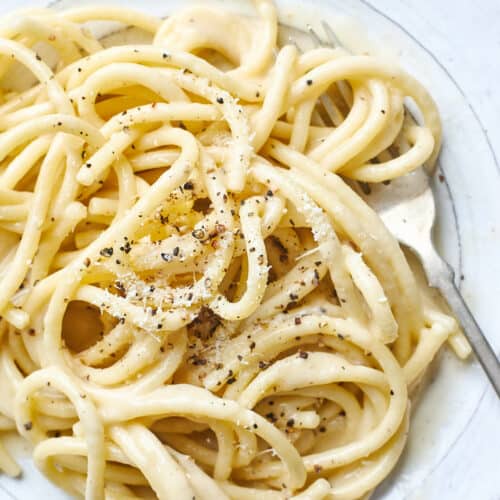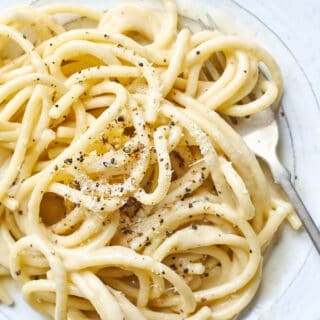 Cacio E Pepe
This Authentic Cacio e Pepe recipe is easy to make and spectacularly creamy! Made with just 4 ingredients this humble roman dish is chock full of flavor!
Print
Pin
Rate
Ingredients
Salt

6

oz

dried bucatini

2

tbsp

unsalted butter

2

tsp

freshly cracked black pepper

2

cups

finely grated pecorino Romano cheese
Instructions
Bring a large pot of salted water to a boil over high heat. Add the bucatini and cook until it is just floating, about 7 minutes. Drain well, reserving 1 1/2 cups of the pasta cooking water.

Meanwhile, melt the butter in a large saute pan over medium heat. Stir in the pepper and let bloom in the butter for 30 seconds. Add 3/4 cup of the pasta water to the pan and bring it to a gentle boil over medium heat, whisking to emulsify the water and butter, about 1 minutes. Add the pasta to the pan and cook, tossing occasionally, until the pasta is al dente and the sauce reduces and becomes thick and glossy, about 3 minutes.

Remove from the heat and gradually stir in the pecorino until it's melted. The sauce should be creamy; if it looks dry, add more of the pasta cooking water a tablespoon at a time to loosen. Serve hot.
Notes
If you are substituting dried pasta, cook it according to the package directions until it is 3 minutes shy of al dente.  
Loosen the little knob on top of your pepper grinder for a coarse pepper. For this recipe, you want the grind to be as coarse as possible.
Nutrition
Calories:
808
kcal
|
Carbohydrates:
68
g
|
Protein:
43
g
|
Fat:
40
g
|
Saturated Fat:
25
g
|
Polyunsaturated Fat:
2
g
|
Monounsaturated Fat:
11
g
|
Trans Fat:
0.5
g
|
Cholesterol:
134
mg
|
Sodium:
1207
mg
|
Potassium:
306
mg
|
Fiber:
3
g
|
Sugar:
3
g
|
Vitamin A:
776
IU
|
Calcium:
1094
mg
|
Iron:
2
mg