These moist flavorful Carrot Cake Cupcakes are baked with grated carrots, warm spices, and pineapple then topped with brown butter cream cheese frosting making them the BEST dessert ever! Serve these tender and flavorful cakes at your next Easter celebration or year round! If you love these Carrot Cupcakes, you will also love my Classic Carrot Cake, Carrot Bundt Cake and Swirled Carrot Cake Bars.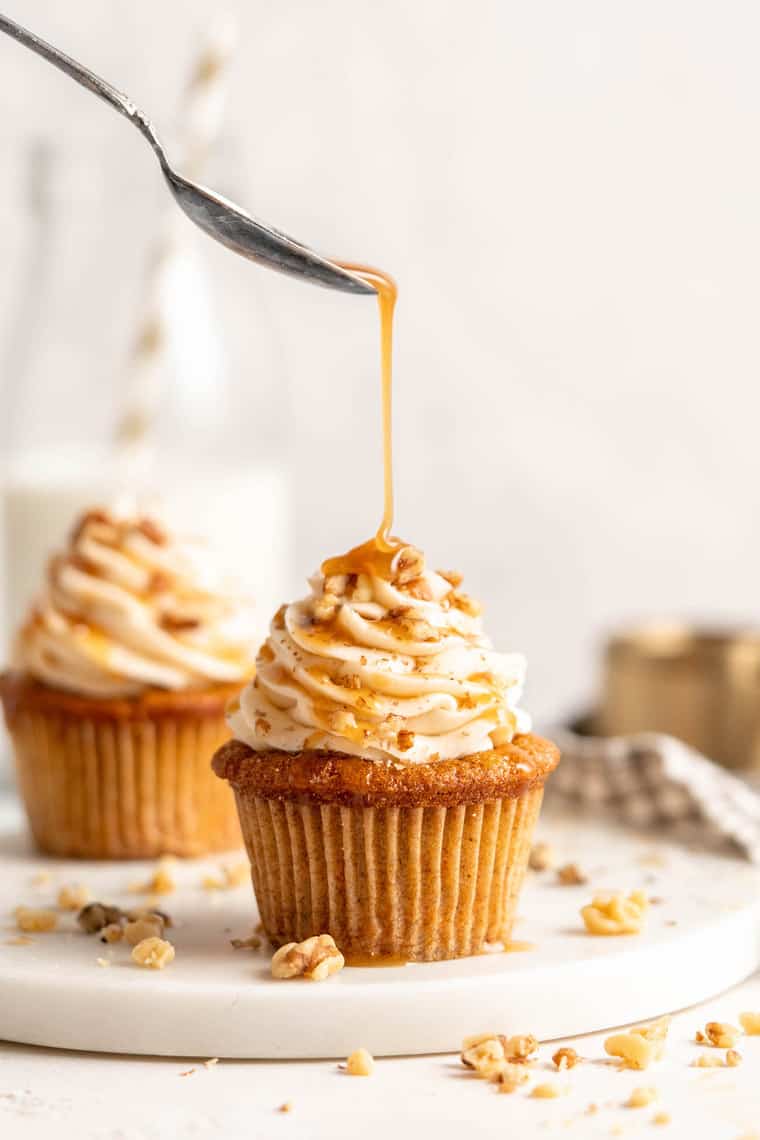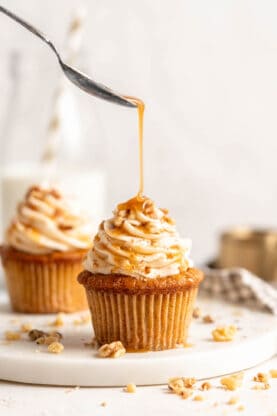 Carrot Cake is one of those desserts you either love or hate. There's no in between. Whether it's the vegetables or the occasional addition of raisins, some folks just can't understand the magic that is this recipe.
Layers of deliciously spiced cakes, studded with sweet carrots, hearty walnuts, and juicy pineapple, and tangy cream cheese frosting are all I need to be the happiest woman in the world.
Today we're converting a classic cake into cupcakes. Homemade Carrot Cake Cupcakes have all the same flavor in smaller packaging! This simple recipe is perfect for Easter celebrations, birthdays, or weeknight dessert.
CARROT CAKE CUPCAKES RECIPE
This cupcake batter comes together super quick, no electric mixer needed! The ingredient list itself is a bit hefty but most of it consists of pantry staple baking items, as well as common spices and everyday dairy products like eggs, butter, and cream cheese.
The best Carrot Cupcakes are fragrant, tender, and creamy, and these cupcakes are just that. Easy to make and even easier to eat one too many of, these moist treats are a must-have family recipe.
CARROT CUPCAKE INGREDIENTS
What I love the most about carrot cake is that each of the ingredients listed uses its individual texture and flavor to make those cupcakes better and better. The sum truly does make the whole.
Substitute ingredients as needed but try to keep things as close to the original as possible for the tastiest result possible.
Here's what you'll need:
Self-Rising Flour
Cinnamon
Nutmeg
Cloves
Allspice
Baking soda
Granulated Sugar
Vegetable Oil
Vanilla
Eggs
Carrots
Pineapple
Walnut
Unsalted butter
Cream cheese
Confectioners sugar
Salt

HOW TO MAKE CARROT CAKE CUPCAKES FROM SCRATCH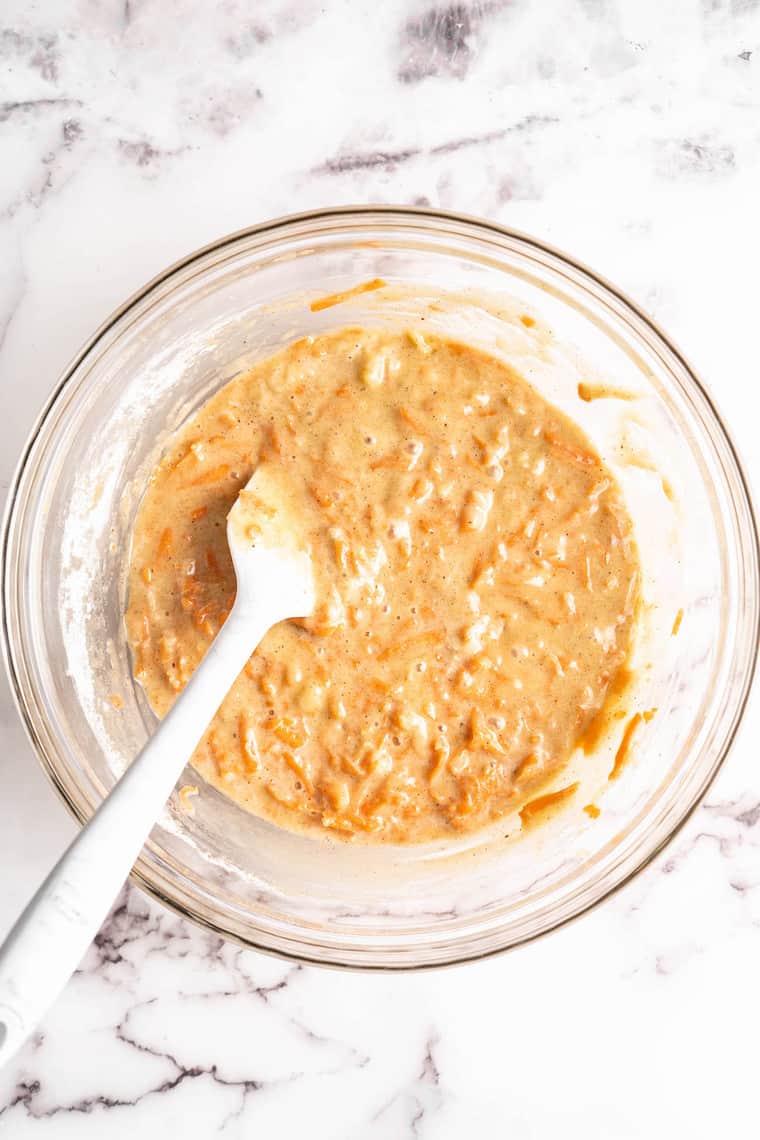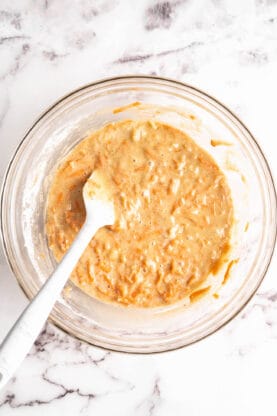 PREP THE BATTER– Before starting, I'd recommend measuring, sifting, and organizing your ingredients. Preheat the oven and prepare the muffin tins while you're at it! From there, it's mostly just adding and mixing until a batter forms. Don't overmix!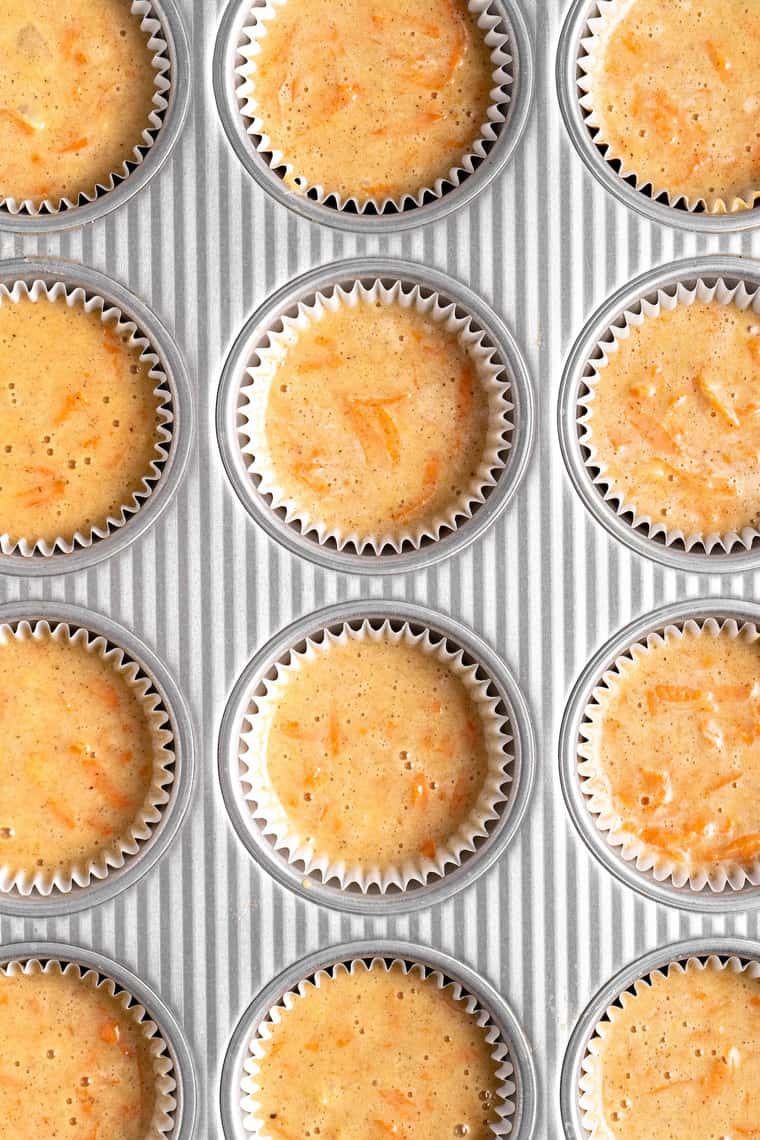 FILL THE LINERS- Use a cookie scoop or a large spoon to fill each liner, stopping at ¾ of the way full. Depending on your tin, you'll get about 24-30 cupcakes. Bake until a toothpick inserted in the center comes back clean. I'd start checking at the 15 minute mark.
BAKE AND COOL– After they've been removed from the oven, allow the cupcakes to cool in the tin itself for 5-10 minutes. Transfer the cupcakes to a wire rack to cool the rest of the way.
MAKE THE FROSTING– While you wait for the cupcakes to cool, make the brown butter cream cheese frosting! Start by melting the unsalted butter in a small saucepan on medium-low heat until a golden-brown, fragrant liquid forms. Allow the butter to slightly cool before adding to the rest of the ingredients and whipping it all up!
FROST– This is the fun part! Get creative and pile on a mountain of sweet, buttery frosting! Topped with chopped walnuts or a sprinkle of cinnamon for an extra special touch.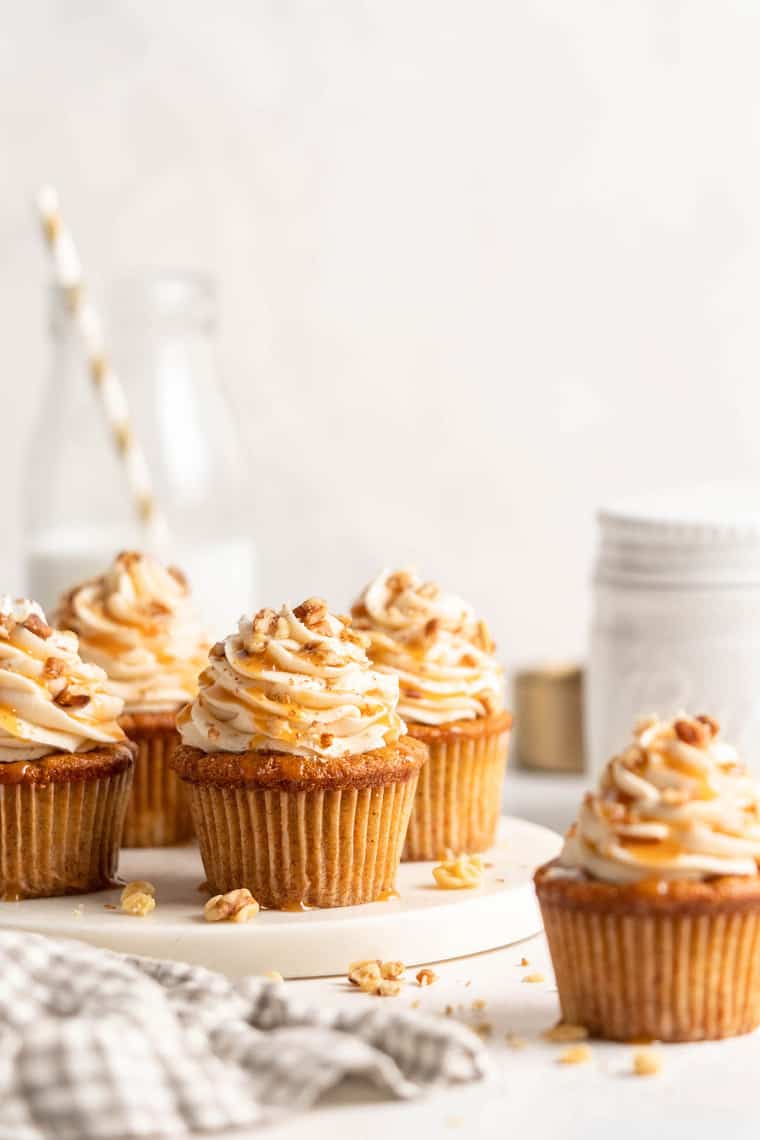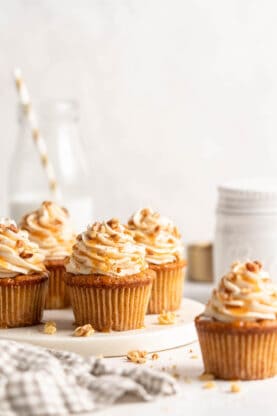 RECIPE TIPS
Do not overfill the liners. Each well should only be about ¾ of the way full. Any more and you'll end up with muffins not cupcakes.
Shred fresh carrots, no pre-shredded packaged ones. Freshly grated carrots are more flavorful and moist! One large carrot will produce about 1 cup of shredded carrots. I'd definitely recommend buying extra just in case though!
Walnuts add crunch and complexity. You can leave them out if you'd prefer, or use them as garnish. Pecans are also a great option!
Cream cheese frosting is smooth and tangy, adding browned butter takes it up a nutty notch. If you'd like to use a classic version instead, check out my recipe here.
Decorating carrot cupcakes is easy! Kick it old school and spread the frosting by hand or use a piping bag fitted with a frosting tip. Alternatively, a zip top bag with one of the corner tips cut will work.
WHAT TO DO WITH LEFTOVER CARROT CUPCAKES
As a general rule, freshly baked cupcakes will last for 1-2 days at room temperature. Cupcakes that contain frosting or filling made with dairy products or eggs, such as buttercream, meringue, whipped cream, or custard, should be immediately refrigerated. I'd recommend bringing the cupcakes back to room temperature before serving.
TIP: Leftover carrot cupcakes make for great cake pops! All you'll need to do is mash the leftovers into a dough-like mass, scoop out individual portions using your hand or a cookie scoop, and roll each one into a round. Refrigerate the rounds for a couple hours, pop in the lollipop sticks, and dip them into pre prepared candy melts of your choice!

CAN YOU FREEZE CARROT CUPCAKES?
Unfrosted cupcakes can be tightly wrapped in plastic wrap and frozen for up to 2 months. Defrost in the fridge overnight.
Frosted cupcakes can also be frozen but it will depend on the frosting and toppings used. Whipped cream, cookie pieces, and sugar sprinkles are just a few examples of things that won't freeze well.
To freeze Carrot Cake Cupcakes, place them into an airtight container and freeze for 2 hours. Wrap each cupcake in two layers of plastic wrap and place them back in the container or in a freezer-safe bag. Freeze for 4-6 weeks. Defrost overnight in the refrigerator.
MORE OF GRANDBABY CAKES' CUPCAKE RECIPES
Cupcakes come in all shapes, sizes, and flavors! Don't discriminate, try out a few more of my FAVORITE recipes: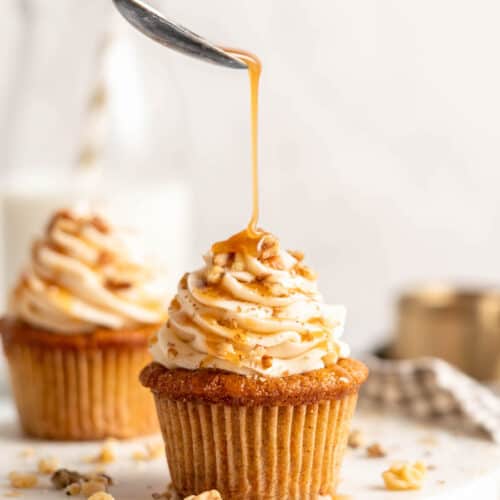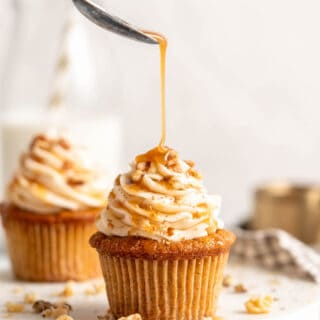 Carrot Cake Cupcakes
Made with a blend of warm spices, juicy pineapple, fresh carrots, and loads of creamy brown butter cream cheese frosting, this perfect Carrot Cupcake recipe is the BEST dessert ever!
Print
Pin
Rate
Ingredients
For the Cupcakes
2 1/2

cups

self rising flour

self rising flour usually has salt in it which is why it was omitted here but if you want a bit more you can add 1/4 tsp of salt as well

1 1/2

tsp

ground cinnamon

1/2

tsp

nutmeg

1/2

tsp

ground cloves

1/4

tsp

allspice

1

tsp

baking soda

2

cups

granulated sugar

1

cup

vegetable oil

1

tbsp

vanilla extract

or vanilla paste

4

large eggs

3

cups

grated carrots

1/2

cup

crushed pineapple

you can omit this if you want but I think it is essential/ I ONLY DRAIN PARTIALLY

1

cup

chopped roasted walnuts

optional
For the Frosting
1/2

cup

unsalted butter

16

oz

cream cheese

somewhat softened but still a little stiff/ 16 oz is 2 (8 oz) packages

3 1/2

cups

confectioner's sugar

if you want the frosting more stiff, add another 1/2 cup going up to 4 cups total

pinch of salt

1

tsp

vanilla extract

Homemade caramel sauce

found here
Instructions
For the Cupcakes
Preheat oven to 350 degrees.

Sift together flour, cinnamon, nutmeg, cloves, allspice and baking soda and set aside.

Next line the bottoms of 2-3 muffin pans with cupcake liners.

In the bowl of your stand mixer, beat sugar, oil and vanilla together at medium speed. Next add eggs, one at a time, blending after each incorporation.

Next slow down the mixer to lowest speed and add flour mixture in increments.

Fold in carrots, crushed pineapple if desired and walnuts if desired.

Using an ice cream scooper, evenly add batter to cupcake liners about 3/4s full.

Bake for 15-20 minutes or until a toothpick inserted in the center comes out clean.

Cool cupcakes until completely room temperature before adding frosting.
For the Frosting
In a small saucepan, add butter and melt over medium heat. Once the butter has fully melted, a white foam will begin to appear over the top of the butter.

Watch carefully as the butter's color changes to brown and the smell of the butter becomes somewhat nutty.

As soon as the butter is an amber brown color, remove from heat and cool in the refrigerator until it the butter has become solid again (can take about an hour or so).

Add cooled brown butter and cream cheese to the bowl of your mixer and beat on high speed until it begins to thicken and fluff.

Next slow down mixer and carefully add in confectioner's sugar. Once all sugar has incorporated, turn mixer back to high to continue whipping.

Add salt and vanilla extract and continue whipping until it is smooth.

Add frosting to a piping bag and frost completely cooled cupcakes. Top with homemade caramel and nuts if deserved and serve.
Notes
Both the pineapple and nuts are optional in this recipe.  Due to nut allergies in my family, I usually just add the pineapple without the nuts.
If you are adding the nuts, you can also add nuts as a gorgeous garnish to the design of the frosting as well on the outside!
Nutrition
Calories:
511
kcal
|
Carbohydrates:
71
g
|
Protein:
7
g
|
Fat:
23
g
|
Saturated Fat:
11
g
|
Cholesterol:
87
mg
|
Sodium:
194
mg
|
Potassium:
192
mg
|
Fiber:
2
g
|
Sugar:
54
g
|
Vitamin A:
4631
IU
|
Vitamin C:
2
mg
|
Calcium:
57
mg
|
Iron:
1
mg