These Chicken and Waffle Sliders are Southern comfort at its finest! Spicy Tabasco Chipotle marinated then fried to golden brown chicken is topped with maple-spiced butter and sandwiched between fluffy cornmeal waffles! If you love this, you will also love my classic Chicken and Waffles!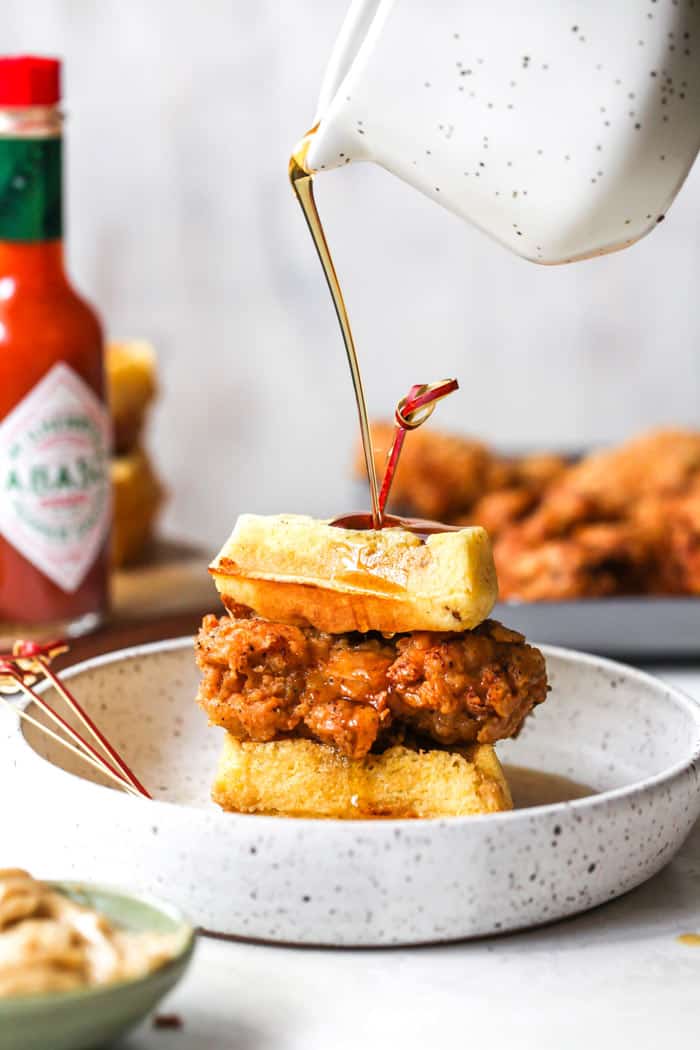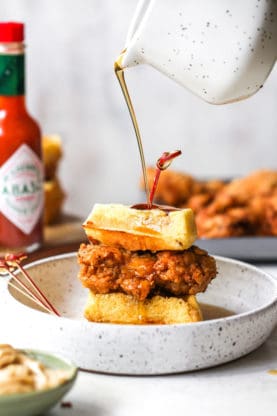 Disclosure: I partnered with Tabasco for this recipe post, but all opinions expressed here are my own. I am grateful for authentic partnerships like this.
There are two different kinds of people in this world: those who "get" chicken and waffles and those who don't. And y'all, I "get" it! Crispy, tender, buttery chicken gently arranged on top of fluffy waffles and drizzled with sticky maple syrup? Absolute perfection. The assortment of textures and balance between sweet and salty is everything I could ask for in a Southern comfort dish.
But, I'm about to share a dirty little secret with you, there's a method to my chicken and waffle consumption. To achieve the ideal waffle to chicken to maple ratio, I make sliders! It goes a little something like this: waffle bottom, buttered fried chicken, waffle top, drizzle of maple syrup and a few dashes of Tabasco. Yes, it's messy. No, you shouldn't touch your face after. But boy, is every crazy delicious bite worth it!
When I'm feeling a little extra feisty, I turn to today's Tabasco Chicken and Waffle Sliders! Classic fried chicken and sweet cornmeal waffles get a spicy makeover with the addition of Tabasco's Original Red Pepper sauce.
Ready to eat? I sure am.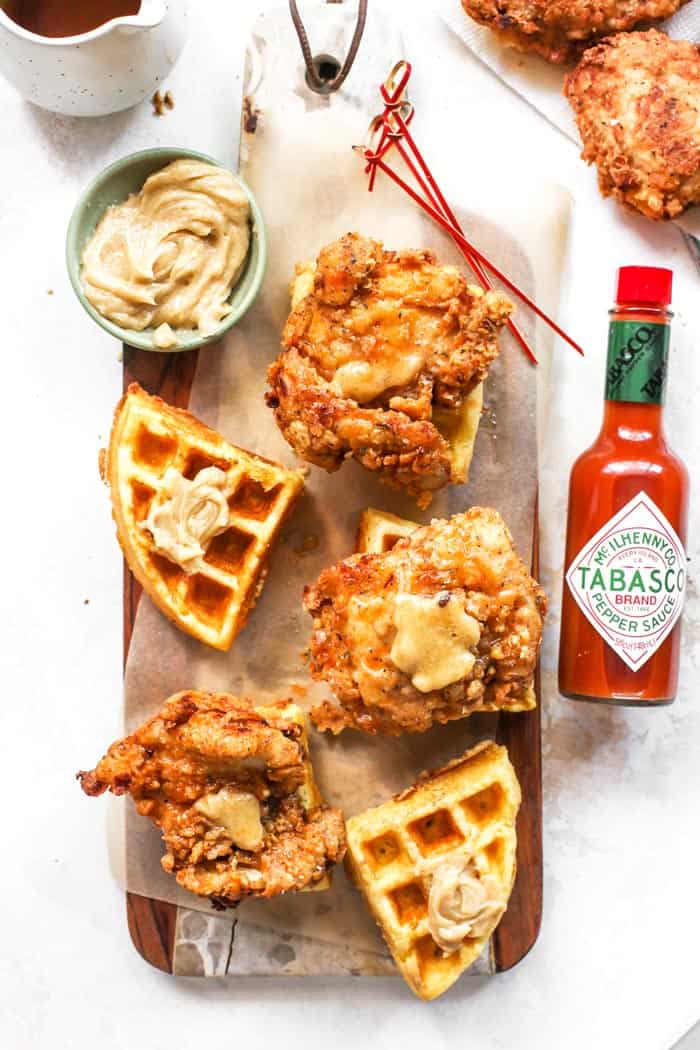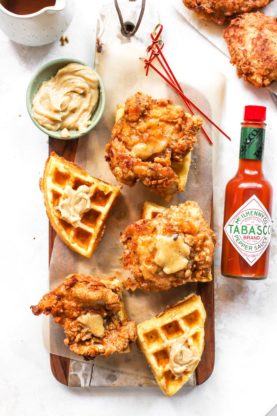 TABASCO ORIGINAL RED SAUCE
The hot sauce that started it all! Made with three simple ingredients (peppers, vinegar and salt), Tabasco is simple, versatile and delicious. For five generations, the Original Red Pepper Sauce has been aged in oak barrels in a slow, artisanal process. Just a dash of this signature sauce enhances the flavor of any food and layers in a feisty, fun kick!
Trust me, if you don't have a few bottles of Tabasco sauce tucked away in the pantry, you're doing it wrong.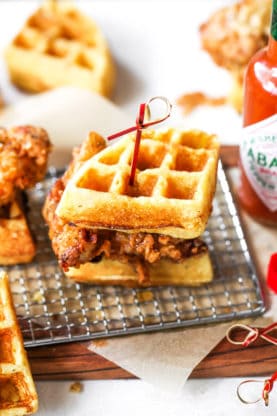 HOW TO MAKE CHICKEN AND WAFFLE SLIDERS
Not to toot my own horn but *toot toot*. Seriously y'all, I killed it with this one! Sweet, sticky, spicy, crunchy, tender and straight-up glorious, these sliders are out-of-this-world. Warning: find a few folks to share with or you're in for a deliciously hefty meal.
Here's what makes these sliders stand out:
Tabasco Buttermilk Marinade
Because buttermilk is only slightly acidic, it is capable of tenderizing chicken without toughening up the meat. Chipotles are dried, smoked jalapenos. Abobo is a slightly sweet, tangy red sauce. Both the sauce and the chipotles work together to create an intense, sour-sweet and smoky flavor. Combined with Tabasco Original Red Sauce, the chipotles and buttermilk all work together to create a peppery, flavorsome marinade.
TIP: At minimum, you should marinate the chicken for 6 hours. But, if you have the time, it's worth it to soak the chicken overnight. Just be sure to let the chicken sit at room temperature for 30-60 minutes before cooking.
Seasoned Flour Dredge
I've found that using simple, pantry-staple spices in the dredge allow our other ingredients to really shine. All together, the spices add herbaceous notes, well-balanced sweetness and subtle heat.
TIP: Adjust the seasonings according to your own personal tastes! Like it spicier? Sprinkle in a bit more cayenne. Heavy handed on garlic? Go for it and add a few more pinches! It's yours to play with.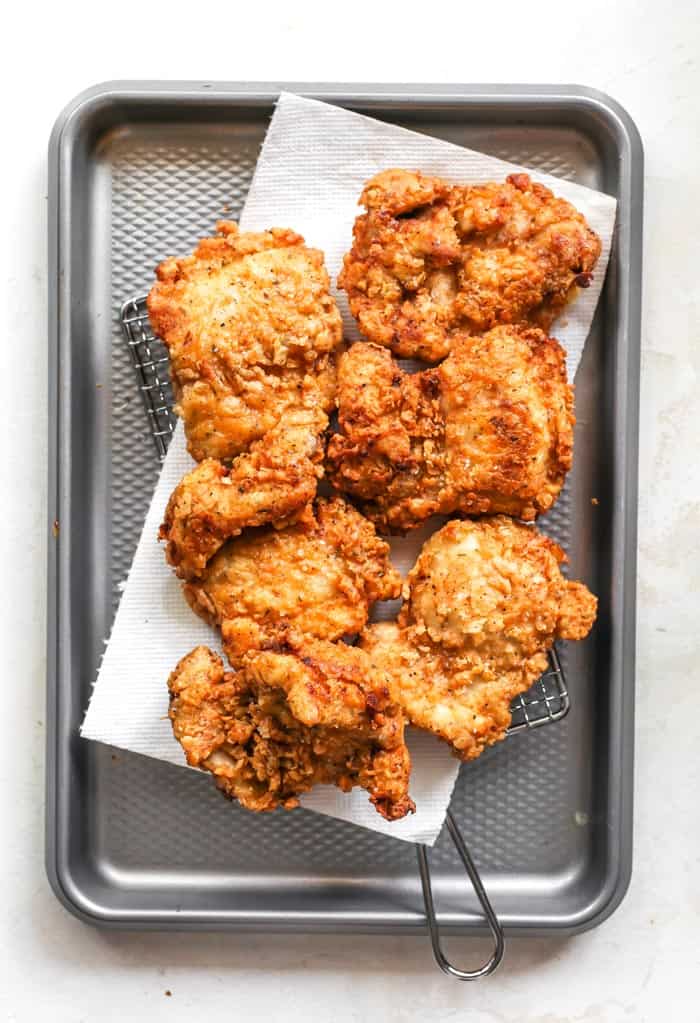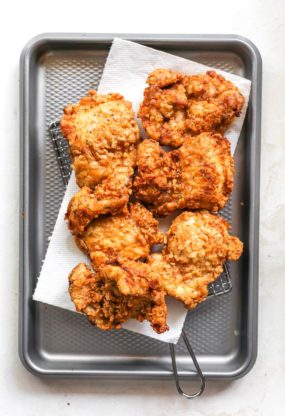 Cornmeal Waffles
Typically, this dish is served with a conventional buttermilk waffle but I ain't conventional. Using cornmeal adds a natural, earthy sweetness that pairs well with the spicy chicken. Similar to cornbread, cornmeal waffles aren't overly sweet which is crucial. Too sweet only gets sweeter when we add maple syrup!
TIP: Not a cornmeal fan? That's okay! This recipe works wonderfully with my Buttermilk Waffle Recipe.
Spiced Maple Butter
If you know me, you know how much I love spice! Maple Butters are often a bit too sweet for me so I decided to make it my own way. Adding Tabasco and cayenne mellow out the sweetness and create a delectably hot butter. Once you start spreading, it's hard to stop.
TIP: This spread works for more than just this recipe; pancakes, sandwiches, biscuits, you name it! Lately, I've found myself making a batch of this butter, storing it in a tightly-sealed jar and keeping in the fridge for spontaneous use.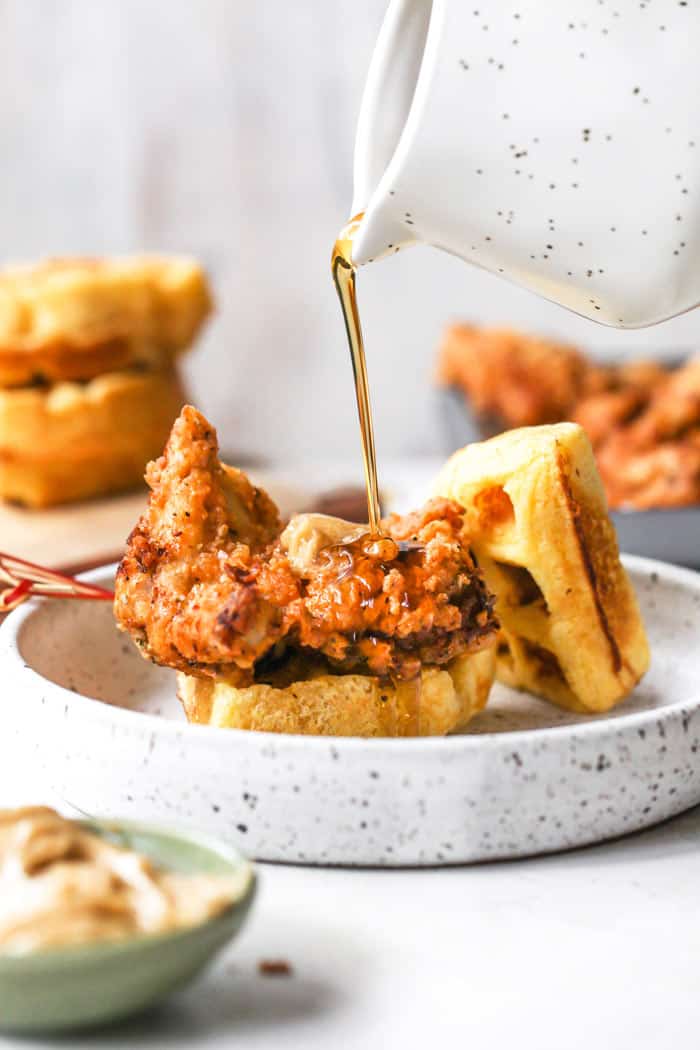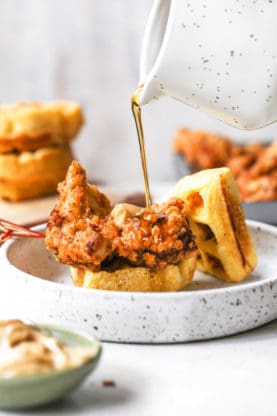 LEFTOVER STORAGE
Frying chicken is quite a bit of work so let's not let anything go to waste! Allow the chicken to completely cool, wrap it well (with aluminum foil or plastic wrap) and store on the top shelf of the fridge.
To reheat, let the chicken rest at room temperature for at least 30 minutes. Meanwhile, preheat the oven to 400 degrees and cover a baking sheet with foil. Place the chicken on the baking sheet, cover with another piece of foil to insulate and bake for 15-20 minutes.
Waffles are intended to be eaten hot and fresh; cooked waffles go stale quickly. I wouldn't suggest storing leftover waffles for later consumption. Instead, only cook as many waffles as you'll immediately need and store the leftover batter in an airtight container. Once in the refrigerator, leftover waffle batter will keep for 2 days.
To Use, remove the batter from the fridge and whisk gently to repair any separation and loosen the mixture.
GRANDBABY CAKES BEST FRIED CHICKEN RECIPES
Fried chicken is always in-style y'all! Crisp, seasoned skin and tender, juicy meat make for the ultimate comfort food. Soothe the soul tonight with one of my favorite Southern-inspired fried chicken recipes: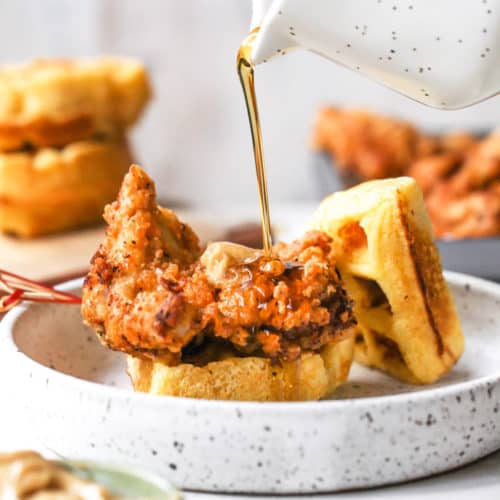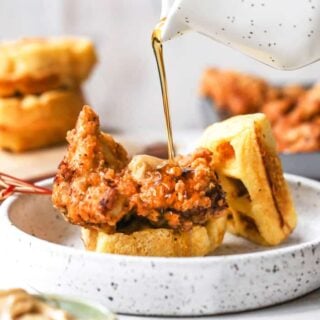 Spicy Chipotle Fried Chicken & Cornbread Waffle Sliders
The ultimate marriage between sweet and spicy, Tabasco Chicken and Waffle Sliders are Southern comfort at its finest! Steeped in a Spicy Tabasco Chipotle marinade, dredged in seasoned flour, fried to golden-brown perfection and coated in a maple-spiced butter, this fried chicken is on a whole other level. All of that goodness is sandwiched between sweet, fluffy cornmeal waffles!
Print
Pin
Rate
Ingredients
For the Spicy Tabasco Chipotle Fried Chicken Marinade
2

cups

buttermilk

2

adobo chipotle peppers in sauce

1/4

cup

TABASCO® BRAND ORIGINAL RED SAUCE

1

tbsp

worcheshire sauce

1/2

tsp

kosher salt

1/2

tsp

black pepper

6

boneless skinless chicken breasts or thighs
To Fry Chicken
Vegetable oil for frying

1

cup

all-purpose flour

1/4

cup

cornstarch

1/2

tbsp

kosher salt

1/2

tbsp

smoked paprika

1

tsp

onion powder

1

tsp

garlic powder

1

tsp

Italian seasoning

1/2

tsp

black pepper

1/2

tsp

cayenne pepper

2

tsp

buttermilk
For the Cornmeal Waffles
8.5

oz

corn muffin mix

1

large egg

2/3

cup

buttermilk

2

tbsp

unsalted melted butter

1

tbsp

maple syrup
For the Maple Spiced Butter
1/4

cup

salted butter

room temp

1 1/2

tbsp

brown sugar

1 1/2

tbsp

maple syrup

1/2

tsp

TABASCO® BRAND ORIGINAL RED SAUCE

pinch of cayenne pepper
Instructions
To Marinade
Add buttermilk, chipotle peppers, Tabasco sauce, Worcheshire sauce, salt and pepper to a heavy duty blender or food processor and process until smooth.

Pour the marinade into a large bowl then add chicken making sure to completely submerge then cover and refrigerate for 5-6 hours.
To Fry
When ready to fry, add flour, cornstarch, salt, paprika, onion and garlic powder, Italian seasoning, black pepper and cayenne to a plastic bag and shake together until combined.

Next, drizzle buttermilk into the flour mixture and use a fork to mix it in to create crumbs.

Using tongs, remove one piece of chicken at a time and add to the flour bag. Coat thoroughly, shake off access then set on a parchment paper lined baking sheet. Repeat until all pieces are on the tray then add to the refrigerator for 20 minutes.

Add vegetable oil to a cast iron skillet or dutch oven about ¾ inch deep and heat to 350 degrees.

Remove chicken from the refrigerator and let it get back to room temperature for 10 minutes then add a few at a time to oil making sure you don't overcrowd the pan. Fry for 13-15 minutes turning chicken halfway. To make sure chicken is done, check for golden brown crunchy exterior and an internal temperature of 165 degrees.

Remove and drain on paper towels. Add chicken to a preheated oven to stay warm while you complete the rest of the components.
For the Waffles
To make the waffles, preheat a waffle iron. If you want to hold the finished waffles until serving time, preheat an oven to 200°F.

In a large bowl, whisk together all ingredients until just combined.

Grease the grids of your waffle iron then spoon in batter according to the manufacturer's instructions then bake until crisp and golden brown. Separate the waffles into four sections/quarters based on the waffle grid. Each waffle will make two complete sliders (2 waffle quarters).

Add completed waffles to a preheated oven just so they stay warm while you make the rest.
For the Maple Butter
Whisk together together butter, brown sugar, maple syrup, Tabasco sauce and cayenne pepper until well mixed. Chill in the refrigerator, for about 30 minutes. Form into a roll using parchment paper and serve over chicken and waffle sliders.
To Build Sliders
Brush or spread maple butter over the top of chicken allowing it to melt down over it and glisten. Add maple butter to the bottom waffle as well allowing it to melt down.

Next sandwich the chicken between two waffle quarters. Serve with extra Tabasco and Maple Syrup.
Nutrition
Calories:
618
kcal
|
Carbohydrates:
65
g
|
Protein:
34
g
|
Fat:
24
g
|
Saturated Fat:
11
g
|
Cholesterol:
143
mg
|
Sodium:
1837
mg
|
Potassium:
701
mg
|
Fiber:
4
g
|
Sugar:
22
g
|
Vitamin A:
1248
IU
|
Vitamin C:
2
mg
|
Calcium:
182
mg
|
Iron:
3
mg