Chicken and Waffles Recipe – Better than Roscoe's Chicken and Waffles recipe. Imagine perfectly seasoned and crispy fried chicken on top of a fluffy, sweet and tender waffle! If you love Fried Chicken recipes like my Buttermilk Fried Chicken or Big Mama's Fried Chicken or even this Chicken Fried Steak, you will adore the wonderful crunchy and flavored texture of this recipe combined with the most delicious Buttermilk Waffles Recipe ever! Also try my Spicy Chicken and Waffle Sliders!
If you're reading this recipe and wondering 'what are chicken and waffles?' then I have an amazing surprise for you!!! Imagine perfectly seasoned and crispy fried chicken on top of a fluffy, sweet, and tender waffle! Drizzled with sugary syrup and warm butter. If your mouth isn't watering now, it will be after you learn how to make your own Chicken and Waffles with me!
If you love Fried Chicken recipes like my Buttermilk Fried Chicken or Big Mama's Fried Chicken or even this Chicken Fried Steak, you will adore the wonderful crunchy and flavored texture of this recipe combined with the most delicious Buttermilk Waffles Recipe ever! Can't get enough chicken still? Try my Spicy Chicken and Waffle Sliders!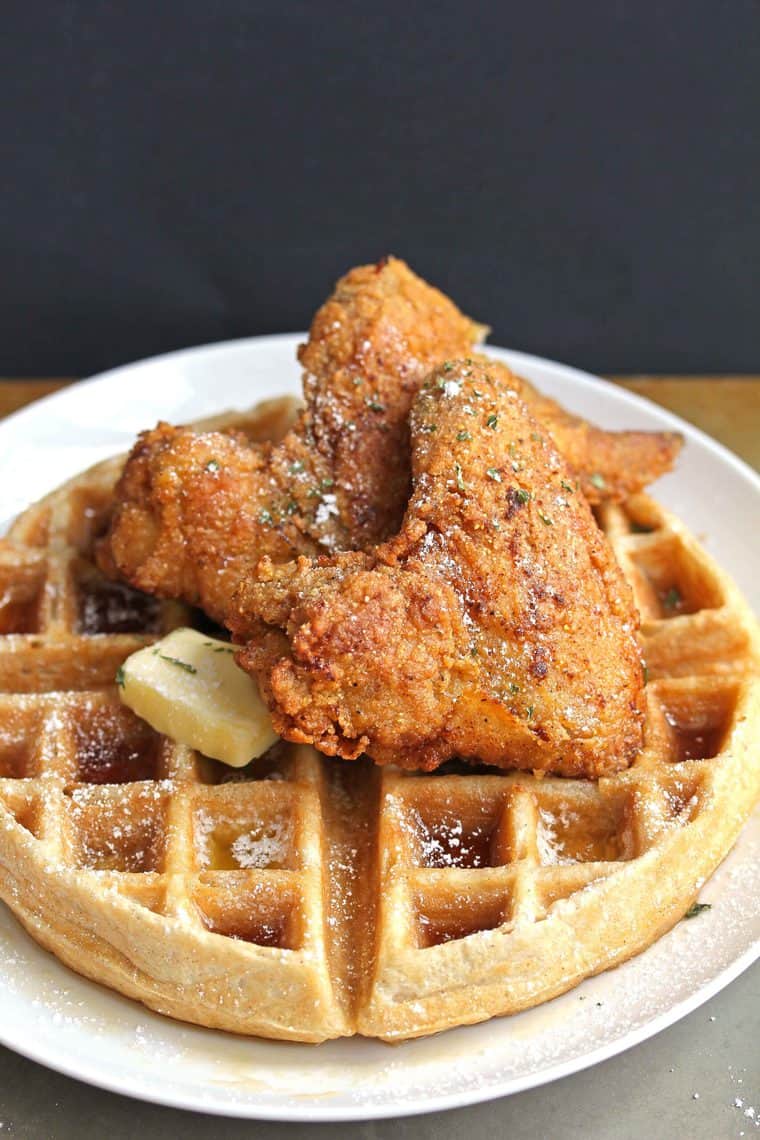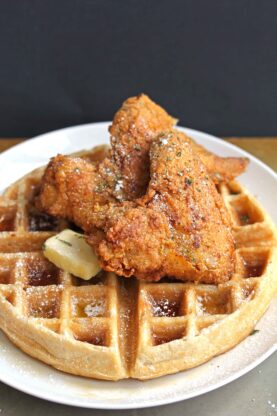 Where Did Chicken and Waffles Originate?
I first heard about Chicken and Waffles years ago. There is a little spot most of you may know of called Roscoe's Chicken 'N Waffles. Pretty iconic place too for a good reason! They were one of the first main spots to combine a crisp waffle with fried crispy chicken on top. Breakfast and dinner in one setting?? You'd be crazy to turn something that good down!
Still, as famous as Roscoe's House of Chicken 'N Waffles may be, they weren't the ones to start up this train of sweet and savory flavor.
The comforting breakfast-dinner combo trend actually started in Harlem at a supper club in the 1930s. Now, it's a staple of traditional southern cuisine across the states. Just about every Southern restaurant or diner prides themselves in serving up deep fried deliciousness over syrup and batter!
But, this wasn't the case years ago. We can thank the glorious chefs in Harlem for passing on this classic for generations to come.
And trust and believe me when I say I do thank them!! First of all, I am the biggest fan of fried chicken. EVER. I fry chicken a lot in my home because I grew up on it (see my Big Mama's Fried Chicken recipe). When I'm not frying chicken, I like to opt-in for oven-frying chicken tenders, dredging and sautéing, or simply just baking it. Either way you look at it, I have a chicken problem!
When I first discovered that fried chicken could be served with buttermilk waffles, I couldn't imagine a better scenario where two amazing things could come together to make something even more spectacular! Know that it was life-changing. So life-changing in fact that I decided to put my own little spin on the popular recipe. Here's where my Chicken and Waffles Recipe comes from!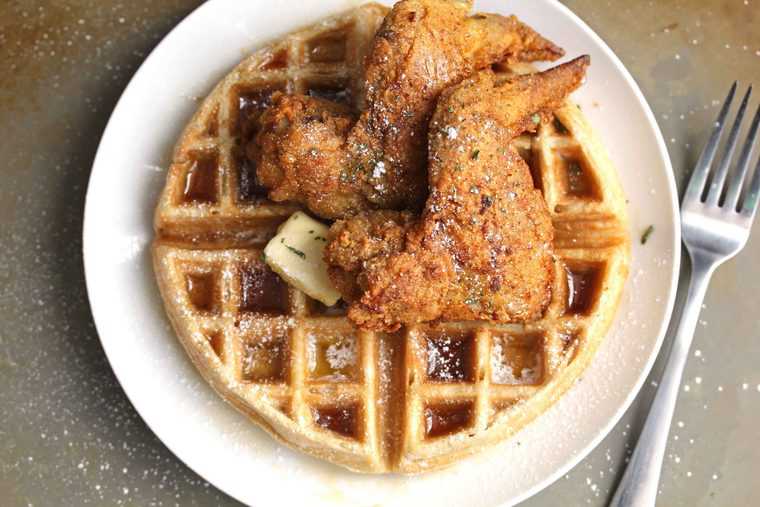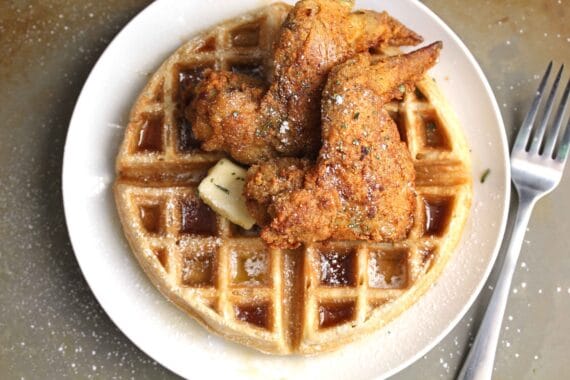 How to Make Chicken and Waffles
Crispy Waffle Batter Recipe
My buttermilk waffles recipe (I also make these blueberry waffles) is true for two things: it's one of the best breakfast meals around and it's one of the best waffle batter recipes to use with this chicken and waffles recipe. These buttermilk waffles are beautifully golden and super soft. And best of all, they are crispy which makes for a mouthwatering masterpiece of sensational flavor.
What makes these waffles so wonderful are the batter ingredients and tricks like:
Buttermilk (creates the best texture and tangy flavor)

Cinnamon (adds such wonderful warmth)

Separating the eggs! (adding yolks then adding in stiff whites is a game changer!)
Buttermilk Fried Chicken Recipe
Did I mention how big of a fan I am for chicken? Look across my site and you'll see with my Southern Fried Chicken Biscuits and Sweet Tea Fried Chicken how much I enjoy cooking with chicken! Even so, there's nothing like buttermilk fried chicken. Which adds the perfect essential topping upon my crispy waffle batter.
You can make this buttermilk fried chicken at home quick and easy with a few key ingredients:
Buttermilk (once again for that tender, flaky taste)

Worcestershire Sauce (excellent balance of tangy, sweet, and savory)

Hot Sauce (to add in a little, spicy kick!
Lastly, just add some sticky maple syrup on top and you are all set! The combination of chicken and waffles just can't be beat. Plus, it is so versatile! It's a meal that can be served for breakfast, lunch, or supper!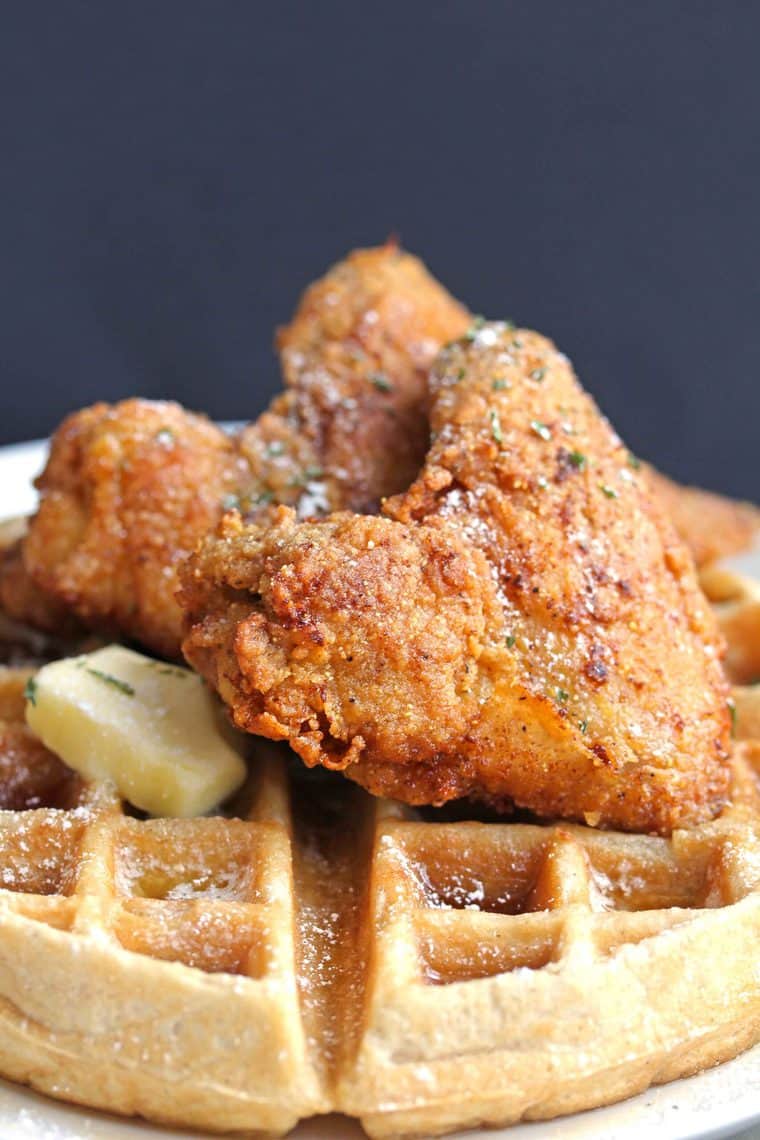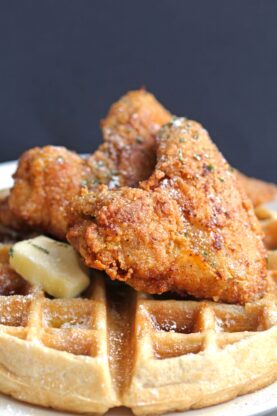 Where Can I Get Chicken and Waffles?
Come with me to visualize a perfect dish. Just imagine soft yet crisp buttermilk waffles topped with well-seasoned, extra-crispy, golden-brown fried chicken wings. Then top that heavenly dish with fresh butter and pure maple syrup. The salty, sweet, and flavorful all blend together seamlessly. Magic happens. End of story.
This sudden food daydream probably has you feigning for a taste! Fortunately for you, there are thousands of restaurants that have hopped on this tasty trend.
While I have been to several chicken and waffles places like Chicago's Home of Chicken and Waffles and Roscoe's House of Chicken 'N Waffles, I needed to make this at home so I could satisfy the cravings whenever I had them!
After all, the best place to get any food craving satisfied is in the comfort of your own kitchen. With this recipe y'all won't even need to look up places that serve chicken and waffles!
How To Eat Chicken and Waffles?
For those who are wise eating enthusiasts, it's most common (and highly encouraged) to combine the waffle and chicken on a fork with syrup for the ultimate sweet, salty, and spicy bite!
Your heart may be questioning whether Chicken and Waffles go well together?
I've only got one reply for that…
ABSOLUTELY! In the strangest way, they go together perfectly. Nowadays you will even see people combining fried chicken and pancakes for a new age twist. The best thing you can do is try it!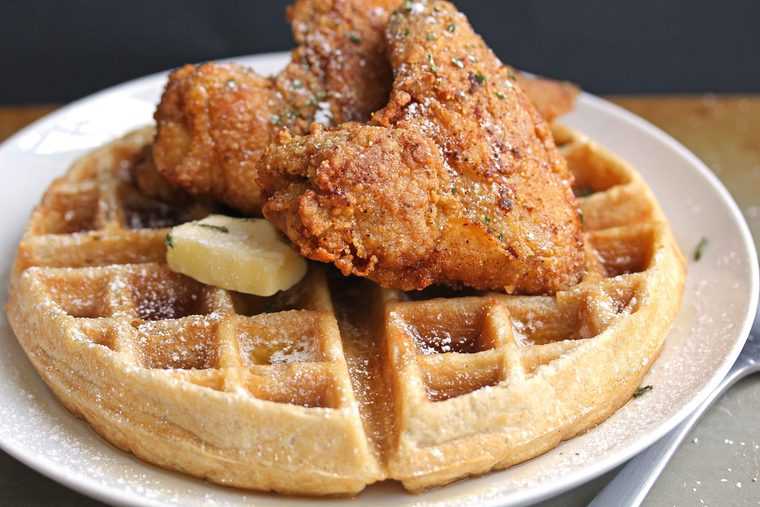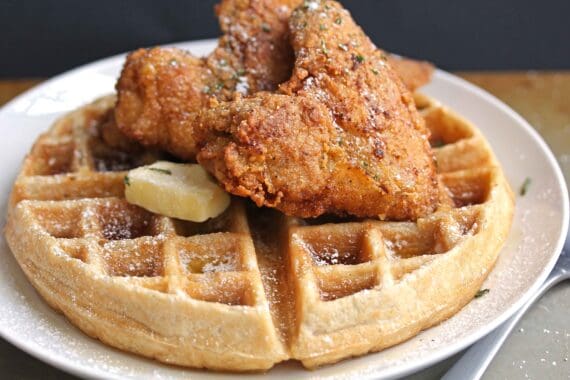 What Goes With Chicken Waffles?
This isn't even a question you need to ask, because I have you completely covered!! For sake of time, we're going to focus on breakfast sides, but chicken and waffles is literally what you make it. Fries, mashed potatoes, chips, or whatever you're in the mood for works great!
For incredible breakfast ideas and sides to go along with this recipe, check out these posts:
Perfect pancakes are my jam! These lemon ricotta pancakes, or this easy blueberry pancakes recipe, and even these brown sugar pancakes are incredible!
If you love other amazing fried recipes, go HERE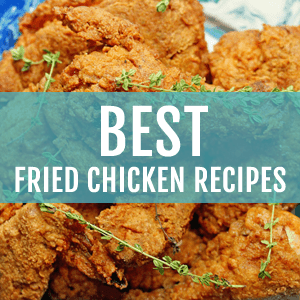 *Did you make this recipe? Please give it a star rating and leave comments below!*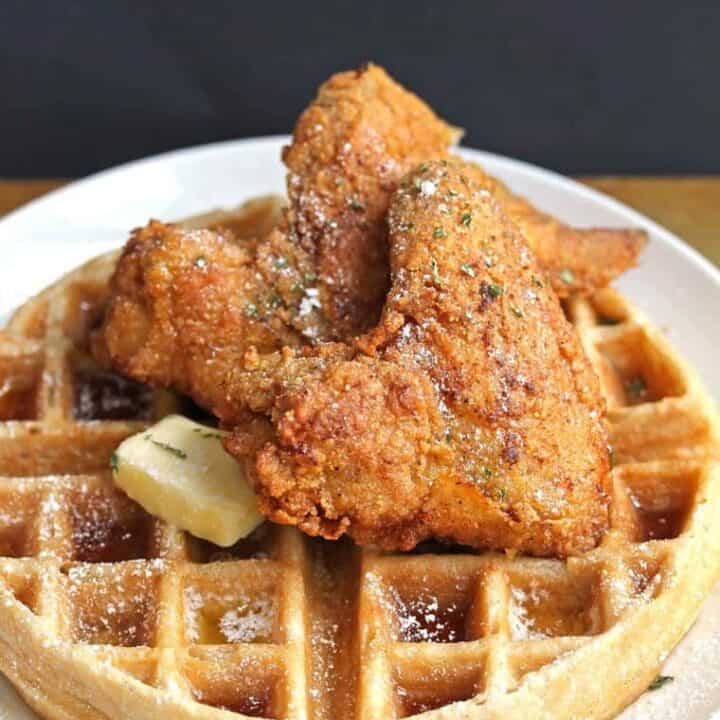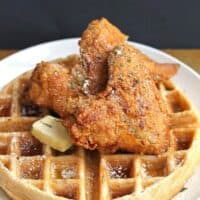 Homemade Chicken and Waffles Recipe
Get ready for this perfect Chicken and Waffles Recipe. Imagine perfectly seasoned and crispy fried chicken on top of a fluffy, sweet and tender waffle!
Print
Pin
Rate
Ingredients
8

chicken wings

2

cups

buttermilk

2

teaspoons

hot sauce

2

teaspoons

Worcestershire

2 1/2

cups

all-purpose flour

4

tablespoons

cornstarch

3

tablespoons

seasoned salt

2

teaspoons

paprika

2

teaspoons

black pepper

1

teaspoon

garlic salt

1

tablespoon

onion powder
Instructions
Add chicken wings to a ziploc bag.

In a medium-sized bowl, whisk together buttermilk, hot sauce, and Worcestershire sauce and pour mixture over chicken in ziploc.

Seal bag and marinate in refrigerator for at least 2 hours or up to 8 hours (overnight).

While chicken marinades, prepare buttermilk waffles batter according to instructions

HERE

.

When you are finished marinading chicken, add flour, cornstarch, seasoned salt, paprika, black pepper, garlic salt and onion powder to a paper bag and shake to blend well.

Add 2 tablespoons of marinade to flour mixture and whisk into flour to form crumbs.

Remove chicken from marinade and dip into seasoned flour thoroughly coating each wing.

Add wings to a baking sheet. Once finished coating chicken, place in refrigerator.

Add 3/4-1 inch of oil to a cast iron skillet or heavy bottom skillet and heat over medium high heat.

While oil is warming, also turn on oven to 275 degrees.

(This is my test for knowing when the oil is ready: My mom always tossed a tiny bit of flour in the oil and if it began to fry and sizzle the oil was ready).

Fry four wings at a time making sure to not overcrowd the pan. After each side is golden brown, put the pan's top on the chicken to steam and make sure the inside of the chicken is done. Remove the top and continue to fry outside until it is crispy.

Remove wings and place on paper towels to drain. Place wings on a baking sheet covered with parchment and add to oven while finishing the other wings.

Fry the remaining chicken and drain and add to oven. Add the remaining wings to the oven.

Add butter to waffles and allow to melt.

Lastly, layer each finished waffle with two chicken wings, drizzle with warm pure maple syrup and sprinkle with confectioner's sugar and parsley to serve.
Video
Nutrition
Serving:
1
g
|
Calories:
619
kcal
|
Carbohydrates:
76
g
|
Protein:
30
g
|
Fat:
20
g
|
Saturated Fat:
6
g
|
Cholesterol:
87
mg
|
Sodium:
6102
mg
|
Potassium:
472
mg
|
Fiber:
3
g
|
Sugar:
6
g
|
Vitamin A:
845
IU
|
Vitamin C:
3
mg
|
Calcium:
179
mg
|
Iron:
5.1
mg