Smoked Paprika Buttermilk Fried Chicken Recipe: An insanely flavorful and delicious Fried Chicken Recipe with a spiced honey compliment. Even better served with my collard greens recipe.
Fried chicken is considered a delicacy filled with love in my family, so selecting it to serve at my friend Julia Turshen's Friendsgiving celebration to support No Kid Hungry was a no brainer. Growing up, I watched both my big mama and mama fry hundreds chicken, and they do a darn good job if you ask me. Old school methods consisted of just salt and pepper for seasoning, all purpose flour for coating, lard for frying, and paper towels for draining. You would never know it by the taste that the techniques and ingredients to create their masterpiece fried chicken recipe were truly the humblest and simplest. Over the years, I have grabbed some of their techniques and picked up new ones. My methods have truly evolved to be quite honest but the taste remains the same, utterly addictive.
I became a fan of the buttermilk fried chicken recipe in my 20s, and relied on it over the last decade. And this Smoked Paprika Buttermilk Fried Chicken Recipe (titled Buttermilk + Pimenton Fried Chicken) in Julia Turshen's masterpiece Small Victories: Recipes, Advice + Hundreds of Ideas for Home-Cooking Triumphs, a new cookbook filled to the brim with humble and accessible recipes I cannot wait to try.
This recipe has such a fantastic flavor and realistic tips along the way. I loved the pimenton (Spanish smoked paprika) touch here because it adds a lovely smoked spicy touch that partners well with the honey that is added to the buttermilk marinade and finishing drizzle.
This Smoked Paprika Buttermilk Fried Chicken recipe brought back memories. From Sunday suppers to holiday meals, we always had a chicken frying, and it always felt special to me. I realize the blessings I had as a kid to have had these fond moments that I look back on are not the norm though they should be. No kid should be without these moments. No kid should go hungry. This is exactly why I am so proud to support this No Kid Hungry Campaign by sharing this Friendsgiving recipe from Small Victories.
Giving during the holiday season makes you remember how blessed we truly are, and it reminds us to focus on others besides ourselves. That within itself is a small victory indeed.
Love it fried? Try these incredible fried recipes:
Find more Fried Chicken recipes like this Smoked Paprika Buttermilk Fried Chicken recipe, click HERE and make sure you pair this recipe with my delicious Homemade Garlic Bread too!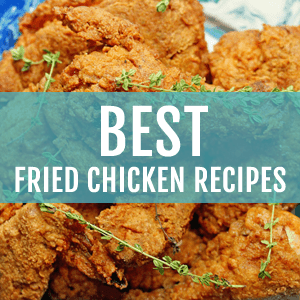 Smoked Paprika Buttermilk Fried Chicken Recipe
Smoked Paprika Buttermilk Fried Chicken Recipe: An insanely flavorful and delicious Fried Chicken Recipe with a spiced honey compliment from Small Victories by Julia Turshen.
Print
Pin
Rate
Total Time:
5
hours
30
minutes
Ingredients
1/4

cup

honey

1/2

teaspoon

cayenne pepper

4

teaspoons

hot pimenton

Spanish smoked paprika

Kosher salt

1

cup

buttermilk or 3/4 whole milk mixed with 1/4 cup plain yogurt

2

garlic cloves

minced

1

3 1/2 lb chicken

cut into 10 pieces (w wings, 2 legs, 2 thighs, and 2 breasts cut in half across the bone)

1

cup

all-purpose flour

2

tablespoons

cornstarch

Neutral oil such as canola, grapeseed, or safflower, for frying
Instructions
In a small bowl, whisk together the honey, cayenne, 1 teaspoon of the pimenton, and 1/2 teaspoon salt. Cover the bowl and set it aside at room temperature for up to 1 day. This will get drizzled on the fried chicken once it's done... hoorah!

In a small bowl, whisk together the buttermilk, garlic, remaining 3 teaspoons pimenton, and 2 tablespoons salt. Pour into a large resealable plastic bag and add the chicken. Close the bag and turn to coat the chicken. Refrigerate the chicken for at least 4 hours, preferably overnight.

Take the chicken out of the refrigerator 1 to 2 hours before you're ready to cook it so that it can come to room temperature.

In a large baking dish, whisk together the flour, cornstarch, and 1 teaspoon salt.

Pour 1/2 in oil into a large heavy pot over medium heat and let the oil heat up.

Meanwhile, take the chicken out of the bag, working with one piece at a time, and allow the excess buttermilk to drip back into the bag. Place the chicken into the flour mixture. Dredge each piece lightly on all sides and transfer to a plate. Discard the excess buttermilk and flour mixtures.

When the oil is hot enough that it bubbles around the chicken when the edge of a piece is dripped into it, use tongs to gently and carefully place a few pieces in the oil - don't crowd them (the number of pieces will depend on the size of your pot).

Cook the chicken, turning the pieces every few minutes and adjusting the heat as needed, until the skin is dark golden brown and the chicken is firm to the touch. An instant-read thermometer inserted in the thickest part of the chicken should register 170F, this will take about 15 minutes for the wings and breast pieces and 18 to 20 minutes for the legs and thighs. Transfer the cooked chicken to a paper towel-lined serving platter and continue frying the rest, adding more oil to the pot if necessary.

Serve immediately with the reserved honey mixture for drizzling and dipping. It's also just as good at room temperature and even great cold.
Nutrition
Calories:
239
kcal
|
Carbohydrates:
49
g
|
Protein:
5
g
|
Fat:
2
g
|
Saturated Fat:
1
g
|
Cholesterol:
6
mg
|
Sodium:
66
mg
|
Potassium:
171
mg
|
Fiber:
1
g
|
Sugar:
20
g
|
Vitamin A:
1190
IU
|
Vitamin C:
0.5
mg
|
Calcium:
81
mg
|
Iron:
2
mg