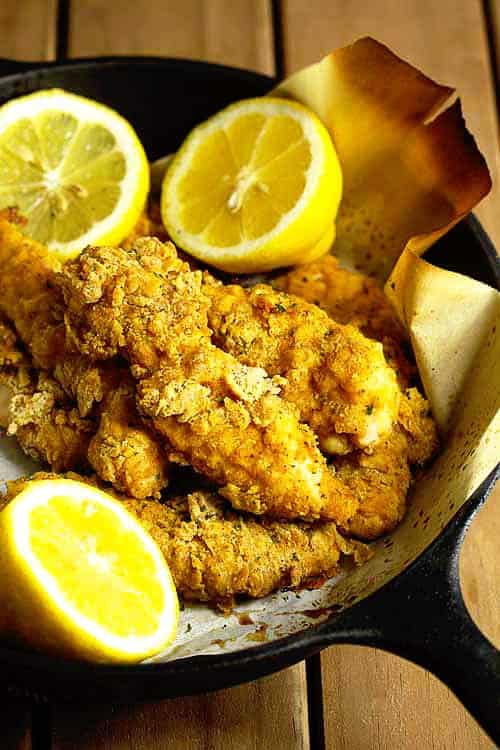 FRYING CHICKEN: A FAMILY TRADITION
Oven fried chicken tenders aren't really up my alley. In my family, fried chicken is a staple. It is a tradition that we don't take lightly (literally and figuratively). There is a right way to do it and a wrong way. From an early age, I was indoctrinated into the proper way in which a bird is fried. So, needless to say, oven fried chicken is a new thing for my family.
Coming from a Southern family, learning how to fry chicken around the same time I learned how to ride a bike is not only considered normal but proper. There is simply nothing better than the perfectly seasoned golden exterior hiding the juicy tender inside and hearing the crunch in every single bite. When I fry chicken, I am serving love, and frying chicken tenders brings out the kid in me. Who doesn't love crunchy fried chicken tenders?
HOW TO MAKE OVEN FRIED CHICKEN
However, nowadays I try to keep things lighter. As much as I want to devour chicken tenders every single week, I simply can't for the sake of my thighs. They have started to rebel against carbs and my beloved fried chicken. I have found ways to get the same flavor I adore in fried chicken but in a more health friendly way. I tried several different ways of oven frying in the past but some just don't work for me. I'm not a fan of recreating the crunch with things like cereal flakes and the whole nine. Instead, I keep this oven fried chicken tenders recipe very similar to my fried chicken recipe using the same seasoned flour but instead, I spray the chicken down with non-stick olive oil or vegetable/canola oil spray and a couple tablespoons of oil.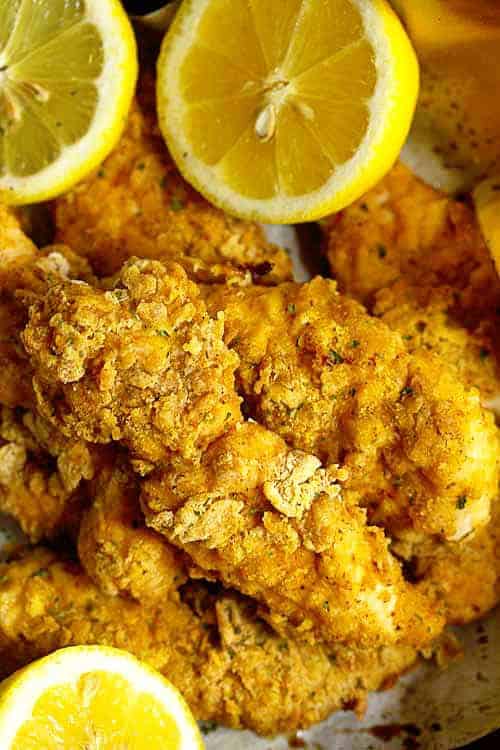 I also create some cool crumb action by doing something I learned from the Pioneer Woman. I add a drizzle of milk to my seasoned flour and then use a fork to create crumbs in the mixture. It is such a fantastic trick, and I LOVE the results. These chicken tenders are amazing, and I adore making them all the time. I even bake them in a cast iron skillet just to give me that ole school fried chicken feel. You won't miss the hot oil at all after eating these. Note: this technique can be used with all chicken pieces to make all oven fried chicken.
Find more Fried Chicken recipes HERE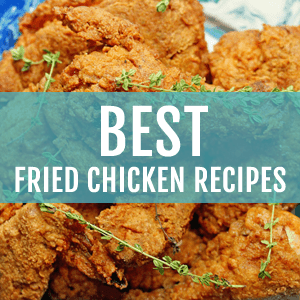 *Did you make this recipe? Please give it a star rating and leave comments below!*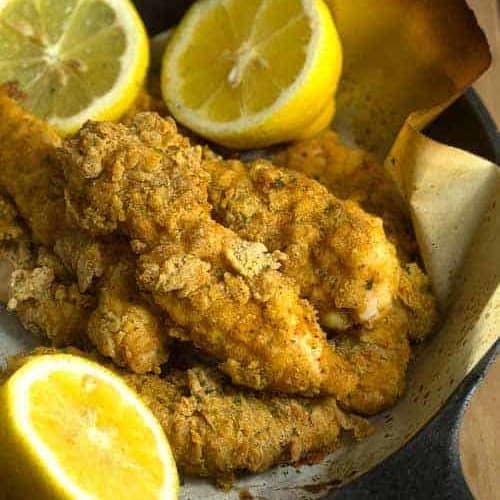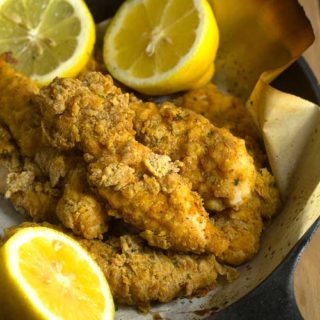 Oven Fried Chicken Tenders (Oven Fried Chicken)
Oven Fried Chicken Tenders - crunchy, crispy and golden brown these oven fried chicken tenders are the best oven fried chicken because they taste just like fried chicken without all the extra fat!!
Print
Pin
Rate
Ingredients
1

pound

chicken tenders

3

large

eggs

beaten

1

teaspoon

hot sauce

1

teaspoon

Worcestershire

2 1/2

cups

all-purpose flour

2 1/2- 3

tablespoons

seasoned salt

3

tablespoons

cornstarch

2

teaspoons

paprika

1/2

teaspoon

cayenne pepper

2

teaspoons

black pepper

1/2

teaspoon

garlic powder

1

tablespoon

onion powder

2

tablespoons

milk

Non-stick cooking spray

2

tablespoons

vegetable oil

Optional: Lemon wedges for garnish and serving
Instructions
Preheat oven to 425 degrees.

In a medium sized bowl, whisk together eggs, hot sauce and worcestershire and set aside.

Next add flour, seasoned salt, cornstarch, paprika, cayenne pepper, black pepper, garlic powder and onion powder to a paper bag and shake to mix well.

Drizzle milk into the flour and use a fork to mix it into the flour and create crumbs.

Dip each chicken tender into flour mixture and then egg wash coating both sides then dip back into seasoned flour thoroughly coating each piece. Then add piece to baking sheet to rest.

Finish coating all chicken and let sit for 10-15 minutes until coating has set.

While coating sets, add parchment paper sheets to cast iron skillet or baking sheet and liberally spray with non stick cooking spray.

Add floured chicken to parchment paper and liberally spray the tops of chicken tenders with non stick spray and drizzle the tops of chicken with tablespoons of vegetable oil.

Bake for 20-25 minutes or until chicken is cooked throughout. Serve with lemon wedges and sprinkle lemon on chicken if you wish.
Video
Notes
Note: this technique can be used with all chicken pieces to make all oven fried chicken.
Nutrition
Calories:
189
kcal
|
Carbohydrates:
23
g
|
Protein:
12
g
|
Fat:
4
g
|
Saturated Fat:
2
g
|
Cholesterol:
70
mg
|
Sodium:
3275
mg
|
Potassium:
210
mg
|
Fiber:
1
g
|
Vitamin A:
280
IU
|
Vitamin C:
0.8
mg
|
Calcium:
21
mg
|
Iron:
1.7
mg