These are the Ultimate Southern Fried Chicken Biscuits! Flavorful, crispy, fried chicken breasts are sandwiched between buttery, flaky Southern biscuits with a hint of spiced red pepper jelly. If you love these, you will love my Sour Cream Biscuits, 7Up Biscuits and Big Mama's Fried Chicken.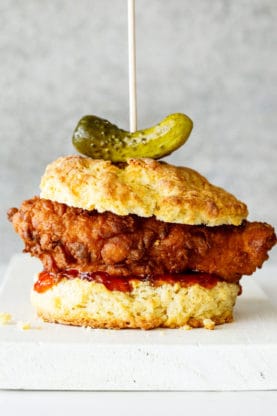 Contrary to what you might believe about me, I'm not always in the kitchen. Every now and then, I undo the apron, dust off the flour and doll myself up for a night out. Where do I like to go? Well, someone else's kitchen! Throughout my life, I've been consistently blessed enough to live in cities where food is abundant and exquisite. From fine dining Italian to off-the-beaten-path po' boys, I've done my best to sample it all. And boy, have I eaten good!
One of my absolute favorite food cities is Atlanta, Georgia because, well, the South does it best. Georgia is known for its sweet, juicy peaches and their propensity for rich Southern fare: literally, heaven to me.
Today's recipe is brought to us by one of the best restaurants ever: Buttermilk Kitchen. Chicken Biscuits are one of the many offerings at this iconic neighborhood joint. Made with homemade buttery, tender biscuits, sweet yet hot red pepper jelly and moist, crispy fried chicken, these Chicken Biscuits are the epitome of Southern deliciousness.
Y'all ready for this? I sure am.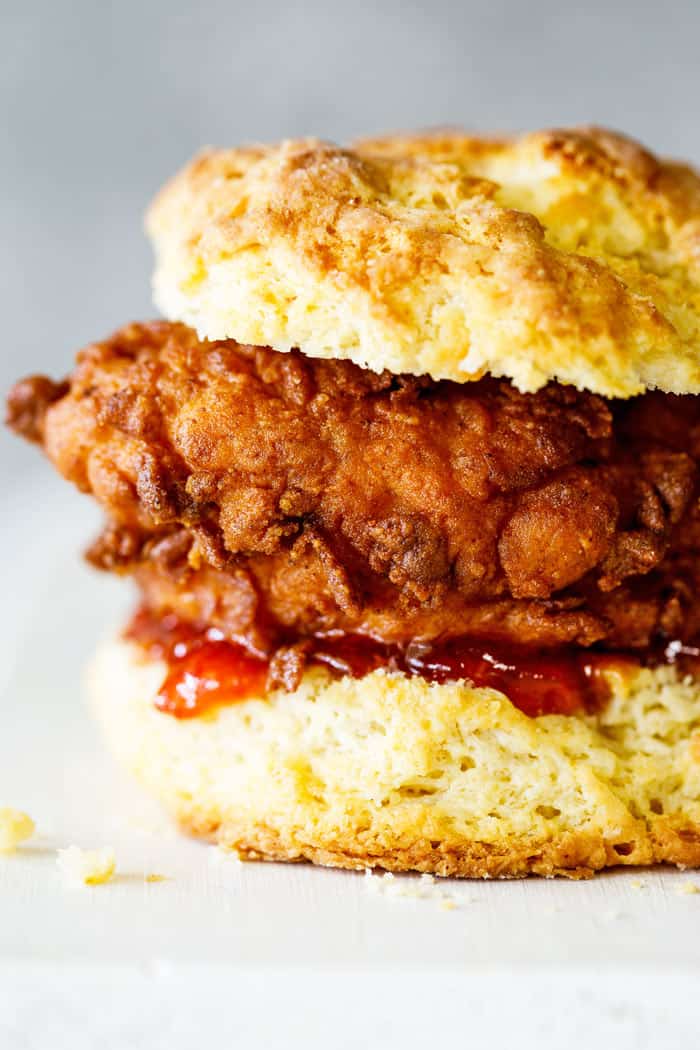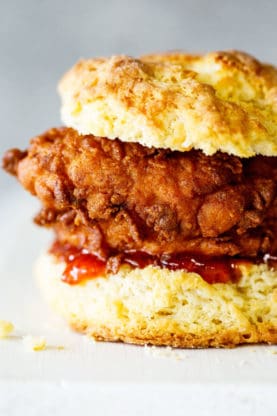 If you ever find yourself in the Buckhead neighborhood of Atlanta, Georgia, I implore you to visit Buttermilk Kitchen. Since opening its doors in 2012, Chef Suzanne Vizethann and her kitchen has nurtured people through food by use of sustainable, local ingredients. Not only is the food legendary but so is the strong woman behind it. I'm proud to call Suzanne a friend and colleague.
For years, fans have shown interest in the inner workings of Buttermilk Kitchen. The demand for biscuit recipes and homemade jams has inspired Chef Vizethann to empower her customers through simple, delicious recipes. Welcome to Buttermilk Kitchen includes 100 farm-to-table breakfast, lunch and dinner recipes that redefine culinary boundaries while maintaining a Southern sensibility. With each recipe Suzanne unravels her culinary journey and brings restaurant-worthy food into the homes of her followers. I encourage you to pick up a copy of Welcome to Buttermilk Kitchen and invite the magic of Buttermilk Kitchen into your home.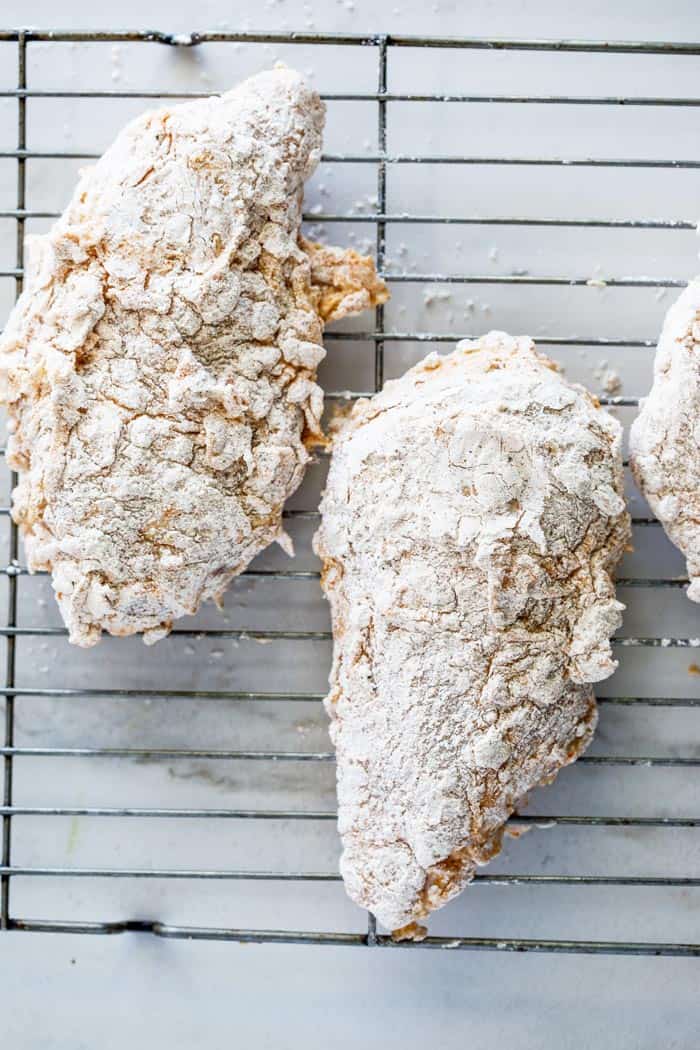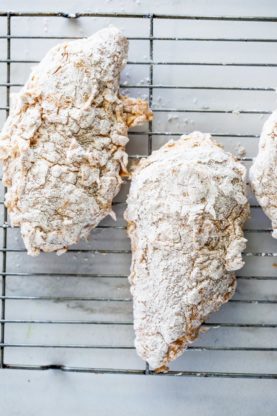 HOW TO MAKE CHICKEN BISCUITS
These Chicken Biscuits are a labor of love! I adore spending quiet Sunday afternoons in the kitchen working cold biscuit dough and listening to the sizzles and pops of hot oil. As the Chicken Biscuits come together, the smell that fills the kitchen is beyond words. And that first tender, buttery bite? Leaves me speechless.
Do yourself a huge favor this weekend: make this recipe! But before you do, take a moment to understand how the magic is made:
Boneless Skinless Chicken Breasts– chicken breasts get a bad rep for being dry but, if well-prepared, they can be tender, moist and full-flavored. Be sure to buy fresh, lean cuts. Watch out for discoloration and funky odors as they will affect both flavor and texture.
Sweet Tea Chicken Brine– wherever there is fried chicken, sweet tea is never far behind. A sweet tea brine seeps into the meat and not only tenderizes but also seasons. The sweet tang infused into the chicken adds a wonderful dimension and a pleasant Southern twist.
Fried Chicken Batter – the batter is made with two simple ingredients: day old pancake batter and whole milk. The aged, thickened batter sticks to the chicken and creates a light, airy base for the dredge.
Fried Chicken Dredge – made with onion powder, garlic powder, paprika, cayenne pepper, flour, salt and pepper, this classic dredge is well-seasoned, balanced and packed with salty, sweet and spicy flavors.
O.G. Buttermilk Biscuits– drop biscuits are less structured and a bit more delicate than a rolled biscuit. Their buttery, slightly crumbly texture is a perfect contrast to the crispy, dense chicken.
Red Pepper Jelly – pepper jelly is a great way to brighten up the chicken biscuit. The bright, sweet yet spicy jelly balances out the heavy amount of salt we've used so far.
House Pickles – pickles are briny and their vinegary bite cuts through heavy flavors. Omit the pickles if you're not a fan. Use spicier or sweeter pickles for a fun flavor variation.
Chopped Parsley – fresh herbs uplift any dish and create a visually impressive dish.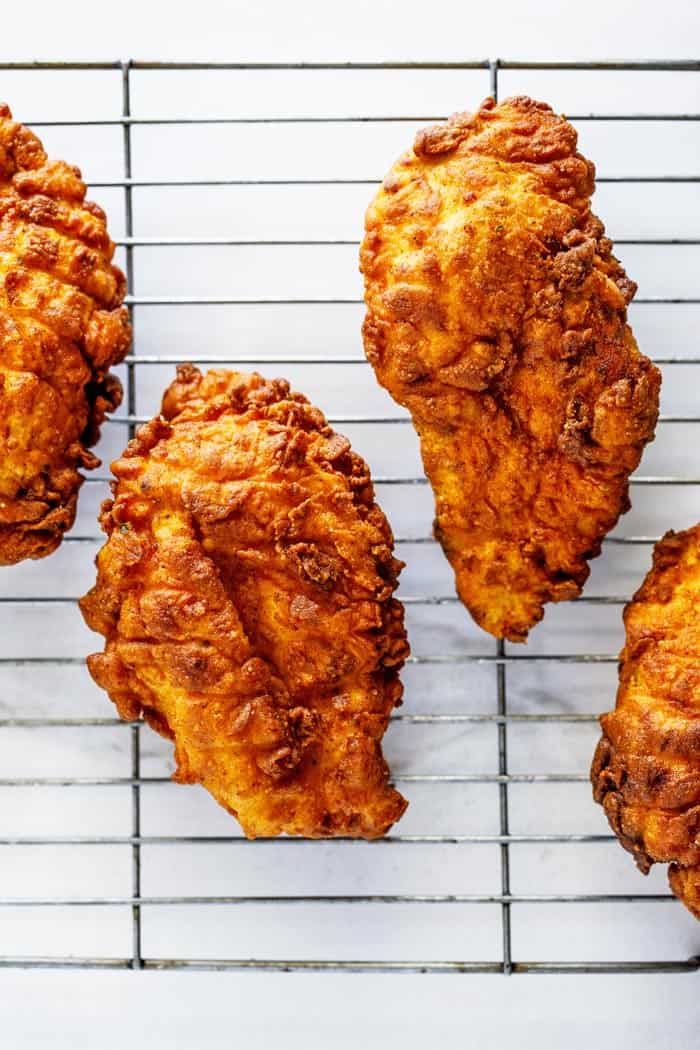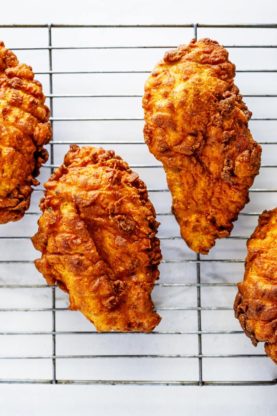 RECIPE VARIATIONS
The combinations you can do with fried chicken and biscuits are endless. I invite you to take this recipe and truly make it your own! Buttermilk Kitchen offers Hot Chicken and Chicken Biscuit and Gravy as alternate options: both incredibly delicious.
Here are a couple of my own ideas:
Carolina Fried Chicken Thighs w/ Fresh Summer Coleslaw
Use tender, buttermilk brined chicken thighs and glaze with carolina bbq sauce after frying. Use a premade coleslaw mix or make your own using fresh summer vegetables.
Honey Butter Glazed Biscuits w/ Spicy Fried Chicken
Combine equal amounts of butter and honey then, use it to glaze the biscuit both before and after baking. Add cayenne pepper or your favorite hot sauce to the chicken dredge to make a spicier chicken.
Whether you choose to experiment with this recipe or keep it classic, these Chicken Biscuits are stunning. Make it yours and enjoy every last crumb!
LEFTOVER STORAGE AND REHEATING
For the Biscuits:
Because they dry out so quickly, biscuits should be cooked and eaten fresh. Do your best to only bake as many biscuits as needed and store the leftover dough for later use. If you still find yourself with leftover biscuits, store them in an airtight reusable plastic bag and push out as much air as possible. Plastic containers will also work but you'll have less control over the amount of air sealed in with the biscuits. More air means drier biscuits.
Biscuits will last for up to 3 months when frozen, a week if refrigerated and up to 2 days at room temperature. To reheat, preheat the oven to 350 degrees and lightly glaze a baking sheet with either olive oil or butter. Reheat for 5-8 minutes.
For the Chicken:
It's important to properly store leftover fried chicken within 2 hours of cooking. Use a shallow airtight container or carefully wrap each piece in foil. Fried Chicken will last for up to 5 days in the refrigerator.
To reheat, allow the chicken to come to room temperature while the oven preheats to 400 degrees. Line a baking sheet with aluminum foil and place the chicken on it in a single layer. Cover the top of the pan with aluminum foil and bake for 20 minutes.
GRANDBABY CAKES' BEST CHICKEN 'N BISCUITS
It's gonna be a hot Southern Summer y'all! This year, I'm leaning into my roots and cheffing up all things chicken, biscuit and sweet tea. Join me in a bit of well-deserved indulgence by cooking some of my classic fried chicken and biscuit recipes: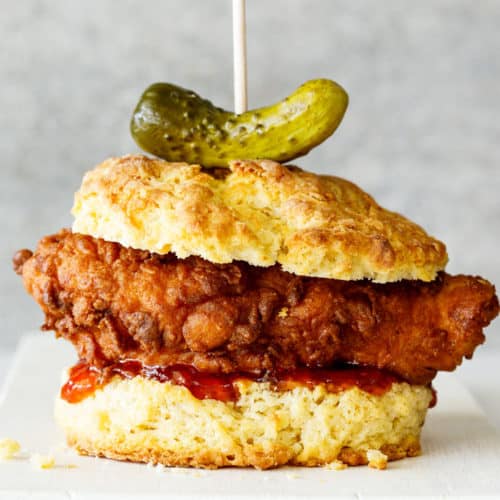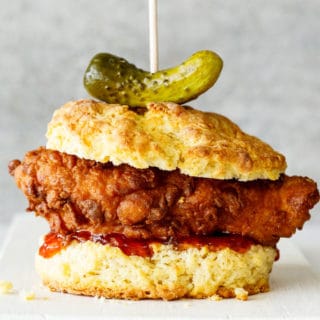 Southern Fried Chicken Biscuit
These are the Ultimate Southern Fried Chicken Biscuits!  Flavorful, crispy, fried chicken breasts are sandwiched between buttery, flaky Southern biscuits with a hint of spiced red pepper jelly. 
Print
Pin
Rate
Ingredients
10

boneless skinless chicken breasts

(4 ounces each)
Sweet Tea Chicken Brine
6

quarts

brewed unsweetened tea, divided

1

cup

granulated sugar

1 1/2

cups

Kosher salt

2-3

dried bay leaves

1

tablespoon

whole black peppercorns

2

lemons

cut in half

1/4

cup

garlic cloves, smashed

1

bunch

flat-leaf parsley
O.G. Buttermilk Biscuits
20

ounces

unsalted European butter, frozen*

(5 sticks)

5

cups

all-purpose flour

4

tablespoons

granulated sugar

4

tablespoons

baking powder

1

tablespoon + 1 teaspoon

Kosher salt

2 3/4

cups

Banner Butter buttermilk

full-fat

Melted butter

(optional)
Fried Chicken Dredge
8

cups

all-purpose flour

1/3

cup

garlic powder

1/3

cup

onion powder

2

teaspoons

paprika

2

teaspoons

cayenne pepper

2

teaspoons

Kosher salt

1

teaspoon

ground black pepper
Fried Chicken Batter
4

cups

day-old O.G. Buttermilk Pancake batter

3/4

cups

whole milk
Toppings
Red pepper jelly

Fresh parsley

Pickles
Instructions
Make Brine
Place 3 quarts unsweetened tea in a large stock pot. Set pot on stove over high heat. As soon as tea starts to boil, remove from heat and set aside. While the tea is still hot, add sugar and salt and stir with a whisk until completely dissolved.

Place bay leaves and peppercorns into a coffee filter tied with butcher's twine and add to tea mixture. Pour tea mixture into an 8-quart, nonreactive container. Add remainingtea, lemons, garlic, and parsley.

Let mixture chill completely, remove the spice bag, and strain before using.

Place chicken in a large container, cover with brine, and refrigerate for at least 8 hours, but no longer than 12 hours.
Biscuits
While chicken brines, make biscuits. Preheat oven to 350 degrees. Prepare a half- size sheet pan with butter.

Grate frozen butter, using a box grater, onto a baking sheet lightly coated in flour, and then toss lightly with flour to coat.

Whisk together flour, sugar, baking powder, and salt in a large mixing bowl. Add in butter and fold into flour, mixing with your hands until mixture resembles sand. Add buttermilk and mix with your hands until dough comes together into a large ball(it should be soft and sticky).

Scoop biscuits, using a 4-ounce ice cream scoop or a 1/2 cup measuring cup sprayed with nonstick cooking spray, onto the sheet pan, leaving 1 inch between each biscuit.

Bake for 10 minutes then turn and rotate pan and bake another 10–15minutes. Check for color and doneness. The biscuits should be golden brown, crispy around the edges, and cooked in the middle. Brush immediately with melted butter.
Chicken Dredge
Add all ingredients to a large mixing bowl and whisk for 2 minutes. Mix with hands for 3 minuntes until fully incorporated. Set aside.
Chicken Batter
Add milk to pancake batter and whisk until incorporated. Let rest 10 minutes before using.
Fried Chicken
Remove chicken from brine, rinsing off any spices or herbs, and pat dry with paper towels. Place chicken in another bowl and pour batter over it, turning to coat completely.

Lift chicken out of bowl, letting excess batter drip off, and roll in the dredge, pressing down on both sides so the flour clings tightly to the brined chicken. Set on a baking sheet lined with wax paper while you prepare the oil.

Heat oil in a large saucepan or skillet to 275 degrees. Use a deep-fry candy thermometer to check the temperatue. Make sure not to fill the pan more than halfway with oil.

Gently lay chicken into the oil and cook for 4 minutes on one side, adjusting heat as necessary to maintain 275 degrees. Flip chicken over and cook for an additional 5 minutes or until chicken registers an internal temperature of 165 degrees.

Remove chicken from the pan and place on paper towels or a baking sheet lined with a cooling rack to drain and rest for at least 5 minutes.
Assembly
Cut biscuits in half and slather bottom pieces with jelly if desired. Place fried chicken on top of jelly and close with the top halves. Sprinkle with parsley and serve with pickles on the side.
Notes
*We freeze the butter for at least 30 minutes prior to making these biscuits to make it easier to grate.
The chicken dredge yields 10 cups. Only use enough in this recipe to evenly coat the chicken. Do not save any mixture that touched raw chicken. Unused mixture will keep for a couple months in an airtight container.
Nutrition
Serving:
1
sandwich
|
Calories:
1346
kcal
|
Carbohydrates:
171
g
|
Protein:
47
g
|
Fat:
54
g
|
Saturated Fat:
32
g
|
Cholesterol:
203
mg
|
Sodium:
18457
mg
|
Potassium:
1660
mg
|
Fiber:
7
g
|
Sugar:
31
g
|
Vitamin A:
2438
IU
|
Vitamin C:
23
mg
|
Calcium:
408
mg
|
Iron:
10
mg