These 7 Up Biscuits are light, fluffy, buttery and oh so tender and only made with just 4 ingredients!! Toss together this dough in no time and watch the magic of 7 Up work. You will never guess these weren't made in your grandmother's kitchen. If you love biscuits, try these Honey Butter Biscuits, Flaky Biscuits, Sour Cream Biscuits, Fried Chicken Biscuits, Bacon Cheddar Biscuits, Cheddar Bay Biscuits, Angel Biscuits, and Big Mama's Biscuits! Use these for this easy Biscuits and Gravy Casserole too!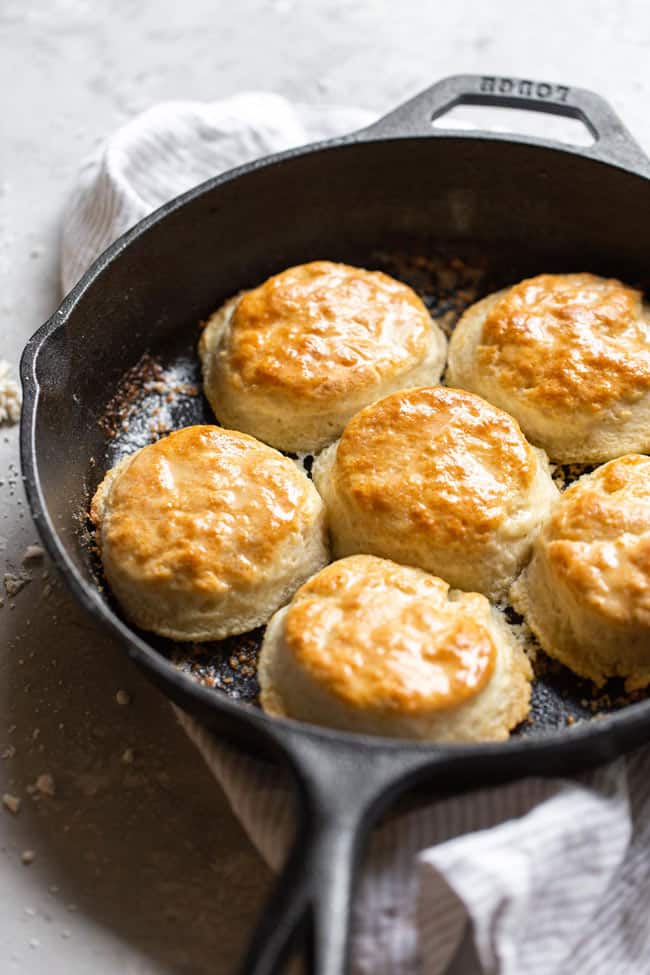 7 Up Biscuits With Just 4 Ingredients!
Everyone's got that one food they just can't resist. I'm talking about that one thing that makes your mouth water and has you coming back for seconds or thirds. For me, it's biscuits. I love the texture, I love the taste and I love the simplicity.
I learned how to make biscuits from the very best: my Big Mama. She knew just how to knead dough into submission with firm but gentle hands. Each biscuit was made with a tenderness and love that could be felt with each bite. During the holidays, we still make Big Mama's biscuits because I just don't know what I'd do without 'em.
But, as much as I love homemade biscuits, they can be time consuming and tricky to get just right. This is where these 7 Up biscuits come in to save the day! Trust me, this recipe is gonna change your biscuit game for the better.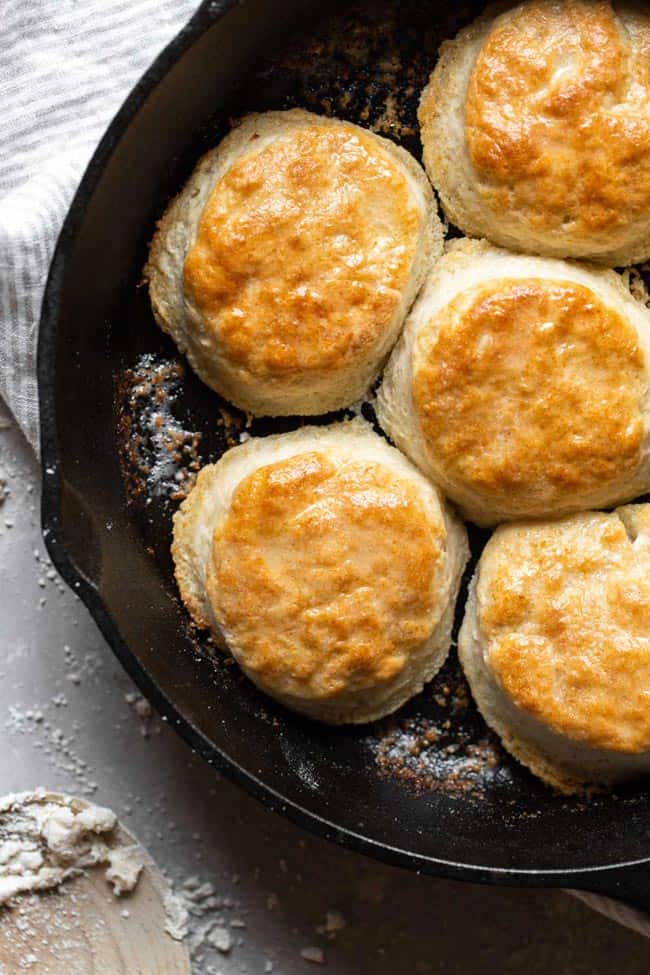 WHAT ARE 7 UP BISCUITS?
I know what you're thinking, who puts soda (or pop if you're in the midwest crowd) in a biscuit? I may not know the science or reasoning behind why this recipe works but I promise it does. 7 Up biscuits are soft, fluffy and melt in your mouth delicious.
Made with just four ingredients, these biscuits couldn't be any simpler to make. No matter how averse to baking you might be, this recipe is foolproof.
ARE THEY SWEET?
This was the first question that came to my mind when I first discovered these biscuits. Surprisingly, these little pillows of heaven are just like any other biscuit! You would never know that there was soda in them!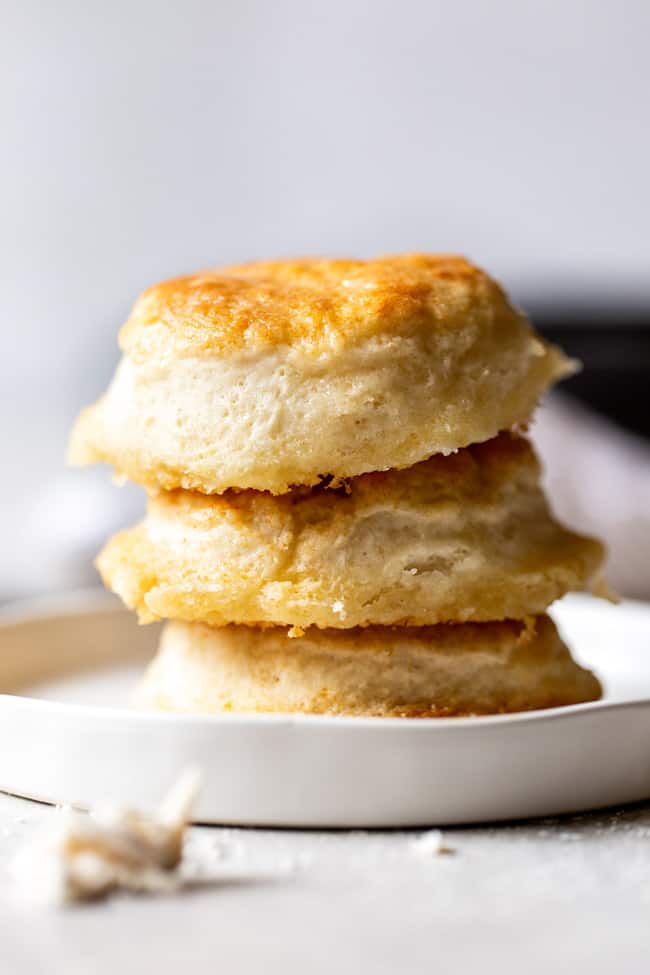 HOW TO MAKE 7 UP BISCUITS
With a recipe that requires such few ingredients, each one plays a major role. Let's break it down and see what we're working with.
Bisquick
Bisquick mix is basically a premade mixture of flour, salt, baking powder and shortening. I love any option that allows me to save time and spare me from having to clean a million measuring cups.
7 Up
The carbonation in the 7 Up basically adds air into your biscuits and develops that light, fluffy texture. I may not be a scientist or a magician but somehow, this works every time.
Sour Cream
Just a little bit of sour cream adds a slight tang that, though subtle, is absolutely wonderful. You can use a low fat variety but I would suggest going full fat.
Melted Butter
Who doesn't love a buttery biscuit? Butter helps to create those separated layers and that melt in your mouth texture. If you like a saltier biscuit then go ahead and use salted butter. And of course, put some butter aside for spreading (you're gonna want it).
It's crazy how just a few simple ingredients can come together and make something so delicious. You'll find yourself coming back to this recipe on weeknights, holidays and for random midnight cravings.
Don't forget to top your biscuit with jams or gravy and even use them to make sandwiches! There's nothing a biscuit can't make better, trust me.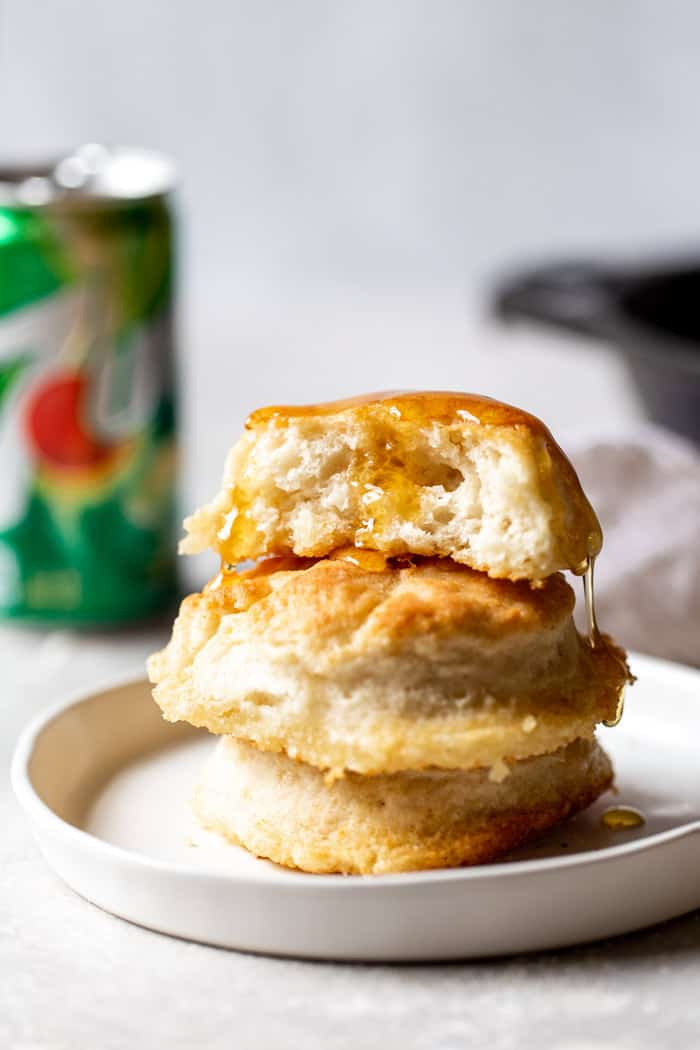 HOW LONG WILL BISCUITS KEEP?
If properly stored in an airtight container, freshly baked biscuits will keep for 1-2 days at room temperature. You can also keep them in the fridge for up to a week! Dangerous, I know.
MORE BISCUITS, BABY!
For all my fellow biscuit fanatics out there, here are a few other of Grandbaby Cakes BEST biscuit recipes. Enjoy!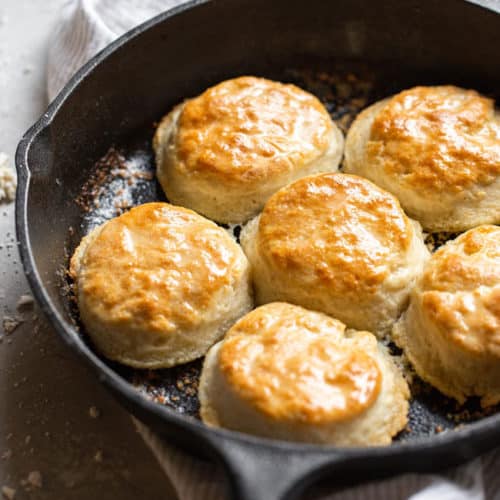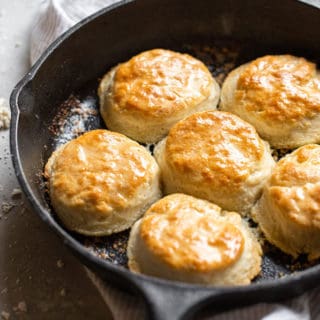 7 Up Biscuits
These 7 Up Biscuits are light, fluffy and oh so tender and only made with just 4 ingredients! Toss together this dough in no time and watch the magic of 7 Up work. You will never guess these weren't made in your grandmother's kitchen.
Print
Pin
Rate
Ingredients
1/3

cup

melted butter

divided

2 1/4- 1/2

cup

bisquick mix

1/2

cup

sour cream

1/2

cup

7 up
Instructions
Preheat oven to 450 degrees. Pour ¼ cup of melted butter into the bottom of a cast iron skillet.

Next mix together bisquick, sour cream and 7 up in a medium sized bowl until a dough is formed.  Start with 2 cups and then add a 1/4 cup of bisquick until you get the consistency you desire and it is easier to work with.

Add flour to a work surface and turn dough out. Add flour to your hands and the top of the dough. Roll out or press out with your hands to about 1 inch thickness. Cut dough in circles using the rim of a coffee mug or cookie cutter and add to baking dish. Make sure you flour the rim or it will stick.

Bake biscuits for 8-10 minute. If you want to add more golden brown color, you can broil for just a few seconds. Let cool for about 5-10 minutes.

While biscuits cool, brush remaining butter on top of biscuits and serve.
Notes
Feel free to change the soda to any lemon lime soda like Sprite or generic. It is totally fine.
Nutrition
Calories:
307
kcal
|
Carbohydrates:
28
g
|
Protein:
4
g
|
Fat:
20
g
|
Saturated Fat:
10
g
|
Cholesterol:
38
mg
|
Sodium:
618
mg
|
Potassium:
92
mg
|
Fiber:
1
g
|
Sugar:
7
g
|
Vitamin A:
435
IU
|
Vitamin C:
1
mg
|
Calcium:
96
mg
|
Iron:
1
mg