This simple and rich Southern style homemade Chicken Stock is made from staple kitchen ingredients including onion, garlic and celery. This flavorful stock is the perfect base for any chicken soup, stew or paired with my Southern cornbread for this cornbread dressing!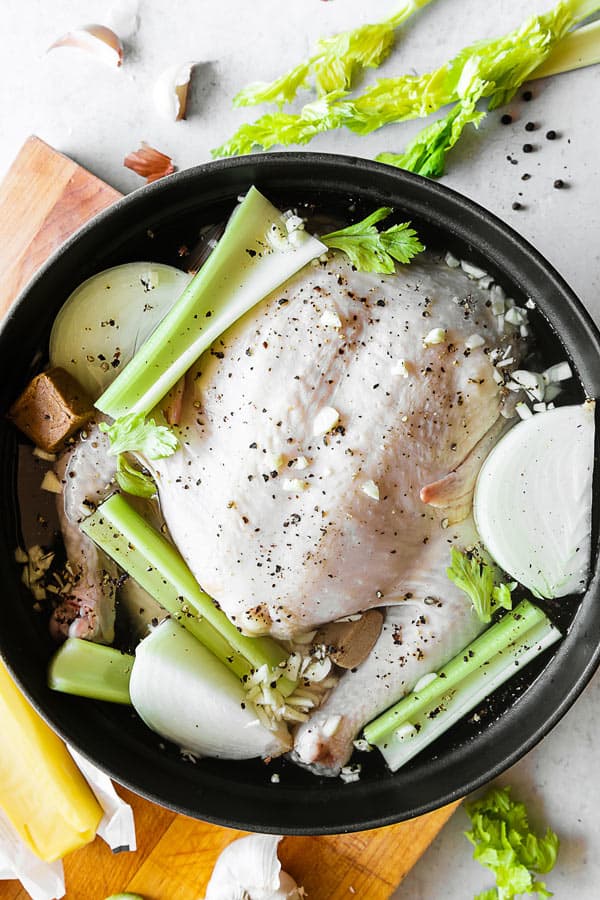 Delicious Homemade Chicken Stock – The Perfect Base for Many Recipes!!
There are few recipes that I truly believe everyone should have under their belts: this is one of them. When I first started cooking, I learned quickly that the simplest of recipes rely on the quality of your ingredients. Although having shortcuts and handy hacks is always useful in today's busy world, nothing beats homemade. Spice blends, cookie dough and pasta sauces are all things we know taste best when made fresh with love.
Throughout the Fall and Winter, I rely on this Chicken Stock Recipe by my Auntie Rose to help me create the best soups and stews I can possibly make. I'm not knocking the store-bought brands but I'm here to show you that this stuff is so much better. Try it once, you won't turn back!
Why Make Your Own Chicken Stock
I know, I know. Making chicken stock from scratch can seem time-consuming and difficult but I promise you that it is neither. By investing just a bit of your time and a few ingredients, you can create a flavor-packed stock that comes far from your store-bought version. Plus once you add in everything, this baby cooks over the stove until ready!
A homemade stock is one that is fresh and much lower in sodium content than your typical stock. You'd be astounded at the difference in richness and depth of flavor!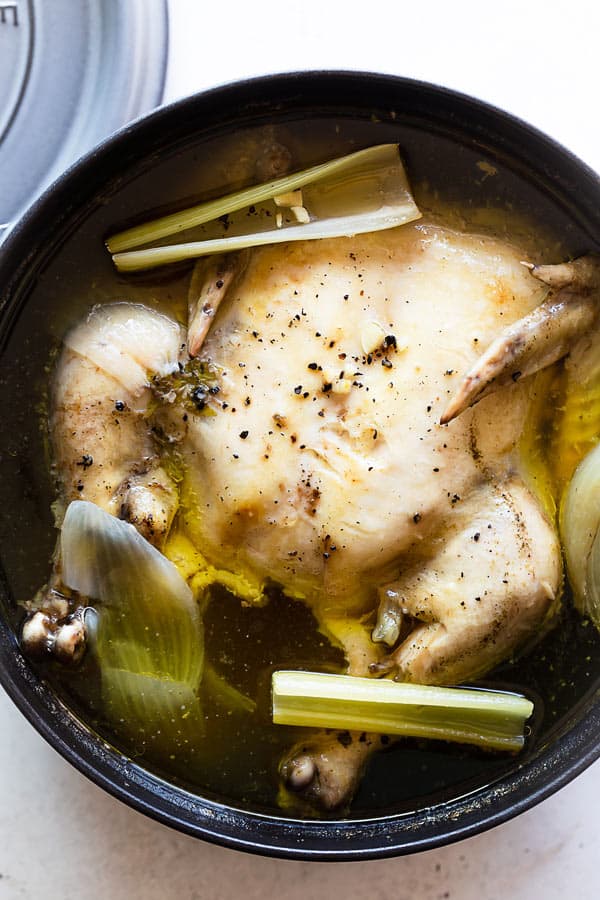 Chicken Stock Vs. Broth
Ever wonder the difference between chicken stock and chicken broth?
Chicken broth is generally made from more of the meaty parts of a bird, while chicken stock is made from simmering the bones for a long period of time, which results in more depth of flavor. This chicken stock is really made from both and has a very hearty flavor. Broth is also best for lighter soups, flavored rice and curries.
How To Make Chicken Stock
There are a few different ways to make a stock but I find that I've got a foolproof method to share with you. This might be unconventional but my Aunt's faves.
Start by cleaning and rinsing your whole, raw chicken thoroughly with cold water. Remove all the unnecessary components (like the carcass, gizzards, necks, feathers, etc. ) from inside and outside of chicken.
Add your chicken, breast side down, into an 8 quart pot filled with 12 cups of water. Next, add your veggies, butter, bouillon cubes and pepper. Bring to a boil, reduce heat to medium low and allow to cook with the lid on for about 1 hour and 30-45 minutes. Stir occasionally so that nothing sticks to the pot. My aunt loves to add bouillon cubes because I want to inject more flavor.
Allow your stock/chicken to completely cool and then transfer to the refrigerator to rest overnight. The next day, warm your stock back up to room temperature and then proceed to debone your chicken. We keep the deboned chicken to use for our family's cornbread dressing.
Once done, strain out your stock so that it is smooth and ready for use. See guys? Minimal work with maximum results.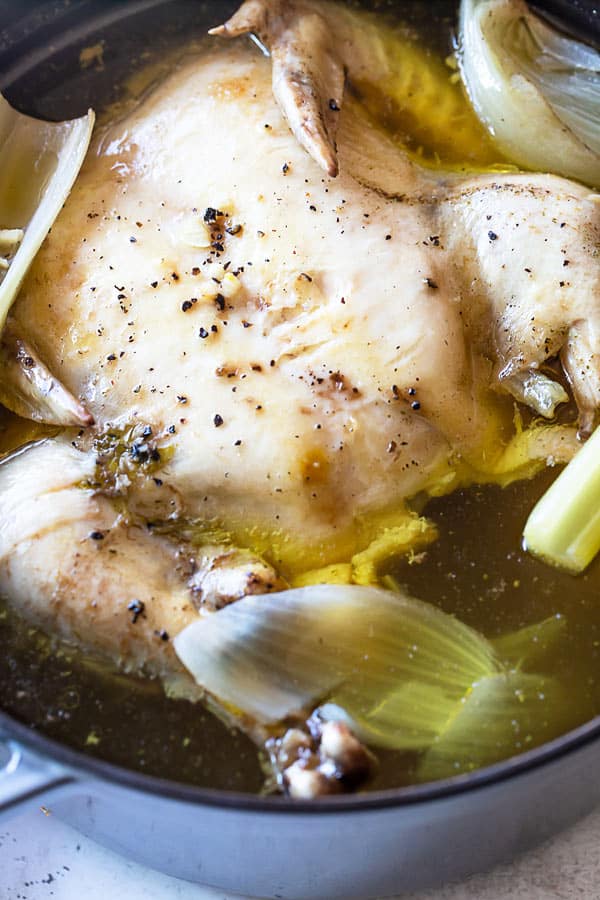 Tips To Make Stock Even More Flavorful
Looking to add a little extra kick to your stock? I've got just the thing for ya.
Add Ons: Add leafy greens such as celery tops, fresh parsley or even carrot tops for a fresher, earthier flavor.
Want to Change Flavors? Try Ginger! It is a wonderfully fragrant option that lends delicate flavor.
Another Fruity Tip: Include a few fruit peels like orange, lemon or even apple. This adds a slight sweetness and an acidic/citrusy kick that is sure to please.
Never be afraid to explore and make it your own!
How to Store Chicken Stock
Chicken Stock can be made in large batches and stored for future uses. Having my stock pre-prepared makes for shorter cooking times and, let's be honest, less work for me. But, in order to use the stock in the future you have to be sure to store it properly.
Homemade stock can be stored in the refrigerator for 4-5 days, frozen 6-9 months or pressure-canned for 1 year.
Be sure to completely cool your stock and then transfer it to either air-tight plastic containers, glass jars (ones without shoulders) or in freezer bags that will lie flat in the freezer.
Defrost the stock on a rimmed baking sheet to catch leaks and don't rush the process by placing the stock in a bowl of hot water (it'll result in a watered down stock).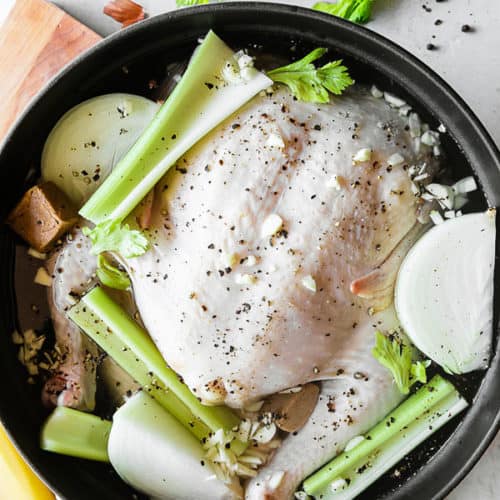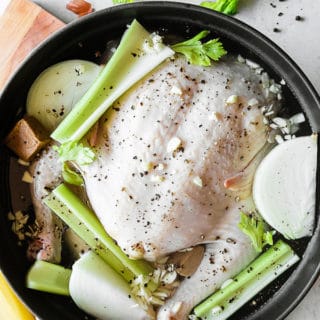 Chicken Stock Recipe
A simple, rich Chicken Stock made from staple kitchen ingredients such as onion, garlic and celery.
Print
Pin
Rate
Ingredients
1

thawed chicken

5-6 lbs

3

large celery stalks

1

large sweet onion

peeled

3/4

cup

salted butter

1

tbsp

minced garlic

8

chicken bouillon cubes

1

tbsp

plus 1 teaspoon black pepper
Instructions
Begin by cleaning and rinsing chicken thoroughly with cold water. Remove carcass, gizzards, necks, feathers, etc. from inside and outside of chicken.

Next add the whole chicken breast down to a 8 quart sized pot.Next add the whole chicken breast down to a 8 quart sized pot.

Fill pot with 12 cups of water ensuring chicken is fully submerged and covered with liquid.

Break celery into fourths and add to water. Cut onion in fourths and add to water.

Next add butter, garlic, bouillon cubes and pepper to pot. Bring pot to boil over high heat. Once water begins boiling, reduce heat to medium low and cover. Occasionally stir seasonings (sometimes will stick to the sides of the pan) in the pot and cover during cooking time.

Cook for 1 hour and 30 - 45 minutes or until breast meat is tender and can be pulled apart easily with a fork.

Remove pot from heat and uncover for one hour.  Then put cover back on and place in refrigerator overnight.  Look at notes below if you are pressed for time and do this part the day of.

Next day, put pot on low heat just to warm through and reliquify the stock.  Once warmed to room temperature, you can begin the deboning process.

Remove all of the skin, veins, and bones leaving just the meat. Then pull apart the meat and set aside meat in a bowl. Make sure the chicken stays moist by just adding a few tablespoons of homemade stock to the shredded chicken.

Lastly take the remaining stock and strain removing all vegetables, etc leaving smooth stock.
Notes
There are other ways to inject flavor.  Add citrus notes with lemons, limes or oranges or even more essence with ginger to make the stock your own.
Nutrition
Calories:
120
kcal
|
Carbohydrates:
3
g
|
Protein:
1
g
|
Fat:
12
g
|
Saturated Fat:
7
g
|
Polyunsaturated Fat:
1
g
|
Monounsaturated Fat:
3
g
|
Trans Fat:
0.5
g
|
Cholesterol:
31
mg
|
Sodium:
731
mg
|
Potassium:
56
mg
|
Fiber:
0.4
g
|
Sugar:
2
g
|
Vitamin A:
362
IU
|
Vitamin C:
2
mg
|
Calcium:
18
mg
|
Iron:
0.2
mg