A classy Christmas dessert made to impress at your next holiday function. Filled with chocolate and bursting with peppermint flavor this cheesecake is simple, indulgent and delicious. If you love other cheesecake recipes, definitely try my Mint Chocolate Cake, Quadruple Chocolate Cheesecake, New York Cheesecake, Sweet Potato Cheesecake and my Strawberry Cheesecake for a no bake twist!!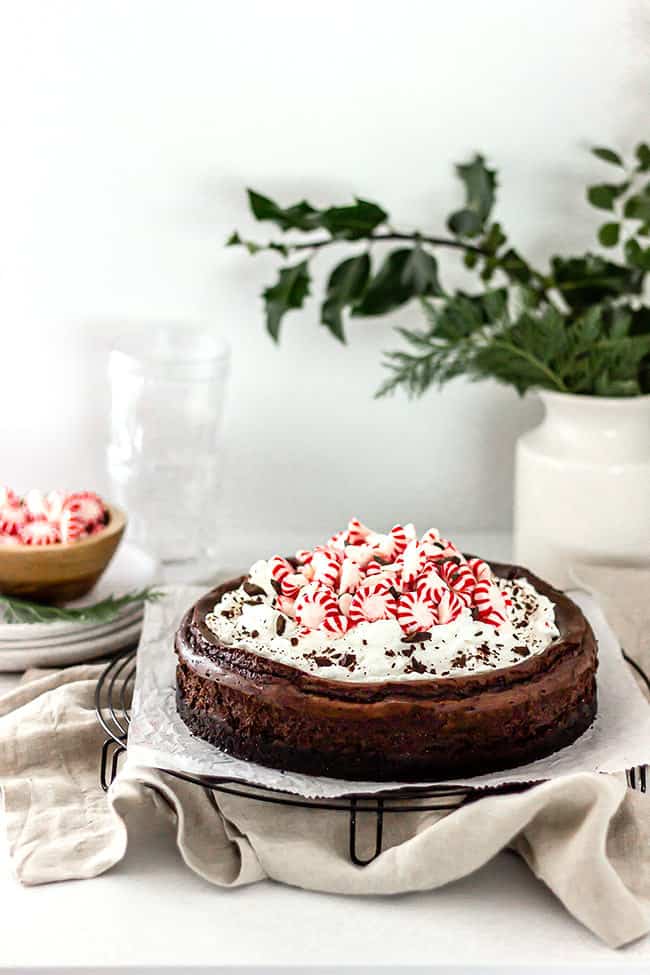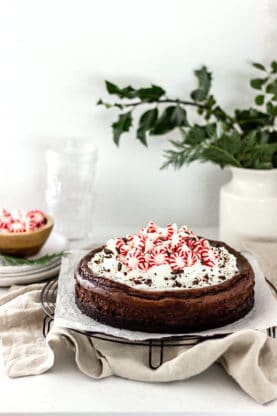 The Most Perfect Chocolate Peppermint Cheesecake Recipe
Now, I know I'm not the only one feeling the Christmas pressure. Gifts, bows, stockings and rolls of wrapping paper are littering my junk closets and trickling onto counters and carpets. Invitations to neighbors' yankee swaps and ugly sweater parties are popping up everywhere. And of course, you can never show up empty handed to these things.
There never seems to be enough time to get it all done while keeping your sanity. Today, I'm sharing a recipe that has saved me year after year. I'm here to help you save precious time that can be better used wrapping gifts or tying bows. Let's not wait until Christmas Eve this year (Santa needs chill time too).
We all know the signature flavors that make up the Christmas season: eggnog, gingerbread, cranberry and of course, peppermint. And, y'all, I love 'em all! This Chocolate Peppermint Cheesecake is an ode to my most favorite of holiday flavors. Filled with chocolate and bursting with peppermint flavor, this cheesecake is indulgent, impressive and oh so delicious!
Without further ado, let's whip up a classy Christmas dessert destined to impress at your next holiday function!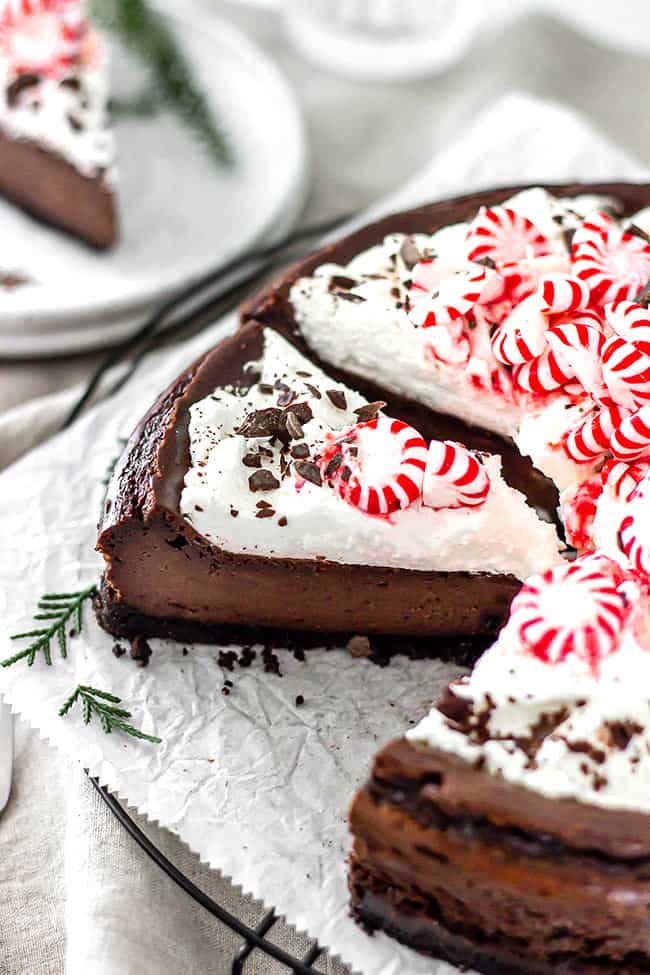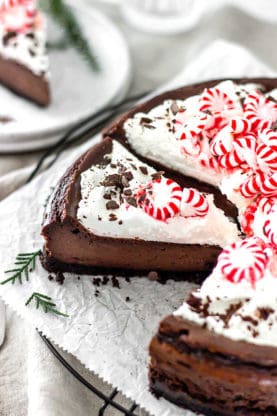 Chocolate Peppermint Cheesecake Texture
Chocolate and peppermint go together like peanut butter and jelly! For years, I've looked forward to the holiday season just so I can enjoy this very recipe. There is just something so comforting and refreshing about this flavor pairing!
From the nutty, rich chocolate to the crisp, bright peppermint, every bite of this cheesecake is better than the last.
Here's how we make this wonderful wizardry happen:
Chocolate Sandwich Cookies– sweet, chocolatey and buttery, these cookies are always the way to go. A cookie crust guarantees a sweet-salty, crunchy bite.
Flour & Sugar– both are necessary to create structure and add sweetness.
Unsalted Butter– butter binds together the crust and helps to crisp up the base during baking.
Cream Cheese– cream cheese is smooth, tangy and full of delicious fatty goodness.
Heavy Cream– when beaten, cream lightens and uplifts the cheese mixture.
Eggs– egg proteins work as a natural thickening agent. Also, emulsifiers in the egg yolk help give the cheesecake a smooth texture.
Sour Cream– I like my cheesecake with a little tang. Sour cream adds decadence, flavor and smooth texture.
Pure Vanilla– earthy, floral and fragrant, vanilla gives our cream filling the classic cheesecake flavor.
Peppermint Extract– don't get crazy with this, a dash too much will take this recipe from pleasantly minty to toothpaste real quick.
Cocoa Powder– high-quality, dutch-processed cocoa powder is a must. The powder itself should be darker, softer and more aromatic than a cheaper variation.
Whipped Cream (Optional)– because the texture of cheesecake is quite heavy, I like to create balance by serving my slices with whipped cream. The smooth, light texture adds an extra layer of indulgence you didn't even know you needed!
Crushed Peppermint (Optional)– feel free to use any holiday baking decorations you have on hand! Have fun with it!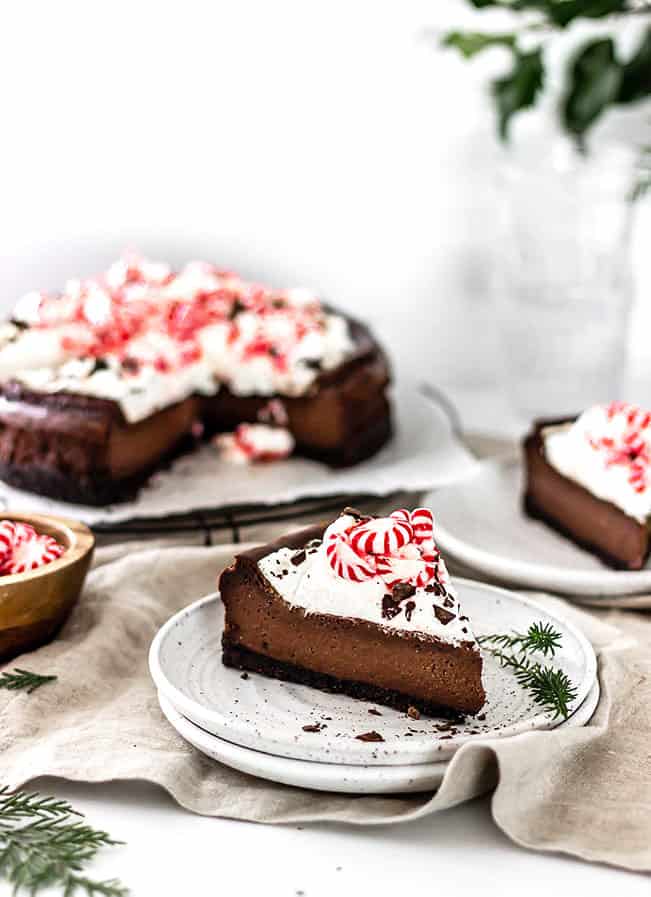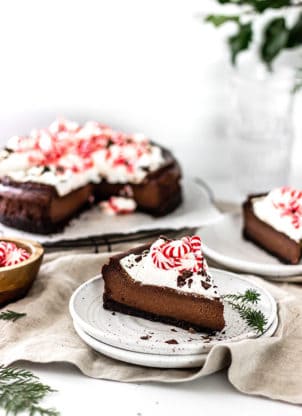 How To Make Chocolate Peppermint Cheesecake Recipe
Cheesecakes tend to get a bad rap for being particularly finicky but I disagree. If you follow the right steps, a cheesecake can be simple and fun. I love making this recipe to bring along to any holiday gathering.
Here's how you can guarantee yourself the perfect cheesecake every time!
Always Use Room Temperature Ingredients
This is honestly the only way to ensure that your batter doesn't contain any unwanted lumps. Let your ingredients (especially your cream cheese) sit out until they reach room temperature. Doing this makes for a smoother, well-incorporated and balanced mixture.
If you're in a pinch, take your cream cheese out of the foil and heat in the microwave for 10-15 seconds. Anything but cold cream cheese, please!
Don't Overmix Your Batter
I absolutely love making good use of my stand mixer for this recipe. It allows me to have better control while also reducing the amount of work I have to do.
Both over-mixing and mixing on too high of a speed can cause cracks and craters during the baking process. Be sure to mix on a low to medium speed and watch carefully! You only need to mix your batter until all the ingredients are fully incorporated.
Let Your Cheesecake Cool Gradually
I know, I know. You just made this incredible cheesecake and you've been dreaming amount the moment you get to dig in. But wait! Allowing your cheesecake the proper time to set and cool is essential.
After the allotted baking time, let your cheesecake to sit in the oven for an additional 4 hours with the oven off. Then, set your cheesecake out on the counter until completely cooled. Transfer to the fridge to cool overnight.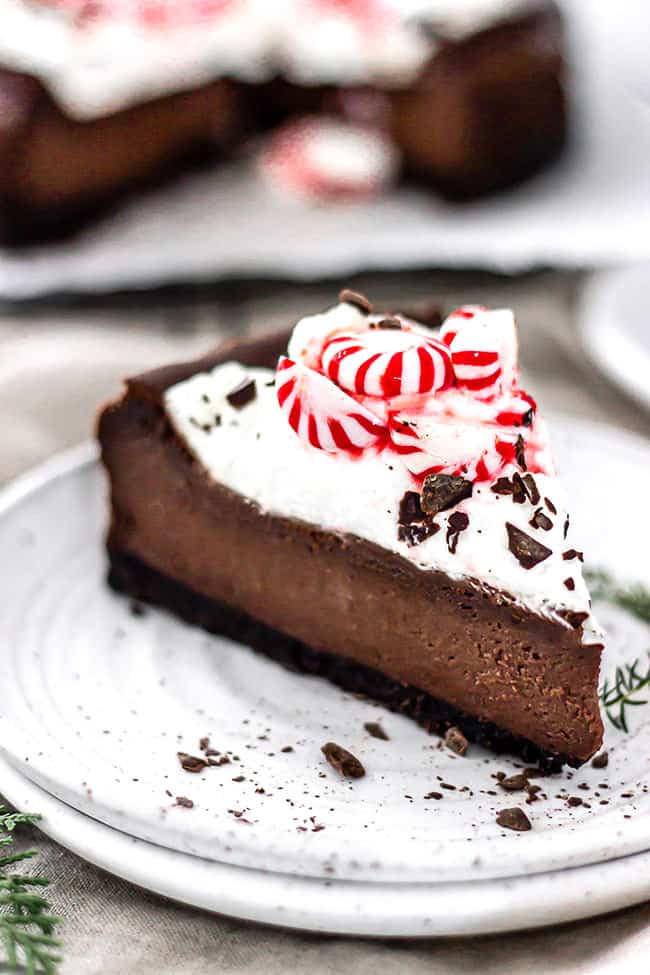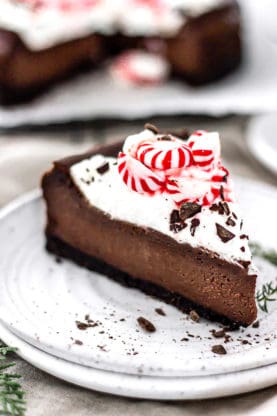 WHAT SHOULD THE TEXTURE OF CHEESECAKE BE?
Just as with any other cheesecake, texture is absolutely key. If made correctly, a cheesecake should be smooth, creamy and light with a melt-in-your-mouth decadence. There is a delicate balance between an airy, flavorful slice and a dense, overpowering one. I'm sure you can tell which one we're shooting for.
It's a long wait, but dang is it worth it!
HOW TO STORE LEFTOVER CHEESECAKE
Before you guiltily indulge in every last crumb, know that this decadent dish can be stored as leftovers without a hitch!
Here's what you can do with those too-good-to-waste leftovers, whether you choose to refrigerate or freeze them.
To Refrigerate
Just about any cheese can be tightly wrapped (in saran or foil) or placed in an airtight container for up to 5 days. Refrigerating cheesecake is best if you plan to eat it within a few days.
To Freeze
When I have more than a few individual slices, or I need to buy a little more time, I choose to freeze my cheesecake. To do so, wrap the slices in saran or foil and place them in a heavy freezer-type plastic bag.
A frozen cheesecake will last for up to 3 weeks. If you're looking to plan ahead, an entire cheesecake can be made, wrapped and frozen for up to 6 weeks.
To Thaw
Thaw frozen cheesecake in the refrigerator overnight. If you're in a hurry, or in need of a sugar-fix, an individual slice can be thawed at room temperature in 30 minutes.
GRANDBABY CAKES' MINTIEST MIXES
As I mentioned earlier, I love the flavor combination of chocolate and peppermint. I love it so much so that I have made several chocolate peppermint desserts since starting this blog. Check out some of my other chocolate peppermint dessert recipes.
*Did you make this recipe? Please give it a star rating and leave comments below!*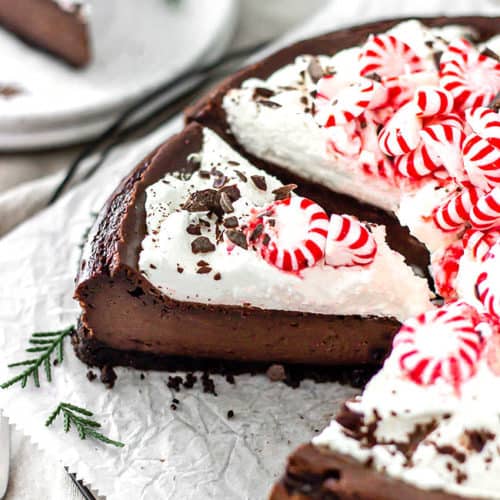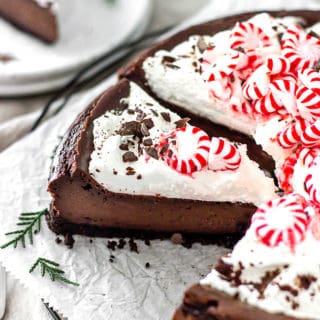 Chocolate Peppermint Cheesecake
A classy Christmas dessert made to impress at your next holiday function. Filled with chocolate and bursting with peppermint flavor this cheesecake is simple, indulgent and delicious!  
Print
Pin
Rate
Ingredients
For The Crust:
1 1/2

cups

chocolate sandwich cookies

crushed

3

tbsp

granulated sugar

5

tbsp

unsalted butter

melted
For The Cheesecake Filling:
4

8 oz packages

packages cream cheese

room temperature

1 1/2

cups

granulated sugar

3/4

cups

heavy cream

room temperature

4

large eggs

room temperature

1

cup

sour cream

room temperature

1 1/2

tbsp

pure vanilla extract

1/2

tsp

peppermint extract

2/3

cup

cocoa powder

2

tbsp

all-purpose flour
For The Whipped Cream:
1

cup

heavy whipping cream

cold

1

tbsp

granulated sugar

1/4

tsp

peppermint extract

1

drop

red food coloring
For garnish: crushed and whole peppermint
Instructions
Preheat oven to 350 degrees F (175 degrees C). Thoroughly spray a 9-inch springform pan with non-stick baking spray. If attempting a water bath, make sure your springform pan is securely closed then triple wrap the sides of the pan with foil to prevent any water from seeping into the sides. It is crucial that the pan doesn't have any openings or water could seep in creating a soggy cheesecake.
For the Crust:
Whisk together chocolate cookie crumbs and sugar with melted butter.

Press mixture into the bottom of the springform pan and bake in the oven for 10 minutes.
For the Cheesecake Filling:
In the KitchenAid® Ceramic Bowl of your Stand Mixer, mix cream cheese and sugar at medium speed until completely blended and smooth.

Add in heavy cream, and then add in the eggs one at a time, mixing until incorporated.

Lastly, pour in sour cream, vanilla extract, peppermint extract, cocoa powder and flour and mix until entire batter is smooth, scraping down sides as needed. Carefully pour the batter into the prepared pan.

(Optional) Water bath: Place your cheesecake pan inside a larger pan and slowly fill the large pan with boiling water halfway up the sides of the springform pan.

Bake cheesecake for 1 hour. Turn the oven off and let the cake cool in oven with the door closed for 4 additional hours.

Remove cheesecake from oven after 4 hours and make sure the cheesecake is completely chilled before placing in the refrigerator (if it is still a bit warm, allow it to cool on the counter before refrigerating), then chill overnight until ready to serve.
For the Whipped Cream:
Beat heavy cream in the bowl of your KitchenAid® Stand Mixer on high speed until soft peaks form.

Slowly add in sugar and mint extract and beat until stiff peaks form.

Pile the whipped cream in the center of the cheesecake.

Carefully dip a butter knife into the red food coloring and swirl through the pile of whipped cream creating a decorative pattern. Dip back in food coloring as needed.

Lastly sprinkle crushed peppermint over whipped cream and garnish with any additional peppermint and serve.
Notes
Ensure your ingredients are room temperature, especially the cream cheese, when starting this recipe. It is essential for a smooth cheesecake batter.
Nutrition
Calories:
447
kcal
|
Carbohydrates:
49
g
|
Protein:
5
g
|
Fat:
27
g
|
Saturated Fat:
15
g
|
Cholesterol:
125
mg
|
Sodium:
146
mg
|
Potassium:
189
mg
|
Fiber:
2
g
|
Sugar:
38
g
|
Vitamin A:
855
IU
|
Vitamin C:
1
mg
|
Calcium:
65
mg
|
Iron:
3
mg
Photos by Eat More Cake By Candice