Baking without eggs is possible! Follow this Egg Substitute guide for perfect eggless baking and cooking recipes. Whether you're looking to whip up muffins, custards or cookies, I've got you covered with a few fail-proof replacements! Also check out my post on the best Baking Substitutions, Beginner Baking Tips, High Altitude Baking Tips and more like how to make Cake Release, Cake Flour and Brown Sugar!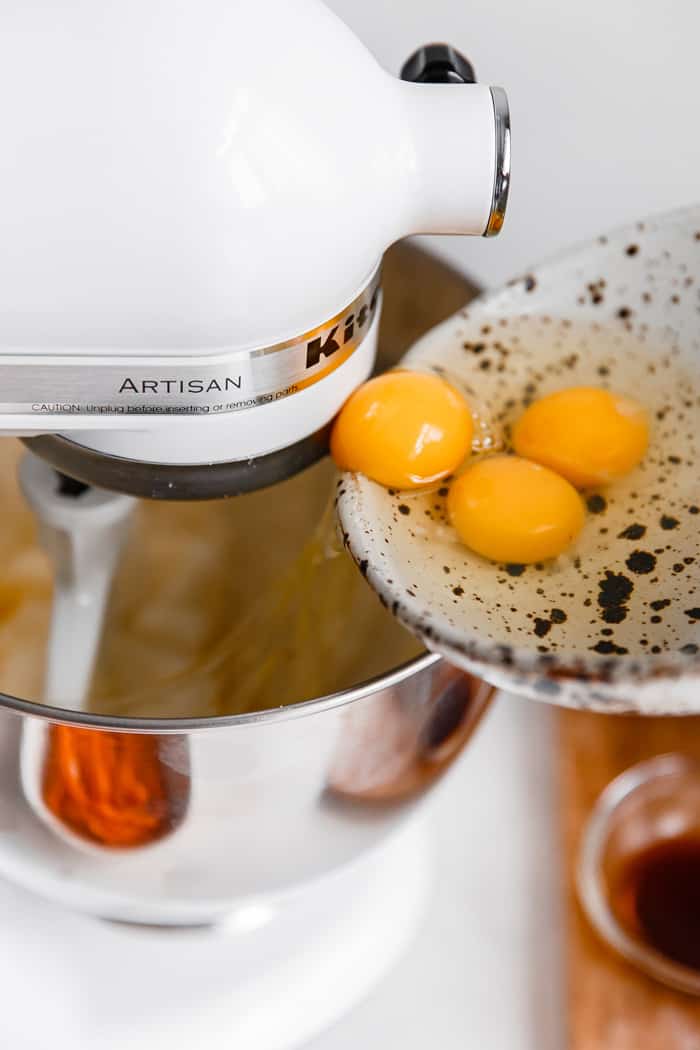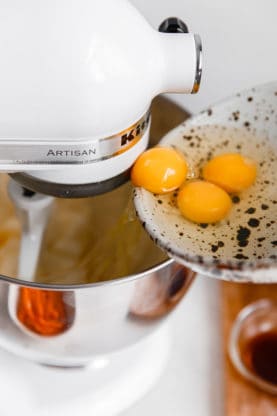 Whether you're egg-free by choice or or by allergy, it's important to have easily accessible replacement options. Today, I'm hitting y'all with a trusty Egg Substitution guide for baking and cooking!
Food allergies are serious and can be life-threatening. Every three minutes, a food allergy reaction sends someone to the emergency room, most of those people being small children. Childhood hospitalizations for food allergy have more than tripled since the late 90's, meaning more and more children are at risk of a severe anaphylactic reaction.
As a mother to a wonderful, rambunctious, explorative two-year-old, I worry about not only the food she consumes but also, the food she shares. Playdates and pre-school bake sales are a hothouse of allergens that can put other children at risk. So, I'm doing my part by self-educating myself about common allergens and how I can adjust my recipes accordingly.
Alright, maybe you're just here because you're out of eggs and in need of a cookie fix. That's alright too! Let's experiment together and maybe, even have a little fun!
BASIC EGG SUBSTITUTES IN BAKING
There are two different uses for eggs in baking: binding and leavening. However, sometimes eggs play both roles at once. When choosing a replacement, it's important to figure out what primary use the egg is serving in the recipe.
Once you've got that sorted out, it's easy to choose the right substitution! Each of the substitutions below will produce one egg. Multiply ingredients based on how many eggs the recipe calls for.
Binder
½ a Medium Banana, mashed
1 tbsp Ground Flaxseed mixed with 3 tbsp of warm water
3 tbsp of Peanut Butter
¼ cup of Applesauce (or other pureed fruit)
Leavener
EGG SUBSTITUTIONS IN COOKING
Egg Substitutions don't have to be limited to baking! Savory recipes that call for eggs can also easily be replaced.
Tofu is a great substitution for almost any recipe that calls for eggs, like quiches or custards. All you need is ¼ cup of pureed soft or silken tofu for every one egg.
EGG SUBSTITUTE REPLACEMENT TIPS
When using an Egg Replacement, it's important to remember that by altering a recipe, you will see a different result. It's up to you to experiment with the options I've given and find the choice that works best for the recipe.
Here are a few additional tips to keep in mind before choosing a substitution:
If you're looking for a lighter texture but you'd still like to use mashed banana as a substitute, add an extra ½ tsp of baking powder. Fruit tends to create a denser result without it.
Avoid recipes that are airer or call for a large amount of eggs, like pound cake or cheesecake.
Don't have any of these substitutions on hand? Using simple, room-temperature carbonated water is a great choice! Use ¼ of water for every egg needed.