The Ultimate Fish Fry Recipes – Crispy, crunchy, and golden brown perfection, these are the perfect recipes and tips on how to fry fish for throwing your own Southern Fish Fry!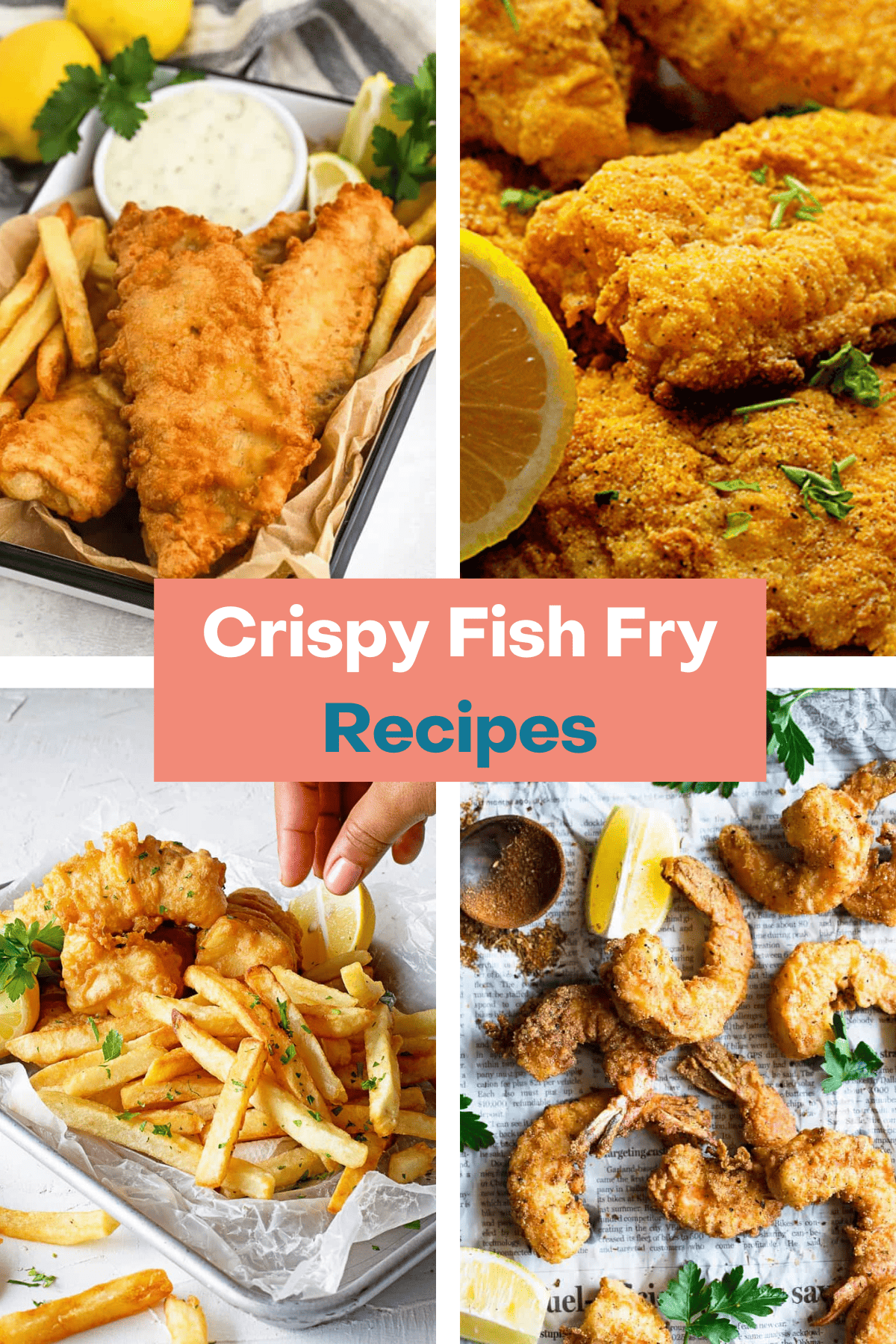 Essential tools
Make sure you are as prepared as you can be! These tools truly are the essentials you'll need when preparing or hosting a fish fry.
Deep Fryer: Using a proper deep fryer is the easiest and safest way to control the frying process and temperature.
Fryer Skimmer: This is an essential tool for safely removing fried fish from the oil.
Deep-Fry Thermometer: In the case your deep fryer or if you're using a deep pot, a deep fryer thermometer is essential for maintaining the correct frying temperature.
Wire Rack: Allows the fried fish to drain properly and stay crispy.
Tips and tricks for the perfect fish fry
Start with Fresh Fish: The key to a delicious fish fry is using fresh fish. Smell the fish before buying – if it has a pungent odor, avoid it. Check the fish's eyes; they should not look sunken. Fresh fish will have bright skin.
Choose the Right Oil: For frying, use oils with high smoke points like peanut oil, canola oil, or vegetable oil. Avoid olive oil as its strong flavor may overpower the fish.
Test Oil Readiness: To check if the oil is hot enough for frying, insert a wooden spoon into the oil. If it starts to bubble around the spoon, the oil is ready.
Use a Deep Fryer or Skillet: The preferred methods for frying fish are a deep fryer, a cast iron skillet, or a deep pot. Make sure the fish is fully submerged in the oil to achieve an even golden brown color on all sides.
Cornmeal Breading: For classic Southern fish fries, use cornmeal as the standard breading. Add spices like paprika, cayenne, lemon pepper, cajun seasoning, or Jamaican Jerk Seasoning for extra flavor. Mixing a bit of flour with cornmeal can prevent the cornmeal from overpowering the taste.
Egg for Better Adhesion: Dip the fish in a beaten egg before applying the breading. This ensures the breading sticks well to the fish, creating a crispy and flavorful coating.
Experiment with Batters: For other types of fish fries like Fish and Chips, use a batter instead of dry breading. Batters are wet and can be made with liquids of your choice. Beer is a popular option as it adds great flavor.
Serve with Delicious Sauces: Complement your fried fish with tasty sauces like tartar sauce or remoulade sauce. These sauces enhance the overall taste and provide a delightful dipping experience.
Enjoy with Sides: Complete your fish fry with traditional sides like hush puppies, fries, coleslaw, or pasta to create a satisfying and well-rounded meal.
Plan for Large Gatherings: Fish fries are best enjoyed with friends and family, so plan for larger gatherings to create a festive atmosphere and memorable experiences.
Fish Fry FAQs
What is the best oil for frying fish?
Neutral oils with a high smoke point, like canola oil or peanut oil, are best for frying.
What type of fish is best for frying?
Firm, and mild-flavored fish like cod, tilapia, catfish, or halibut work well for frying.
Can I use frozen fish for frying?
Yes, but thaw it completely and pat it fry before frying to avoid excess moisture.
How can I make sure my fried fish is crispy?
Pat the fish dry before frying, use cornmeal or flour, and fry at the right temperature.
Fish Fry Batter
For classic Southern fish fries, cornmeal breading is the standard. It fries to a golden brown with a wonderful crunchy exterior.
I love to add different flavors to my breading such as paprika, cayenne for spice, and even a little lemon pepper for that nice hint of citrus that goes so well with fish. You could play around with flavors like a cajun seasoning or even a jerk seasoning for a total change of pace.
I also add a bit of flour to the breading so the cornmeal isn't too overpowering. Fish is dipped into the dry breading adhering to its outside. I like to use a bit of egg before going into the breading to make sure that it sticks really well creating a wonderful coating.
For other types of fish fries like Irish or London Fish and Chips, a batter is more the speed. Batters are wet while breadings are dry. In the batters, you can add liquids of your choice however beef is always a great option because it adds wonderful flavor. Check out my batter below for my Fish and Chips.
Make sure to serve with a delish sauce like a tartar sauce or remoulade sauce.
Fried Fish Recipes
What To Bring To A Fish Fry Potluck
Condiments For Fried Fish
Make It A Meal