These Delicious Southern Butter Beans are simmered in vegetable broth and liquid smoke for that authentic smokey flavor you get from a traditional pot of butter beans. It's an alternative way of cooking your favorite soulful comfort food like this Fried Oyster Mushroom recipe or Vegan Fried Chicken. This Vegan Butter Beans are so good, you will forget that you're eating a plant based recipe! If you love these, you will also love these Pinto Beans, Red Beans and Rice, Hoppin John and Black Eyed Peas!
Thank you so much to Vegan With Curves for sharing this incredible recipe with my audience!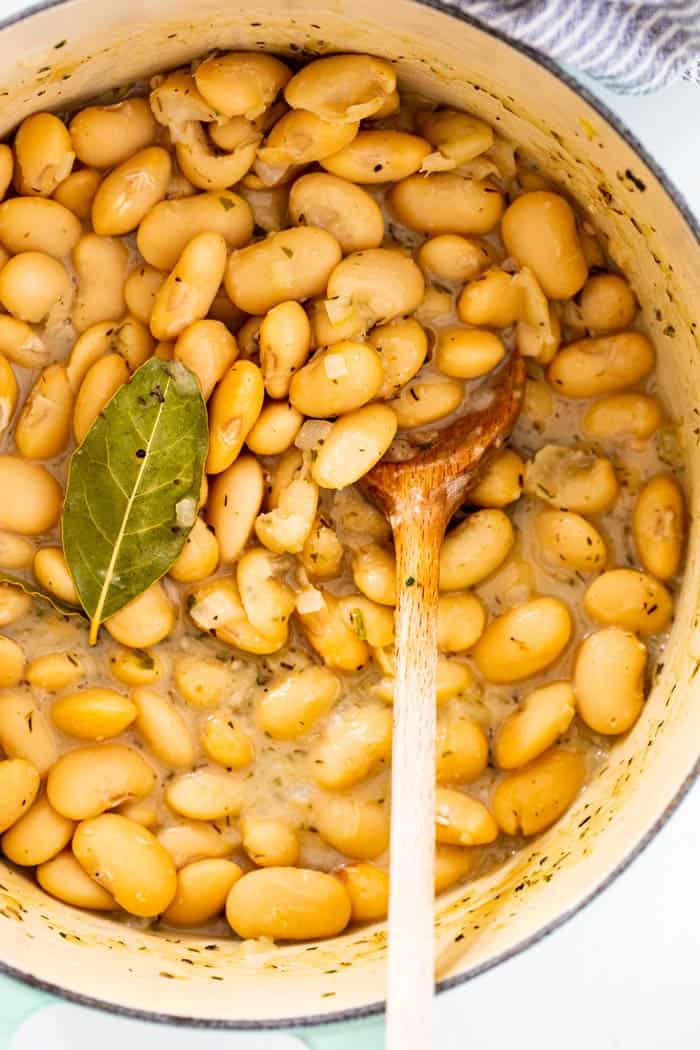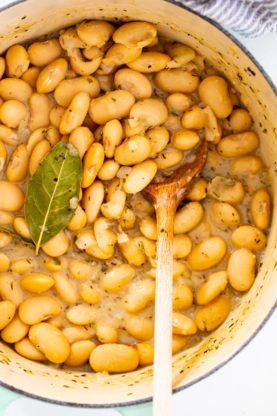 Greetings family! My name is Gina Marie aka "your curvy vegan." I blog over at Vegan With Curves and I am thrilled to share my recipe here on Grandbaby Cakes. I'm from St. Louis, MO but was raised by grandparents who were from WaterValley, Mississippi. So this Midwest gal is no stranger to southern cooking and food. I have been vegan for over 8 years (at the publishing of this post). Over the years, I have had fun making my grandma's soul food recipes vegan. I'm happy to share with you one of those recipes today; Butter Beans that are completely vegan.
What Are Butter Beans?
Butter beans are essentially just large lima beans. In the south they are called "butter beans" because when cooked, they create this creamy butter texture that is so comforting. So when you are in the store, just look for the package labeled "large lima beans."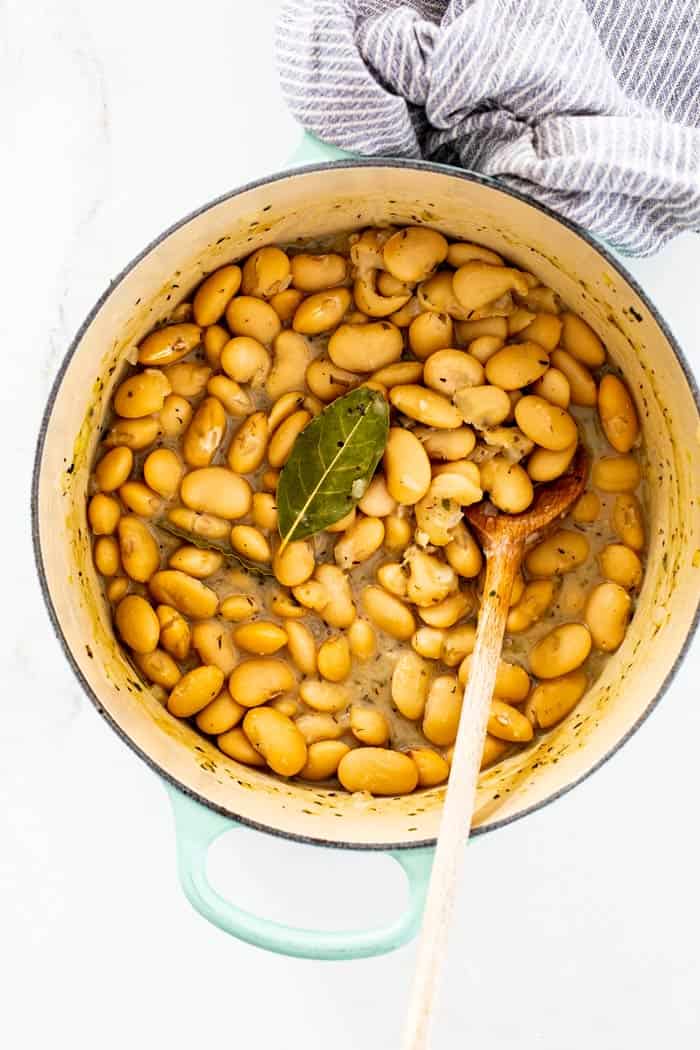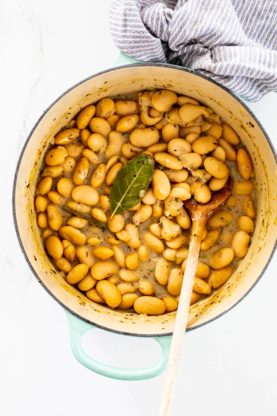 How do I add Flavor to Butter Beans?
Traditionally my grandmother would cook her big pot of butter beans in neckbones (and sometimes ham hocks) along with chicken broth and butter. Obviously those things aren't vegan, however with a few swaps I made to my grandmother's recipe, I was able to recreate a vegan version that is just as comforting using these following ingredients:
Liquid Smoke:

This is the key ingredient for replacing that smokey flavor you would get from neck bones or ham hocks.

Not Chicken Broth Cubes:

Outside of making my own homemade broth, this is the only vegetable broth I use because it has so much flavor. When using this broth you won't need to add much salt at all.

Vegan Butter:

Vegan food has come a long way from when I first started and there are some awesome vegan butter products on the market! I faithfully use the Earth Balance brand.

Organic Cane Sugar:

Adding a little sugar to your beans helps bring out the flavor of your beans. I emphasize using organic cane sugar because regular white sugar is overly processed and filtered through pig bone char.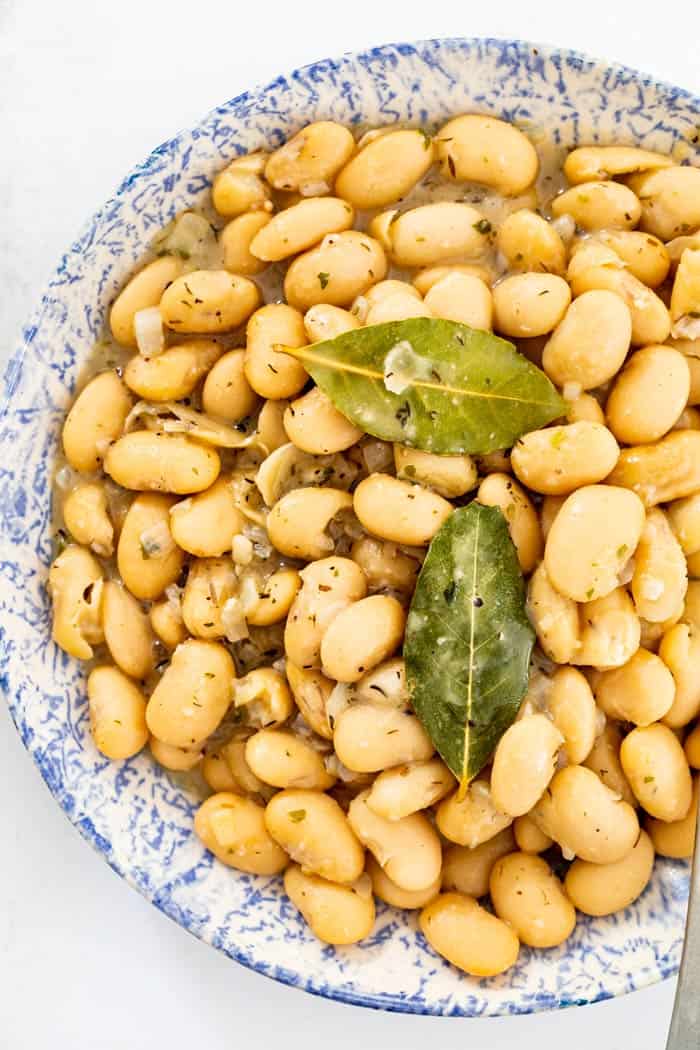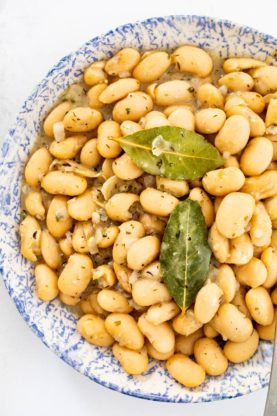 How Long Should I Soak Lima Beans (And Why You Should Soak Them)?
The longest part about cooking this dish is the soaking time by far. However it's important that you soak your beans for this one main reason: enzyme inhibitors.
Dried Lima Beans (like most dried beans) have enzyme inhibitors. This makes it hard for you to not only digest beans, but extract the nutrients out of them. Soaking helps release most of those inhibitors. Plus soaking beans also speeds up your cooking time. So it's of importance that you do not skip soaking your beans regardless of your cooking method.
Tip: The best way to soak your beans is overnight for at least 8 hours in a large bowl of water.
When soaking large lima beans, they will expand and slightly start to split a little. The skin of the beans will start to "wrinkle" a bit. That is natural so you have nothing to worry about if you notice this.
What to Eat with Your Butter Beans
Nothing pleases me more than cozying up to a big bowl of butter beans and cornbread! This recipe will also serve well alongside both cornbread and southern mustard greens at your holiday table! Your friends and family won't even realize the beans are vegan!
Enjoy!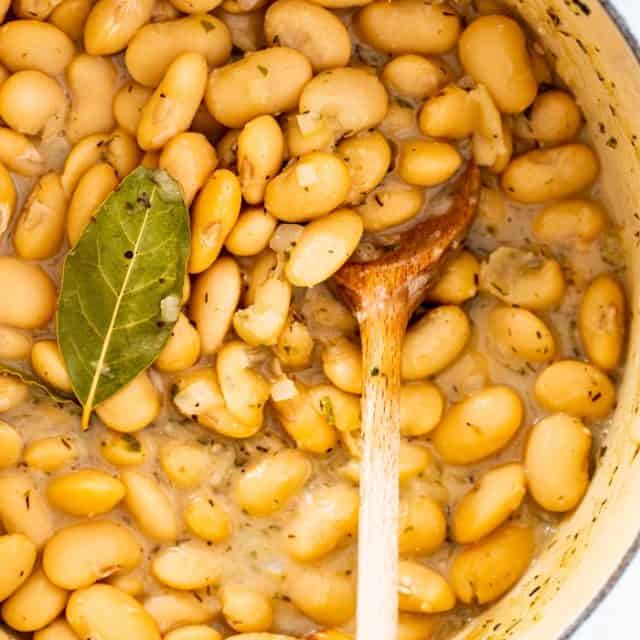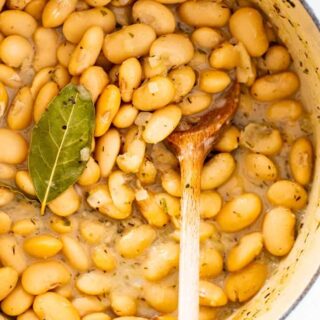 Southern Butter Beans
These Butter beans are simmered in vegetable broth and liquid smoke for that authentic smokey flavor you get from a traditional pot of butter beans. It's an alternative way of cooking your favorite soul food comfort food.
Print
Pin
Rate
Ingredients
16

oz

large dried lima beans

1 lb

1

tbsp

oil

olive or vegetable or canola

4

tbsp

vegan butter, divided

I used Earth Balance

1

small onion

or 1/2 large onion, chopped

1/2

tsp

black pepper

1/2

tsp

garlic powder

4 1/2

cup

water

1 1/2

Not Chicken Broth Cubes

1/2

tsp

hickory liquid smoke

2

tsp

organic cane sugar

1/2

tsp

dried parsley

1/2

tsp

dried thyme

1/2

tsp

sea salt

2

dried bay leaves

optional
Instructions
First you will want to soak your beans for 8 hours or overnight. This helps the beans cook faster as well as release enzyme inhibitors on the beans allowing you to digest them better.

Place a large pot over medium high heat. Add oil, 1 tablespoon of vegan butter, chopped onions, black pepper, and garlic powder. Saute' onions for about 3 minutes until they are soft and translucent.

Next, add water, Not Chicken Broth Cubes, soaked large dried lima beans, hickory liquid smoke, organic cane sugar, dried parsley, dried thyme, sea salt, and bay leaves to your large pot.

Bring your pot to a boil (should take around 5 to 6 minutes). Then reduce heat to a simmer and cover with lid for about 1 hour and 30 minutes, until your lima beans are thick and creamy.

Once done, remove bay leaves, and adjust seasoning to your liking (adding additional pepper or sea salt to taste) and the remaining butter. Allow your beans to sit and cool for about 10 minutes. This will help it thicken even more. Serve.
Notes
Even though this recipe is meant as a side dish the great thing about vegan eating is side dishes are often turned into main courses! So serve a big bowl of this up with some cornbread and your good to go!
If you prefer to use a pre bottled vegetable broth/stock (or your own veggie broth), simply replace the amount of water in the recipe with the broth or stock of your choice and omit the Not Chicken Vegetable Broth Cubes.
Nutrition
Calories:
180
kcal
|
Carbohydrates:
26
g
|
Protein:
8
g
|
Fat:
5
g
|
Saturated Fat:
1
g
|
Sodium:
225
mg
|
Potassium:
665
mg
|
Fiber:
7
g
|
Sugar:
4
g
|
Vitamin C:
1
mg
|
Calcium:
35
mg
|
Iron:
3
mg