This Fried Okra Recipe features fresh okra breaded in the most flavorful coating then fried until golden brown creating a perfect crunchy texture! This is one of the best okra recipes around!!!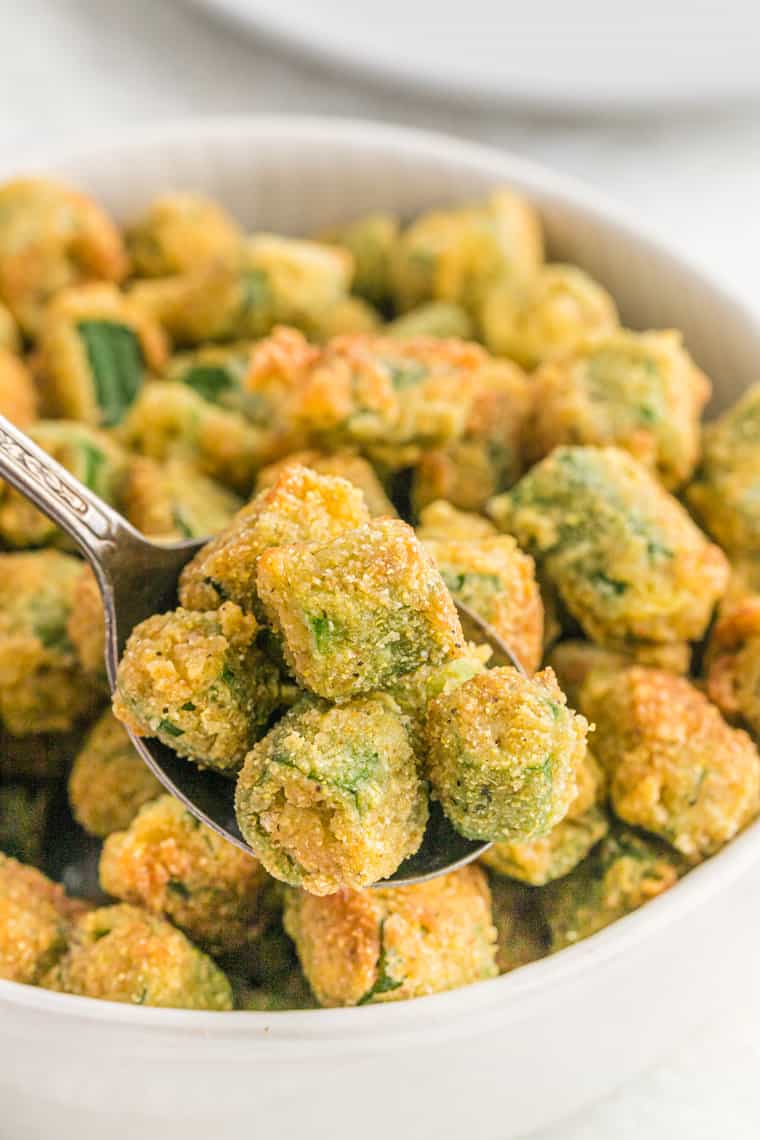 This Southern fried okra recipe is dedicated to my daddy. I realize that a lot of the things I wanted to learn how to cook and bake came from figuring out what foods made him excited. For instance, he loves key lime pie, fried catfish and fried okra, and I learned how to make those things early on growing up.
I seriously think I fried my first fillet of fish around 11 or 12 years old and got pretty darn good at it too. Each Friday, my dad got off early from work and would pick me up from school right on time. We would then go home and have a fish fry. Those definitely brought him back to his Mississippi southern roots.
Perks & Highlights of This Crispy Fried Okra Recipe
Cuisine Inspiration: Southern American
Primary Cooking Method: Frying
Dietary Info: Vegetarian, Contains Gluten
Key Flavor: Crispy, savory with a hint of natural okra sweetness
Skill Level: Medium do to frying
Special Perks:
Crowd-Pleaser: Known for its golden, crispy coating and tender interior, this fried okra is a hit at family gatherings, potlucks, and BBQs, appealing to both adults and kids alike.
Simple Ingredients, Big Flavors: Requiring just a few common ingredients, this recipe transforms the humble okra into a flavorful, irresistible treat.
Perfect Side or Snack: Whether it's accompanying your main dish or serving as a stand-alone snack, fried okra fits various dining scenarios with its satisfying crunch and savory goodness.
Customizable Coating: While traditional breading is a classic, you can experiment with different breading like cornmeal or gluten-free alternatives, adjusting to dietary needs or taste preferences.
Quick to Make: No need to spend hours in the kitchen; this fried okra comes together quickly, making it a convenient option for busy days.
This Fried Okra recipe encapsulates the heart of Southern cooking, offering a dish that's not only bursting with flavor but also carries the warmth and joy of a community that loves sharing good food.
What is Okra?
According to Healthline, Okra is a flowering plant known for its edible seed pods. It is cultivated in locations like Africa and South Asia due to it being warm and tropical.
This vegetable or fruit as it is not widely known is used in a lot of Southern dishes like gumbo, succotash, and soups.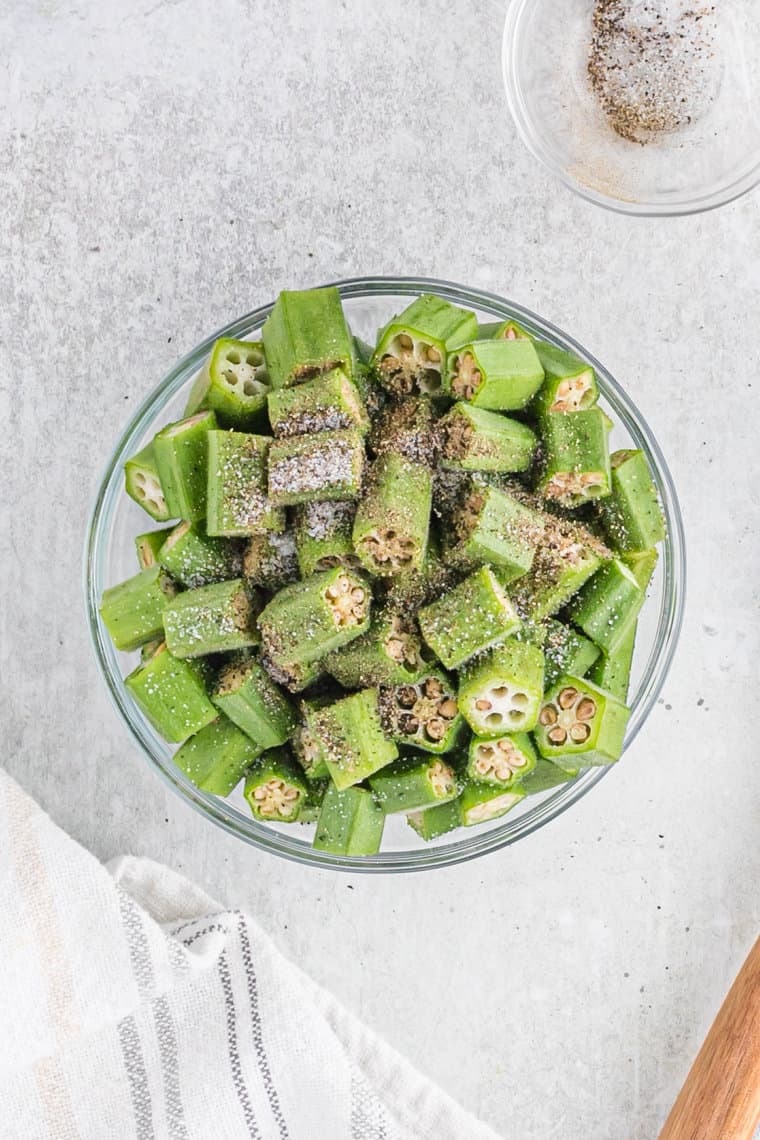 How to Select Okra
My suggestion is to always try fresh okra first. If you can select fresh okra, it will make this dish so much better.
However I realize that in certain areas of the country this may not be possible. In that case, frozen okra is totally fine.
Tip: Make sure it is thawed and use paper towels to completely try it so the breading adheres to it well. You want to make sure it isn't watery and that it maintains its texture.
How to Cook Okra So It Isn't Slimy
But okra doesn't have to be slimy y'all!!! There are a few precautions you can take to assure you are cooking your southern okra the best way possible.
One major precaution being- reduce the cutting. The more you cut this intricate veggie, the more slime it produces.
Try to opt-in for whole slices of okra rather than finely chopped pieces the next time you get ready to prepare some.
There are even different selection types of okra, plenty of sizes, to choose from at the grocery store so be mindful of what you pick up.
When picking fresh okra at the grocery store, always choose smaller pods. They should be mostly green. If you see black specks anywhere, then I would avoid because they aren't as fresh.
Tip: Try to avoid the larger okra pods because they can be tougher when cooked. Anything around 4 inches is too long.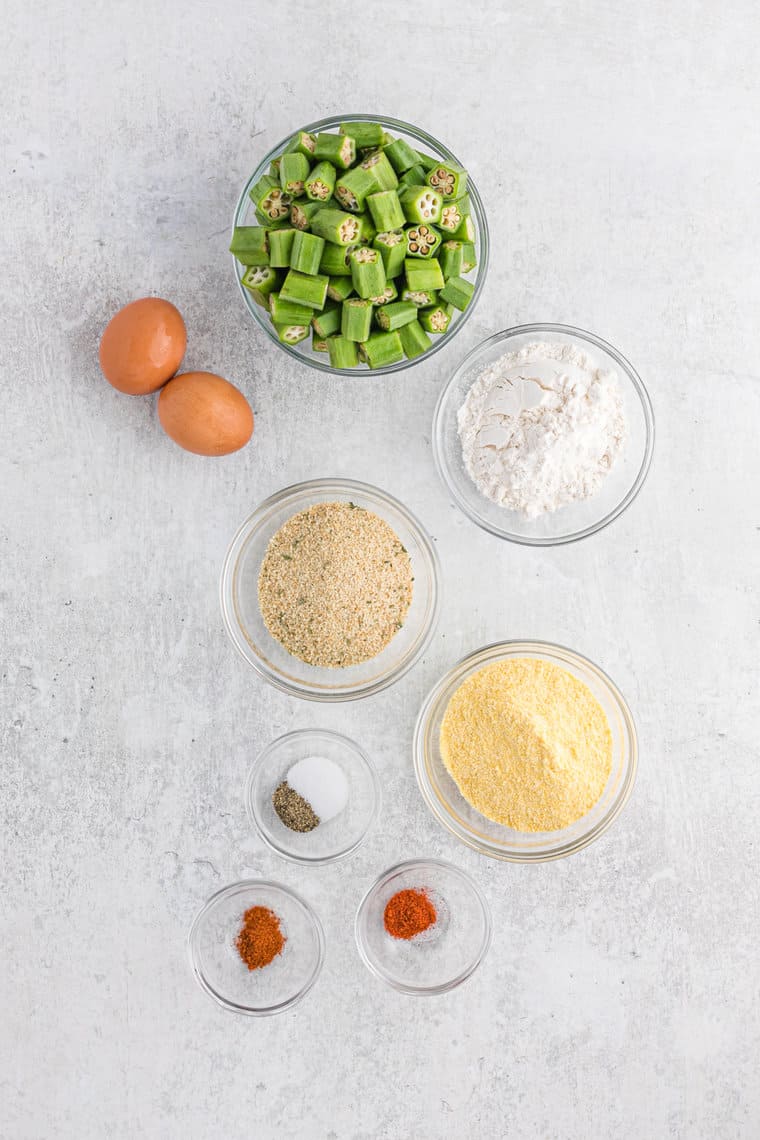 Ingredients
The BEST Fried Okra starts with incredible ingredients. For a breading that is truly unlike any other as far as flavor, you will need the following key ingredients:
All Purpose Flour (this will help with making sure the batter adheres)
Yellow Cornmeal (this provides that true Southern flavor and nice crunchy gritty texture)
Seasoned bread crumbs (I started adding these for a bit more texture and additional flavor to the breading)
Paprika (I love adding this for additional flavor notes)
Cayenne (This is optional but if you love a little spice, definitely add this!)
Fried Okra from Frozen Okra?
I love to start with fresh okra however you can absolutely use frozen okra that has been thawed out.
The most important thing to remember is to keep the texture intact since most people don't enjoy okra because of a somewhat slimy texture.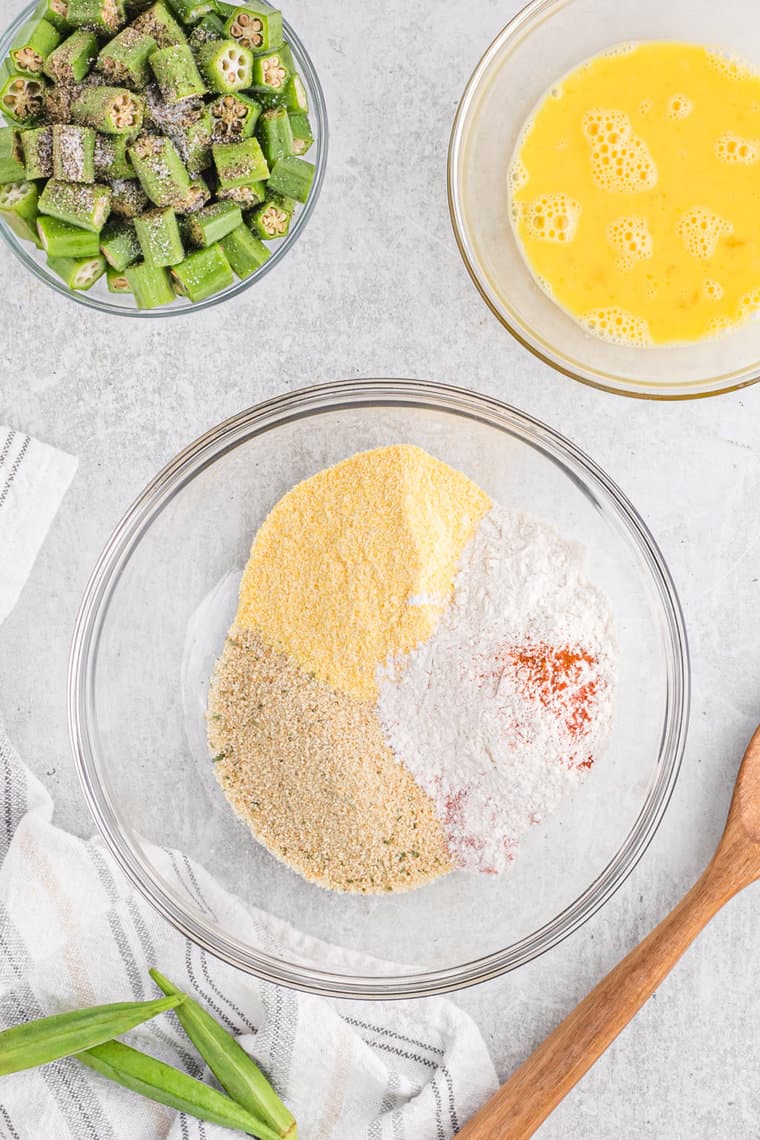 How to Make Fried Okra
Frying okra could not be easier. To help the okra adhere to the batter, I like to use a bit of egg. It really serves as a binder.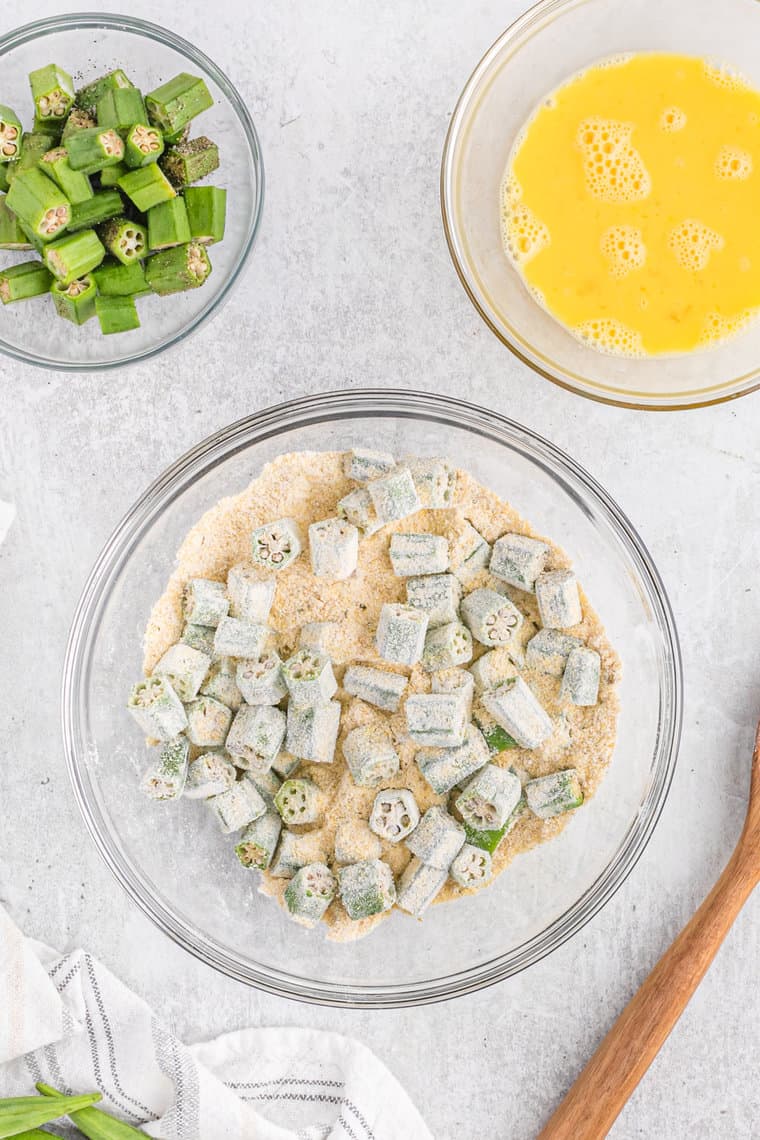 Lastly, real Southern fried okra should always have a batter base of corn meal. There is nothing more southern than that.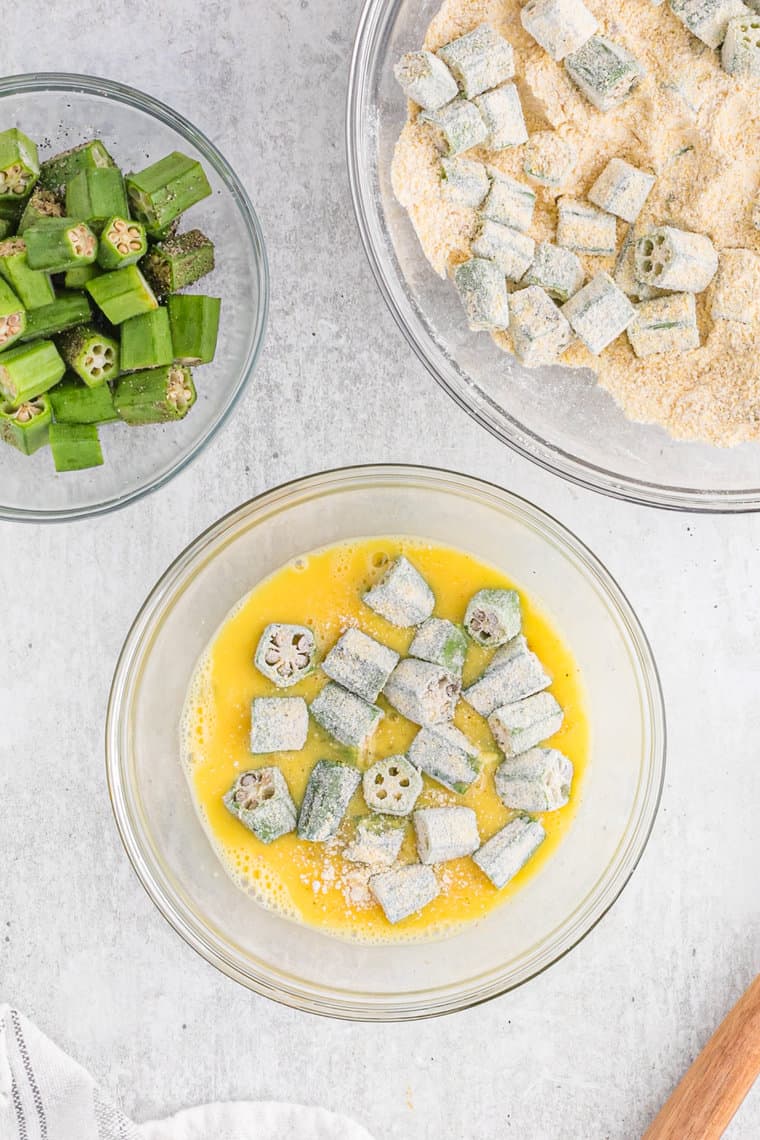 The crunchy and grittiness is fantastic with the okra along with bread crumbs and flour that really give a crispy bite.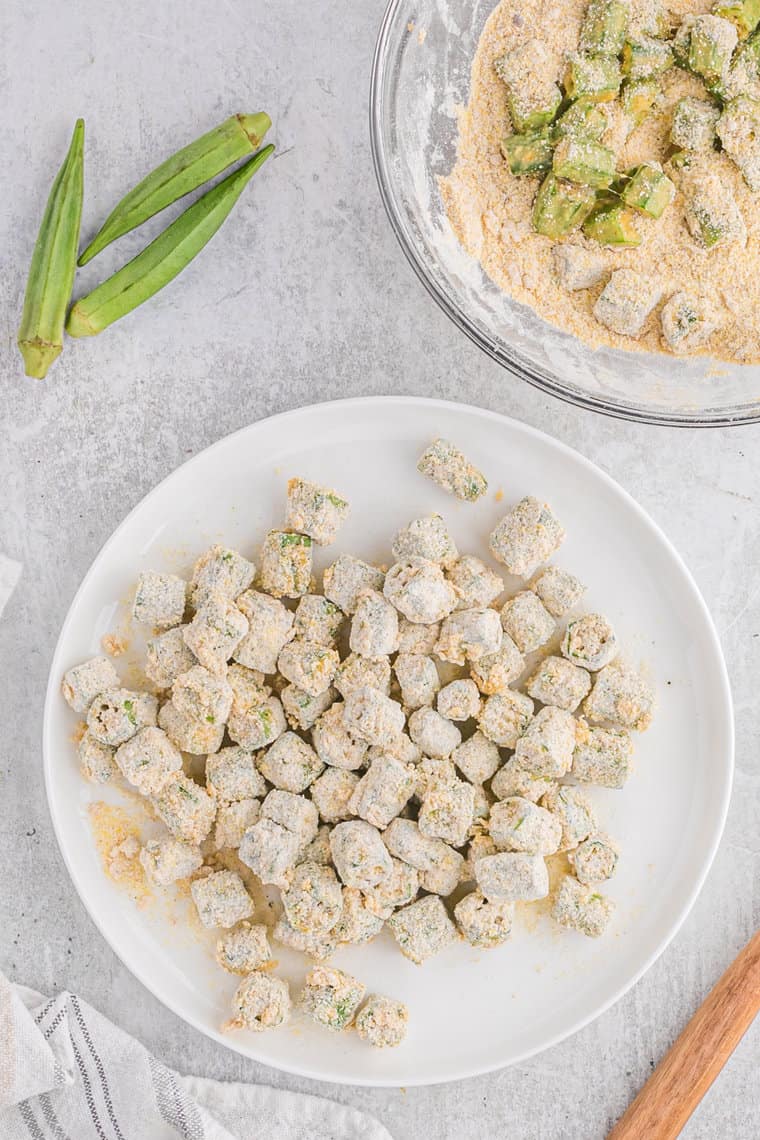 I like to flavor the okra with a bit of paprika and if you want to really bring home some spice, a little cayenne pepper wouldn't hurt either.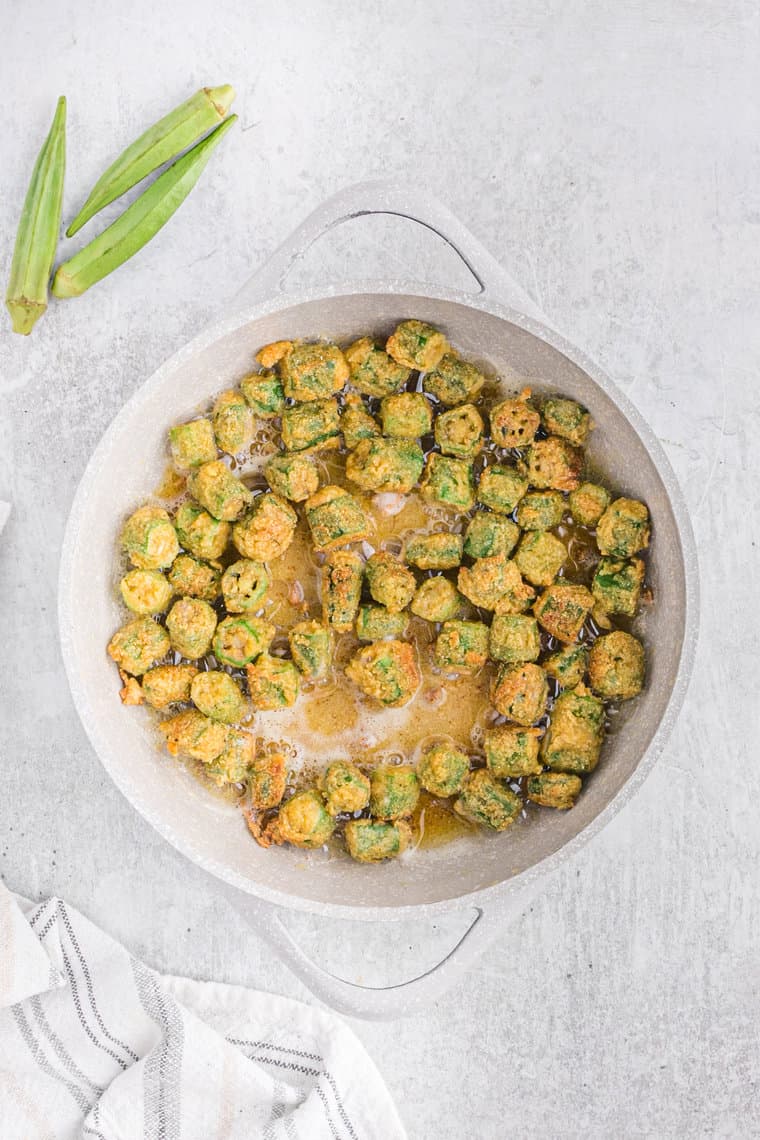 Tips for How to Fry Okra
Tip 1: You can also use buttermilk if you want a thicker binder and more tang!
Tip 2: To keep frying evenly, I like to occasionally stir it so it doesn't fry and stick.
Tip 3: Oil temperature must not be too hot or the okra will burn and have a terrible taste. Also if the oil isn't hot enough, the okra will just absorb the oil and it won't crisp.
What to Serve with Fried Okra
I told you all about the essentials of fish fries when I shared my Hush Puppy recipe earlier this year, and I loved sharing the country fun of frying up Green Tomatoes this summer too, but a fried okra recipe is just as iconic when it comes to southern and soul food cooking.
This okra is great plain or you could serve with this remoulade.
Nowadays if you want a quick fix, you can go to Cracker Barrel or any neighborhood southern restaurant and order some but I love the homemade ones best.
These fried okra are perfectly spiced to your liking, crispy and best eaten right out of the fryer. Fry these babies up and see what all my daddy's fuss is all about!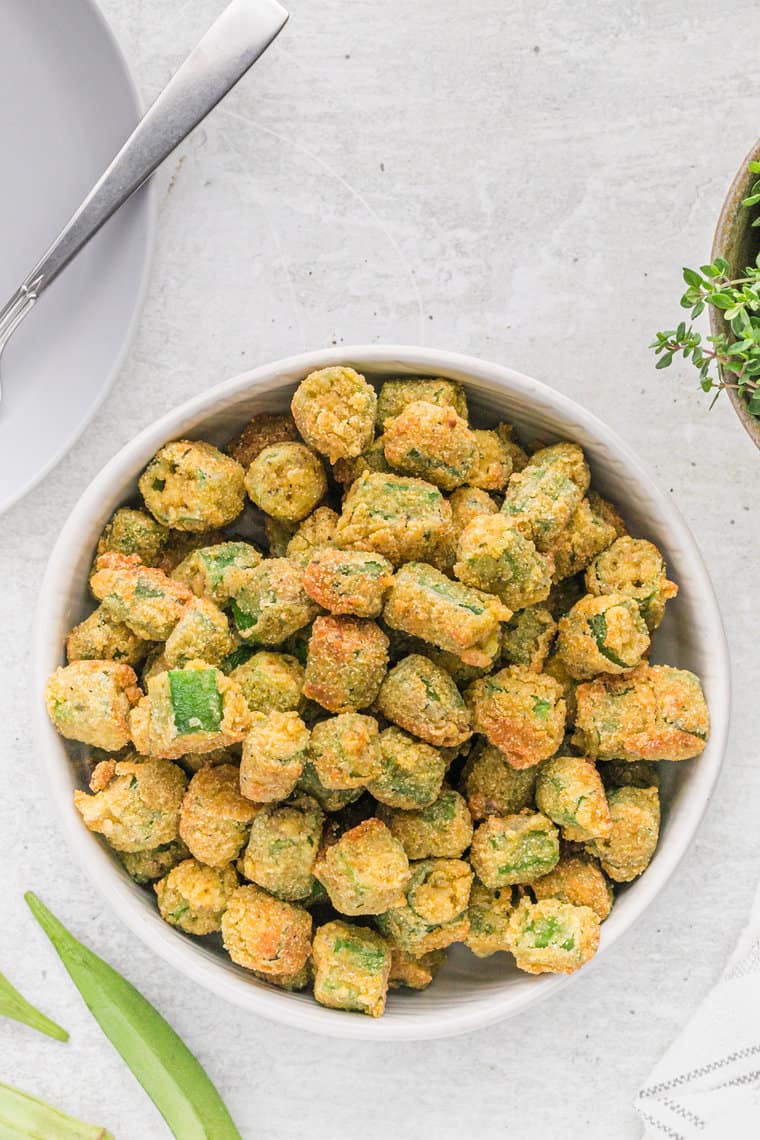 Deep Fried Okra or Pan Fried Okra?
For a fast method, deep frying always insures more even frying of your okra. Pan frying requires more effort as you will have to turn pieces of okra and watch more closely but it is still delicious and worth the extra effort if you don't have a deep fryer handy.
Can you Make Ahead?
You can definitely bread the okra ahead of time and store in the fridge before frying. This can cut down your prep time.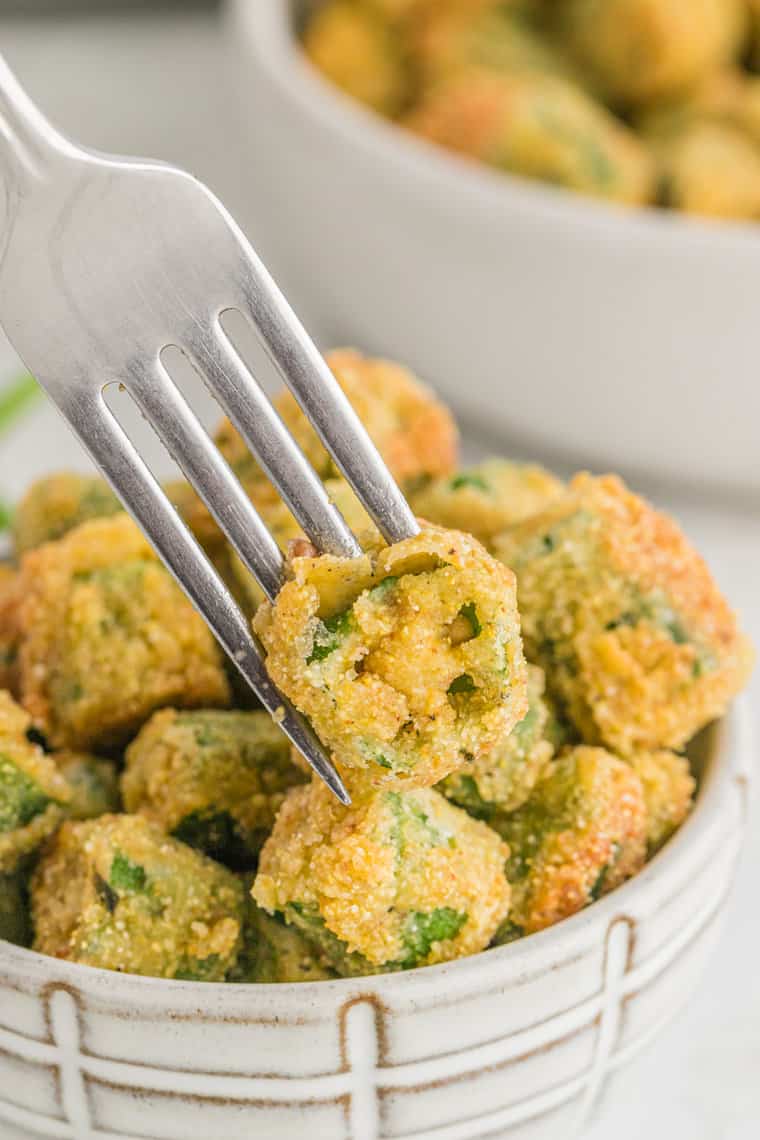 How to Store
I like to store my okra in a container with a tight lid. When I want to serve again, I love using the air fryer because it gives it a wonderful crisp exterior again.
What to serve with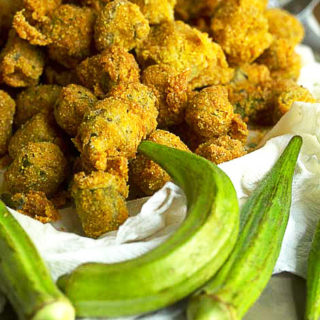 Fried Okra Recipe – How to Fry Okra
This Classic Southern Fried Okra Recipe features fresh okra breaded in the most flavorful coating then fried until golden brown creating a perfect crunchy texture! This is one of the best okra recipes around!!!
Print
Pin
Rate
Ingredients
12

ounces

fresh okra

cut into 1/2 inch pieces

Salt and pepper to taste

2

large

eggs

1/2

cup

all-purpose flour

1/2

cup

yellow cornmeal

1/2

cup

seasoned bread crumbs

1/4

teaspoon

paprika

1/8-1/4

teaspoon

cayenne

go up if you enjoy the spice

Oil for frying
Instructions
Season okra with salt and pepper.

Add eggs to a separate small bowl.

Combine flour, cornmeal, seasoned bread crumbs, paprika and cayenne into another small bowl and whisk together.

Begin by dipping okra into cornmeal and flour coating.

Next add okra to eggs coating on all sides.

Lastly dip back into the coating and set aside okra on baking sheet.

Repeat dredging process until all okra is ready.

Heat oil in a frying pan over medium high heat.

Fry okra until golden brown and drain on paper towels.

Serve warm.
Video
Notes
I love to start with fresh okra however you can absolutely use frozen okra that has been thawed out.  The most important thing to remember is to keep the texture intact. 
Nutrition
Calories:
169
kcal
|
Carbohydrates:
28
g
|
Protein:
6
g
|
Fat:
3
g
|
Cholesterol:
62
mg
|
Sodium:
162
mg
|
Potassium:
269
mg
|
Fiber:
3
g
|
Sugar:
1
g
|
Vitamin A:
535
IU
|
Vitamin C:
13.3
mg
|
Calcium:
74
mg
|
Iron:
2
mg