Tequila Lime Chicken Recipe – Get your grill going, and add these wonderful citrus flavored grilled tequila lime marinated chicken to your summer menus!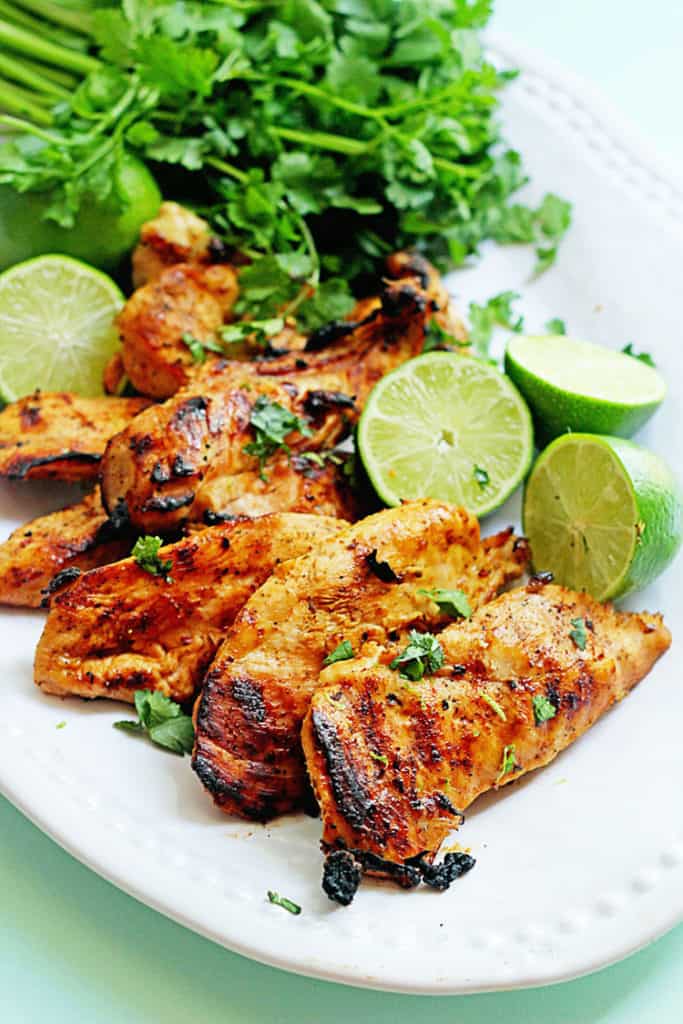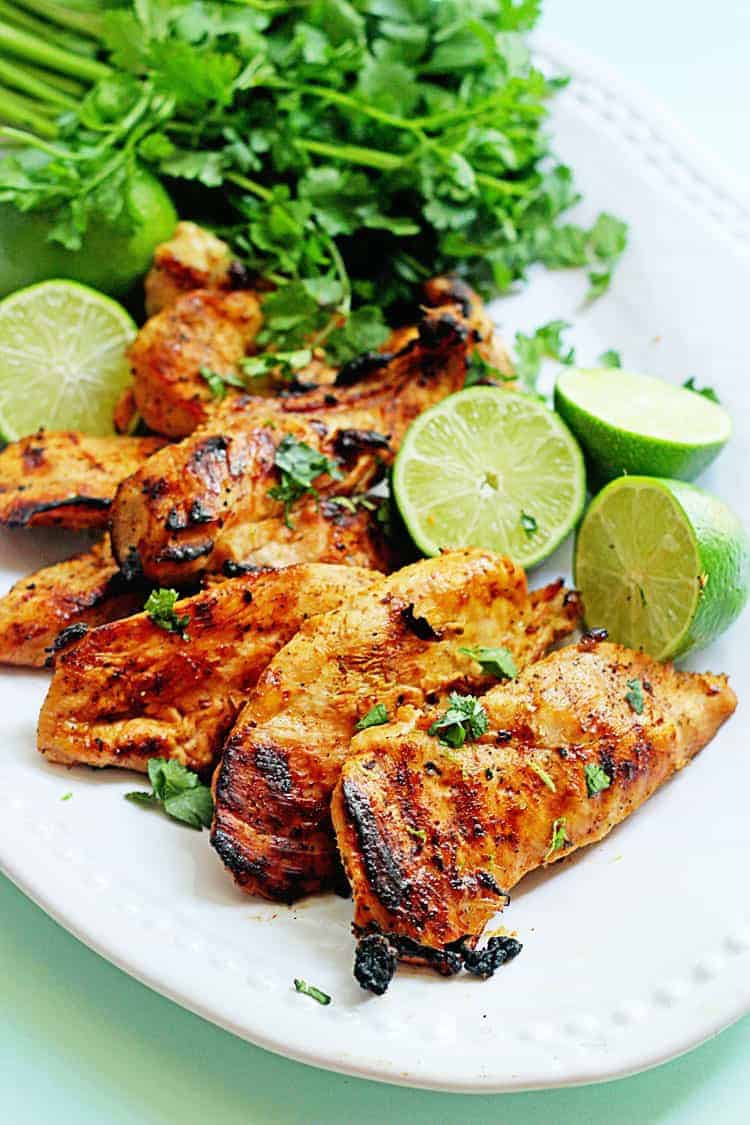 TEQUILA LIME CHICKEN
I'm so excited to share this delicious Tequila Lime Chicken recipe with you. Random but this summer I have been concentrating on new things and really asking more of those life questions that inevitably pop up when you are looking at a birthday in the near future. Questions like, "What do I want to accomplish next?", "What is in store for my 34 year old self?", "What haven't I crossed off my bucket list?" and "What is my true purpose?" are swimming in my mind.
MY OBSESSION WITH OVERACHIEVING
As I get close to finishing out my Jesus year, which I talked about last year at exactly the same time that I'm writing this post, I am also trying to figure out ways I can take it easier on myself. I realized I can be a bit tough on myself. From the time I was little, I was a bit of an overachiever. Everything had to be perfect, whether it was the recitation of my lines in a play or the turnout in my pliés in ballet class. I have carried this obsession throughout my life, from my Magna Cum Laude and honor society status in college to being one of the most praised employees at my jobs.
OVERACHIEVING AND BLOGGING
Having a career in blogging was probably the most unexpected turn someone like me could take. My overachieving tendencies seem more fit for corporate America. When I first entered blogging, I was confronted with competition and rejection sure but I was also confronted with the most supportive community of food bloggers that embraced me like family. In this career, I didn't have to be absolutely perfect. In fact, discussing my flaws with readers is appreciated and downright relatable. I started to see that my blogger pals were actually happy to see me win, and were there for me when I didn't. We share information, headache and passion, and there is nothing like it.
After Grandbaby Cakes became my dream full-time job over a year ago, I realized just how blessed I was. There is nothing I would rather be doing right now, and at the age of almost 34, I feel pretty good about my future being a happy, albeit flawed one. I mean seriously, where else can I make the most flavorful grilled tequila lime chicken breasts, share the recipe with you and call that my "job"?
TEQUILA LIME CHICKEN MARINADE
So let's talk about this Tequila Lime Chicken recipe. You may have seen these flavors before at restaurants or even in the grocery store (there is a great Tequila Lime Chicken Wings product on the market now that's pretty tasty). I wanted to duplicate that flavor in this recipe.
It starts with a mix of wonderful citrus flavors. I wanted to punch up the fresh lime flavors with the addition of fresh orange juice to help balance it. It gives a tart yet not too strong flavor, really just enough for it to penetrate the chicken. Of course you definitely need the tequila in this recipe too. It pairs so well with the lime flavors, and you get a taste in each bite.
Lastly, the oil and addition of the worchestershire punches it up even more.
HOW LONG SHOULD I MARINATE TEQUILA LIME CHICKEN?
These chicken breasts turn out so moist and delicious. You can also make this with wings too. It is so adaptable. Just vary the time. For chicken breasts that are thicker, you definitely want to marinate for as long as possible. I love to get a three hour soak to really get that flavor in each and every bite but if you are limited on time, make sure you at least get an hour in. You can also cut the breasts into thinner slices to get the marinade to soak in faster if you are short on time.
While you are slapping these on the grill, make sure you check out my post on how to throw a Mexican fiesta for more fun summertime flavors. And also make sure you add grilled catfish recipe, my grilled ribeye steak, and my Mexican grilled corn to your grill.
Want more grill ideas?