Get your grill going and make this incredibly moist and perfectly marinaded Tequila Lime Chicken recipe filled with citrus, herbal, spiced tequila flavor then grilled to perfection! Your chicken has never tasted soo good! If you love this grilled chicken marinade, definitely try my Dry Rub, Grilled Spatchcock Chicken, BBQ Grilled Ribs, Carne Asada and my Marinated Skirt Steak recipe!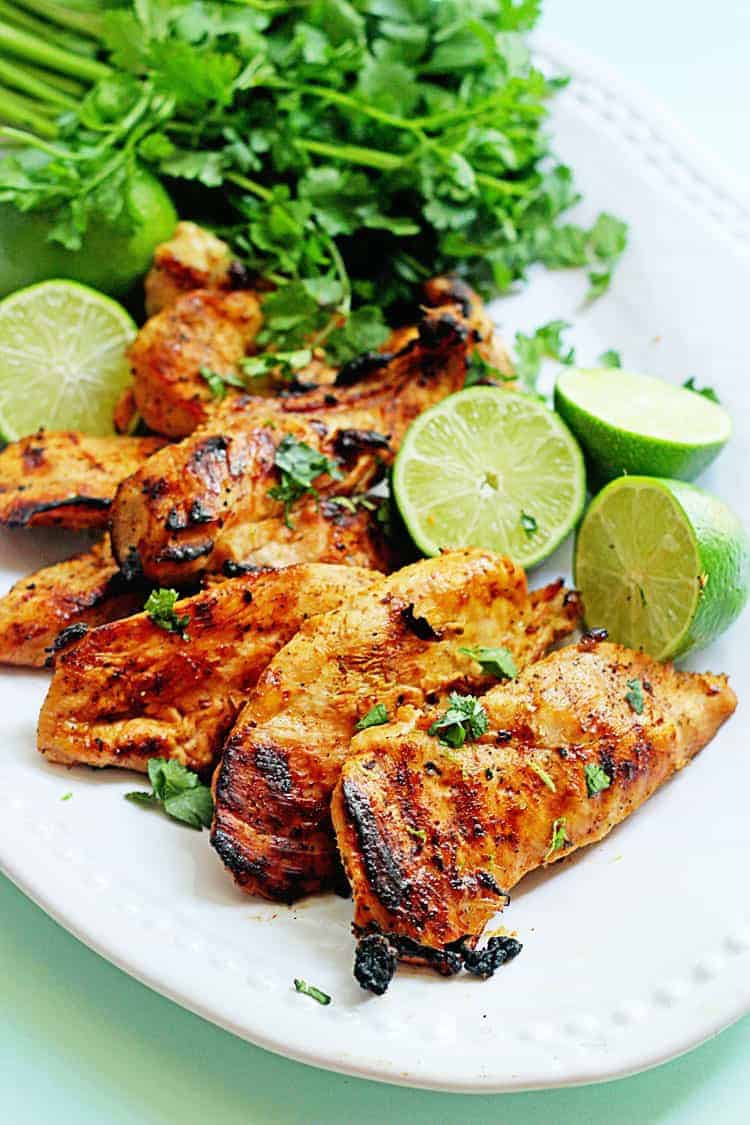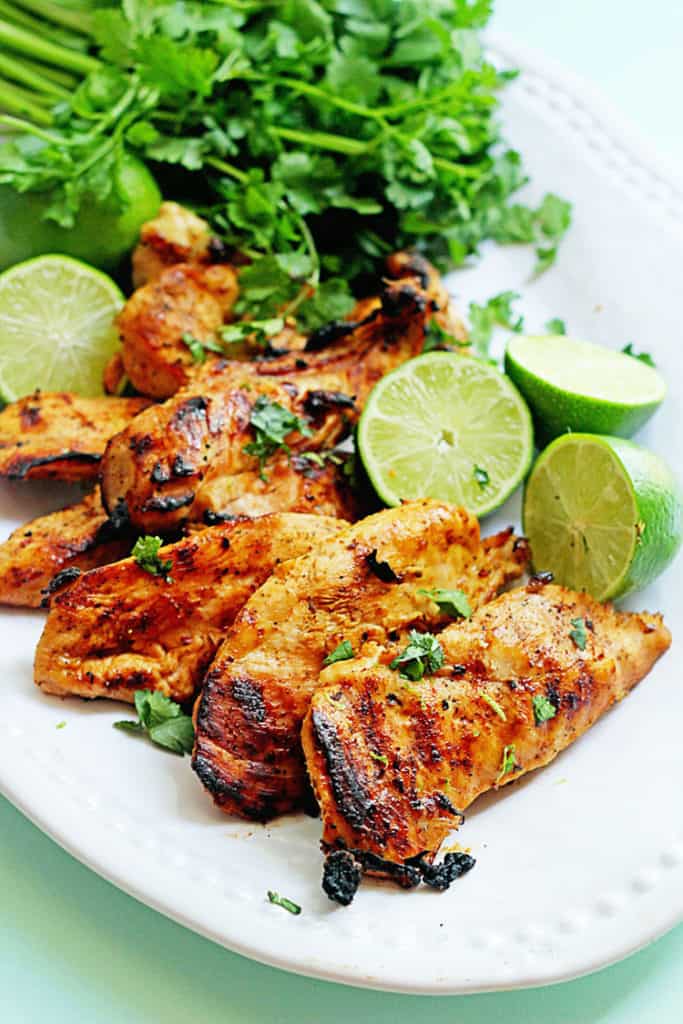 I'm so excited to share this delicious Tequila Lime Chicken recipe with you. Random but this summer I have been concentrating on new things and really asking more of those life questions that inevitably pop up when you are looking at a birthday in the near future. Questions like, "What do I want to accomplish next?", "What is in store for my 34 year old self?", "What haven't I crossed off my bucket list?" and "What is my true purpose?" are swimming in my mind.
As I get close to finishing out my Jesus year, which I talked about last year at exactly the same time that I'm writing this post, I am also trying to figure out ways I can take it easier on myself. I realized I can be a bit tough on myself. From the time I was little, I was a bit of an overachiever. Everything had to be perfect, whether it was the recitation of my lines in a play or the turnout in my pliés in ballet class. I have carried this obsession throughout my life, from my Magna Cum Laude and honor society status in college to being one of the most praised employees at my jobs.
Having a career in blogging was probably the most unexpected turn someone like me could take. My overachieving tendencies seem more fit for corporate America. When I first entered blogging, I was confronted with competition and rejection sure but I was also confronted with the most supportive community of food bloggers that embraced me like family. In this career, I didn't have to be absolutely perfect. In fact, discussing my flaws with readers is appreciated and downright relatable. I started to see that my blogger pals were actually happy to see me win, and were there for me when I didn't. We share information, headache and passion, and there is nothing like it.
After Grandbaby Cakes became my dream full-time job over a year ago, I realized just how blessed I was. There is nothing I would rather be doing right now, and at the age of almost 34, I feel pretty good about my future being a happy, albeit flawed one. I mean seriously, where else can I make the most flavorful grilled tequila lime chicken breasts, share the recipe with you and call that my "job"?
TEQUILA LIME CHICKEN MARINADE
Alright, enough of the sappy stuff! Let's talk about this Tequila Lime Chicken recipe, shall we? Being a Summer baby, I'm pretty obsessed with all things bright and citrusy. Year after year this marinade serves as my go-to for any grilled meat or vegetable!
Let's talk ingredients:
Tequila
Tequila not only helps to tenderize the chicken but it also adds a pungent, bright kick.
Lime Juice & Zest
Combined, these two powerhouses of flavor layer in acidic, sour yet sweet flavors. The natural enzymes will break down protein and make for tender, juicy chicken.
Orange Juice
Oranges are sweet and slightly floral; they help to tone down the acidity of the limes. Acidic enzymes help to tenderize as well which allows flavor to fully infuse into the meat.
Olive Oil
Oil serves as a base for any marinade; it holds together the other ingredients and makes for even distribution.
Worchestershire Sauce
A few dashes adds a malted, vinegary flavor that balances out the fruit perfectly.
HOW LONG SHOULD I MARINATE CHICKEN?
Ideally, any cut of meat should be marinated anywhere from 12-24 hours for maximum flavor infusion. But, I know that's not always possible. I find that a 3 hour soak is just the right amount of time to ensure the ideal texture and flavor.
Chicken breasts are naturally a drier cut of meat so, if you're short on time, cut the breasts into thinner slices. No matter what, get at least an hour of marinating in.
TIP: This marinade recipe can be used on just about anything! Mix it up by using thighs or even wings next time.
HOW TO GRILL CHICKEN BREASTS
When it comes to grilling, chicken breasts can be problematic, especially boneless-skinless chicken breasts. The meat is lean and without skin to insulate heat, the breast has the tendency to overcook and dry out.
Here's how to avoid that:
Marinate
The longer you allow the marinade to penetrate and tenderize the chicken, the moister it will be.
Grill Hot and Fast
Don't be afraid to get that grill hot! We want a slight char without burning and a quick cooking time. Grill for 5-7 minutes on each side or, until a thermometer reads 165 degrees.
Rest
Slicing too early will cause the juices to seep out. Let the breasts rest for at least 5 minutes, giving them time to redistribute their juices.
WHAT DO I SERVE WITH IT?
The sky's the limit with this recipe! Use this chicken to make tacos, salads, grain bowls or just serve with a side of rice and veggies. Keep it simple or make it unique!
If you're having a Summer BBQ, serve this chicken alongside potato salad, grilled corn on the cob and just about anything else you'd like.
MORE GRANDBABY CAKES GRILLED FARE
Looking for this Summer's latest and greatest grilling recipes? I got you! Try out a few of Grandbaby Cakes' BEST grilled goodies:
Also
*Did you make this recipe? Please give it a star rating and leave comments below!*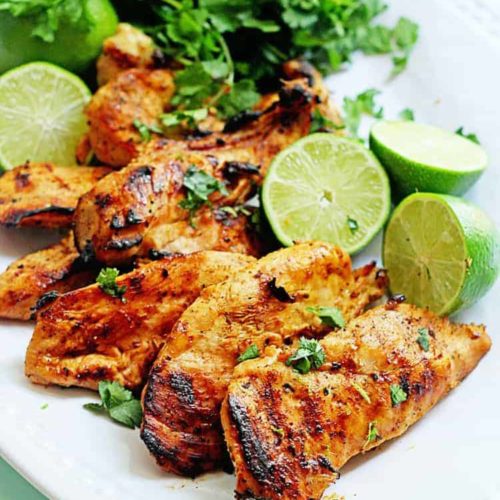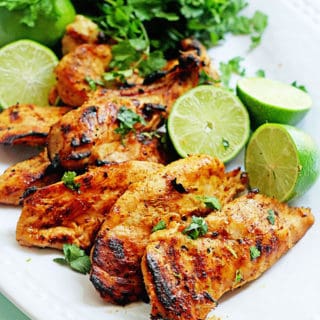 Tequila Lime Chicken Recipe
Get your grill going, and add these classic grilled tequila lime marinated chicken breasts to your summer menus right away! Flavorful and so tasty!
Print
Pin
Rate
Ingredients
1

cup

tequila

1

cup

fresh lime juice

1

tbsp

lime zest

1/2

cup

orange juice

1/4

cup

olive oil

1

tbsp

worchestershire sauce

1

lb

boneless chicken breasts

salt

to taste

pepper

to taste

2

tsp

paprika

2

tsp

garlic powder

chopped cilantro

for garnish
Instructions
Whisk together tequila, lime juice, lime zest, orange juice, olive oil and worchestershire sauce until combined.

Pour marinade into large plastic storage bag then submerge chicken, close storage bag and store in refrigerator for at least 3 hours or overnight for more intensified flavor.

When ready to grill, remove chicken from marinade and season with salt and pepper, and evenly with paprika and garlic powder.

Grill chicken on all sides until cooked through then remove from grill, cover with foil and rest to allow juices to settle.

Garnish with chopped cilantro and lime zest and serve.
Nutrition
Calories:
494
kcal
|
Carbohydrates:
11
g
|
Protein:
24
g
|
Fat:
24
g
|
Saturated Fat:
4
g
|
Cholesterol:
72
mg
|
Sodium:
117
mg
|
Potassium:
460
mg
|
Sugar:
4
g
|
Vitamin A:
755
IU
|
Vitamin C:
34.7
mg
|
Calcium:
32
mg
|
Iron:
1.6
mg