This Grilled Spatchcock Chicken is marinated in an herbaceous, citrusy, and insanely flavorful liquid then grilled to tender, slightly charred perfection! This chicken is about to be the King of this year's grilling season! If you love this grilled chicken, definitely try my Grilled Tequila Lime Chicken , Grilled Chicken Kabobs and Grilled Jerk Chicken!
Disclosure: I partnered with Land O'Lakes for this recipe post, but all opinions expressed here are my own. I am grateful for authentic partnerships like this.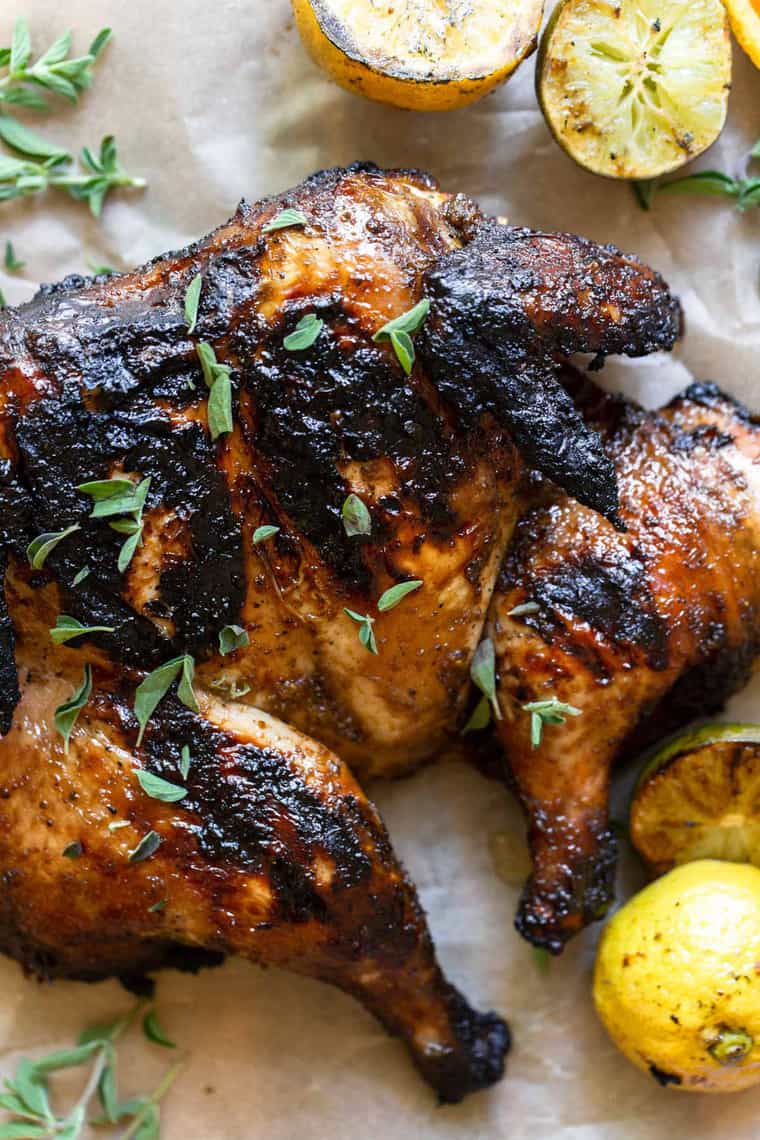 Grilling season is here y'all! Dust off the grill, bust out a spatula and don't you dare forget the corny grilling apron. Seriously, if your apron doesn't have a grill pun printed in a large font on the front, you're not doing it right. Kidding, kidding!
I love cooking on a grill! Whether it's steak, burgers, fish or even donuts, the slight char and smokiness is absolutely everything. Basically, if you're looking for me in the next few months, I'm most likely hanging out by the grill.
Today, I'm kicking off the grilling season in a BIG way! I've got a big 'ole chicken ready to be spatchcocked, marinated and finally, grilled. Using my famous spiced marinade, this chicken is going to be tender and packed with flavor down to the bone.
Care to kick off the season with me?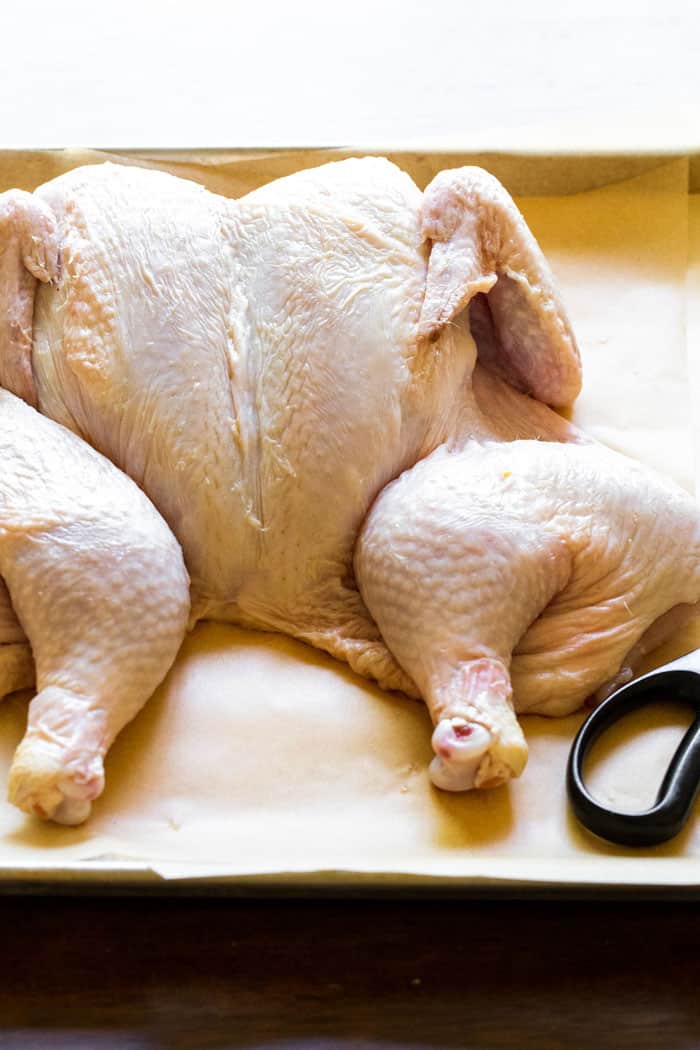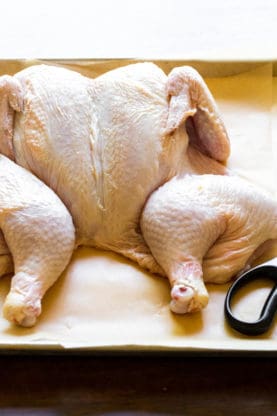 HOW TO SPATCHCOCK A CHICKEN
There is a long list of kitchen tasks that seem more daunting than they actually are, spatchcocking is one of them. If you've got a pair of kitchen shears (or a sharp chef's knife) and a whole chicken, you're good to go! Removing the backbone of a chicken lets you open it like a book, flatten it and cook for a shorter period at a higher heat. Perfect for grilling!
Here's a step by step breakdown:
Rinse and pat dry the chicken. Then, place it on a large cutting board.
Using poultry shears or a sharp chef's knife, cut along each side of the backbone all the way down to the tail end.
Splay the chicken open with the skin side up.
Place the heel of your hands, one on top of the other, over the middle of the chicken.
Press down firmly until there is an audible crack from the breast-bone.
Voila! You have successfully spatchcocked a chicken! Give yourself a pat on the back, gloat about it to whoever is around and proceed with the recipe.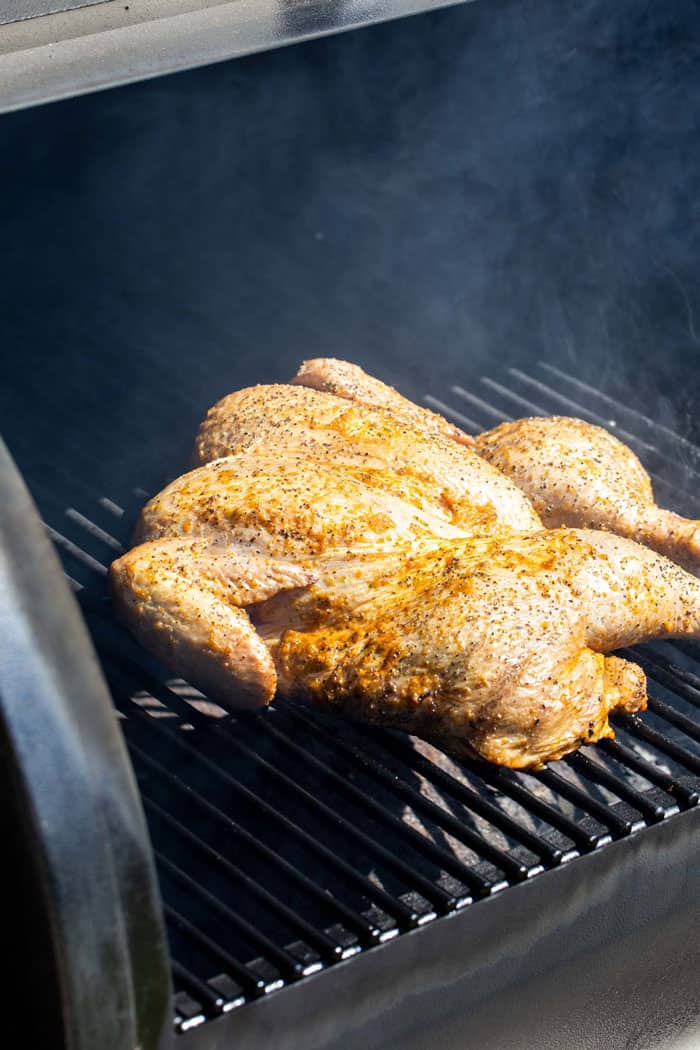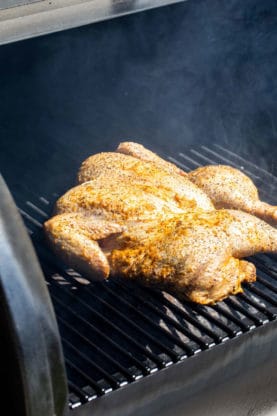 HOW TO MAKE A GRILLED SPATCHCOCK CHICKEN
The ingredient list for this recipe might seem a bit long, maybe even a little intimidating. But, I promise you that the majority of the ingredients can be found right in your pantry! Just as we simplified the process of spatchcocking a chicken, I'm going to break down the key components to this recipe.
Check it out:
Lemon, Lime & Orange (Juice & Zest)
All three of these citrus fruits are tangy, sweet and oh so juicy! Fresh squeezed citrus is highly acidic and therefore, an incredible meat tenderizer. Not only will the juice and zest add refreshing flavor but, it will break down proteins in the chicken and make for more tender meat.
Fresh Cilantro & Oregano
If you're looking for a more well-rounded, herbaceous marinade, fresh (not dried) herbs are the way to go. Both oregano and cilantro are aromatic and earthy. Their addition brightens up the whole dish.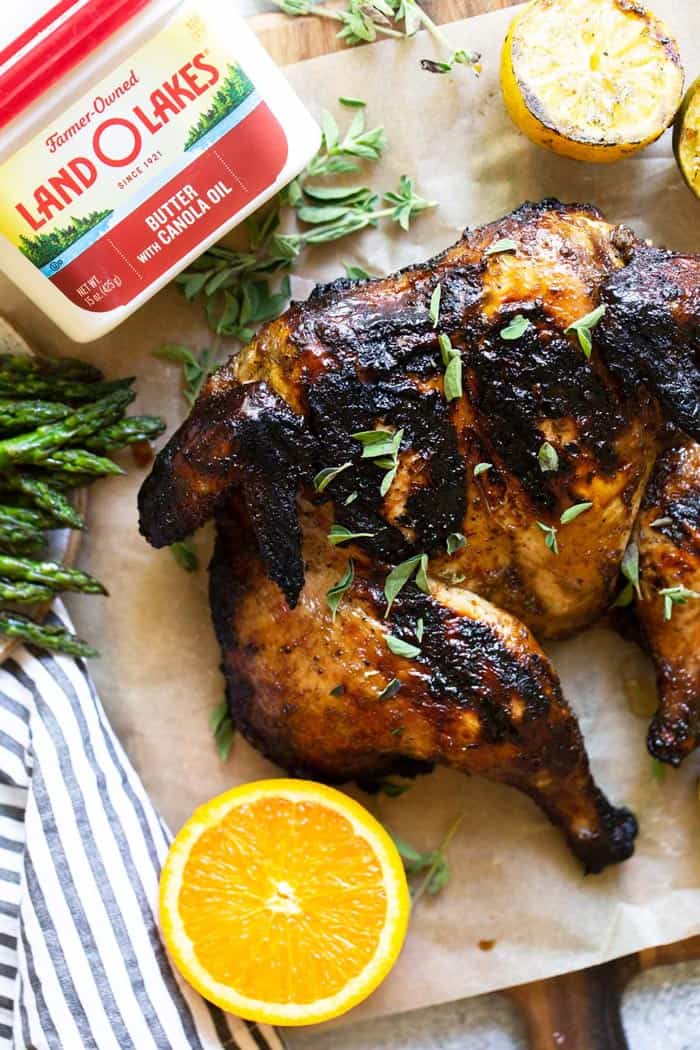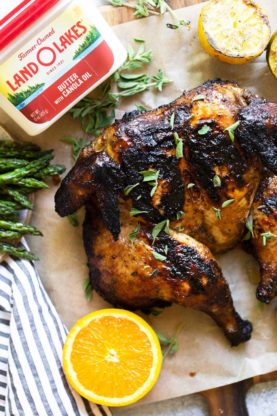 Made with simple ingredients, Land O Lakes® Butter with Canola Oil is rich, creamy and crazy tasty. The added canola oil is the unexpected warrior of this recipe. Just a couple tablespoons help to develop color on the skin of your chicken and layer in buttery, salty goodness.
Red Wine Vinegar
Because red wine vinegar is made with red wine, there is a fruit component that makes for a sweet, yet robust, marinade. The acidity also acts as a tenderizer the way the citrus does.
Spice Blend
Honestly, this marinade was most likely an excuse to use all of my favorite spices in one place. Paprika, cumin, Cajun seasoning, black pepper, cayenne, brown sugar and salt–all pungent, smoky pantry staples. When combined, they marry together perfectly and make for a uniquely flavorful chicken.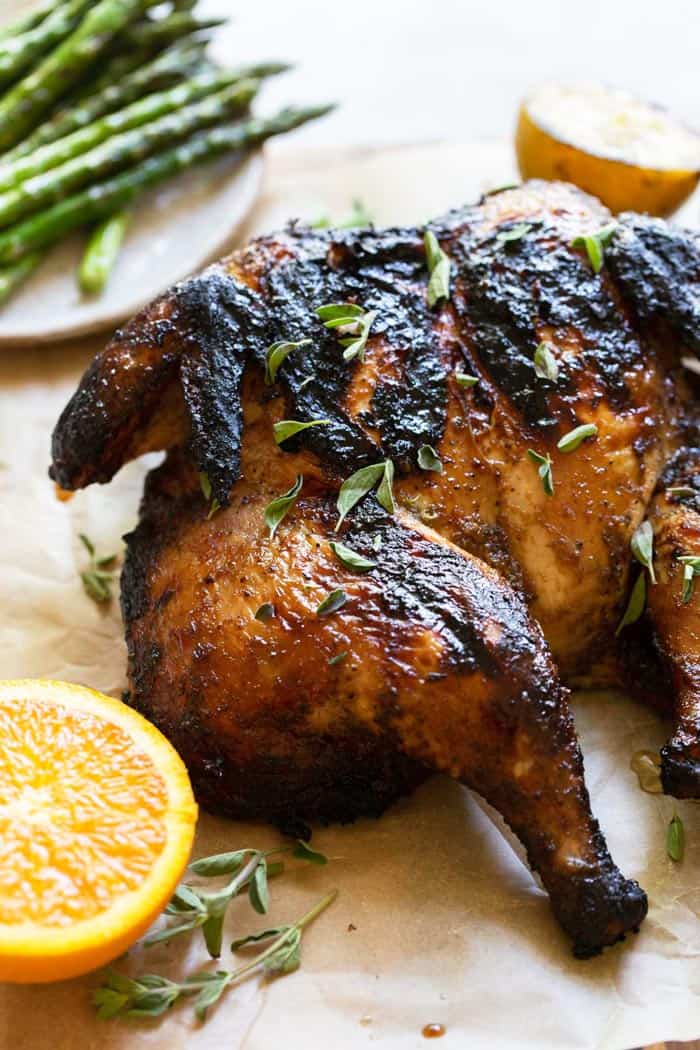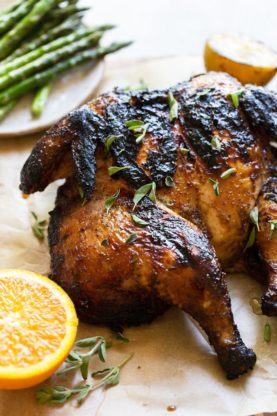 MARINADE VARIATIONS
This recipe calls for a Spiced Marinade which is one of my absolute favorite seasoning blends. Sweet, fragrant, citrusy and herbaceous, this marinade makes for a tender, flavorful result.
But, if you're anything like me, you like to mix things up every now and then. Feel free to introduce your own favorite marinade to this recipe. Try out a Ginger-Honey, Bold Barbecue or Spicy Cajun marinade variation. Just be sure to use this recipe as a measurement and cooking guideline!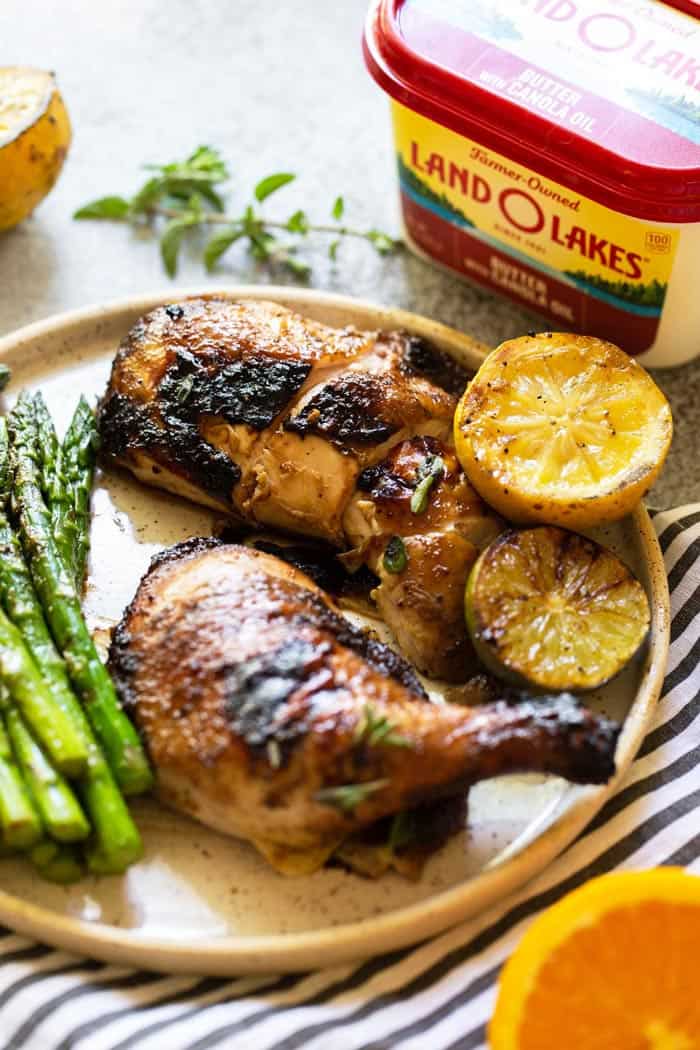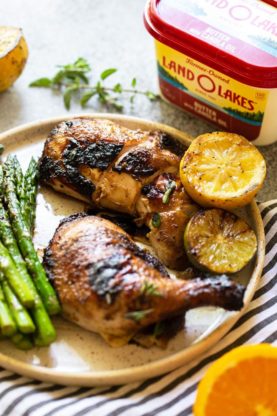 REPURPOSING LEFTOVER CHICKEN
Stop! Before you toss out any leftover meat and bones, consider putting them to good use! Reheating leftover chicken can be tricky because of its tendency to dry out. Instead of taking the risk, use the leftovers to make a homemade chicken stock (or broth) or make a ridiculously good soup.
Below are a few Grandbaby Cakes recipes that are perfect for turning leftovers into something new, fresh and delicious. Give 'em a try!
GRANDBABY CAKES' BEST CHICKEN RECIPES
Looking to change up this week's dinner game? Kick that basic chicken recipe to the curb and replace it with something new and improved!
Here are a few of Grandbaby Cakes' most exciting chicken dishes: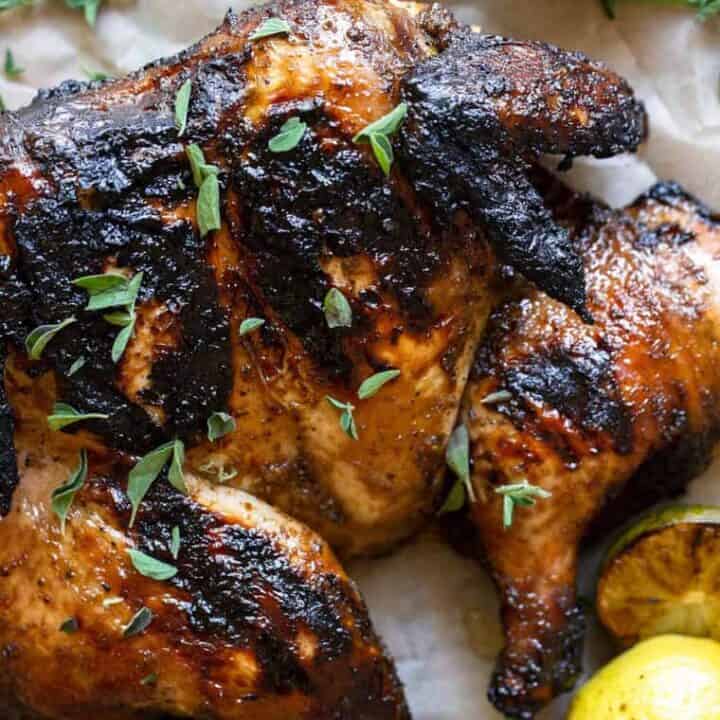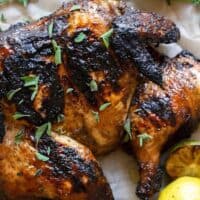 Marinated Grilled Spatchcock Chicken
Marinated in an herbaceous, tangy, well-seasoned mixture then grilled to perfection, this Grilled Spatchcock Chicken is everything for the summer! Tender, insanely flavorful and slightly charred, this chicken is about to be the King of this year's grilling season!
Print
Pin
Rate
Ingredients
3-4 lb

whole chicken

spatchcocked
For the Marinade
2/3

cup

cilantro

chopped

1

lemon

Zest and juice of the lemon (about 1 ½-2 tbsp lemon zest and 4 tbsp lemon juice)

1

large orange

zest and juice of the orange (about 4 tbsp of juice plus 2 ½ tbsp orange zest)

1

lime

zest of the lime (about 2 tsps of zest)

2

limes

juice of the limes (4 tbsp of juice)

1/2

onion

cut in quarters

6

garlic cloves

7

tbsp

red wine vinegar

3

tbsp

brown sugar

2

tbsp

Land O Lakes® Butter with Canola Oil

2

tbsp

soy sauce

3

tsp

fresh oregano

1 1/2

tsp

ground cumin

1 1/2

tsp

kosher salt

1

tsp

smoked paprika

1

tsp

Worcestershire sauce

1/2

tsp

black pepper

1/2

tsp

cajun seasoning

pinch of cayenne pepper

salt and pepper or favorite grill seasoning
To Baste
1/3

cup

reserved marinade

1/4

cup

honey

2

tbsp

red wine vinegar
Instructions
For the Chicken
With sharp kitchen shears or a knife (shears work best!), cut out the backbone of the chicken on both sides.

For the Marinade, add cilantro, juices and zests, onion, garlic, red wine vinegar, brown sugar, Land O Lakes® Butter with Canola Oil, soy sauce, oregano, cumin, salt, paprika, Worcestershire sauce, black pepper, Cajun seasoning and cayenne in a food processor and pulse until completely smooth.

Remove ⅓ cup marinade and set aside for the baste.

Add the spatchcocked chicken to a large storage bag and pour the marinade over it. Make sure all pieces of the chicken are covered.

Seal bag and place in the refrigerator for 7-9 hours.

Take the remaining marinade that you separated and whisk together with honey and red wine vinegar until combined.
To Grill
Remove chicken from marinade and season with salt and pepper or grill seasoning.

Place chicken on indirect heat on the grill and grill for about 35-45 minutes continuing to baste with reserved marinade you created. Or check internal temperature for 145 degrees F.

Once the chicken has reached temperature, baste the top of the chicken and place the chicken directly over the heat with skin down to create beautiful grill marks. Also flip over to the bone side to get grill marks there as well. Grill on direct heat for about 6-8 minutes. Internal temperature should read 160 degrees F.

Remove the chicken from the grill and allow it to rest for about 10-15 minutes before cutting and serving.
To Bake
Remove chicken from marinade and season with salt and pepper or grill seasoning.

Preheat oven to 425 and bake for 1 hour while continuing to baste with reserved marinade and rest for 10-15 minutes before cutting and serving.
Notes
Make sure you allow the chicken to rest so it remains incredibly juicy and flavorful.  If you cut into the chicken as soon as it is ready, you will lose the juices.
Nutrition
Calories:
726
kcal
|
Carbohydrates:
22
g
|
Protein:
55
g
|
Fat:
46
g
|
Saturated Fat:
14
g
|
Cholesterol:
222
mg
|
Sodium:
926
mg
|
Potassium:
694
mg
|
Fiber:
2
g
|
Sugar:
16
g
|
Vitamin A:
831
IU
|
Vitamin C:
29
mg
|
Calcium:
75
mg
|
Iron:
4
mg