Decadent Old-Fashioned Homemade Eggnog is incredibly easy to make and so dang tasty! Wonderfully thick, creamy and spiced, this recipe is gonna give that store-bought option a run for its money! If you love this, definitely try it with my Eggnog French Toast, Hot Buttered Rum, and Buttered Rum Eggnog Cake!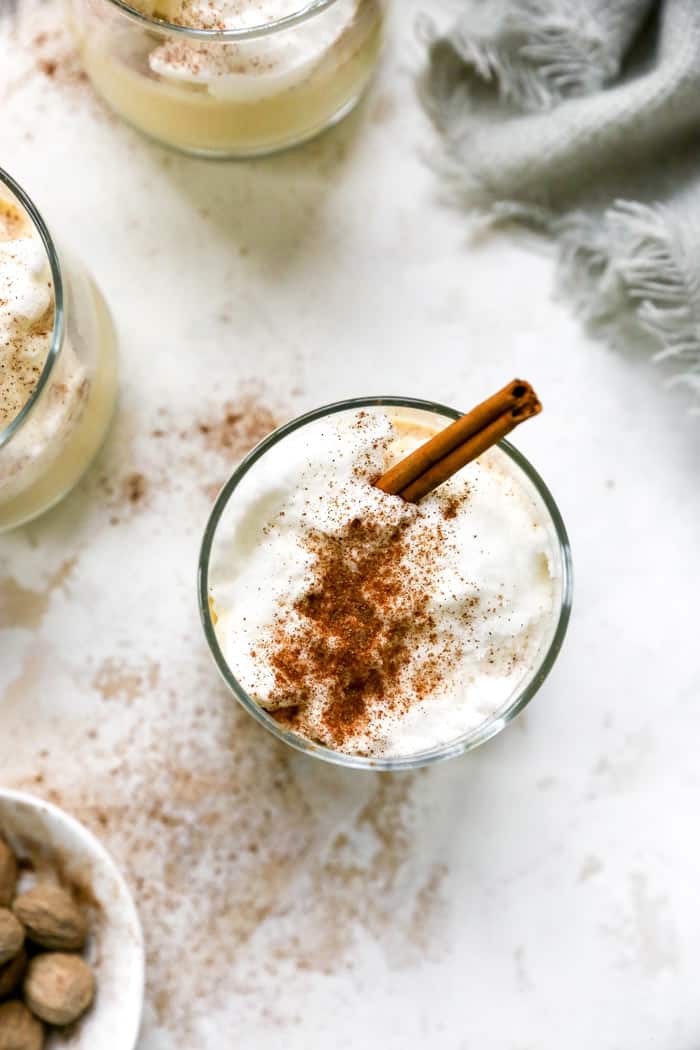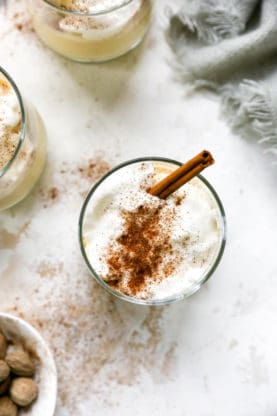 It's eggnog season and I couldn't resist throwing my own recipe into the ring! All year, I look forward to drinking eggnog during the holidays. This luscious milk-based, nutmeg-infused drink is one of the best parts of Christmas. To me, having a glass of warm, spiced eggnog is just as traditional as decorating a tree or watching the first snowfall.
Eggnog is one of those things where either you absolutely love it or you can't stand it. And y'all, I get it. But if you've ever had real, homemade eggnog, you're guaranteed to be a fan. This version is unapologetically rich and boozy in the most celebratory of ways.
It's time to turn up the Charlie Brown Christmas Album (my favorite), zip up the footie PJs and enjoy a cup (or two) of indulgently smooth Homemade Eggnog. You're welcome.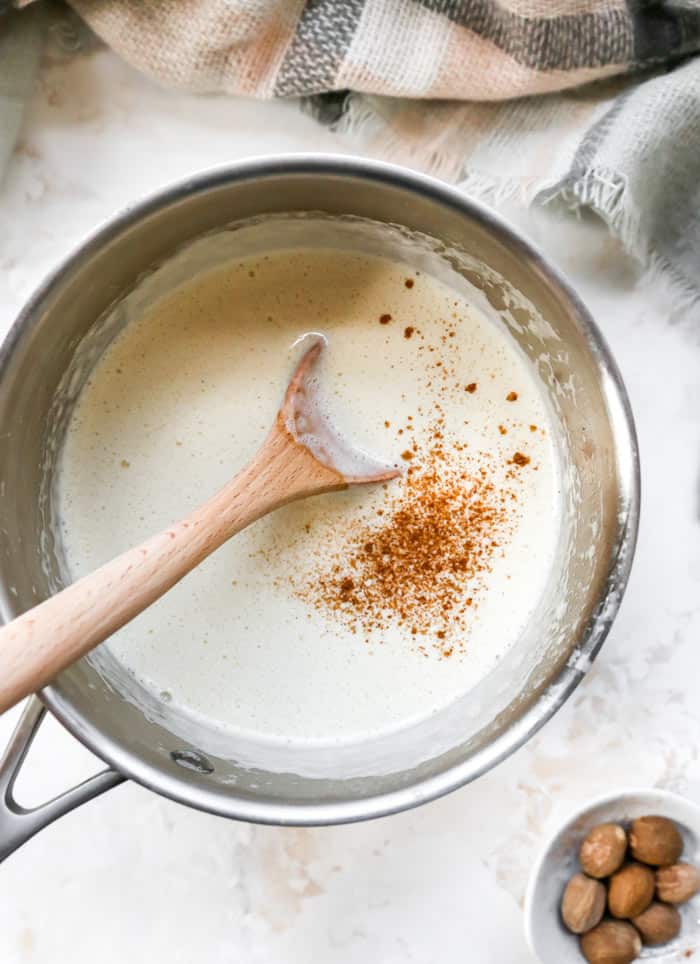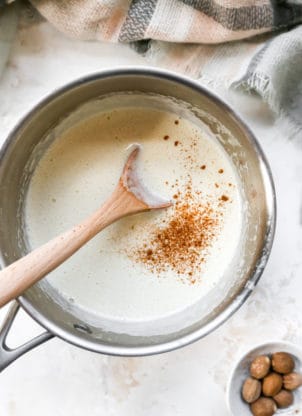 HISTORY OF EGGNOG
Eggnog will really make you wonder: who thought chugging a spiced and spiked egg-yolk-and-milk mixture was a good idea? While culinary historians debate its exact origins, most agree eggnog originated from the early medieval British "posset", a hot, milky ale-like drink. Milk, eggs and sherry were foods of the wealthy, so eggnog was used to toast to prosperity and good health.
Once eggnog crossed the pond, in the 1700's, it became associated with the holidays. Since then, various versions of this thick, creamy cocktail have popped up all around the world! From Mexico's "rompope" to Puerto Rico's "coquito", this deliciously decadent drink has found its way into countless holiday traditions.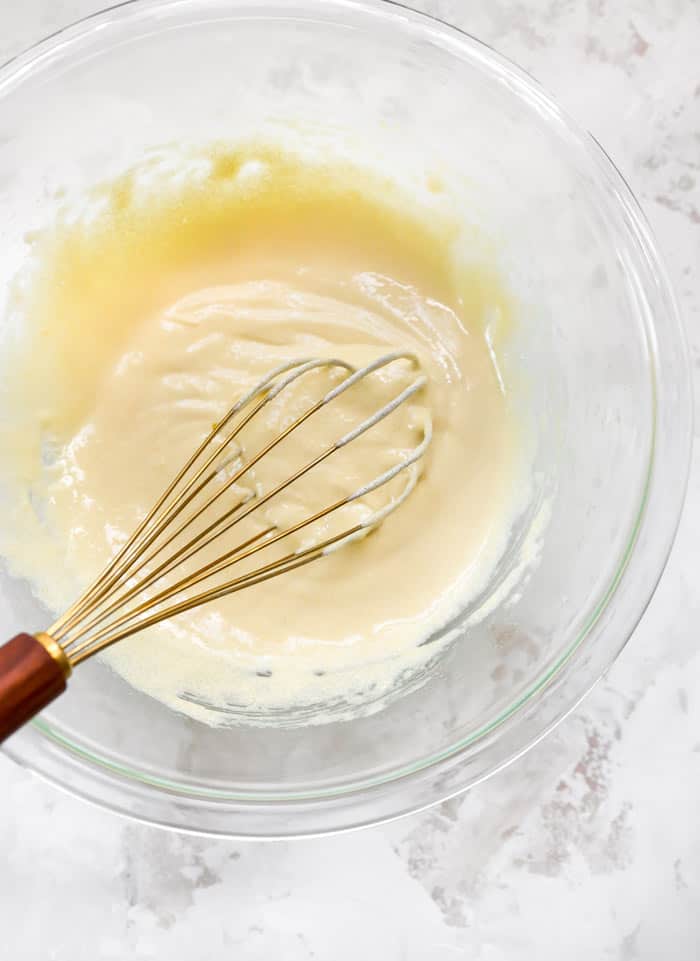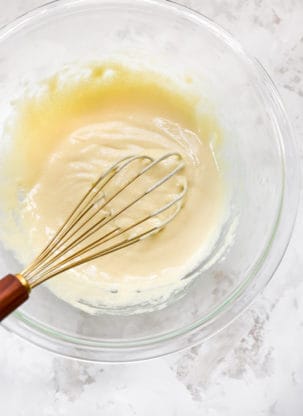 HOW TO MAKE HOMEMADE EGGNOG
Homemade Egg is surprisingly easy-to-make! No oven to preheat, no excessive amount of ingredients and no mess. Does it get any better? Let me answer that: no.
Here's how we're mixing up holiday magic:
Eggs– for those of you who are worried about consuming raw eggs, history and science has proven that with enough booze, bacteria will not be an issue. But, because I got your back, I also chose to slightly cook the eggnog to cast a wider safety net.
Granulated Sugar– everyone has a preference when it comes to the sweetness of their eggnog. Feel free to adjust the measurement according to your own personal tastes.
Milk- to achieve a super smooth texture, I suggest using a high-quality whole milk.
Heavy Cream- this is definitely not a dairy-free friendly recipe. So, pop a lactaid and enjoy yourself a tall glass of this heavy cream laden cocktail. Again, be sure to use a high-quality option.
Vanilla- just a splash adds the necessary rustic, floral aroma.
Ground Nutmeg- if possible, I encourage you to freshly grind the nutmeg for a warmer, more pungent result.
Salt- seems a bit strange, I know. Salt just helps to balance out the sugars and makes the other flavors POP.
Optional: Bourbon- this recipe can also work with whiskey or a dark rum, it's all about personal preference. Liquor just adds that extra layer of oaky, full-bodied warmth.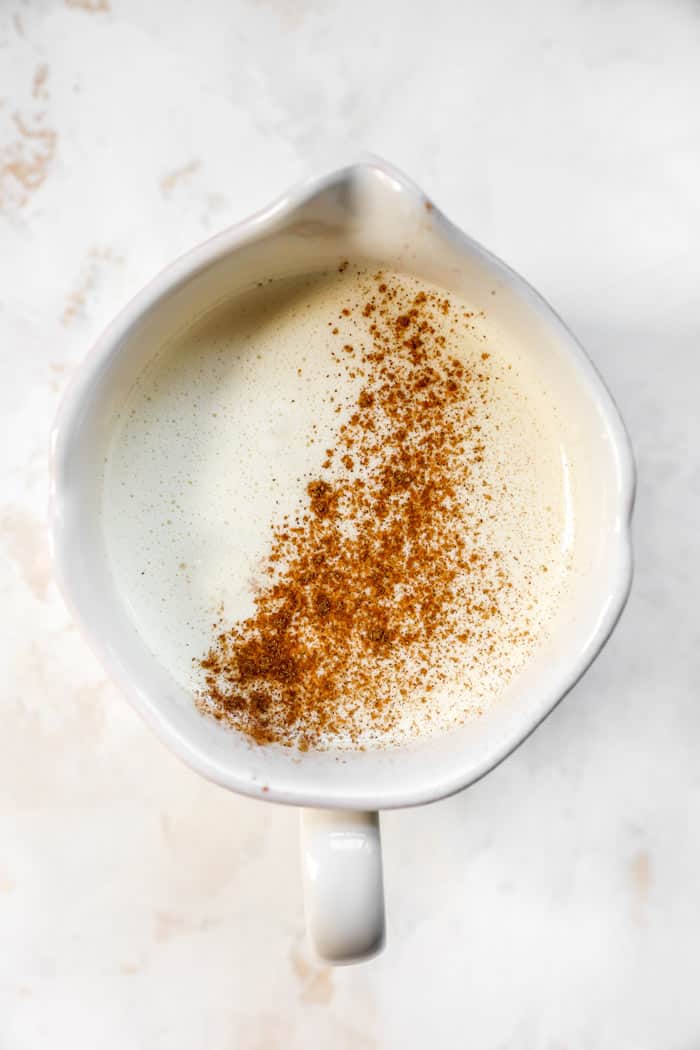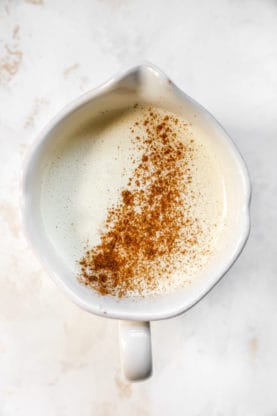 EGGNOG PUNCH TWIST
I'm aware that there are eggnog purists who might not be down for this but, y'all, it's time to take a little chance. Whether you're looking to update an old recipe or remix the leftovers, this peppermint twist is refreshingly delicious!
What do you say we mix things up a bit?
Eggnog- ideally, this variation is paired with the eggnog recipe above. But, if you're looking to cut a few corners, store-bought eggnog will work as well. Just try to use something that isn't too sweet, we are adding ice cream after all.
Peppermint Ice Cream- I prefer to keep the original coloration of eggnog by using a dye-free peppermint ice cream. Minty, refreshing and creamy, peppermint ice cream makes for an iconic Winter treat! Peppermint Chip will work too!
Club Soda- ice cream floats in the Winter? I say yes. Club soda lightens the drink and makes for an easier sip.
Crushed Peppermint- it's the holidays y'all! We want razzle, dazzle and all things red and white. Totally optional though.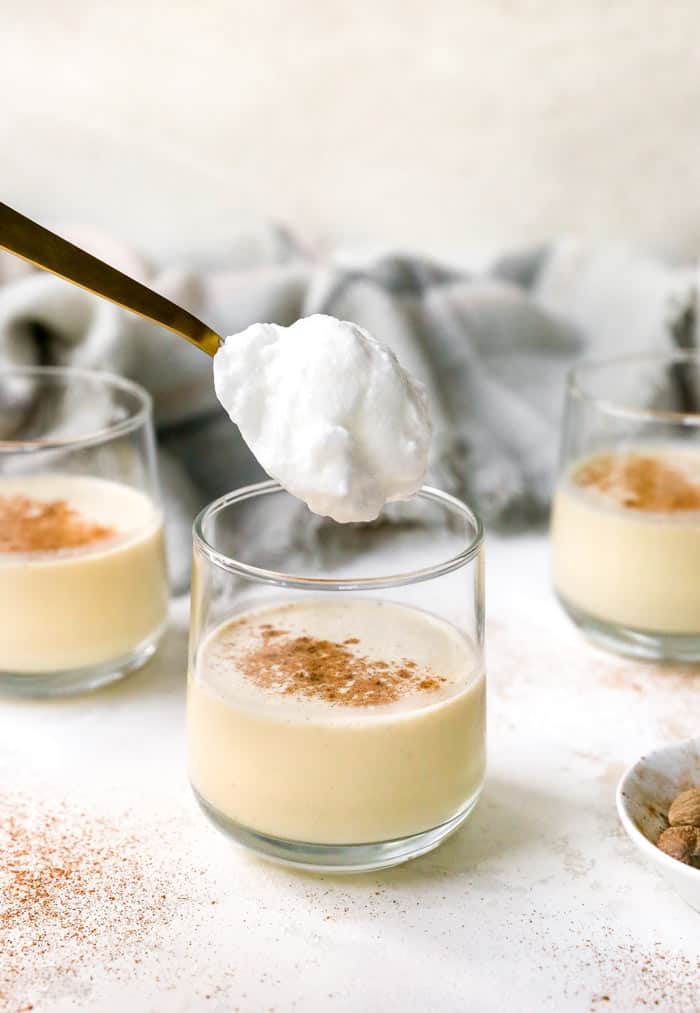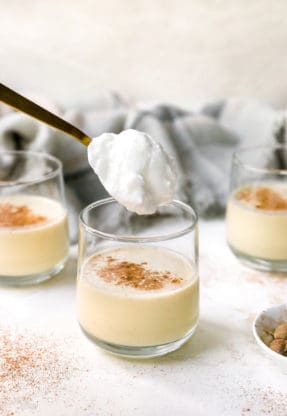 HOW LONG DOES HOMEMADE EGGNOG LAST?
Homemade eggnog typically lasts 2-3 days if stored under 40 degrees or less. Before you refrigerate it, make sure it has properly cooled. Then pour the leftovers into an airtight container or mason jar, seal tightly, and place it in the fridge. It's best to place the container in the back corner of the fridge where the temperature is relatively stable.
How do I tell if Eggnog is bad? Rely on your senses! Open the container and give the liquid a good whiff. If it starts smelling somewhat sour, it's past its prime and should be thrown out. Also check for discoloration or a lumpy texture. Better safe than sorry.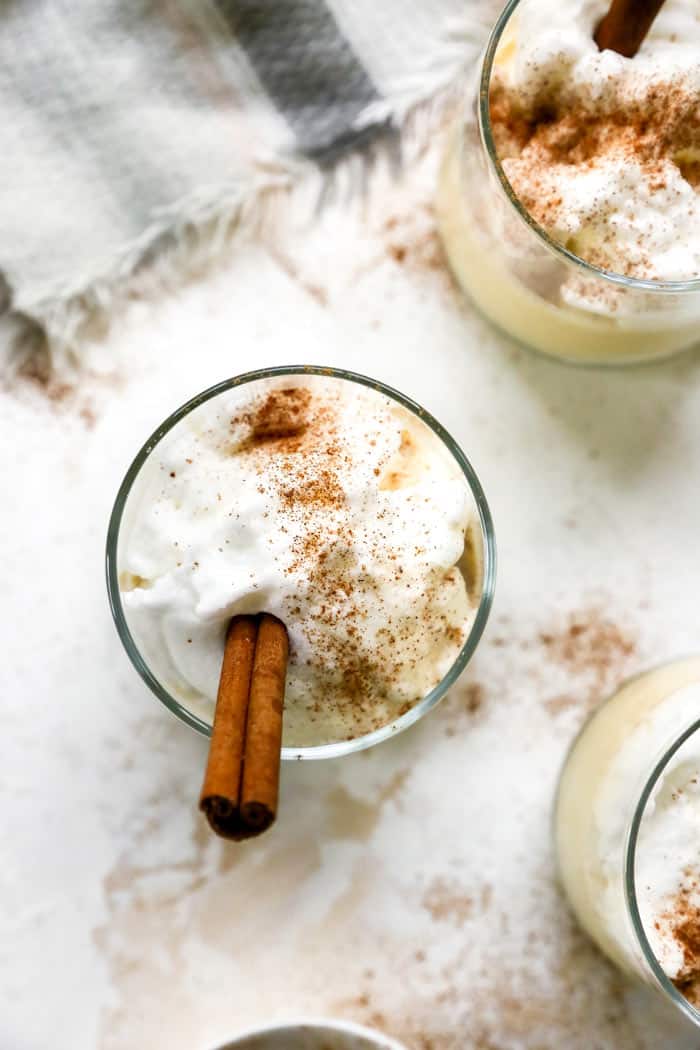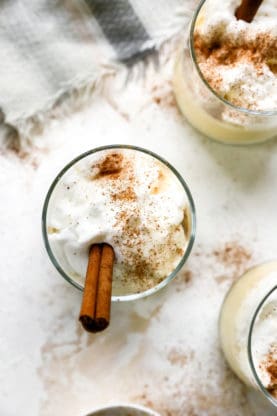 GRANDBABY CAKES' BEST EGGNOG RECIPES
'Tis the season y'all! With the holidays fast approaching, I'm taking some time to fine tune my eggnog skills just so I can share them with you!
Take advantage of this short-lived season by trying out a few of my FAVORITE eggnog recipes: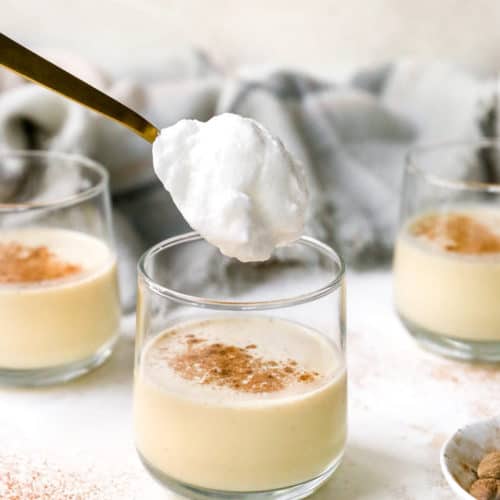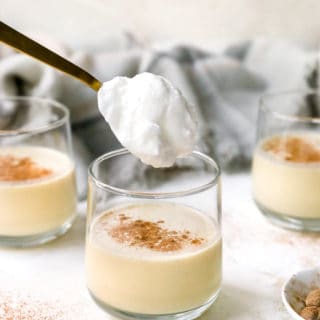 Homemade Eggnog
Decadent Old-Fashioned Homemade Eggnog is incredibly easy to make and so dang tasty! Wonderfully thick, creamy and spiced, this recipe is gonna give that store-bought option a run for its money!
Print
Pin
Rate
Ingredients
6

large eggs

divided

1

cup

granulated sugar

divided (plus 2 teaspoons)

1 1/3

cup

milk

chilled

1

cup

heavy cream

chilled

1/2

cup

bourbon

Optional: (or replace with another ½ cup of heavy cream for nonalcoholic)

1

tbsp

vanilla extract

1/4

tsp

salt

Fresh or ground nutmeg for serving
Instructions
Divide eggs and add 6 egg yolks to a medium sized bowl. Whisk in sugar until light and fluffy and buttery yellow.

Add milk and heavy cream to a medium sized pot over medium heat and allow to warm until just about to boil. Remove from heat.

Quickly stir a tablespoon of milk into egg mixture to temper. Once again add another tablespoon stirring quickly then one last time repeat process. Once eggs are at temperature, whisk egg mixture into pot of milk and combine.

Stir in bourbon (if using), vanilla and salt then serve.

In a separate bowl, add remaining egg whites and ½ tablespoon of sugar and beat until stiff peaks. Pour eggnog into glasses and spoon with meringue then top with nutmeg and serve.
Notes
For an Eggnog Punch Twist
Eggnog above
½ gallon peppermint ice cream, softened
1 liter club soda, cold
Crushed peppermint
Stir together eggnog, ice cream and club soda in a punch bowl then sprinkle with crushed peppermint. Refrigerate for an hour then serve.
Nutrition
Calories:
311
kcal
|
Carbohydrates:
28
g
|
Protein:
6
g
|
Fat:
15
g
|
Saturated Fat:
9
g
|
Cholesterol:
168
mg
|
Sodium:
149
mg
|
Potassium:
122
mg
|
Sugar:
27
g
|
Vitamin A:
681
IU
|
Vitamin C:
1
mg
|
Calcium:
84
mg
|
Iron:
1
mg