In this Eggnog French Toast, traditional Fluffy Challah is dipped in a wonderfully spiced Eggnog custard and fried to perfection. This Eggnog French Toast is holiday breakfast perfection!!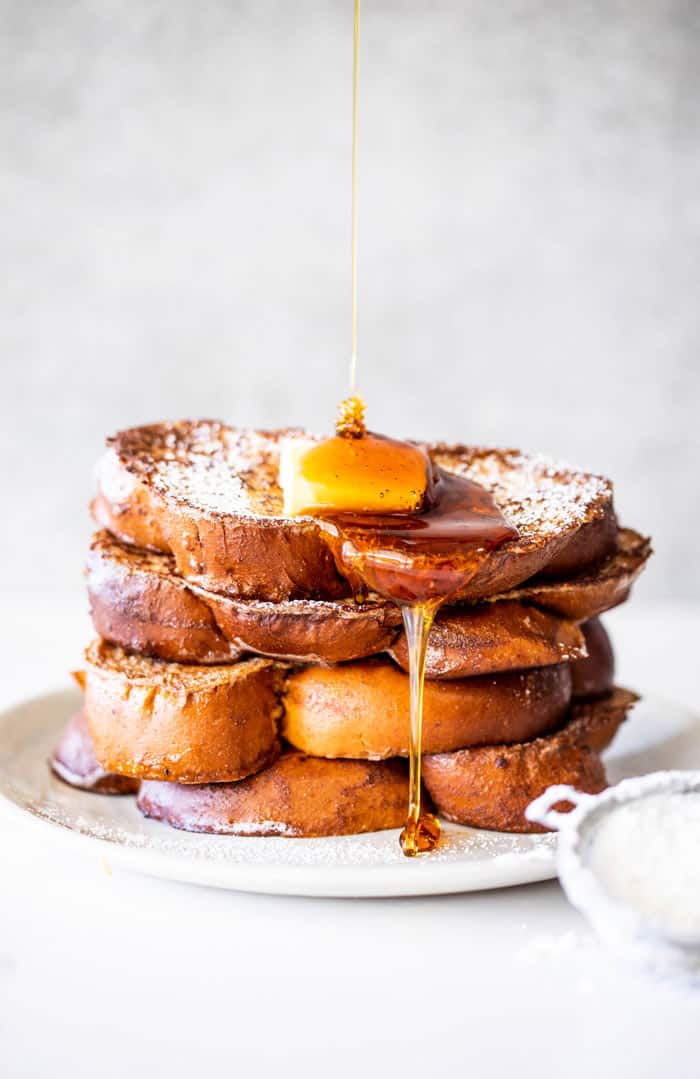 Christmas is almost here, and I seriously CANNOT wait! As I write this post, I've got the Charlie Brown Christmas on full volume and a cup of hot cocoa in hand. I couldn't possibly explain how much I love all things red, green and santa-related. I know it sounds corny but there's a tangible magic in the air this time of year. But, let's be real, that might just be the Christmas Punch and Eggnog talking.
With so many of us consumed with buying gifts and prepping potluck offerings, breakfast can sometimes be overlooked. I started to brainstorm new Christmas breakfast ideas: from Gingerbread Pancakes to Eggnog Pancakes, but when I saw all of my eggs and a carton of eggnog in my fridge, I knew a lovely holiday eggnog French toast recipe needed to be added to my Christmas breakfast menu.
So if you are looking for a Christmas morning breakfast that won't take time away from your holiday fun, whip up this incredible recipe!
Perks and Highlights of the Best Eggnog French Toast
Cuisine Inspiration: Holiday Fusion
This Eggnog French Toast recipe is where French culinary art meets the cozy American holiday spirit. Imagine classic French toast soaked in the flavors of traditional American holiday eggnog. Ooh la la and ho ho ho!
Primary Cooking Method: Pan Frying
No oven queue here! We're going straight to the stovetop, getting our fry on for that perfect golden-brown sear that seals the deal on both sides.
Dietary Info: Vegetarian-Friendly
Perfect for our non-meat-eating friends, this Eggnog French Toast is vegetarian. However, it does contain dairy and eggs, so it's not suitable for vegans or those with certain allergies.
Key Flavor: Sweet, Creamy Nutmeg
Get whisked away by the sweet, creamy sensation of eggnog with a gentle whisper of nutmeg, giving a festive flair to every bite. It's Christmas in your mouth!
Skill Level: Easy Peasy
Fear not, culinary comrades! This recipe is simple and forgiving, perfect for novices or those looking for a quick, delicious holiday treat without the fuss.
Special Perks:
Comfort Food Heaven:
Dive into the divine comfort of rich, custardy goodness with every bite. This isn't just breakfast; it's a warm, culinary hug!
Festivity in a Dish:
Bring the holiday cheer to your morning table! This recipe is a perfect excuse to extend the merriment of the season.
Customizable:
Feel free to jazz it up! Add fruit toppings, a drizzle of syrup, or a dusting of powdered sugar. Make it your own!
Great for Leftovers:
Got some stale bread or leftover eggnog? Give them a second life with this waste-not-want-not, palate-pleasing dish.
Impress the Guests:
Serving this up instantly elevates your breakfast or brunch game. It's a surefire way to impress with minimal effort.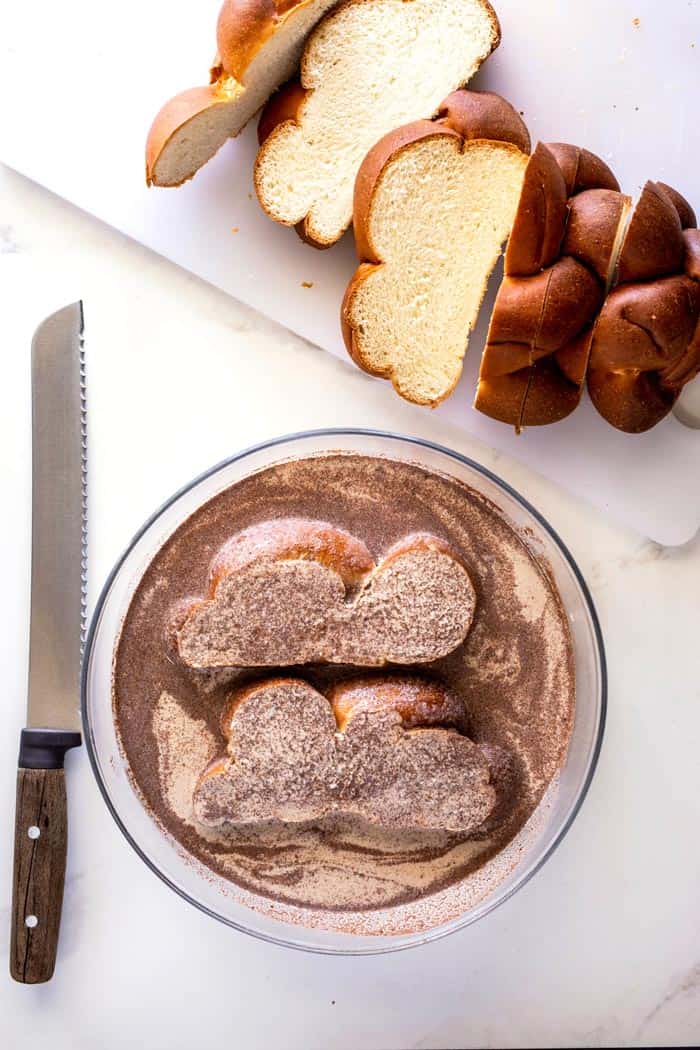 Ingredients
Okay, you might be wondering if eggnog and french toast are compatible, and I'm here to say, heck yeah! Eggnog is creamy, custardy, sweet and spiced. French Toast is crisp, buttery and fragrant. When paired together, these two powerhouses of flavor create a fresh, delicious, golden-brown breakfast.
I adore this recipe! Made quickly and with few ingredients, Eggnog French Toast is the perfect Christmas morning meal. Did I mention there's booze in the batter? Well, there is.
Here's what we're working with today:
Eggs– Eggs create a creamy wonderfully textured custard
Eggnog– use your go-to eggnog recipe or store-bought option! You can try my homemade variety. Holiday eggnog that is to-die-for.
Vanilla Extract– just a dash adds a warmth that compliments our added spices. Wanna an extra dash of flavor? Use fresh vanilla paste or scrape out a bean pod or two.
Cinnamon & Nutmeg– pungent and aromatic, these two spices create a belly-warming, flavor experience.
Light Rum- light rums have a sweet but subtle taste. Feel free to use dark rum if that's what you have on hand. Either will add a POP of warm, toasted flavor.
Day Old Challah Bread– similar to brioche, challah is rich and spongy with a little tang from the honey. It's a little sweet, a little soft, and a whole lot of delicious! By allowing the bread to age for a day, we help the bread to form a firmer texture that holds well against the rich, creamy batter.
Butter, Powdered Sugar & Maple Syrup- yes, all of these are necessary. Trust me.
How to Make Eggnog French Toast
Eggnog-ify Your Eggs:
First up, grab a medium-sized bowl and get whisk-happy! Combine those Safest Choice eggs, eggnog, vanilla extract, ground cinnamon, ground nutmeg, and a splash of rum (oh yeah, we're getting festive). Whisk it until it's smoother than a holiday jazz record.
Prep Your Skillet:
Heat up a lightly greased skillet or cast-iron skillet over the stove. You want it just hot enough to sizzle, not smoke. Remember, we're cooking, not sending smoke signals!
Soak the Bread:
Now, take your bread slices for a nice dip, one at a time, into the eggnoggy goodness. Let that rich, creamy mixture soak right into the bread; don't rush it, let the bread get all cozy with the flavors.
Fry 'Em Up:
Time for action! Fry those soaked slices on each side until they're golden brown like holiday magic. They'll get all crispy on the outside but stay tender and lush on the inside.
Serve in Style:
Slide your golden-brown treasures onto a plate, give them a snowy sprinkle of powdered sugar, and serve 'em up hot with butter and syrup. Boom! You've just brought holiday cheer to the breakfast table!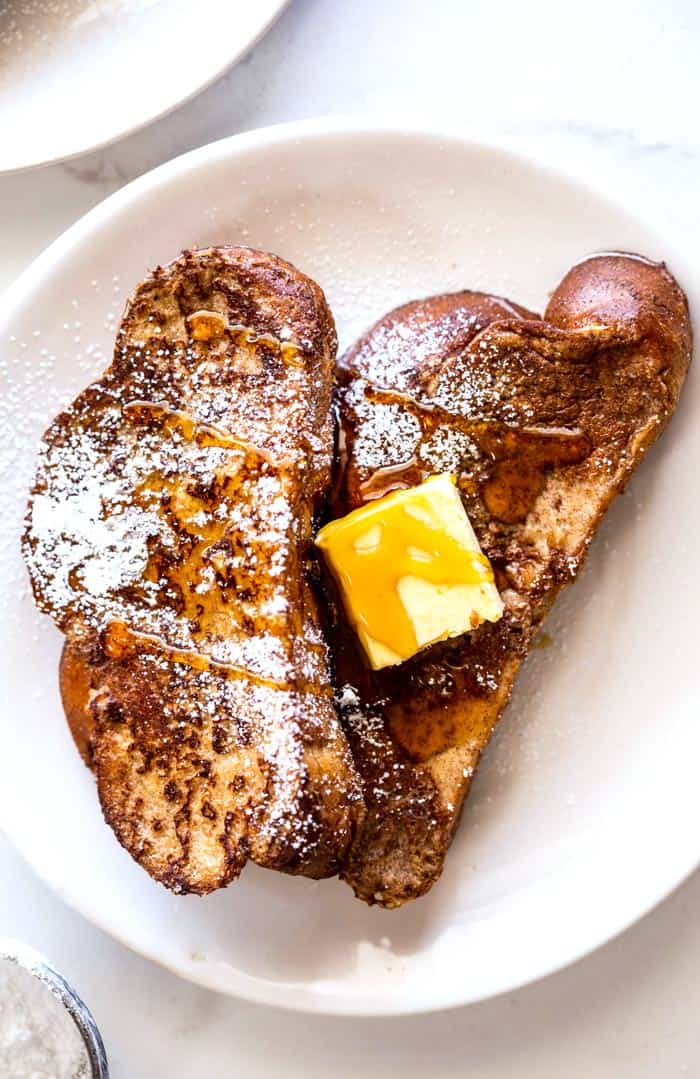 French Toast Tips
Good french toast is an art! I've had way too many plates of undercooked, overcooked, messy and just plain bad french toast to not set y'all up right. I'm coming through to set you up with a foolproof guide for the best breakfast ever!
Whisk Properly
You don't want bits of egg white showing up on your perfectly browned slices. Make sure to whisk, fairly vigorously, until the dairy, eggs, and spices are well-combined.
Don't Undersoak
The quick-dip is not the way to go! The bread has to soak in the egg mixture; you want it to penetrate the bread for a soft, custardy center. I suggest letting the bread soak for 10-15 minutes.
Preheat the Pan
If the pan isn't hot enough when you place the first slice, the custard spreads out and forms a puddle. No good. When the pan is hot enough, the custard will start cooking as soon as it hits the pan.
Watch the Heat
If you cook the french toast at a high heat, the sugar in the egg mixture will caramelize and burn before the inside is cooked. If the heat is too low, the bread will dry out before you know it.
To achieve that crisp, buttery exterior and that nice, soft center that makes this french toast so decadent, cook each slice at a medium-heat for 3 to 4 minutes (per side).
Keep Warm in the Oven
Cooking for a crowd? Don't let your hard work turn soggy, cold and limp. Instead, preheat the oven to 200 degrees and place a rimmed baking sheet inside. Transfer fully cooked slices to the pan and cover lightly with foil until ready to serve.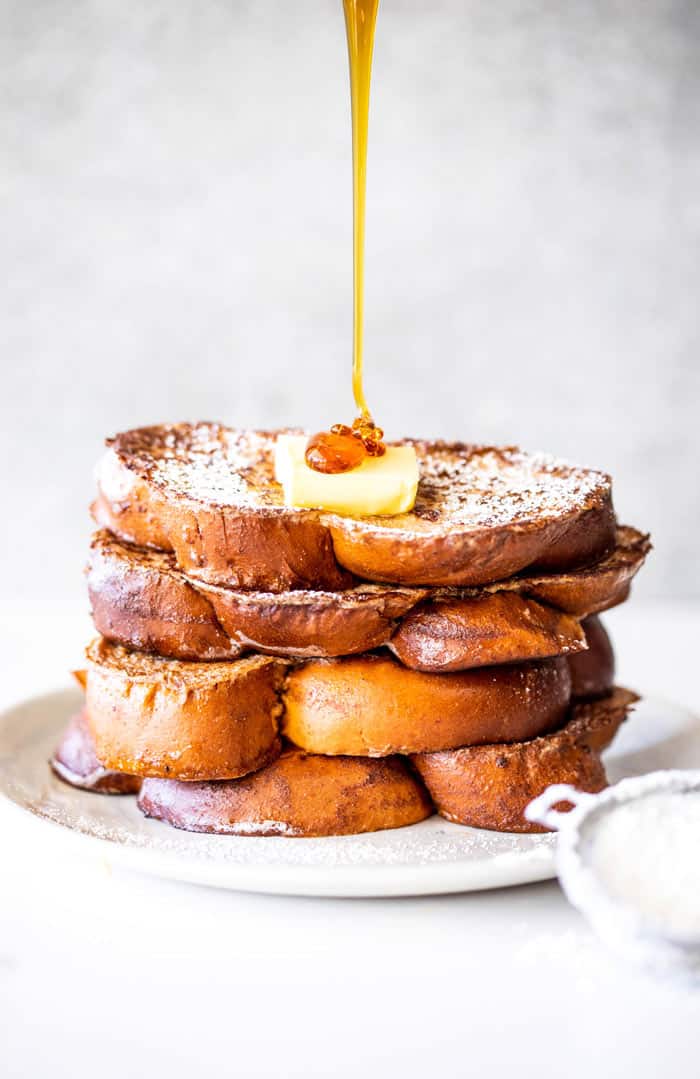 Is Eggnog Toast safe for kids?
I'd recommend saving this recipe for the big kids (over 21). Though most of the alcohol content will burn off during cooking, I can't guarantee what percentage remains. Better safe than sorry!
To make a family-friendly version of this recipe, omit the additional rum and use a virgin eggnog. I like to separate my batter into two bowls, one for the adults and one for the kids. Just be sure to keep track of which is which.
Storage and Reheating
fridge is a no-go – it leads to condensation, and that's soggy news for your toast.
Pack It: Place a piece of wax or parchment paper between each slice of French toast to prevent them from sticking together. Then, transfer the stack into a zip-top plastic bag or airtight container.
Chill or Freeze: Pop them in the fridge if you plan to devour them within 1-2 days. For longer storage, send them off to the freezer, where they can chill for up to 2 months.
Reheating Your French Toast:
Oven Lovin': Preheat your oven or toaster oven to 350°F (175°C). Place the slices on a baking sheet in a single layer. If they're coming from the freezer, there's no need to thaw; they love going from freezer to oven! Reheat for 10-15 minutes, or until hot and crispy.
Microwave in a Pinch: For a quick defrost or reheat, you can use the microwave. But remember, you might lose some crispiness. Place a slice on a microwave-safe plate, zap it for 30-45 seconds on high, then check if it needs more time. Perfect for those rapid, gotta-run mornings!
Skillet Sizzle: Want that fresh-made crisp? Heat a skillet over medium heat, add a smidge of butter, and reheat the slices for 1-2 minutes per side until they're warm and crisp.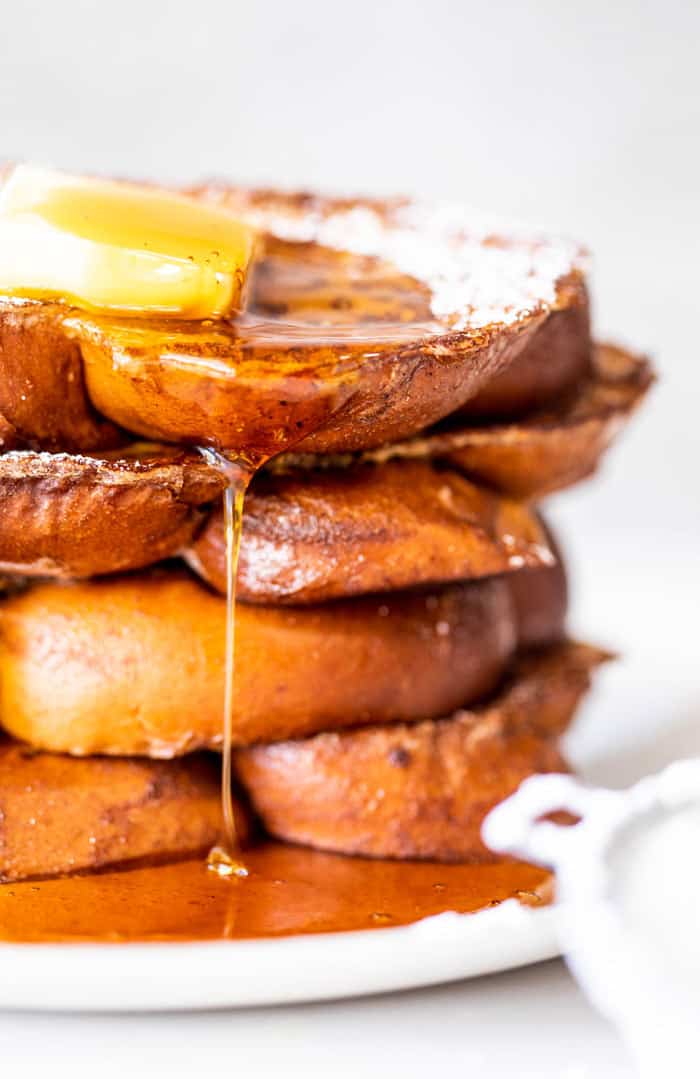 Holiday Breakfast Recipes
Why stop here? Christmas celebrations call for spreads of epic proportions! Crispy bacon, cinnamon rolls, frittatas and stacks on stacks of pancakes are a MUST.
Add some fun to your festivities by flipping a few of my BEST holiday pancake recipes:
*Did you make this recipe? Please give it a star rating and leave comments below!*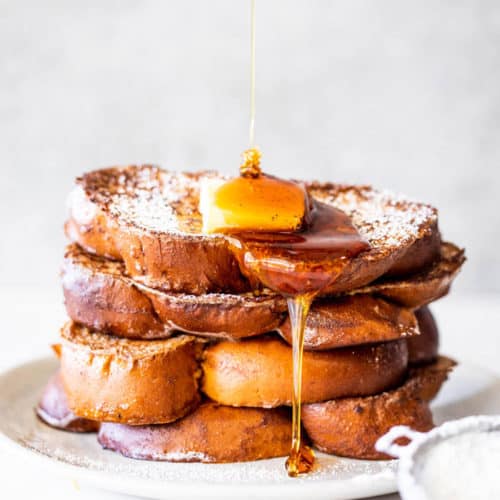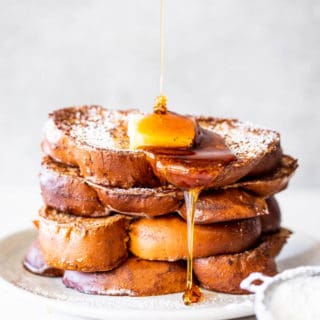 Eggnog French Toast
Traditional Fluffy Challah is dipped in a wonderfully spiced Eggnog custard and fried to perfection.  This Eggnog French Toast is holiday breakfast perfection!! 
Print
Pin
Rate
Ingredients
3

large

eggs

beaten

1 1/2

cups

eggnog

1 1/2

teaspoons

vanilla extract

2 1/2

teaspoons

ground cinnamon

1/2

teaspoon

ground nutmeg

1

teaspoon

light rum

1

loaf

day old challah bread

sliced into 1 inch slices

Butter, powdered sugar and syrup for serving
Instructions
In a medium sized bowl, whisk together Safest Choice eggs, eggnog, vanilla extract, ground cinnamon, ground nutmeg and rum.

Heat a lightly greased skillet or cast iron skillet over the stove

Dip slices one at a time into the egg mixture making sure the mixture soaks into the bread.

Fry the bread slices on each side until golden brown. Remove French toast to a plate, sprinkle with powdered sugar and serve hot with butter and syrup.
Video
Notes
I prefer challah bread for this recipe but it can be replaced with any type of bread you like.
Nutrition
Calories:
156
kcal
|
Carbohydrates:
10
g
|
Protein:
9
g
|
Fat:
8
g
|
Saturated Fat:
3
g
|
Cholesterol:
198
mg
|
Sodium:
129
mg
|
Potassium:
208
mg
|
Sugar:
8
g
|
Vitamin A:
400
IU
|
Vitamin C:
1.4
mg
|
Calcium:
160
mg
|
Iron:
1
mg