This Chicago Italian Beef Grilled Cheese combines tender, shredded beef and perfectly seasoned beef stock, and pickled peppers made in a Slow Cooker with the melty, buttery goodness of a grilled cheese. This Chicago classic is getting the upgrade you never knew it needed! Irresistible! If you love this, you will love my Slow Cooker Italian Beef and Mississippi Pot Roast.
Disclosure: I partnered with Sara Lee for this recipe post, but all opinions expressed here are my own. I am grateful for authentic partnerships like this.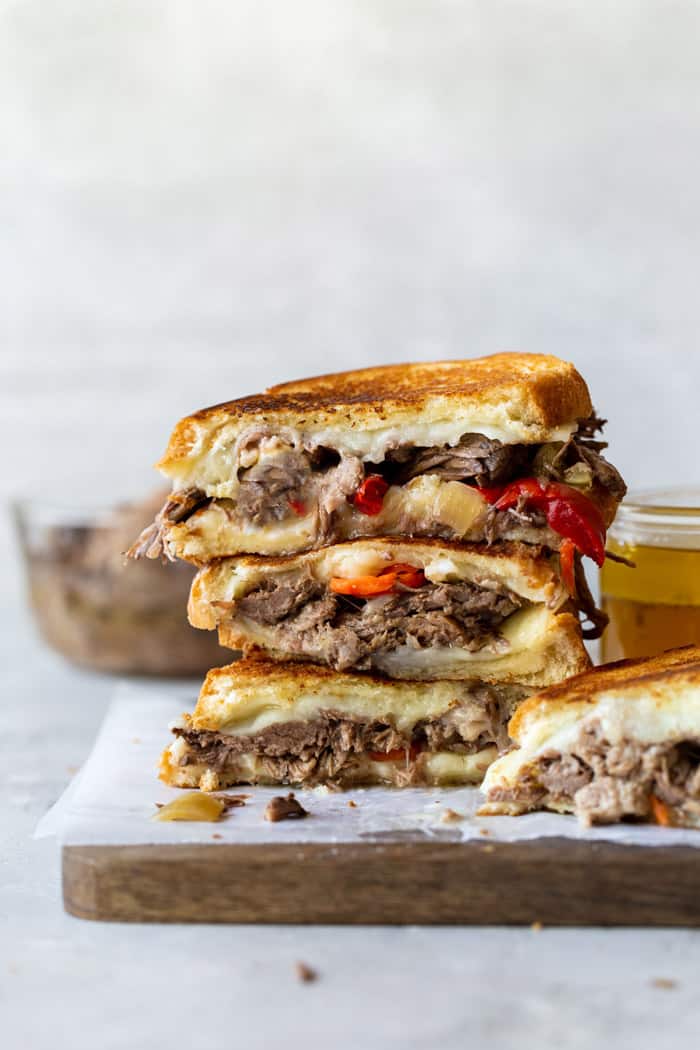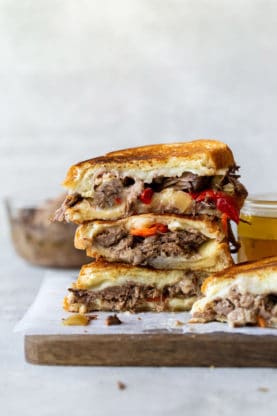 I recently moved to the Dallas suburbs y'all! That's right! I'm officially a Texan. Though I'm very excited for this new beginning, there is a big part of me that's already missing Chicago. It will always be home period. The roots I've planted in this incredible city have led me to where I am today: I'll never forget that.
If there is one thing that I miss the most, it's my favorite Chicago food. Chicago hot dogs at Sox' games, Pequods' deep dish pizza, the best steakhouses and so many other classics won't be available to me anymore. So, I'm working on finding a way to bring my favorites with me.
Today, I'm sharing a recipe that morphs two of my favorite sandwiches into one incredible creation. A classic Chicago Italian Beef sandwich is finding its home in the everyday grilled cheese. We're talking melty provolone, well-seasoned, tender beef and pillowy-soft bread.
So today, I'm sharing a delicious Italian Beef Grilled Cheese Sandwich made with Sara Lee® Artesano™ Bread with you and bringing a bit of Chicago to Dallas! Give it a try and let me know what you think!!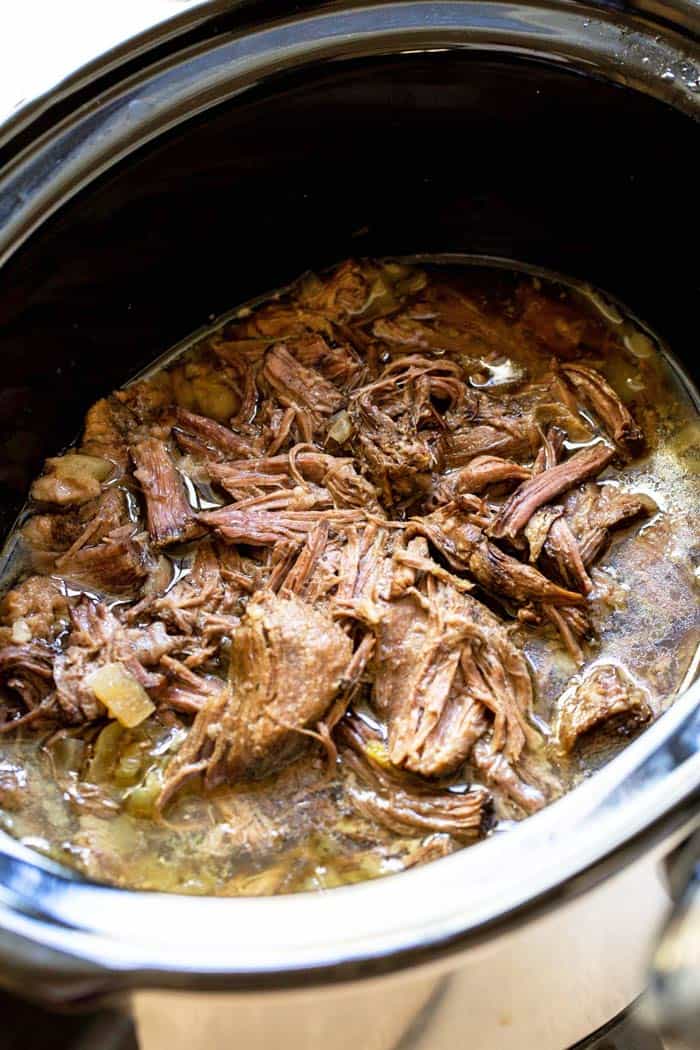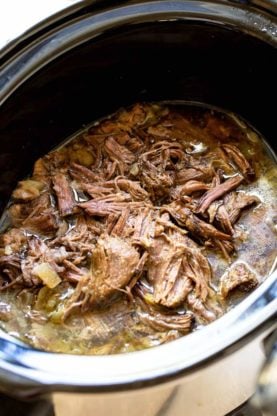 WHAT IS AN ITALIAN BEEF SANDWICH?
For those of you who haven't made the trip out to Chicago just yet, this sandwich is worth booking the flight for. Created on the South side of Chicago, the Italian Beef Sandwich is the Italian-Mid-Western version of the French Dip.
The unique recipe calls for slowly roasted, thin sliced lean beef to be soaked in its own gravy and layered onto Italian bread loaves. Each sandwich is then topped with sautéed green bell peppers and giardiniera (a mixture of pickled serrano peppers, green olives, celery and spices packed in oil).
This Chicago classic is a delicious combination of tender meat, savory drippings and pickled vegetables. Taking a bite into an Italian Beef is drippy, messy and yet, never soggy. Be warned, you'll need a lot of extra napkins for one of these bad boys!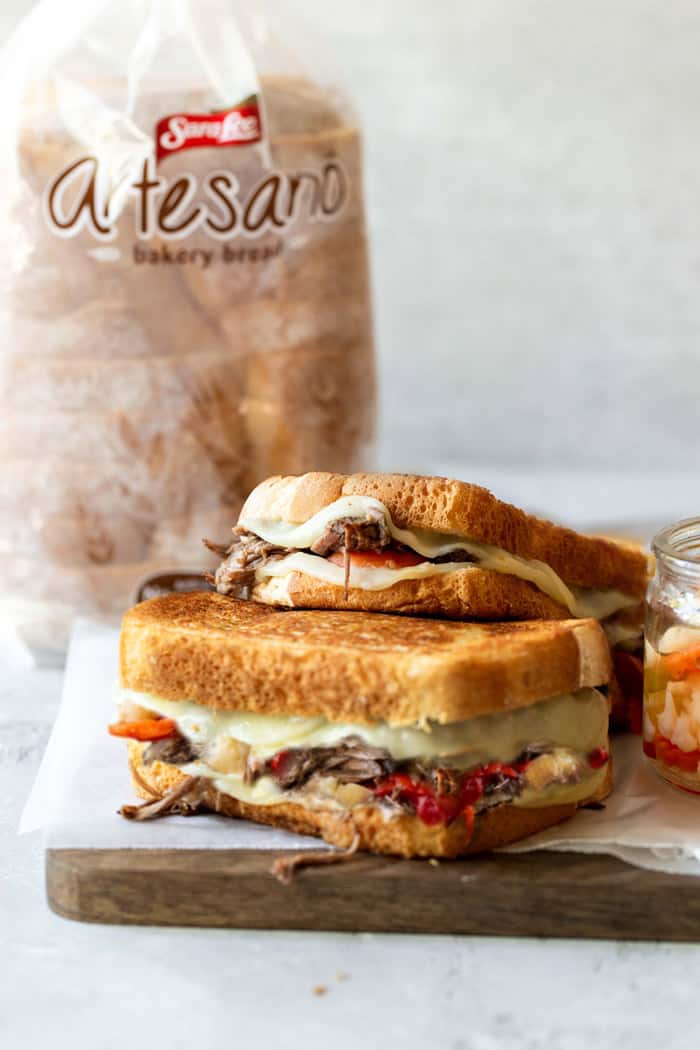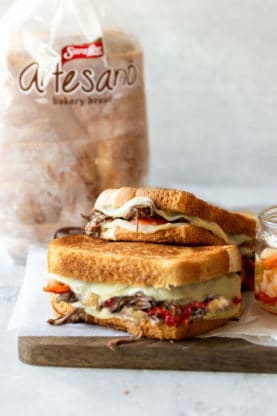 HOW TO MAKE AN ITALIAN BEEF GRILLED CHEESE
All this talk about Italian Beef Sandwiches has made me hungry, so what do you say we make finally make one? Well, my latest version.
Sandwiches are pretty much always very simple; therefore, each ingredient is just as important as its counterpart. Using quality ingredients is essential and there are a few stand-out ones in this recipe.
A grilled cheese is nothing without good bread; bread is where it all begins. Sara Lee® Artesano™ Bread is made without high fructose corn syrup, artificial colors or artificial flavors. All this means great taste without unnecessary gunk. The flavor is incredibly rich, and a perfect match for this recipe.
Because of its thick cut slices, Artesano bread is capable of withstanding this cheesy, juicy concoction. Thick slices also make for a mouthwateringly soft texture that compliments this sandwich perfectly.
Italian Dressing Mix
This is an Italian sandwich folks! We need oregano, thyme, basil, rosemary and parsley: all the good stuff. I find that using an Italian dressing mix adds in all the necessary spices.
Pepperoncini & Giardiniera
These two ingredients are what make for an authentic Italian Beef flavor. Pepperoncini's are sweet with a medium heat level; their addition creates crunch and a vinegary tang. Giardiniera is similar in that it layers heat and texture. Together, they tag team to make for a better, tastier sandwich.
The final touch in this recipe is serving your sandwich with extra gravy (beef stock). Dipping each bite adds that extra somethin' you didn't even know you needed. What's an Italian Beef without that messy, tasty juice?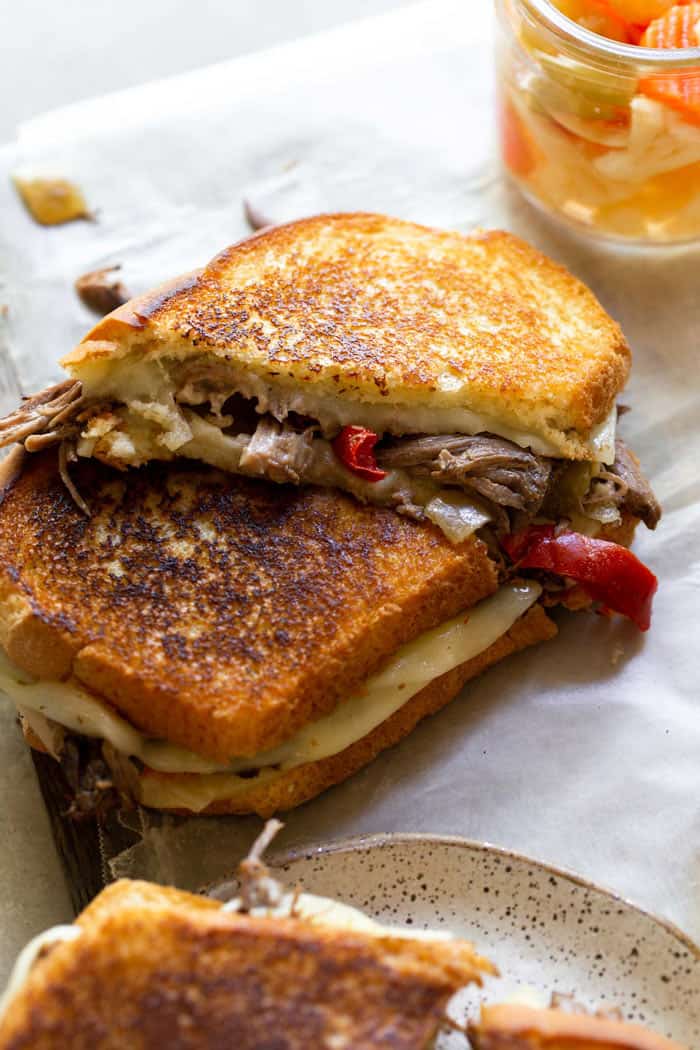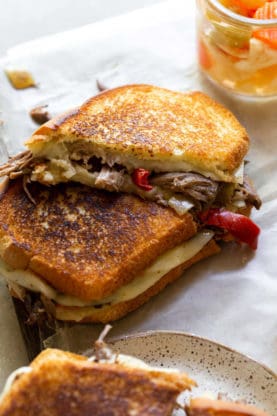 GRILLED CHEESE TIPS & TRICKS
I don't about you but, no matter how old I get I still find myself craving that late night (or any time of day) grilled cheese. Maybe it's nostalgia or maybe it's just the fact that grilled cheese is the perfect sandwich.
There's an art to grilled cheeses; some people might even call it a science. Though we all have our methods, this is how I make the magic happen.
Soften the Butter
You ever try spreading cold butter on bread? Not fun. Instead, preemptively leave out a few tablespoons of butter to soften on the counter. It'll be much easier to spread, and you'll be able to get those glorious crisp, buttery edges.
BONUS TIP: If you forgot to soften the butter, use mayonnaise instead. Same crisp edges and a delightful tang.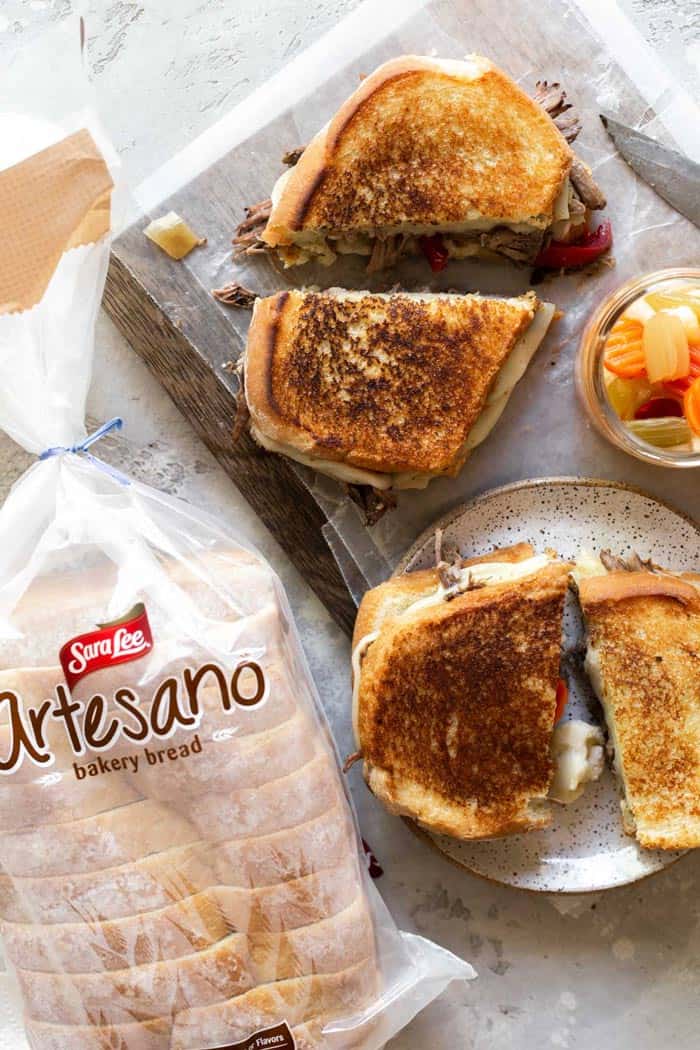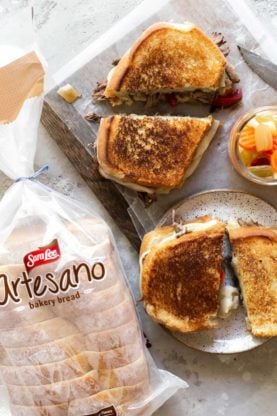 Layer Cheese on Both Sides
When building your sandwich, be sure to place slices of cheese on both sides of your bread. Doing this helps to seal in the fillings and make for even melting. Also, who doesn't want more cheese?
Go Low and Slow
Don't rush the process! Keep the pan on a medium heat and occasionally press down with a spatula. If you increase the heat the outside crust will burn, and the cheese won't melt.
Don't Overstuff
We all get over-excited but, don't get carried away. If you overfill the sandwich it will fall apart the moment you try to pick it up. But, if you're down for the mess, go for it.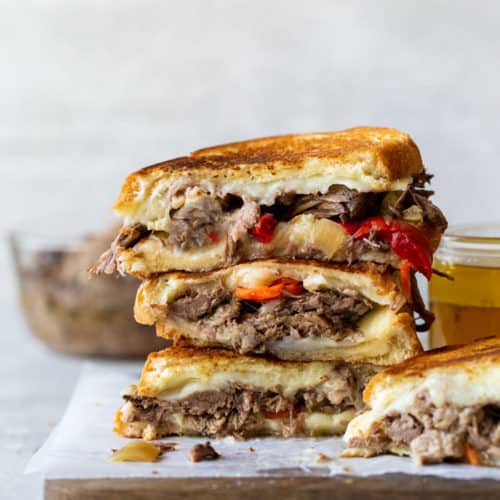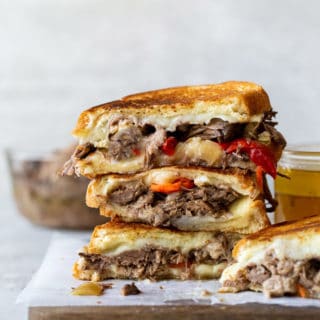 Italian Beef Grilled Cheese
This Chicago Italian Beef Grilled Cheese combines tender, shredded beef and perfectly seasoned beef stock, and pickled peppers made in a Slow Cooker with the melty, buttery goodness of a grilled cheese.
Print
Pin
Rate
Ingredients
3

lb

chuck roast

trimmed of visible fat and cut into large hunks

0.7

oz

Italian Salad Dressing mix

I used Good Seasons Zesty

1 1/2

tsp

Italian seasoning

1/2

medium onion

chopped

2

Beef bouillon cubes

2

tbsp

unsalted butter

plus more for grilled cheese

8

oz

pepperoncini pepper slices

plus a splash of juice (and extra for serving)

2

cups

water

1

loaf

Sara Lee® Artesano™ Bread

Provolone Cheese slices

Giardiniera (Chicago Style Italian Sandwich mix)

for serving
Instructions
Place chuck roast into the bottom of a 5.5 - 6-quart crock pot then sprinkle with salad dressing mix and Italian seasoning. Add onion, bouillon cubes, butter and pepperoncini pepper slices to the bottom of the pot then add water.

Place a lid on top then cook on low for 8 hours, or until meat shreds easily with a fork. At this point you can either shred the beef with your fork or you can slice the beef. Shred or slice then place meat back into crock pot and cook on low for 1 more hour.

Once meat is ready, heat a pan over medium heat.

Butter one side of each slice of bread, place one slice in the pan with buttered side down, top with provolone cheese followed by Italian beef (make sure you drain), additional pepperoncini peppers and Giardiniera then add remaining provolone and finally the other slice of bread with buttered side up.

Grill until golden brown on both sides and the cheese is melted, about 2-4 minutes per side. Serve with remaining beef broth on the side to dip into.
Nutrition
Calories:
418
kcal
|
Carbohydrates:
20
g
|
Protein:
30
g
|
Fat:
24
g
|
Saturated Fat:
10
g
|
Cholesterol:
103
mg
|
Sodium:
931
mg
|
Potassium:
479
mg
|
Fiber:
1
g
|
Sugar:
1
g
|
Vitamin A:
74
IU
|
Vitamin C:
1
mg
|
Calcium:
44
mg
|
Iron:
4
mg