Made with a flaky biscuit dough, a sugary citrus filling and a zippy cream cheese drizzle, this Lemon Cinnamon Rolls biscuit recipe are a deliciously perfect way to enjoy a classic pastry in a new and exciting flavorful way WITH NO YEAST! If you love these, you will also love these Orange Cinnamon Rolls, Classic Cinnamon Rolls and Honey Butter Cinnamon Roll Biscuits!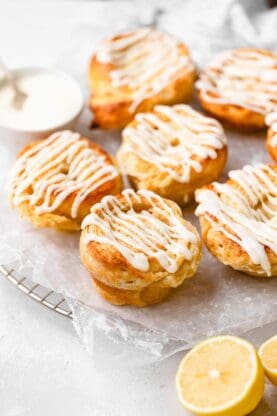 Okay, you may have come across this recipe and thought to yourself, "what the heck are Lemon Cinnamon Roll Biscuits?". I don't blame ya! This recipe is an interesting one in that it's both heavily infused with tangy lemon flavor and it uses a biscuit dough as a base. A whole lot going on, I know.
But, today, I'm gonna ask you to trust me on this one. Each bite of these luscious rolls is cause for a celebratory jig! Buttery, chewy, light, tangy and sweet, these lemon rolls are like a mouthful of sunshine.
Try something a little different with me today, won't you?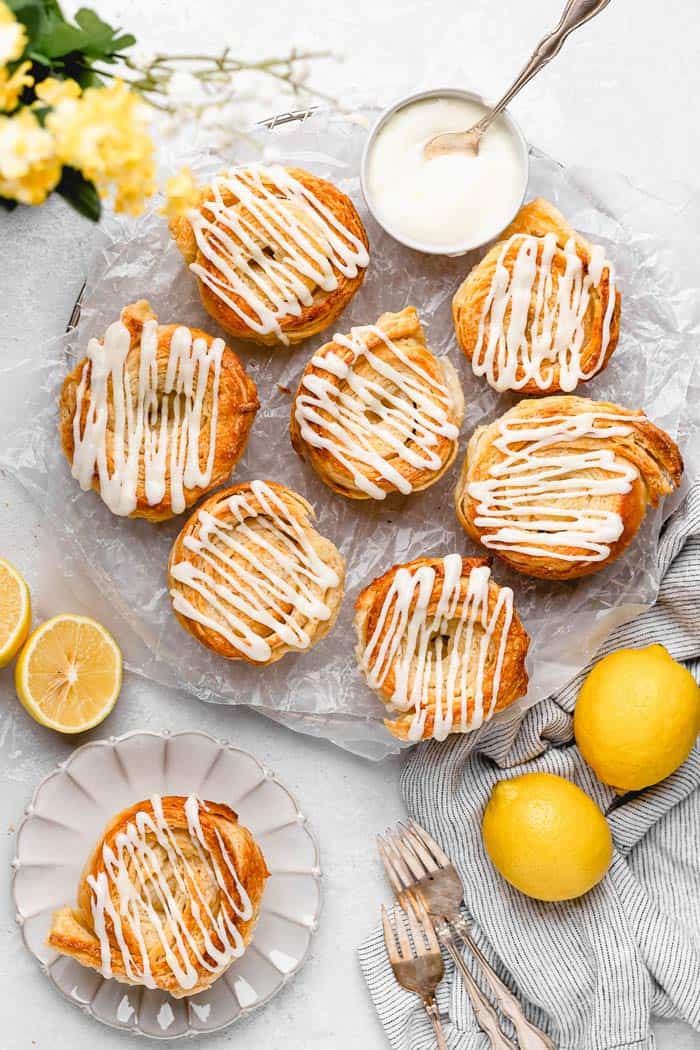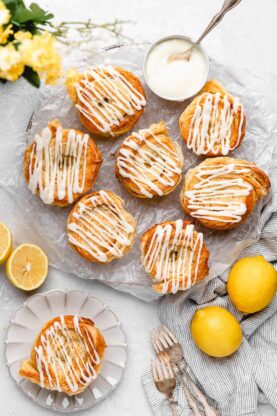 HOW TO MAKE LEMON CINNAMON ROLLS using biscuit dough
It's no secret that I love cinnamon rolls (and make them often). Recently, I was looking to shake things up a bit and it dawned on me that I'd never attempted to use lemon in a breakfast type of food! Lemon is such a great flavor for spring, so I decided that it would be fun to make lemon rolls for a change. Y'all, I've been missing out!
This recipe uses 3 delicious components to create something fresh, unique and so incredibly delectable!
Lemon-Ginger Laminated Biscuit Dough- Biscuit dough is flaky, buttery and melt-in-your-mouth soft! If you prefer, a regular yeasted dough can be used but you'll be missing out on this gloriously fluffy, doughy magic.
Lemon-Sugar Filling- This filling is nearly identical to that of a regular cinnamon rolls'! The addition of lemon zest ties together the different elements of this recipe and creates a sugary, citrusy bite.
Lemon Cream Cheese Drizzle- Made with indulgent cream cheese, confectioner's sugar and both lemon juice and zest, this drizzle is the POP this recipe so badly needed. This sticky-sweet layer takes these rolls to a whole new level of tasty!
TIP: If you're not a fan of lemon, replace it with a citrus of your choice! Meyer lemon, lime, grapefruit and orange are all great options!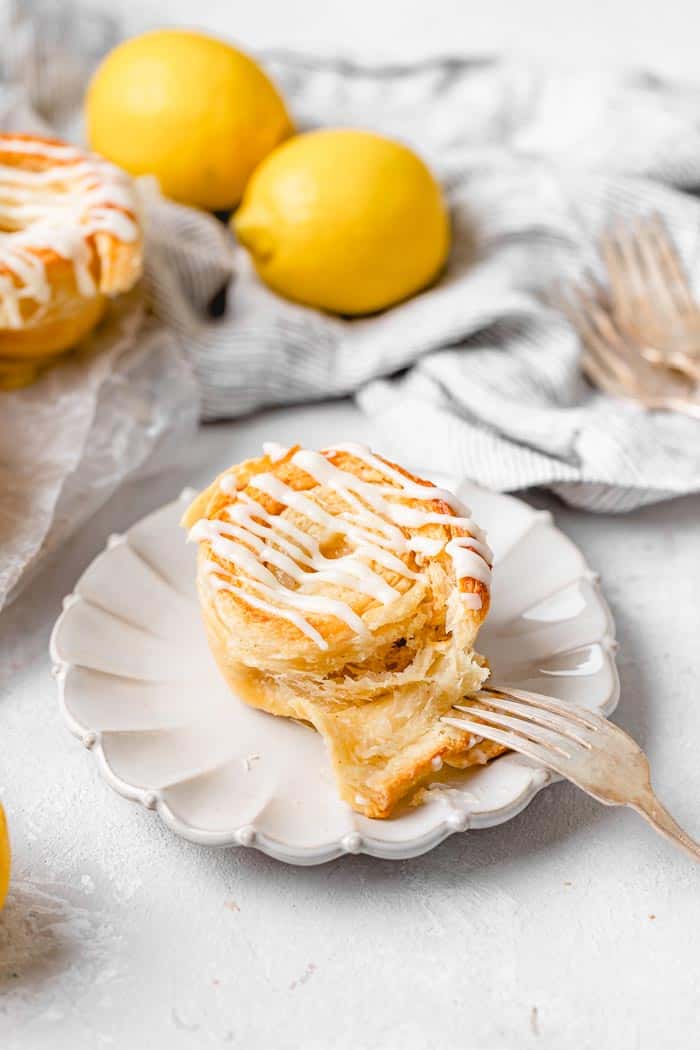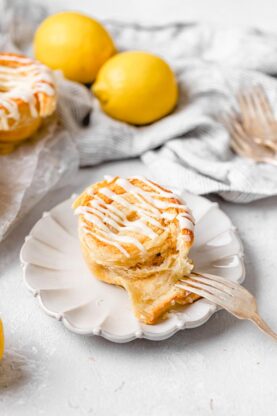 LEMON CINNAMON ROLLS & BISCUIT BAKING TIPS
Cinnamon rolls made from scratch can be intimidating but, today, we're gonna tackle this recipe head on. No fear. To give you a solid head start, I've compiled my top tips for the BEST Lemon Cinnamon Rolls EVER!
Keep the Biscuit Dough COLD (And Chill It Properly)
What separates these cinnamon rolls from the rest is the use of a biscuit dough rather than a regular yeasted on. Yeasted doughs require room temperature ingredients, while biscuit doughs call for cold ones (mostly the butter).
Cold butter helps to create layers within the dough itself; when baked, the butter will melt and form pockets of buttery, creamy goodness. I recommend freezing the sticks of butter for about 20 minutes before grating them.
Once the dough is ready, be sure to allow it enough time to chill. This extra step may seem redundant but it ensures the dough properly laminates and retains its layers.
Fill the Rolls from Edge to Edge
Don't be stingy! Cover every square inch of the dough with cinnamon-sugar filling. You'll only need to leave a small section along one edge bare so you're able to pinch and seal the seam closed once you've rolled the dough.
Roll Tightly
Be sure to roll the dough as tightly as possible. The tighter you're able to roll, the more buttery layers you'll get. This will also ensure that the rolls keep their shape during baking.
Tip: Slice Using Floss
If your knife isn't sharp enough, it will squish the rolls and ruin their shape. Instead, loop a piece of dental floss around the dough and cut through the cinnamon rolls. Make sure it is unflavored.
BONUS TIP: Let the rolls cool before icing! If the rolls are too hot, the icing will run right off of the rolls. Wait for at least 10 minutes before glazing, it's worth it.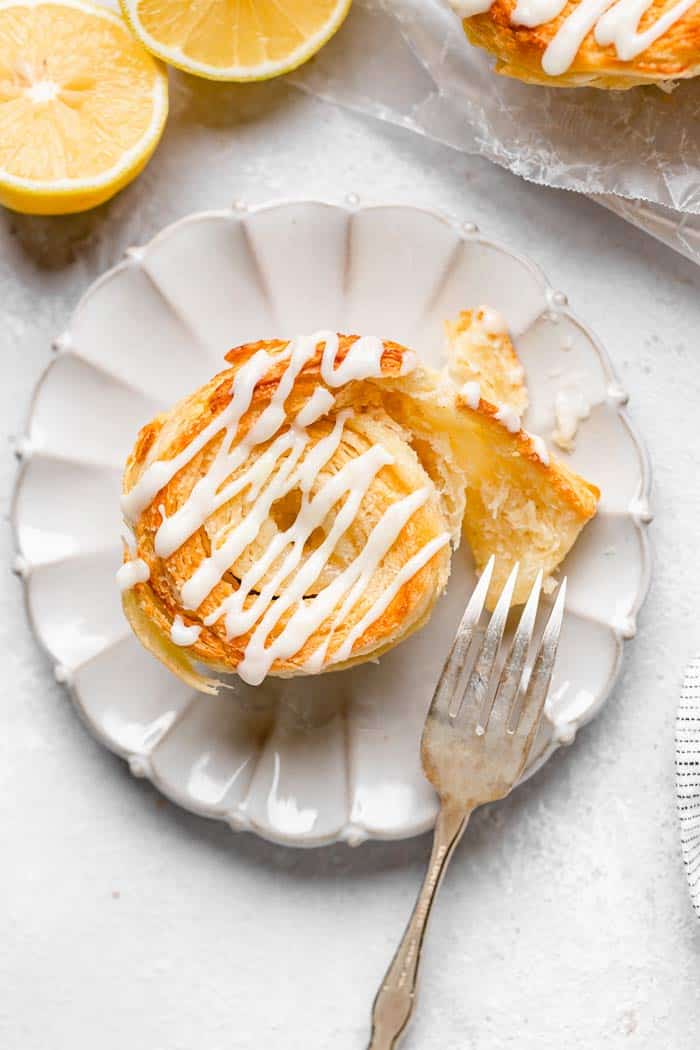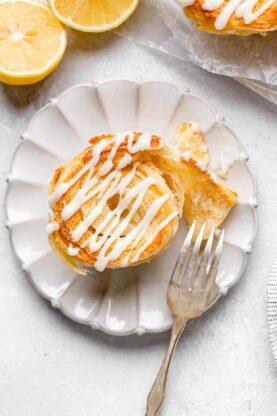 LEFTOVER CINNAMON ROLL STORAGE AND REHEATING
These lemon cinnamon rolls don't last long in my house but, when there are leftovers, I make it a point to keep them moist and delicious rather than dry and drab. The answer to keeping them moist is all in the packaging method. Store cinnamon rolls in an airtight container or individually wrapped (in saran or foil) at room temperature for 2-3 days. Move to the refrigerator for up to 7 days.
If you're not planning on eating your leftovers within a week, I suggest freezing them. Cinnamon rolls can be stored and frozen for up to 4 months. To defrost, allow the rolls to sit at room temperature or a few hours or overnight in the fridge.
To Reheat: a quick zap in the microwave (about 30 seconds) should do the trick! Alternatively, heat in a convection or conventional oven at 350 for about 5-10 minutes.
MORE GRANDBABY CAKES SINFUL CINNAMON ROLL RECIPES
Is there anything better than waking up to the smell of freshly baked cinnamon rolls? I think not. This week, gift yourself (and your family and friends) with the joy of a cinnamon scented morning!
Check out a few of my fave cinnamon roll recipes: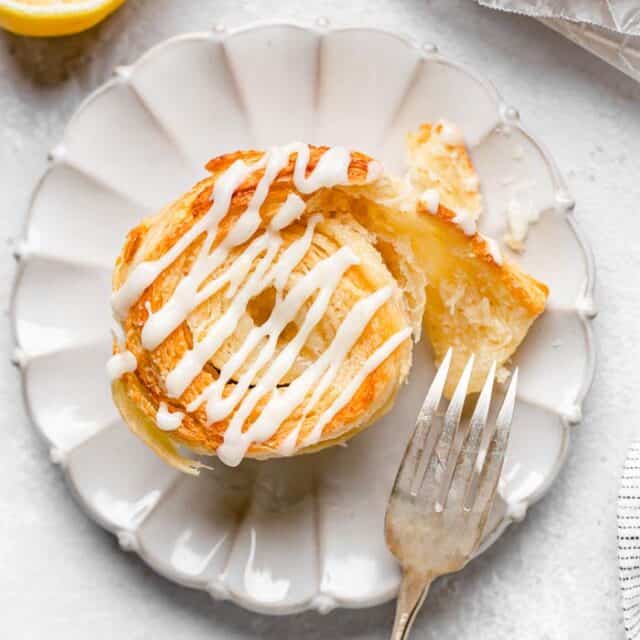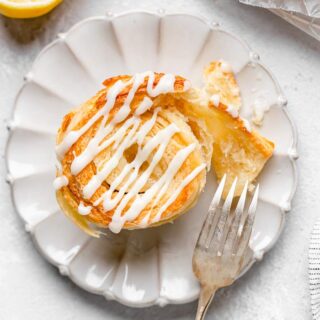 Lemon Cinnamon Rolls
Made with a flaky biscuit dough, a sugary citrus filling and a zippy cream cheese drizzle, these Lemon Cinnamon Rolls are a deliciously perfect way to transition into Spring!
Print
Pin
Rate
Ingredients
For the Laminated Dough
3 3/4

cup

all-purpose flour

1/4

cup

cornstarch

2

tbsp

granulated sugar

3

tsp

baking powder

1

tsp

ground ginger

1

tsp

salt

2

tsp

lemon zest

from 1 large lemon

1 1/2

cup

unsalted butter

3 sticks/ Cold and separated

1 1/2

cup

whole milk

cold
For the Lemon Sugar Filling
1/2

cup

granulated sugar

2

tbsp

lemon zest

from 2 lemons

1/2

cup

salted butter

softened
For the Lemon Cream Cheese Icing
4

oz

cream cheese

room temperature (1/2 brick)

pinch of salt

1 1/2

cup

confectioner's sugar

2

tbsp

lemon juice

plus more to thin icing

1 1/2

tsp

lemon zest

from 1 lemon
Instructions
For the Laminated Biscuit Dough
Sift the all-purpose flour, cornstarch, sugar, baking powder, ginger and salt together into a large mixing bowl. Add the lemon zest and toss with your hands. Make a well in the center of the dry mix.

Shred 1 cup of unsalted butter (2 sticks) into the well you created in the dry ingredients. Use your hands to toss the flour and shredded butter together.

Pour the cold milk into the butter-flour mixture and knead just until a thick dough forms.

Turn the dough out onto a floured surface and fold the dough over itself four times to develop a stiff dough.

Use a rolling pin to roll the dough out into a rectangle that's approximately 12" long by 8" wide. Shred the remaining ½ cup of butter (1 stick) onto 2/3rds of the rectangle's surface.

To encase the butter in the dough, first fold the unbuttered third of dough over the centered third- as if you're folding a letter- then, fold the exposed third over the middle fold. You should have a rectangle with no buttered parts exposed.

Roll the dough out into a rectangle the same size as before. Fold the two short ends towards the center, then fold the dough over- as if you're closing a book. Wrap the rectangle of dough in plastic wrap and chill the dough in the refrigerator for 60 minutes.

Remove the dough from the plastic wrap and re-roll to a rectangle, once more. Fold the dough in four parts as before. Re-cover the dough and chill for 40-60 minutes. This step may be done a day ahead.
For the Lemon Sugar Filling
In a small mixing bowl, stir together the sugar and lemon zest until well combined.

Set the bowl aside. You will use the butter to spread over the dough in the assembly.
To Assemble the Biscuits
Preheat your oven to 350°F. Grease a muffin tin with baking spray.

Roll the dough out into a 14" x 18" rectangle. Spread the butter onto the dough surface.

Sprinkle the lemon-sugar mixture evenly over the buttered surface of the dough.

Begin rolling the dough at the buttered edge. Roll the dough tightly- to prevent unrolling during baking- towards the unbuttered margin. Pinch the dough at the seam once you've rolled the dough completely. Roll the dough so the seam is on the bottom of the log.

Use a sharp knife to cut the roll of dough into 12 slices of equal size.

Press the circles of dough into the greased muffin cups. Pressing down lightly on the inner part will help them form a swirl when they're baked.

Bake the rolls for 35 minutes, or until they are golden brown and puffed up from the muffin cups.

Remove the pan from the oven and allow the biscuits to cool in the pan for 10 minutes. Remove the biscuits from the pan and allow them to cool completely on a cooling rack while you make the frosting.

For extra lemony flavor, brush a thin layer of lemon juice on the tops of each muffin right after removing them from the pan.
For the Lemon-Cream Cheese Drizzle
While the biscuits are cooling, use an electric hand mixer to blend the cream cheese, and salt together on low speed until smooth.

Gradually add the confectioner's sugar to the cream cheese, blending on low, until all of the sugar has been added. Scrape down the bowl and beater and increase the mixer's speed to medium to whip until light and fluffy.

Add the lemon juice and zest to the mixture and blend on low speed until the juice is fully incorporated. The drizzle may be made 3 days in advance.

Pipe a thin drizzle over the baked and slightly cooled lemon-ginger roll biscuits.
Video
Notes
Storage: The biscuits may be stored at room temperature for 2 days. Reheat in the microwave for 15 seconds, or in a 200°F oven for 5 minutes.
Nutrition
Calories:
576
kcal
|
Carbohydrates:
60
g
|
Protein:
6
g
|
Fat:
35
g
|
Saturated Fat:
22
g
|
Trans Fat:
1
g
|
Cholesterol:
95
mg
|
Sodium:
310
mg
|
Potassium:
213
mg
|
Fiber:
1
g
|
Sugar:
27
g
|
Vitamin A:
1123
IU
|
Vitamin C:
3
mg
|
Calcium:
105
mg
|
Iron:
2
mg