These Homemade Cinnamon Rolls are pillowy soft, slightly gooey and dripping with decadent icing that forces you to come back for more. They are the closest thing to bakery fresh goods straight from your own oven. This recipe is where you come to make all your breakfast dreams come true. If you love cinnamon rolls, try these Strawberry Shortcake Cinnamon Rolls, Bourbon Sticky Buns or my fall version Sweet Potato Cinnamon Rolls or Pumpkin Cinnamon Rolls , these amazing Orange Cinnamon Rolls or Cinnamon Roll Biscuits, Lemon Cinnamon Roll Biscuits, these Strawberry Butter Rose Buns, and these Super lazy Strawberry Cinnamon Rolls.
This post may contain affiliate links. Please read my disclosure policy.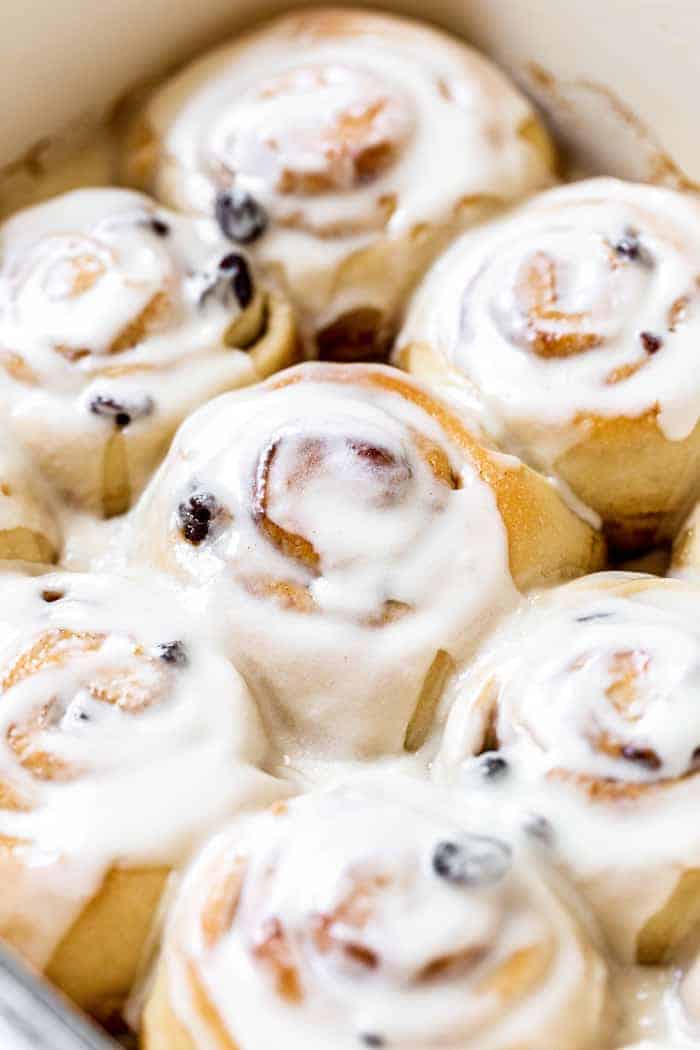 The Perfect Homemade Cinnamon Rolls Recipe
Cinnamon rolls are a staple of the quintessential American bakery. It seems as though you can walk into almost any bakery, any day of the week, and find the warm pastries oozing with icing. But where did this pastry first come to life?

What are Cinnamon Buns?
Kanelbullar, which means cinnamon bun in Swedish, are said to have originated from Sweden. In the mid-1700's, Northern European bakers began mastering incredibly rich, butter-infused yeast doughs.
After countless different versions of buns created from this dough, Swedish bakers finally added cinnamon to their recipes. And that folks, was the moment a star was born.
What Makes these Soft Cinnamon Rolls So Special?
The recipe I'm sharing with you today is one that is near and dear to my heart. My good friend Maria Lichty, a fellow food enthusiast, shared this recipe in her latest cookbook Two Peas & Their Pod. Her cinnamon rolls are inspired by her father who used his late-mother's recipe to establish family traditions and create unforgettable family moments.
Some of the best recipes I share with you all are based in my own childhood memories and family traditions. Whether it's as simple as my Big Mama's pie crust or something a bit more complex, the memories they hold remain the same. When you allow meaning and love to seep into your recipes I guarantee they taste just a little better.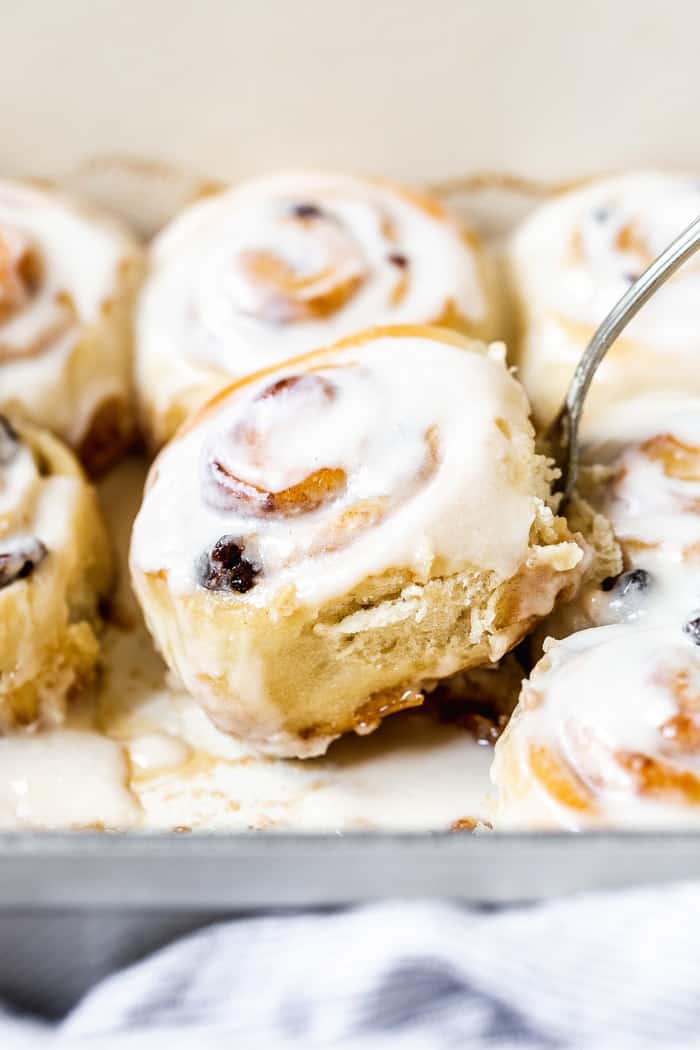 How To Make Cinnamon Rolls from Scratch
Now, I know that Cinnamon Rolls from scratch can be both time consuming and just a general pain in the you-know-what. But when was the last time you regretted taking the time to make them?
To me, a good cinnamon roll is made with a flavorful dough, a solid filling, and an almost-too-sweet-sticky frosting. But a great recipe is just the start:
Knowing how to work your dough
Handle it
Assemble it
Think of this recipe as a guideline, a skeleton for you to build on and perfect with solid technique. Though it is a personal learning process, I've got a few building blocks to help you along the way.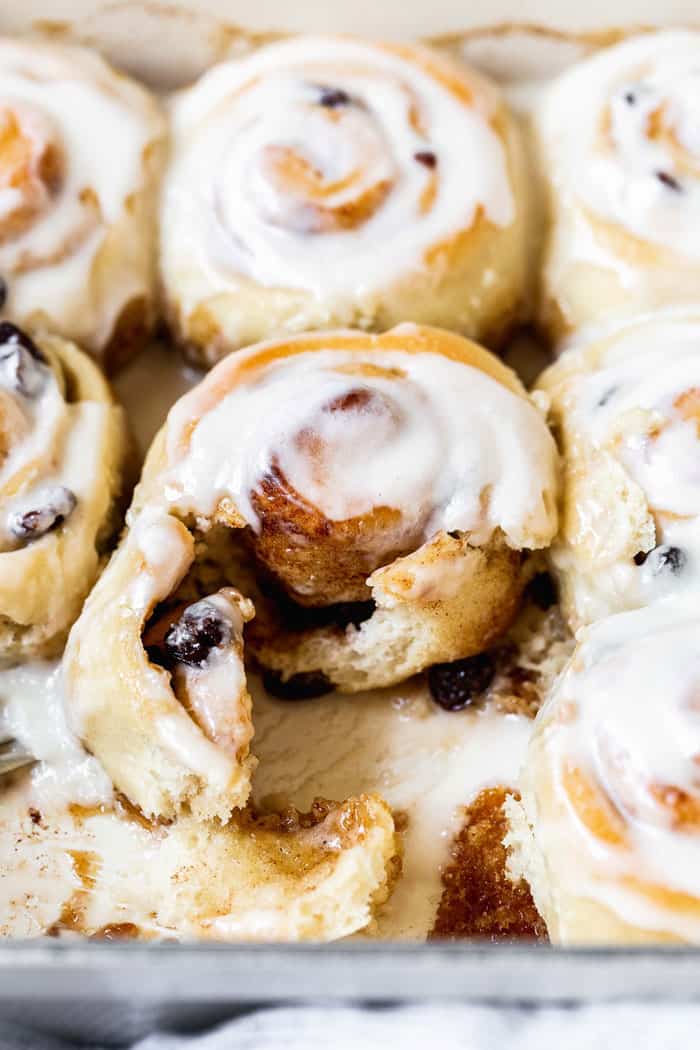 How to Work With Cinnamon Buns Recipe Dough
I don't know about you but I don't particularly enjoy having to wake up at the crack of dawn just to make sure my cinnamon rolls are done before noon.
Tip: Breaking up the work into two days can help save yourself the morning wake up call and improve your pastries. Instead, mix your dough the night before and refrigerate it overnight. Not only are you saving yourself time but the flavor of the dough will benefit from a slow rise overnight.
This is especially great for highly enriched dough, which tends not to rise as much as lean dough.
Cold enriched dough is also a lot easier to work with. If your dough is nice and cold then you can avoid a soft, soggy mess once you roll it out.
Mix up your dough, let it have its first rise, then pat it out onto a parchment-lined baking sheet. Keep your dough rectangular and even in thickness, it'll come in handy in the final steps of the recipe. Then cover the dough with plastic wrap and transfer it to the fridge.
By the next morning your dough will be ready for its final assembly and baking. You can roll out of bed in your favorite pajamas, get to work and still have your rolls done in time to catch Today Show. Ooey, gooey and oh-so perfectly warm cinnamon rolls are the best way to start any day. Take my word for it.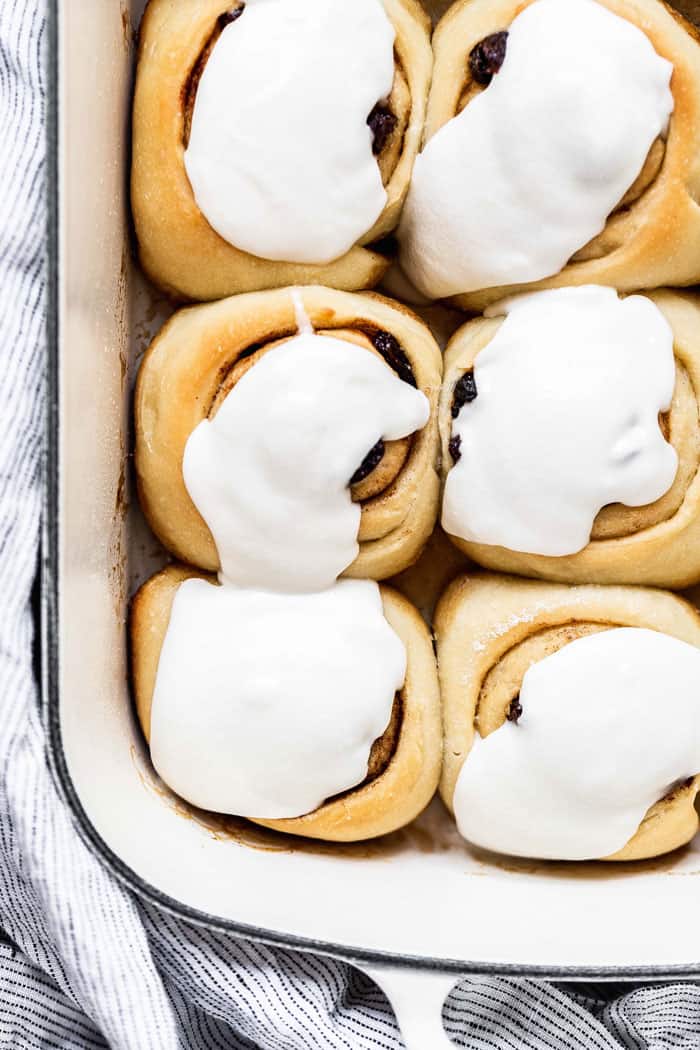 Cinnamon Roll Icing
The icing for these homemade cinnamon rolls is super simple and easy to throw together. With these simple ingredients, you create a wonderful frosting:
Butter
Confectioners Sugar
Whole Milk
Vanilla Extract
Make sure your butter is room temperature when mixing these ingredients together. You will also want to make sure your cinnamon buns have completely cooled down to room temperature so the icing doesn't melt everywhere.
You will adore how easily this icing comes together. It is absolutely delicious and decadent!
FIND THE PRODUCTS THAT MAKE THIS RECIPE GREAT!

[show_shopthepost_widget id="4220896″]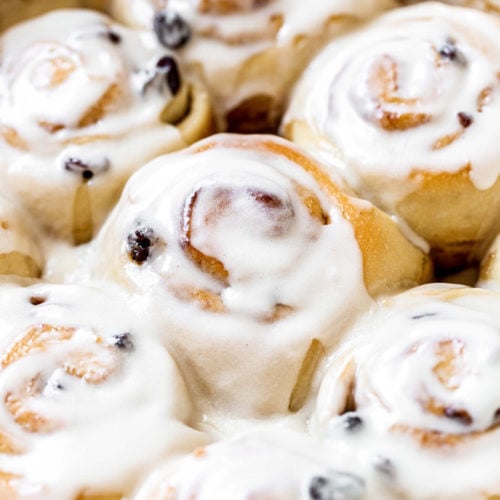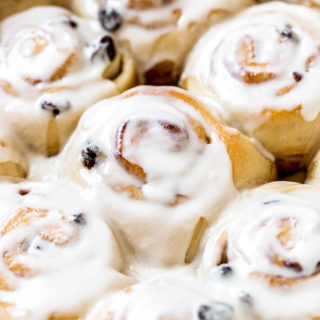 Homemade Cinnamon Rolls Recipe
These Homemade Cinnamon Rolls are pillowy soft, slightly gooey and dripping with decadent icing that forces you to come back for more. They are the closest thing to bakery fresh goods straight from your own oven. This recipe is where you come to make all your breakfast dreams come true.
Print
Pin
Rate
Servings:
30
cinnamon rolls
Ingredients
For the Cinnamon Rolls
4 1/2

tsp

active dry yeast

(two 1/4 ounce packages)

1

cup

granulated sugar

plus a pinch

1

cup

lukewarm water

1/4

cup

plus 2 tablespoons shortening or unsalted butter

Crisco is preferred

1

tbsp

kosher salt

2

cups

hot water

9

cups

unbleached all-purpose flour

plus more for dusting

2

large eggs

beaten

Nonstick cooking spray

1/2

cup

unsalted butter

room temperature (8 tablespoons)

1 1/2

cups

packed light brown sugar

1

cup

raisins

optional

2

tbsp

ground cinnamon
For the Frosting
4

tbsp

unsalted butter

room temperature

4

cups

confectioners sugar

4-6

tbsp

whole milk

1

tsp

pure vanilla extract
Instructions
For the Cinnamon Rolls
In a small bowl, combine the yeast and a pinch of the granulated sugar with the lukewarm water and set aside for 5 minutes.

In the bowl of a stand mixer fitted with the paddle attachment, combine the 1 cup granulated sugar, the shortening, and salt plus the hot water and beat for 30 seconds. Let the mixture cool to lukewarm temperature.

Add 2 cups of the flour and mix until smooth. Add the yeast mixture and mix until well combined.

Add the beaten eggs and mix once again.

Fit the mixer with the dough hook. Continue mixing, gradually adding the remaining 7 cups flour. Mix for about 2 minutes.

Turn out the dough on a lightly floured surface. Knead by hand, adding a light dusting of flour if the dough is still sticky, until the dough is satiny and smooth, about 1 minutes.

Return the dough to the mixing bowl and cover with a clean kitchen towel. Let the dough rise for 30 minutes, until doubled in size.

Grease two 9x13 inch baking pans with nonstick cooking spray and set aside. Divide the dough in half. With a rolling pin, roll one portion into a rectangle, about 22x13 inches. Spread evenly with 4 tablespoons of the butter.

Sprinkle with 3/4 cup of the brown sugar, 1/2 cup of the raisins (if using), and 1 tablespoon of the cinnamon.

Starting from one of the long sides of the rectangle, roll the dough into a log. Using a piece of unflavored dental floss or a thin piece of thread, cut the log into 1 1/2 inch thick rolls. Do this by first sliding the floss underneath the dough so you have at least a few inches on either side of the rolls.

Pull up the ends of the floss and loop them together as though you were going to tie a knot. Tighly pull the floss until it slices through the dough. Arrange the rolls in one baking pan, swirl side up and about 1/2 inch apart.

Repeat with the remaining portion of dough and the butter, brown sugar, raisins, and cinnamon.

Allow the rolls to sit at room temperature until they've doubled in size, 1 to 1 1/2 hours.

Preheat the oven to 350 F.

Bake the rolls for 28 to 32 minutes, until golden brown and baked through. Let the rolls cool to room temperature.
For the Frosting
In a medium bowl, whisk together the butter, confectioners' sugar, milk and vanilla. Generously spread over the cooled cinnamon rolls and serve.
Notes
You can refrigerate the unrisen unbaked rolls overnight and bake them in the morning.  After you cut the dough into rolls and place in the pans, cover with plastic wrap and refrigerate.  In the morning, let the rolls come to room temperature so they can rise a little then bake and enjoy!
Nutrition
Calories:
346
kcal
|
Carbohydrates:
67
g
|
Protein:
5
g
|
Fat:
7
g
|
Saturated Fat:
4
g
|
Cholesterol:
23
mg
|
Sodium:
245
mg
|
Potassium:
109
mg
|
Fiber:
2
g
|
Sugar:
33
g
|
Vitamin A:
161
IU
|
Vitamin C:
1
mg
|
Calcium:
27
mg
|
Iron:
2
mg