All the deliciousness of homemade cinnamon rolls without yeast! These perfect Cinnamon Roll Biscuits combine flaky, buttery biscuit dough with a spiced cinnamon butter and an irresistible honey butter cream cheese glaze. If you love these biscuits, you will also love this Cinnamon Roll Monkey Bread, Super Flaky Biscuits, Lemon Cinnamon Roll Biscuits, classic Cinnamon Rolls and Pumpkin Cinnamon Rolls!!
Disclosure: I partnered with Land O'Lakes for this recipe post, but all opinions expressed here are my own. I am grateful for authentic partnerships like this.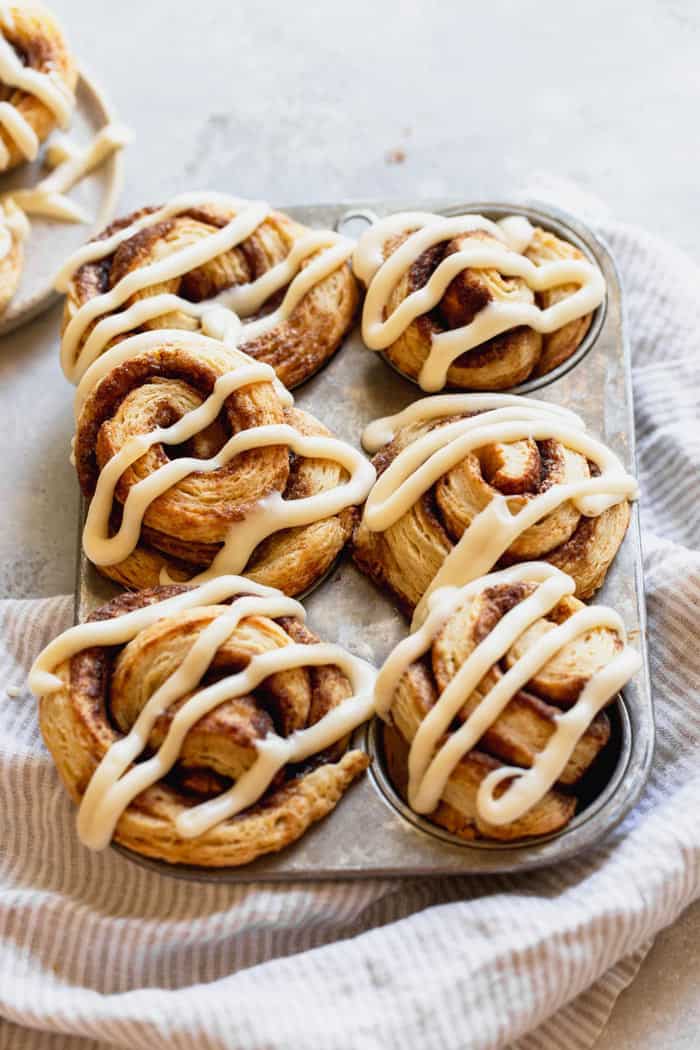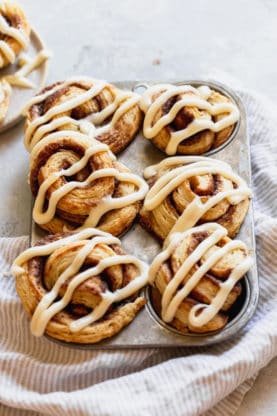 By now, you all know how I feel about the fall; it's just not my jam. There's nothing wrong with pumpkin spiced lattes and changing leaves. I'm just a summer baby through and through. I prefer sunshine, sweet tea and strawberry pies. No shame in my game.
But, no matter what side of the autumn debate you land on, cinnamon rolls are undeniably delicious. The perfect fall breakfast? A hot cup of coffee and a warm, oversized, heavily-frosted cinnamon roll. The chewy, gooey bites, sticky fingers and cream cheese icing-coated lips make for the coziest chilly morning munchie.
Of course, y'all know I can't resist taking a classic and turning it on its head. So, today I'm taking two of my absolute favorite recipes and mashing them up to create something monstrously delectable.
Cinnamon Roll Biscuits are this fall's go-to breakfast, snack, dessert and just about everything in between!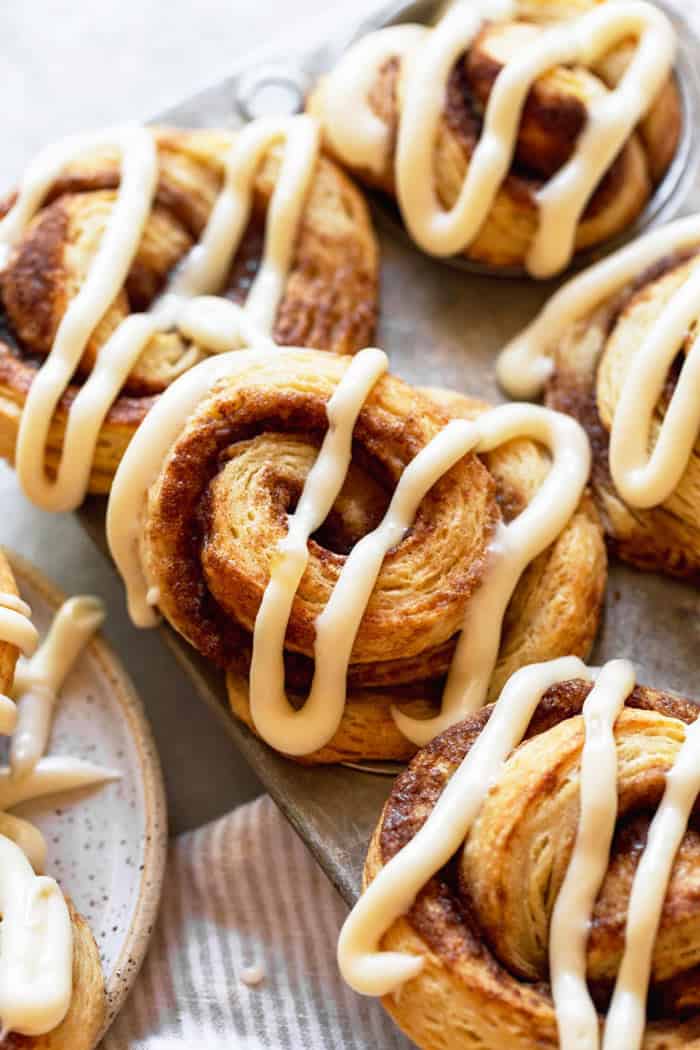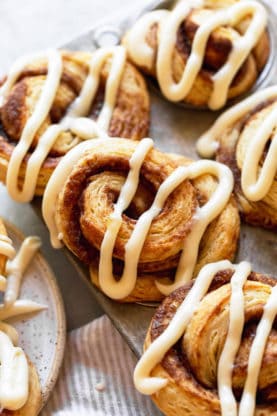 WHAT ARE CINNAMON ROLL BISCUITS?
Cinnamon Roll and Biscuit are probably two references you won't often hear in the same sentence. Yet, here we are. As we all know, I'm a biscuit fanatic and anything cinnamon-related obsessed; combining the two for this recipe was a cakewalk!
Cinnamon Roll Biscuits are the perfect marriage of buttery, layered biscuits and gooey, spiced filling. Then, the result is topped with a sweet, tangy honey cream cheese icing. I don't think it gets better than that. Actually, I know it doesn't get better.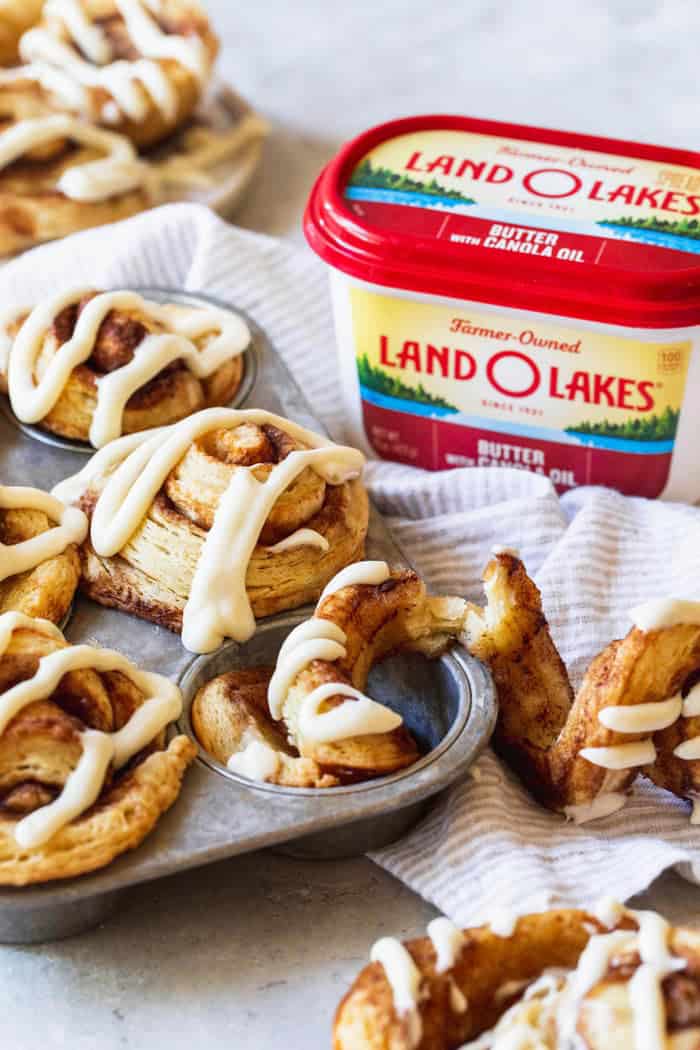 HOW TO MAKE CINNAMON ROLL BISCUITS
Now that we've established what these rounds of pure joy are, let's get into what makes them so darn good! This recipe uses pantry-staple items and clean, simple flavors. The result is flavorful, decadent and a pleasure to enjoy with a cup of joe.
Here's what you'll need:
Land O Lakes® Butter with Canola Oil— made with only 3 ingredients (canola oil, sweet cream and salt), Land O Lakes® Butter with Canola Oil gives you fresh butter taste without unnecessary additions. The best part? There's no waiting for softened butter! It's spreadable right out of the fridge; this means you get your treat that much faster.
Laminated Biscuit Dough– I used a variation of my classic biscuit recipe to create these pillowy, buttery cinnamon rolls. By laminating the dough, we ensure beautifully layered biscuits.
Light Brown Sugar– when combined with butter and cinnamon, light brown sugar caramelizes and turns into a sweet, ooey-gooey filling. The molasses in the sugar works with the cinnamon to create a rich, warm flavoring.
Cinnamon– fragrant and earthy, cinnamon not only warms the belly, but it also makes your kitchen smell like heaven.
Cream Cheese– if a cinnamon bun doesn't have cream cheese in the frosting, is it really a cinnamon bun? Tangy and smooth, cream cheese layers in utter decadence.
Confectioners Sugar– powdered sugar sweetens the icing while aiding in creating a beautifully white topping.
Honey– the added sweet, floral notes in the icing complement the buttery biscuits.
Vanilla– adds the aromatic zing every icing needs.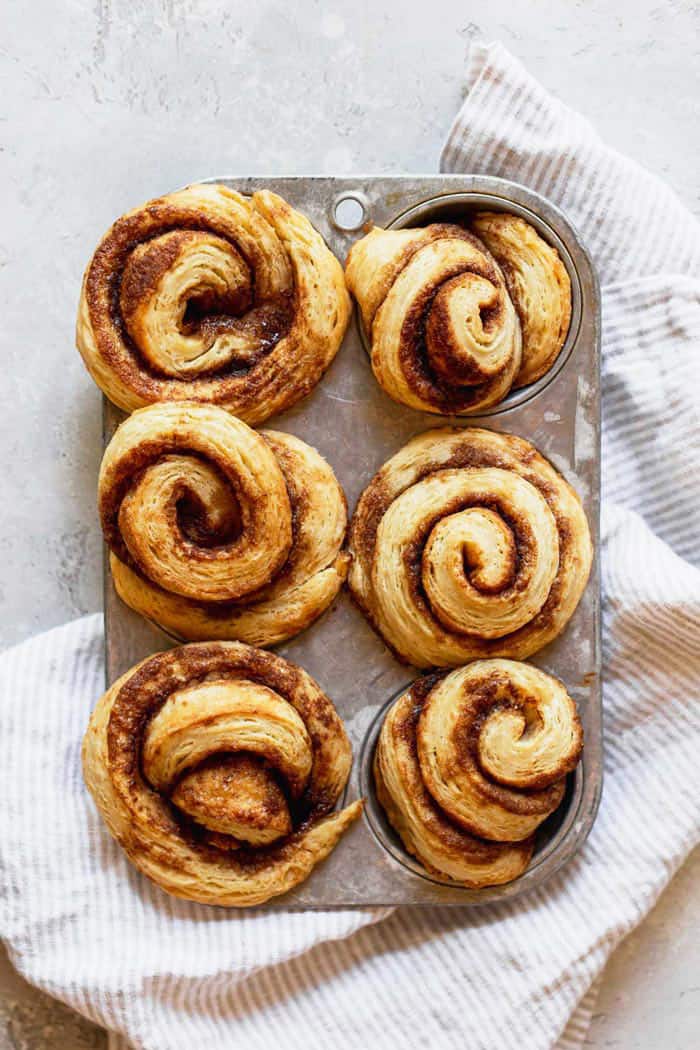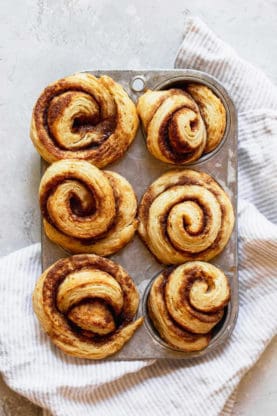 LEFTOVER STORAGE
Like traditional cinnamon rolls, these biscuits are best served straight out of the oven. Nothing beats gooey icing on top of hot, doughy rolls. But, if you find yourself with a few extras, I suggest storing them in an airtight container; they will keep at room temperature for 2-3 days.
Alternatively, you can tightly wrap them in plastic wrap or foil and refrigerate for 7 days or freeze for up to 4 months. If freezing, place the wrapped biscuits in a freezer bag and thaw overnight in the fridge before reheating.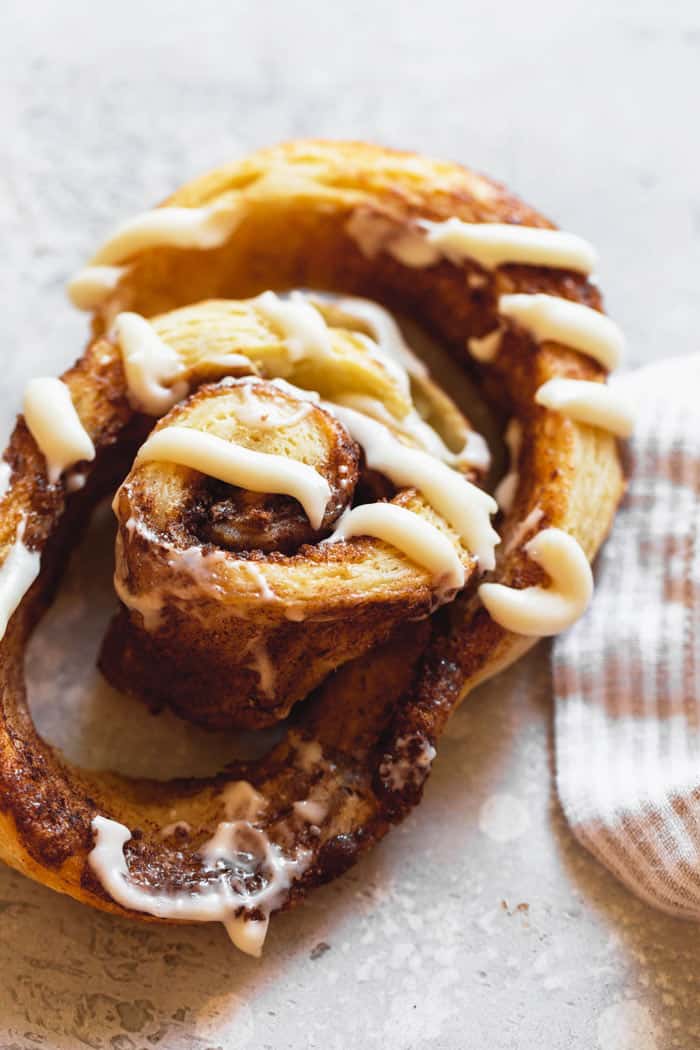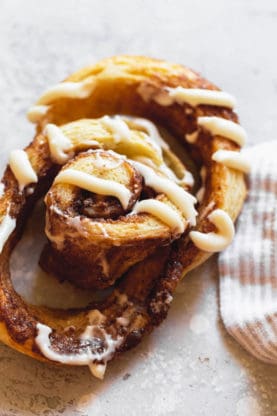 GRANDBABY CAKES SINFULLY CINNAMON-EY RECIPES
Aside from salt and pepper, cinnamon is the most used spice in my pantry. Seriously, there's no recipe I can't sneak a dash or two into.
If you're a fan of nutty, earthy and warm spice, it's time for you to up your cinnamon game. Try out a few of Grandbaby Cakes' BEST cinnamon-filled recipes: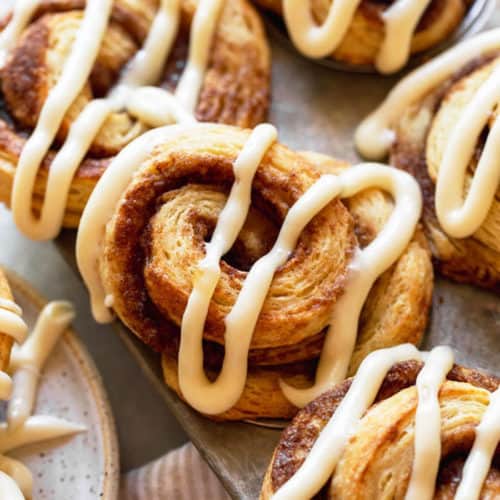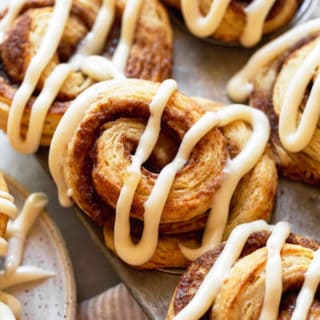 Cinnamon Roll Biscuits
These perfect Cinnamon Roll Biscuits combine flaky, buttery biscuit dough with a spiced cinnamon butter and an irresistible honey butter cream cheese glaze.
Print
Pin
Rate
Ingredients
For the Laminated Dough
3 3/4

cup

all-purpose flour

1/4

cup

cornstarch

2

tbsp

granulated sugar

3

tsp

baking powder

1

tsp

salt

1 1/2

cup

Land O Lakes® Unsalted Butter

Cold and separated

1 1/2

cup

whole milk

cold
For the Butter and Cinnamon Sugar Filling
1/2

cup

packed light brown sugar

1

tbsp

ground cinnamon

1/2

cup

Land O Lakes® Butter with Canola Oil
For the Honey Butter Cream Cheese Frosting
4

oz

cream cheese

room temperature (1/2 brick)

4

tbsp

Land O Lakes® Unsalted Butter

room temperature (1/2 stick)

1 1/2

cup

confectioner's sugar

3

tbsp

honey

1

tsp

vanilla extract
Instructions
For the Laminated Biscuit Dough
Sift the all-purpose flour, cornstarch, sugar, baking powder and salt together into a large mixing bowl. Make a well in the center of the dry mix.

Shred 1 cup of unsalted butter (2 sticks) into the well you created in the dry ingredients. Use your hands to toss the flour and shredded butter together.

Pour the cold milk into the butter-flour mixture and knead just until a thick dough forms.

Turn the dough out onto a floured surface and fold the dough over itself four times to develop a stiff dough.

Use a rolling pin to roll the dough out into a rectangle that's approximately 12" long by 8" wide. Shred the remaining ½ cup of butter (1 stick) onto 2/3rds of the rectangle's surface.

To encase the butter in the dough, first fold the unbuttered third of dough over the centered third- as if you're folding a letter- then, fold the exposed third over the middle fold. You should have a rectangle with no buttered parts exposed.

Roll the dough out into a rectangle the same size as before. Fold the two short ends towards the center, then fold the dough over- as if you're closing a book. Wrap the rectangle of dough in plastic wrap and chill the dough in the refrigerator for 60 minutes.

Remove the dough from the plastic wrap and re-roll to a rectangle, once more. Fold the dough in four parts as before. Re-cover the dough and chill for 40-60 minutes. This step may be done a day ahead.
For the Cinnamon Filling
In a small mixing bowl, stir together the light brown sugar and cinnamon until well combined.

This mixture may be prepared days ahead and stored in an airtight container.
To Assemble the Biscuits
Preheat your oven to 350°F. Grease a muffin tin with baking spray.

Roll the dough out into a 14" x 18" rectangle.

Spread the Land O Lakes® Butter with Canola Oil evenly over the surface of the dough then sprinkle cinnamon-sugar on top leaving a 1" margin on one short end to allow for sealing the dough after rolling.

Begin rolling the dough at the buttered edge. Roll the dough tightly- to prevent unrolling during baking- towards the unbuttered margin. Pinch the dough at the seam once you've rolled the dough completely. Roll the dough so the seam is on the bottom of the log.

Use a sharp knife to cut the roll of dough into 12 slices of equal size.

Press the circles of dough into the greased muffin cups. Pressing down lightly on the inner part will help them form a swirl when they're baked.

Bake the rolls for 30 minutes, or until they are golden brown and puffed up from the muffin cups.

Remove the pan from the oven and allow the biscuits to cool in the pan for 10 minutes. Remove the biscuits from the pan and allow them to cool completely on a cooling rack while you make the frosting.
For the Honey Butter Cream Cheese Frosting
While the biscuits are cooling, use an electric hand mixer to blend the cream cheese, unsalted butter, confectioner's sugar, honey and vanilla extract together on low speed until smooth.

Scrape down the bowl and beater and increase the mixer's speed to medium to whip until light and fluffy. Note: The frosting may be made 3 days in advance.

Spread or pipe a thin drizzle over the baked and slightly cooled cinnamon roll biscuits.
Video
Notes
Storage: The biscuits may be stored at room temperature for 2 days. Reheat in the microwave for 15 seconds, or in a 200°F oven for 5 minutes.
Nutrition
Calories:
628
kcal
|
Carbohydrates:
65
g
|
Protein:
6
g
|
Fat:
39
g
|
Saturated Fat:
24
g
|
Polyunsaturated Fat:
2
g
|
Monounsaturated Fat:
10
g
|
Trans Fat:
1
g
|
Cholesterol:
105
mg
|
Sodium:
410
mg
|
Potassium:
129
mg
|
Fiber:
1
g
|
Sugar:
32
g
|
Vitamin A:
1240
IU
|
Vitamin C:
0.1
mg
|
Calcium:
136
mg
|
Iron:
2
mg