A favorite dish lightened up. This Light Shrimp Curry with Spinach served over Cauliflower Rice is full of flavor and comfort (also paleo) without the fat. If you love this, definitely try my Keto Shrimp and Grits and Light Shrimp Scampi over Spaghetti Squash.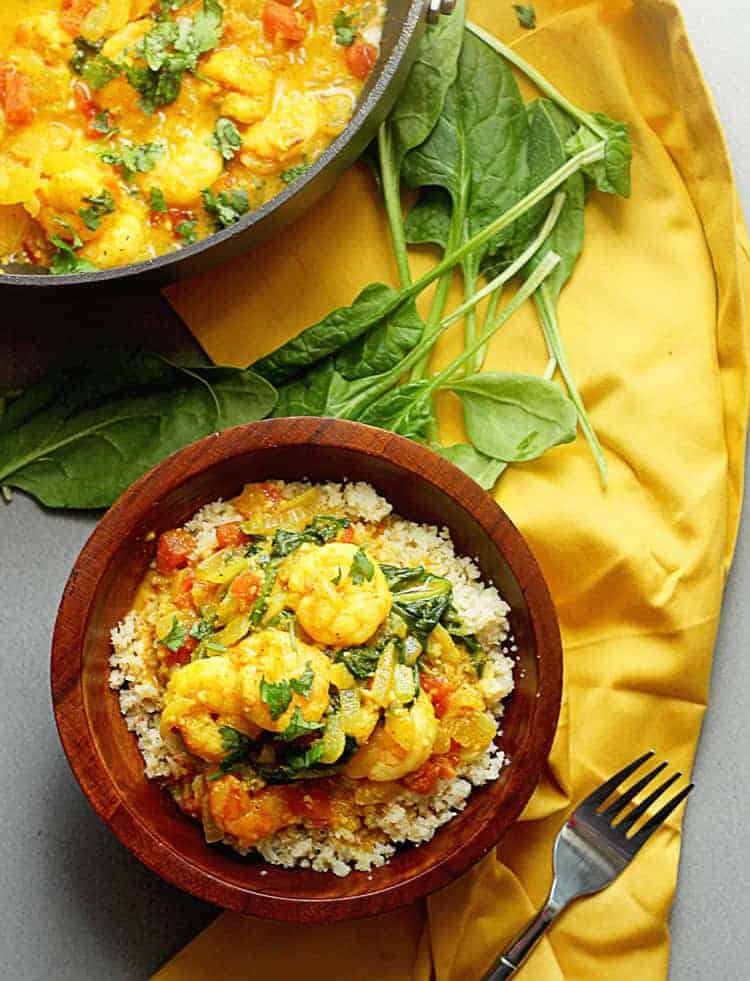 Happy New Year! WE made it! Before the horses set off to race, I'm taking a minute to reevaluate my practices. I'm asking the important questions, the ones that help to shape the year ahead. What goals am I setting for myself? How can I introduce more self-care into my routine? Are there unhealthy habits I'm looking to shed?
The answer to that last one is "yes". I enjoy nutrient-dense food, I exercise, and I do my best to set a healthy example for my daughter. But if I'm being honest with myself, there is definitely a balance in my diet that I'm not striking. I want to enjoy the cake and indulge in the ice cream, but I also want to make more nutritious choices as well.
After about a month of indulgence (let's be honest, its been going since Thanksgiving), I feel a bit weighed down. So I've decided to make a few changes, starting with today's recipe. Light, flavorful, and easy-to make, this Spinach Shrimp Curry is the perfect way to refresh and restart.
As a whole, you can look forward to seeing a few more "waist-friendly" recipes from me this year. But don't worry, while there will be oven fried "this", you can be sure there will be some deep frying "that" on here too. Everything in moderation right?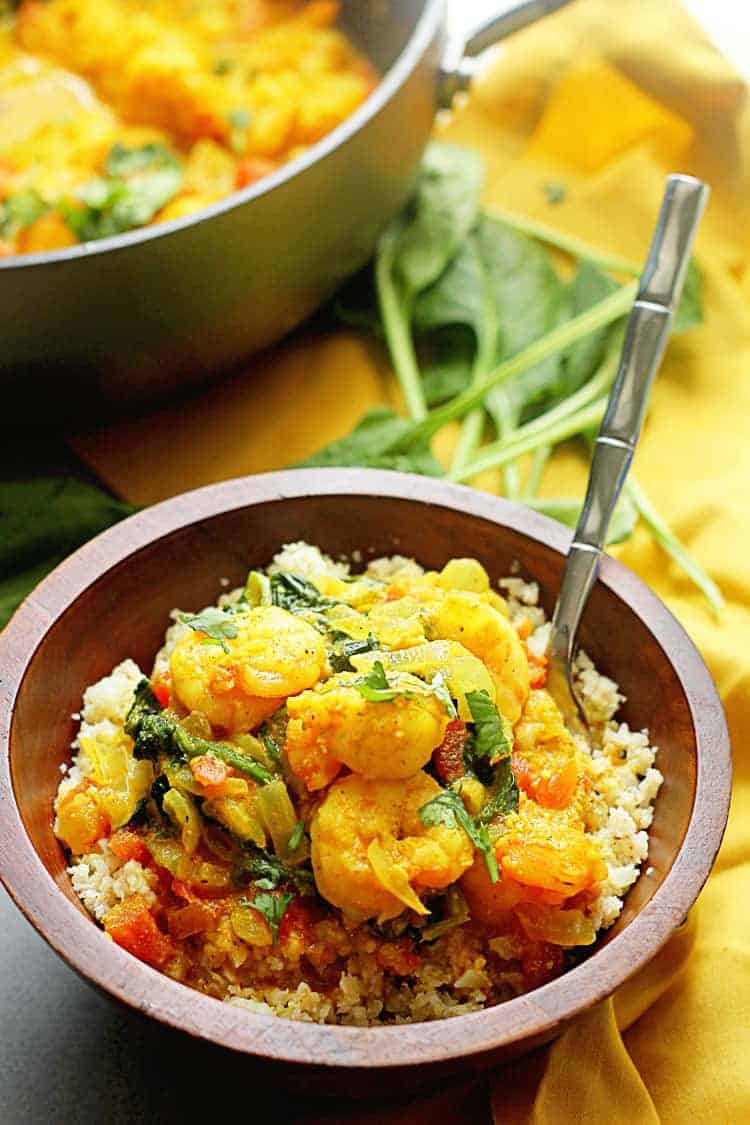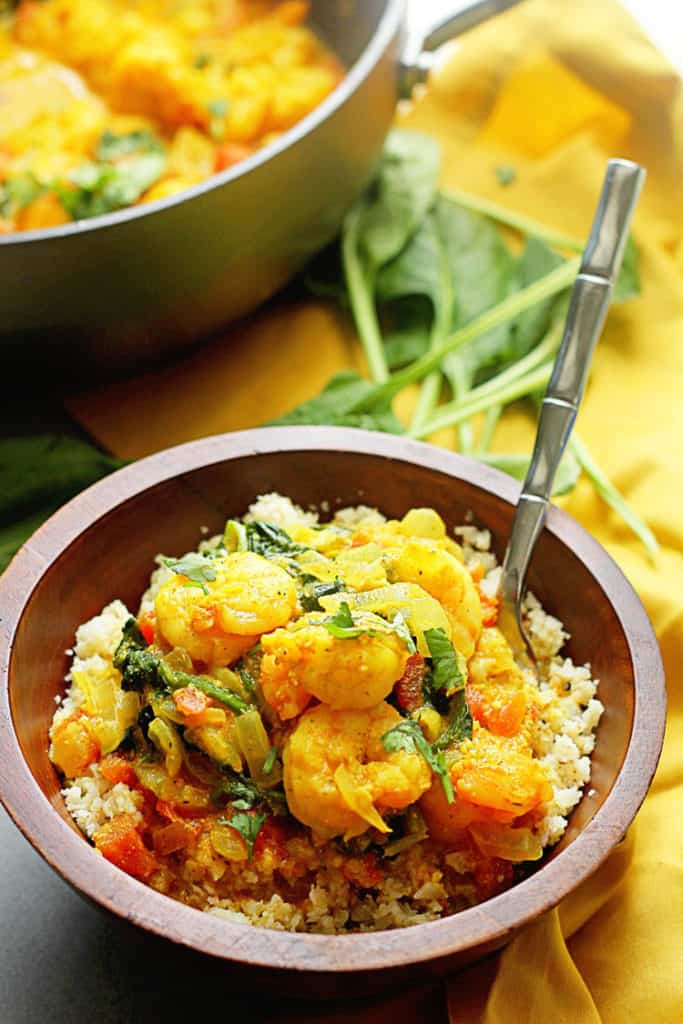 HOW TO MAKE SHRIMP CURRY
I'll be honest, I'm not a salad girl. When it comes to healthy-eating, I don't care to sacrifice warmth and flavor for nutrition. I mean, why have a dry, cold salad when you can have a hot bowl of rich, aromatic curry?
I'm a huge fan of ordering takeout Thai or Indian curry but they're not always the healthiest option. Full of saturated fats, sodium, and sugar, takeout curry serves as more of a "treat" than a nutritious meal.
So, today I decided to make my own version of a takeout favorite! This Spinach Shrimp Curry on Cauliflower Rice is decadent yet nourishing. Did I mention how simple it is to make?
Here's what we'll need to get started:
Olive Oil is today's cooking oil of choice; its got a light flavor and offers up some great healthy fats. Coconut, avocado and grape seed oil can also be used here.
Onion & Garlic are both pungent aromatics that layer in warm, earthy flavor.
Spinach is best enjoyed when cooked in a delicious bath of warm curry, am I right? I chose to use fresh spinach but the frozen variety will work too. If using frozen spinach, be sure to properly defrost it and dispose of excess moisture.
Shrimp is super light and has an incredible knack for taking on flavor. Low in calories and high in protein, shrimp is a healthy-eating superstar. Alternate proteins can also be used here: chicken, tofu, beef, etc.
Light Coconut Milk contains less fat and sugar than its full-fat counterpart. If you prefer, full-fat can also be used here, just know it will make for a thicker result.
Fish Sauce is earthy, briny, and slightly-sweet. Just a dash or two adds an "umami" quality to this curry. Don't have any on hand? Soy sauce, Tamari, or Oyster Sauce also work here.
Curry Powder comes in many different variations, most of them reflective of the culture their bred from. Indian, Thai, and Japanese curry powders all contain a unique array of spices. For this recipe, I used a Thai curry powder found at my local grocery store. Feel free to experiment, or use your go-to powder.
Turmeric works as a natural anti-inflammatory; its bold peppery flavor and color are just as remarkable.
Ground Ginger is a powerful source of antioxidants that also aids in digestion! The zippy, earthy flavor is an incredible bonus. If you'd like to go the extra mile (or you just have it on hand), I recommend using a teaspoon of fresh grated ginger for a brighter flavor profile.
Diced Tomatoes help to "beef up" the curry by adding bursts of sweet, tart juice. I love using fire-roasted diced tomatoes for an extra bit of flavor.
Cauliflower is chock-full of nutritious value; it's high in fiber, antioxidants, and Vitamin C. Using cauliflower to make "rice" is an easy way to not only introduce more vegetables into your diet, but also cut back on complex carbohydrates.
Cilantro introduces a fresh, almost citrusy taste to this recipe. Both the flavor and color of cilantro also add a delightful brightness.
Salt & Pepper is a must in any recipe! As always, I highly recommend using kosher salt and freshly cracked pepper.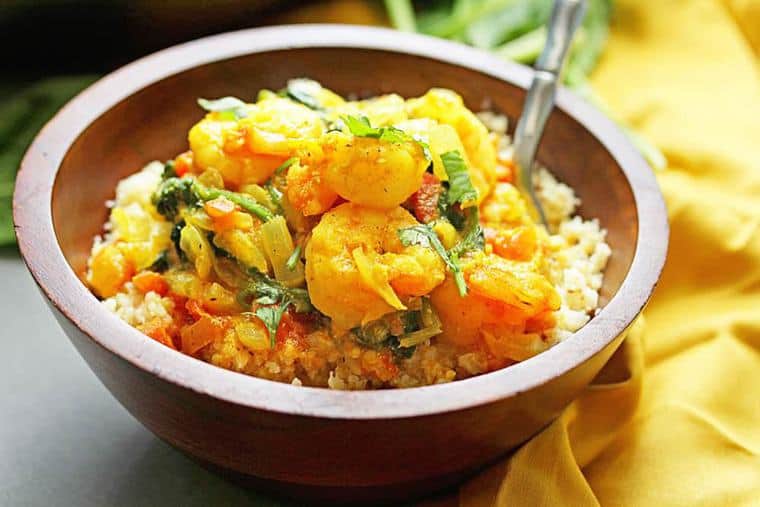 STORING & REHEATING LEFTOVERS
Simple and easy-to-make, this recipe is one of my go-to meal prep options. I love doubling the recipe, storing individual portions into airtight containers, and tucking them away in the fridge for quick weekday lunches or dinners.
Once cooked, shrimp should be refrigerated within two hours. I recommend storing the leftover curry separately from the cauliflower rice; they reheat differently. If properly stored, both the curry and the cauliflower rice will keep for up to 4 days.
I suggest reheating the curry in a small saucepan over medium heat, making sure to stir occasionally. I know it's tempting to use the microwave but, in this case, I'd warn against it. Microwaves use radiation, not conduction. So, basically, the shrimp will cook from the inside out, resulting in an unpleasant rubbery texture.
To reheat the cauliflower rice, either pop it in the microwave for 2-3 minutes or reheat it in a small non-stick pan for a few minutes. Add a teaspoon or two of water if you feel the rice has dried out at all.
GRANDBABY CAKES' BEST HEALTH-CONSCIOUS RECIPES
If I could eat fried chicken and cake everyday, I would. But, balance is key! So, I keep a few nutritious and delicious recipes under my belt for the days when I want to feel a lighter on my feet.
Check 'em out: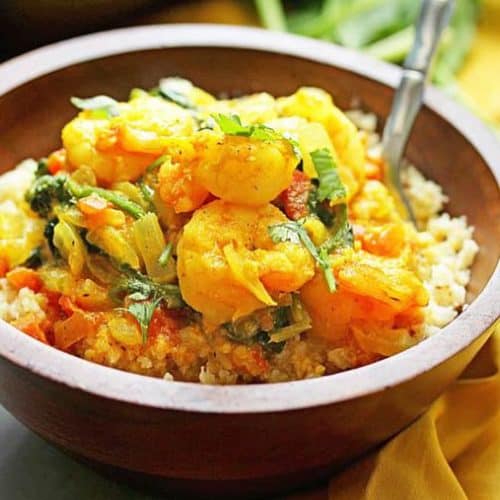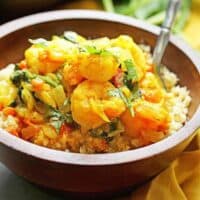 Light Shrimp Curry with Spinach over Cauliflower Rice
A favorite dish lightened up. This Light Shrimp Curry with Spinach served over Cauliflower Rice is full of flavor and comfort (also paleo) without the fat.
Print
Pin
Rate
Ingredients
2

tablespoons

olive oil

separated

1/2

onion

finely diced

2

teaspoons

minced garlic

1

cup

fresh spinach

1

lb

shrimp

peeled and deveined

Salt and pepper to taste

6

oz

light coconut milk

1

teaspoon

fish sauce

1

tablespoon

curry powder

1

teaspoon

tumeric

1/4

teaspoon

ground ginger

14.5

oz

can diced tomatoes, drained

2

cups

cauliflower

diced into smaller pieces

¼

cup

fresh cilantro

chopped
Instructions
Add 1 tablespoon of olive oil to a medium sized pan over medium high heat.

Next add onion and saute' for 2 minutes until tender.

Add minced garlic and cook for only 30 seconds.

Add spinach and shrimp and season with salt and pepper to taste. Cook shrimp until pink.

Pour in light coconut milk and fish sauce.

Whisk in curry powder, tumeric and ground ginger.

Next add tomatoes and turn heat down to medium low and saute.

Simmer over heat for 15-20 minutes or until sauce has thickened and flavors have come together.

While sauce simmers, add cauliflower to food processor and pulse until cauliflower breaks into tiny pieces that resemble rice.

Remove "rice" from food processor and add to a microwave safe bowl.

Toss rice with olive oil and heat in microwave for 4-6 minutes until completely tender and steamed through.

Once curry sauce is thickened turn off. Serve shrimp curry over cauliflower rice and garnish with cilantro. Enjoy.
Nutrition
Calories:
172
kcal
|
Carbohydrates:
7
g
|
Protein:
17
g
|
Fat:
7
g
|
Saturated Fat:
2
g
|
Cholesterol:
190
mg
|
Sodium:
803
mg
|
Potassium:
361
mg
|
Fiber:
2
g
|
Sugar:
2
g
|
Vitamin A:
605
IU
|
Vitamin C:
29.2
mg
|
Calcium:
152
mg
|
Iron:
3
mg