This Insanely Addictive Jerk Shrimp Tacos have a sweet and spicy jerk marinade infuses this recipe with so much flavor!! If you love Jerk Flavor check out my Jerk Seasoning, this Jerk Salmon with Fruit Salsa, this Jerk Salmon Tacos, this incredible Authentic Jerk Chicken recipe and my Mango Jerk Wings!!! Serve with Fried Plantains, Brown Stew Chicken and Jamaican Rice and Peas for an authentic dinner!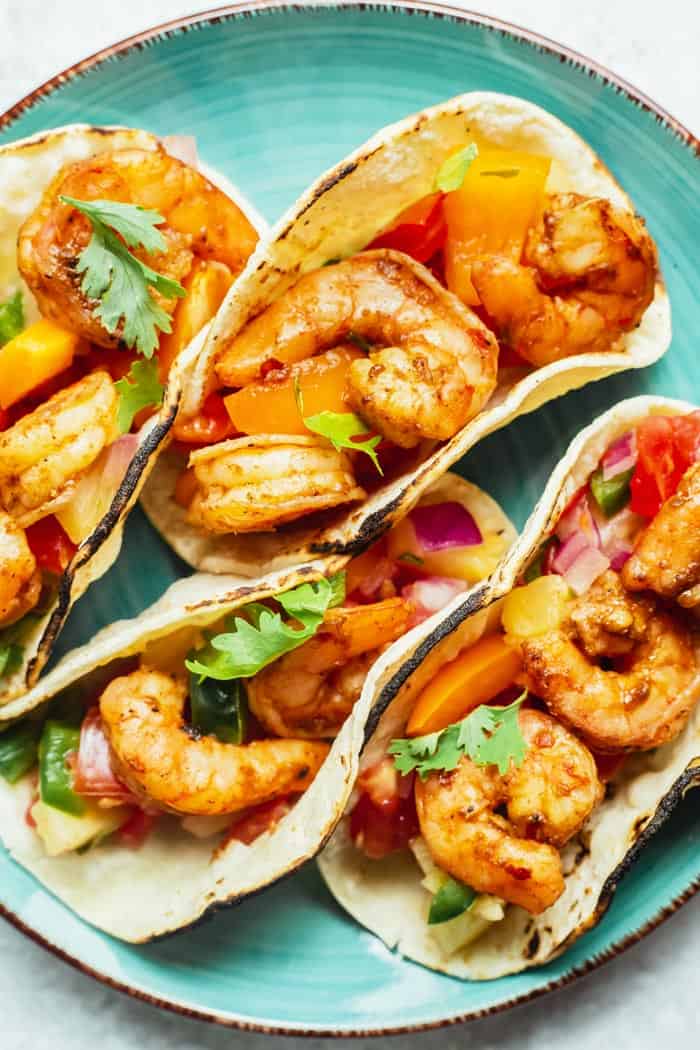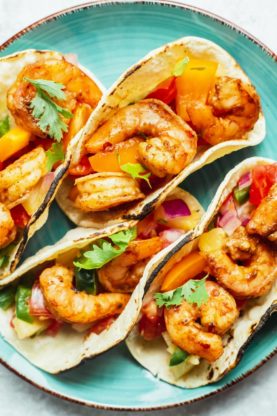 This time last year, I was sipping Rum Punches on a beach lounger while my baby girl played in the sand. I can still feel the warm wind on my face and hear the waves crashing. Glorious. Though I may not be on vacation, I'm enjoying exploring my newest surroundings in Dallas!
As most of you know, I made a big move recently and boy, has it been a wild ride. I'm loving Texas' hot days and open, lush spaces. Maybe I spent too much time in Chicago but dang, the air sure feels fresher around here.
The best part about it all? The food! Texas comfort food is like none other: Frito Pies, BBQ and best of all, Tacos. Simple, versatile and delicious, tacos the ultimate meal. So, today I'm combing my love for sandy beaches and Texan fare by whipping up the BEST Jerk Shrimp Tacos!
The perfect combination of heat and sweet, these Jerk Tacos are absolute perfection. What do you say we take a trip together tonight?
HOW TO MAKE JERK SHRIMP TACOS
Come Spring and Summertime, these Jerk Shrimp Tacos are a staple weeknight dinner. With a few simple ingredients and about 30 minutes, you've got a family-friendly, flavor-packed meal that's sure to please!
Jamaican Jerk Seasoning
Jerk Seasoning is a specific blend of Carribean-inspired spices and dried herbs. The mixture is sweet, smoky, earthy and spicy.
If you don't have a pre-made large batch of this blend on hand, I'd suggest you change that. Try out this signature Jerk Seasoning Recipe!
Seasoned Salt
An expert blend of salt, herbs and spices, it is an incredible way to add unique flavor to any meal! I find that just one added teaspoon beautifully enhances the flavor of my jerk.
Deveined Shrimp
Perfectly cooked shrimp should be tender and juicy, not rubbery or dry. Depending on what kind of shrimp used, the flavor will be mild, earthy and even, slightly sweet.
Be sure to use a deveined, peeled and tail-off shrimp for this recipe. Either a fresh or frozen variety will work!
TIP: Don't stop at tacos! Turn these juicy, flavorful shrimp into tropical skewers or a sweet, spicy, protein-rich salad. Trying to please the kiddos? Try out a jerk shrimp quesadilla served with a healthy, refreshing guacamole.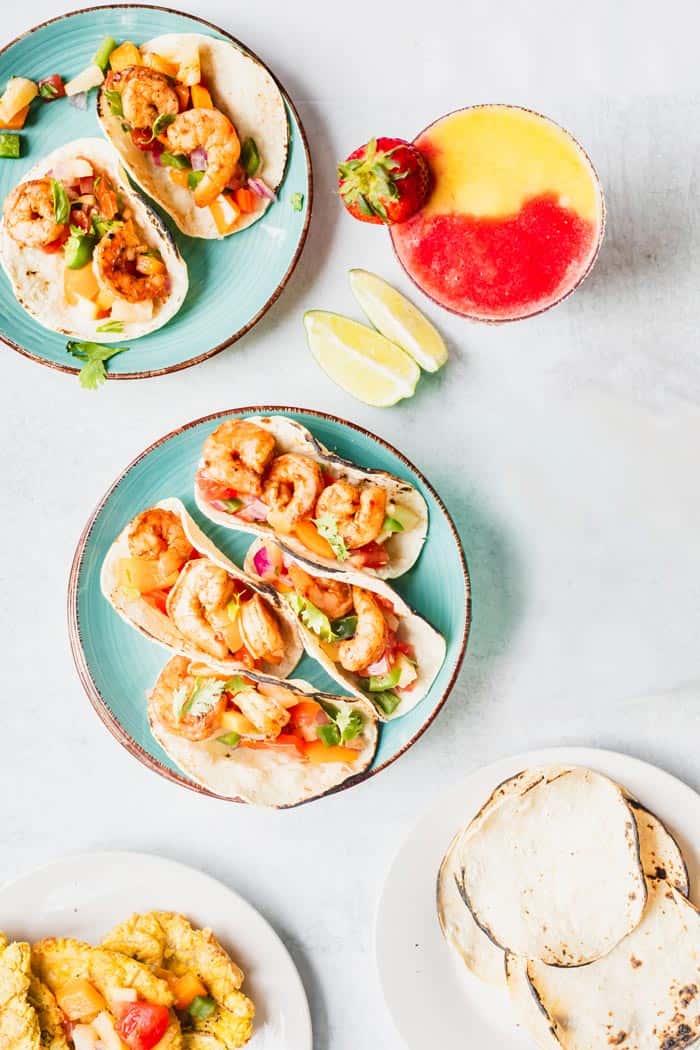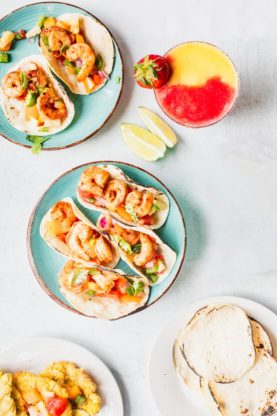 TOPPING OPTIONS
A taco is only as good as its toppings! Whether kept simple or piled high, a few simple topping options can take a taco from being drab to fab. I love creating a build-your-own jerk shrimp tacos station for family dinners; they're fun, creative and super tasty!
Here are a few of my top topping choices:
Pico de Gallo
Shredded Cabbage or Lettuce
Cilantro & Lime
Sour Cream or Chipotle Crema
Avocado Slices
Mango or Pineapple Salsa
Queso Fresco
Black Beans
Jalapenos
STORING AND REHEATING SHRIMP
To avoid any issues with food safety, it's best to refrigerate cooked shrimp within two hours of cooking. If stored in an airtight container and kept in the refrigerator, cooked shrimp will last for 3-4 days. To further extend its shelf life, freeze it in heavy-duty freezer bags for 2-3 months.
Before reheating shrimp, make sure that it isn't rancid. Spoiled shrimp will often develop a slimy texture and an off-putting smell; toss immediately if either of these present themselves.
I prefer to reheat leftover shrimp in a non-stick skillet or cast-iron pan. Place the pan over a medium-heat, lightly coat with cooking oil and allow it to heat up. Spread out the shrimp on the pan and stir occasionally for about 2-3 minutes.
Don't attempt to reheat cooked shrimp more than once! It won't taste great and the texture will be pretty rubbery. Instead, reheat the shrimp based on your desired portion size.
GRANDBABY CAKES' BEST JERK RECIPES
In need of a vacation? Bring the Carribean to your own home by whipping up a jammin' Jamaican jerk recipe! Try out one my absolute beach-inspired favorites below: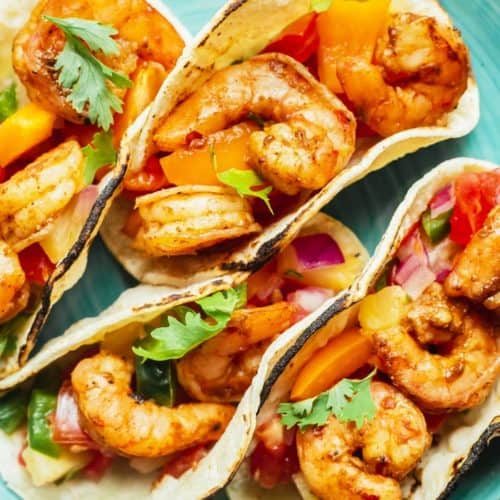 Jerk Shrimp Tacos
This Insanely Addictive Jerk Shrimp Tacos have a sweet and spicy jerk marinade infuses this recipe with so much flavor!
Print
Pin
Rate
Ingredients
1

tablespoon

olive oil

½

medium

onion

chopped

¼

cup

fresh lime juice

¼

cup

fresh orange juice

2

tablespoons

dark brown sugar

packed

1

tablespoon

honey

2

teaspoons

garlic powder

1

teaspoon

allspice

1

teaspoon

ginger

1

teaspoon

ground cinnamon

1

teaspoon

seasoned salt

plus more for seasoning (I used Lawry's)

½

teaspoon

paprika

¼

teaspoon

cayenne

¼

teaspoon

ground nutmeg

¼

teaspoon

ground cloves

1

pound

deveined shrimp

Optional: Corn tortillas, pico de gallo, cilantro, limes and red cabbage for serving.
Instructions
To make marinade, add olive oil to medium sized pan over medium heat. Saute onion until tender.

Next add cooked onion, lime juice, orange juice, brown sugar, honey and all spices including 1 teaspoon of Lawry's to a blender or food processor and grind until smooth.

Pour marinade into a large plastic bag and add deveined shrimp completely submerging in the marinade. Seal and refrigerate for 20-30 minutes (no more than 30).

Remove shrimp from marinade and add 4 to each skewer and grill about 2-3 minutes on each side. Shrimp cook very quickly so watch and turn as soon as they begin to turn pink then remove once done.

Remove shrimp from skewers and add to tortillas. Serve with pico de gallo, cilantro, limes, and shredded red cabbage or other favorite taco favorites.
Notes
Make sure you don't overcook your shrimp or they will end up rubbery in flavor and taste.
Nutrition
Calories:
139
kcal
|
Carbohydrates:
11
g
|
Protein:
15
g
|
Fat:
3
g
|
Cholesterol:
190
mg
|
Sodium:
978
mg
|
Potassium:
118
mg
|
Sugar:
8
g
|
Vitamin A:
135
IU
|
Vitamin C:
12
mg
|
Calcium:
121
mg
|
Iron:
1.7
mg