Dessert for breakfast is a dream come true thanks to this Peach Oatmeal that tastes like peach cobbler! Full essential vitamins, fiber and protein, this recipe is a healthy, delicious way to mix up your morning routine.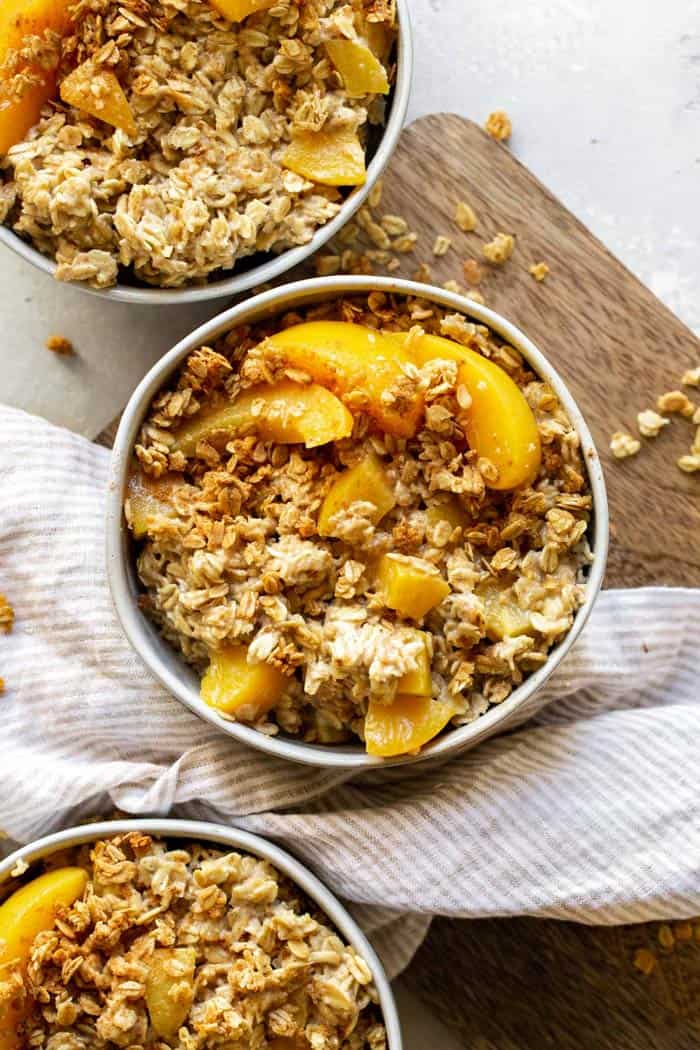 Dessert for breakfast is a dream come true thanks to this Peach Oatmeal that tastes like peach cobbler! Full essential vitamins, fiber and protein, this recipe is a healthy, delicious way to mix up your morning routine.
I've got a major sweet tooth! I'm talking cake for breakfast, mocha in my afternoon coffee and cookies for dinner kind of sweet tooth. Unfortunately, a sugar dominant diet is not the healthiest of lifestyles. So, I do my best to insert pops of sweetness into my life wherever possible.
Though I may not be able to start my mornings with a warm, comforting Peach Cobbler served a la mode, I've got the next best thing. Peach Oatmeal is a healthy, delicious alternative of my own making. Full of fiber and antioxidants, this recipe is the perfect way to inject a little extra flavor into your daily routine.
In just a few minutes you can make a sinfully sweet breakfast that no one, including you, will believe is nutritious! It seriously tastes just like a Peach Crisp!
The Heart and Soul of the Best Peach Oatmeal Recipe
Cuisine Inspiration: Southern Comfort with a Healthy Twist
Primary Cooking Method: Simmer & Stir
Dietary Info: Vegetarian, Gluten-Free (with GF oats), Dairy-Free Options Available
Key Flavor: Sweet 'n' Juicy Peach Goodness
Skill Level: Easy Peasy Peachy
Sweet Highlights:
Naturally Nutritious: Packed with the wholesome goodness of oats and the natural sweetness of peaches, this breakfast is a nutrient powerhouse to kickstart your day.
Flexibility is Key: Whether you're a vegan, lactose intolerant, or keeping gluten at bay, this recipe's gotchu! Just tweak with plant-based milk or certified gluten-free oats.
Quick and Satisfying: In a morning rush? No problem! This peach oatmeal comes together in a jiffy but keeps you full, so you're energized and ready to tackle the day.
Peachy for All Seasons: Fresh peaches, frozen, or canned — take your pick! This recipe is a year-round delight, giving you summer vibes even when it's snowing outside.
Kid-Approved: Got tiny tots at home? This sweet, peachy oatmeal is a surefire way to make breakfast a hit. Plus, they'll get a good dose of fiber and vitamins!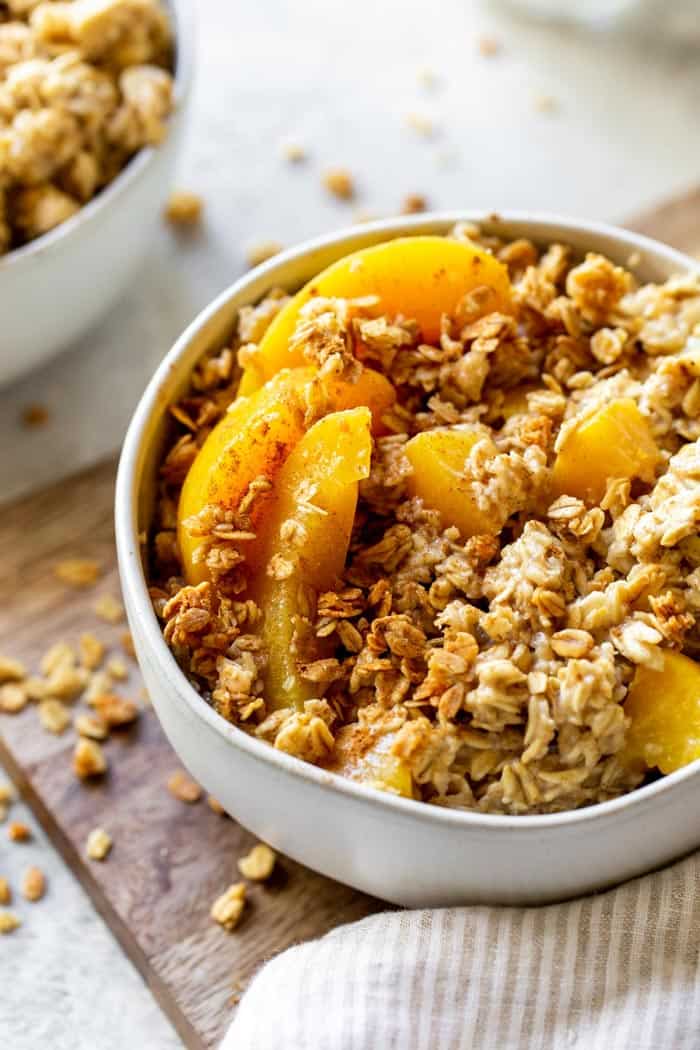 Ingredients
Oatmeal is at the top of the list when it comes to go-to breakfasts. In under 10 minutes I can throw together a filling, healthy meal that everyone in my family will enjoy. By creating new, exciting varieties I can keep things fresh and avoid getting tired of that same 'ole stuff.
Here's what makes this recipe so dang good:
Old-Fashioned Oats
Old-Fashioned oats are oat groats that have gone through a steaming and flattening process. Because they have already been partially cooked, they have a milder flavor and a softer texture. This variety of oats is full of fiber while sporting a very short cooking time.
Milk
During the cooking process, the oats will soak up the milk and make a creamy, smooth oatmeal. The added protein is also essential to a well-rounded, healthy breakfast.
I encourage you to use any milk you've got on hand or whatever suits your dietary needs. Just keep in mind that your choice in milk will affect both flavor and texture. Try out a few options and find what you like best!
Sweetener (Brown Sugar, Maple Syrup, Honey etc.)
The key to any peach-based dessert is adding in a sweetner that best compliments the flavor of a peach. You want to achieve that caramelized sweetness specific to cobbler desserts. I find that the sweetners listed above all do the trick!
If you're trying to keep this recipe on the healthier side, I'd recommend using a natural sweetener. Maple Syrup and Honey are both great options.
Peach Slices
Peach Slices are always fresh and full of sunshine! Peaches are full of Vitamin-C and naturally gluten-free. I used Dole if fresh peaches aren't in season. I love keeping these packs on hand for recipes like these. I don't have to worry about the fresh variety going bad or dealing with BPA, GMO ridden fruit.
How to Make Peach Oatmeal
Mix It Up: Start with a medium bowl and get friendly with your oats and milk. Give 'em a good stir. Friendship is about blending, y'all!
Zap It: Pop that bowl into the microwave and cook for about 1.5 minutes, or until those oats are as soft as a Southern evening. Here's a tip straight from grandma's kitchen: if you're all about cooking those oats longer, remember they're thirsty! Add 1/4 cup more milk as needed, up to 2 cups, to keep things smooth and creamy.
Spice It Right: Now, it's time for that sweet magic! Add your sugar or honey, cinnamon, nutmeg, and a dash of vanilla. Stir it up nice and cozy-like. This ain't just food, it's love in a bowl.
Peachy Keen: Fold in those juicy peaches. Whether they're fresh from the tree or straight from the can, they're the star of this show.
Bowl and Garnish: Split that deliciousness into two bowls. Get fancy with it – garnish with some extra peach slices, a drizzle of maple syrup, and a sprinkle of granola for that delightful crunch.
Serve and Savor: There's nothing left to do but dive in! Enjoy every spoonful – you've just brought a little sunshine to your table, no matter what the weather's doing outside!
Overnight Oats
Always in a rush? No time to stop and make breakfast? This recipe doubles as an overnight oats option! Mix together all the ingredients until well-combined then, pour out into two air-tight travel containers (like mason jars). Leave your mixture in the fridge overnight and just grab and go the next morning!
The result is a creamy, spoonable porridge-like concoction. I love keeping a couple of these in the fridge for quick breakfasts or a midday snack!
Best Peach Recipes
If you loved this recipe, you'll love a few more of my favorite peach-packed treats! Try 'em out!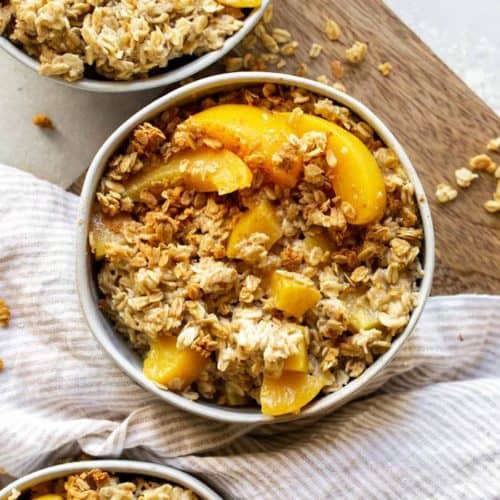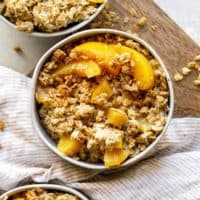 Peach Oatmeal
Dessert for breakfast is a dream come true thanks to this Peach Oatmeal that tastes like peach cobbler! Full essential vitamins, fiber and protein, this recipe is a healthy, delicious way to mix up your morning routine.
Print
Pin
Rate
Ingredients
2

cups

old fashioned oats

1 1/2- 2

cups

milk

1

tbsp

brown sugar

you can add more based on your taste preferences

3/4

tsp

vanilla extract

1/2

tsp

ground cinnamon

1/4

tsp

ground nutmeg

1/2

cup

Peach slices

I used canned since they were soft

1/4

cup

Granola for garnish
Instructions
In a medium bowl, stir together oats and milk.

Microwave for about an 1 minute and a half or until the oats are soft. If you want to cook the oats longer, you'll need to add 1/4 cup more milk at a time to your liking. The longer the oats cook, the more milk it will need (up to 2 cups).

Next add the sugar or honey, cinnamon, nutmeg and vanilla. Stir together then fold in peaches

Add the oatmeal to 2 bowls then garnish with peach slices, drizzle with a little maple syrup and top with granola and serve and Enjoy! See below for Overnight oats method.
Notes
Overnight Oats Method
Divide oats into 2 mason jars. Add 1 cup of milk to each mason jar. Then add each of the spices and sweetener. You can add the peaches now or wait until the morning.
Wait to add granola right before you get ready to eat it. Give the oats a splash of milk in the morning, if needed. Enjoy!
You can use any sweetener you prefer.  Feel free to replace brown sugar with maple syrup or honey.
Nutrition
Calories:
332
kcal
|
Carbohydrates:
54
g
|
Protein:
11
g
|
Fat:
8
g
|
Saturated Fat:
2
g
|
Cholesterol:
8
mg
|
Sodium:
43
mg
|
Potassium:
391
mg
|
Fiber:
7
g
|
Sugar:
13
g
|
Vitamin A:
215
IU
|
Vitamin C:
2
mg
|
Calcium:
133
mg
|
Iron:
3
mg