Got extra peaches? Make this! This Southern Peach Pound Cake recipe begins with a silky cake batter that's swirled with a sweet homemade peach jam and spiced cinnamon streusel, baked to perfection then topped with a decadent maple glaze. If you love this cake, you will also love this Caramel Peach Dump Cake and Peach Upside Down Cake!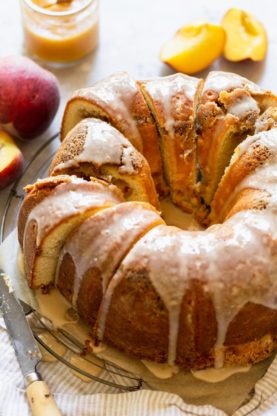 Each year, in the hot and sunny state of Georgia, the month of August brings a statewide celebration. You see, Georgia is well-known for being "The Peach State" and August is National Peach Month. Local restaurants, bars and shops commemorate the occasion by creating specialty cocktails, cobblers and souvenirs. But the real peach enthusiasts? Well, they work a little harder.
Peach County residents host an annual Peach Festival where pageants, parades and parties are all dedicated to the beautiful stone fruit. On the first Saturday morning of the festival, a man by the name of Rich Bennett and his volunteers come together to make "The World's Largest Peach Cobbler". With 75 gallons of fresh Georgia Peaches, 150 pounds of self-rising flour, 150 pounds of sugar, 32 gallons of milk and 90 pounds of butter, this cobbler is a colossal undertaking. The result? A phenomenal success.
I'm one of those Southern peach enthusiasts. I adore peaches; their crisp skin, juicy flesh and sweet, floral taste are like nothing else. From cobblers to crumbles, there simply isn't anything a peach can't make better. So, today we're celebrating all things peach by whipping up the peachiest pound cake you've ever had!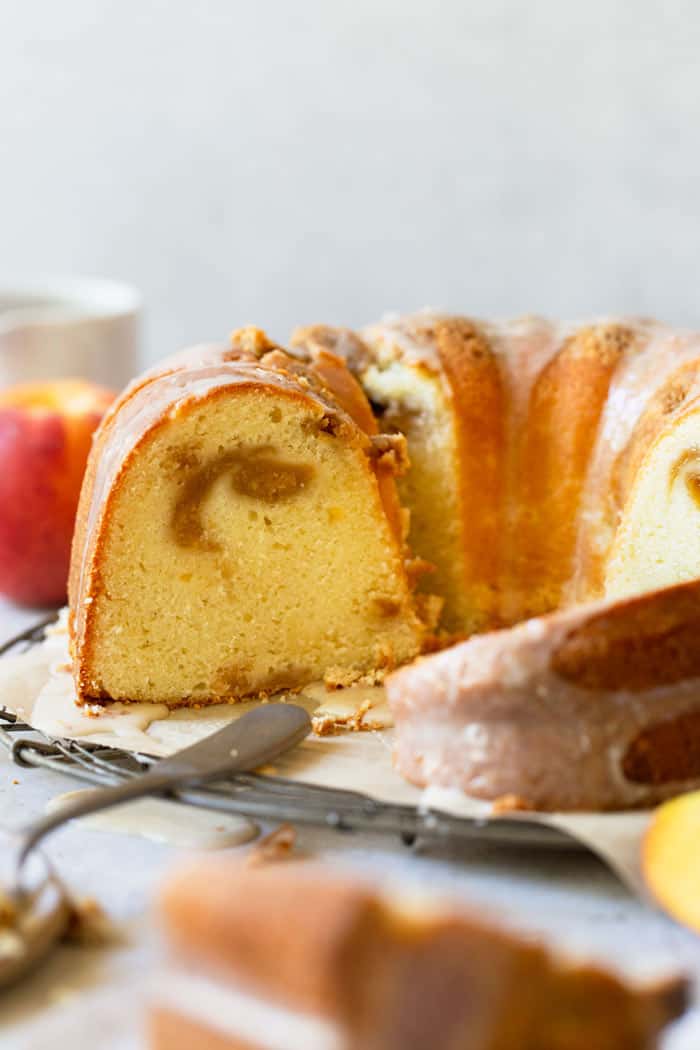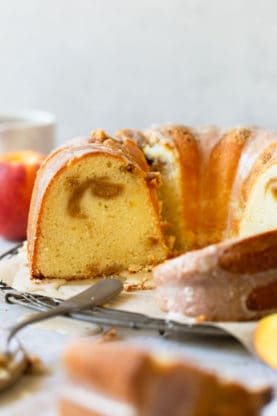 HOW TO MAKE PEACH POUND CAKE
It's a long ingredient list, I know. But don't be deterred! Most of the ingredients featured in this recipe are pantry staple items. With a little pantry digging and a quick refrigerator raid, you're in for the dessert of a lifetime!
Keep an eye out for these key items:
Peaches
When in season, peaches are filled with a sticky-sweet juice that sings with each bite. Be sure to buy peaches with orangey-pink skin tones and a slight give when pressed into. Stone fruit should be aromatic without even having been sliced yet.
Light Brown Sugar
Sugar aids in macerating the fruit and creating a natural syrup. Our caramel-like syrup will turn into a flavorful jam.
Lemon Juice
Citrus also draws out juice from the fruit and brightens up our syrup.
Nutmeg & Cinnamon
Both are warm, woodsy spices that add depth and comforting flavor notes.
Cake Flour
Cake flour is finely milled and very delicate. When used in cakes, it results in a super tender texture with a fine crumb and an incredible rise.
Large Eggs
Eggs serve as both a binder and a leavener. When beaten, eggs lighten a cake by incorporating air. Be sure to use room temperature eggs so they don't stiffen when beaten.
Unsalted Butter
What's a pound cake without butter? Creamy, smooth and dense butter is what creates that classically decadent pound cake texture.
Vanilla Extract
Vanilla is floral and sweet. Both compliment the peaches wonderfully.
Sour Cream
A dollop or two layers in tangy flavor and tenderizes the cake.
Maple Syrup
Trust me, you'll want to use a natural syrup. The rich, full-bodied, golden notes of maple syrup pair ever so well with our peach jam filling.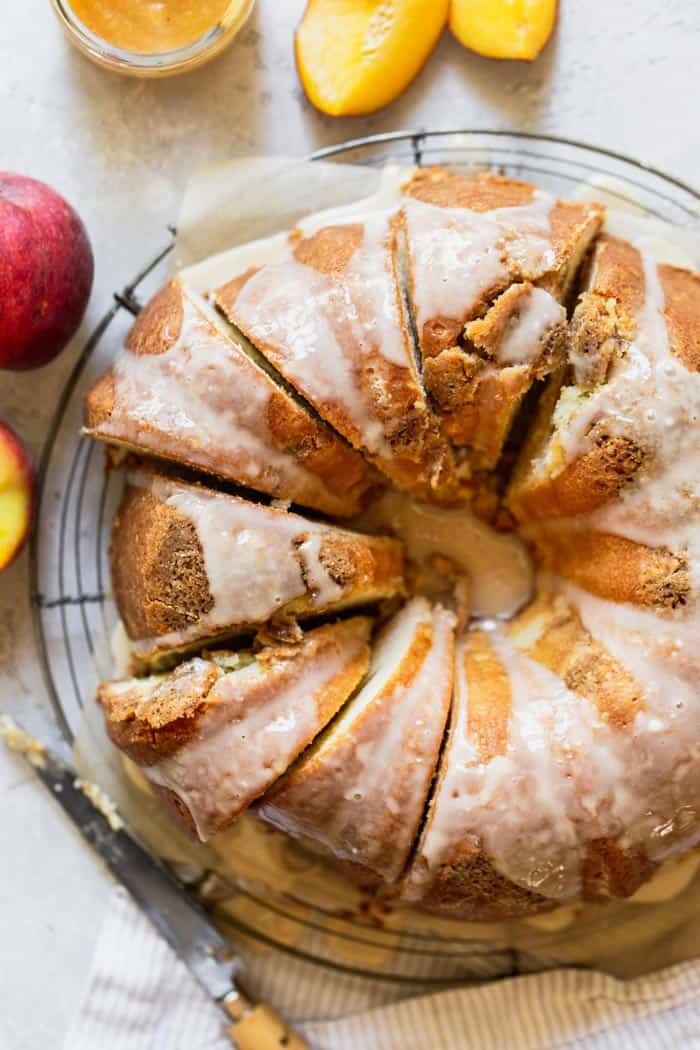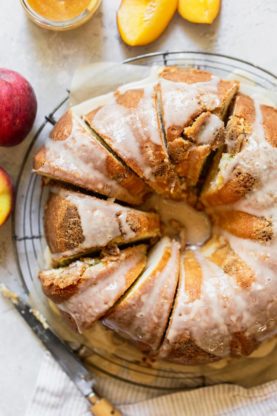 POUND CAKE TIPS
Pound cakes require a hefty amount of ingredients, a substantial amount of time and whole lotta love. To make sure none of your hard work goes to waste, it's important to be patient and follow my advice.
Here are my top 5 tips for the BEST pound cake EVER:
Start with Room Temperature Ingredients
Room temperature ingredients ensure maximum volume. Don't try to cheat by warming up butter in the microwave. Melted butter won't cream properly.
Always Cream the Butter and Sugar Well
Always cream the butter and sugar until very light and fluffy for a smooth, velvety texture. Turn the beater on to medium-high to high speed for 3-7 minutes.
Don't Overbeat the Eggs
Overbeating eggs can create a fragile crust. Only mix until the yellow of the yolks disappear.
Butter Every Crack and Crevice
Now, I'm serious here, butter every corner of space in your bundt pan. A pound cake is dense and the gorgeous brown crust will tear if any of the batter sticks to the pan. I would even suggest a sprinkling of flour over the butter for a little extra insurance.
Let the Pound Cake Rest in the Pan
Don't rush turning the pan over. Allow the cake to rest in its place for at least 10 minutes before turning it out. When ready, run a knife around the edge to make sure the cake is loose.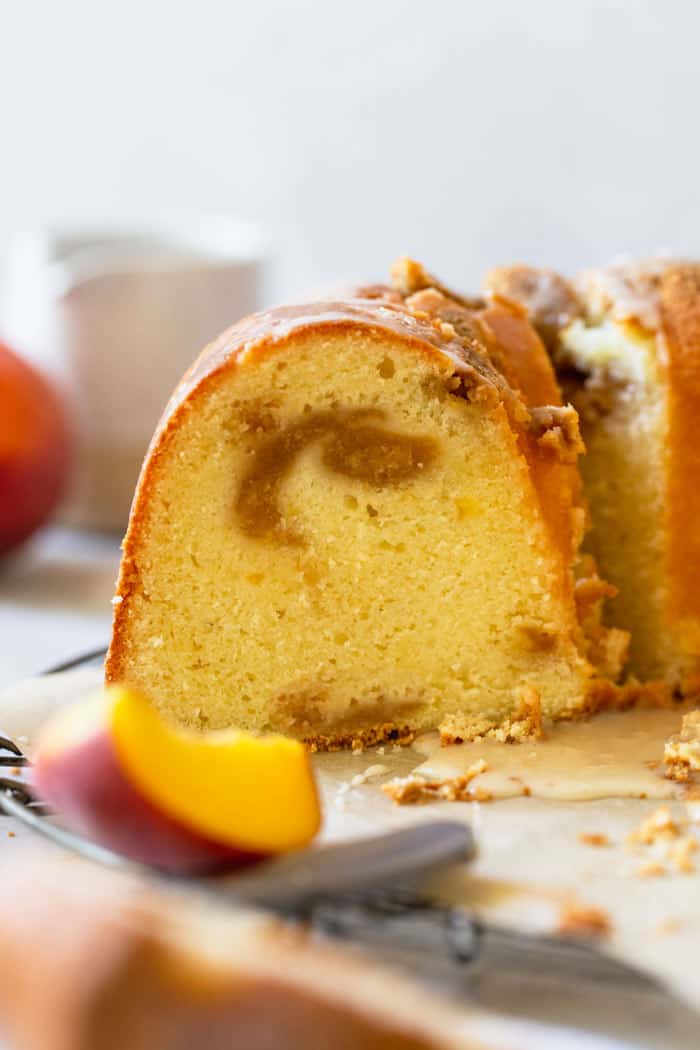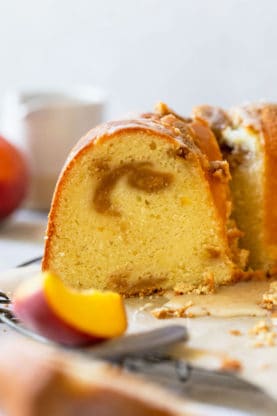 LEFTOVER POUND CAKE STORAGE
Store your pound cake in an airtight container at room temperature for up to 3 days. You may also wrap the cake in plastic wrap and store it in the fridge for up to 1 week.
Alternatively, you can wrap the cake in foil and freeze for up to 6 months. Always thaw your pound cake on the counter without unwrapping for best results.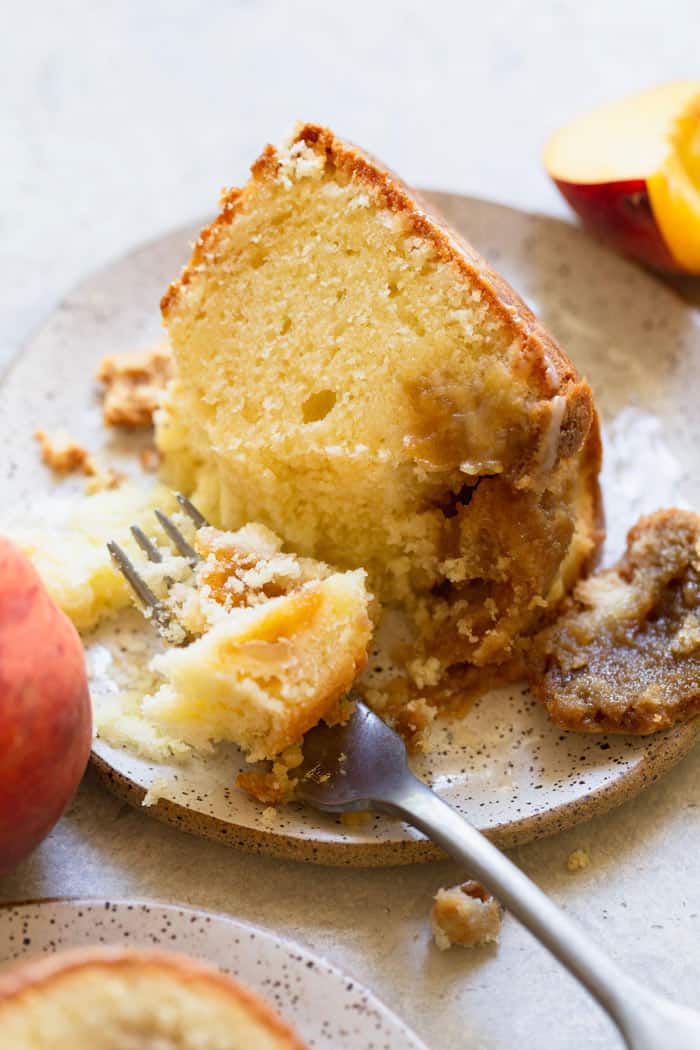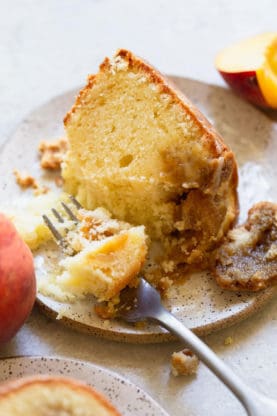 GRANDBABY CAKES' BEST POUND CAKES
What's a Summer BBQ without a bright, decadent slice of pound cake topped with cool, fresh whipped cream? Or vanilla ice cream, I won't judge. Upgrade your backyard celebrations by stirring up a couple of the BEST pound cakes ever: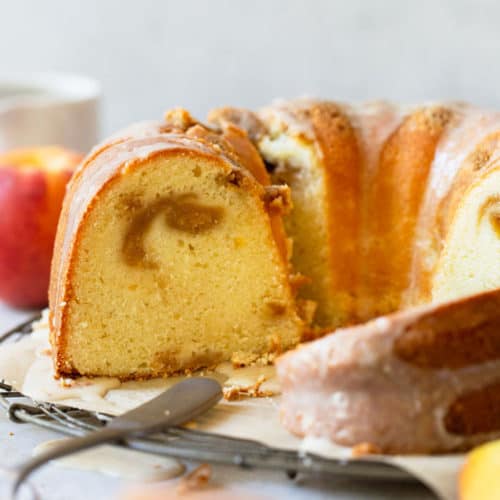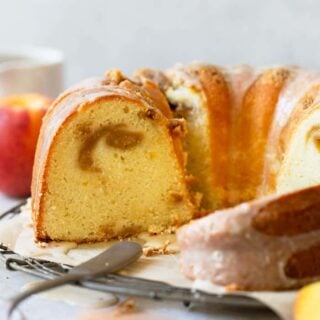 Peach Pound Cake
This Peach Pound Cake recipe begins with a silky cake batter that's swirled with a homemade peach jam and cinnamon streusel, baked to perfection then topped with a maple glaze. 
Print
Pin
Rate
Ingredients
For the Peach Jam Filling
2 1/2

tbsp

cornstarch

2 1/2

tbsp

cold water

2

large peaches

peeled and pureed in a blender until smooth/ equals 1 1/4 cups of peach puree

2

tbsp

light brown sugar

packed

1 1/2

tsp

fresh lemon juice

1

tsp

vanilla extract

1/4

tsp

ground nutmeg

pinch of cinnamon
For the Cake Batter
3

cup

cake flour

sifted

1

tsp

salt

1/4

tsp

baking soda

1 1/2

cup

unsalted butter

room temperature

2 1/2

cup

granulated sugar

6

large eggs

1

tbsp

vanilla extract

1

cup

sour cream

room temperature
For the Cinnamon Streusel
2 1/2

tbsp

unsalted butter

melted

1/2

cup

light brown sugar

packed

3 1/2

tbsp

all purpose flour

1

tbsp

ground cinnamon
For the Maple Glaze
1

cup

confectioner's sugar

1

tbsp

maple syrup

1/2

tbsp

milk
Instructions
For the Peach Jam Swirl
In a small bowl, stir together the cornstarch and cold water until the slurry runs smooth. Set aside.

Add the peach puree, brown sugar, lemon juice, vanilla extract, cinnamon, and nutmeg to a 3 qt saucepan. Stir to combine the ingredients.

Bring the peach mixture to a simmer over medium heat, stirring frequently.

Once simmering, lower heat to medium-low or low. Whisking constantly, add the cornstarch slurry to the pot in a slow steady drizzle.

Cook for an additional 2-3 minutes, stirring constantly, until the jam thickens. The mixture should release large bubbles and make a rustling noise when it's stirred.

Remove the pot from heat and allow the jam to cool completely. Placing the mixture in the fridge will speed up the process.
For the Cinnamon Streusel
Add all ingredients to a medium sized bowl and mix with your hands or a fork until crumbly.

This mixture may be prepared a few hours before.
For the Cake Batter
Sift together the flour, baking soda, and salt into a bowl. Set the bowl aside.

In your stand mixer bowl, beat the butter and sugar together on high speed for 3-4 minutes, or until very pale yellow and fluffy.

Next add eggs, one at a time, combining well after each addition and scraping down the sides of your bowl as needed. Add the vanilla extract with the final egg.

Turn your mixer down to its lowest speed, and slowly add half of the flour to batter. Blend on low speed just until the flour is mixed in. Stop the mixer and scrape down the bowl and beater.

Add the sour cream to the bowl and blend on low speed until it's just blended in. Scrape down sides and and beater again.

Finally, add the remaining flour. Mix until just combined, then scrape down the bowl and beater one last time.

Mix for 30 seconds on low and turn off the mixer.
To Assemble
Preheat your oven to 350F then liberally grease or spray a 14 or 15 cup bundt pan with non stick baking spray.

Sprinkle ⅓ of the cinnamon streusel into the bottom of the pan.

Cover the streusel with ½ of the cake batter. Make a well, then sprinkle ⅓ of the cinnamon streusel into the well.

Pour remaining cake batter over the streusel. Make a shallow well in the batter.

Spoon the peach jam on top of the batter. Sprinkle the remaining streusel over the jam.

Gently tap the pan against the countertop, then bake the cake for 1 hour to 1 hour 15 minutes, or until a toothpick inserted in the center of the cake comes out clean. *Darker pans may bake the cake faster than lighter colored pans will.

Cool in pan on a wire rack for 10 minutes then invert cake on a serving plate for at least an hour or until the cake is cool to touch. Allow the cake to cool completely to prevent the peach jam from oozing out when you cut it.
For the Maple Glaze
Once the cake is completely cooled, whisk together the confectioner's sugar, maple syrup and milk. Add more milk or syrup if needed. Glaze should be pourable but not too thin.

Drizzle glaze over cooled cake and serve.
Notes
The creaming period of butter and sugar is crucial for adding an amazing texture to your cake so don't try to hurry through this.  Also make sure you don't over beat when you add the flour since it begins producing gluten.
Nutrition
Calories:
531
kcal
|
Carbohydrates:
75
g
|
Protein:
6
g
|
Fat:
24
g
|
Saturated Fat:
14
g
|
Cholesterol:
119
mg
|
Sodium:
207
mg
|
Potassium:
159
mg
|
Fiber:
1
g
|
Sugar:
53
g
|
Vitamin A:
888
IU
|
Vitamin C:
3
mg
|
Calcium:
51
mg
|
Iron:
1
mg