Rich and decadent, this Peanut Butter Cup Cheesecake starts with a graham cracker crust, leads into a creamy cheesecake filling with chocolate chips, then gets topped with both a salty-sweet peanut butter glaze and an indulgent chocolate ganache! Watch this incredible cheesecake disappear before your very eyes!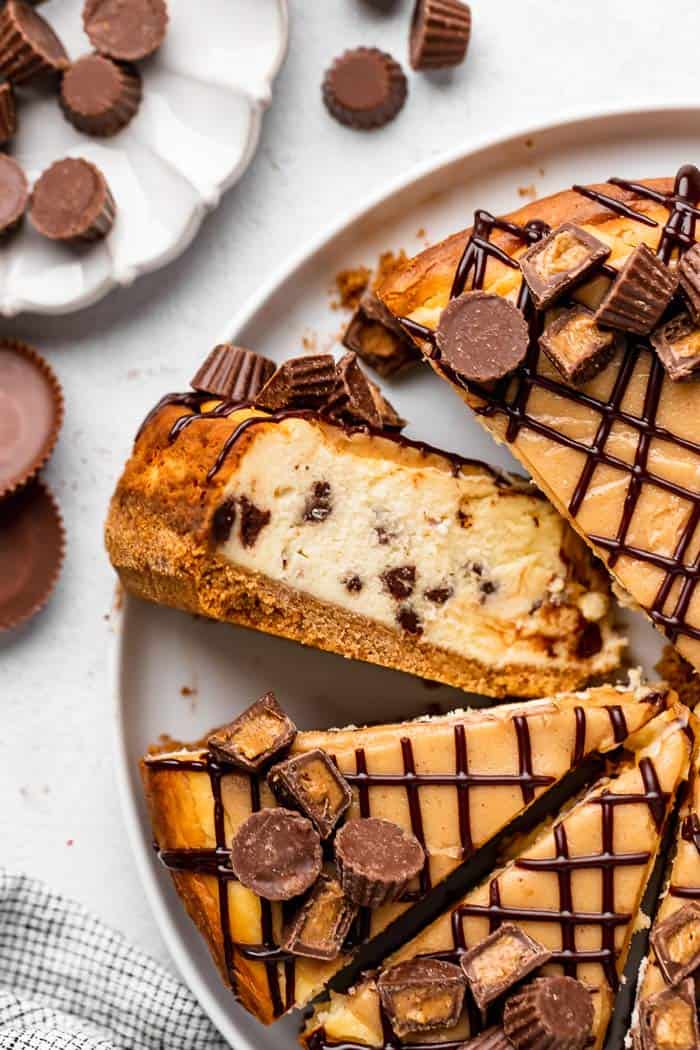 Peanut Butter Cup Cheesecake has arrived!!! Yes, you heard that right! I am ridiculously excited about sharing this recipe with y'all today; it's seriously incredible. Not only is this cheesecake a visual work of art, but every bite is pure bliss. This recipe uses my go-to vanilla cheesecake base and continues to build into something beyond heavenly.
The best thing about the basic cheesecake recipe is how great it is for adapting and creating new flavors. This peanut butter cup cheesecake starts simple but adds in chocolate and peanut butter flavors making it taste like a Reese's peanut butter cup, but sooo much better! If you love this cheesecake, you will love this No Bake Peanut Butter Pie which is a little easier if you don't have the time to make this recipe.
But, that's enough talk from me, it's time to bake a lil cheesecake!
Perks and Highlights of Peanut Butter Cup Cheesecake
Cuisine Inspiration: Indulgent American Treats
This recipe takes a classic American candy, the beloved peanut butter cup, and melds it with the creamy, dreamy wonder of a traditional cheesecake. It's nostalgia and innovation all wrapped up in one sinfully delicious dessert.
Primary Cooking Method: Baking
Baking brings all the mouth-watering layers together, from the crunchy cookie crust to the velvety peanut butter-infused cheesecake, all topped off with a lavish chocolate ganache.
Dietary Info: Decadence, Unrestrained
This is indulgence defined, with rich cream cheese, luxurious chocolate, and smooth, nutty peanut butter. It's a no-holds-barred treat that's not for the faint of heart (or diet!).
Key Flavor: Peanut Butter Bliss
Prepare for a flavor explosion where peanut butter takes center stage. When combined with the tang of cheesecake and the sweetness of chocolate, it creates a trifecta of taste that's utterly irresistible.
Skill Level: Intermediate Baker
You don't have to be a pro, but some experience with baking (and a whole lot of love for peanut butter!) will go a long way in making this heavenly creation.
Special Perks:
Texture Tango: Experience the dance of textures from the crunchy crust to the smooth cheesecake and the creamy chocolate topping. It's a symphony in every slice!
Crowd Pleaser: Perfect for any occasion, this dessert is guaranteed to steal the show and win over hearts (and stomachs)!
Peanut Butter Lover's Dream: The intense peanut butter flavor, paired with chocolate, makes this the ultimate dessert for peanut butter aficionados.
Insta-Worthy: Not only delicious but also stunning. Expect to grab some fantastic social media snaps (before it's devoured!).
Make-Ahead Marvel: This cheesecake is just as delicious after a night in the fridge, making it the perfect no-stress dessert for your next gathering.
Dive into a world where the zest of cheesecake collides with the comfort of peanut butter cups. It's not just a dessert; it's an event. It's not just a recipe; it's a journey through the pleasures of indulgence. Are you ready to take the first bite?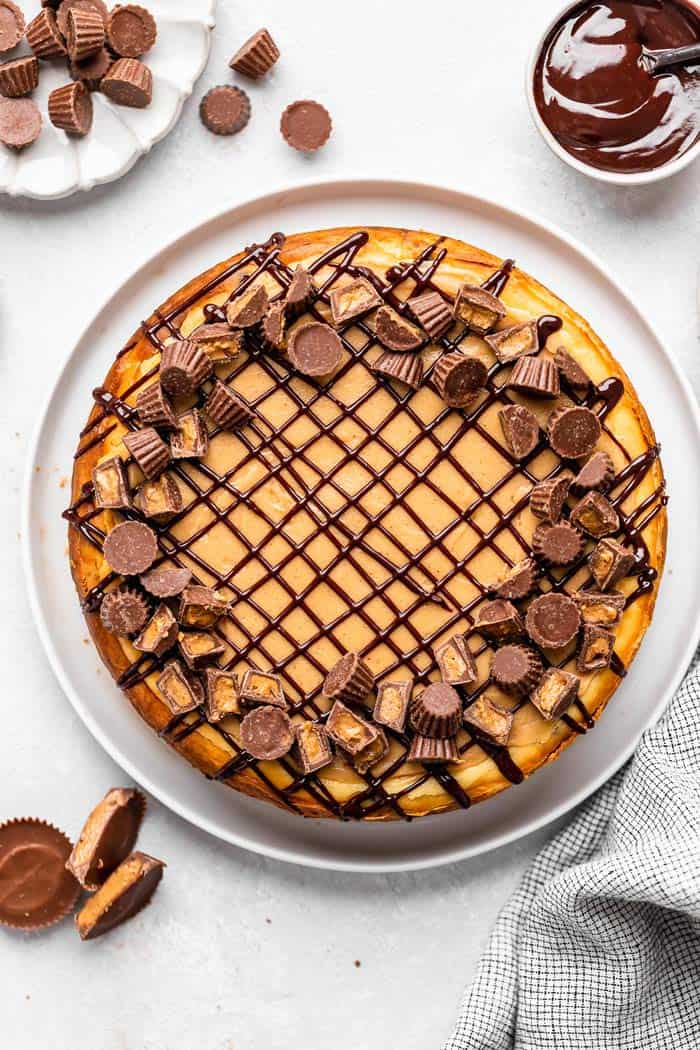 Ingredients and Layers
If you're intimidated by homemade cheesecakes, don't be! I've got your back through every step of this process. This recipe uses 3 simple, delicious layers to create a nutty, chocolate-y, cream cheese-y dessert that is made to please the whole family!
Let's talk layers, shall we?
New York-Style Vanilla Cheesecake– Silky, rich, creamy and perfectly smooth, this New York cheesecake is the dessert of your dreams! This base recipe serves as a blank canvas for various flavors and textures. Follow this recipe for the absolute perfect cheesecake!
Chocolate Chips – I added these directly to the cheesecake, and it creates the perfect contrast of flavor and deliciousness in texture difference.
Peanut Butter Glaze– Made with 4 simple ingredients, this glaze is salty-sweet, nutty and indulgent. This glaze can be made with just about any nut butter you've got on hand!
Chocolate Ganache– You're gonna want to eat this stuff by the spoonful. This rich ganache is straight-up luxurious! If you prefer a sweeter ganache, use milk chocolate. Want it to be a bit more bitter? Use dark chocolate. The choice is all yours!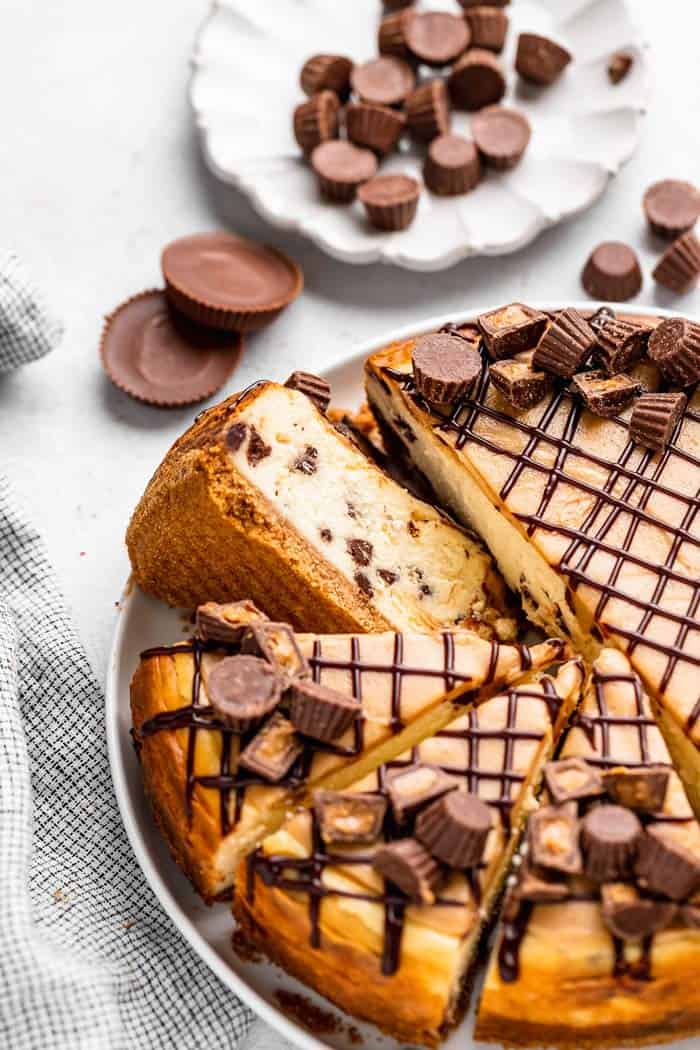 What Equipment and Tools Do I need to make Cheesecake?
No, you can totally make due with a simple cake pan and a whisk. But, there are a few things I would highly recommend having in your tool belt.
Springform Pan: This recipe's batter will completely fill a 9" springform pan. These pans make for easy, no-mess release after refrigeration.
Electric Mixer (Hand or Stand): If you have a stand mixer on hand, great. Otherwise, do yourself a favor and invest in a trusty hand mixer.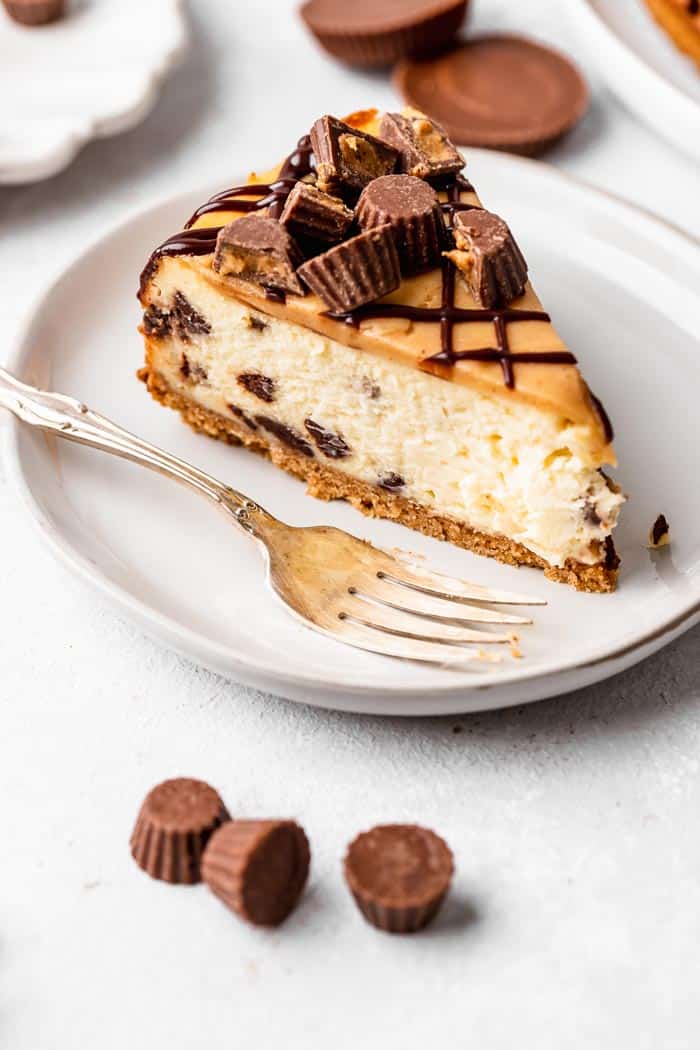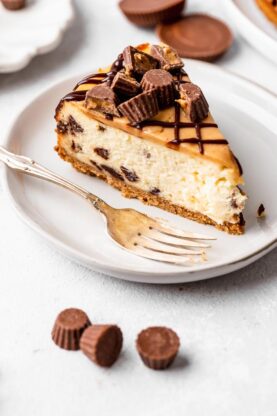 Tips and Tricks for Cheesecake Baking
If I had a dollar for every cheesecake gone wrong, I'd be a rich woman! Seriously, there are just about a million ways that my cheesecakes have gone wrong: lumpy batter, an off crust to filling ratio, etc.
There's no shame in a bit of trial and error, but if I can help you avoid the worst of my own mistakes, you can bet I will. To guarantee a perfect cheesecake time and time again, follow my go-to tips and tricks! You got this y'all!
USE ROOM TEMPERATURE INGREDIENTS
Want a super smooth, creamy cheesecake? Start with room temperature ingredients! Doing so ensures that your ingredients will incorporate better with each other.
WHIP THE CREAM CHEESE WELL
Under whipped cream cheese will make for a lumpy batter. Instead, whip the cream cheese until smooth because the smoother it is, the creamier your cheesecake will be! I recommend using an electric stand or hand mixer for this part.
Only whip until smooth and fully incorporated, otherwise the batter will start to form unwanted air bubbles.
GREASE YOUR PAN
Cheesecakes shrink as they cool. So, if your pan isn't adequately greased it will stick to the edge as it shrinks causing yucky edge cracking and missing chunks.
USE A WATER BATH
I know these seem a bit daunting but you shouldn't be intimidated! Water baths are incredible; they prevent cracking and make for that shiny top finish.
To use one, wrap your springform pan in heavy duty foil, then fold and press the foil tightly to the pan.
Place the springform into a deep roasting pan and pour boiling water in until it comes halfway up the tin foil. The water should come up about ½ – 1 inch up the pan. Make sure the water doesn't come up too high or the water will get inside the foil and make the cheesecake soggy.
Voila! You've made a water bath. Easy, right?
DON'T OVERCOOK IT
Keep an eye on that cheesecake! You'll want the edges to look puffy but the center should be jiggly. Overcooking will cause severe cracking and dry out the cheesecake.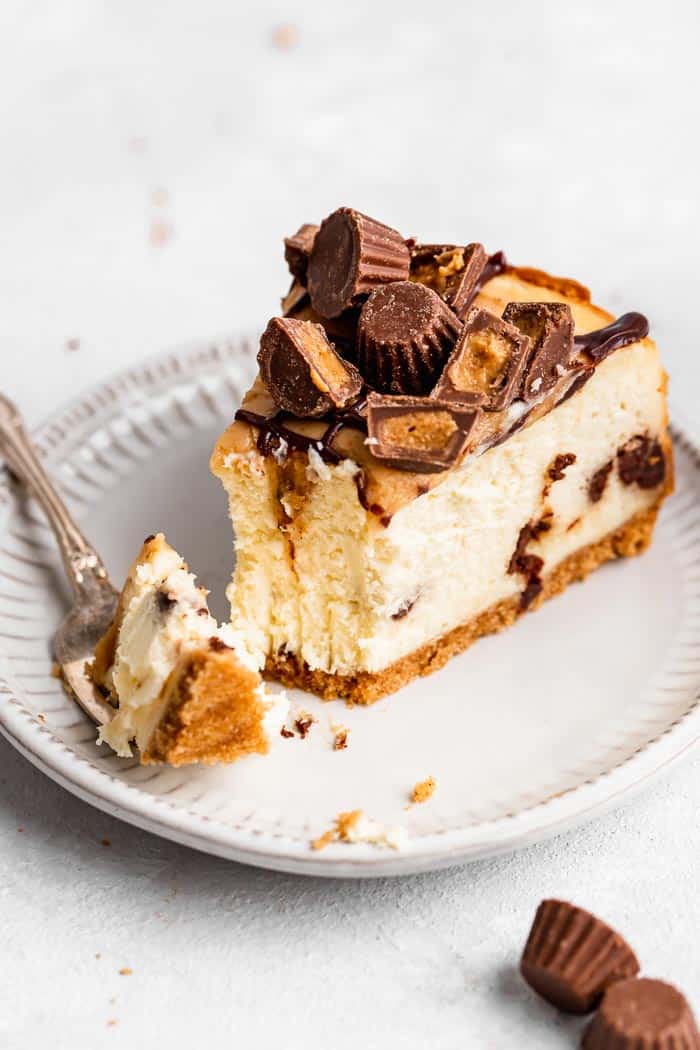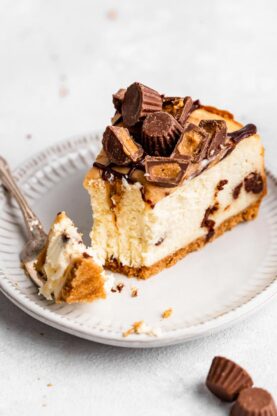 Leftover Cheesecake Storage
Leftover cheesecake should never be wasted! Instead, tightly wrap your leftovers with plastic (or saran) wrap or store them in an airtight container. Kept in the refrigerator, cheesecake will last for up to 5 days.
If you don't plan to eat your leftovers within that time frame, I suggest freezing instead. After it has set in the refrigerator, remove the springform pan and wrap the cheesecake tightly with plastic wrap and a layer of aluminum foil. It can be frozen for up to 2 months. Before serving, thaw the frozen cheesecake overnight in the refrigerator.
Alternatively, the cheesecake can be frozen in individual slices for a quick-dessert or a midnight snack!
My Favorite Cheesecake Recipes
Y'all, I don't play with cheesecake! If I'm throwing down, I'm gonna need that cheesecake to be rich, creamy and chock-full of flavor. And, if you're using one of my recipes, something crazy delicious is guaranteed.
Try one out for yourself: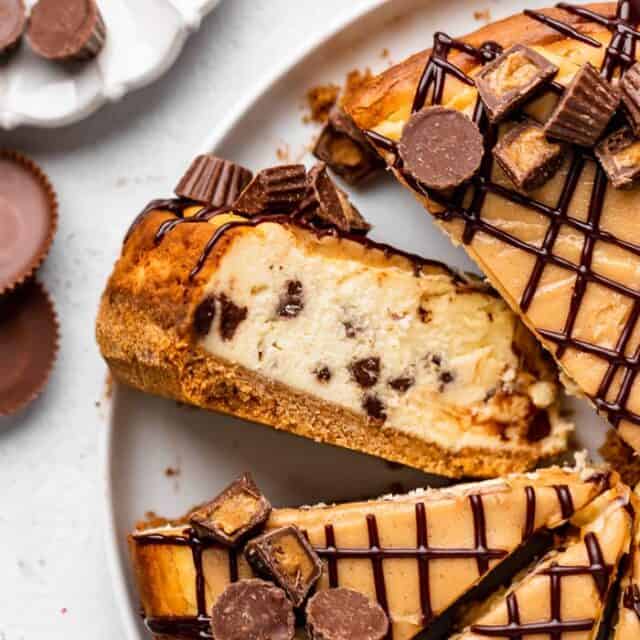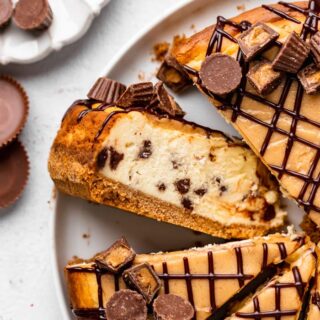 Peanut Butter Cup Cheesecake
This Peanut Butter Cup Cheesecake has a creamy cheesecake filling with chocolate chips, then gets topped with both a peanut butter glaze and a chocolate ganache!
Print
Pin
Rate
Ingredients
For The Crust
1 1/2

cup

graham cracker crumbs

3

tbsp

granulated sugar

5

tbsp

melted butter
For The Cheesecake Filling
4

cream cheese packages

8 ounces packages/ room temperature

1 1/2

cup

granulated sugar

3/4

cup

heavy cream

4

large eggs

room temperature

1

cup

sour cream

room temperature

1 1/2

tbsp

vanilla bean paste

1/4

cup

all-purpose flour

1

cup

chocolate chips
For the Peanut Butter Glaze
3/4

cup

sifted powdered sugar

4

tbsp

heavy whipping cream

up to 5

2

tbsp

creamy peanut butter

1

tsp

vanilla extract
For the Chocolate Ganache
1/2

cup

heavy whipping cream

3/4

cup

semi-sweet chocolate chips
Instructions
For The Crust
Preheat oven to 350 degrees F (175 degrees C). Spray a 9 inch springform pan with at least 2 ¾ inch sides or a 10 inch springform pan with non-stick baking spray. Make sure it is properly secured too!

Whisk together graham cracker crumbs, sugar and melted butter. Press mixture into the bottom of the springform pan and bake in the oven for 10 minutes. 
For the Cheesecake Filling
In the bowl of your stand mixer, beat together cream cheese and sugar until completely smooth. Next add heavy cream then add eggs one at a time, mixing until incorporated.

Next add sour cream, vanilla bean paste and flour and mix until smooth.

Finally fold in the chocolate chips and pour cheesecake filling into baked crust.

Bake cheesecake for 1 hour and 10 minutes then turn the oven off and allow the cake to cool in the oven with the door slightly cracked for 4 hours.

Remove cheesecake from oven and allow it to come to room temperature.
For the Peanut Butter Glaze
Whisk the glaze ingredients together until they are smooth and pourable.
For the Chocolate Ganache
Heat the heavy cream and chocolate chips over low heat in a pan while continuously whisking until everything is melted and smooth. Allow to cool to room temperature before adding to the top of the cheesecake.
To Assemble
Once cheesecake has completely cooled and has been at room temperature for at least 30 minutes, decorate cheesecake with both peanut butter glaze and ganache and then store in the refrigerator overnight before serving.
Notes
TIP 1: Start with room temperature ingredients. This will ensure that your cheesecake does not have lumps. And believe me, you don't want that.
TIP 2: For extra insurance against cracks, USE A WATER BATH! 
Nutrition
Calories:
638
kcal
|
Carbohydrates:
71
g
|
Protein:
18
g
|
Fat:
32
g
|
Saturated Fat:
18
g
|
Polyunsaturated Fat:
2
g
|
Monounsaturated Fat:
8
g
|
Trans Fat:
1
g
|
Cholesterol:
130
mg
|
Sodium:
711
mg
|
Potassium:
384
mg
|
Fiber:
2
g
|
Sugar:
57
g
|
Vitamin A:
861
IU
|
Vitamin C:
1
mg
|
Calcium:
349
mg
|
Iron:
2
mg