Ever dreamt of a boneless Prime Rib that's so tender, it almost falls apart with every forkful? Well, today's your lucky day. I'm sharing my crowd-pleasing, drool-worthy Prime Rib recipe! Perfect for those heartwarming holiday dinners or just because you fancy something special, this standing rib roast is your golden ticket to "host of the year"!
P.S: Let's not forget the dream team that takes this meal to the next level: Au Jus and Creamy Horseradish Sauce! Trust me, you'll want to make sure both are on your table to pair this heavenly roast.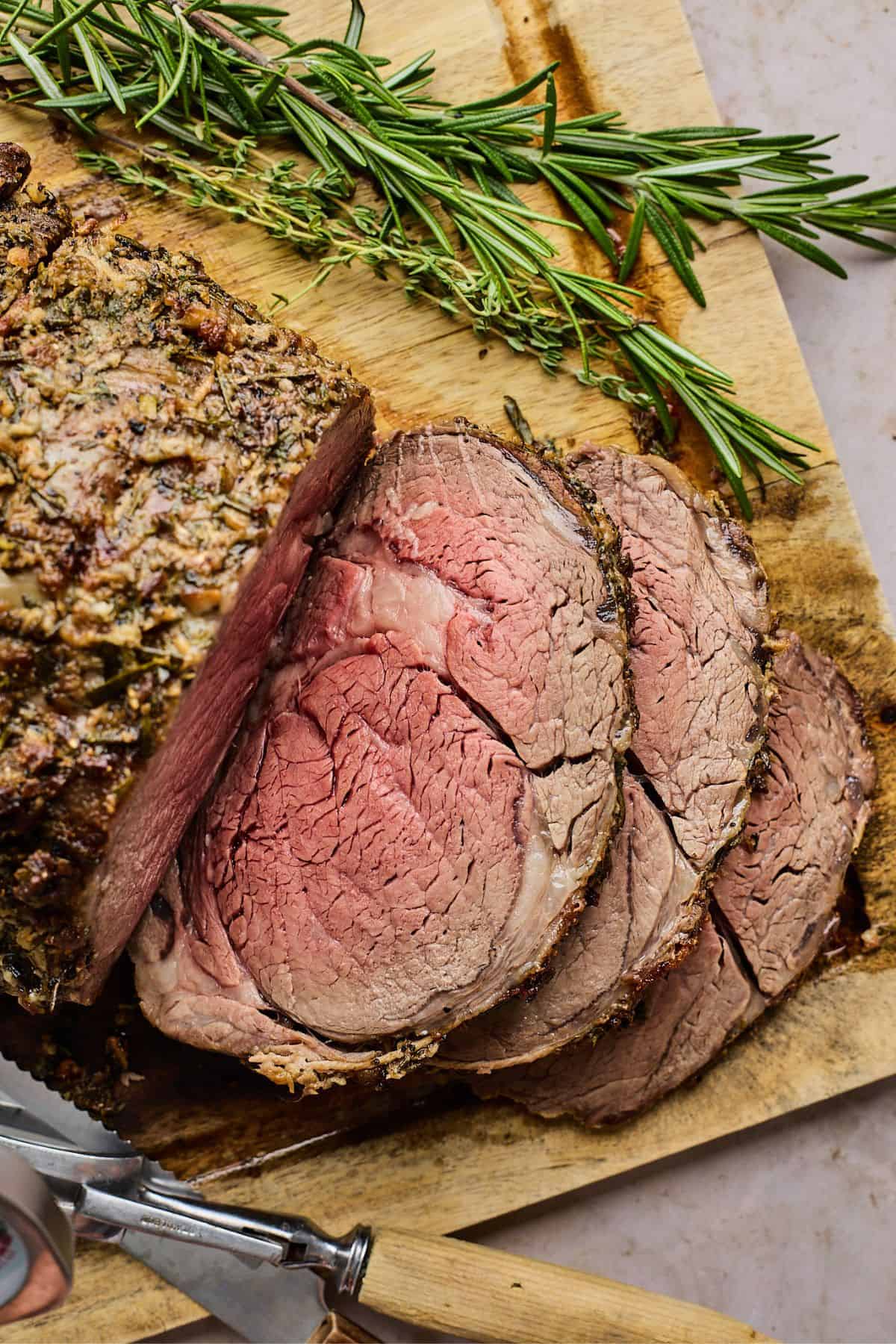 Oh, and did I mention how easy is to roast a prime rib in the oven at home? I know, Prime Rib sounds fancy and intimidating, but trust me, with 4 simple steps and a finger-licking blend of fresh herbs and garlic, you'll have a tender and juicy masterpiece on your table in no time. Plus, there's something amazing about the aroma that fills the room when that standing rib roast is roasting away. So, let's roll up those sleeves and get to it!
Why you'll love this oven roasted prime rib
Melt-in-Your-Mouth Goodness: Every slice is tender, juicy, and boasts a flavor profile that's undeniably delicious. It's the sort of taste that lingers, ya'know?
Showstopper: It's not just a dish; it's a statement! Whether it's a festive holiday, a special occasion, or 'just because', this prime rib will steal the spotlight and be the topic of the night.
Easier Than You Think: Despite its price and luxurious reputation, this prime rib recipe is straightforward and fuss-free.
Perfect for Leftovers: If by any chance you have leftovers, prime rib makes for great sandwiches, salads, and more.
Versatility at its Best: While it shines on its own, this prime rib pairs beautifully with a variety of sides – from classic mashed potatoes to a fresh green salad.
Ingredients you'll need for your boneless prime rib
Prime Rib: This cut of beef comes from the rib section and is known for its rich flavor and juicy tenderness. It's often served with the bone in, but for this recipe, I'm going boneless for easier slicing.
Kosher Salt: Essential for bringing out the flavors. Kosher salt has larger crystals than table salt, which allows for a more even seasoning and a fantastic crust on the rib.
Freshly Cracked Black Pepper: Adds a slight kick and aromatic touch. Using freshly cracked pepper ensures a more robust and aromatic flavor.
Fresh Rosemary: This aromatic herb provides a woodsy and slightly minty flavor, complementing the richness of the meat perfectly.
Fresh Thyme: A classic herb with subtle lemony notes. It pairs beautifully with this oven prime rib, enhancing its depth of flavor.
Garlic: A must-have for its aromatic and savory punch! When roasted, it develops a sweet, mellow taste that infuses into the meat.
Olive Oil: It not only helps the seasoning stick to the meat but also ensures a delightful crispy crust on the outside.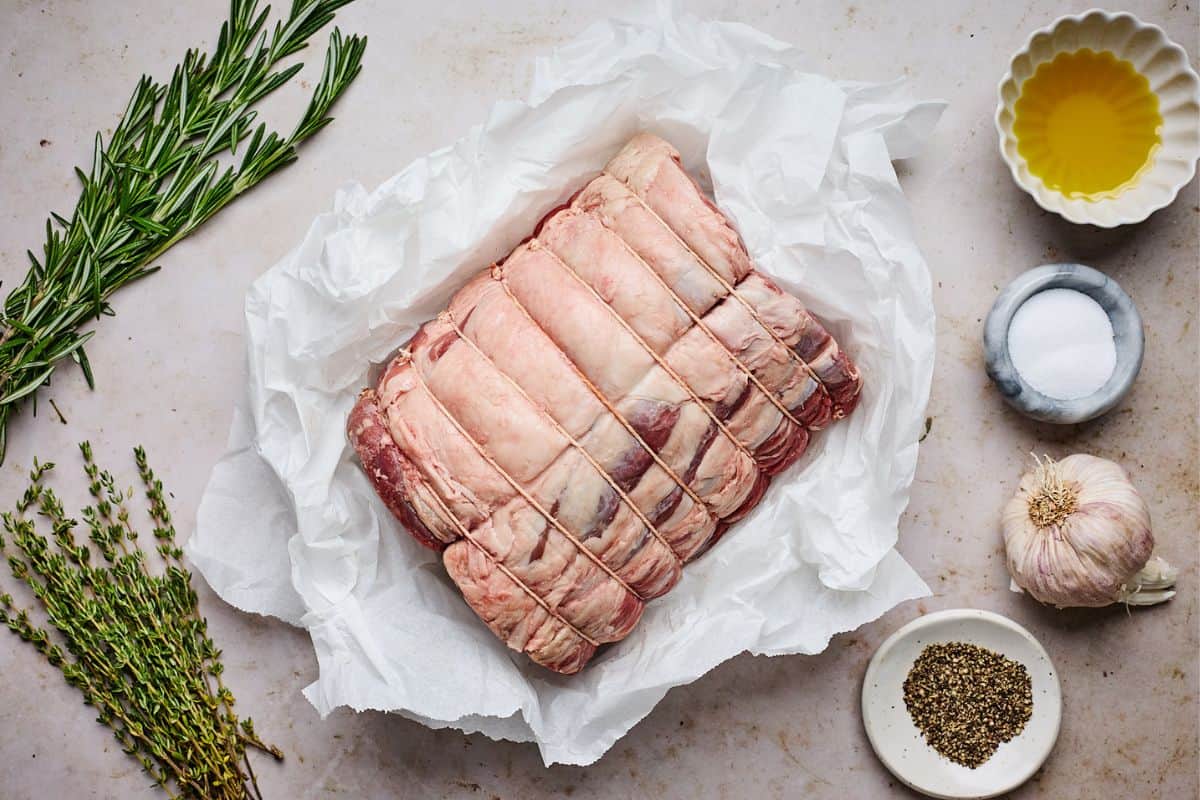 How to cook prime rib in the oven
In a mortar and pestle, combine, salt, pepper, herbs and garlic.
Crush into rough paste. Pour in olive oil and combine.
Rub the herb oil all over the surface of the prime rib.
Place your rib roast on your roasting pan, fat side up, and place in the oven.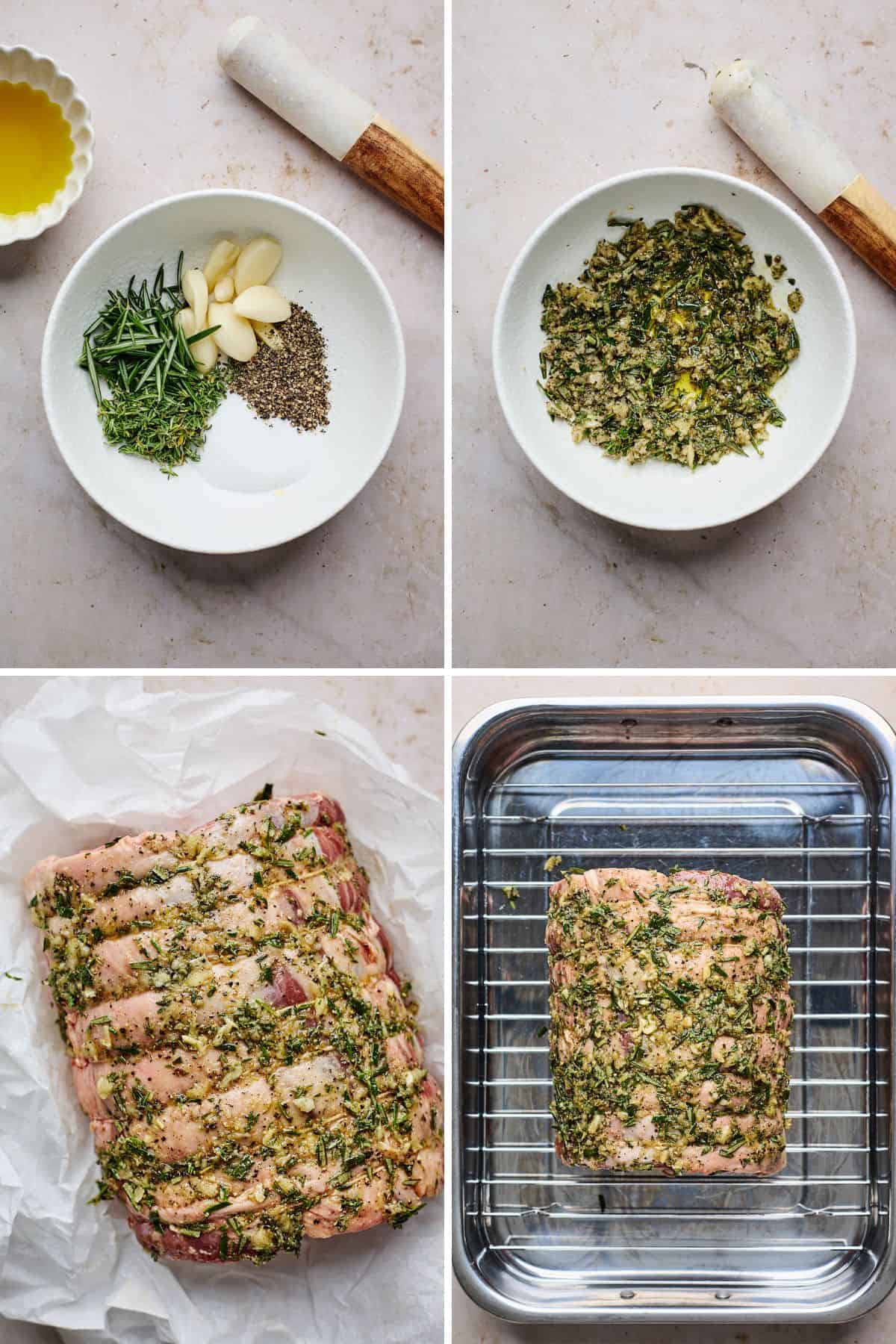 Remove The Prime Rib From The Oven
Remove the rib roast from oven, once it has reached your desired temperature, and let rest.
Slice ½-inch thick pieces and serve.
Note: Use a digital thermometer to achieve the most accurate temperature and ensure that your prime rib is served at its juiciest.
Tips for making the best prime rib
Use a Boneless Cut: This might be a matter of personal preference, but using a boneless cut of prime rib makes the carving process a breeze. Plus, it ensures uniform seasoning and cooking, resulting in meat that's evenly flavorful and tender from edge to edge.
Room Temperature Meat: Before you even think about seasoning, ensure your prime rib has sat out of the fridge for about 30 minutes to an hour. This helps the meat cook more evenly, reducing the chances of those dreaded overcooked edges.
Use a Digital Thermometer: To achieve the most accurate temp and ensure that your prime rib is served at its juiciest and most flavorful, invest in a good digital thermometer and stick it into the thickest part of the cut.
Let it Rest: After roasting, let your prime rib with rosemary, thyme, garlic sit under a foil tent for about 30 minutes. This allows the juices to redistribute, ensuring every slice is as juicy as can be.
Keep the Oven Door Closed: Resist the urge! Every time you open the oven, the temperature drops. This can lead to uneven cooking and extend your cooking time. Trust the process, set a timer, and let the oven work its magic.
Popular substitutions & additions
Bone-In Prime Rib: Although this is a boneless prime rib recipe, some folks swear by the enhanced flavor a bone brings to the meat. Plus, it can look quite impressive on the dinner table. If you opt for bone-in, remember that the bone acts as an insulator and may require slightly longer cooking.
Butter: Want to add some rich creaminess to the crust? Melted butter can replace olive oil for that beautiful golden exterior with a hint of buttery goodness.
Herb Variations: Swap out or add other aromatic herbs like sage or oregano. Each herb brings its unique flavor profile, allowing for endless aromatic combinations.
Smoked Paprika: For a hint of smokiness, add some smoked paprika to your rub. It offers a subtle warmth and depth to the prime rib recipe.
Dijon Mustard Rub: Before adding your herb mixture, slather your rib with Dijon mustard. It adds a tangy depth!
Red Wine Reduction: While your prime rib rests post-cooking, deglaze your roasting pan with some good red wine and beef broth to make an au jus. Reduce it down for a flavorful sauce that complements the meat.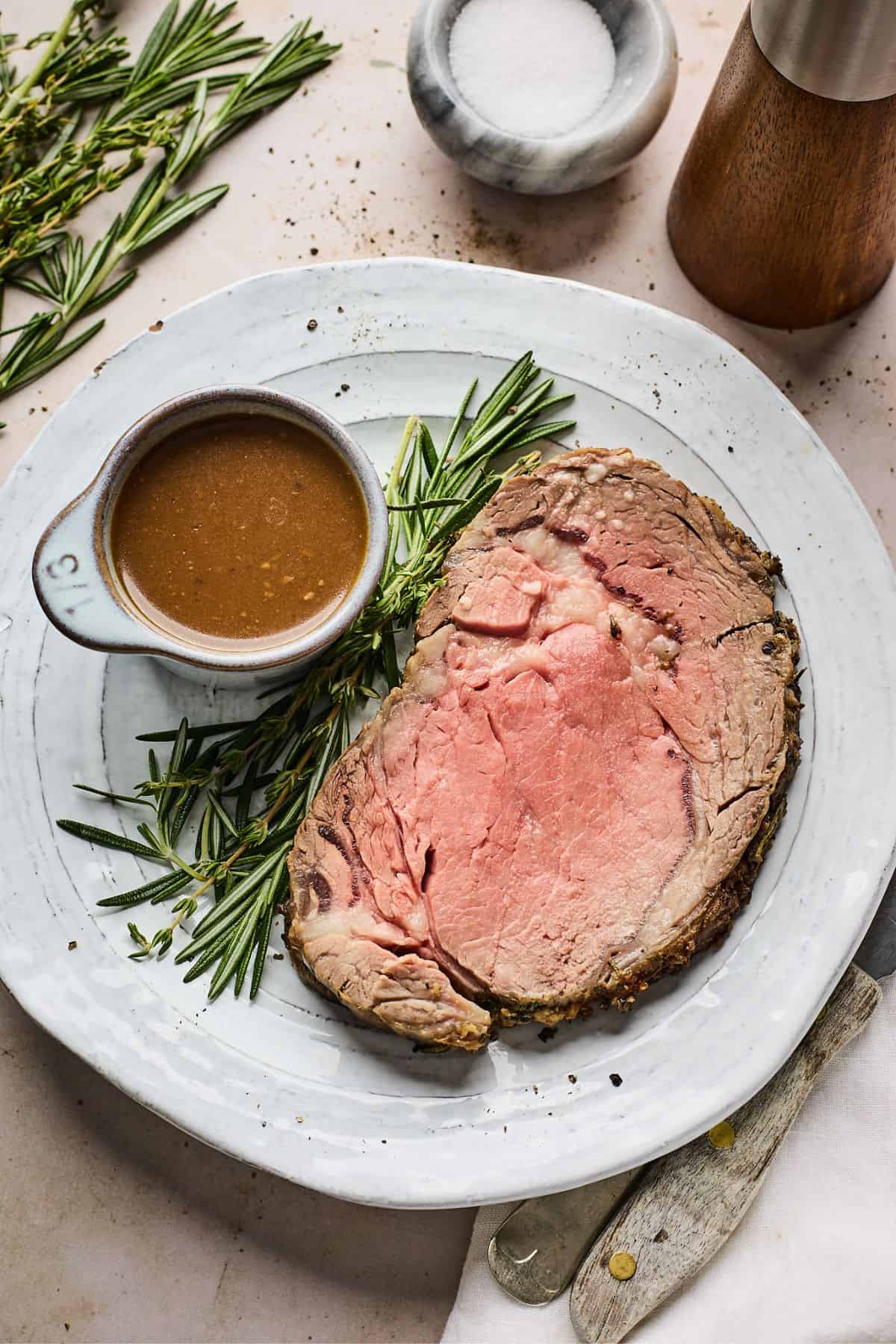 What to serve with boneless prime rib recipe
What's a Prime Rib without its trusty sidekick, Au Jus? Made from the meat's natural juices, this rich and savory liquid gold is perfect for dipping those tender slices of beef. Trust me, it's a match made in heaven.
For those who like a little zing with their meat, a dollop of this Creamy Horseradish Sauce will elevate your Prime Rib to new levels. It's the yin to the best prime rib recipe's yang!
When it comes to iconic pairings, Slow Cooker Mashed Potatoes are as classic as it gets. They're the quintessential side dish that everybody looks for on the table when there's Prime Rib in sight.
Southern Potato Salad brings a touch of Southern charm to your meal. Creamy, tangy, and delicious!
Whether it's a bold Cabernet Sauvignon or a smooth Merlot, a glass of any red wine pairs beautifully with this prime rib recipe.
How to store & reheat prime rib
Once you're done feasting, don't let that beautiful oven roasated prime rib go to waste! Simply wrap the leftovers tightly in aluminum foil or place them in an airtight container. You'll want to store it in the coolest part of your fridge to keep it as fresh as possible.
To reheat, the oven is your best friend. Preheat to 250°F and place the Prime Rib in a roasting pan, covering it loosely with aluminum foil. Heat it until the internal temperature reaches 110°F, ensuring it's warm but not overcooked. Plus, if you're in a hurry or just looking to heat up a slice or two, you can place your slice of Prime Rib in the microwave and heat it in 30-second intervals, checking each time until it reaches your desired temperature.
How long will prime rib recipe last in the fridge?
Good news: your prime rib should last for 3 to 4 days in the fridge when properly stored. That's enough time for some incredible next-day sandwiches or a repeat dinner!
Can I freeze prime rib?
If you find yourself with more leftovers than you can handle in the next few days, you can definitely freeze your Prime Rib. Just make sure it's wrapped super tightly in plastic wrap, followed by a layer of aluminum foil to lock in the moisture and flavor. It can last up to 2 to 3 months in the freezer. When you're ready to enjoy it again, simply thaw it in the fridge overnight before reheating.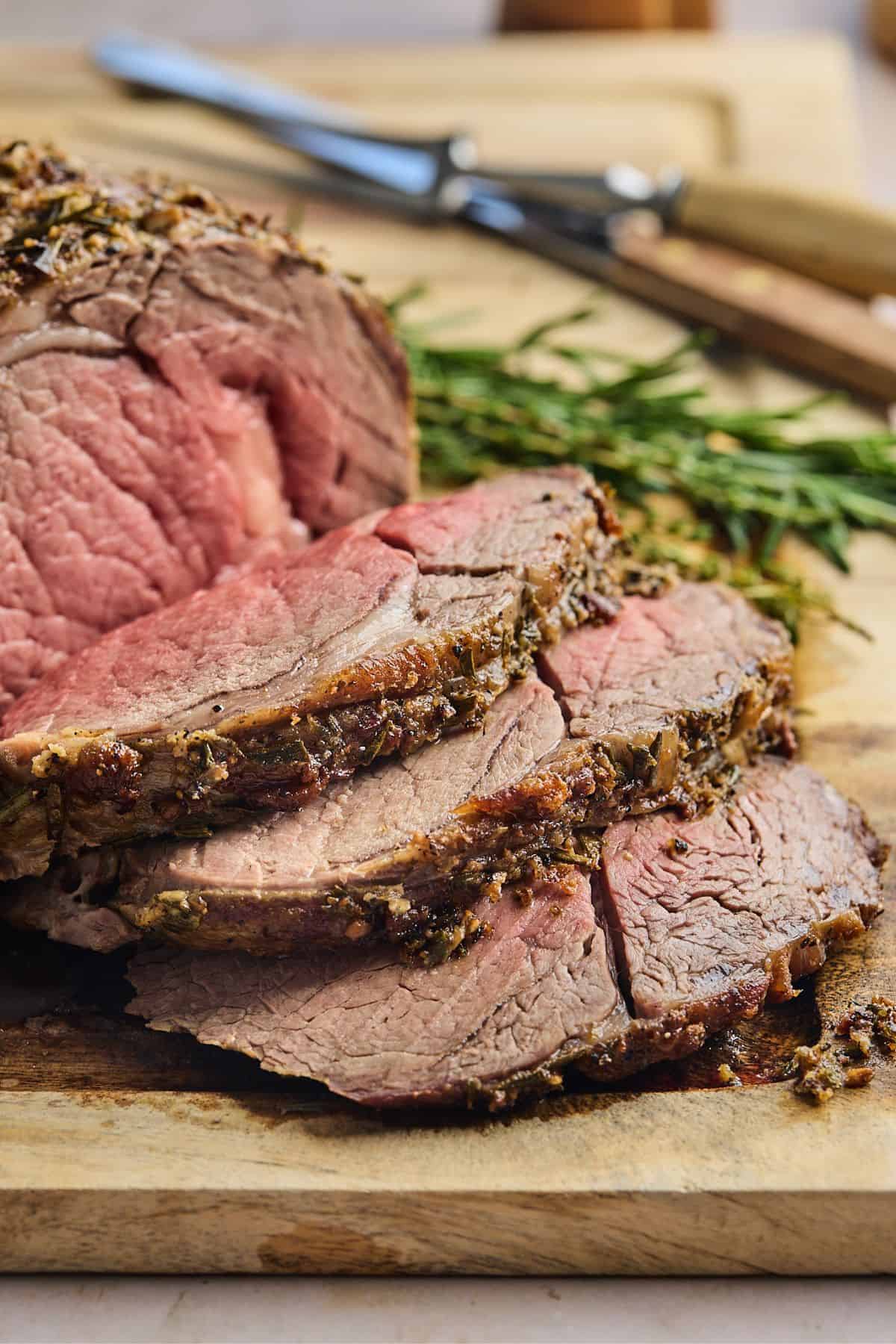 Frequently Asked Questions
How do I choose the best cut of Prime Rib?
Look for a cut with good marbling—that's the white flecks of fat throughout the meat—as it enhances flavor and tenderness. A nice layer of fat on top also helps keep the meat juicy during cooking.
Prime Rib bone-in or boneless?
Both have their merits. Bone-in is said to be more flavorful, but boneless is easier to slice and serve. In this recipe, I go for boneless for the sake of simplicity and easier carving.
How much Prime Rib do I need per person?
As a general rule, aim for ½ to 1 pound per person if it's a boneless cut. This accounts for the meat shrinking a bit during cooking and ensures everyone gets a hearty serving.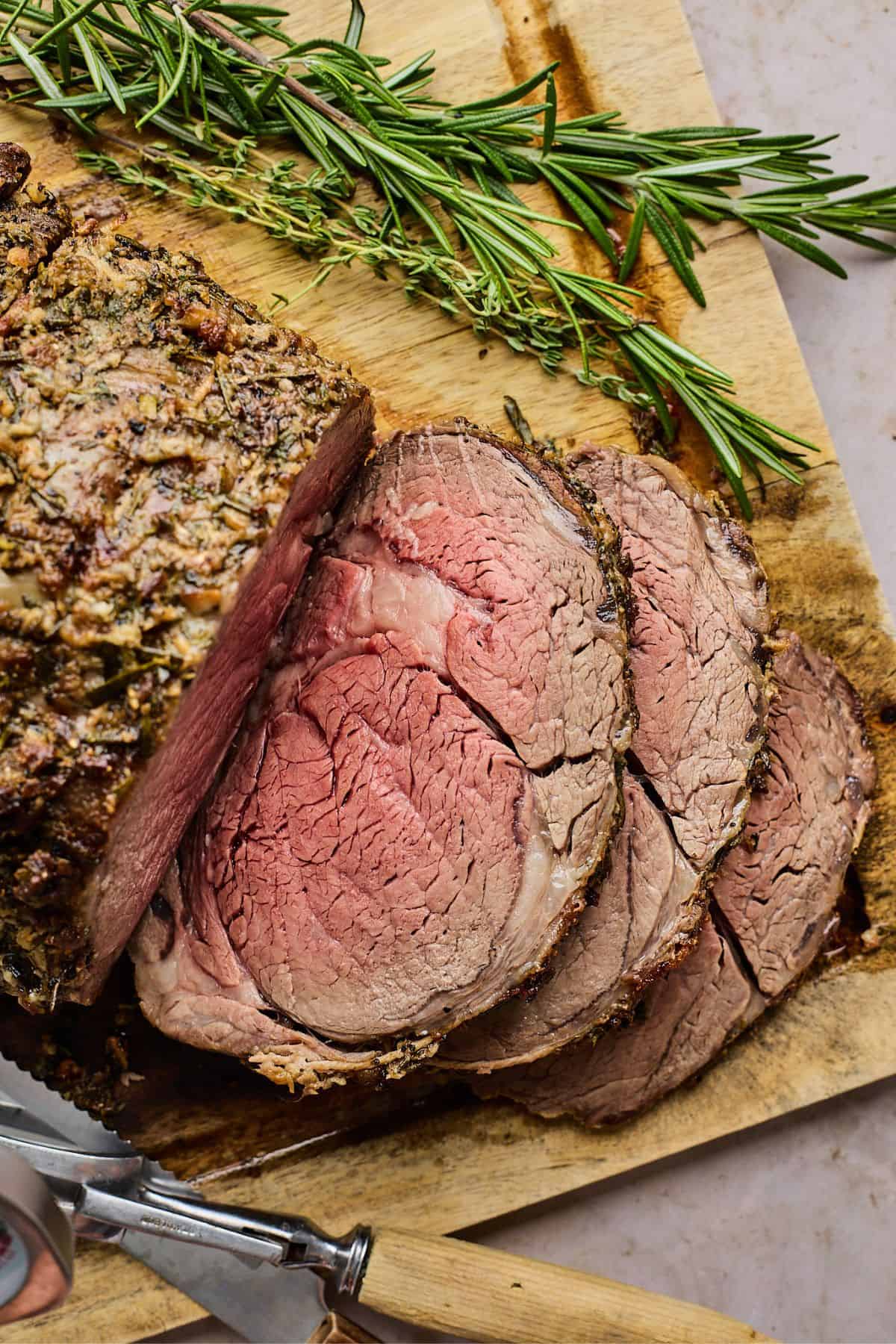 From the juiciness of the beef to the aromatics of the fresh herbs, this Prime Rib recipe is one for the books. And if you pair it with a luscious Au Jus and a kickin' Creamy Horseradish Sauce, you've got a meal that's not just dinner, but an experience! I mean, if you're going to indulge on a premium cut of beef, you might as well make it unforgettable, right? Whether it's your first time diving into the world of roasts or you're an old hand looking to spice things up, this boneless prime rib has got you covered!
More Tasty Beef Recipes
*Did you make this recipe? Please give it a star rating and leave comments below!* Post a photo of how your version of the recipe came out on Instagram (using #grandbabycakes)!!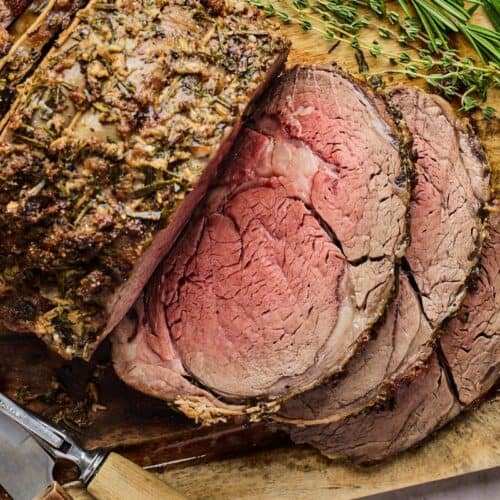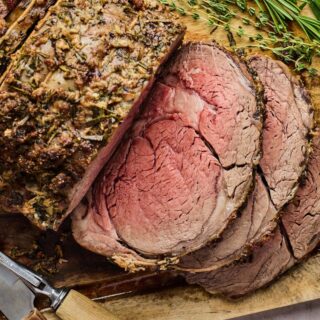 Prime Rib
This boneless prime rib is crusted in a rosemary, thyme garlic herb crust and cooked until tender. Pair with au jus, creamy horseradish or both!
Print
Pin
Rate
Ingredients
6

pounds

prime rib

boneless

1

tablespoon

kosher salt

1 ½

teaspoons

freshly cracked black pepper

2

tablespoons

fresh rosemary

1

tablespoon

fresh thyme

8

cloves

garlic

2

tablespoons

olive oil
Instructions
Remove prime rib from the refrigerator 30 minutes prior to cooking. Preheat oven to 450F.

In a mortar and pestle, combine, salt, pepper, herbs and garlic and crush into rough paste. Pour in olive oil and combine. Rub the herb oil all over the surface of the prime rib. Set rack in roasting pan and place rib on rack, fat side up.

Roast rib for 20 minutes. Decrease oven temperature to 325F and continue cooking until it reaches an internal temperature of 120F for medium rare, about 90-95 minutes (about 14 minutes per pound)

Remove rib from oven, cover lightly with foil, and let rest for 30 minutes before slicing into ½ inch thick pieces and serve.
Notes
Use a digital thermometer to achieve the most accurate temperature and ensure that your prime rib is served at its juiciest.
Nutrition
Calories:
1052
kcal
|
Carbohydrates:
2
g
|
Protein:
46
g
|
Fat:
94
g
|
Saturated Fat:
38
g
|
Polyunsaturated Fat:
4
g
|
Monounsaturated Fat:
42
g
|
Cholesterol:
206
mg
|
Sodium:
1024
mg
|
Potassium:
777
mg
|
Fiber:
0.3
g
|
Sugar:
0.03
g
|
Vitamin A:
59
IU
|
Vitamin C:
2
mg
|
Calcium:
39
mg
|
Iron:
5
mg