If you enjoy potato salad, you're going to love this classic Southern Potato Salad. Loaded with tangy flavor and delicate textures, it's a crowd-pleaser that deserves a place at every cookout, picnic, or family gathering. As soon as you taste it, you'll know why it's a staple in Southern cuisine. From my new cookbook Everyday Grand.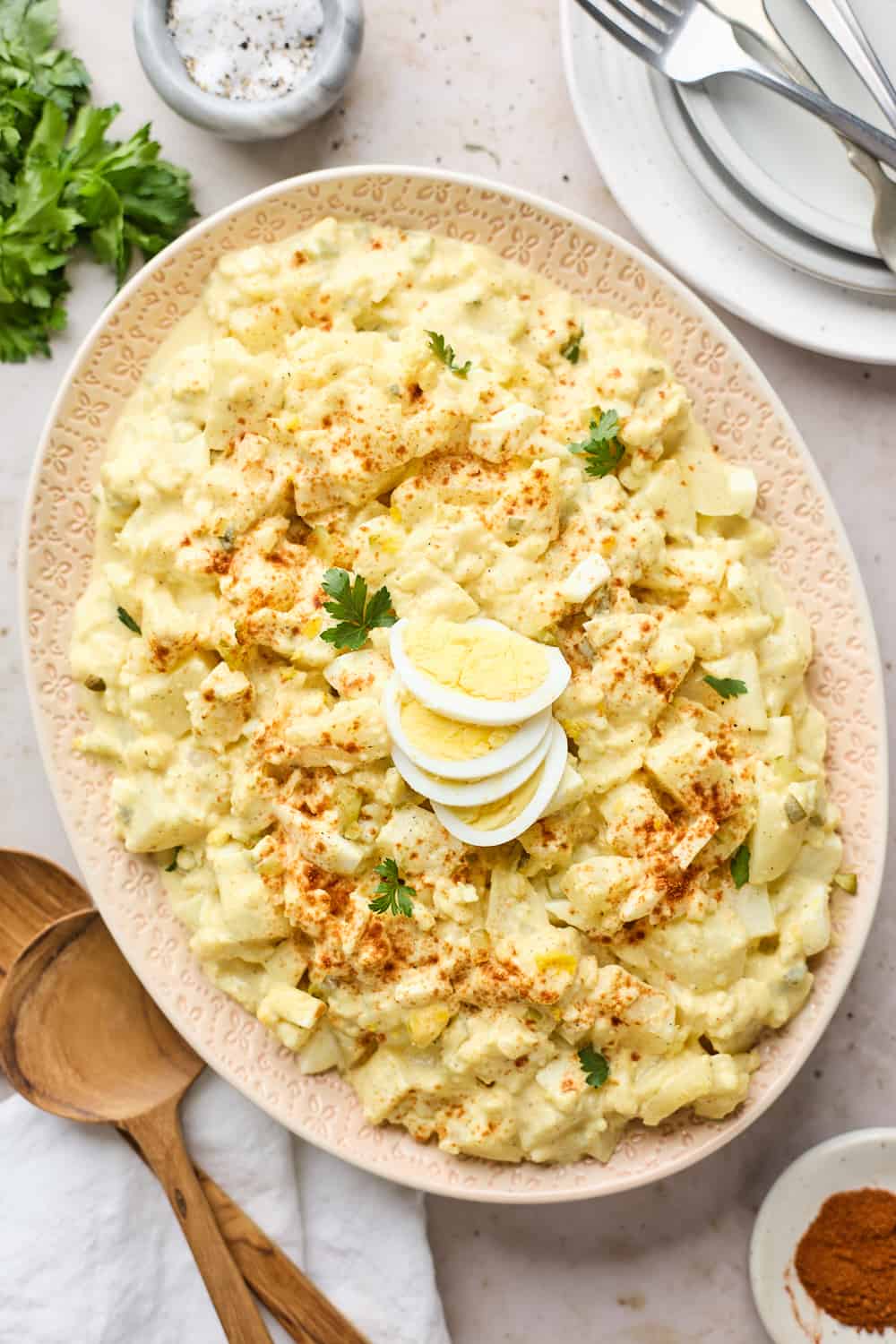 Whenever there's a family gathering or friends have invited me over for dinner, this Southern potato salad is the first thing that comes to mind. It's simple to make, full of flavor, and always has people asking for the recipe!
Plus, I love to infuse some Southern flare onto the table whenever I can. It's just the thing you should be bringing to all your Fourth of July celebrations!
What Is Southern Potato Salad?
Southern potato salad is rooted deeply in Southern American cuisine. While each family may have their own variation, the common elements remain potatoes, pickles, mustard, and boiled eggs. This recipe comes from my new cookbook Everyday Grand, and it is from my cousin Johnnie Mae. She is the queen of potato salad in my family.
This flavorful side dish showcases a blend of creamy, tangy, and sweet tastes, enhanced by the crunchy texture of pickles and soft, hearty potatoes.
Typically, this salad is meant to be served chilled, allowing the potatoes to cool and the flavors to blend together. It makes the perfect side to accompany grilled meats, burgers, or hearty sandwiches.
Ingredients & Substitutions
White potatoes: Provide a smooth, creamy texture and a subtle earthy flavor. Yukon Gold potatoes will also make a good substitute if needed.
Mayonnaise: This gives the salad its quintessential creaminess. I prefer good quality mayonnaise, such as Duke's, but any brand will work. You can also use a vegan mayo for a dairy-free version.
Sweet baby pickles: These add a tangy crunch to the salad. If they're unavailable, dill pickles or relish can be used instead. Don't forget to reserve some of the brine!
Yellow mustard: Adds a sharp tangy flavor and a pop of color. If you don't have yellow mustard, try Dijon mustard in a pinch.
Granulated sugar: Balances out the tanginess of the salad with a delicate sweetness. Cane sugar will also work.
Vinegar: For an extra touch of tanginess. Apple cider vinegar or regular white vinegar both make great options.
Seasonings: I use a mixture of seasoned salt (preferably Lawry's), celery salt, black pepper, and accent seasoning or MSG in my recipe. They help to add depth and enhance the overall flavor of the salad.
Hard-boiled eggs: Add a rich texture and so much flavor! Boiled eggs are a staple in Southern potato salad but can be omitted for dietary restrictions.
Paprika: I like to use some sweet paprika as a garnish for a mild sweet-peppery flavor and a pop of color. Feel free to omit this ingredient if you'd like.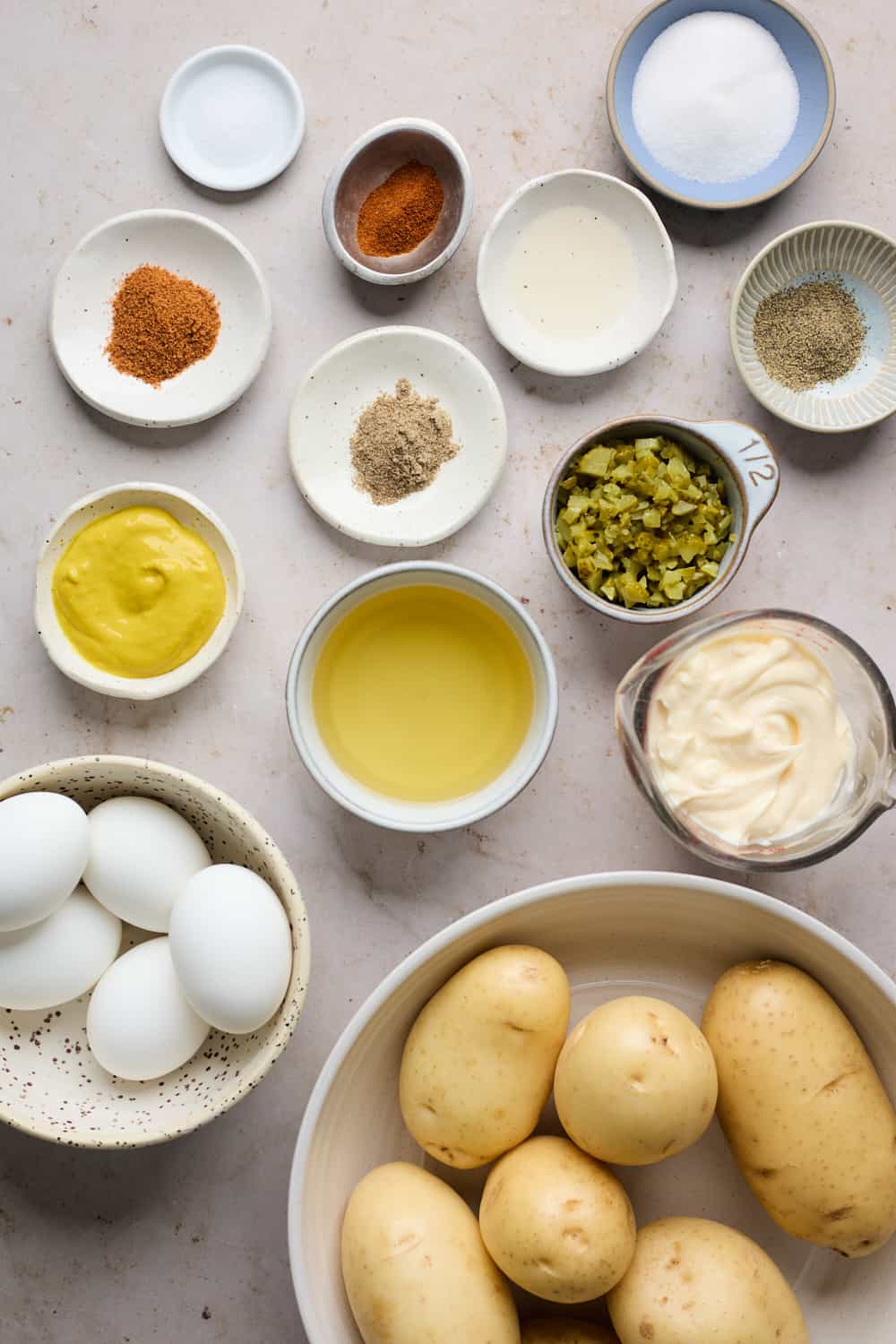 How to Make Southern Potato Salad
Step 1: Boil the Potatoes
Start by boiling your peeled and cubed white potatoes. Make sure the water level is high enough to cover all the potatoes, then bring the water to a boil over high heat. Cook the potatoes for about 10-15 minutes, or until they're fork-tender.
You want to avoid overcooking the potatoes to ensure they don't turn out mushy. Once the potatoes are done, drain and rinse them under cold running water for about 30 seconds. Then set them aside to cool completely.
Step 2: Prepare the Dressing
While the potatoes are cooling off, grab a large bowl to prepare the dressing. Whisk together your mayonnaise, sweet baby pickles, pickle brine, yellow mustard, granulated sugar, vinegar, and all the seasonings. Keep whisking until the mixture is well combined.
Step 3: Assemble the Salad
Take four of your hard-boiled eggs and chop them very finely. Add them to the bowl of dressing, then introduce the cooled potatoes to this mixture. Gently fold the potatoes in until they are thoroughly coated in the dressing.
Step 4: Final Adjustments
Give your salad a taste test and adjust the seasonings according to your liking. It's important to remember that it's your dish, so it should suit your taste buds! You can serve this Southern potato salad at room temperature or cover and refrigerate it until you're ready to eat.
Just before serving, slice the remaining hard-boiled egg and fan it out on top of the salad. If you're using some, sprinkle the top with sweet paprika for that perfect pop of color and flavor.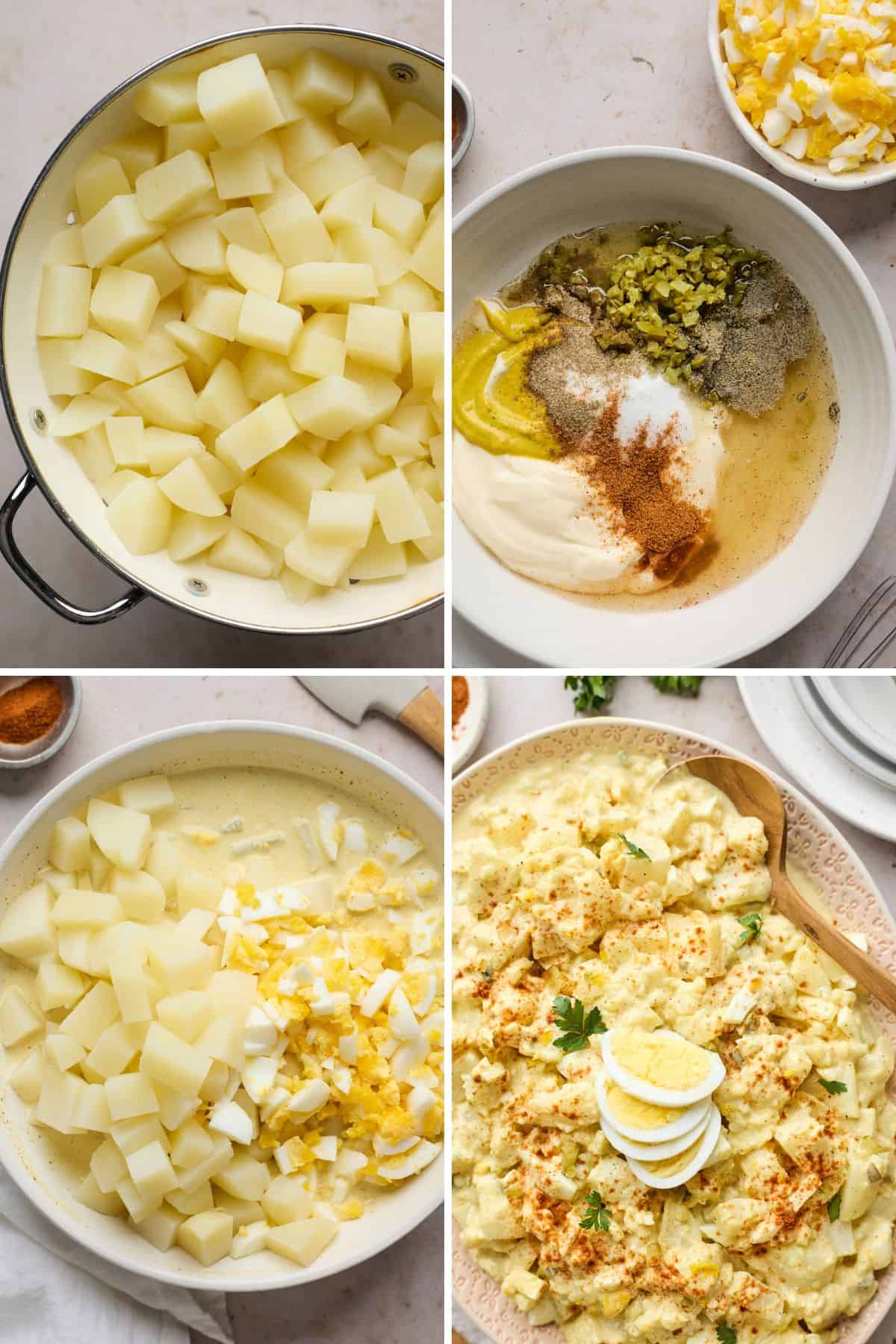 Serving Suggestions
If you're wondering what goes well with Southern potato salad, here are just a few simple yet delicious options to choose from:
Recipe Variations
Potatoes: Use red potatoes for a different texture and color.
Sour cream: Try a blend of sour cream and mayonnaise for the dressing.
Bacon: Add some cooked, chopped bacon for a smoky touch.
Bell peppers: Include diced bell peppers for a pop of color.
Spicy: Add a splash of hot sauce for a spicy kick.
Tips and Tricks
Don't overcook: Do not overcook the potatoes! They should be tender but not mushy.
Cool the potatoes: Let the potatoes cool before adding them to the dressing to prevent them from breaking down.
Chill: Chill the salad before serving to allow flavors to meld together.
Quality mayonnaise: Use a good-quality mayonnaise for the best potato salad flavor.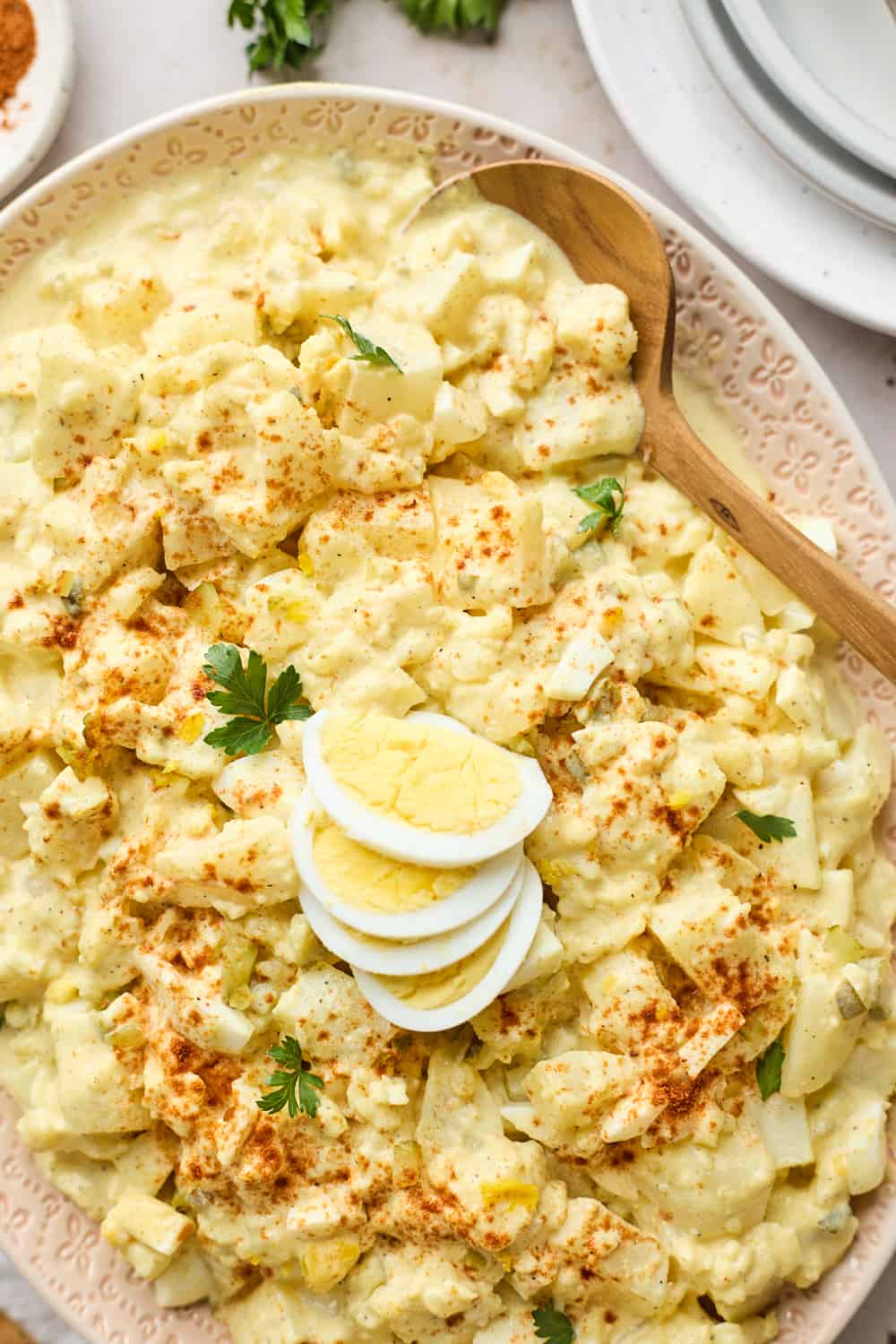 What To Do with Leftovers
If you have any leftover Southern potato salad, follow these simple storage instructions:
Fridge: Store your potato salad in an airtight container for up to 5 days.
Freezer: I don't recommend freezing potato salad as the texture will change too much upon thawing. It's best to keep this recipe in the refrigerator.
Additional Recipes
If you enjoyed this Southern potato salad, take a peek at some more of my most popular Southern side dish recipes:
Frequently Asked Questions
Can I use a different type of potato in this recipe?
Yes, you can use other types of potatoes in this recipe. White potatoes are traditional for Southern potato salad, but you can also use Yukon potatoes or even sweet potatoes for a change in flavor and texture.
Can I make this recipe ahead of time?
Yes, you absolutely can! In fact, it's usually best the next day once the flavors have had time to meld together. Just make sure you cover the bowl tightly and keep it cooled in the fridge.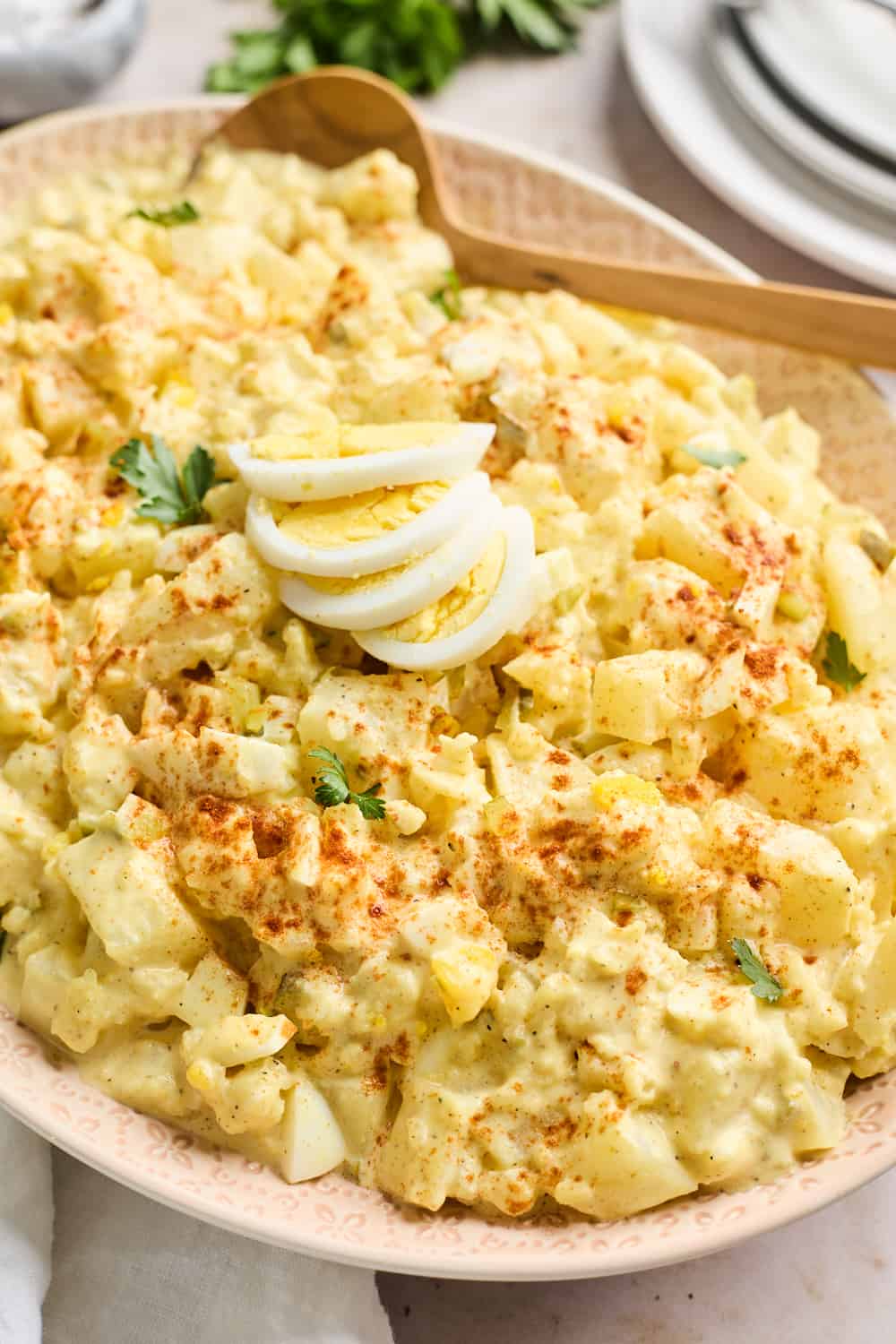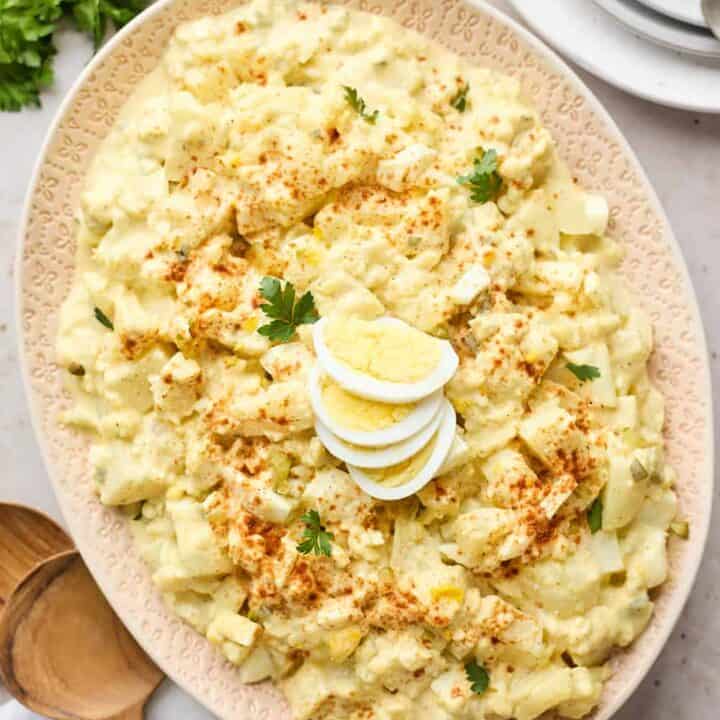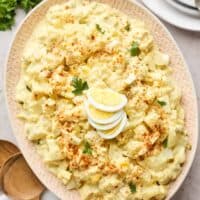 Southern Potato Salad
This creamy Southern potato salad is a classic staple recipe! Perfectly boiled potatoes mixed with an old fashioned Southern dressing and hard boiled eggs.
Print
Pin
Rate
Ingredients
2

pounds

white potatoes

about 6 medium, peeled and cut into -inch cubes

3/4

cup

mayonnaise

such as Duke's

1/2

cup

finely chopped whole sweet baby pickles

about 6 pickles, plus cup pickle brine from the jar

2

tablespoons

yellow mustard

1

tablespoons

granulated sugar

plus more to taste

1

teaspoon

white vinegar or apple cider vinegar

3/4

teaspoon

seasoned salt

such as Lawry's, plus more to taste

½

teaspoon

celery salt

plus more to taste

1/2

teaspoon

freshly ground black pepper

plus more to taste

1/4

teaspoon

Accent seasoning or MSG

5

hard-boiled eggs

Sweet paprika

for garnish
Instructions
Place the potatoes in a large pot and add water to cover. Bring the water to a boil over high heat and cook until the potatoes are fork-tender, 10 to 15 minutes.

Drain the potatoes and rinse under cold running water for about 30 seconds, then set aside to drain and cool completely.

In a large bowl, whisk together the mayonnaise, pickles, pickle brine, mustard, sugar, vinegar, seasoned salt, celery salt, pepper, and Accent until combined.

Very neatly chop 4 of the hard-boiled eggs and add them to the bowl, followed by the potatoes.

Gently fold until the ingredients are thoroughly combined.

Taste and adjust the seasonings according to your taste buds, my friends.

Serve at room temperature or cover and refrigerate until needed.

When ready to serve, sprinkle paprika over the salad, then slice the remaining egg and fan it out over the top.
Nutrition
Serving:
0.25
cup
|
Calories:
296
kcal
|
Carbohydrates:
24
g
|
Protein:
7
g
|
Fat:
19
g
|
Saturated Fat:
4
g
|
Polyunsaturated Fat:
10
g
|
Monounsaturated Fat:
5
g
|
Trans Fat:
0.04
g
|
Cholesterol:
125
mg
|
Sodium:
627
mg
|
Potassium:
538
mg
|
Fiber:
3
g
|
Sugar:
5
g
|
Vitamin A:
255
IU
|
Vitamin C:
22
mg
|
Calcium:
40
mg
|
Iron:
1
mg